Four Days in Savannah, GA
February 22nd, 2017 – February 25th, 2017
Savannah is a city with a small town, romantic feel, rich in history and architecture. Margaret Mitchell referred to it in Gone with the Wind as "that gently mannered city by the sea". I didn't realize just how close it was to Hilton Head, South Carolina – the airport actually services both cities. My dad had some meetings in the city and my mom was going with him. Lucky for me, they let me crash many of their trips as an excuse to see them and also to eat lots of good food and explore new cities. I arrived in Savannah late on Wednesday night and met up with my parents at the hotel, the Westin Savannah Harbor. It stands next to the convention center and is on a little island across from the main city with a ferry running to the other side. Savannah is referred to as the "the first planned" city because of its grid system. It's also considered one of the most haunted cities in the United States.
I kept hearing about a book, which many people in Savannah referred to as THE book – John Berendt's Midnight in the Garden of Good and Evil. It was only written in 1994 and until I read it I didn't understand how it has already become canonized and recognized as representative of life in the Georgia city. The book mixes true crime – specifically the events of the 1980's murder trial of John Williams and Savannah society. It also points out many specific and famous points of the city. I hadn't read it before my trip but I started and finished it on the flight back to Los Angeles. The novel recounts Savannah as a party city noting, "If you go to Atlanta, the first question people ask you is, 'What's your business?' In Macon they ask 'Where do you go to church?' In Augusta they ask your grandmother's maiden name. But in Savannah the first question people ask you is 'What would you like to drink?'" (p. 30).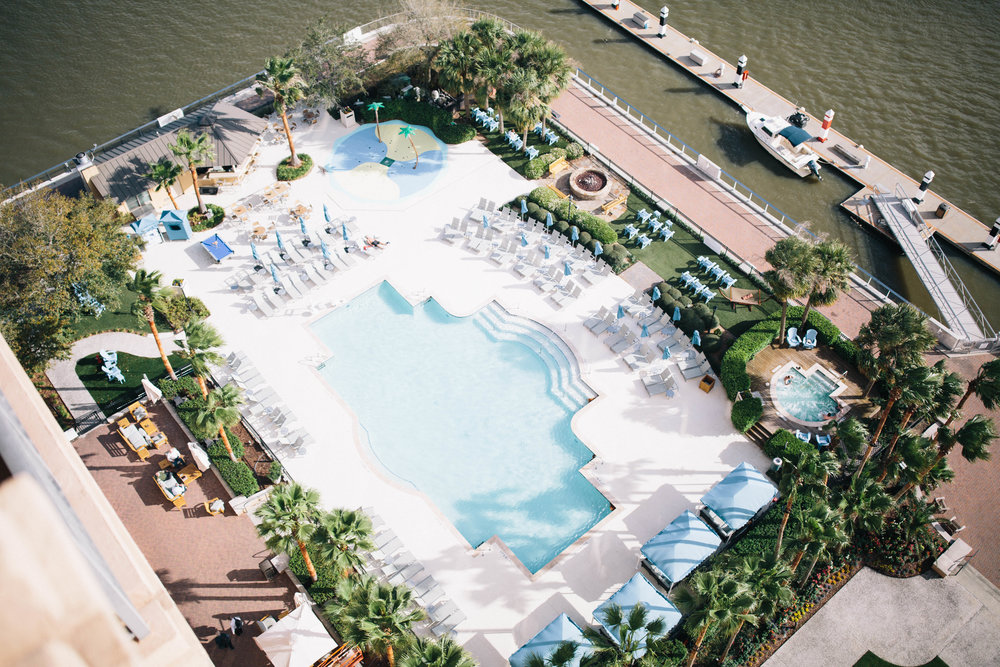 Savannah is very much a walking city and I loved exploring the various squares, there are twenty-one of them, each it's own small park. We did all the touristy things, including walking through Forsyth Park and a stop at the Cathedral of Saint John the Baptist, a towering gothic style church. While we didn't do a ghost tour, we did make it to the historic Bonaventure cemetery and that was all I needed. With the old gravestones, some dating back to the 1800's and the towering oaks draped with Spanish moss, it was creepy enough for me. I don't do scary. Happy hour and dinner on Thursday night were on the Georgia Queen, a riverboat cruise, which took us up the Savannah River and briefly into South Carolina. While it was a great experience I also was eaten alive by mosquitoes over the course of the night.
Walking down around the river area I was shocked at how much Irish influence there was. The streets were loaded with Irish pubs already advertising their St. Patrick's Day celebration specials. I didn't realize how important the port city was to immigration back in the day, specifically when it came to immigrants coming from Ireland.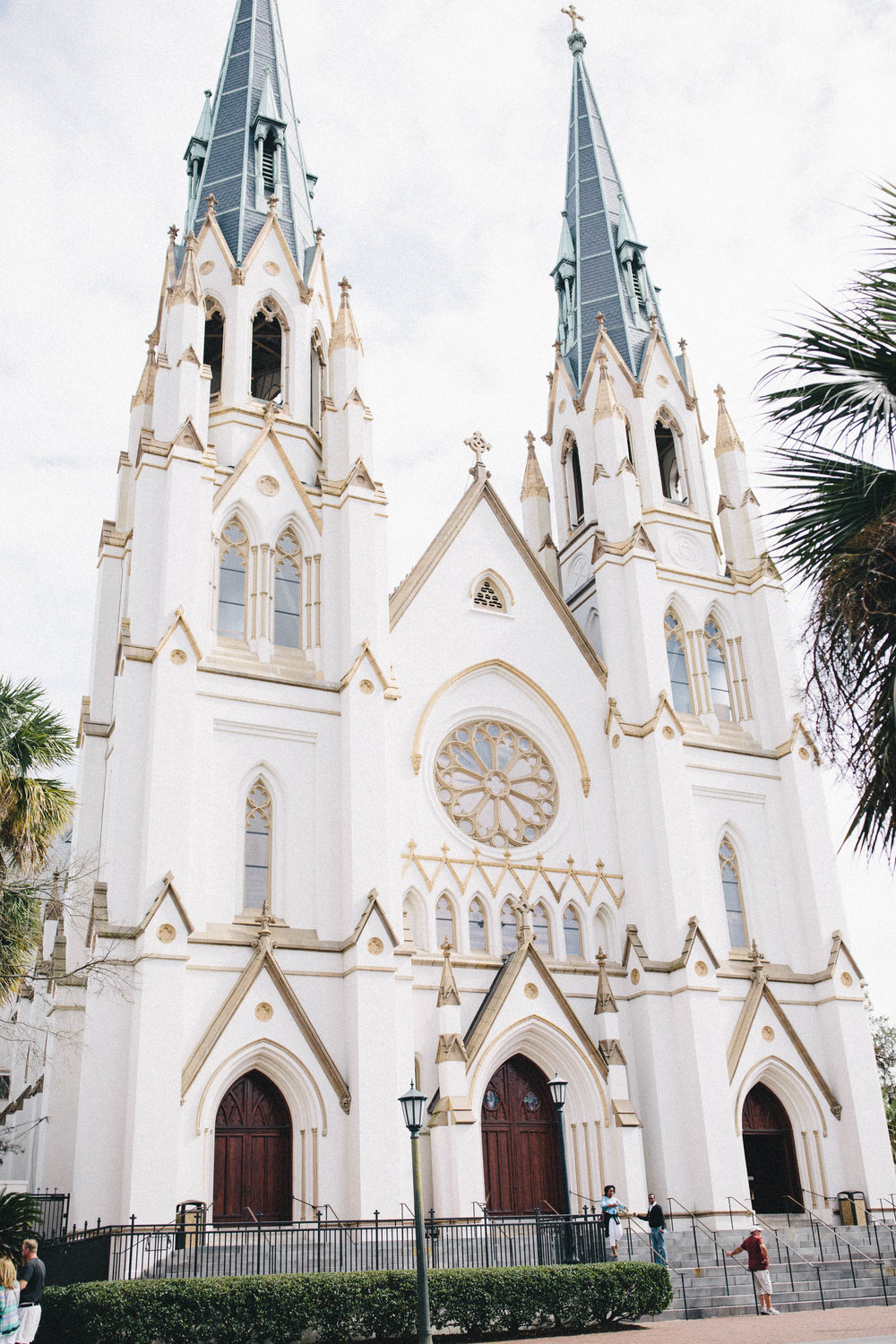 Thursday morning, my first day in the city, I was craving biscuits – as one does when visiting the south, and Savannah has plenty of popular breakfast spots to choose from. My mom and I headed to Back in the Day Bakery, a little shop with exposed brick, old crystal chandeliers and wood – you can't tell if it's decorated to look vintage because it's "hipster" or because it's actually is vintage.
When I go out to eat with my mom she lets me choose the food and she just goes along with it. The menu is set up so that you can build your own biscuit sandwiches from a list of options. We shared an "everything" biscuit with egg, Cheddar cheese, bacon and honey as well as a scallion Cheddar biscuit with homemade raspberry jam, Gruyère cheese and ham. To top it off we had to also try the bourbon bread pudding.
Must-order: everything biscuit with egg, Cheddar cheese, bacon and honey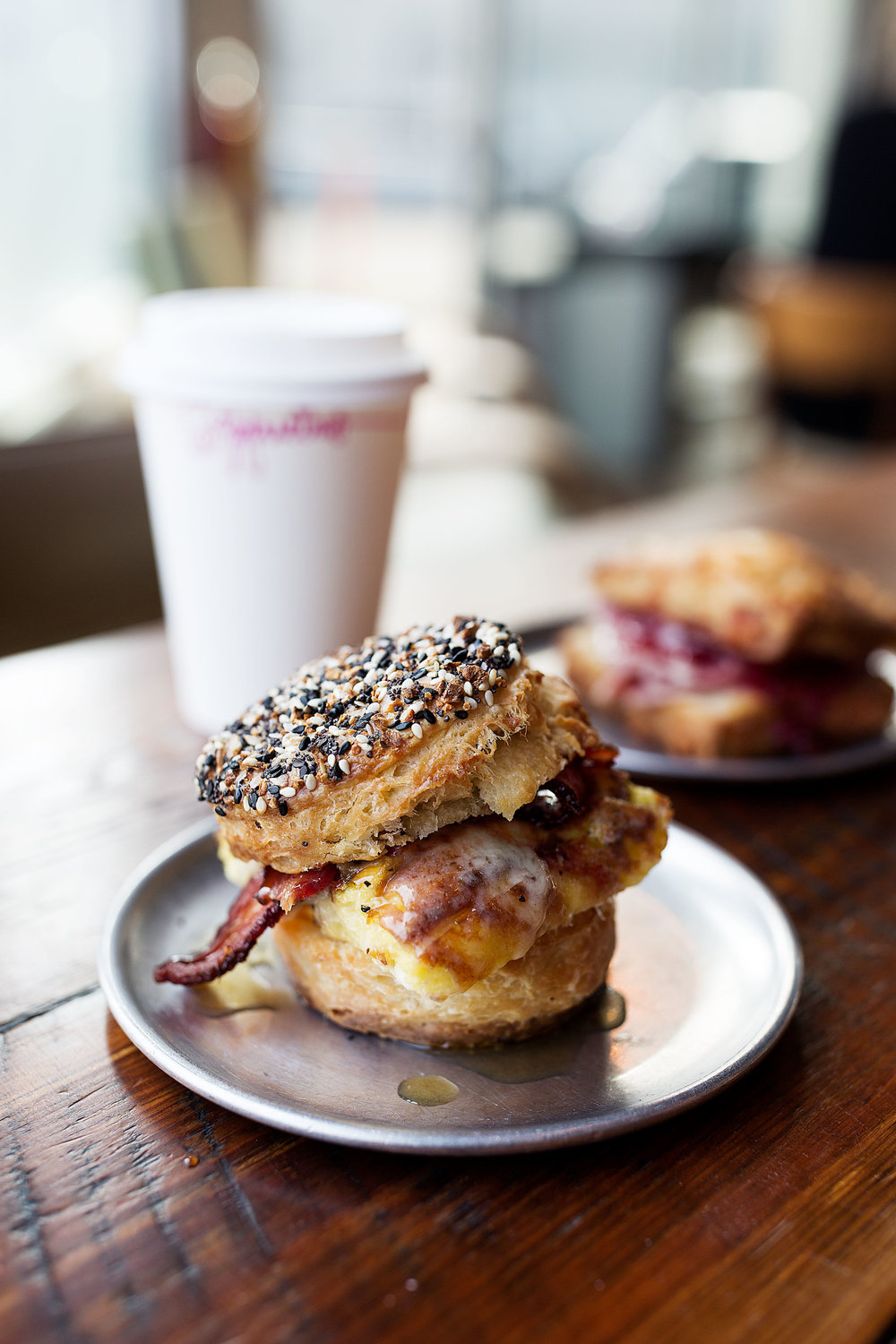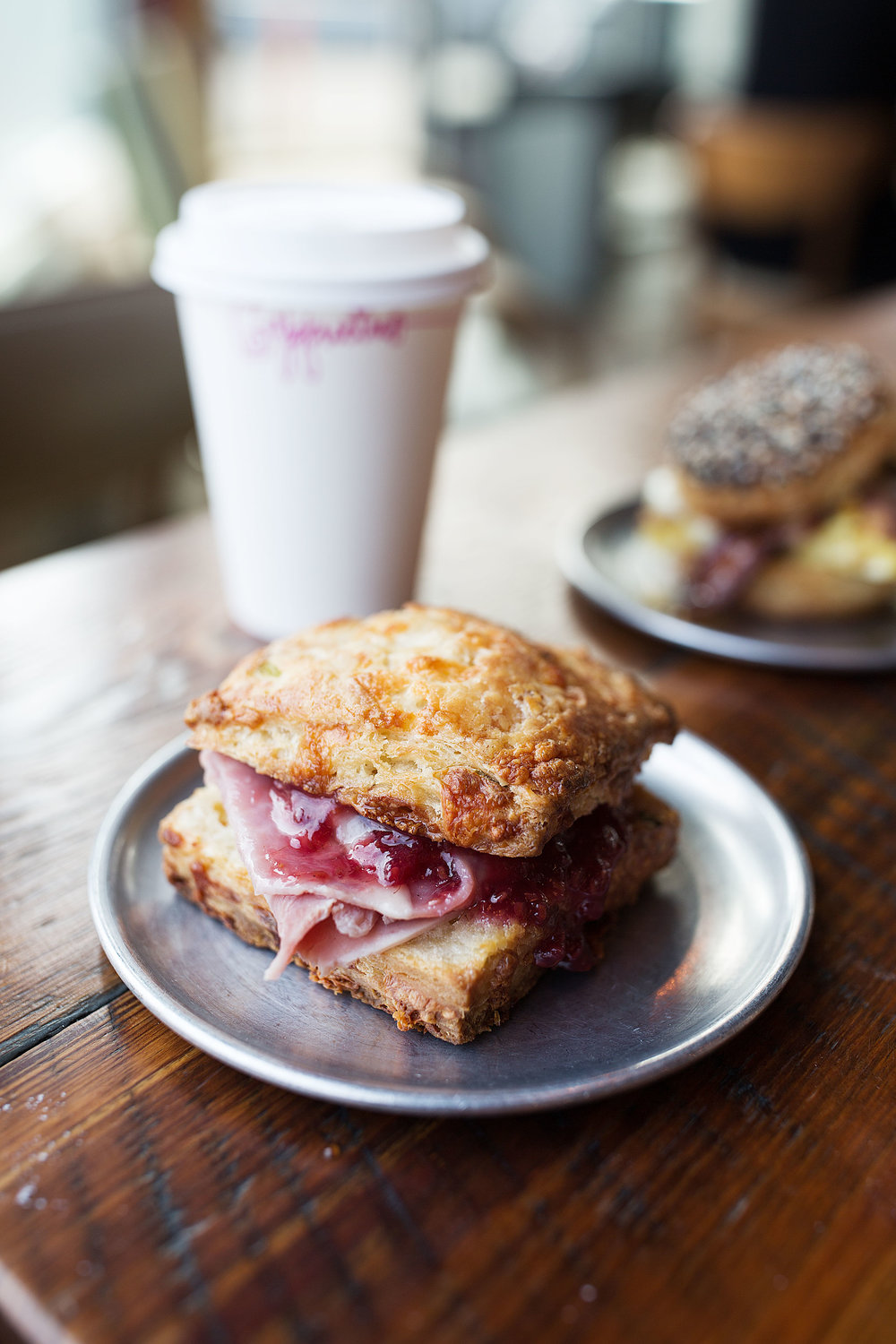 While walking around the city we stumbled across a cute store that I had read about on my pre-trip research, Paris Market. It's an expertly curated boutique with vintage silverware and serveware, candles, jewelry and a coffee and pastry bar. I could have spent all day in there. With exposed brick, it's decorated in a way in which I would love my apartment to look. I picked up some vintage silverware for food styling and some macaroons but I could have done some more damage had I brought a larger bag than just a carry-on suitcase.
The Olde Pink House is a restaurant serving Southern food that stands on the corner of Reynolds Square. It was the spot that was on the top of everyone's recommendation lists, not to be missed. The house is a pale pink color – it started out white but the brick underneath dyed the stucco, earning itself the name, The Olde Pink House. We started with "Southern sushi", a roll made with smoked shrimp and grits in coconut-crusted seaweed. Next was the "BLT" salad, romaine topped with fried green tomatoes, bacon and black pepper buttermilk thyme dressing.
The crispy fried lobster tails were battered in tempura batter served with sweet chili Dijon. The macaroni and cheese, and collards is dinner menu item that is available during lunch by request. I had heard about it from friends who had been but I wouldn't have known it was a lunch option if I hadn't seen it go by on a tray while I was in the middle of ordering. While it may seem extravagant, the lobster is battered and fried so the result is tender and light fried lobster that isn't overly rich.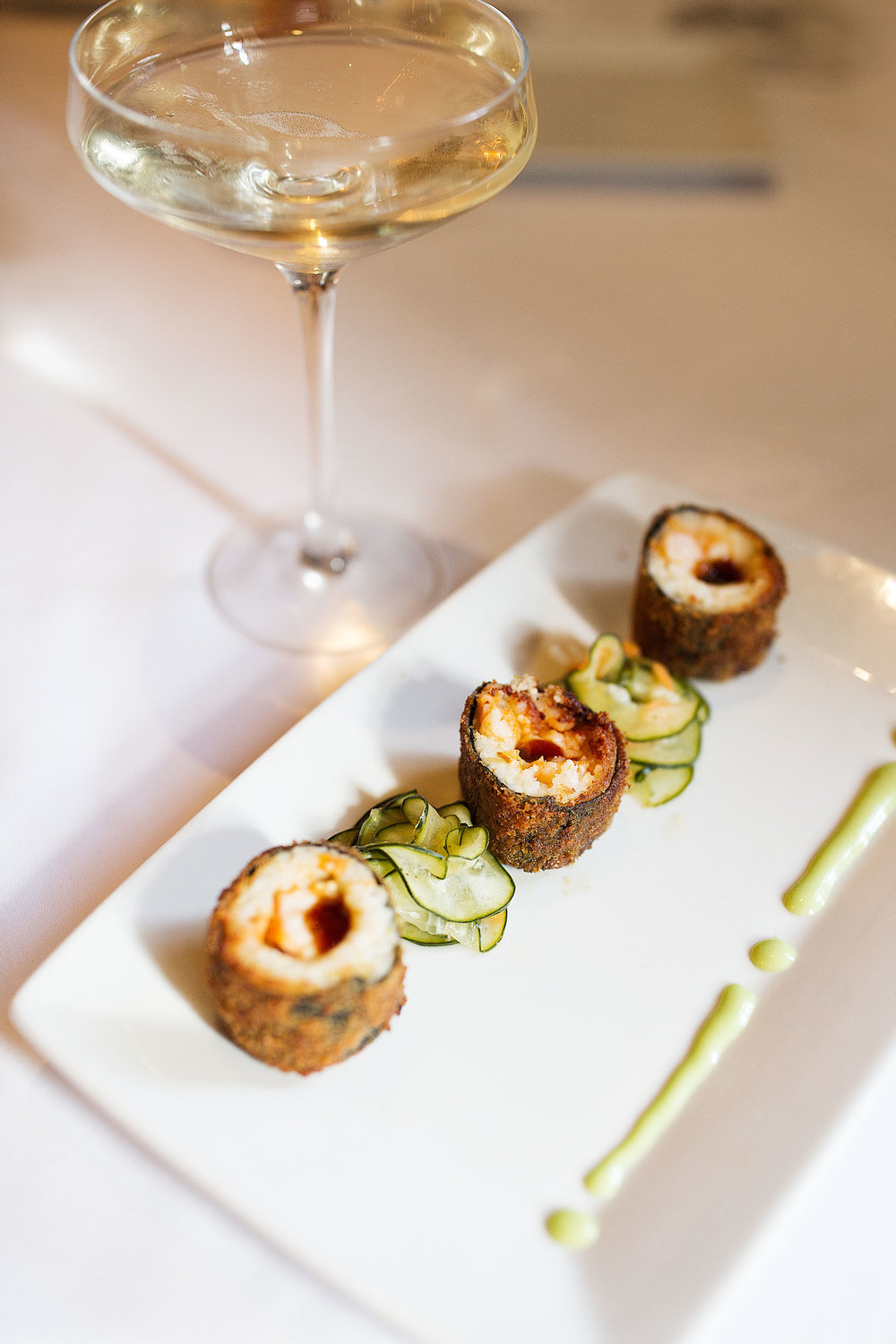 We overheard a waiter telling a table near us the history of the house so we called him over and he told us a summary of the history dating back to 1771. After, he asked if we would like a tour of the rest of the extensive space. Of course, we said "yes". The waiter introduced to many interesting areas of the house, including the basement bar, which is rumored to be haunted since creaking feet can be heard from the upstairs dining room through the old wood floorboards. To the side of the basement bar there is a wine room, which actually was a vault since at one point the restaurant was also a bank. The room holds a two-top table for a private dining experience – if I ever go back I want that seat! Learning the whole history of the house was one of those serendipitous moments that made the dining experience great.
Must-order: crispy fried lobster tails and "southern sushi"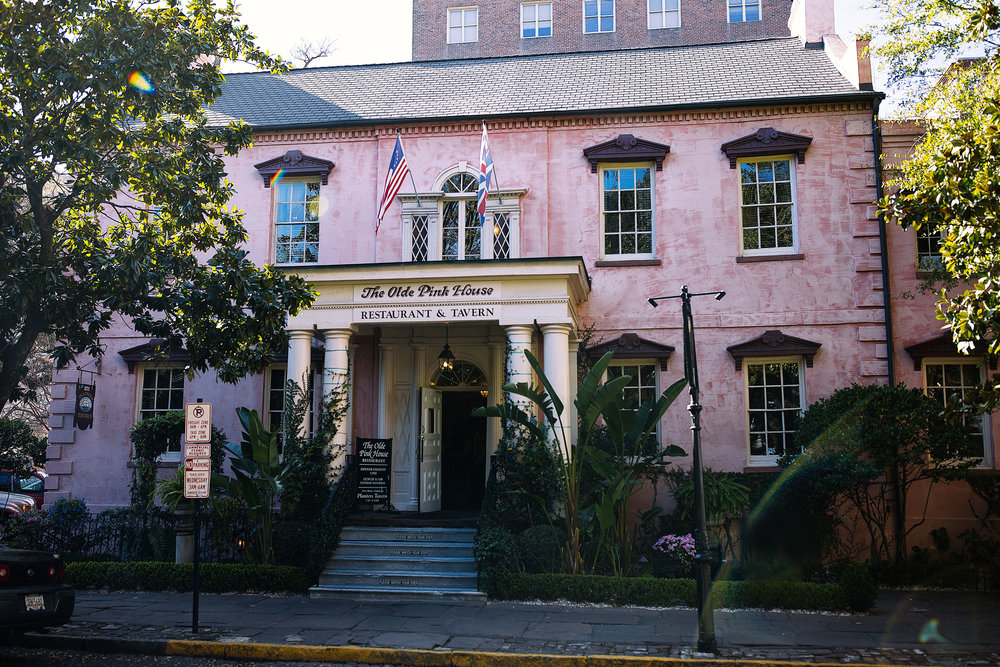 Meals where it's just my parents and I are far and few between but whenever we have the opportunity it's nice to spend some quality time over dinner. Plus they always let me choose what to order. The Grey is an art deco restaurant space formerly occupied by the greyhound bus terminal and much of the terminal still stands as décor for the restaurant and bar area, making for a unique venue. After ordering cocktails I started my assessment of the dinner items. The menu was set up as shared small plates – my favorite way of dining. I just about went with one of everything on the menu.
We started with a dozen oysters with mignonette (a mixture of shallots and vinegar and my favorite way to eat oysters) and then they were so good we ended up adding half a dozen more to the order. Next up: crabmeat with coconut cream, Serrano chili and peanuts, a light and creamy combination. The crab was followed by clams and dumplings with white wine sauce, chili flakes and arugula. I was just about ready to lick the sauce out of the bowl after finishing the clams. After that came bison meatballs, the lean meat accompanied by yogurt, pork fat and za'atar spices.
Possibly my favorite dish came next – foie and grits. Yes, creamy Geechie Boy grits served with roasted apples, pearl onions and foie gras with a savory sauce. It was rich and luxurious and this time I actually licked the plate, subtly, of course.
With another cocktail order in to the bar, this time an amaretto sour with egg whites, the next course came. This one was the country pasta; braised pork shoulder with white wine and Parmesan over bucatini. A simple pasta dish but well executed for an outstanding entrée. The seared duck breast came last. It was a tender honey glazed duck breast with crispy skin, cooked perfectly, and served over puffed farro verde, roasted rainbow carrots and pickled mustard seeds.
Dessert was a walnut tart with butterscotch cookie purée and fermented plums and Leopold's vanilla ice cream (a favorite in Savannah) as well as espresso custard and biscotti with almond ice, pistachio purée – because you have to have options.
Must-order: crabmeat with coconut cream & foie and grits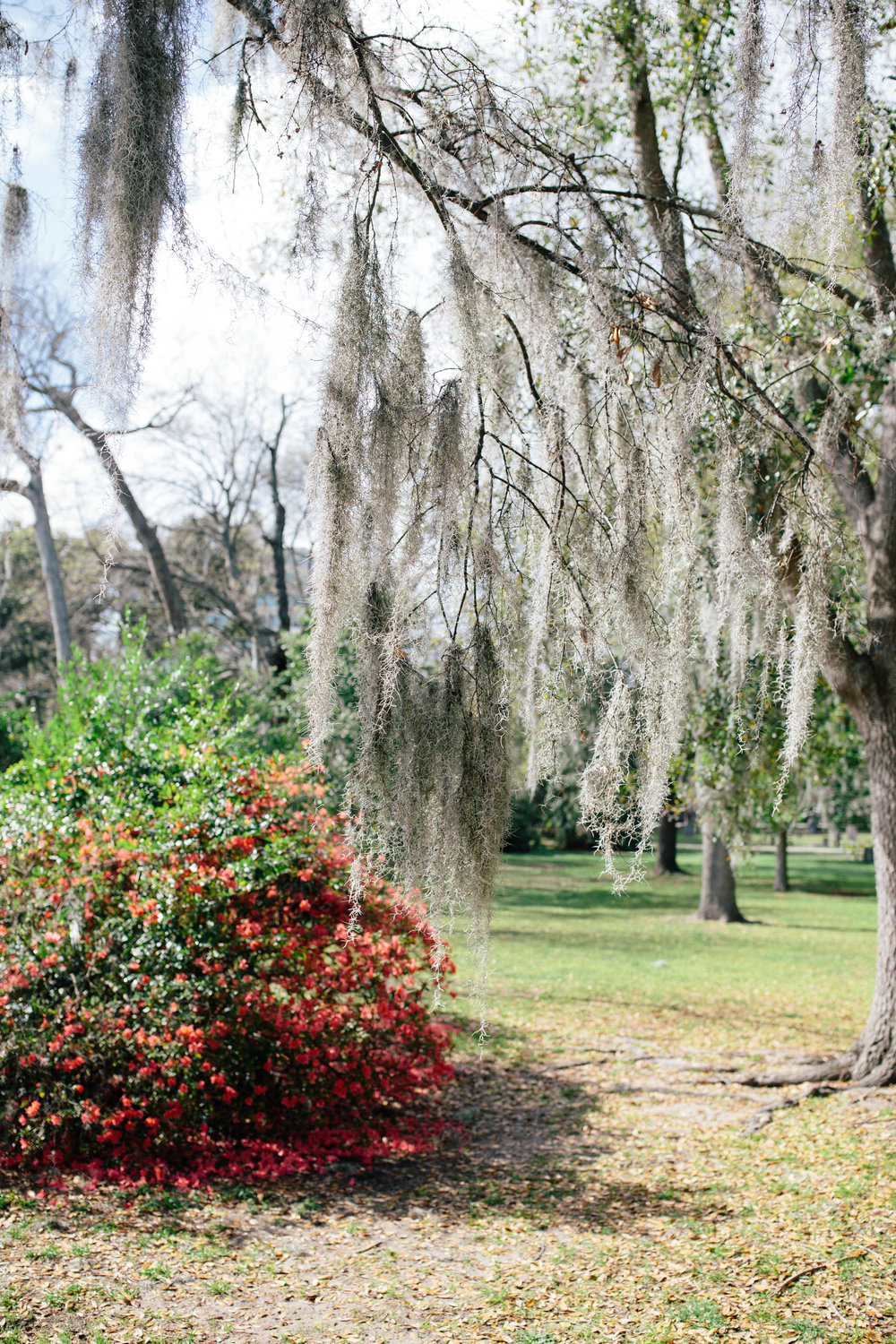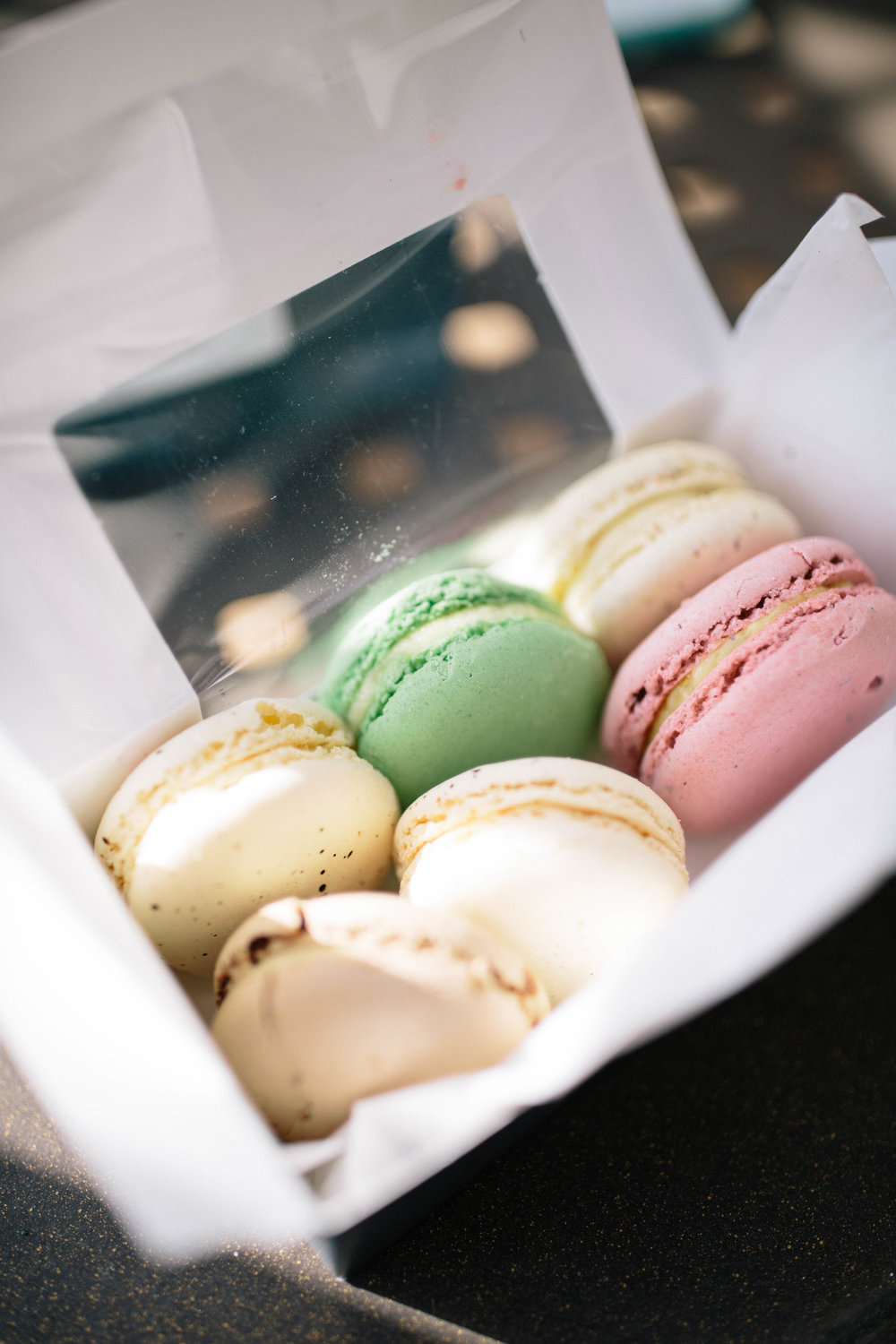 My flight back to Los Angeles was later in the day on Saturday so I stopped by The Collins Quarter, an artsy Australian restaurant for brunch. They're known for their spiced lavender mocha, an espresso drink made with dark chocolate, earthy spices, lavender and steamed milk. The chocolaty and floral drink is not only beautiful but with the addition of lavender sprinkled over the top it tastes like drinking flowers in all the best ways.
Since I couldn't decide what to get, my mom and I ordered a few different things to share. First up was the "swine time beni", an eggs Benedict inspired dish with a slice of brioche French toast topped with tender pulled pork, tomato slices, poached eggs, thick-cut bacon and hollandaise. Talk about a flavor combination. It was extravagant and I was so glad that I was sharing it because there was no way I could have finished it myself.
We could have stopped there and that would have been plenty but next we had the brioche French toast topped with mixed berry compote, candied pecans and bourbon-maple syrup. We also ordered the Leo's Aussie Brekkie – a complete breakfast served in a large cast-iron skillet including chorizo sausage, smoked bacon, sunny side-up eggs, sautéed mushrooms, baked beans, tomatoes and toasted bread.
Must-order: the Swine Time benny & brioche French toast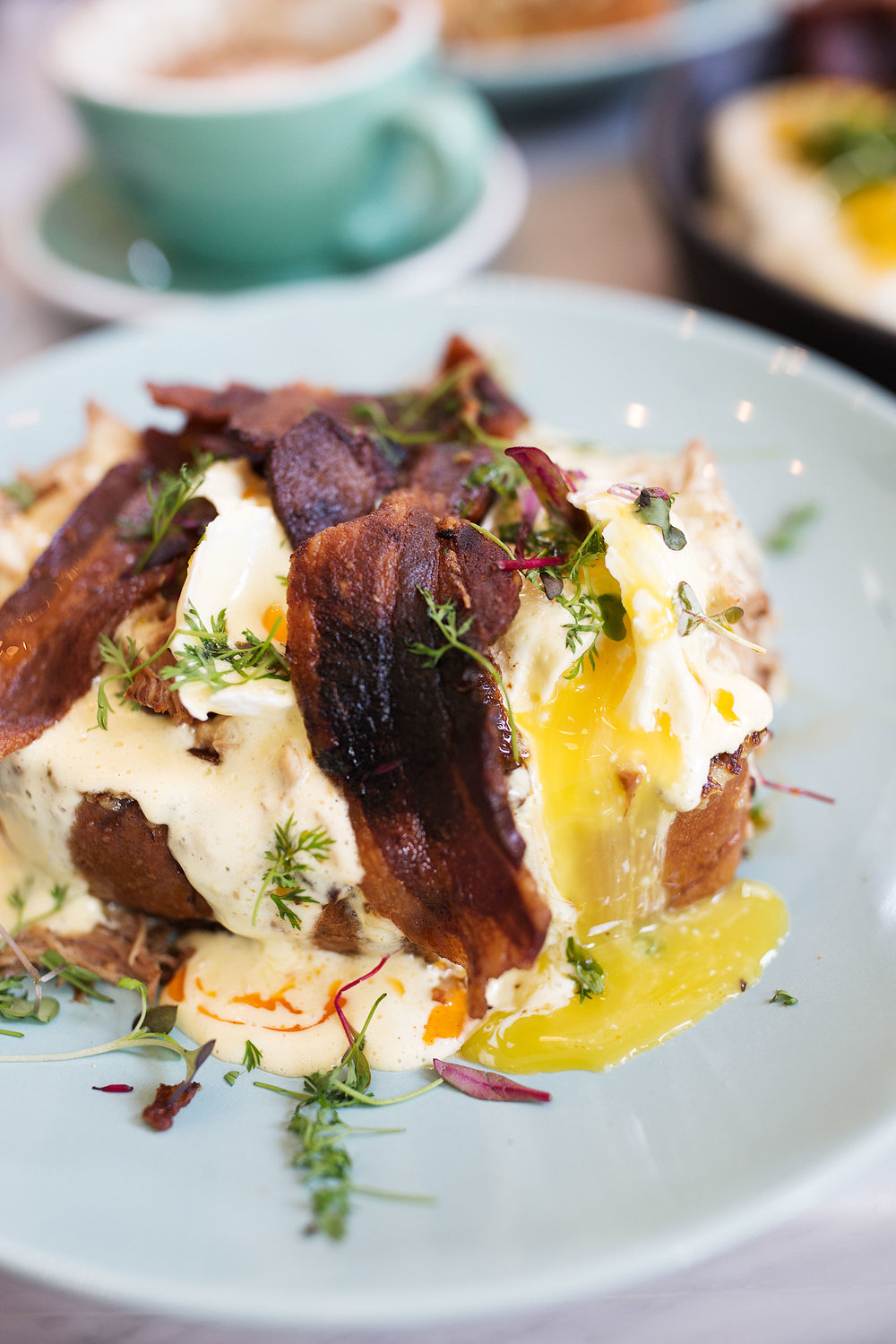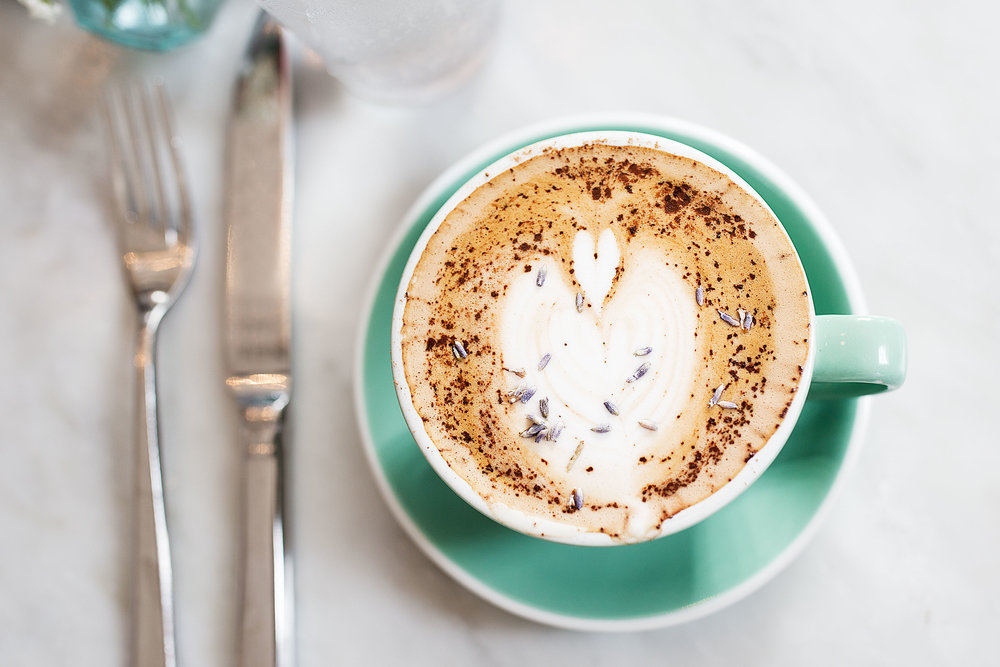 Visiting Savannah feels like you've been transported to an idyllic town with old-world Southern charm. Between the ornate antebellum style architecture, hauntingly beautiful Spanish moss hanging over streets and the many parks, the city is definitely worth a visit. One thing is for sure, I will definitely be back, just not in the middle of summer, as the weather was perfect for me in February – 70 and sunny.