Cuban Sandwich with Mojo Marinated Roast Pork
Chef is one of my all-time favorite movies. This feel-good movie about a chef was filmed a lot around Venice and Santa Monica, CA so it feels very relatable to me. It also makes me crave the food that they are making onscreen. It helps when the culinary consultant for the film was Roy Choi, an LA chef with multiple successful restaurants and his famous Kogi Beef Truck. If you haven't seen the movie I won't ruin any plot lines, I will just tell you that the movie focuses around Cuban food, more specifically on a food truck. I was new to Cubano sandwiches, but after seeing the movie I immediately went and tried one and there was no turning back.
A Cuban sandwich combines citrusy, tender roast pork with sliced ham, mayonnaise, mustard, Swiss cheese and pickles, which are then pressed on a baguette until the buttery bread is golden and crisp. While I am not a fan of pickles or mustard, there's something about all the ingredients together that makes my mouth water.
This sandwich requires a panini press or, if you don't have a sandwich press then use another skillet stacked on top of the sandwich as a weight to press it cooked in a cast iron pan. Flip the sandwich half way through cooking. While traditional Cubans don't include mayonnaise I like to add a little bit to my hot sandwiches because it melts into the bread and keeps everything moist.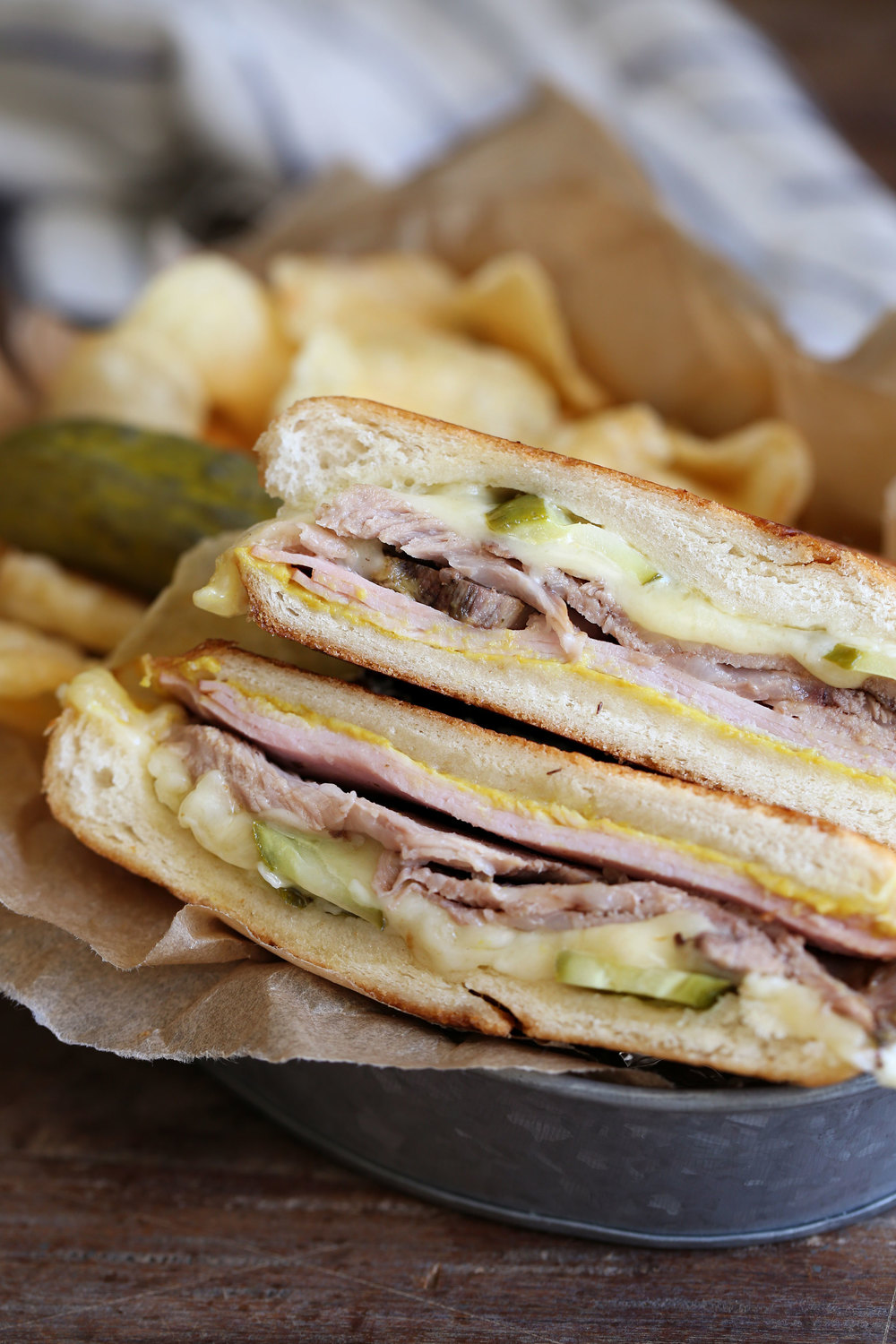 Cuban Sandwich with Mojo Marinated Roast Pork
For the mojo marinated roast pork:
3

pound

boneless pork shoulder

1

cup

extra-virgin olive oil

8

cloves

garlic,

chopped

1

packed cup cilantro

1

tablespoon

orange zest

1

cup

orange juice

1

teaspoon

lime zest

¼

cup

freshly squeezed lime juice

2

tablespoons

white vinegar

¼

packed cup oregano

2

teaspoons

cumin

1

teaspoon

kosher salt

½

teaspoon

freshly ground black pepper
For the Cuban sandwiches:
2

12-inch loaves Cuban bread (or French bread)

¼

cup

mayonnaise

¼

cup

yellow mustard

12

slices

thinly sliced ham

12

slices

Swiss cheese

4

Dill pickles,

thinly sliced

Unsalted butter,

at room temperature, as needed for pressing
For the mojo marinated roast pork:
Trim any excess fat from the pork shoulder.

In a blender add the olive oil, garlic, cilantro, orange zest, orange juice, lime zest, lime juice, vinegar, oregano, cumin salt and pepper, and pulse to combine.

Put the pork in a re-sealable 1-gallon plastic bag; add the marinade and close, removing any air. Refrigerate for at least 6 hours and up to 24 hours.

Preheat the oven to 425ºF. Let the pork come to room temperature. Place a rack in a roasting pan and add the meat. Roast for 20 minutes then lower the temperature to 325º. Continue to roast until a thermometer inserted into the middle of the roast reads 185º, about 4 hours.

Let the meat rest for about 30 minutes before slicing. Thinly slice the pork and set aside.
For the Cuban sandwiches:
Slice the bread in half so you now have 4 rolls, then slice each piece in half lengthwise. Spread mayonnaise on the bottom of each sandwich and mustard on the top half of each sandwich. To assemble the sandwich, layer 3 slices of the roast pork followed by slices of ham, Swiss cheese, and pickles.

Close the sandwich and spread butter on the Panini press and on the top of the bread. If using a skillet, heat over medium heat, add butter and allow to melt. Add the Cuban and the other skillet as a weight on top. Press the sandwich until the cheese is melted and the bread is golden brown, about 4 minutes each side.

Remove and cut the sandwich in half on a 45º diagonal. Serve immediately with extra pickles on the side.
DID YOU MAKE THIS?
TAG ME ON INSTAGRAM TO BE FEATURED ON MY STORIES! @cookingwithcocktailrings