In this monte cristo sandwich recipe layers of bread filled with ham, turkey and cheese dipped in an egg batter and pan-fried or deep fried and served topped with powdered sugar and sticky raspberry jam. While it seems fancy, this sandwich comes together quickly with fairly basic ingredients. I always have some deli meat like ham and turkey in the fridge for snacking or last minute sandwiches. Monte cristo's are great for both breakfast or lunch.
After extensive research it seems most food historians agree that the monte cristo originated in France as a simplified version of the croque monsieur (or madame). Since then versions of the sandwich became popular in the 1930's to 60's appearing in cookbooks titled as a "French sandwich". It wasn't called a "Monte Cristo" until it appeared in Disneyland's cajun-themed restaurant, Blue Bayou, in the 1960's.
Monte Cristo Sandwich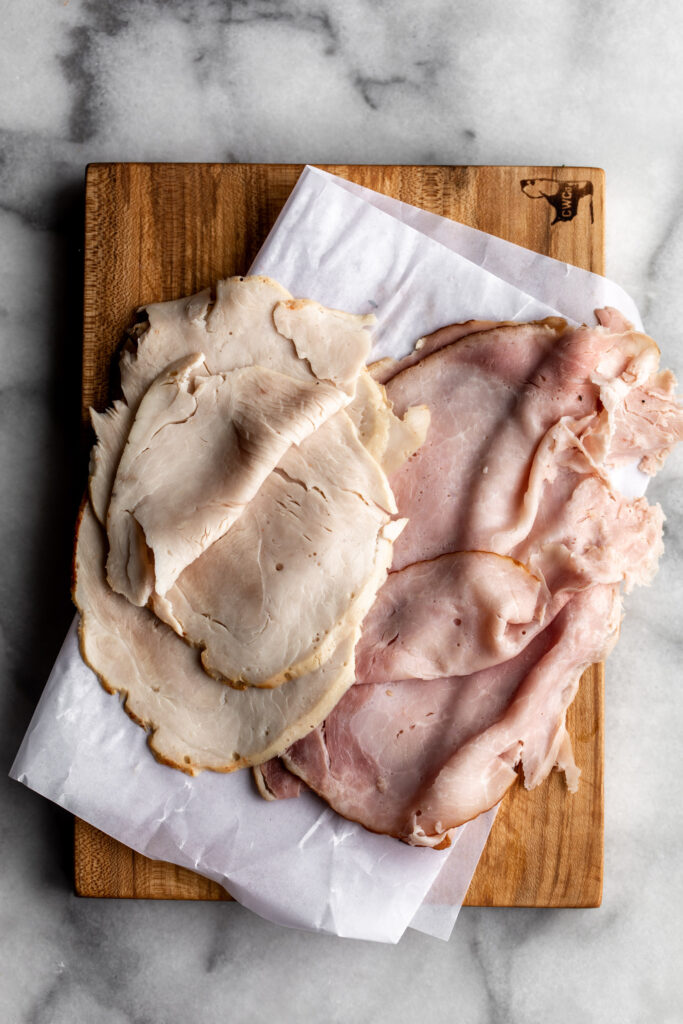 What's in a Monte Cristo sandwich?
Bread – I use pre-cut white country bread. It's soft enough to absorb the egg batter but firm enough that it doesn't get too soggy before it's pan-fried. While a crusty bread holds up well I prefer the shape of bagged sandwich bread for Monte Cristos.
Deli-meat – This sandwich includes slices of both turkey and ham. I prefer simple, deli-sliced, roasted turkey breast and black forest ham, a dry-cured smoked ham.
Cheese – While many versions use deli-sliced Swiss cheese, I opt for the more flavorful Gruyère. Even though the cheese is shredded rather than sliced it holds together in the sandwich with the maple syrup and mustard spread.
Condiments – Rather than spreading mayonnaise onto the bread I stir together a bit of maple syrup and whole grain mustard for a sweet and savory touch.
Egg batter – Monte Cristo sandwiches are dipped in an egg and milk batter before they're shallow fried in a pan.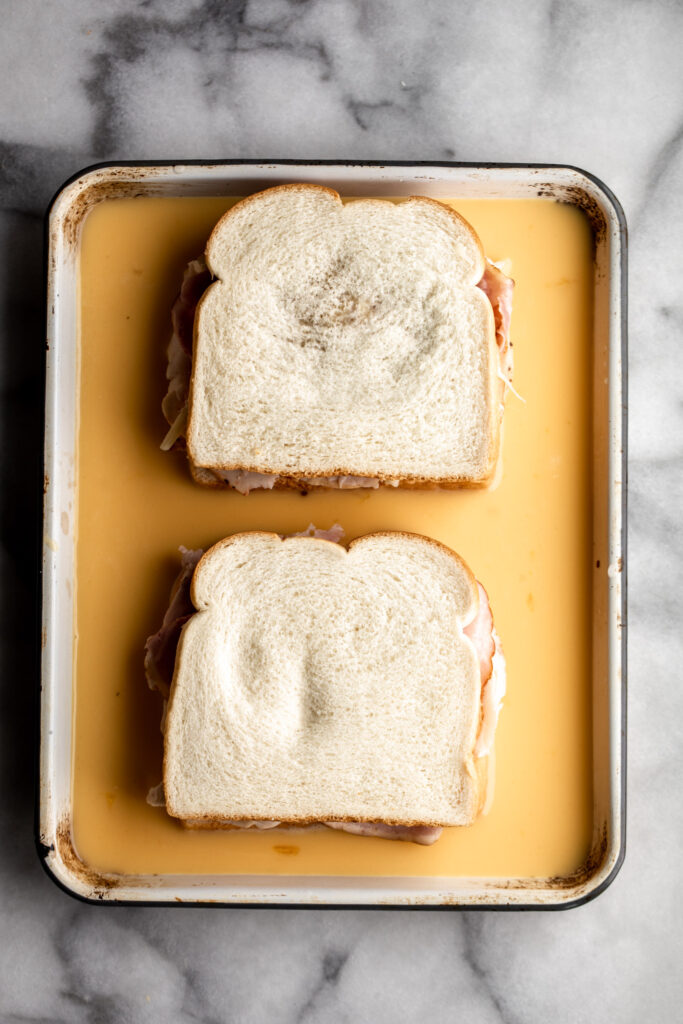 How to make a Monte Cristo
Step 1: Make the batter by whisking together the eggs, milk and salt.
Step 2: Stir together the maple syrup and mustard.
Step 3: Layer the deli-meats and cheese on half the slices of bread.
Step 4: Spread the remaining half the slices of bread with the maple syrup and mustard. Then close like a sandwich.
Step 5: Dip the sandwich in the egg batter on both sides.
Step 6: Add the oil to a nonstick pan and fry the sandwiches.
Step 7: Cut into halves or quarters then serve topped with powdered sugar and jam.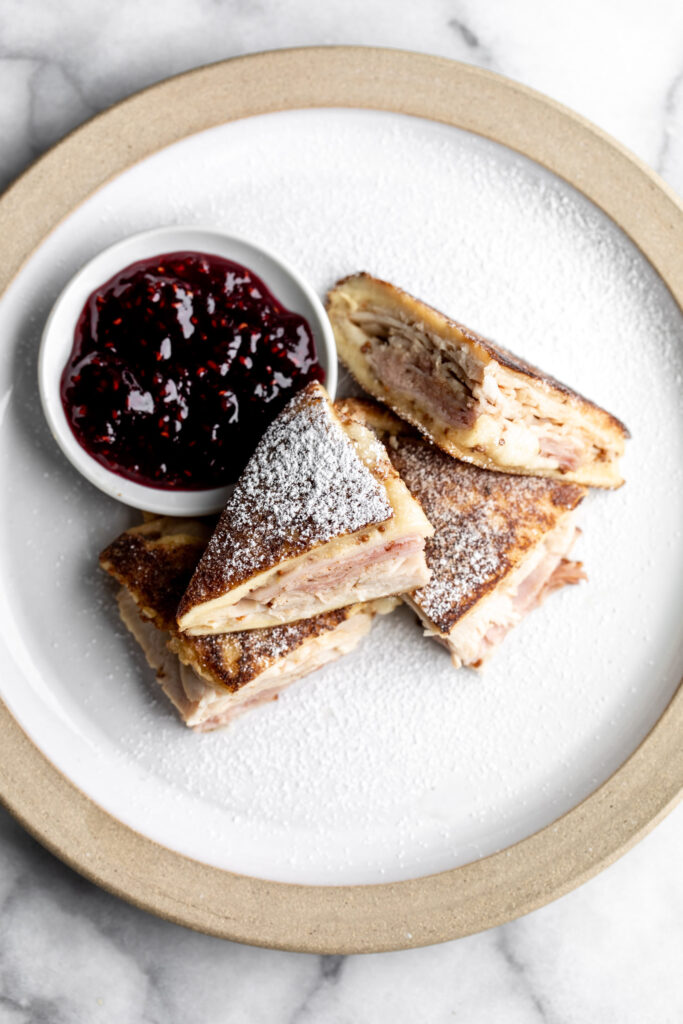 Tips for the best Monte Cristo
Use a thick, sliced bread.
I prefer to get my deli meats directly from the deli counter rather than buying them pre-packaged. It's much fresher, and I think it tastes better.
Serve the sandwiches cut in half or quarters topped with a dusting of powdered sugar.
The maple syrup and whole grain mustard mixture helps to keep the cheese in place as it melts when the sandwich is cooked.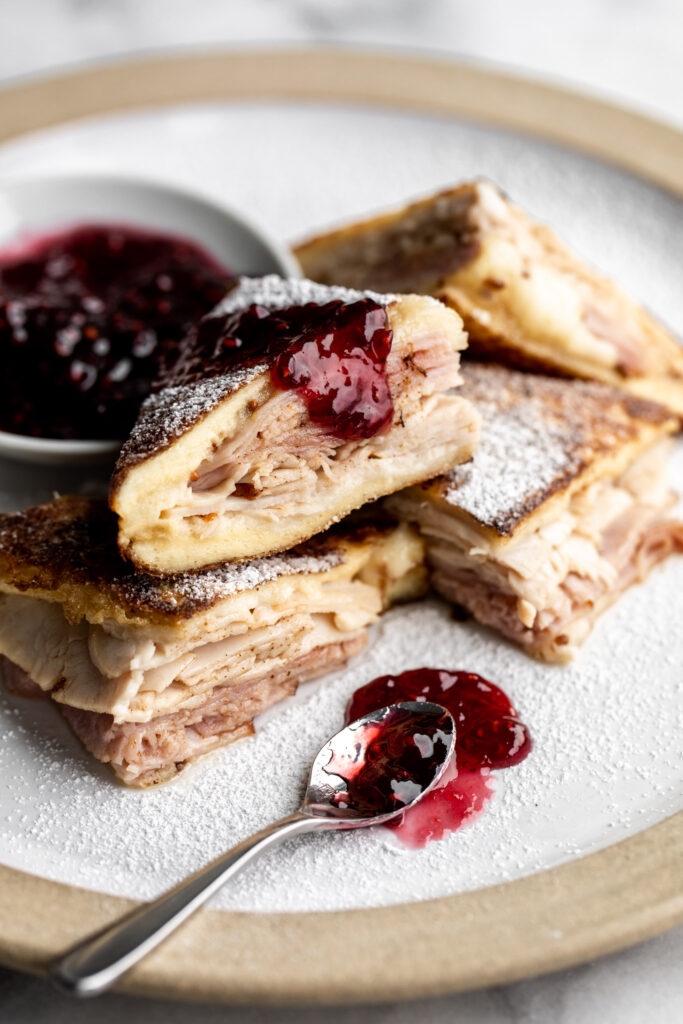 Other Recipes to Try
If you enjoy this monte cristo recipe, I recommend checking out these:
Monte Cristo Sandwich
For the batter:
4

large eggs

½

cup

whole milk

½

teaspoon

kosher salt
For assembly:
¼

cup

maple syrup

1

tablespoon

whole grain mustard

8

slices

thick-cut country bread

¾

pound

deli-sliced roasted turkey

¾

pound

deli-sliced black forest ham

1½

cups

shredded Gruyère cheese

¼

cup

vegetable oil,

for frying
For serving:
2

tablespoon

confectioners sugar

¼

cup

raspberry jam
For assembly:
In a small bowl stir together the maple syrup and whole grain mustard until combined and set aside.

Lay 4 slices of the bread on a clean workspace. Divide the slices of turkey among the slices of bread followed by the slices of ham. Top with the Gruyère.

On the remaining slices of bread, spread 1 tablespoon of the maple syrup mixture on each. Close the sandwiches and gently press down to keep the sandwich together.

Working one at a time, dip each sandwich into the egg mixture then carefully flip it so it's coated on both sides. Repeat with the remaining sandwiches.

Add the oil to a sauté pan, heat over medium heat until the oil looks shiny. Working one sandwich at a time, add to the oil and fry until golden brown, turning the heat down if the sandwich browns too quickly, about 3 minutes.

Carefully flip and continue to fry until golden brown and the cheese is melted, about an additional 3 to 4 minutes.

Remove to a cooling rack set over a paper-towel lined baking sheet and repeat with the remaining sandwiches.
DID YOU MAKE THIS?
TAG ME ON INSTAGRAM TO BE FEATURED ON MY STORIES! @cookingwithcocktailrings