Weekend in Park City, Utah with American Lamb
September 13th – September 15th, 2019
I have been lucky enough to work with the American Lamb board for a few years now, and they invited me on another weekend trip with them to learn more about the impact of family farmers and what "American lamb" really means. While last year's trip was to Five Mary's Farm in Fort Jones, CA for a few days of "glamping", this year's trip was to Park City Utah, where we spent the weekend exploring the area and visiting farms with our hosts the Osguthorpe family.
Park City lies about a 40-minute drive from Salt Lake City and is mostly known as a ski town as well as the host of the Sundance Film Festival. I was hoping the Park City weather would give me a taste of fall and it didn't disappoint. While Salt Lake was fairly hot, once I made it up into the mountains it was much cooler.
Steve Osguthorpe and his family have about 10,000 sheep in total between him and his 7 children (six sons and one daughter) and their families. They are a third generation sheep rancher family who has experienced the changes brought to Park City with the popularization of it as a ski and resort community. To this Steve said, "Park City has changed, but it hasn't changed us".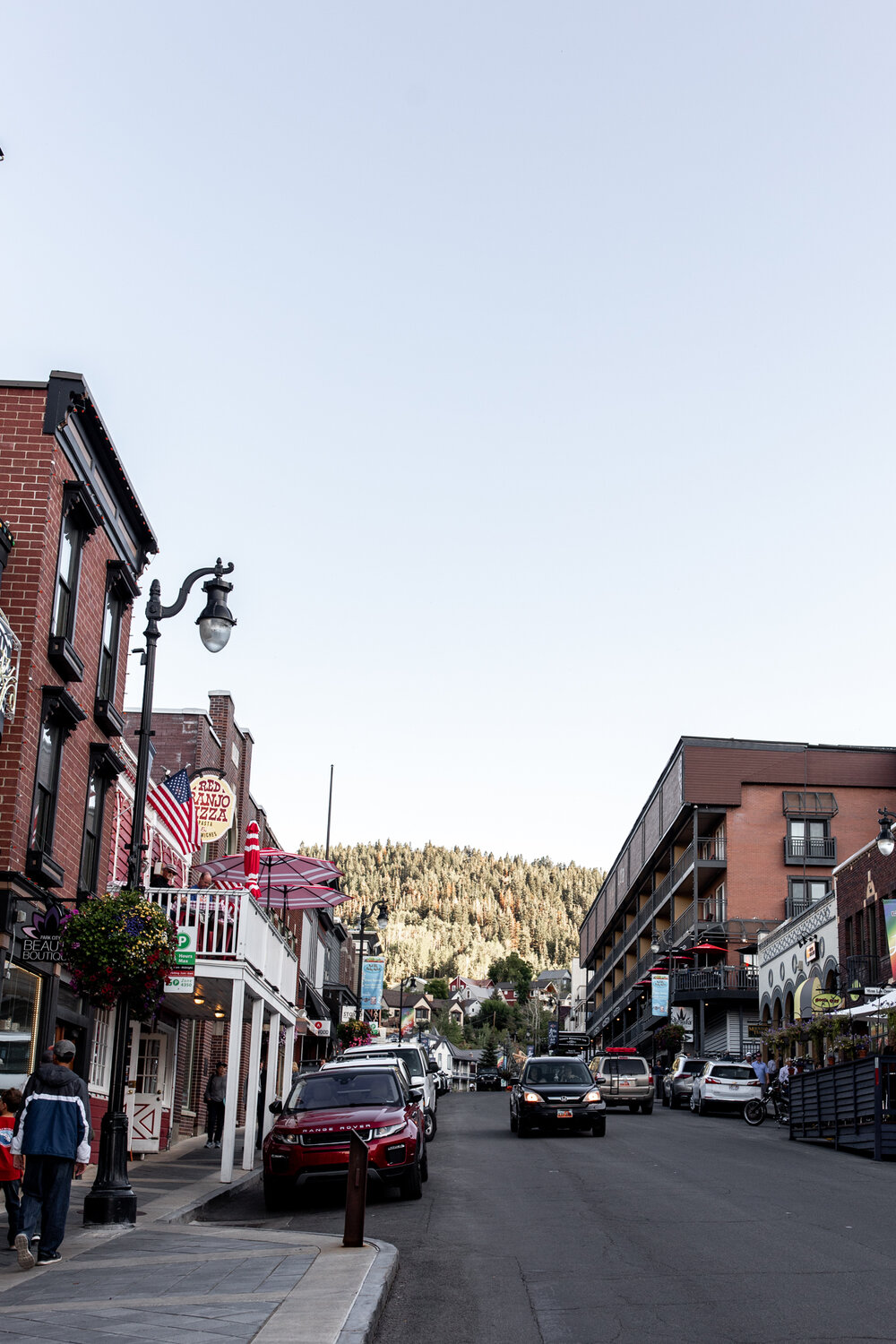 They have worked hard with conservation societies to preserve land in the city as well as working hand in hand with Park City companies to serve the local community year-round. The Osguthorpe family actually rents the land to the Hyatt Centric Park City resort where we were staying so their sheep get to graze right on the property in the fall – before ski season of course. Steve's son Brad and his wife Jenny work with the family business and also own a band of their own sheep under their own name, Circle JB Ranch & Livestock and hope to pass on their passion for ranching to their daughter who would be the fourth generation in the operation.
After settling in from my flight I met with a few fellow recipe writers/ bloggers for cocktails at the hotel bar, EPC. As food writers/bloggers we exist in a very isolating industry, generally working on our own in our own kitchens for the most part so when we get to meet each other in real life rather than just by forming friendships through social media it's a nice change.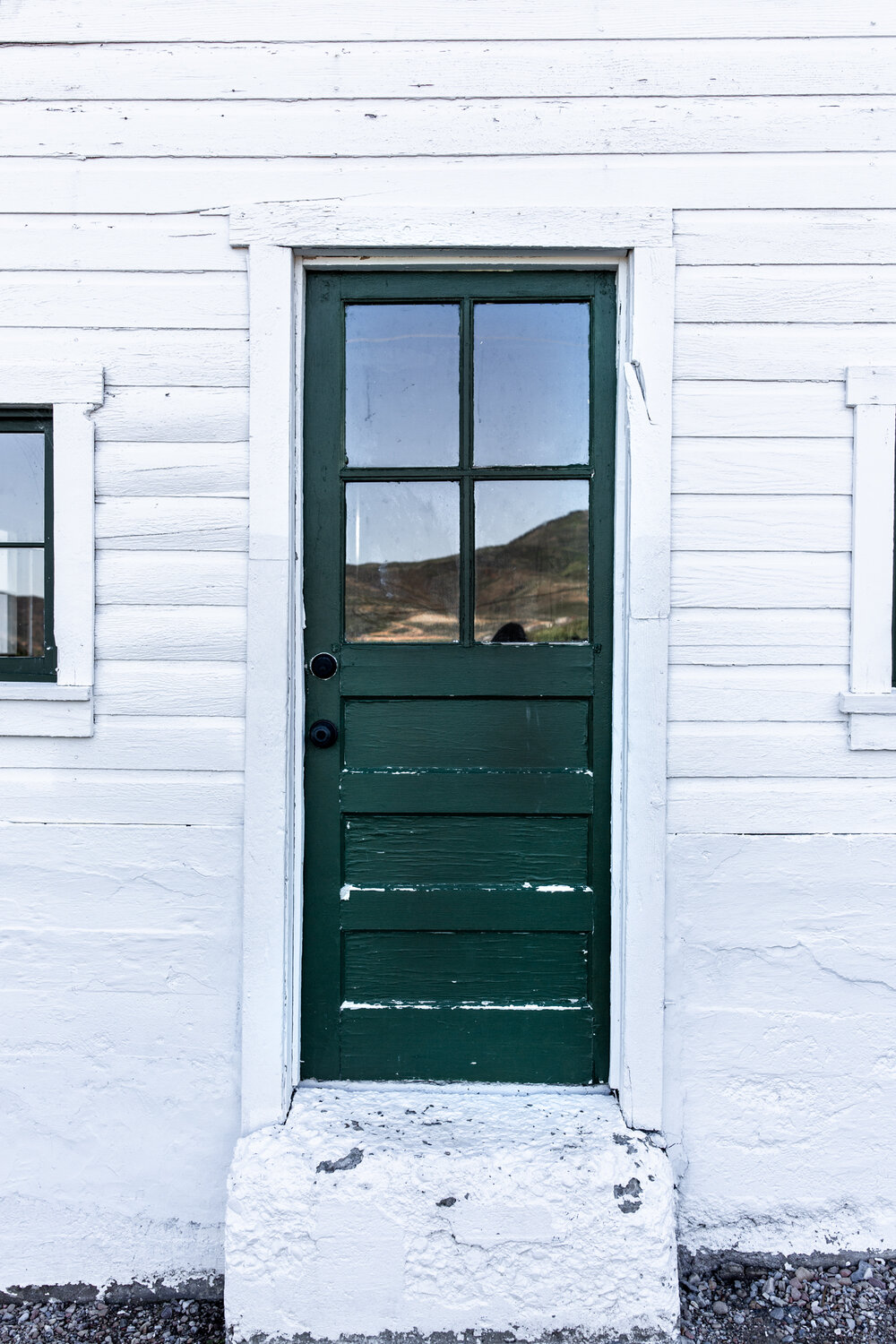 Utah has some strange drinking laws – if you are at a bar that also serves food then you must order food if you are planning on ordering a drink. When asked if we would like separate checks for our drinks we were told that to do so we would each have to order an individual food item. We settled on using Venmo and an order of cheese curds, which were so good we actually ended up going back for more the next day and getting additional orders. They were cheddar cheese curds from a local artisan cheese maker in Heber Valley and were served lightly battered and fried alongside a zesty lemon aioli.
After being introduced to the rest of the group we took a bus to the historic downtown area of Park City. It's simply one long hilly street that looks like it could be out of a Western movie. The street is lined with plenty of cute restaurants and little boutiques, in the off-season it seemed quaint and quiet, but I'm sure during winter it gets busy.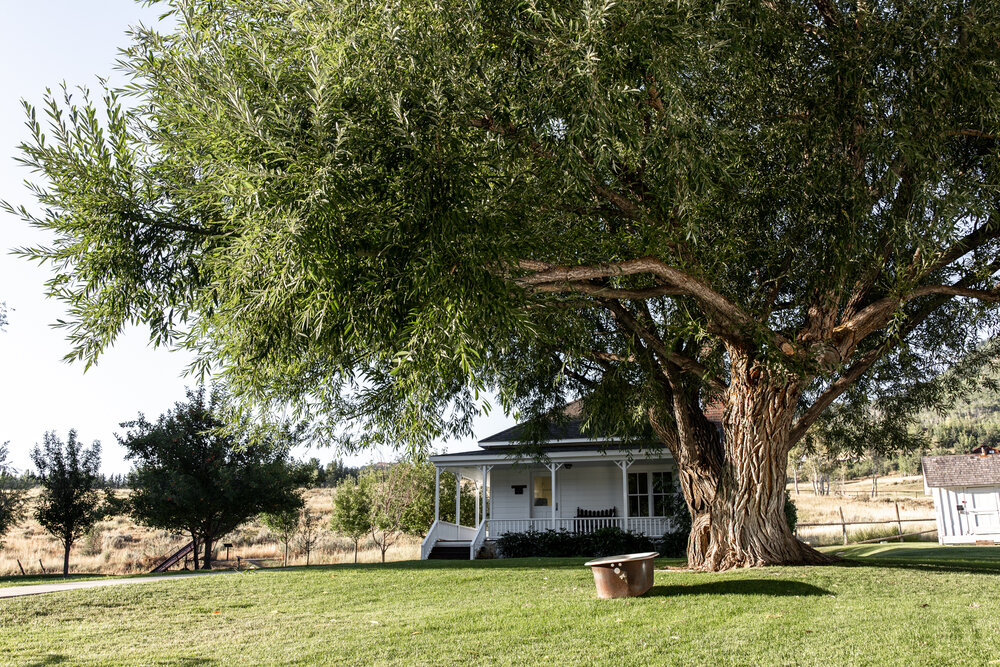 Dinner was at the private room of the restaurant Purple Sage where we were served a special lamb-focused menu. We started with a cheese board with local cheeses (whipped Shepherd's Dairy goat cheese, Beehive Barely Buzzed Cheddar and Heber Valley Cascade Raw Cheddar) featuring house made merguez and lamb black pepper lamb sausage, both using lamb from Osguthorpe sheep. The next course was a generous serving of iceberg wedge salad with house-cured lamb "bacon" blue cheese, and chili ranch dressing. Since I generally have no self-control when it comes to eating, I had already mostly filled up on the first course, the cheese board and sausage.
The entrée course included not just one, but two full size dinners each, "not to share" family style. First was a grilled lamb meatloaf with poblano peppers and pine nuts topped with sweet tomato chili sauce accompanied by whipped mashed potatoes and baby carrots. The second was slow cooked leg of lamb over Parmesan and green chili grits with braised greens. We finished with a dessert of butterscotch pudding, and while I started the night suggesting we try out a few cocktail bars to experience the area, by the end I was ready to spread out in my hotel bed.
After an early wake up call and breakfast at the hotel on Saturday morning we were off for a tour off the operation starting with Osguthorpe barn (also known as McPolin barn after the first family to own it). The land is now a historic site that covers both the large white picturesque barn (thought to inspire the Traeger Grills logo) and former homestead that used to be surrounded by the family's dairy farm. Due to the trend toward larger, corporate dairy farms the family shifted focus to primarily sheep herding around the 1990's.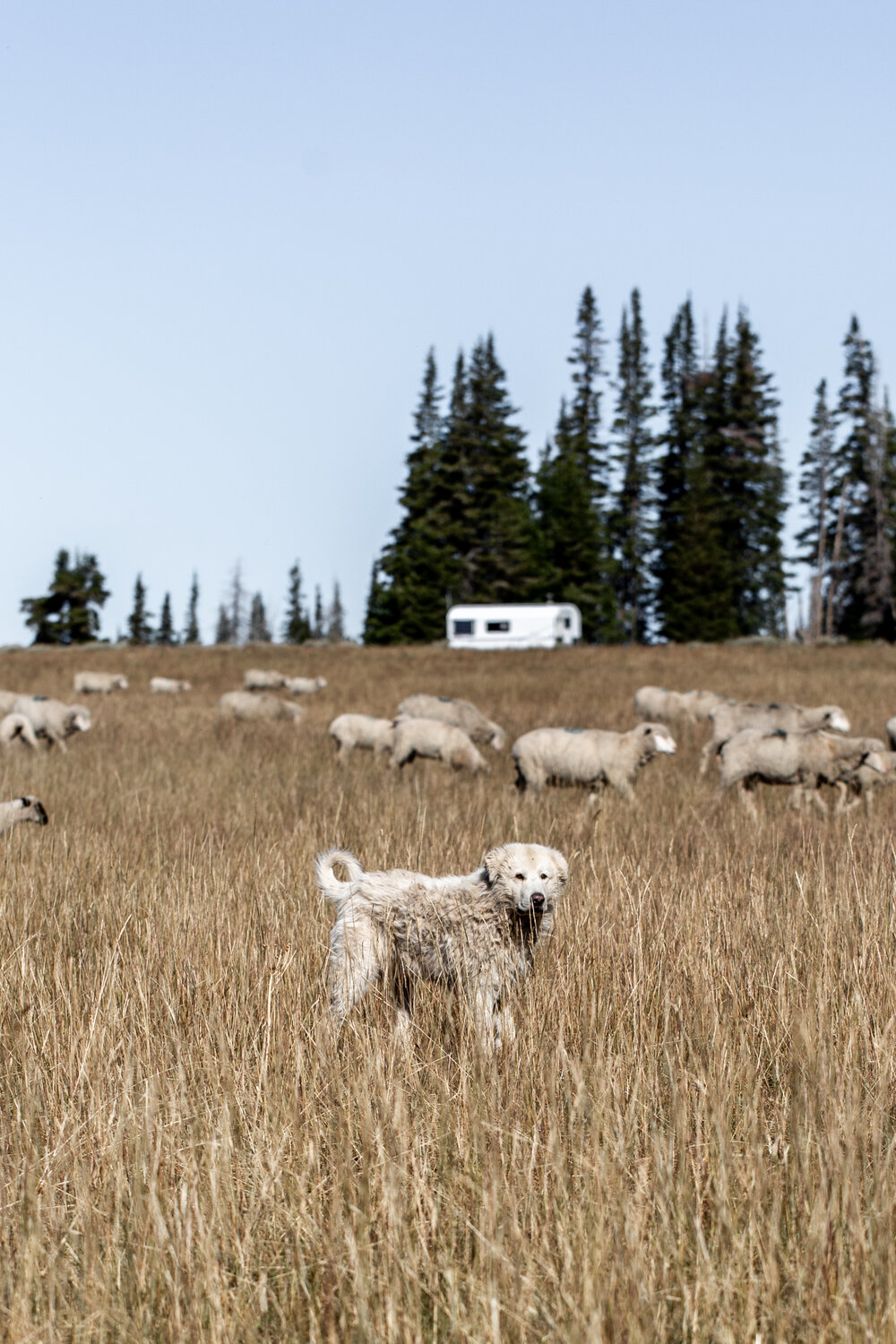 Utah ranks 5th in the USA in lamb and wool production preceded only by Texas, California, Colorado and Wyoming. The Osguthorpe family took us to see where their sheep were currently grazing – on an area about 40 miles away. Because they run a range operation where bands of about 1,000 sheep can graze freely, they employ contract shepherds from Peru who come to this country on work visas and live with the sheep full time. We were introduced to Hugo, one of the shepherds who stays with the sheep in a nearby trailer that is intermittently relocated to different grazing areas. Grazing is a good way to help restore damaged land, but the sheep also can't be kept in one area for too long of a time so they are brought to different areas. Hugo is assisted by several Great Pyrenees livestock guard dogs (who were very territorial when we showed up), border collies to help herd, and a number of horses that he alternates riding to herd the sheep. Supplies for both the animals and Hugo are brought in on a weekly basis.
A quick terminology breakdown for those new to the lamb industry because it can be a bit confusing:
Sheep

– over one year of age and have typically produced offspring.

Lamb

– less than one year of age. The meat we eat that is referred to as "lamb comes from the animals less than one year of age while meat referred to as "mutton" comes from animals older than one year.

Ewe

– Female sheep.

Ram

– Male sheep (also referred to as bucks).

Flock

– a small group of sheep is called a flock.

Band

– a large group of sheep is called a band.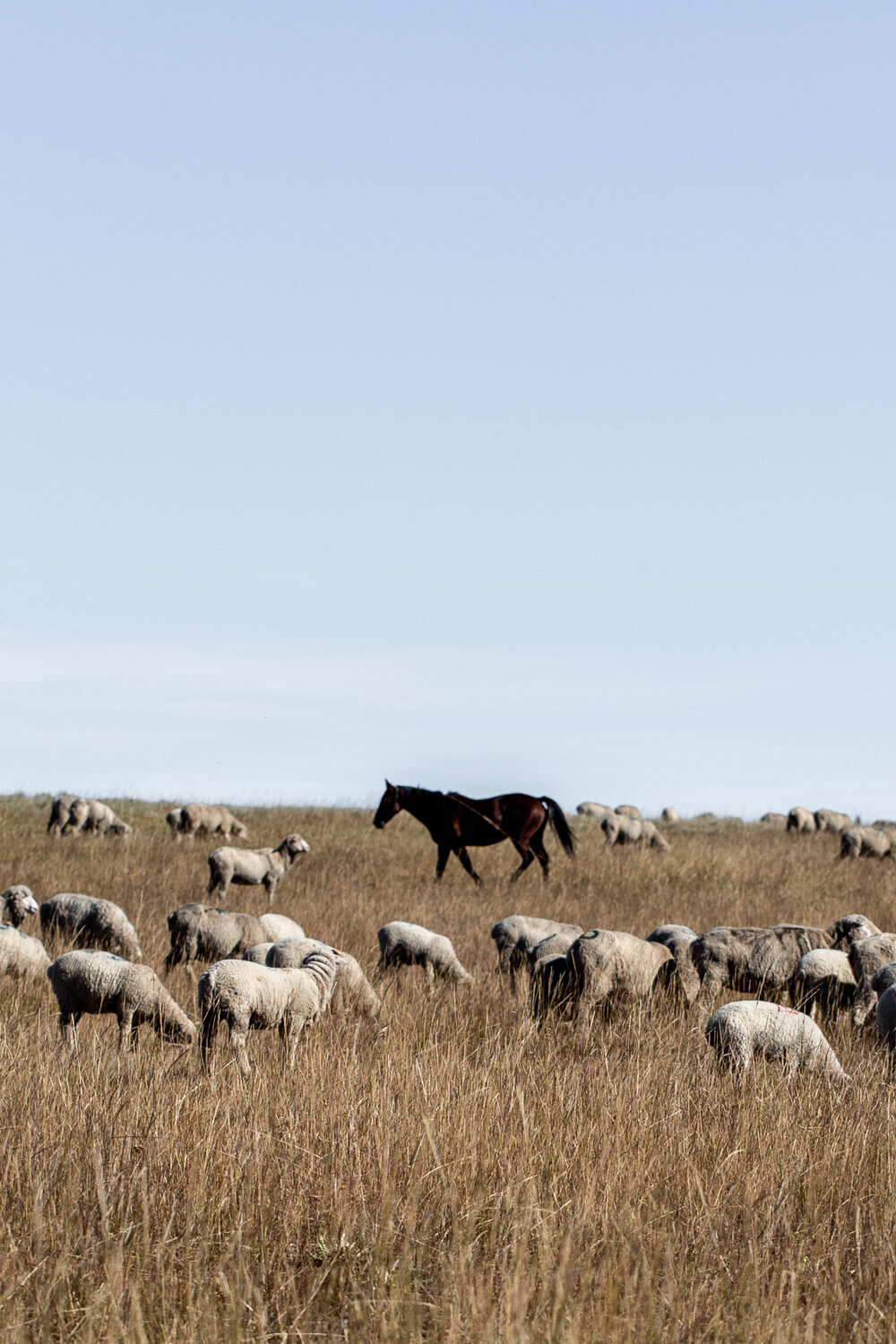 The herd is made up of primarily Rambouillet/Merino cross ewes and those ewes are bred to merinos and Suffolk/Hampshire rams. Some of the wool produced by the Osguthorpe's livestock goes into the production of uniforms for the US military. Sheep farmers are concerned not only with production and the day-to-day life of the sheep but also selecting traits to breed into the herd based on the size and genetics of the herd.
Ewes (female sheep) that are all white in color are kept in the herd while the rest are raised for meat. Lambing season in Utah is during the month of May – most ewes deliver twins and any that are rejected by the mothers, the Osguthorpe family takes to bottle-feed.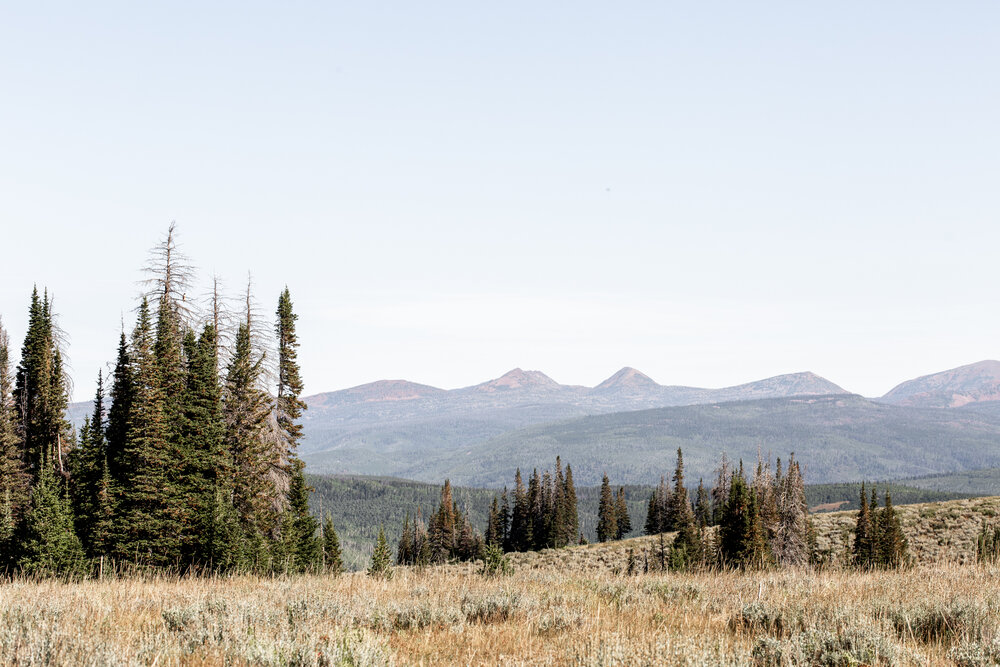 After the sheep are pasture raised and weigh anywhere from 90 to 100 pounds, some of the sheep are sent to a "feeder" to be grain finished. This all depends on their weight. Here they have plenty of space, as it's just fenced in rather than the wide-open range. They graze and with constant access to grain rather than grass and will gain an average of 20 to 40 pounds over the course of 20 to 60 days.
While this may sound odd, there is a reason for the process beyond just fattening them up; by grain-finishing the sheep, it actually helps give the meat a milder, rich flavor and it also helps to offset the seasonality and spread out the production. In comparison to New Zealand lamb, American lamb is a much smaller operation nationwide. Since lambing season is in the spring, and thus all around the same time based on seasonality and availability of grass, it can be hard to supply the demand year-round.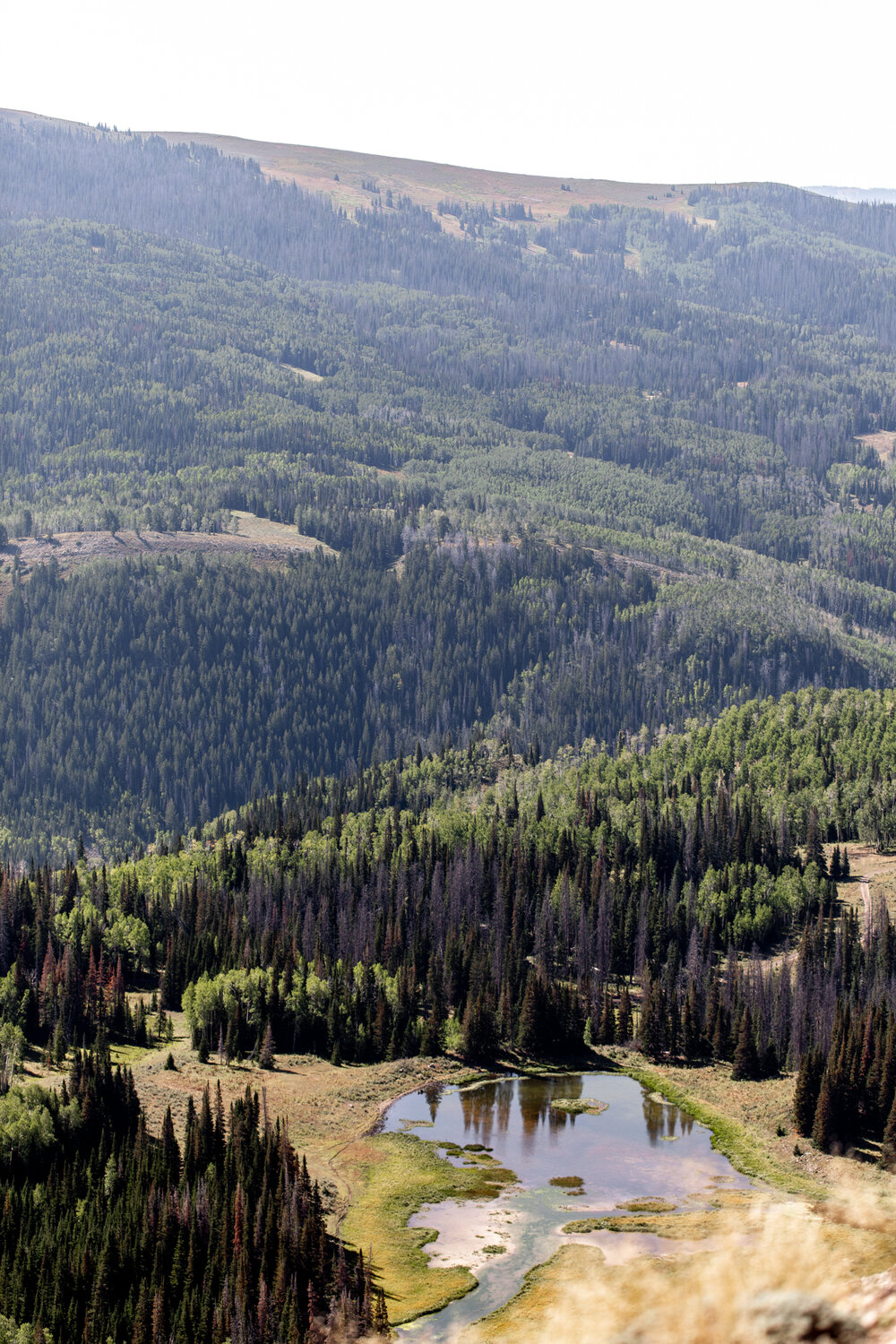 After an educational morning we took a gondola ride from Canyons Village up to the top of the mountain. We had brought our lunches from Café Zupas and were taken on ATV's up to the family's favorite secret picnic spot overlooking a small lake created from snow runoff. After lunch we went further up the mountain and made it up to 9,999 feet of elevation.
The second night's dinner was served at a private event space, Bill White's Farm. We were greeted in a sunflower filled garden with peach mule cocktails prior to dinner. Everyone was ushered into the kitchen where the head chef gave a presentation showing how to fabricate a rack of lamb.
The amuse bouche course came served on a glass plate with several slices of koji lamb carpaccio topped with crème fraiche, charred scallion and radish. Next up was a minestrone soup with a rich tomato-lamb broth, which was poured tableside over a small lamb merquez meatball to essentially cook it. I shamelessly licked the bowl and made a note to recreate something similar because I keep thinking about it. The next course was brought out on glass-domed dishes that were lifted away revealing a plume of smoke and lamb pastrami with farm pickles. Before the entrée course strawberry cucumber mint granita was served in small jars as a palate cleanser. Next the chef set out house made ravioli filled with braised lamb and served with roasted root vegetables, farm cheese and pomodoro sauce. Dessert was a pistachio and apricot cake with roasted apricots and pistachio ice cream.
While Bill White's Farm operates as a 501C3 non-profit to benefit the community and has a farm stand that is open to the public, the dinner venue operates only for private events. The restaurant group also runs several other restaurants in Park City which, if they were anything like this dinner, are absolutely worth checking out.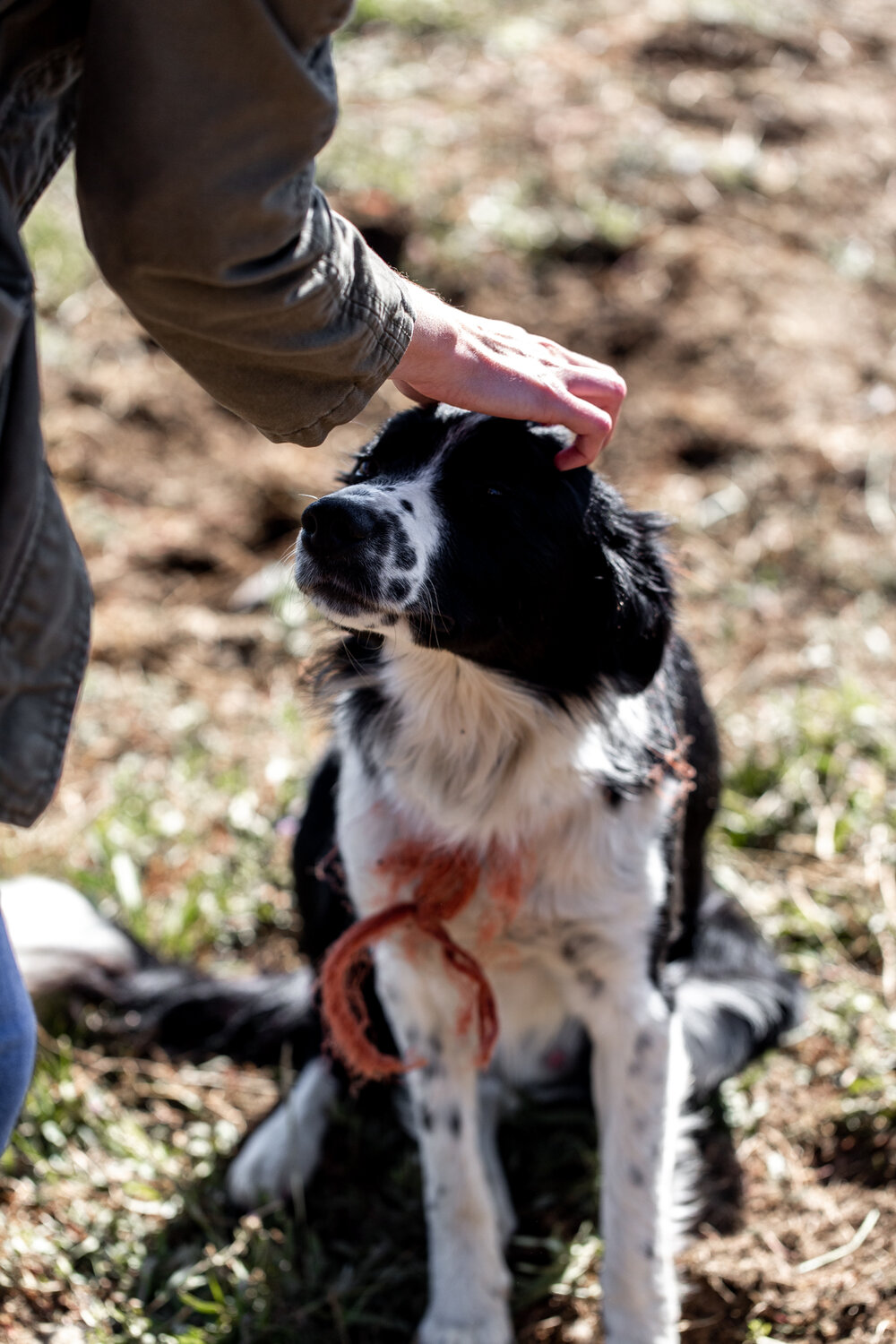 After dinner a small group of us took Ubers to the downtown area to check out some local bars. High West Whiskey Distillery offered craft whiskey cocktails in a saloon setting. Unfortunately, we only got in a quick cocktail since they closed at 10pm. Next up was No Name Saloon & Grill, a two-story pub with beers on tap. It was much busier but was more of a "grab a beer" bar – don't expect any fancy drinks.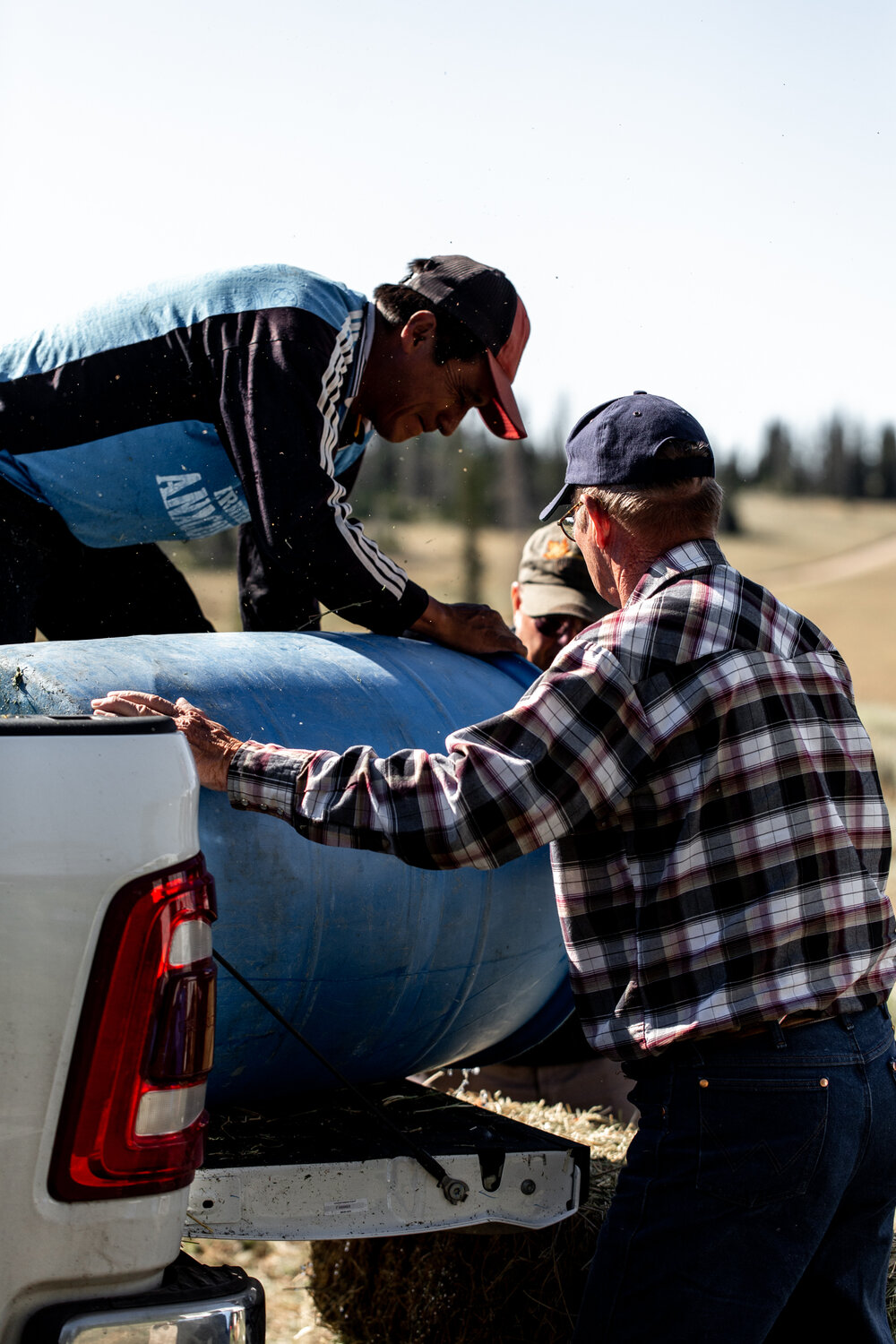 I benefited from the opportunity to gain a more thorough understanding of where my food comes from. I am a meat eater and always will be, but it is important for me to understand that meat comes from animals and thus that animals must be treated with respect. When I purchase meat, I prefer to focus on quality over quantity. Not all meat is produced the same and I think that it is important for carnivores to understand not only where the meat comes from but also how it is raised. The way that we buy meat affects these smaller farmers' lives and their ability to product high quality meat to consumers. It was a lesson well learned from my weekend in Park City.