It gives a break from the traditional Thanksgiving flavors while creating a new delicious meal with the leftover meat. Shredded chicken can easily be substituted for the turkey in a pinch. I like the texture the wild rice adds paired alongside a mix of celery, carrots, onion and Tuscan kale.
Wild rice is nutty with a firm texture; it's not actually rice, it's a semi-aquatic grass with edible grain. I fry up some thinly sliced garlic in vegetable oil to drizzle over the top for a flavor punch and additional crispy texture.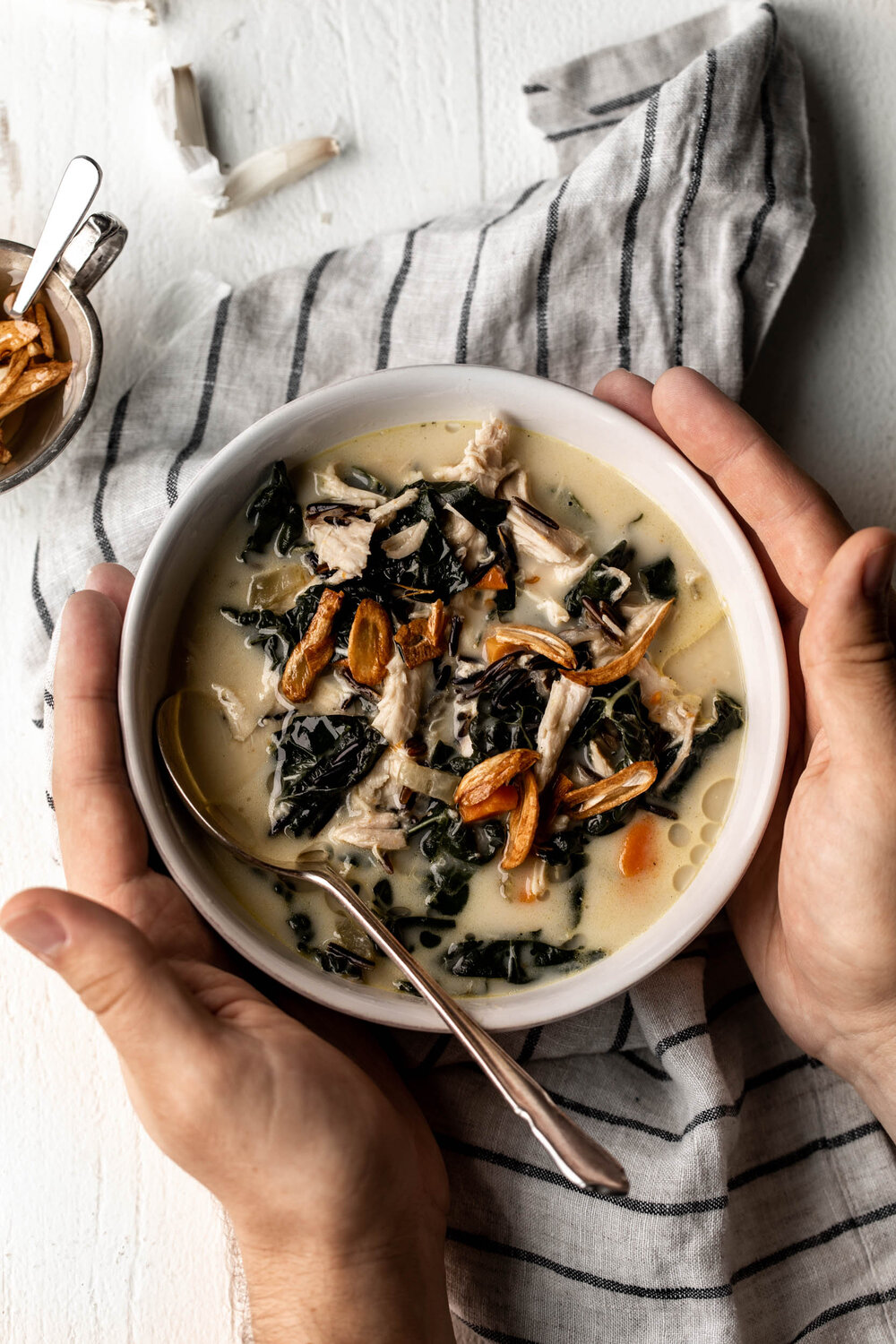 Turkey and Wild Rice Soup with Garlic Oil
For the garlic oil:
½

cup

vegetable oil

4

cloves

garlic,

thinly sliced
For the soup:
Heat a large saucepan over medium heat, add the olive oil and heat through. Add the celery, carrots and onions and sauté until the onion is tender, about 5 minutes.

Add the flour and stir to combine. Let the roux cook, stirring constantly, for 1 minute until it's a pale golden brown. Add the stock, stirring to combine. Season to taste with salt then add the rice. Simmer the soup on medium-low heat until the rice is tender and some of the grains have burst open, about 30 minutes.

Stir in the shredded turkey and kale, simmering for an additional 10 minutes, until the kale has wilted. Stir in the heavy cream.
For the garlic oil:
Add the vegetable oil to a small saucepan and heat over medium-low heat. Add the sliced garlic and fry, stirring occasionally until the garlic is crisp, about 5 minutes.
DID YOU MAKE THIS?
TAG ME ON INSTAGRAM TO BE FEATURED ON MY STORIES! @cookingwithcocktailrings