This post is sponsored by Kroger.
The holidays are a hectic time for everyone so when I'm cooking for family, I like to find ways to cut corners on time without sacrificing flavor. In this recipe turkey sausage patties are served with crispy hickory-smoked bacon, melted nutty gouda cheese and homemade cranberry mayonnaise and topped with arugula on toasted sourdough bread.
Turkey Sausage Sandwich with Gouda, Cranberry Mayo & Bacon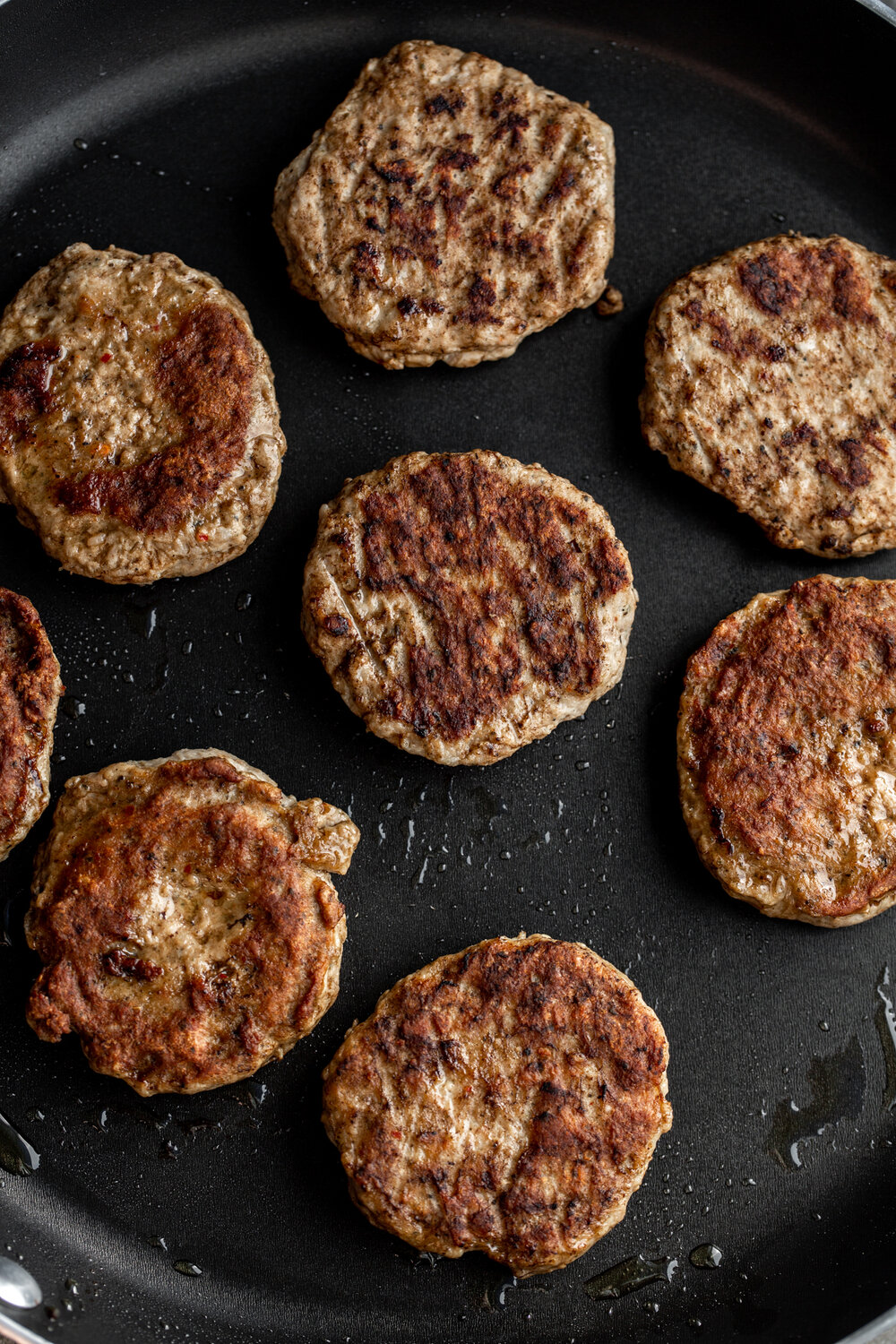 More About This Recipe
Around the holidays, I always have plenty of family and friends to entertain and I find I put so much focus into the main holiday meal that I forget that people are staying multiple other days that I need to feed them for as well! My mind gets so preoccupied with the main holiday meal so I love creating easy recipes that can be made for a crowd in a pinch.
Everyone always gets so excited by the smell of Wright Hickory Smoked Bacon wafting throughout the house – they're immediately drawn to the kitchen. I opt to cook bacon on an aluminum-foil lined baking sheet in the oven when making sandwiches. This way the bacon cooks evenly and flat for extra-crispy pieces that can easily be stacked.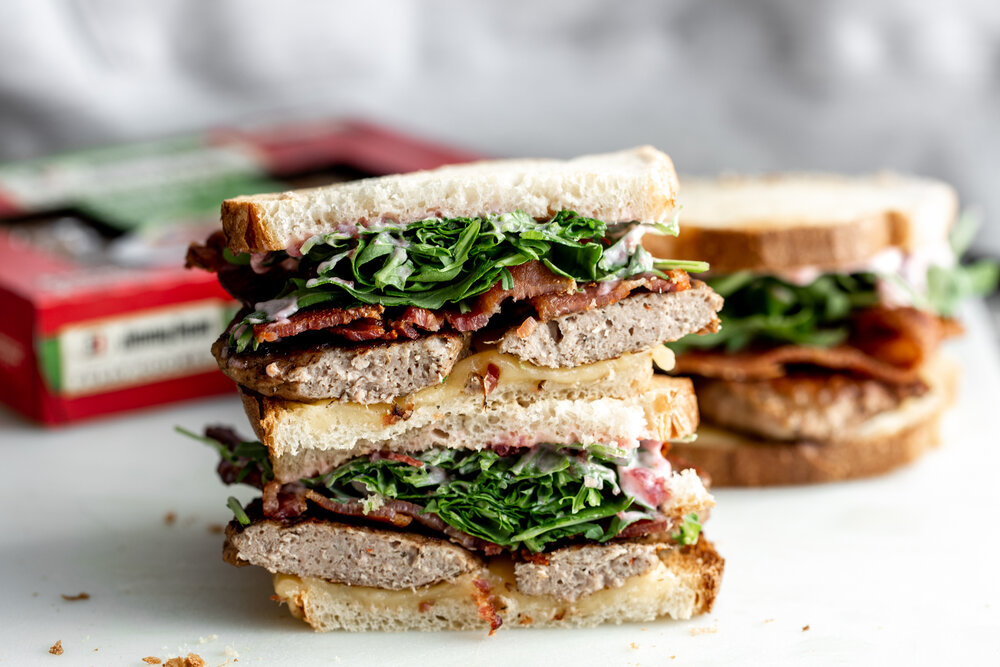 Key Ingredients in This Recipe
Turkey sausage – I love adding Jimmy Dean's fully cooked turkey sausage to sandwiches for an easy holiday lunch! They're so easy and they can take as little as 45 seconds to make! Pick it up at your local Kroger family store (Fred Meyer, Ralphs, QFC, Smiths).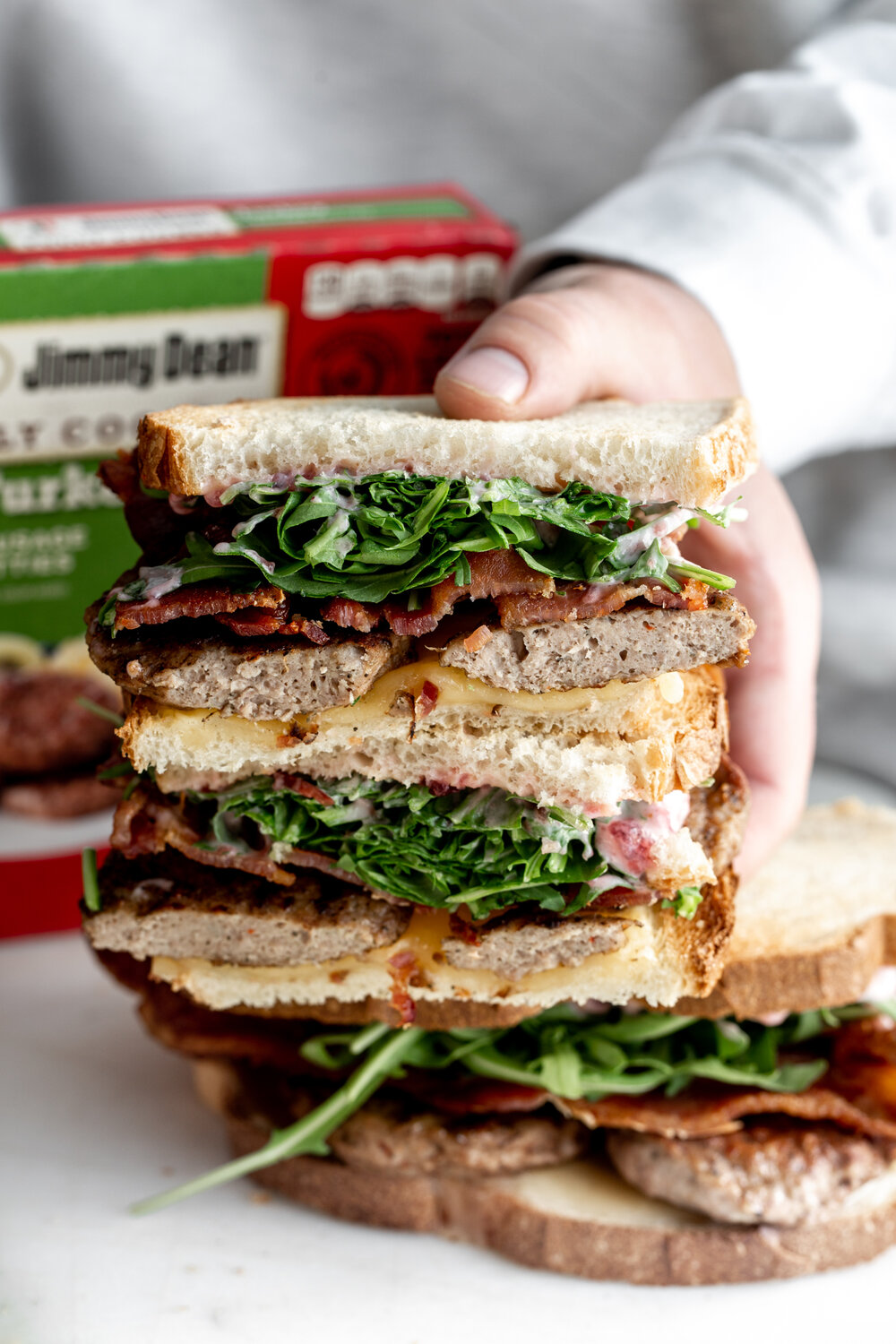 Tips and Tricks for This Recipe
Even better – the mayo and bacon can be made ahead of time and you can get guests involved and serve it assembly line style! The food should be what brings people together during the holidays, not what creates the stress.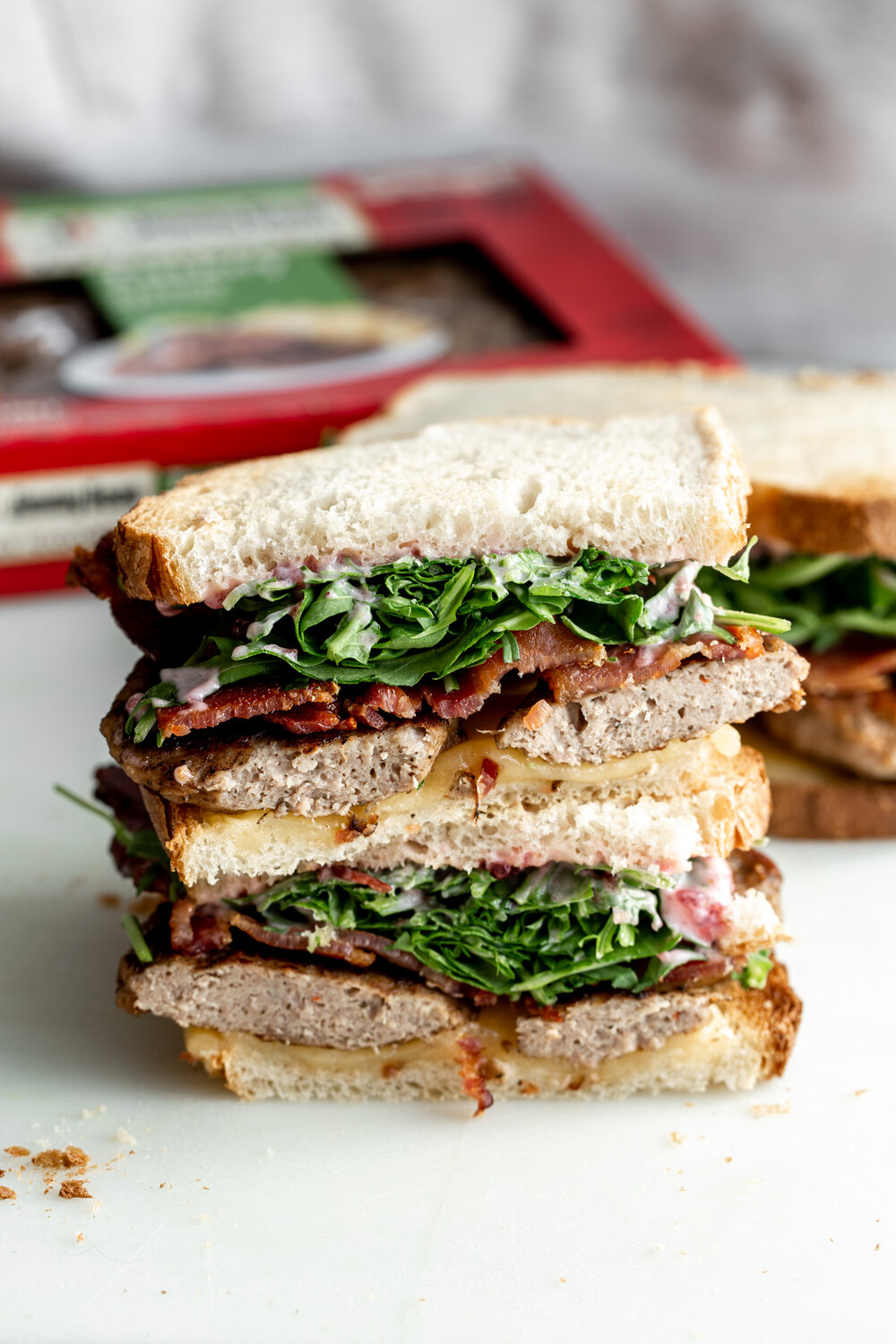 Other Recipes to Try
If you enjoy this recipe, I recommend checking out some of these:
Turkey Sausage Sandwich with Gouda, Cranberry & Mayo
For the cranberry mayo:
¼

cup

mayonnaise

¼

cup

canned chunky cranberry sauce

½

teaspoon

freshly ground black pepper
For assembly:
½

pound

Wright Hickory Smoked Bacon

1

tablespoon

extra-virgin olive oil

8

Jimmy Dean Turkey Sausage Patties,

thawed if necessary

4

slices

sourdough bread,

cut in ½" thick slices

4

slices

gouda cheese

½

packed cup baby arugula
For assembly:
Preheat oven to 400ºF. Arrange bacon in a single layer on an aluminum-foil lined baking sheet. Bake until evenly golden brown and crispy, about 16 to 18 minutes. Remove to a paper-towel lined plate to drain.

Heat a large non-stick skillet over medium heat. Add olive oil and heat through. Add the patties and heat until golden brown, about 3 minutes. Flip and continue cooking until warmed through, about an additional 3 minutes. Remove to a plate and set aside.

Heat oven to broil on high. Arrange bread on a baking sheet and toast until golden brown, about 2 minutes. Flip the bread and arrange slices of gouda cheese on half of the bread. Continue to toast until the cheese is melted, about an additional 2 minutes.

Top the slices of bread with the cheese with the warmed patties on top, 4 per slice. Top with the slices of bacon and top with a handful of arugula. Spread 2 tablespoons of the cranberry mayonnaise on each of the remaining slices and close the sandwiches. Slice in half and serve.
DID YOU MAKE THIS?
TAG ME ON INSTAGRAM TO BE FEATURED ON MY STORIES! @cookingwithcocktailrings