Juice from salted tomatoes is whisked into a simple vinaigrette of white wine vinegar, extra-virgin olive oil, Dijon mustard and red pepper flakes and served with tomatoes, mozzarella, basil and shaved zucchini in this Tuscan-style salad. While this bread-based "salad" does not actually have any lettuce or greens it is a popular Italian summer staple.
Making Panzanella is a great way to give a second life to stale hearty bread – in this recipe I use day-old ciabatta bread so that it's not "break your jaw" tough but still is stale enough to absorb the tangy tomato-vinaigrette dressing. I also fry the bread in a pan in some garlic butter to give it some extra flavor and just enough crunch.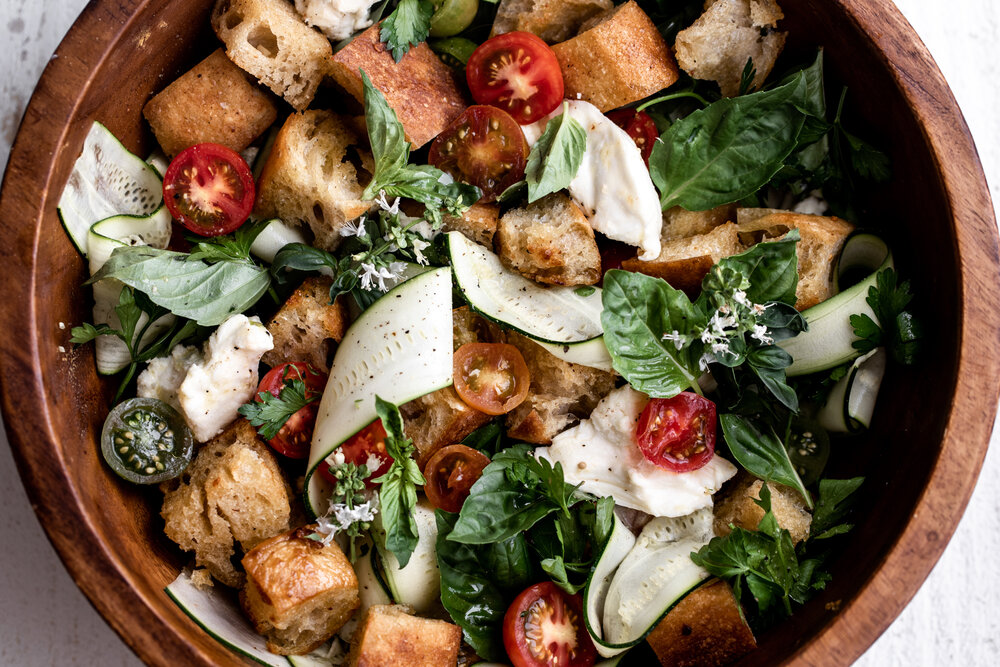 I like to pair this summery Panzanella with roasted chicken legs and drizzle the leftover chicken fat from the pan over the bread for an extra punch of flavor, inspired by the famous chicken at Zuni Café in San Francisco.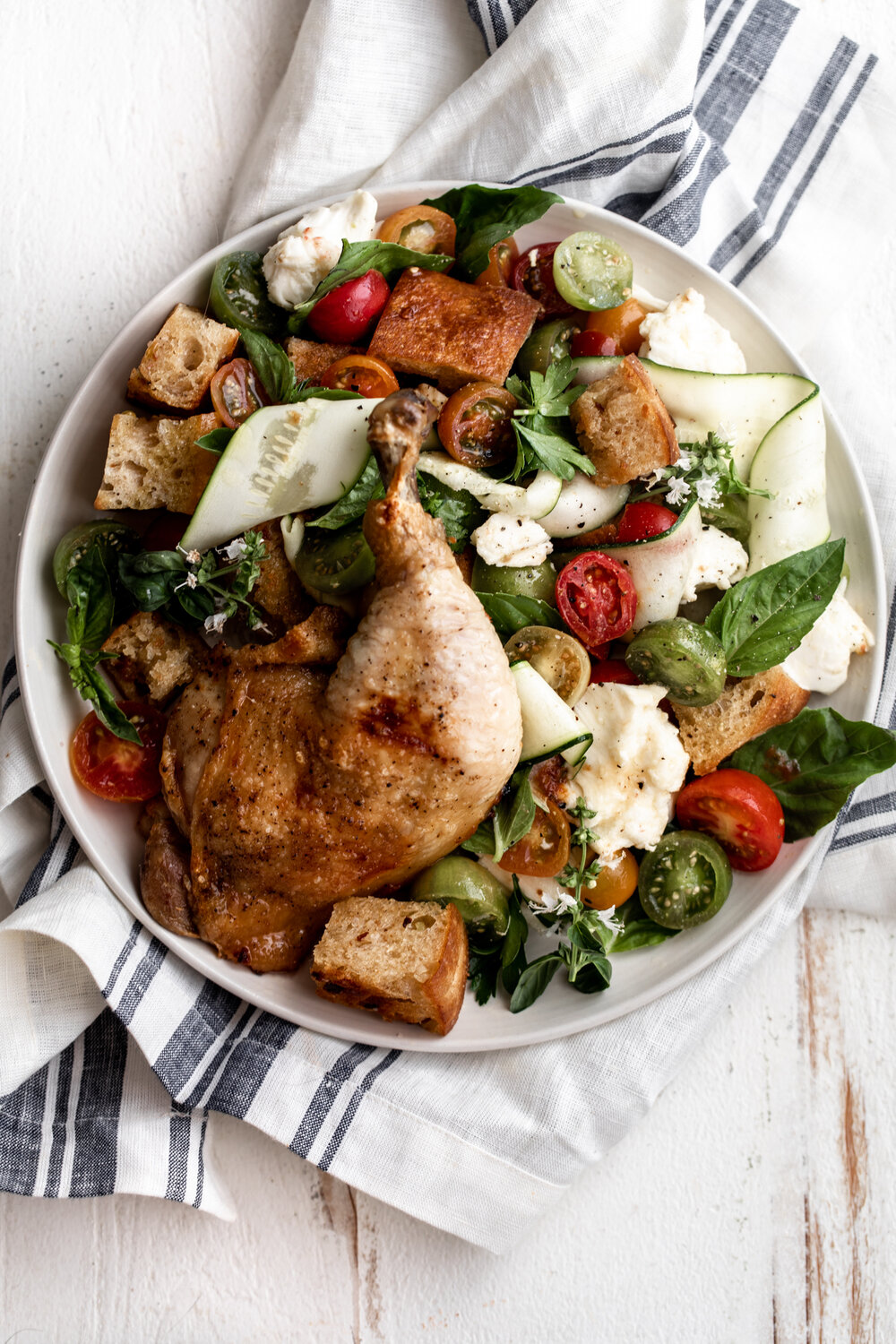 Summer Panzanella Salad
For the vinaigrette:
1

pint

cherry tomatoes

halved

Kosher salt

as needed

¼

cup

extra-virgin olive oil

2

tablespoons

white wine vinegar

½

teaspoon

Dijon mustard

¼

teaspoon

red pepper flakes
For the fried garlic bread:
For the vinaigrette:
Add the tomatoes to a medium mixing bowl and generously salt them, tossing to combine. Let the tomatoes sit for about 30 minutes to an hour, until about ¼ cup of juice from the tomatoes is in the bottom of the bowl. Drain the tomatoes, setting aside the juice in another small mixing bowl and setting aside the tomatoes.

Add the olive oil, vinegar, mustard and red pepper flakes to the tomato juice and whisk to combine.
For the fried garlic bread:
Heat a large sauté pan over medium-low heat, add the olive oil and heat through. Add the butter and allow to melt then add the garlic and bread. Fry the bread, turning occasionally, until golden brown all over and crisp, about 15 minutes total. Set aside and let cool.
For serving:
Add the reserved tomatoes, zucchini, basil, parsley, mozzarella and bread to a large salad bowl, tossing to combine. Drizzle the tomato vinaigrette over the top tossing to combine. Let the dressing sit in the bread for about 5 minutes then serve.
DID YOU MAKE THIS?
TAG ME ON INSTAGRAM TO BE FEATURED ON MY STORIES! @cookingwithcocktailrings