The coastal Connecticut area is lined with towns filled with New England charm. What's not to like? Lobster, linens, blooming blue hydrangeas and wine enjoyed on a dock. It's a Nancy Meyer cottage-core dream.
The past few summer's Aaron and I have driven up to visit my friend's family house to spend a weekend in Waterford, Connecticut. The first time I visited the house, located on Long Island Sound, was back in 2011 after we returned from studying abroad together. It was originally built around 1920 and passed down through her family with additions made in the 80s. It's only a little over 2 hours (with no traffic) from New York City. Last year we brought our dog Benson who fell in love with jumping off the dock into the water. This year we added another to the group and brought our 4-month old son, Jackson.
I was born in Connecticut (further north in Avon) and still remember going to the Mystic Aquarium as a kid. While Jackson is still too young for a visit this year, I can't wait to take him next summer. Of course Mystic is also popular for the movie, Mystic Pizza, featuring a young Julia Roberts. Over 300 miles long, Connecticut's coastline borders both the Long Island Sound and the Atlantic Ocean – I am focusing on the area stretching from Old Saybrook up to Stonington. 
Summer at the Connecticut Shore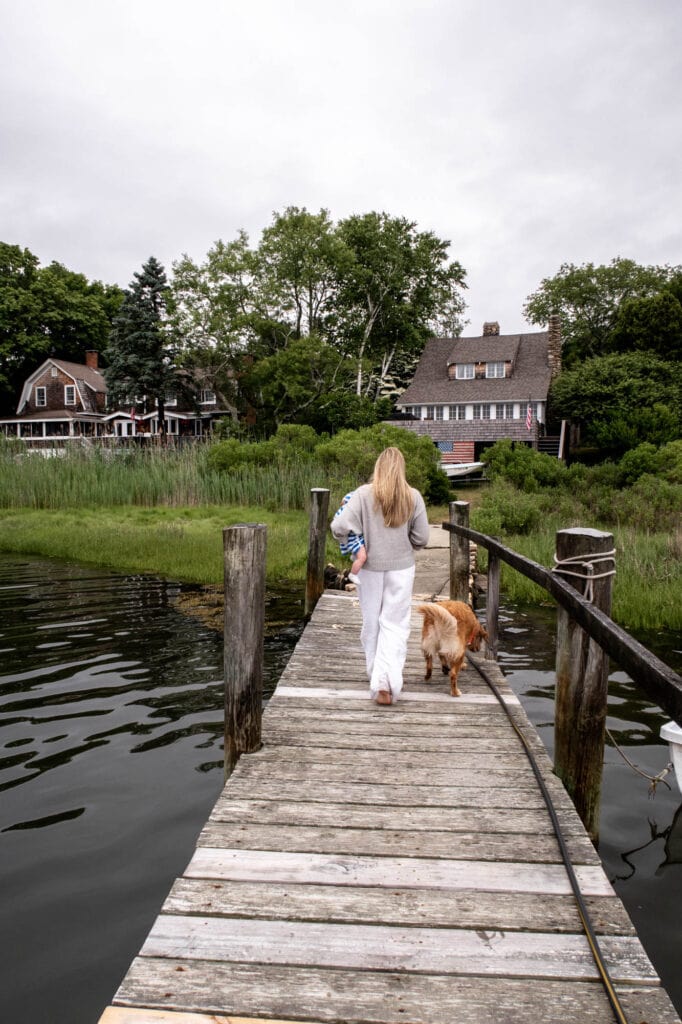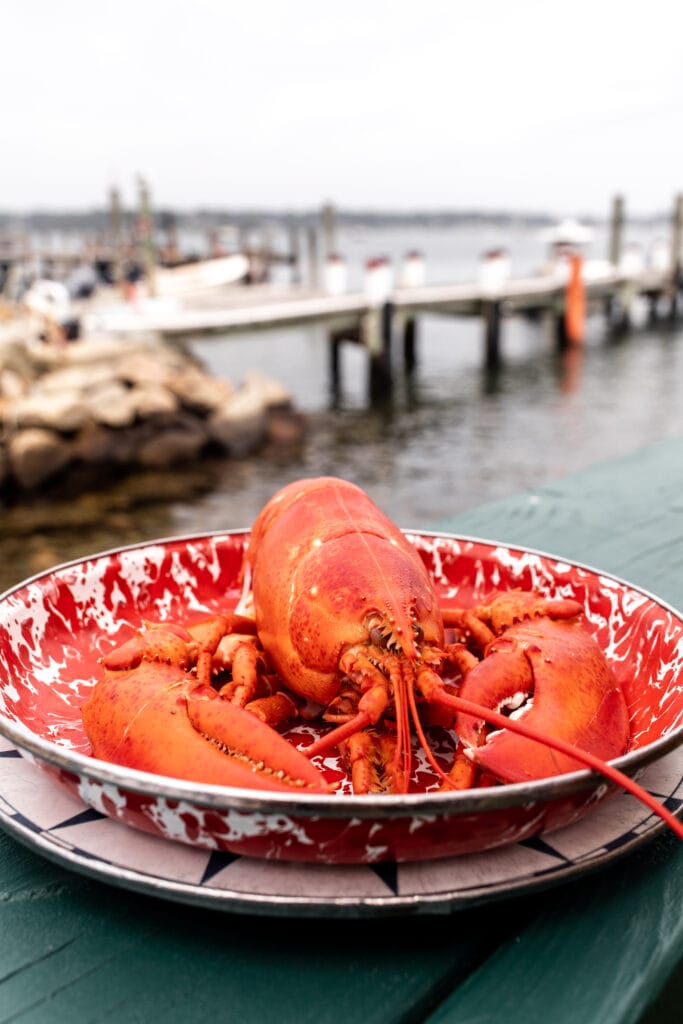 There's plenty more to explore but these are a few favorites that I've experienced along the shoreline: 
Restaurants
Cafe Sol
346 Main St, Niantic, CT 06357 | cafesolniantic.com
This cute little cafe in downtown Niantic is the perfect stop for a quick breakfast and coffee. You can add a whole list of syrups to your coffee order but I get the brown sugar shaken espresso. While cornbread is associated with the south, corn muffins are a New England staple. Order them grilled with butter. If you're looking for a simple breakfast to go, the basic breakfast sandwich is made with an egg patty, cheese and breakfast sauce on a Vienna roll.
Order: Corn muffin or the basic breakfast sandwich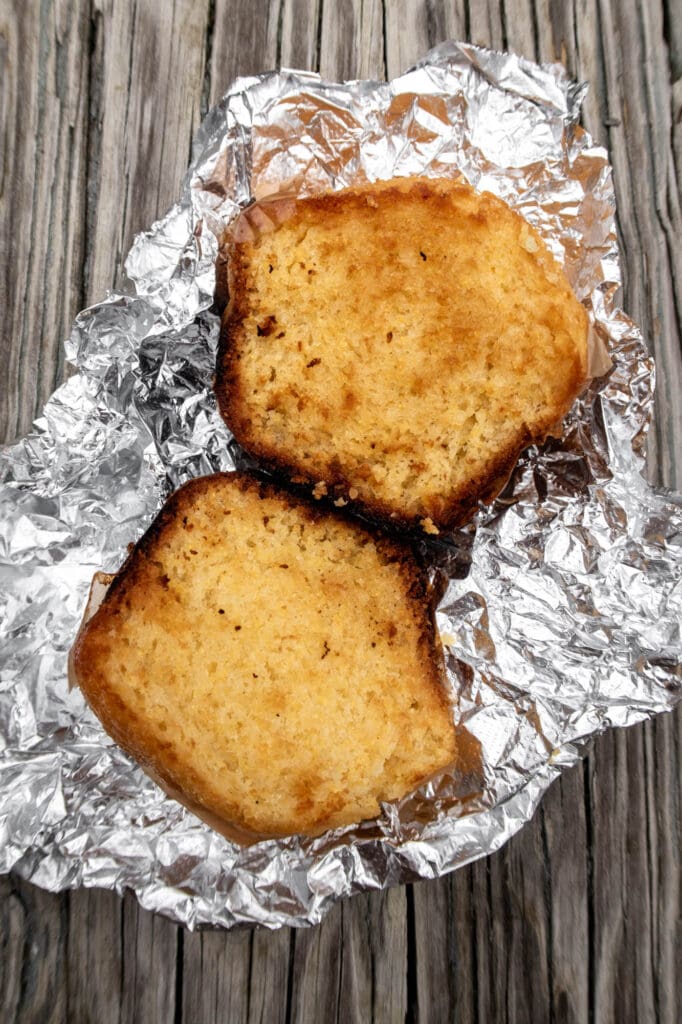 Ford's Lobster
15 Riverview Ave, Noank, CT 06340 | fordslobster.com
At Ford's in Noank, you can enjoy lobster (or a range of other seafood choices) on the water. The lobster "bomb", while pricey, comes with ½ pound of cooked lobster meat piled into a bread bowl smothered with creamy lobster bisque. If you're between that and the lobster roll, get the "bomb" – it's unique, delicious and comes with lots of meat. In comparison the hot lobster roll with drawn butter is made with ¼ pound of meat. This casual spot is BYOB, so make sure you bring a cooler or stop at Spencer & Lynn Wine and Spirit just up the hill from Ford's.
Order: Lobster bomb, lobster roll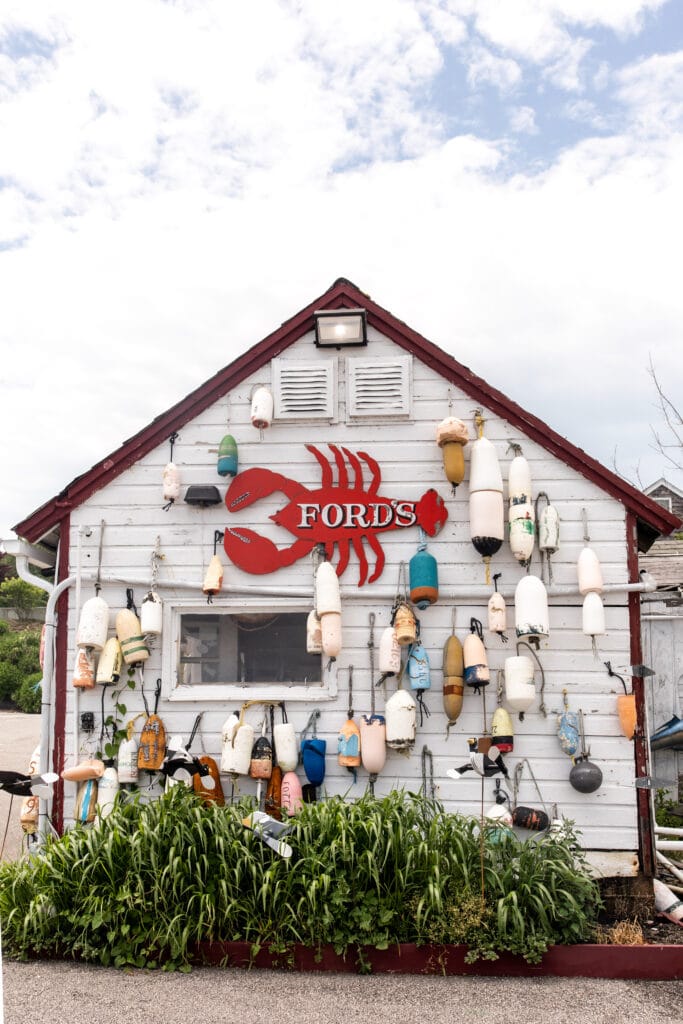 The Shipwright's Daughter
20 E Main St, Mystic, CT 06355 | theshipwrightsdaughter.com
If you're looking for a great spot for oysters and cocktails, this seafood restaurant connected to the Whaler's Inn is your spot. In addition to raw oysters, go for an order of fried oysters. The fried oysters are served in the shell topped with a sesame chili aioli and micro cilantro. For a non-seafood order, go for the blistered shishitos with togarashi kelp aioli.
Order: fried oysters, oysters on the half shell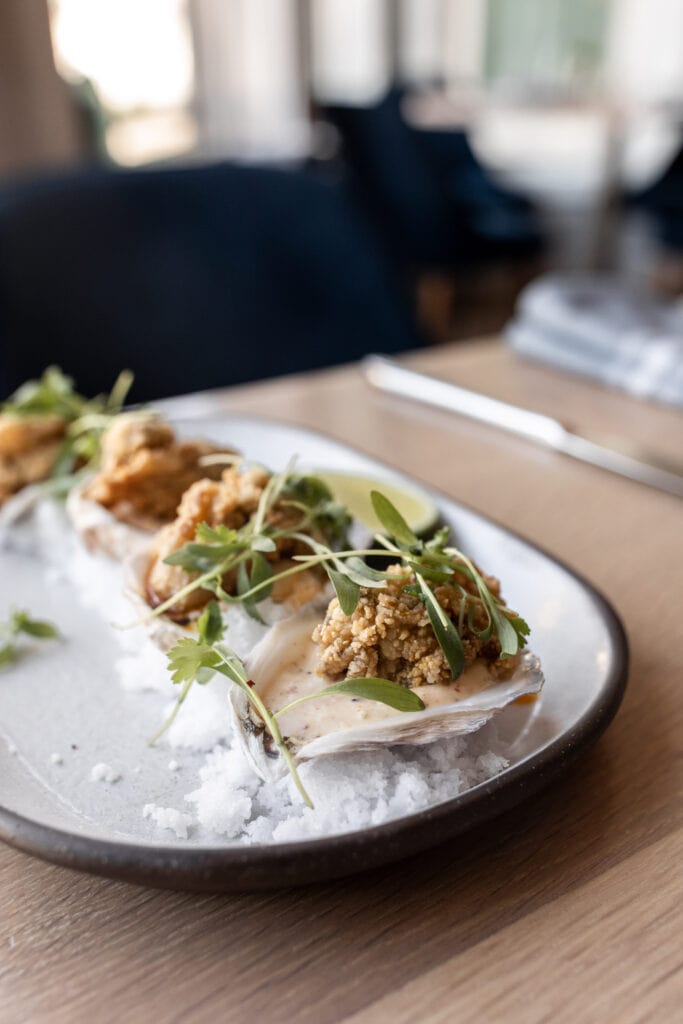 Engine Room
14 Holmes St, Mystic, CT 06355 | engineroomct.com
If you've had your fair share of seafood, head to the restored Lathrop Marine Engine building for burgers and comfort food. I love any place that offers a "sauce flight" to accompany your order with smoked ranch, chipotle hot sauce, jalapeño mayo, and roasted garlic aioli. Definitely order the crispy Carolina hush puppies served with rosemary-maple butter.
The Engine Room has a rotating clarified milk punch. I've noticed this cocktail gaining popularity recently for its smooth finish. Mixing the alcohol with milk and acid (often citrus) so it separates then straining removes the color and tannins resulting in a rich, more-full bodied cocktail. They also have non-alcoholic shrubs (alcohol can be added) made with house-made vinegar, citrus and sparkling water for a refreshing mocktail.
Order: Hush puppies.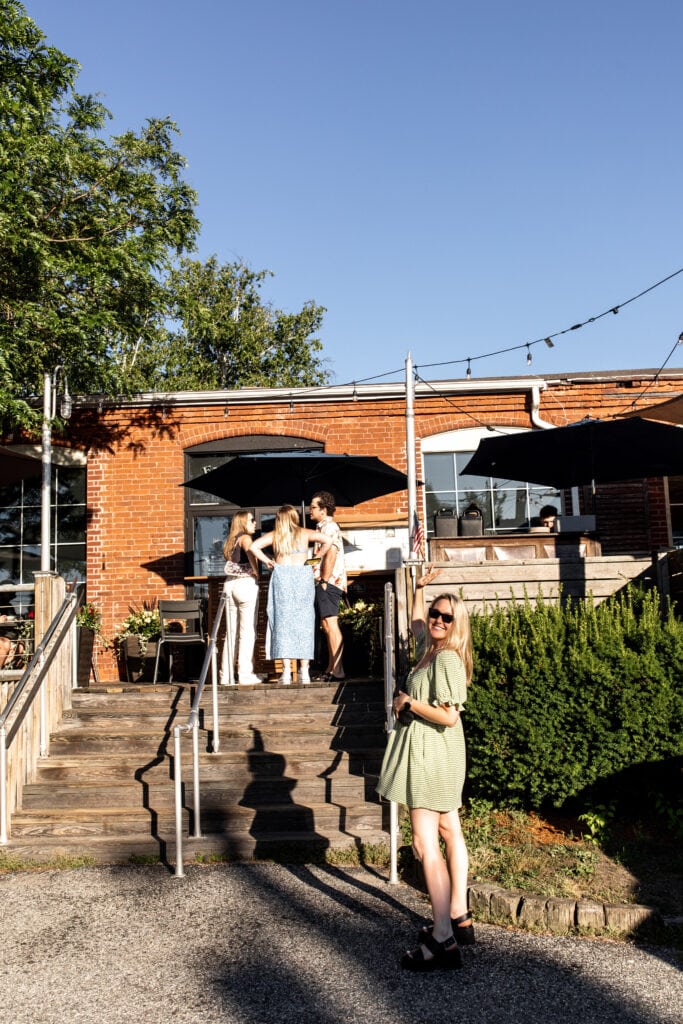 Family Pizza
233 Main St, Niantic, CT 06357 | familypizzaniantic.com
They have a full menu ranging from pizzas, wings, fried seafood to burgers. Our friends always order the grinders so we follow suit and always order the grinders! The large Italian subs are perfect for after a swim or hanging out on the dock. The capicola grinder comes on crusty bread with shredded lettuce, tomato and cheese. Order it toasted with oil and vinegar. If you have a gluten allergy, they can make the grinder on gluten-free bread.
Order: Capicola grinder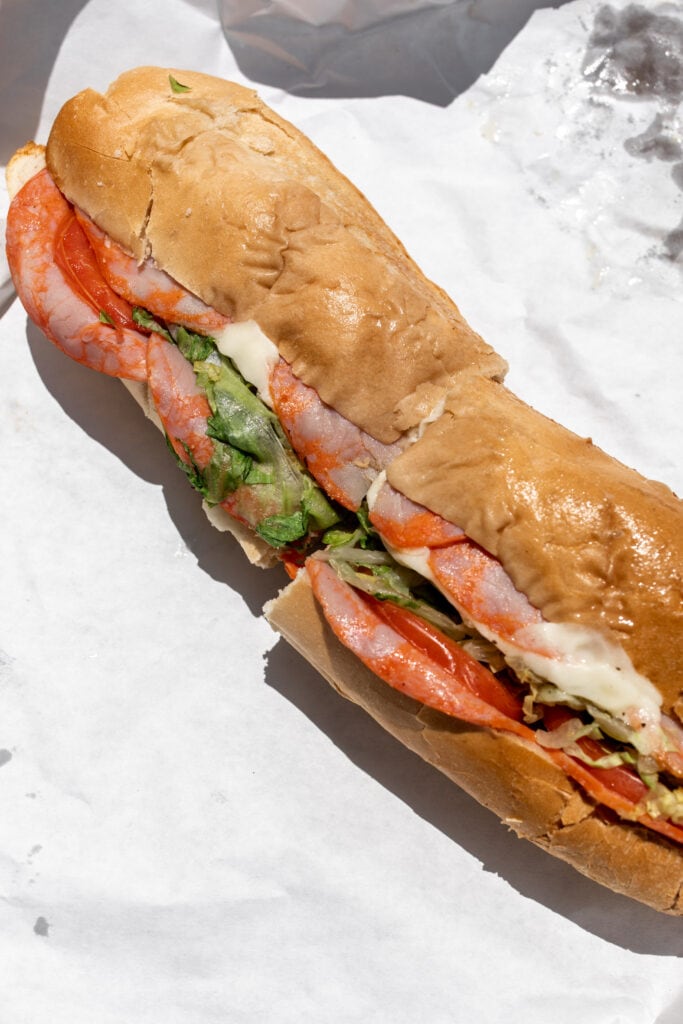 Dad's Restaurant
147 Main St, Niantic, CT 06357 | dadsrestaurant.com
This seasonal seafood spot is great for a quick bite. With ingredient costs so high (especially when it comes to seafood), I was shocked at their reasonable prices. The crab cake sandwich, made with a deep-fried crab cake with a tomato slice and shredded iceberg lettuce on a bun comes in at $5.95. Same goes for the cod sandwich made with a generous piece of fried cod. I love fried clam strips so when I see them on a menu I typically order them. Plus battering and frying them for pairing with tartar sauce is a great way to use up larger chewy clams. I would always get fried clam strips with my mom when we would eat at Friendly's so now whenever I order them I think of her.
Order: Crab cake sandwich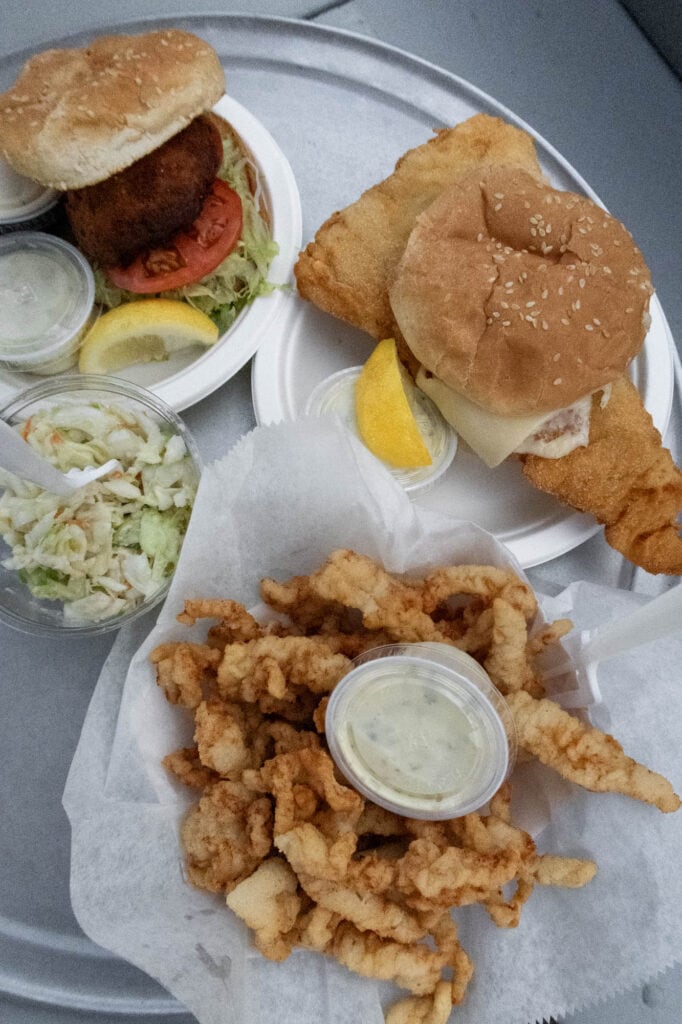 Michael's Dairy
629 Montauk Ave, New London, CT 06320 | michaelsdairynl.com
Michael's Dairy has been open since 1943. The dairy originally began as a milk processing facility called Mitchell's Dairy and later became the ice cream business. Mitchell College acquired Michael's Dairy in 2006 and now uses the proceeds to support students at the college in their pursuit of higher education. (My mom went to Mitchell!). Expect long lines in the summer but the ice cream is worth the wait! I love their "blackberry chip" flavor though they note other fan favorites include "coconut almond bar" and "graham central station" (made with graham ice cream with graham cracker crumbs and milk chocolate covered honeycomb pieces).
Order: Blackberry chip ice cream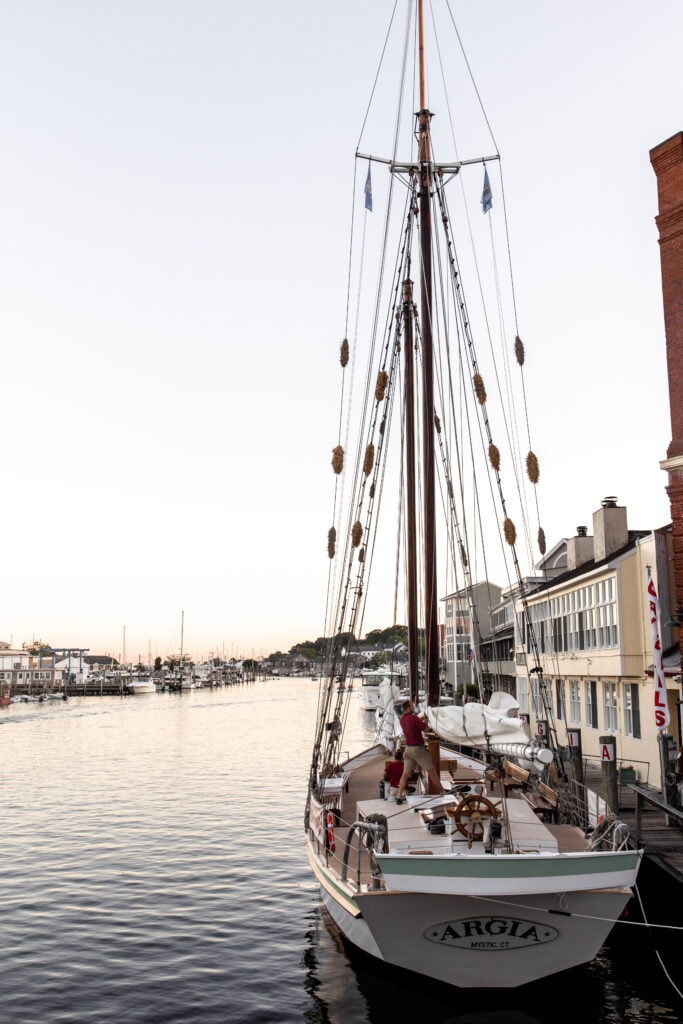 Mystic Drawbridge Ice Cream
2 W Main St, Mystic, CT 06355 | mysticdrawbridgeicecream.com
As the name implies, the ice cream shop is located on the bascule bridge in downtown Mystic. According to the website less "overrun" or air is whipped into their ice cream, resulting in incredibly rich and creamy ice cream made using premium ingredients including milk from a local dairy. I personally like "Vermont maple nut" or "wild Maine blueberry". As with most ice cream places on a hot summer night, the line can get long. 
Order: Vermont maple nut
To do 
Mystic Aquarium
55 Coogan Blvd, Mystic, CT 06355 | Mysticaquarium.org
I still remember going to the aquarium as a kid. While it's been some time since I've been back, I look forward to taking my son once he's old enough. The aquarium features thousands of species of marine mammals, fish, invertebrates, and reptiles including the only beluga whales in New England. Ticket prices for visitors range depending on the day and age group with discounts for state residents so I recommend booking ahead of time online. 
Mystic Seaport Museum
75 Greenmanville Ave, Mystic, CT 06355 | mysticseaport.org
The Mystic Seaport was a significant port dating back to 1784. Now the nation's leading maritime museum and tourist destination includes a recreated 19th century seafaring village with shops, ships to explore and educational exhibits. A major attraction is the Charles W. Morgan, the world's last wooden whaling ship.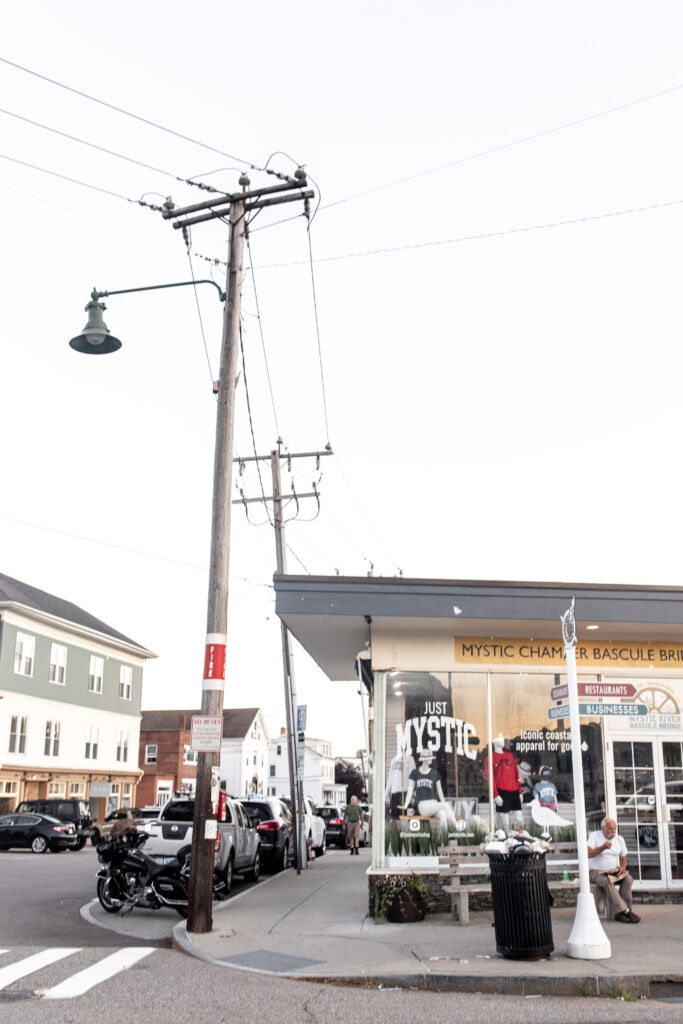 Harkness Memorial State Park
275 Great Neck Rd, Waterford, CT 06385 | ct.gov
Perfect for a summer stroll, the historic preservation area in Waterford covers a sprawling 304 acres. The park also features a 42-room Renaissance Revival mansion and former summer estate, Eolia, complete with a botanical garden. Dogs are allowed on leashes but not in the garden areas.
Crabbing
If you can find someone to take you, I recommend going crabbing!
You put your bait (chicken drumsticks) onto your line then drop it down off the side of the boat. When you feel a pull you gently pull the line up. If you're lucky you have a crab attached; if not then you mistook the current for crab or got a hold of seaweed. It takes some finesse to pick crabs after they're boiled. Turn it into a family activity so all the work doesn't fall on one person. With the meat, make crab dip, or crab salad!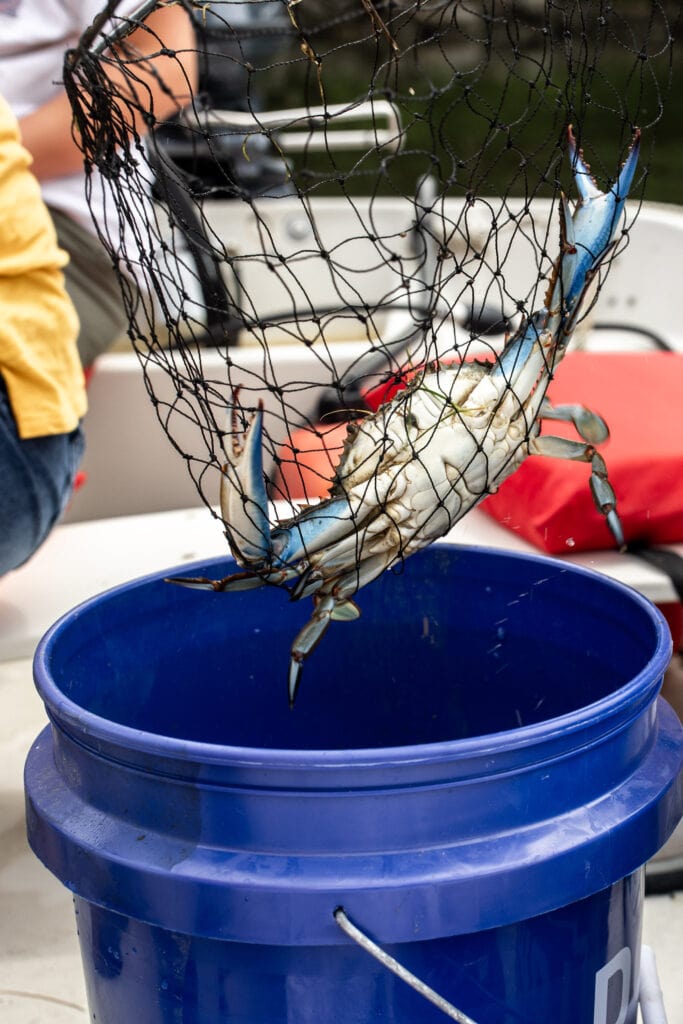 Beaches
Many of the beaches in CT are much less of a scene than say Long Island beaches (like Montauk across the Long Island Sound) or the beaches further up the coast in Massachusetts though many charge a fee for admission or for parking during the high season between Memorial Day weekend and Labor Day weekend. You can find some great beaches along the shoreline. Harvey's Beach in Old Saybrook is a great place to start. Hammonasset Beach State Park in Madison has two miles of beachfront with campsites and gardens. Visit Ocean Beach Park in the historic whaling port of New London or Sherwood Island State Park in Westport.
Kayaking
Few things are as relaxing to me as kayaking. Take an ocean kayak out into the Long Island Sound, just be sure to put on sunscreen before you go. Benson likes to jump off the dock and try to follow me so I've put her on the front a few times. She loves to swim but unfortunately doesn't understand low tide.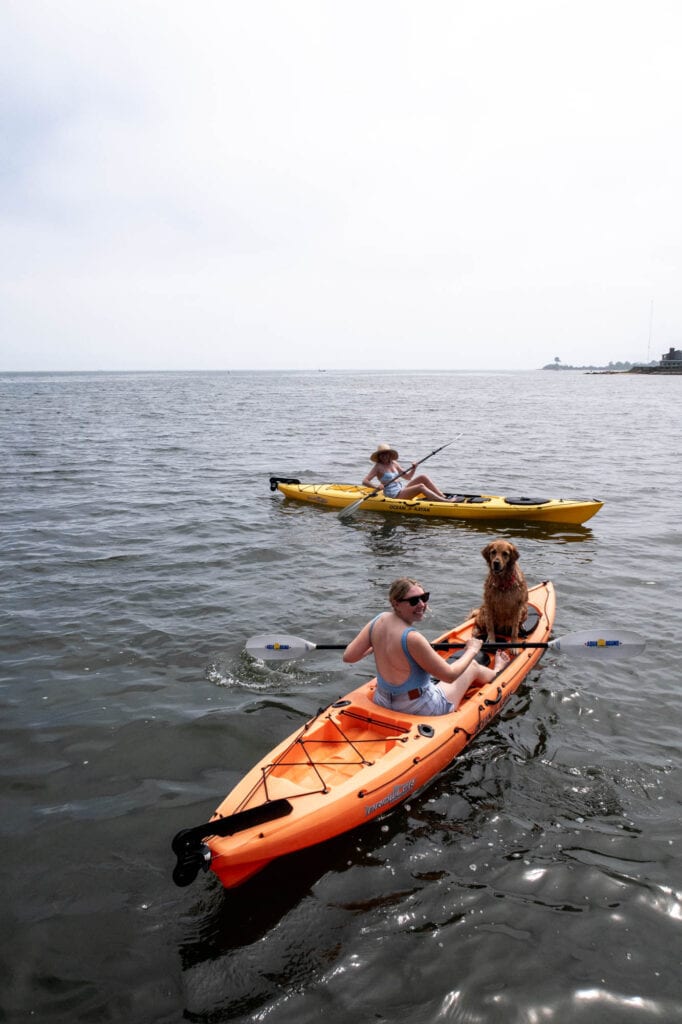 A few NYC to CT road trip tips:
If you're looking to break up the drive to the Connecticut shore, stop for a pizza along the way in New Haven. It really helps to have a car pizza if you're heading back to the city, summer traffic can be tough. 
Wait to stop at the rest stops once you hit the Connecticut border. Just past Darien on I-95 is the perfect on and off rest stop where you can get gas, go to the bathroom, and caffeinate with Dunkin' Donuts.
Know that if you are heading back to the city on a Sunday night in the summer, you will hit traffic so plan accordingly.
Share any favorite restaurants in the comments below for our next trip! Abbott's seafood is high on my list.