Lump crab meat is the star of this summery salad made with tender butter lettuce, cherry tomatoes, creamy avocado, crispy bits of quinoa and a tangy tarragon and chive dressing made with buttermilk. Popped, also called puffed quinoa, has a great crispy, airy texture and subtle nutty flavor that takes the place of croutons or breadcrumbs in this salad recipe. If you're a fan of crab check out some of my other shellfish recipes like classic Maryland crab cakes.
Crab Salad with Popped Quinoa and Tarragon Dressing
Table of contents
Ingredients
Quinoa – I use white quinoa but tri-color quinoa can also be used for this nutty addition.
Crab – I prefer to use lump crab in this recipe because it is slightly less expensive than jumbo lump crab, but you still get large chunks and lots of distinct yet delicate crab flavor!
Cherry tomatoes – I marinate the tomatoes in olive oil and salt before tossing in the salad to really bring out their flavor.
Avocado – When shopping for avocados, look for ones that are firm but "give" slightly when gently squeezed in your hand.
Butter lettuce – I love the delicate, almost velvety texture of butter lettuce. It's often sold as a whole head with the roots attached which allows it to stay fresh longer.
Buttermilk – The typical American buttermilk is low-fat and is ideal for a tangy, creamy dressing.
Tarragon – This herb has a subtle licorice flavor and complements seafood like crab very well. The flavor of fresh tarragon is much better and more aromatic though dried tarragon can be used if fresh is unavailable.
Chives – Chives pair perfectly with tarragon in this creamy dressing.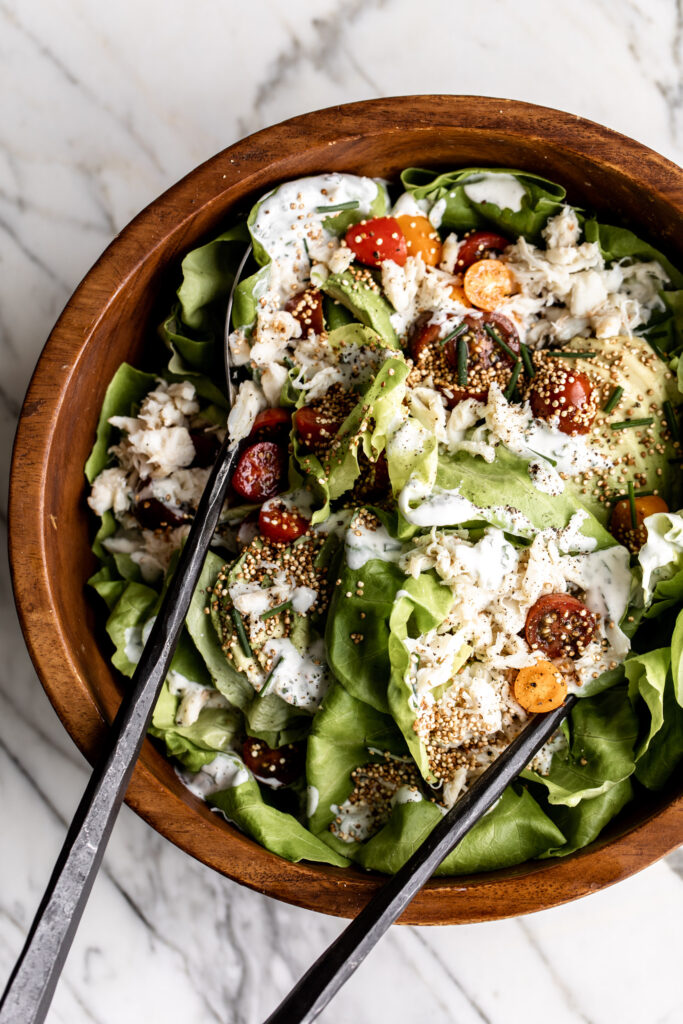 Steps to make this salad
Step 1:
Rinse and dry the quinoa ahead of time.
Step 2:
Puff the quinoa in a skillet with a lid, shaking constantly until toasted then set aside.
Step 3:
Make the dressing by whisking together all the ingredients in a small bowl. Season to taste with salt and pepper.
Step 4:
Marinate the tomatoes in olive oil and season with salt.
Step 5:
Add the butter lettuce, tomatoes, avocado, crab and puffed quinoa to a large salad bowl. Step 6: Toss with the dressing and serve.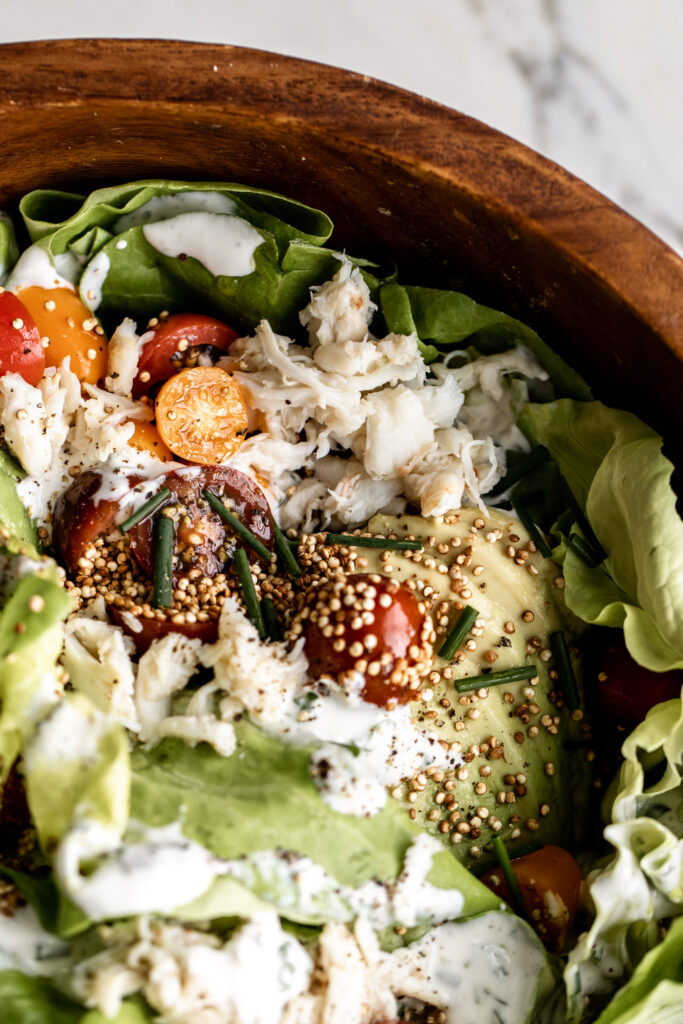 What is popped quinoa?
If you follow me on Instagram or have looked around my website then you know I'm a fan of using crispy rice in recipes. I love the added crunch it provides so I've recently started trying to crisp up other grains to give recipes that added texture. Grains of rinsed and dried quinoa are dry-cooked in a covered pan much like popcorn until they pop. Unless the bag states that it's been rinsed already, then it's best to rinse quinoa to ensure there aren't any residual chemicals from pest deterrent. The quinoa can also be popped or puffed by frying it in hot oil though I found the result similar but much messier.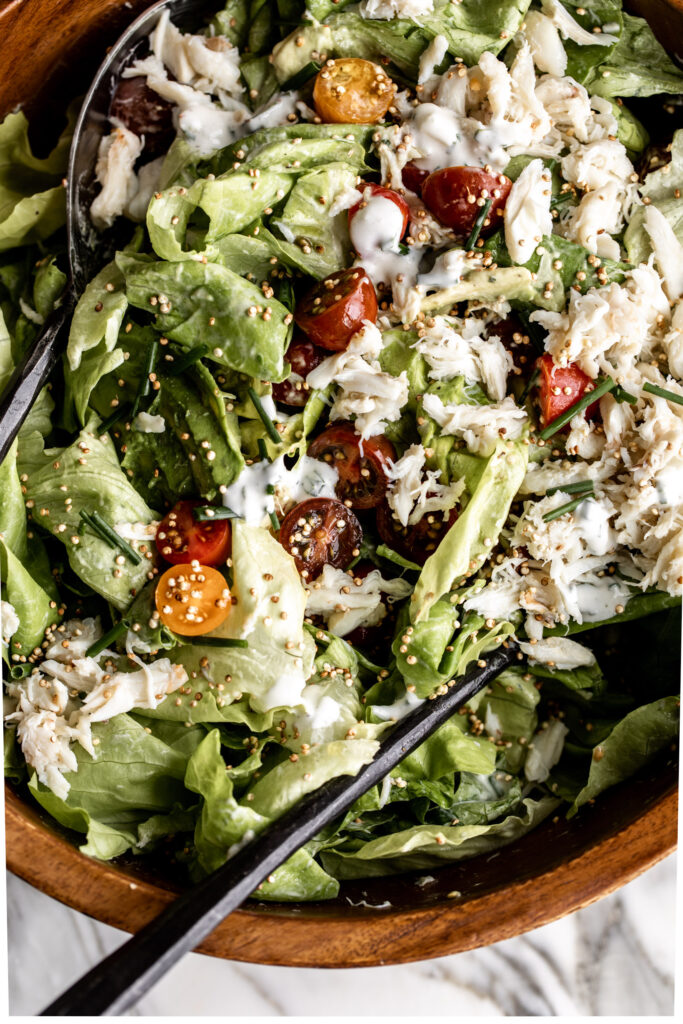 What type of crab should I use?
There are several different grades of crab meat sold already out of the shell in stores or online for purchase.
Jumbo lump crab (also known as colossal lump) is the highest quality – the pearly white large chunks of crab come from where the crabs connect to the swimmer fins. They are the most expensive because there are only two of these per crab.
Lump crab meat comes from broken pieces of jumbo lump crab and large chunks of body meat. It's slightly less expensive than the jumbo grade but still has great flavor and a bright color (should be white to slightly off-white).
Backfin crab meat consists of smaller pieces of broken lump crab meat mixed with smaller pieces of body meat. It is still textured and has a good flavor. It's another good option if you can't find lump crab meat.
Claw meat is small and looks more shredded and is a pinkish-tannish color. It is very flavorful but too shredded for crab cakes and is best in soups!
Tips for this salad
Make the puffed quinoa ahead of time. Since it takes longer to prep if it needs to be washed, it's best made ahead of time and stored at room temperature until ready to use. It can be made up to 2 weeks in advance.
Make the dressing in advance. It only takes a few minutes to whisk together but why worry about one more thing? The dressing can be made up to a week in advance.
Swap out crab for another shellfish in this recipe. I love swapping in cooked lobster and claw meat if I have any left over from a boil or another recipe. Shrimp also works well – simply sauté peeled shrimp in a pan and roughly chop before mixing into the salad.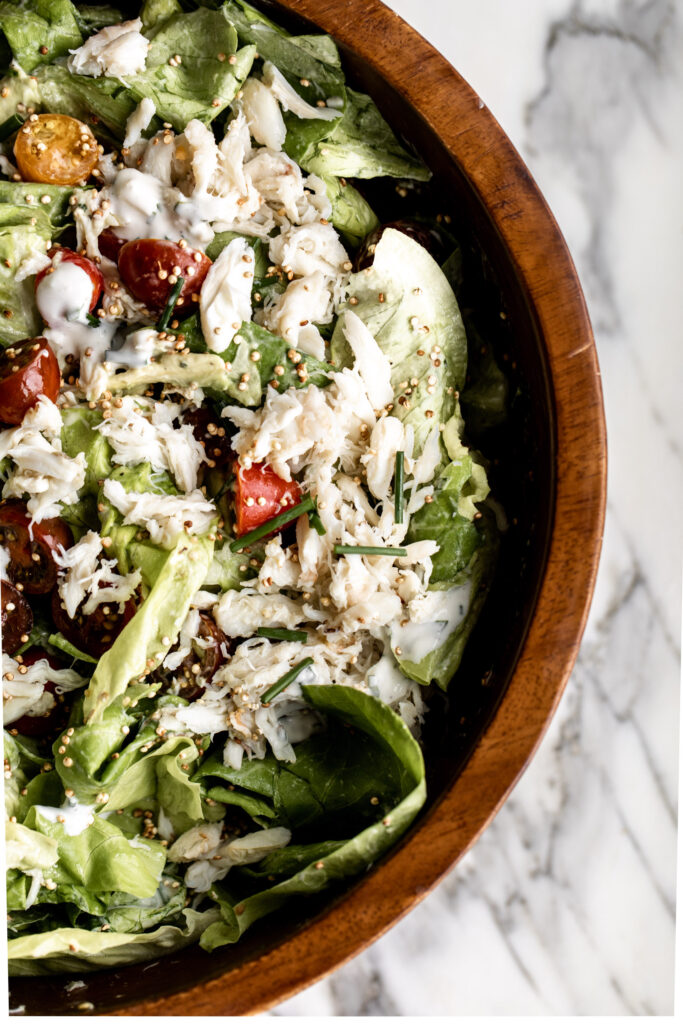 Crab Salad with Popped Quinoa and Tarragon Dressing
For the popped quinoa:
½

cup

uncooked white quinoa
For the tarragon dressing:
For assembly:
1

cup

halved cherry tomatoes

2

tablespoons

extra-virgin olive oil

Kosher salt,

as needed

2

medium heads butter lettuce

1

medium avocado,

pitted, peeled and sliced

8

ounces

lump crab meat
For the popped quinoa:
Rinse the quinoa and dry completely overnight. To speed the process up the quinoa can be spread on a rimmed baking sheet and bake at 275ºF for 2 hours.

Add the dried grains to a large skillet and cover. Cook the grains over medium heat, shaking the pan constantly until the quinoa pops. Continue shaking the pan until the popping stops, checking the quinoa occasionally, about 5 minutes (like popcorn). The quinoa should be a pale golden brown color.

Remove to a baking sheet and let cool completely. Store in an airtight container until ready to use.
For the tarragon dressing:
In a medium bowl whisk together the buttermilk, sour cream, garlic, lemon juice, chives and tarragon. Season to taste with salt and pepper. Cover and set refrigerate until ready to use. The dressing can be made up to a week in advance.
For assembly:
In a small bowl, toss the tomatoes in the olive oil and season with salt.

In a large salad bowl add the butter lettuce, cherry tomatoes, avocado, crab and ¼ cup of the puffed quinoa. Drizzle with ¼ cups of the dressing and toss to combine, adding more dressing if desired.

Divide among bowls and serve immediately.
DID YOU MAKE THIS?
TAG ME ON INSTAGRAM TO BE FEATURED ON MY STORIES! @cookingwithcocktailrings