Strips of cast-iron seared, juicy steak are served over luscious refried pinto beans, crispy rice and arugula that have been topped with queso fresco and avocado for a hearty burrito bowl you will keep craving more.
I have always loved refried beans but have been skeptical of the canned version. I finally decided that rather than keeping them as a restaurant choice I would take the time to make them at home and they did not disappoint.
While homemade refried beans do take a bit more time they are absolutely worthwhile! If the long cooking time is a cause for concern, the beans can be simmered at night then kept in an airtight container and reheated the next morning before refrying with the fat or lard.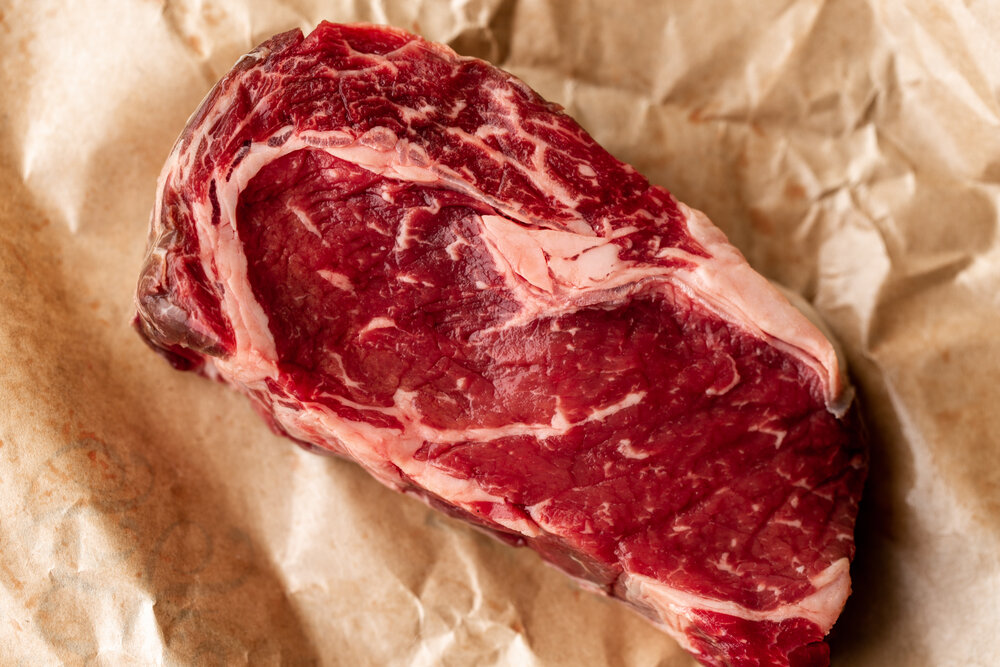 What type of steak should I buy?
Cooking steak on the stovetop, seared in a hot cast-iron pan is an easy and delicious preparation without taking the time to fire up the grill. The best cuts of beef to buy for pan searing are boneless New York strip steaks or rib-eyes. Make sure you dry the steaks with a paper towel and season them just prior to serving to ensure a nice browned crust, which packs a ton of added flavor.
What are refried beans?
Refried beans are a staple in Mexican cuisine made from simmering beans (typically pinto beans or black beans) with flavoring such as onions and garlic until the beans are tender, then frying them in pork fat or lard.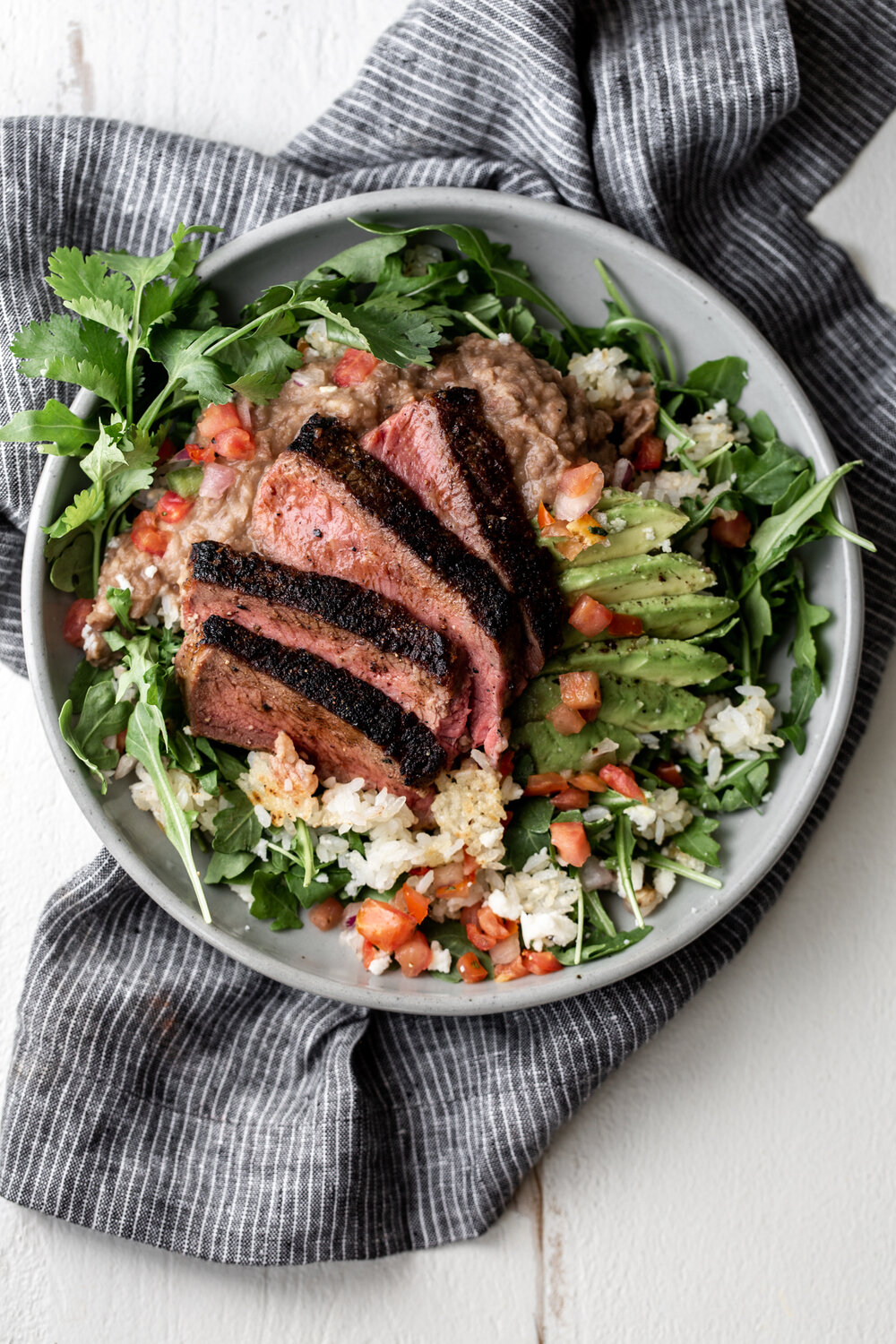 Good refried beans are made with real lard rather than store-bought lard or vegetable oil (of course either will do in a pinch) and should be almost silky smooth. They are a great addition to any bowl or layered in a burrito!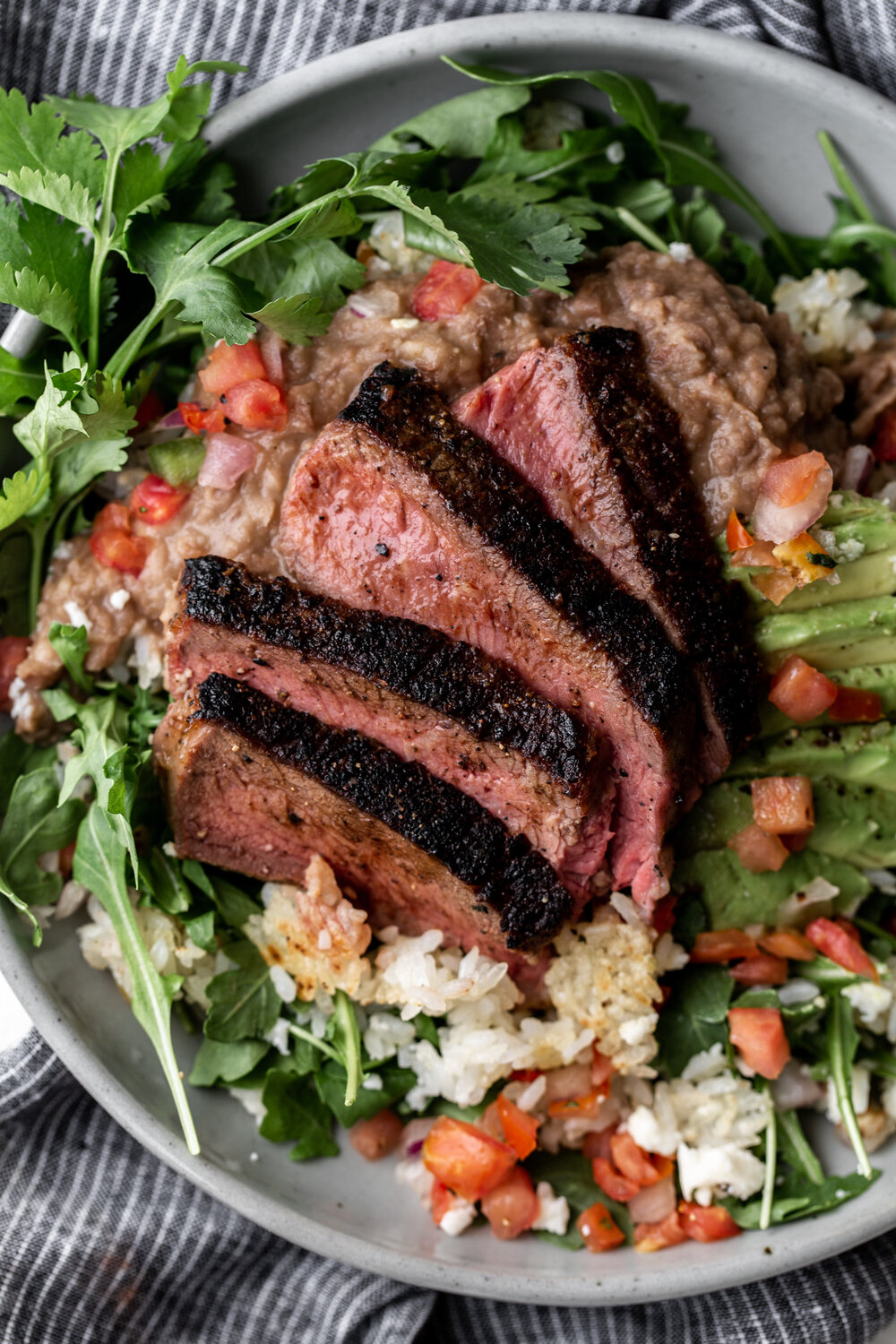 Seared Steak with Refried Pinto Beans, Crispy Rice and Arugula
For the refried pinto beans:
2

cups

dried pinto beans,

rinsed and picked through

½

medium yellow onion,

chopped

3

cloves

garlic,

minced

2

teaspoons

kosher salt,

additional as needed for seasoning

½

cup

pork fat

(or other lard)

Freshly ground black pepper,

as needed
For the seared steak:
2

1" thick boneless ribeye steak (about 2 pounds)

Kosher salt,

as needed

Freshly ground black pepper,

as needed
For the refried pinto beans:
Add the pinto beans, onion, garlic, salt and 6 cups of water to a boil over medium-high heat. Lower heat to medium-low and simmer until the beans are tender, about 2 hours.

Heat a large cast iron skillet over medium heat, add the fat and allow to melt and heat through. Add the beans and their cooking liquid and cook, mashing with a potato masher until the beans are just about smooth and thick, about 5 minutes. Season to taste with additional salt and pepper. The beans will thicken as they sit.
For the seared steak:
Heat a cast iron pan over medium-high heat. Season the steak generously on both sides with salt and pepper. When pan is smoking hot, add the steaks to the pan and let sizzle for about 1 minute. Flip the steaks and press down with tongs so that all parts of the steak touch the pan.

Continue to cook the steaks over medium-high heat, flipping the steaks every 30 seconds to ensure a crisp golden brown crust (without burning). For medium-rare steaks this should take about 8 minutes total (internal temperature should read 125ºF – 130ºF). Remove to a cutting board, tent with foil and let rest for 5 minutes. Slice the steaks across the grain and set aside.
For assembly:
Heat a large nonstick skillet over medium heat, add the oil and heat through. Add the rice into the pan in an even layer and cook, untouched, until the bottom is crispy and golden brown, about 3 minutes. Stir and cook for an additional 3 minutes.

Divide the arugula among 4 serving bowls, then add the crispy rice. Top with a scoop of refried beans followed by the slices of seared steak, avocado, pico de gallo, queso and cilantro.
DID YOU MAKE THIS?
TAG ME ON INSTAGRAM TO BE FEATURED ON MY STORIES! @cookingwithcocktailrings