My Favorite Things to Do in New York City for the Holidays
Once Santa arrives during the Macy's Thanksgiving Day Parade, the holiday season has officially started! From vendors selling Christmas trees on the sidewalks, to stopping at Union Square greenmarket for seasonal ingredients, to observing decorations on quaint streets in the West Village and waking up to snow-filled streets, the city is filled with touches of holiday cheer. Also, the holidays are the time to lean into some of the more touristy aspects of New York even if you live here.
After growing up in New Jersey and visiting the city for holiday events with family and spending the previous three Christmas seasons in Brooklyn, I'm sharing my guide to navigating ways to Celebrate Christmas in NYC in no particular order: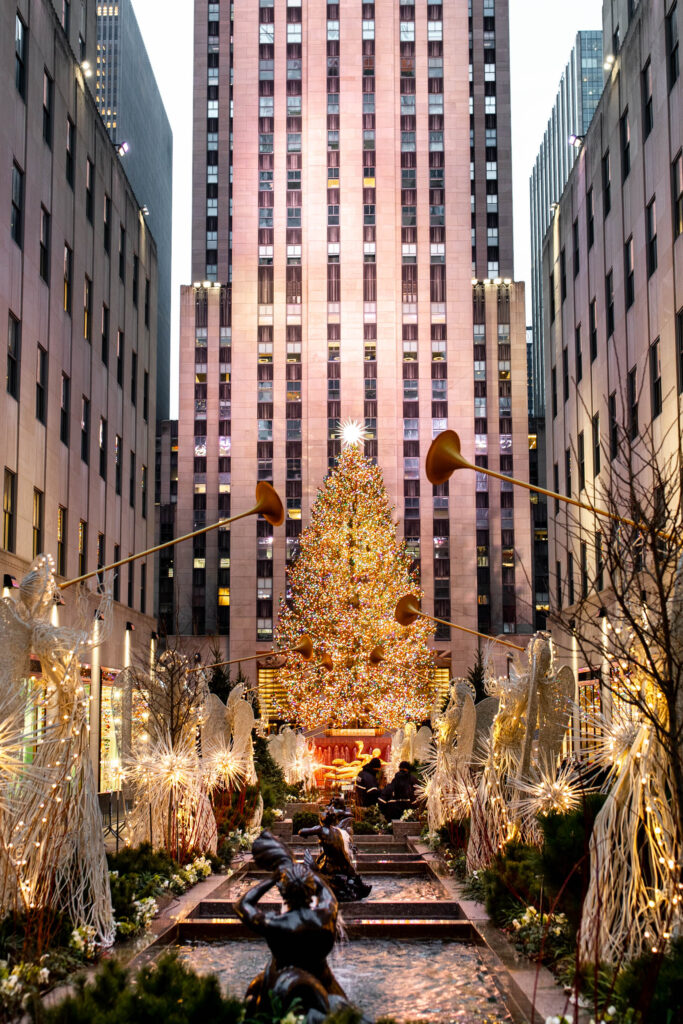 A Note About the Weather
If you're visiting from out of town, be prepared for crowds and cold! The average temperature hovers around 44ºF (7ºC) with lows of 32ºF (0ºC) but can feel colder with a wind chill. I recommend layering up with a jacket, gloves, scarf and hat (it's better to be prepared for all weather)! Also, while snow isn't guaranteed, it is always a possibility. I hope for a white Christmas every year!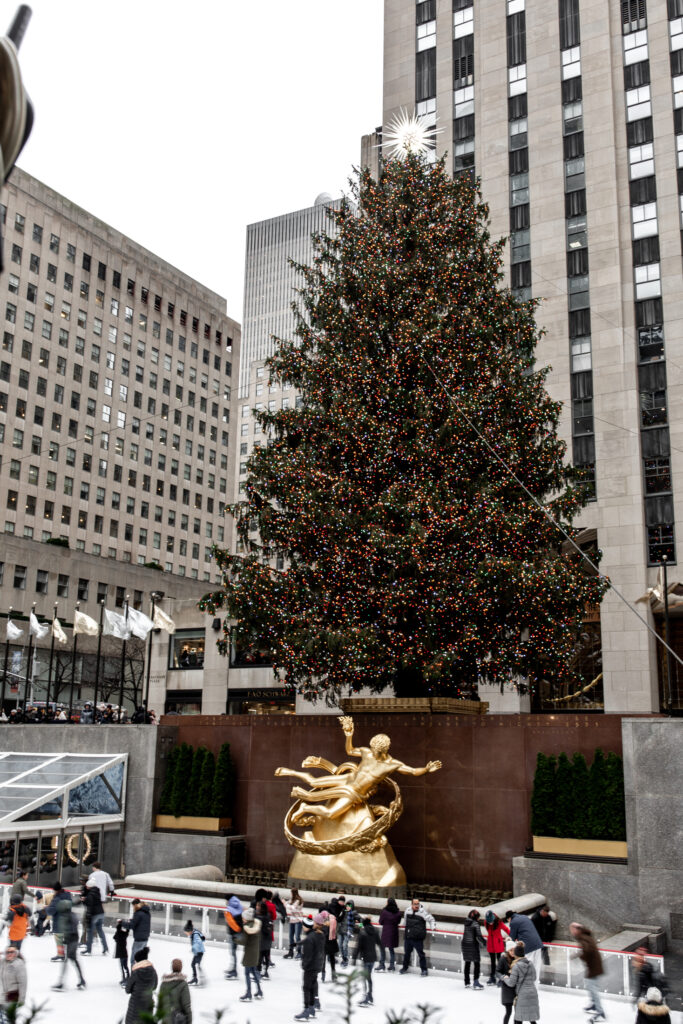 The Christmas Tree at Rockefeller Center
45 Rockefeller Plaza, New York, NY 10111
A new Christmas tree is picked annually, decorated with 50,000 multi-colored LED lights and displayed in midtown Manhattan. It's a custom dating back to 1931 when Rockefeller Center workers pooled their own money to buy a tree. It's been an official NYC tradition since 1933. So, seeing the tree at Rockefeller Center is something that can be done in a few minutes. It's constantly packed with people so while it's fun to see, I recommend going very early in the morning (it's lit from 6AM to midnight daily) or only walking by briefly. You won't enjoy standing around in the crowds.
This year on Sundays in December, 5th Avenue will be closed to cars making it easier to navigate by foot. After seeing the tree I like to grab drinks at Valerie on 45th Street. Also, they have great craft cocktails and decorate for Christmas. It's also a good spot if you're heading to a Broadway show.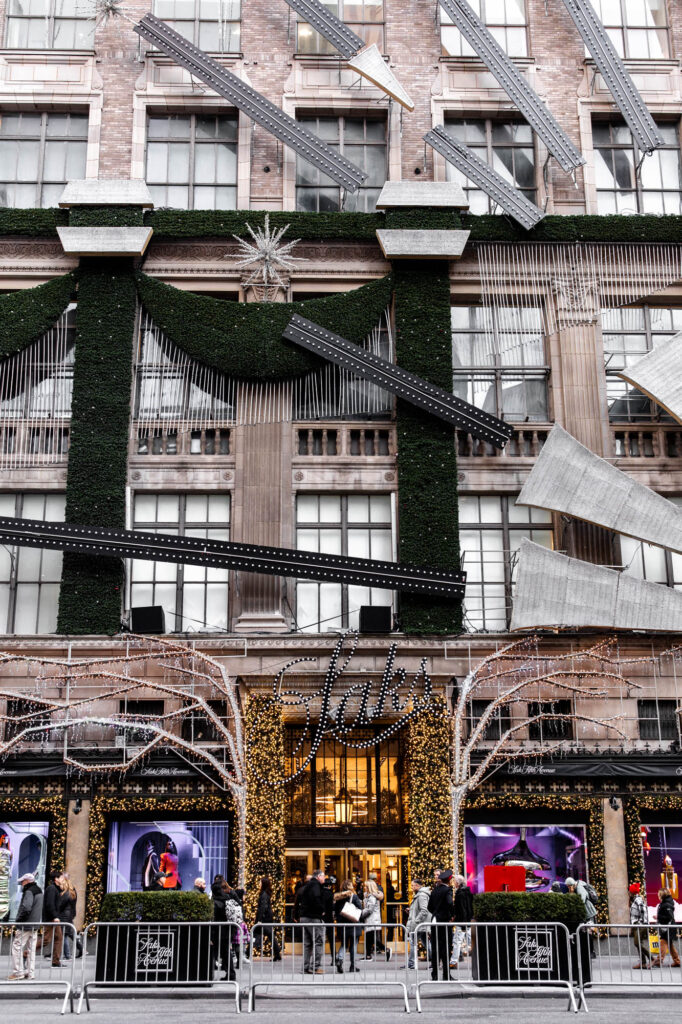 The Windows on Fifth Avenue
611 5th Ave, New York, NY 10022
This has been a holiday tradition for my family ever since we were kids. Many of the department stores used to recreate children's books in their windows telling a story as you walked down the block. They still have themed decor with beautiful displays but the focus is primarily on fashion. I recommend stopping by Bergdorf Goodman, Macy's and Bloomingdale's.
Of course Saks Fifth Avenue does a light show with illuminated snowflakes set to music starting every 10 minutes in the late afternoon.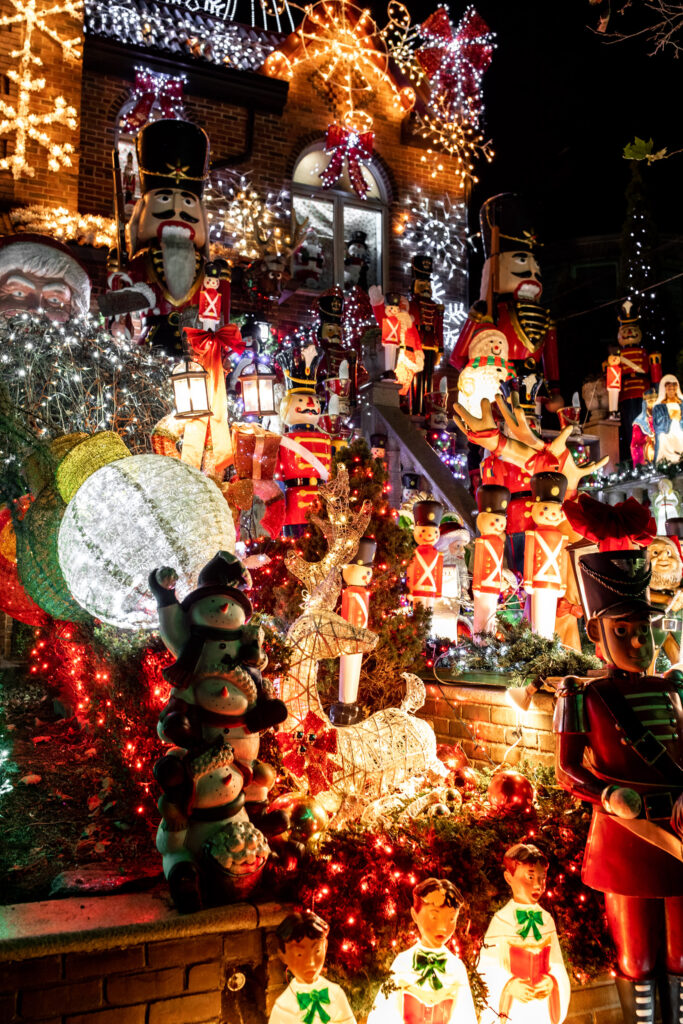 Lights and Decorations in Dyker Heights, Brooklyn
1072 80th St, Brooklyn, NY 11228 (a good starting point)
The neighborhood of Dyker Heights in Brooklyn is my favorite place to experience holiday light displays. Think lawns filled with life-size Santa, nutcrackers and reindeer, over the top lights and plenty of inflatables in a great walkable neighborhood. I recommend driving or getting off at either the 86th Street Station (from the R train) or 79th Street Station (from the D train) and walking about 10 to 15 minutes. Bundle up, bring some eggnog or hot cocoa and enjoy the lights and decor. The best streets in the neighborhood to walk around stretch from 11th to 13th avenue, between 83rd to 86th streets.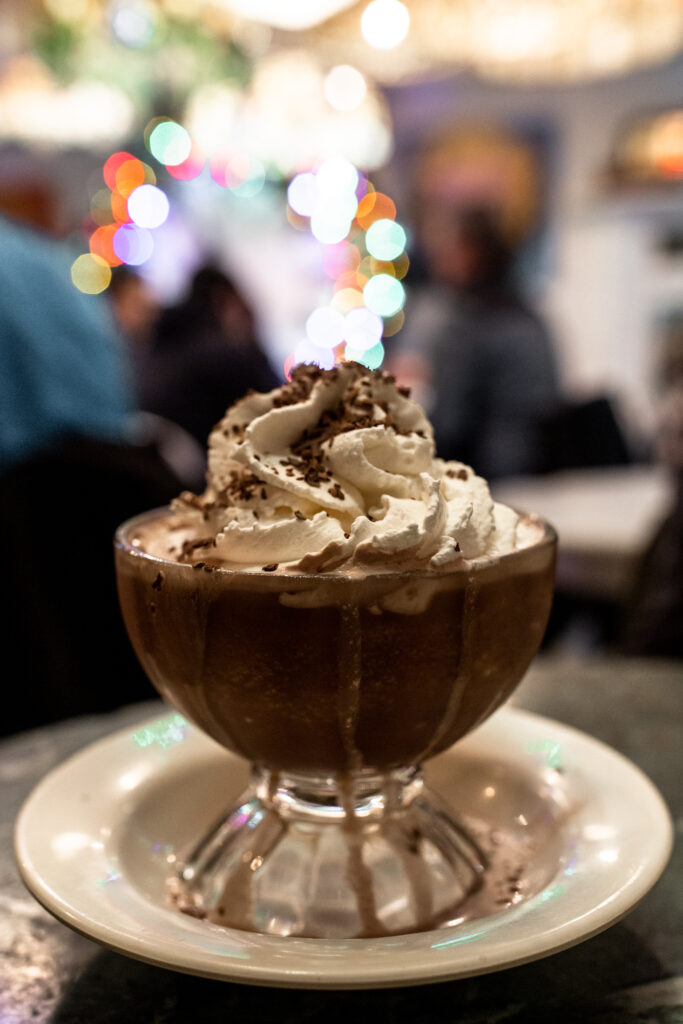 Frrrozen Hot Chocolate at Serendipity
225 E 60th St, New York, NY 10022 | serendipity3.com
For me Serendipity transcends the seasons. It's a nostalgic place for me. Growing up I had frequent doctor's appointments at Sloan Kettering on the Upper East Side so it became a tradition to get lunch at Serendipity followed by shopping at Bloomingdales. The kitschy restaurant is famous for their frozen hot chocolate (they spell it frrrozen) served in a large goblet topped with homemade whipped cream and chocolate shavings. If you can't get in then I recommend making your own frozen hot chocolate using my recipe here.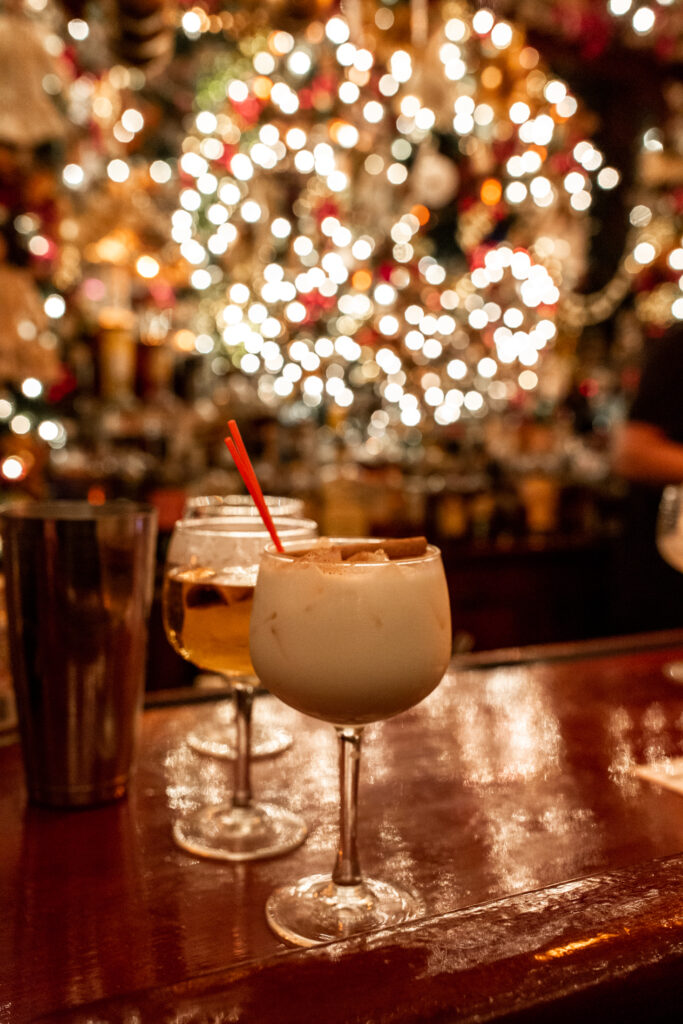 Rolf's German Restaurant
281 3rd Ave, New York, NY 10010 | rolfsnyc.com
Rolf's is packed with tons of festive ornaments as far as the eye can see! It's not the easiest place to get into during the holiday season. Unlike most restaurants that take reservations through apps, Rolf's only takes reservations by phone (and the phones are typically busy). If you want to risk it, I recommend going a bit before they open at 12 p.m. and lining up for the bar. You can go and get a drink and a photo op and then be on your merry way.
Winter Village in Bryant Park
42nd Street and 6th Ave, New York, NY 10018
The Winter Village has upped their food game in recent years with stalls like Baked Cheese Haus selling melted raclette and ham sandwiches. Of course expect to smell the classic, roasted chestnuts and hot chocolate. The holiday markets are a great spot to pick up some small holiday gifts from local vendors. There are other great Christmas markets at Union Square and Columbus Circle if you car in the areas.
Skating at Wollman Rink in Central Park
830 5th Ave, New York, NY 10065
The city-owned public skating rink is located in the Southeast corner of Central Park. Enter at 59th Street and 6th Avenue. I love going ice skating during a chilly day – a great seasonal activity!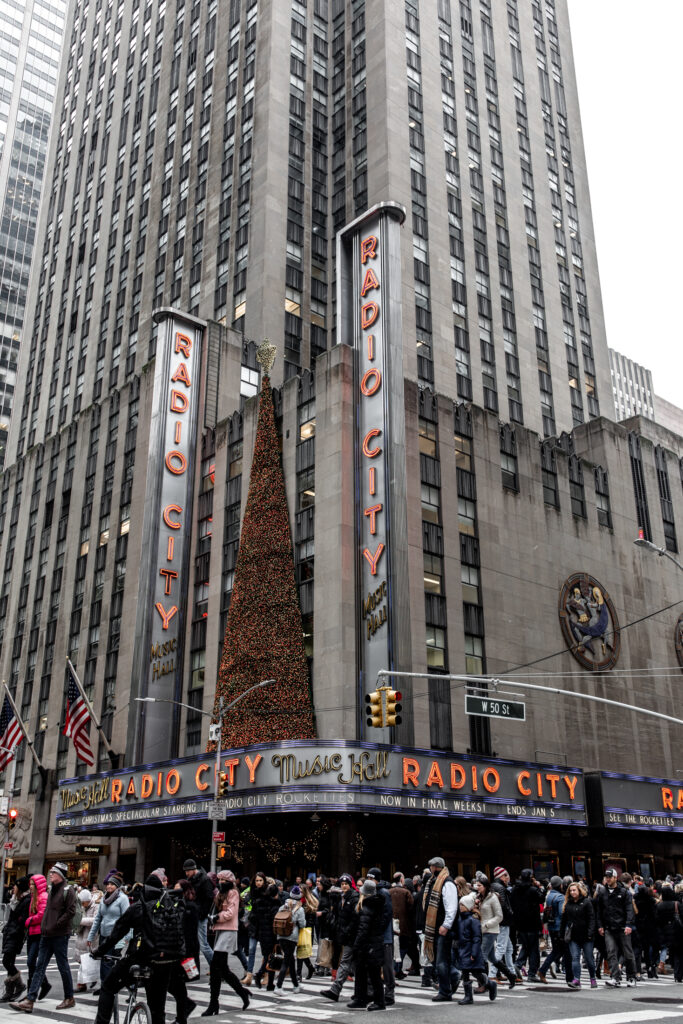 Rockettes at Radio City Music Hall
1260 6th Ave, New York, NY 10020
The Rockettes Christmas Spectacular has been performing seasonally at Radio City Music Hall since 1933. The synchronized dancing, festive outfits and singing is iconic. Running at 90 minutes, this is a great activity to do with kids. I went annually growing up! Buy tickets ahead of time here.
Brooklyn Botanic Gardens
990 Washington Ave, Brooklyn, NY 11225
The lightscape light show at the Brooklyn Botanical Gardens features an outdoor 1 mile display with over 1 million lights. Buy tickets ahead of time here for December through January 8th.
Empire State Building Light show
20 W 34th St., New York, NY 10001
From December 19th to the 25th the Empire State Building lights up red and green with candy stripes on the top. It will be lit up white and blue for Hanukkah the week prior. Tune in at 7 p.m. to iHeartMedia New York's Z100, 106.7 Lite FM, and 103.5 KTU for a synchronized light show featuring music by Carrie Underwood. From our apartment in Williamsburg, Brooklyn we are lucky enough to have a view of the Empire State Building! I also love the views of the Empire State Building from Domino Park in Williamsburg, the top of 30 Rockefeller Center or Madison Square Park.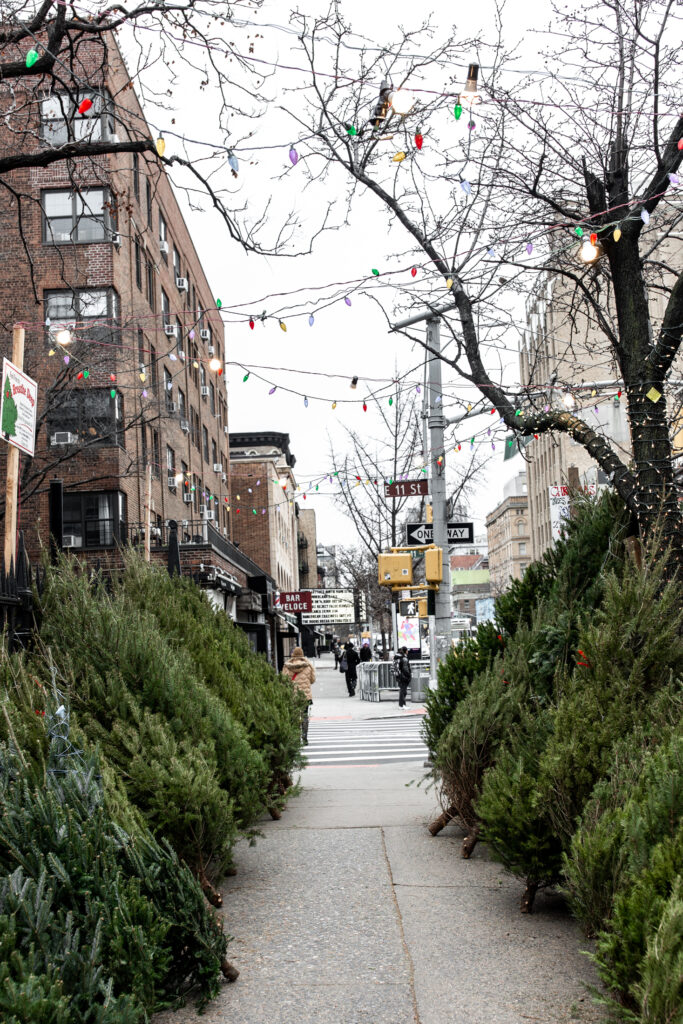 In the meantime get into the holiday spirit with some of my favorite holiday movies set in New York City: Elf, Miracle on 34th Street, Home Alone 2 and Serendipity! For food recommendations for your visit, check out some of my favorites here.