Sponsored by Beef + Lamb New Zealand and Silver Fern Farms.
This flavorful lamb burger is sure to be a hit at your next BBQ. New Zealand ground lamb patties are simply seasoned with salt and pepper and then grilled to medium rare. They are served on rich brioche buns with caramelized onions, curry mayonnaise and peppery wild arugula.
Lamb Burgers with Curry Mayonnaise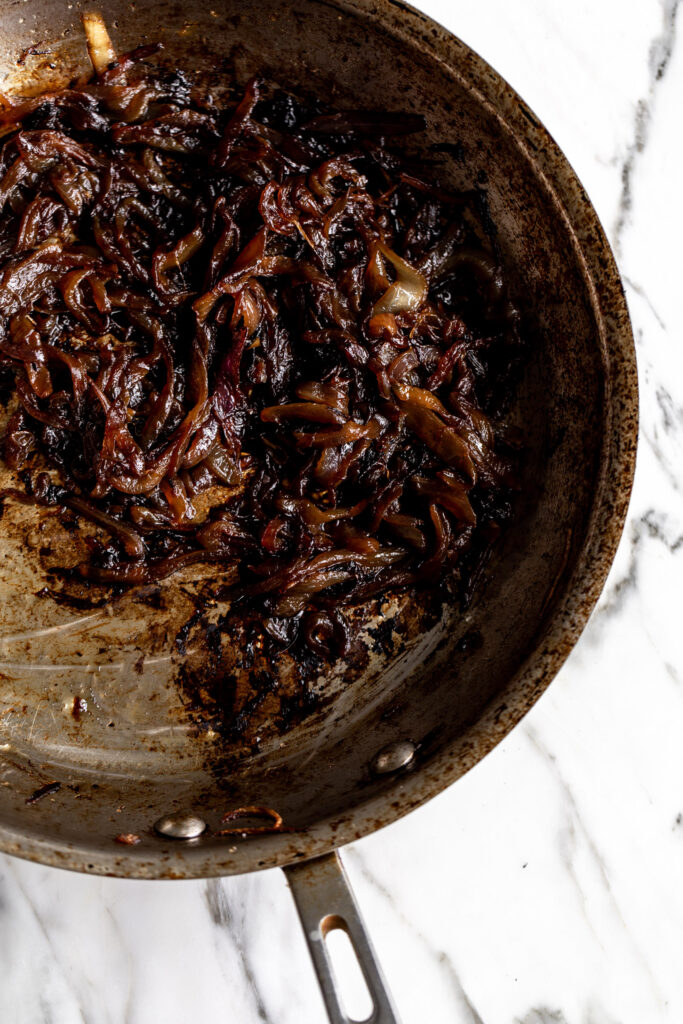 All About Ground Lamb
Grass-fed lamb is extremely flavorful as well as a versatile, lean meat. Ground lamb has a mildly unique flavor and can be found at most grocery stores at the meat counter. When buying ground lamb, look for a pink to red color of the meat. I recommend using it within two days of purchasing. New Zealand is the main producer of lamb worldwide. The New Zealand lamb breeds are smaller and are entirely pasture raised with room to roam and grass-fed, giving the meat a tender texture.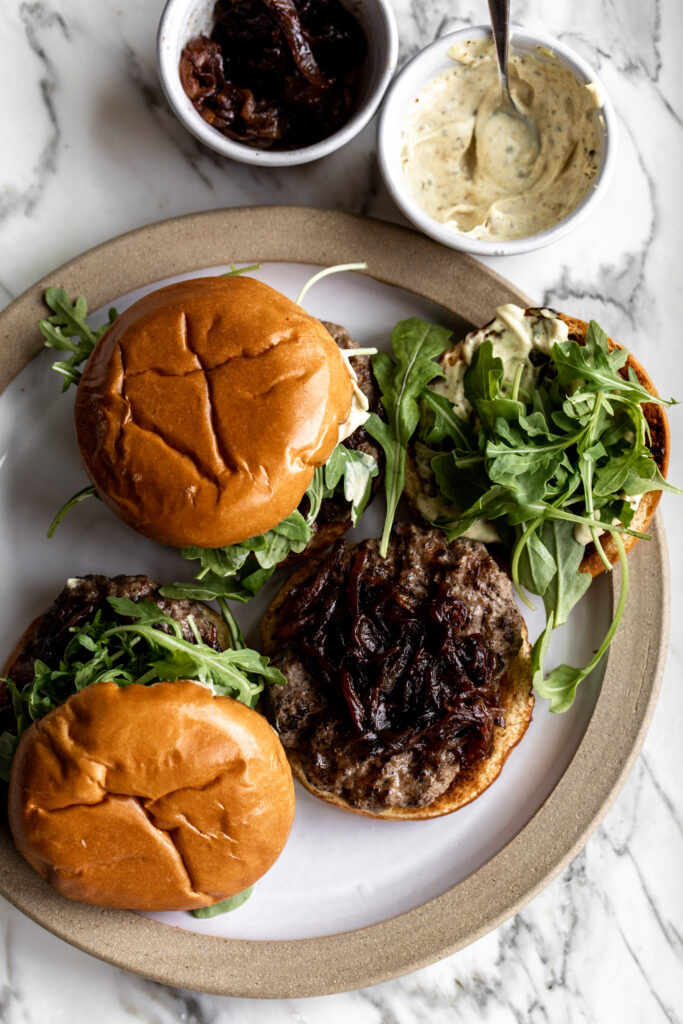 Key Ingredients in This Recipe
Silver Fern Farms New Zealand Grass-fed Lamb – In this recipe the lamb patties are seasoned simply with salt and pepper so the flavor of the lamb can shine through.
Madras curry powder – This versatile earthy spice blend is made from coriander, cumin, fenugreek, cassia, peppercorns, curry leaves and turmeric. Not all curry powders are created the same since they often have regional variations.
Brioche bun – Brioche is an eggy, rich bread. They're a bit sweeter than other burger buns and are great for absorbing the flavorful juice from cooking the burgers. I always toast my burger buns before serving.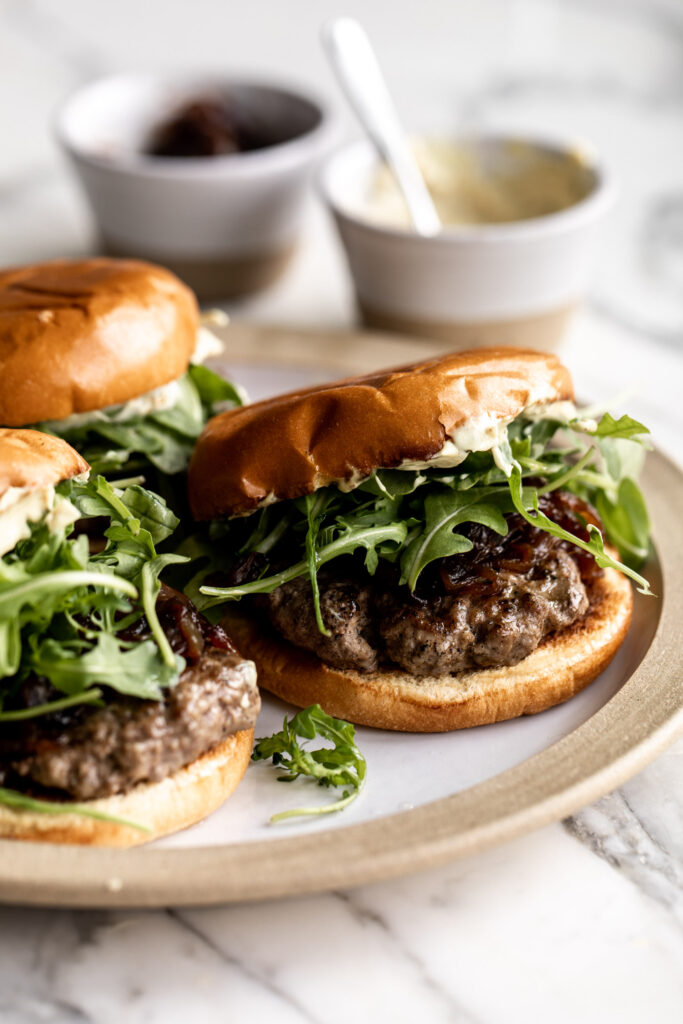 Tips and Tricks for This Recipe
Pan cooking instructions: Heat a large cast iron skillet over medium-high heat, then add 1 tablespoon of the olive oil and heat through. Add two of the patties to the pan and cook until the burgers are golden brown and slightly charred, about 3 minutes. Flip the burgers and cook for an additional 3 minutes for medium-rare. Repeat with the remaining oil and lamb patties.
Always shape your burger patties 25% larger than you will need them for the size of the buns – as they cook the patties will shrink up! This way you have the perfect burger to bun ratio.
Keep the meat cold when you are working with it. This is to ensure the meat isn't overworked while shaping the patties.
Press an indent into the center of the patty. This helps the burgers to cook evenly as the meat shrinks as it cooks.
Don't press down on your burger as it grills! It squeezes out the juices. You don't want to end up with a dry burger.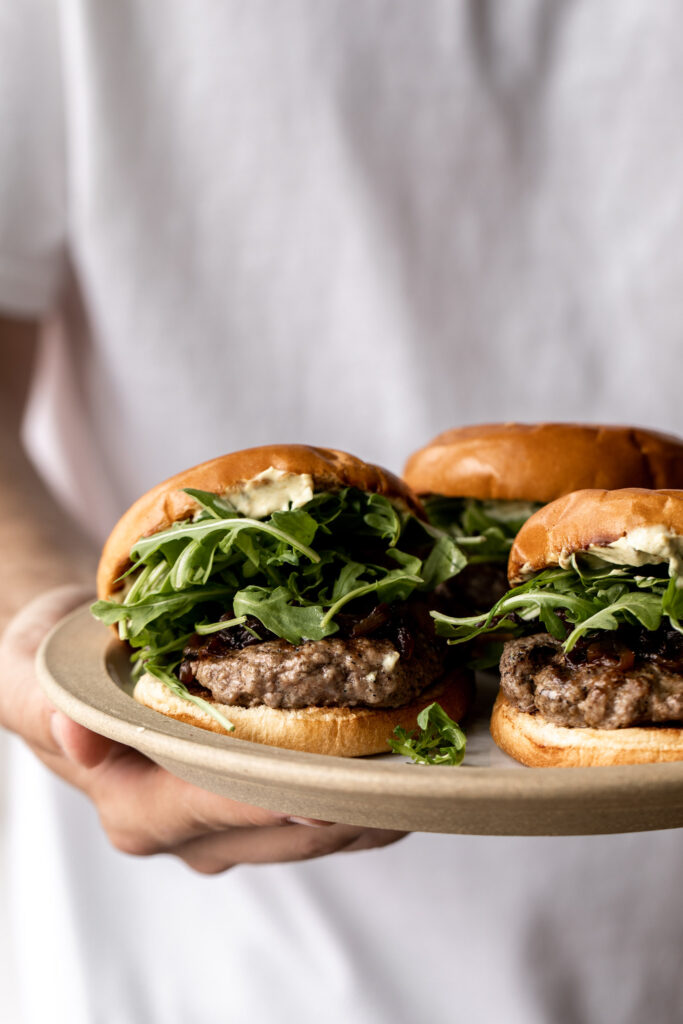 Other Recipes to Try
If you enjoy this recipe, I recommend checking out some of these: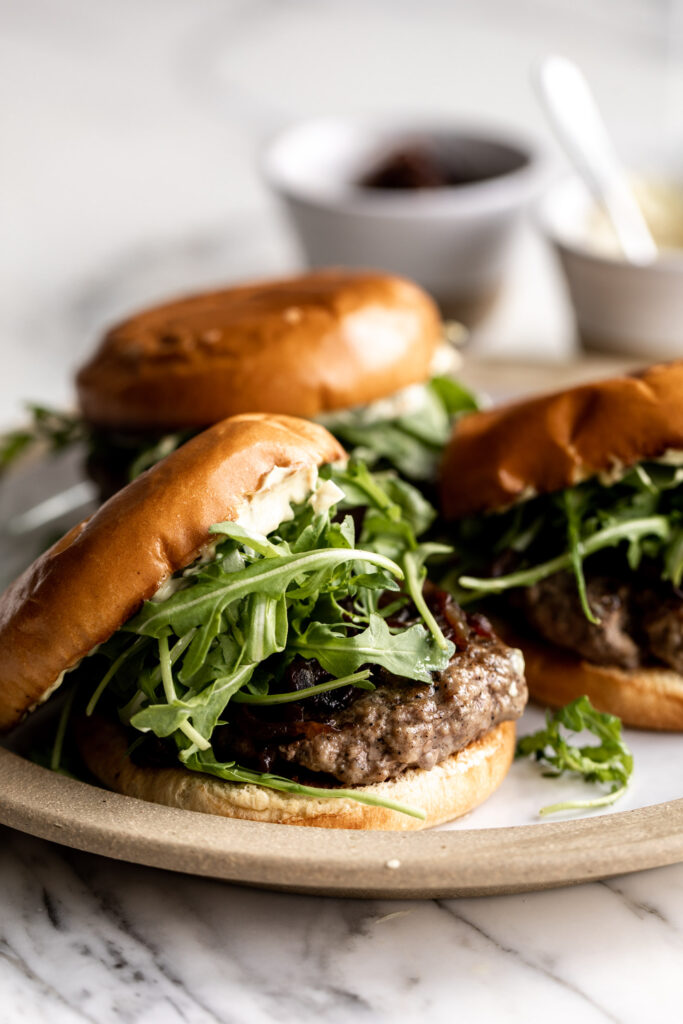 Lamb Burgers with Curry Mayonnaise
For the caramelized onions:
2

tablespoons

extra-virgin olive oil

2

tablespoon

unsalted butter

1

medium red onion,

thinly sliced

1

medium yellow onion,

thinly sliced

½

teaspoon

kosher salt

1

teaspoon

granulated sugar

1

tablespoon

balsamic vinegar
For the lamb burgers:
1

pound

Silver Fern Farms New Zealand grass-fed ground lamb

Kosher salt,

as needed

Freshly ground black pepper,

as needed
For assembly:
½

cup

mayonnaise

2

teaspoons

Madras curry powder

½

teaspoon

turmeric

4

brioche buns

split

2

packed cups wild arugula
For the caramelized onions:
Heat a large sauté pan over medium heat, add the olive oil and heat through. Add the butter and allow to melt. Add the onions and toss quickly to remove the moisture from the onions. Sauté, stirring occasionally, until the onions are soft and start to brown.

Sprinkle the salt and sugar over the onions (to help them caramelize) and reduce the heat to medium-low. Cook, stirring occasionally, until the onions are light brown and begin to caramelize, about 20 minutes.

Add the balsamic vinegar and stir to combine. Continue to cook until the onions are uniformly brown and caramelized, about an additional 10 minutes. Remove from the pan and set aside.
For the lamb burgers:
Divide the New Zealand ground lamb into 4 equal portions and flatten into patties, pressing an indent into the middle of each patty. Lay out on a parchment paper-lined baking sheet and season generously on both sides with the salt and pepper.

Prepare a grill to medium-high heat. Add the patties to the grill grates and cook, uncovered, for 3 minutes on each side for a medium rare burger.

Remove the burgers to a plate and let rest for 5 minutes.
For assembly:
In a small bowl stir together the curry powder, turmeric and mayonnaise until thoroughly combined.

Preheat the oven to broil on high. Arrange the brioche buns cut sides up on a baking sheet and broil until golden brown, about 1 to 2 minutes.

Add a lamb burger to each bottom bun. Top with some of the caramelized onion and a handful of arugula. Spread a tablespoon of the mayonnaise on the top half of the bun and close. Repeat with the remaining burgers. Serve immediately.
DID YOU MAKE THIS?
TAG ME ON INSTAGRAM TO BE FEATURED ON MY STORIES! @cookingwithcocktailrings