Lamb Burger with Harissa Aioli
This post was created in partnership with American Lamb Board.
Sometimes I like to switch it up from the traditional beef cheeseburgers. This burger combines the unique flavor of ground lamb with a quick sweet and spicy harissa aioli, augmented with arugula, creamy goat cheese and served on potato buns.
The lamb burgers are seared in a screaming hot cast iron pan so that a flavorful crust develops on the outside. I add the goat cheese onto the potato buns just below the hot lamb patties so that the cheese gets melty and creamy and some of the juices soak in.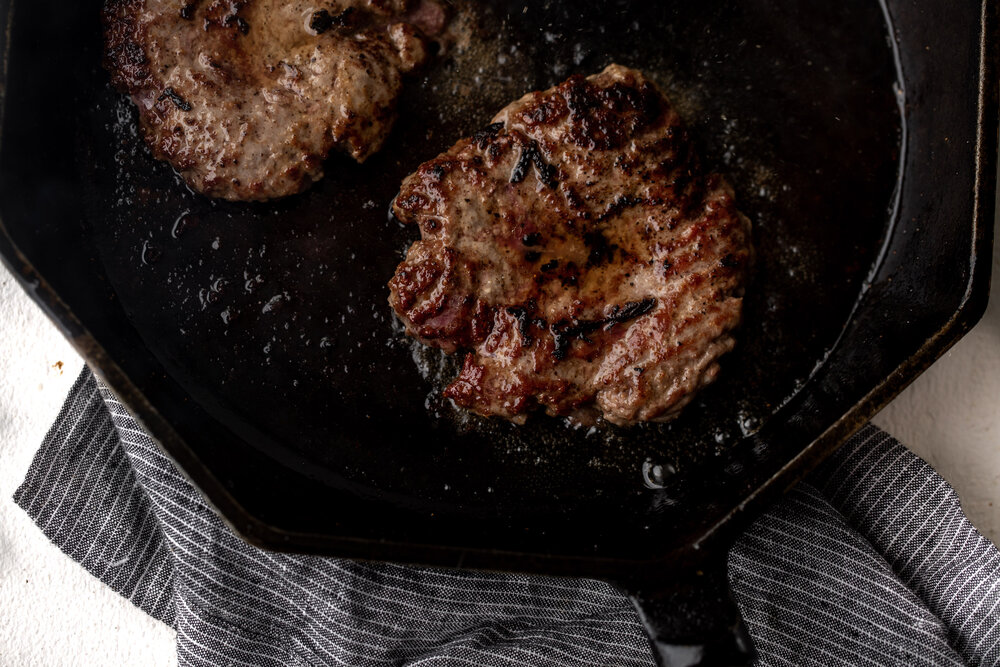 When purchasing lamb, ask your butcher for ground American lamb. I always choose American lamb over lamb imported from places like Australia and New Zealand because it is locally sourced. Ranchers in places like Utah and California work extremely hard to raise their lamb so that it gets to consumers as soon as possible, cutting out the extra miles and time it would take to travel from overseas. I find it to be less gamey and a very versatile meat.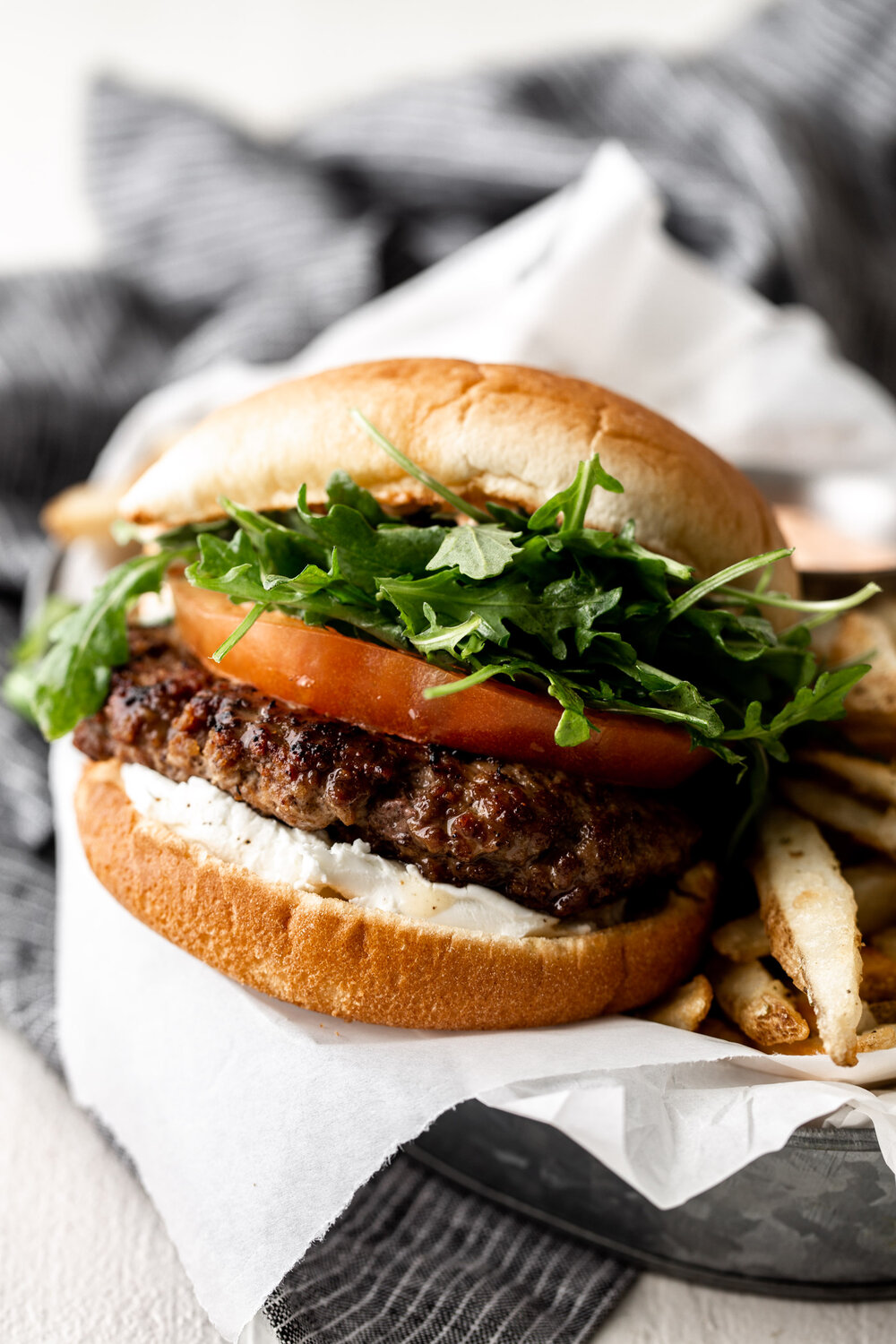 When buying lamb, look for meat that has a soft pink to red coloring, it will be freshest. If you aren't using your lamb right away unwrap it from the butcher paper and add it to an airtight container and refrigerate. It's best to use ground lamb within 2 days of purchasing it.
Harissa is a North African spice paste made from chilies, cumin, garlic, tomato paste and paprika among other ingredients. It has a smoky, spicy and slightly sweet flavor that complements the flavor of the lamb well. I like to use any leftovers (or make a double recipe) of the harissa aioli to dip fries in! Rather than making an aioli from scratch I opt to whisk in the harissa and some minced garlic for a shortcut.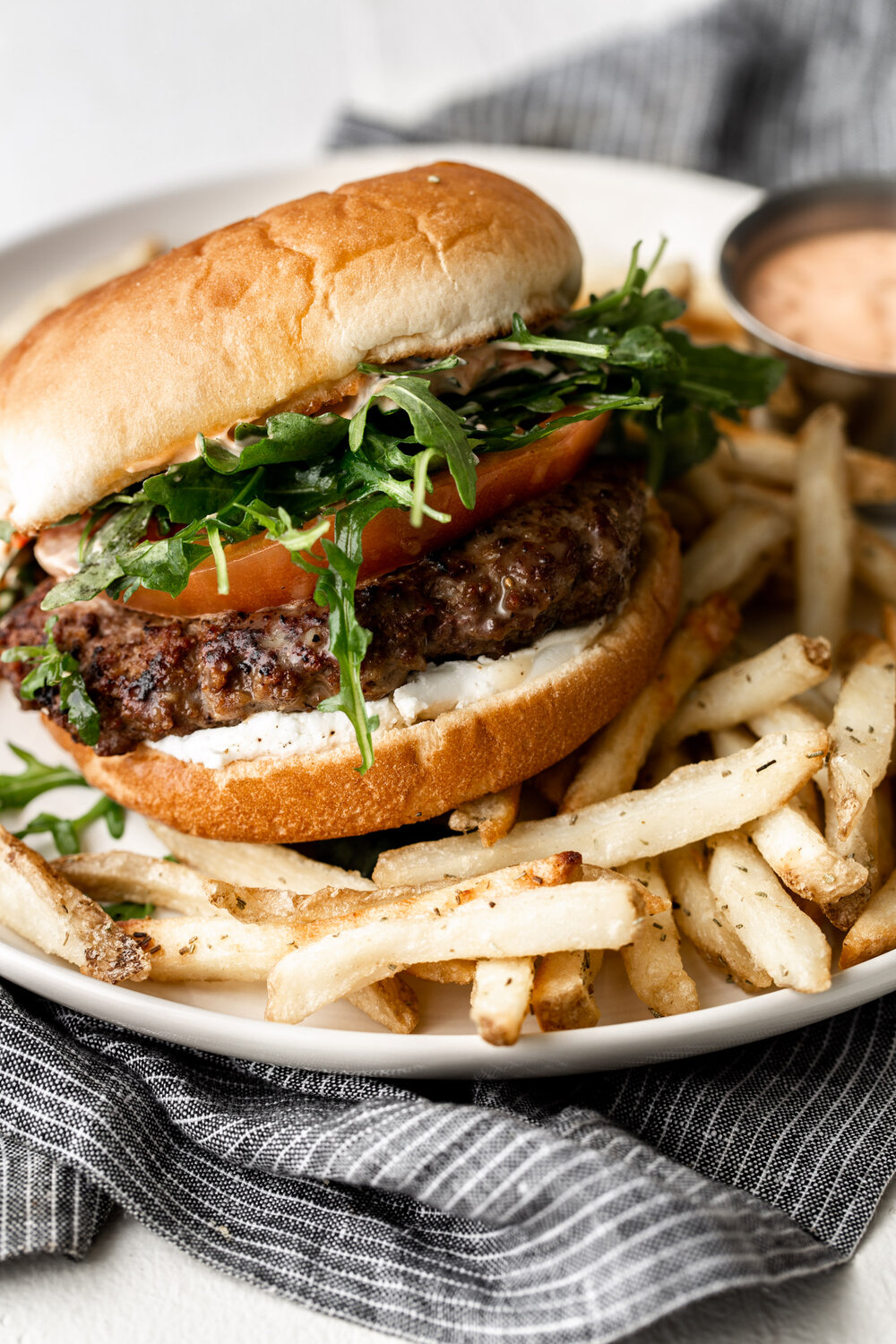 Lamb Burger with Harissa Aioli
For the harissa aioli:
¼

cup

mayonnaise

2

tablespoons

harissa

1

clove

garlic,

minced
For assembly:
4

potato hamburger buns,

split in half

4

ounces

goat cheese,

crumbled

1

medium heirloom tomato,

sliced

1

packed cup wild arugula
For the harissa aioli:
In a small bowl whisk together the mayonnaise, harissa and garlic until combined then cover with plastic wrap and refrigerate until ready to use. Can be made up to a week in advance and stored, refrigerated.
For the lamb burgers:
Divide the ground lamb into 4 equal portions and flatten into patties. Lay out on a parchment paper-lined baking sheet and season on both sides with the salt, pepper and garlic powder.

Heat a large cast iron skillet over medium-high heat then add 1 tablespoon of the olive oil and heat through. Add two of the patties to the pan and cook until the burgers are golden brown and slightly charred, about 3 minutes. Flip the burgers and cook for an additional 4 minutes for medium-rare. Repeat with the remaining oil and burger patties.
For assembly:
Preheat oven to broil. Arrange the hamburger buns cut sides up on a baking sheet and broil until golden brown, about 1 to 2 minutes. Spread the bottom half of the bun with the goat cheese then top each with a lamb burger and top with a slice of tomato and a handful of arugula. Spread a tablespoon of the aioli on the top half of the bun and close. Repeat with the remaining burgers. Serve immediately.
DID YOU MAKE THIS?
TAG ME ON INSTAGRAM TO BE FEATURED ON MY STORIES! @cookingwithcocktailrings