Céad Míle Fáilte! For those who don't speak Gaelic, it translates to "one hundred thousand welcomes". I was fortunate enough to travel to Ireland with Bake from Scratch Magazine, Williams Sonoma and Tourism Ireland on a one-week tour of the country. In this post, I have focused on some highlights in each area of the island. (While Northern Ireland is actually a part of the United Kingdom, the rest of Ireland is a part of the European Union so be sure to take out Euros not pounds upon arrival.) After flying into Dublin on the East coast, we departed by bus to the southern part of the country, traveling through Wicklow to Cork, and then north to Limerick, Galway, Mayo and then back to Dublin. It's amazing what we fit into just over a week in a small country like Ireland! While of course we spent much of the trip eating (if you want to eat more sweets than you've ever eaten in your life then go on a trip with a bunch of bakers!), we were also fortunate to stay at an assortment of incredible and unique hotels.
Dublin
Dublin is the largest city in the Republic of Ireland with around 1.4 million people. It is on the island's east coast and is filled with ancient buildings, plenty of restaurants, bars and things to do.
To Eat
From freshly baked long-fermented organic bread with a simple base of flour, salt and water to unique, delicious pastries, to a wall of house-fermented and pickled vegetables, Bread 41 featuring traditional techniques with Irish flavors was one of my favorite stops in Dublin. Their sales speak for themselves as Bread 41 sells over 2,000 pastries a day. Owner and head baker, Eoin, firmly believes in buying the highest quality ingredients you can get.
We indulged in scotch egg with sausage meat, brown sauce & mixed leaves on house-made bread, house-made kimchi and fermented aubergine. Then we moved on to savory, buttery croissants stuffed with roasted almond butter and custardos – leftover croissant dough used as a base and filled with vanilla or lemon custard. A kitchen tour followed. We learned their approach to successful, flakey croissants, using exactly 33% butter, stretched, then rolled and baked to golden brown perfection. We practiced our scoring techniques on loaves of bread. Bread 41 also works to help the environment, hosting "sustainable Mondays and eliminating single use plastic from their menus. They even encourage customers to buy reusable mugs or bring their own.
Must order: almond croissant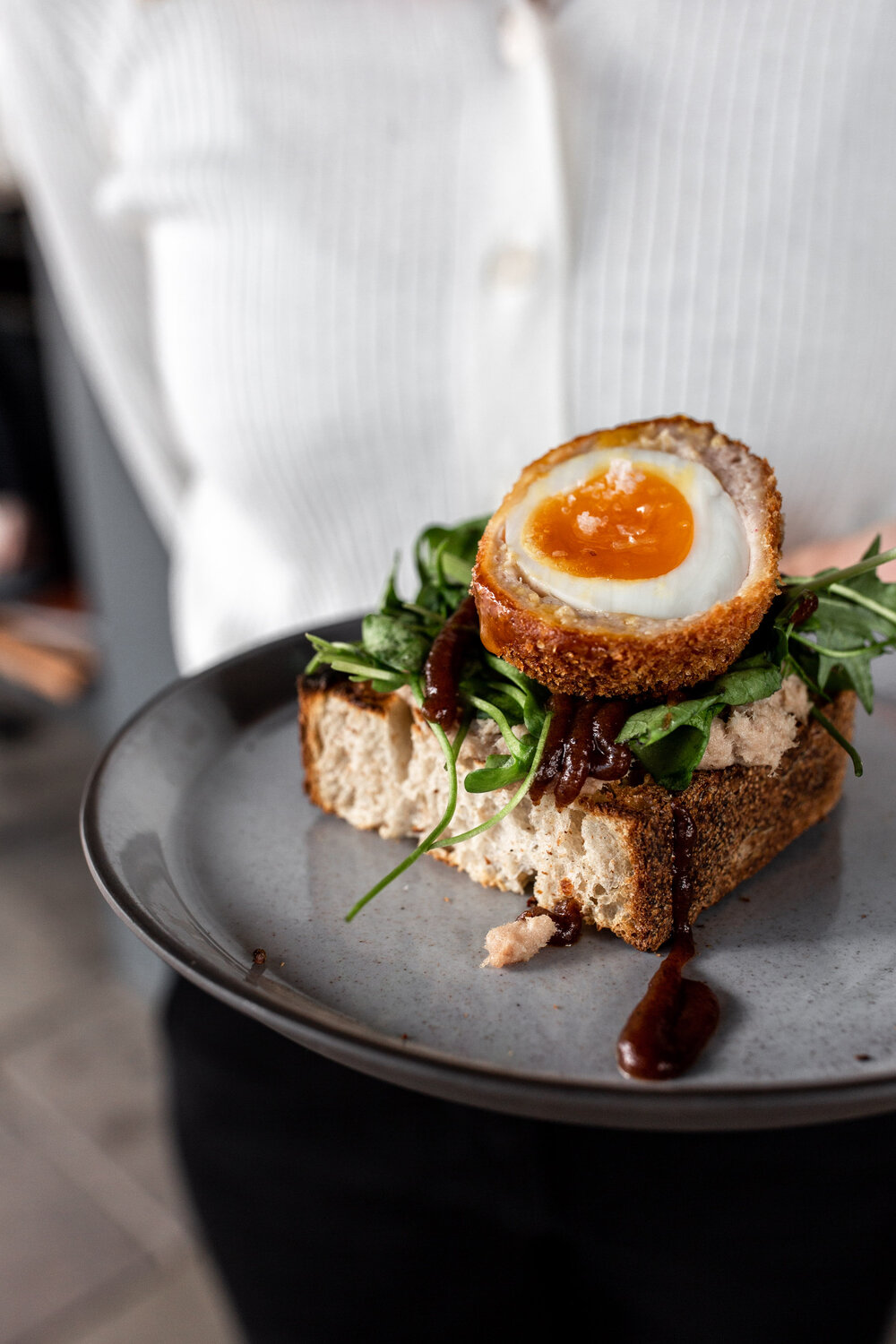 Hairy Lemon Pub
If you're looking for an Irish pub to grab a pint of Guinness and watch a rugby match (I happened to catch England vs. France) then this is the place to go. It's located by St. Stephen's Green within 19th century walls covered with an assortment of memorabilia. If you need a little snack, try the potato wedges topped with Kerrygold cheddar cheese and bacon.
Must Order: Potato wedges with bacon
This cheese shop has several locations all of which offer a wide variety of cheese and accoutrements, both locally sourced from Ireland and imported from surrounding countries as well. I opted to try several Irish cheeses and I'm on a hunt for many of them now that I'm back in the US. Among my favorites were the smoked Gubbeen, a semi-hard, oak smoked cow's milk cheese from Cork and the most popular Irish cheese, the Cáis na tire. It is the "cheese of the country", a hard, sheep's milk cheese from Tipperary. My personal favorite was the Killeen, a mild, semi-hard goat's cheese from Galway.
Must order: Kileen cheese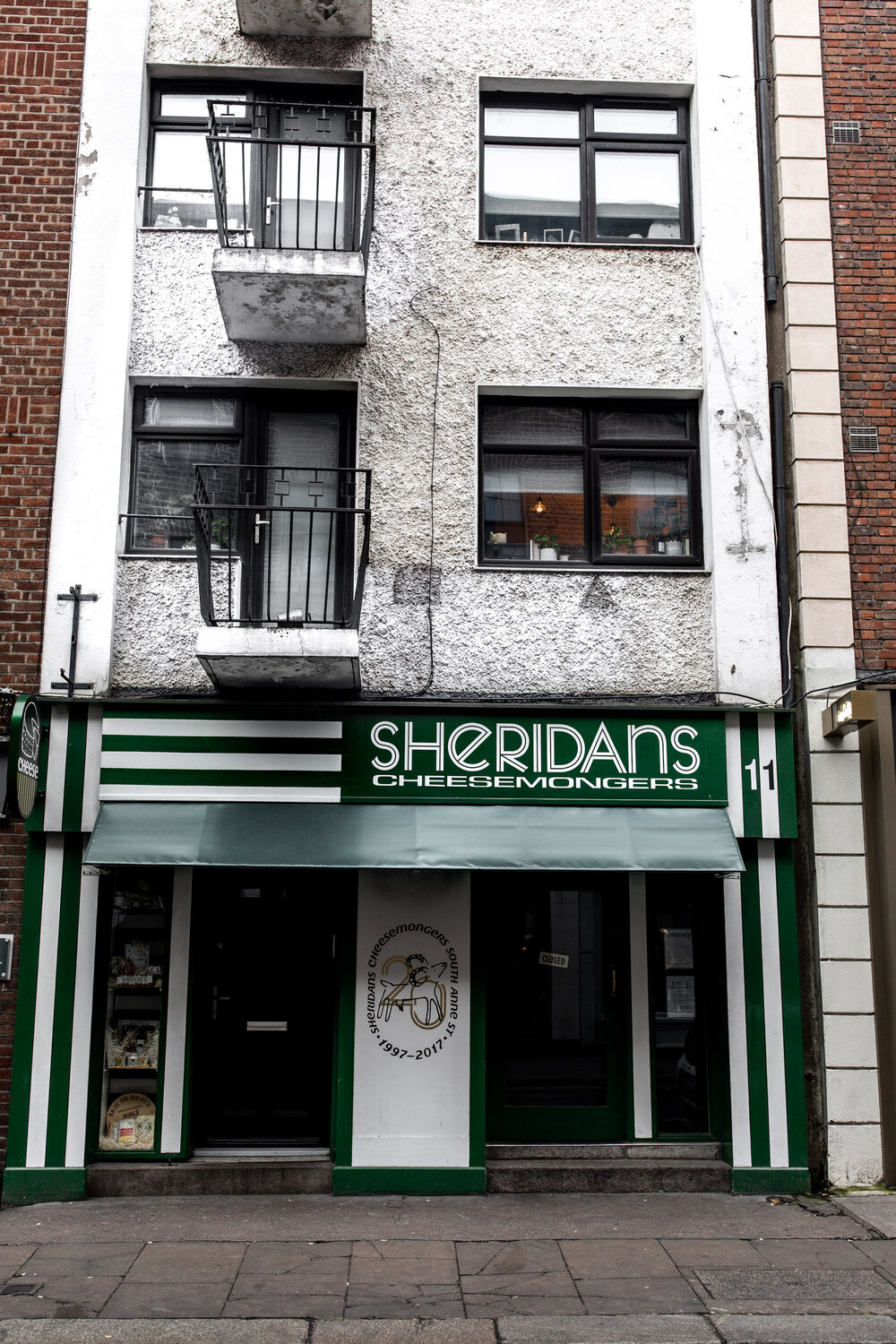 To Drink
If you have some time in Dublin head over to the Guinness Storehouse for a tour and tasting. Prior to my trip many people told me that Guinness is better in Ireland, and they didn't steer me wrong. The reason it's better in Ireland has a lot to do with bartenders knowing how to properly pour a pint and how fast a bar runs through a keg since it is nitrogenized. Tip: look around a bar to see if others are drinking Guinness to ensure they are running through the keg in a two-week period; otherwise it may be advisable to order a different beer.
I didn't understand why until I got a pouring lesson at the Storehouse in Dublin. To properly pour a pint of Guinness you first start with a proper pint glass, then hold it at a 45-degree angle away from you. Then pull the tap towards you and fill it up to the harp logo on the glass – about 75% of the way up. Let the glass sit until the bubbles (there are 30 million of them in every pint) settle and the beer has its distinct deep reddish-brown color. Hold the glass level and slowly push the tap away from you to fill the foam head just above the lip of the glass.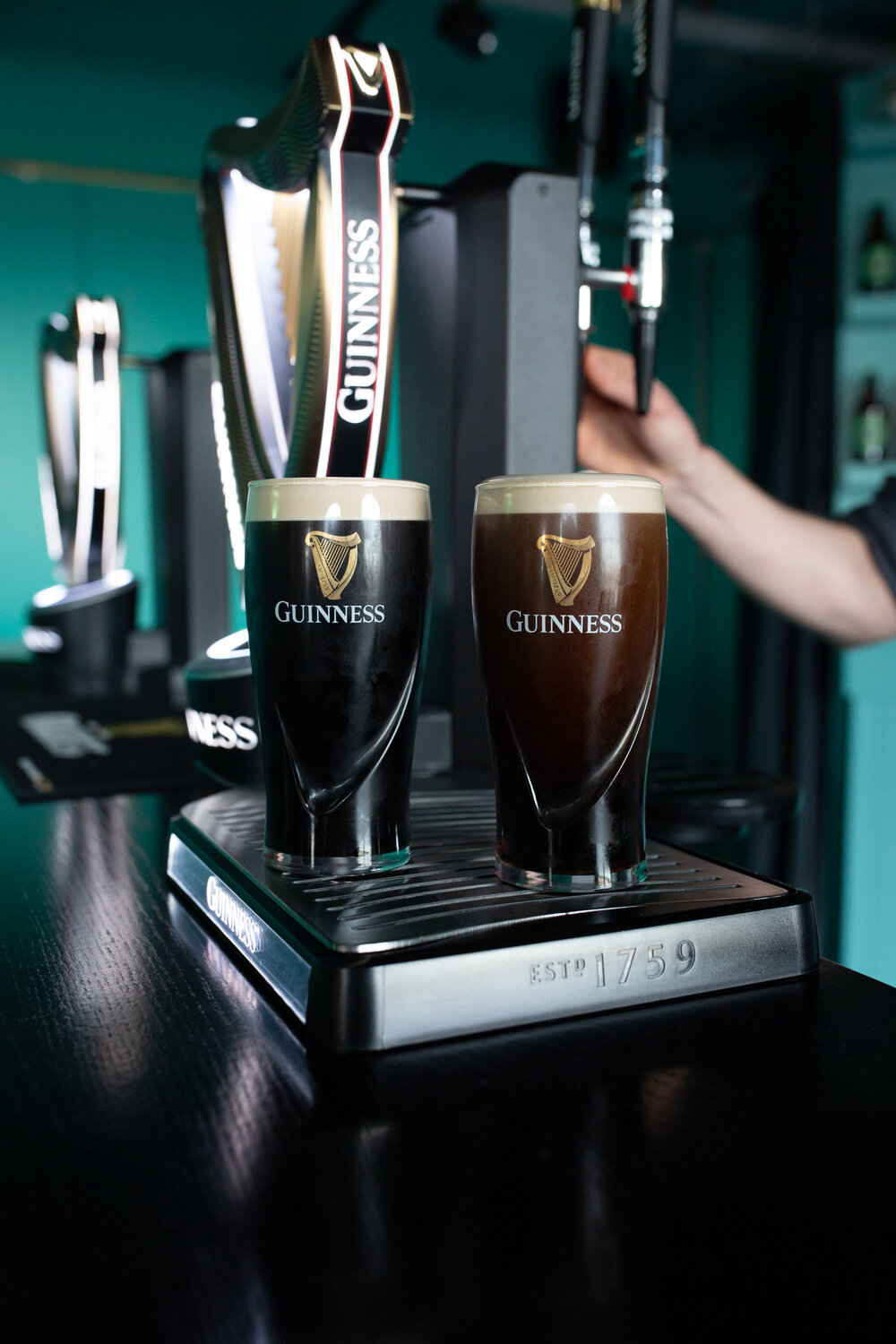 To Stay
This five-star hotel is located in the heart of Dublin city center just a quick walk from popular areas like Temple Bar and Trinity College. Be sure to sneak down to see the Banking Hall, a stunning 19th century room adorned with Waterford Crystal Chandeliers and a raised ceiling with intricate crown moldings. We enjoyed dinner at the Westin's Morelands Grill featuring a homemade duck and chicken liver parfait, roasted Irish monkfish and a dessert of Cashel blue cheese with red wine reduction, another shining example of Irish dairy. The Westin is part of Marriott's Bonvoy program so be sure to earn those points!

To Do
Founded in 1592 and located in the heart of Dublin, Trinity College is Ireland's highest ranked university. When you walk through the doorway of the university it's like you're transported outside of the city and into the world of Harry Potter. If you have time, be sure to visit the gorgeous library – the largest in Ireland – and take an interesting walk through the campus which claims alumni such as Oscar Wilde and Samuel Beckett.
Ireland's Ancient East
This is the term that encapsulates the east of Ireland's rich historic area. It covers the area outside of Dublin east of the River Shannon, and includes County Cork and County Wicklow, two of our stops on the trip.
To Eat
This indoor market in Cork city has stalls selling everything from pastries and bread to seafood, meat and artisan cheeses. While we stopped by as a part of a larger food tour, I could have spent the day working my way from stall to stall just trying samples. One of the most unique things we tried was spiced beef made by Tom Durcan. It is a Cork specialty resembling pastrami and was developed when they began curing the meat in spices, giving it a longer shelf life and allowing it to be transported on ships. At the cheesemonger, I developed a new love for Cashel, a buttery and tangy sheep's milk Irish blue cheese.
Must Order: Spiced Beef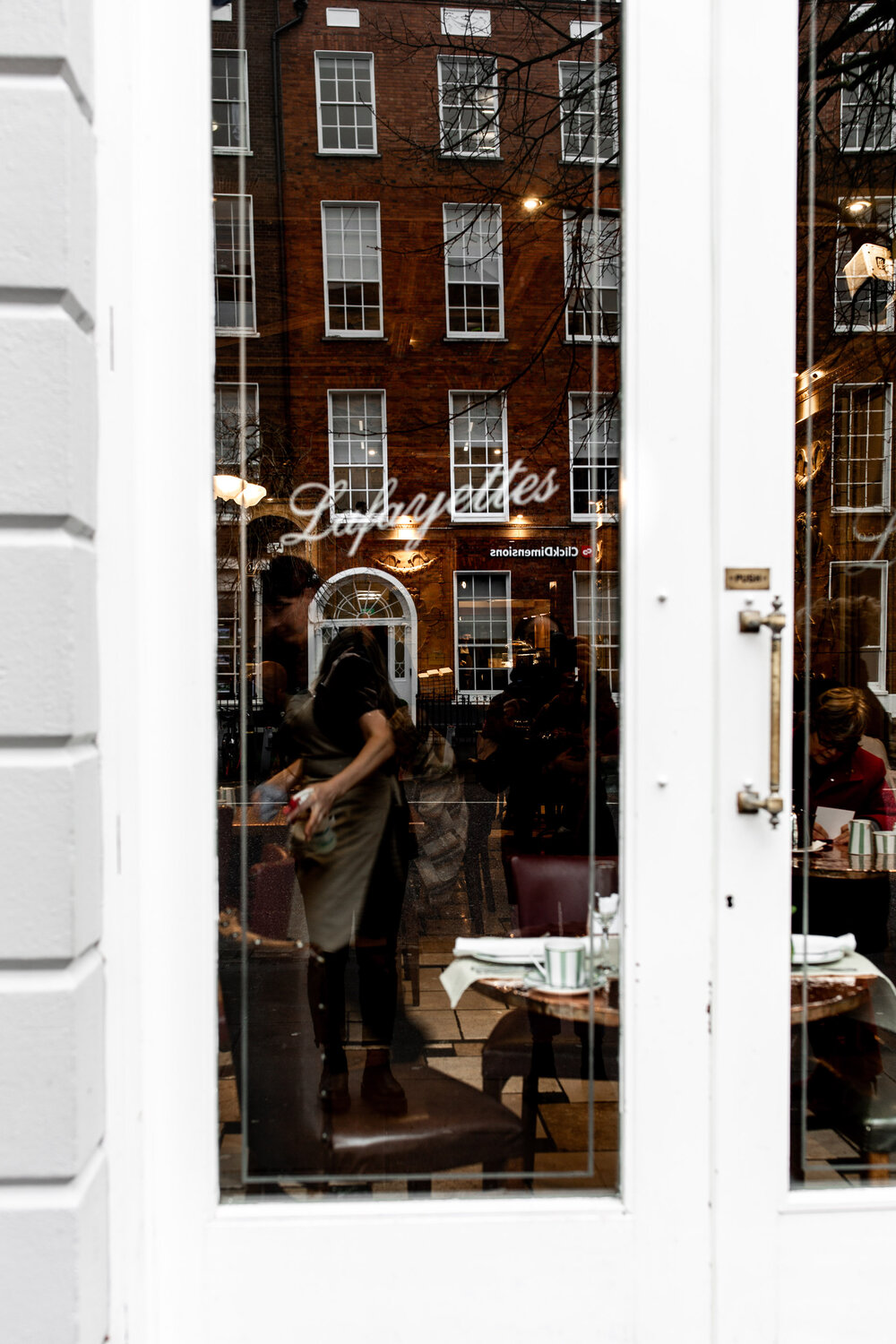 To Drink
Fercullen Whiskey is distilled at Powerscourt Distillery on the property of the Powerscourt Estate & Gardens in the Old Mill House. The master distiller, Noel Sweeney, led a tasting of three of the distillery's offerings. He's been in the industry for over 30 years and has been a member of The Whiskey Hall of Fame since his induction of 2017. Following the tasting, the general favorite among our group was the Fercullen Premium Blend, a combination of aged malt and grain whiskeys, aged in seasoned oak with flavors of malt, caramel, fruit and a vanilla finish.
To Stay
Powerscourt Hotel Resort & Spa 
This five-star hotel overlooks Sugar Loaf Mountain in County Wicklow. The Georgian estate is part of the Autograph Hotels Collection so there's good news, you can use those Marriott points. It's only about a 35-minute drive from Dublin so it makes a great weekend trip or get away from the city. The rooms are incredible, with a separate sitting room, bedroom, bathroom entirely made of marble and closet room that looks like it came out of "Sex and the City". Most rooms of the hotel have sweeping terrace views of Ireland's vibrant green hills. The resort sits on the same grounds as the Powerscourt Estate & Gardens so while it feels a little more remote, it is still surrounded by plenty to do.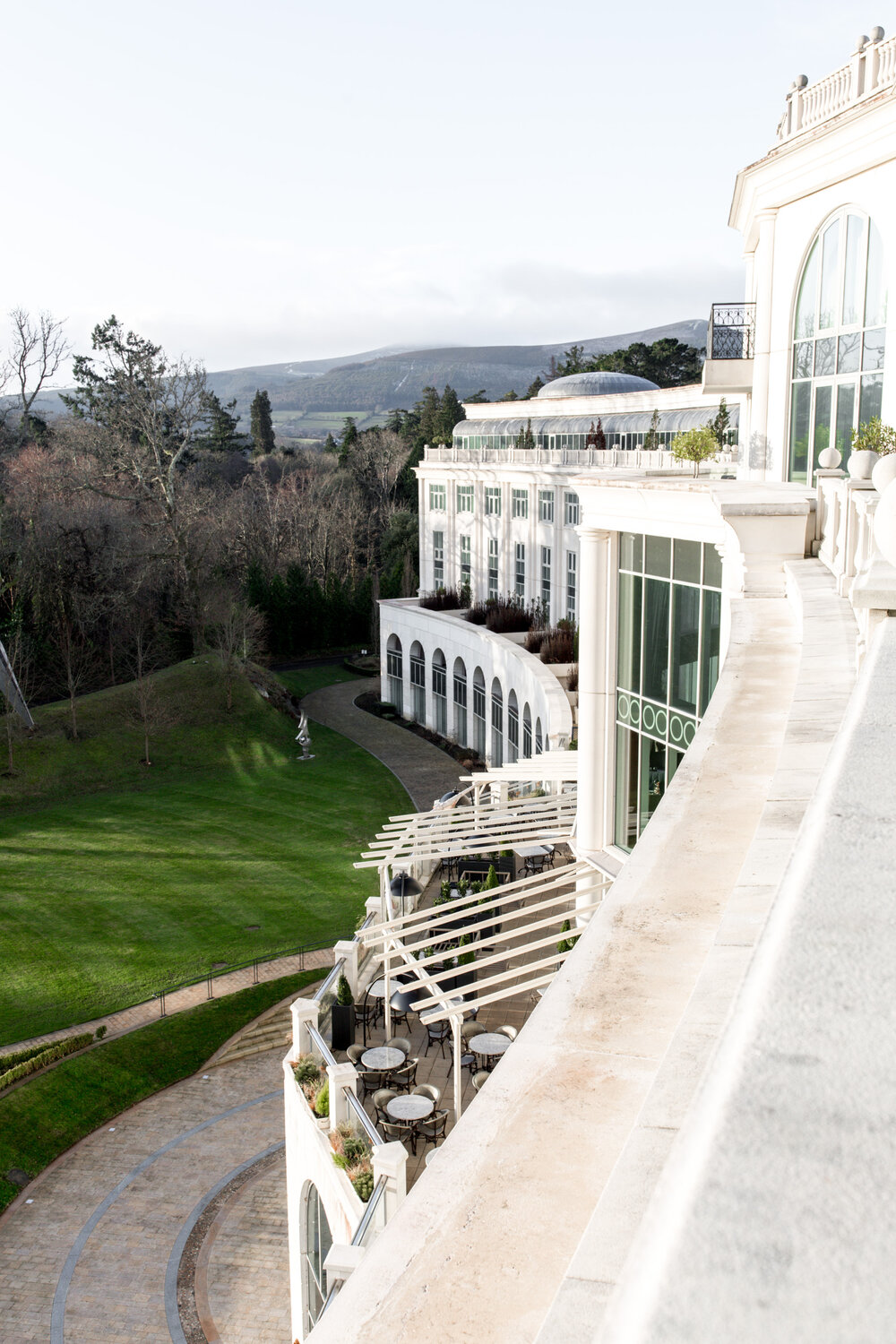 This five-star hotel, set in an 18th century country manor house alongside ancient ruins, was the chosen hotel for Kim and Kanye on their honeymoon to Ireland. Since opening in 2007 the resort which lies 20 minutes from Cork's city center offers luxury accommodations in a relaxing and elegant setting of Cork's woodlands. We were lucky enough to experience a 30-minute massage at the spa, but if given the chance I could have lounged around there all day!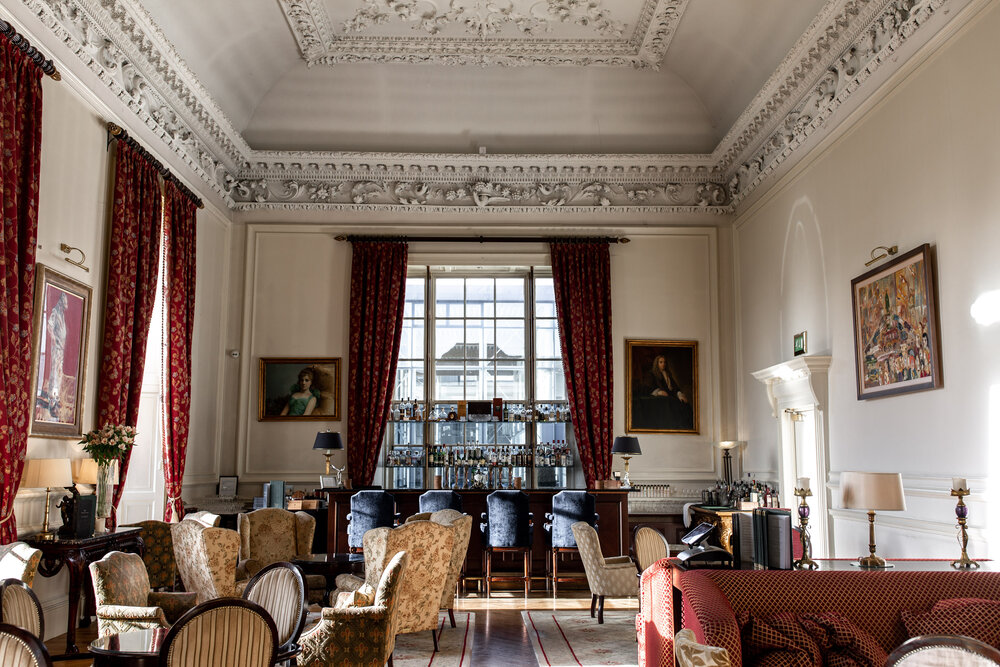 Ballymaloe Cookery School was established in 1983 by Darina Allen, Ireland's best-known cook, and a TV personality and author. Since then, she has been teaching students about Irish food and sustainable cooking. She was influential in starting the farmer's market movement in Ireland so that cooks around the country could better access organic fruits and vegetables directly from farmers. We spent the afternoon learning to bake Irish soda bread, traditional brown bread and to create jam alongside the staff at Ballymaloe and Darina herself.
The Ballymaloe cooking school runs a 12-week, 60-day certificate course three times a year as well as weekly cooking demos. The gardens can be toured all year round.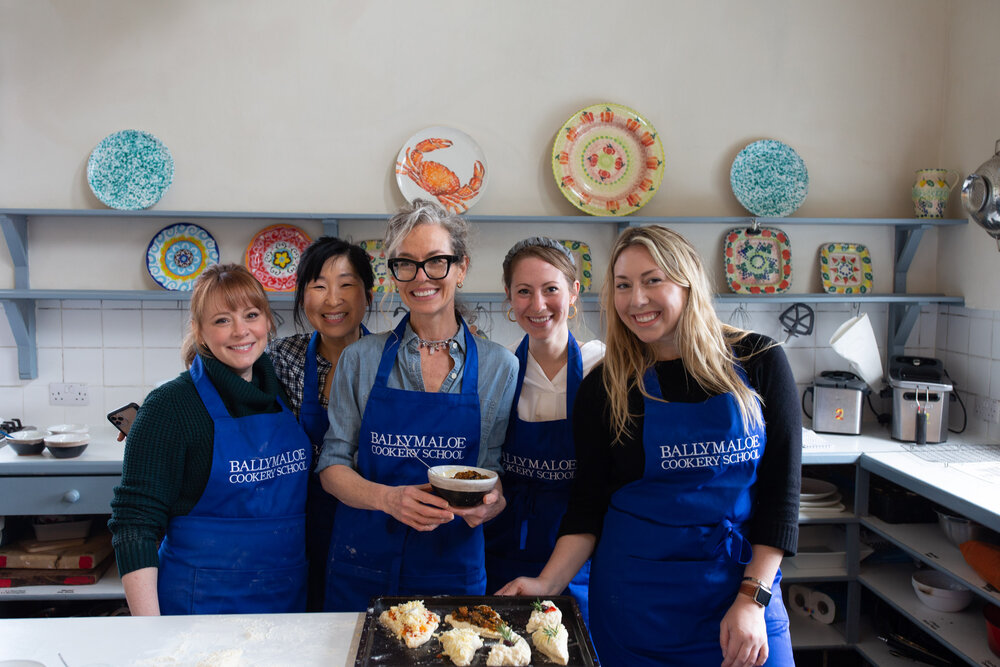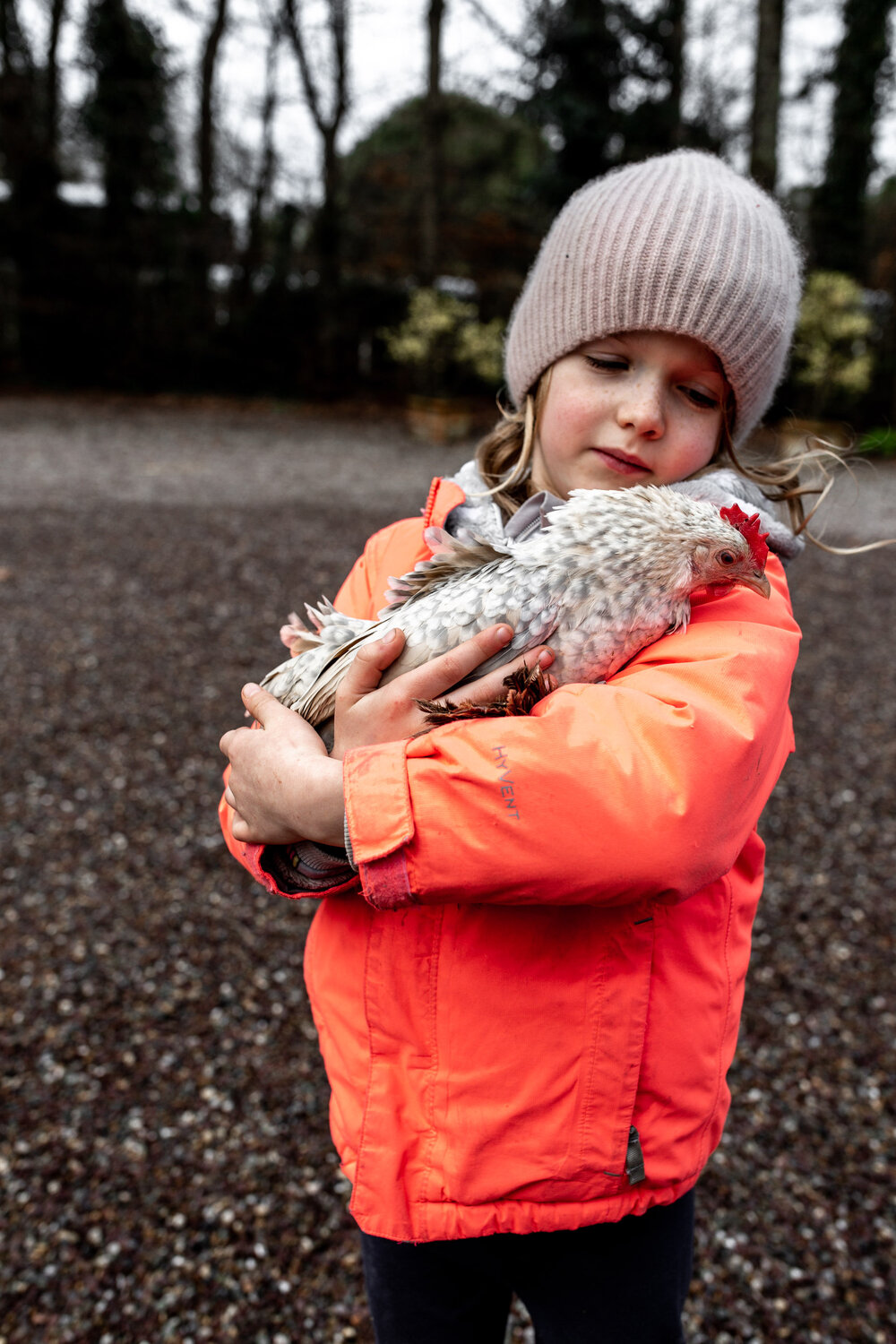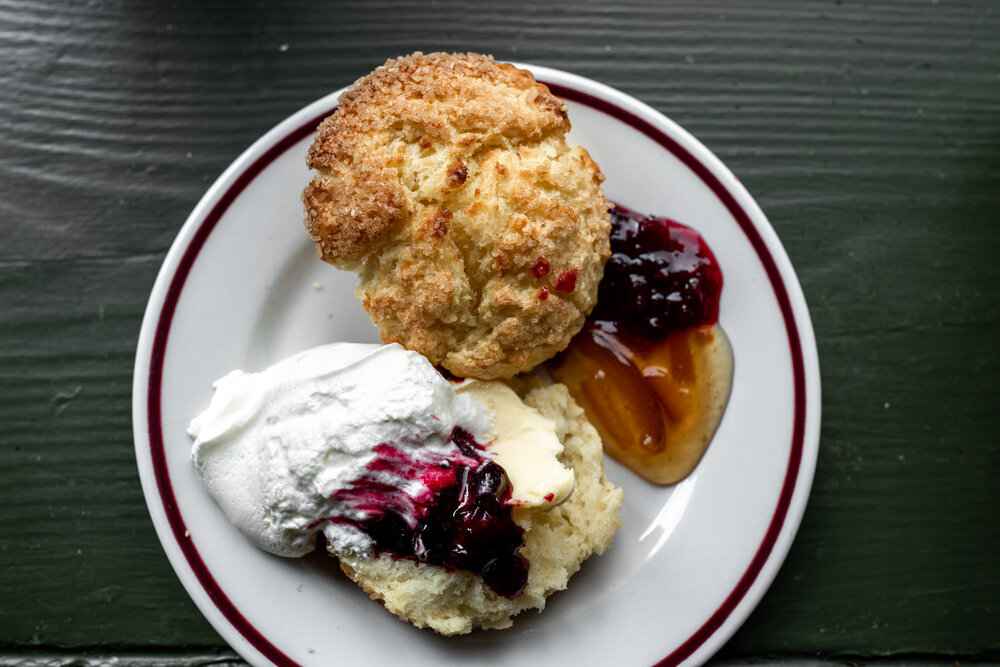 This extensive property in County Wicklow boasts 47 acres of gardens including those modeled after Italian and Japanese gardens, features a waterfall and is noted as one of the top attractions in Ireland. The house on the estate is actually a 13th century castle which was extensively remodeled in the 18th century to mirror the more modern times.
It was restored in 1974 to reflect the 18th century country house, featuring much of the original furniture. It was decimated by a chimney fire during the opening night party revealing the original stone from the 13th century castle beneath the surface. Today the gardens can be explored by guests, and the property includes plenty of restaurants and shopping as well as golfing. Stop by Avoca for local fine-wool items; I may have gone a bit overboard as I picked up several blankets as well as socks.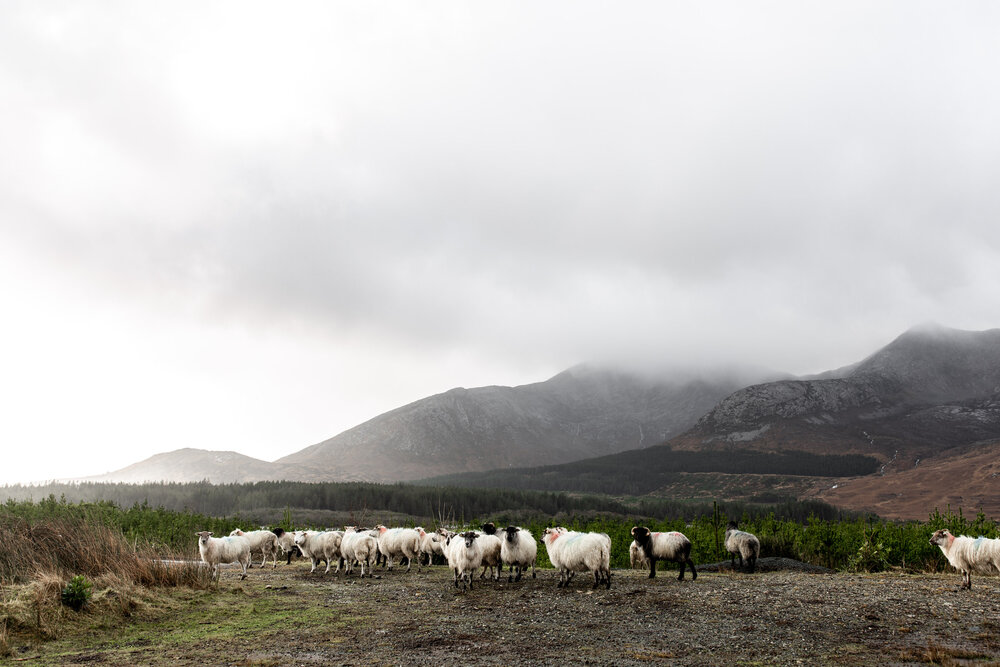 The Wild Atlantic Way
The Wild Atlantic Way refers to the Western side of Ireland, 1600 miles in length, one of the longest defined coastal routes in the world. It covers the West Coast from the Inishowen Peninsula in the north, down to the southern-most point in Kinsale, including the counties of Mayo, Galway, Clare, and Limerick, all stops along our tour.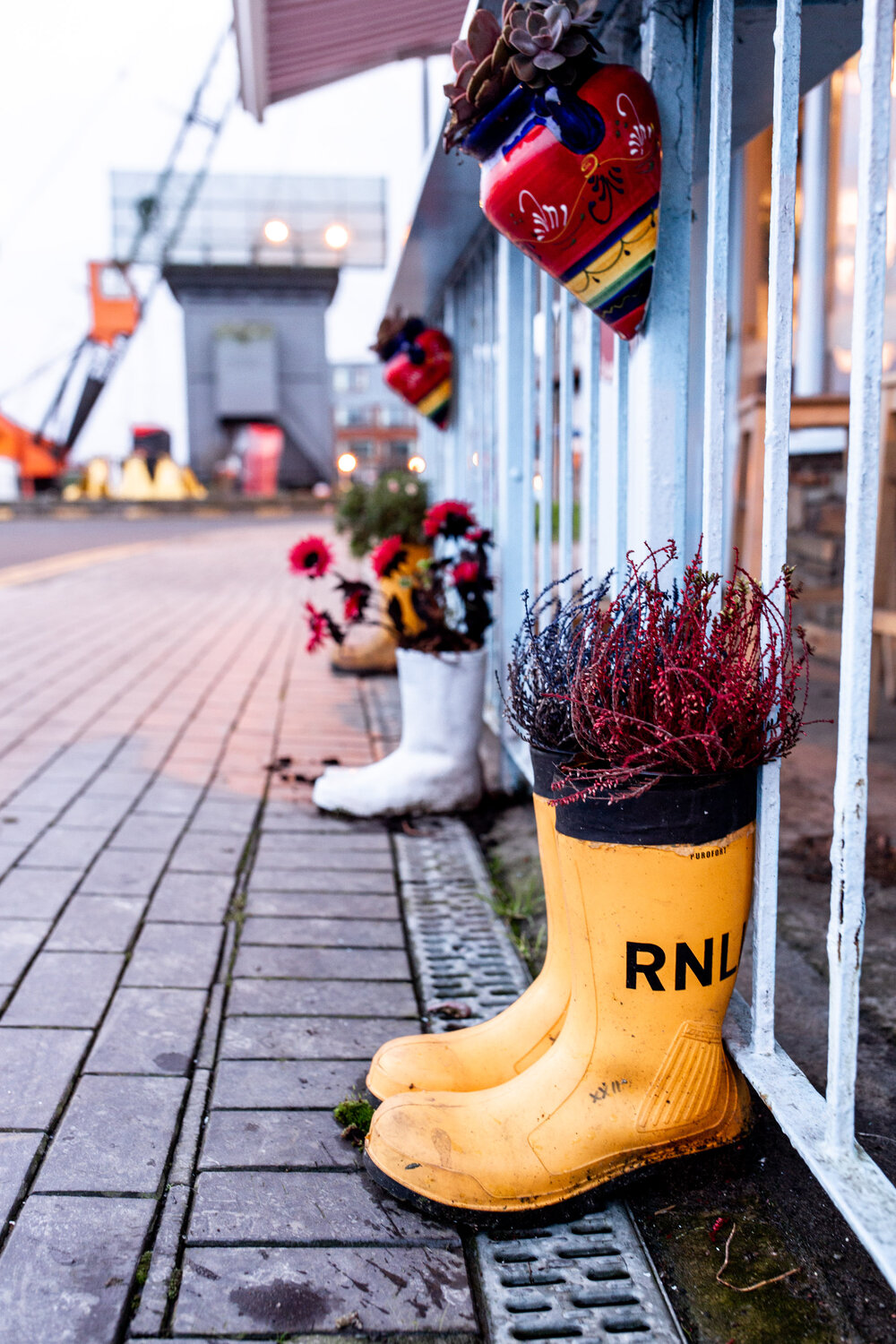 To Eat
Kinsale is the #1 foodie town in Ireland. The small coastal town is the sister city to Newport, Rhode Island in the United States. The town prides itself on a spirit of collaboration and camaraderie among its restaurants and shops since bringing tourists to the area benefits them all. Our dinner at Fishy Fishy kicked off with an appetizer of hummus topped with caramelized onions, followed by baked oysters topped with chorizo, salsify and lemon. Seafood chowder is an Irish favorite, and this iteration featured a tarragon coriander spiced shellfish and tomato stock base filled with local fish. Chef Martin Shanahan noted that Fishy Fishy aims to "showcase the fishers and farmers because it's not all about the work done in the kitchen". His background as a fishmonger ensures the restaurant is supplied with the highest-quality fresh-catch fish year-round.
Must Order: Baked Oysters and Seafood Chowder
Tartare Café + Wine Bar (Galway)
Located in Galway, the 2020 European capital of culture, Tartare, an all-day café and wine bar, sits near its Michelin-starred sister restaurant, Anair. Chef JP McMahon cooks contemporary Irish food showcasing both the rich food heritage and new Irish food culture.
Their cheese scones were my favorite scones of the whole trip. They were served with fermented butter. Other dishes that stood out were the local oysters served with sea lettuce and trout roe and the fresh beef tartare with pickled onions and smoked egg. Salmon is widely used in Irish cooking, more widely than I realized. The Lough Corrib River in Galway has a waitlist for fishing since it's where salmon come in.
Must Order: cheese scones and beef tartare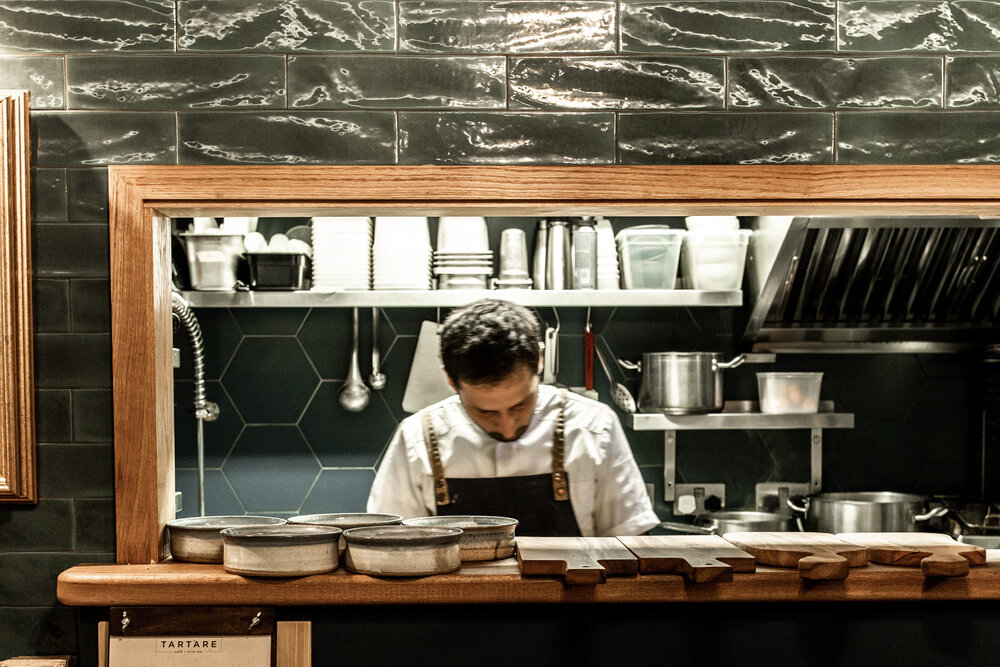 Murphy's Ice Cream has multiple locations across Ireland from Galway (where I stopped) to Dublin and its original location in Dingle where it started in 2000. They use fresh and local ingredients like Irish dairy, making everything from scratch including making their own sea salt.
Along with their Dingle Sea Salt flavor made from a custard base from Kerry dairy cows, their other most popular flavor is Irish Brown bread with a whole loaf of brown bread in every batch. If you have some time head over to their website and read about some of their craziest experimental flavors from candied chili pepper to white chocolate and rose water to smoked salmon (definitely odd for ice cream but I appreciate the effort).
Must order: Irish Brown Bread Ice Cream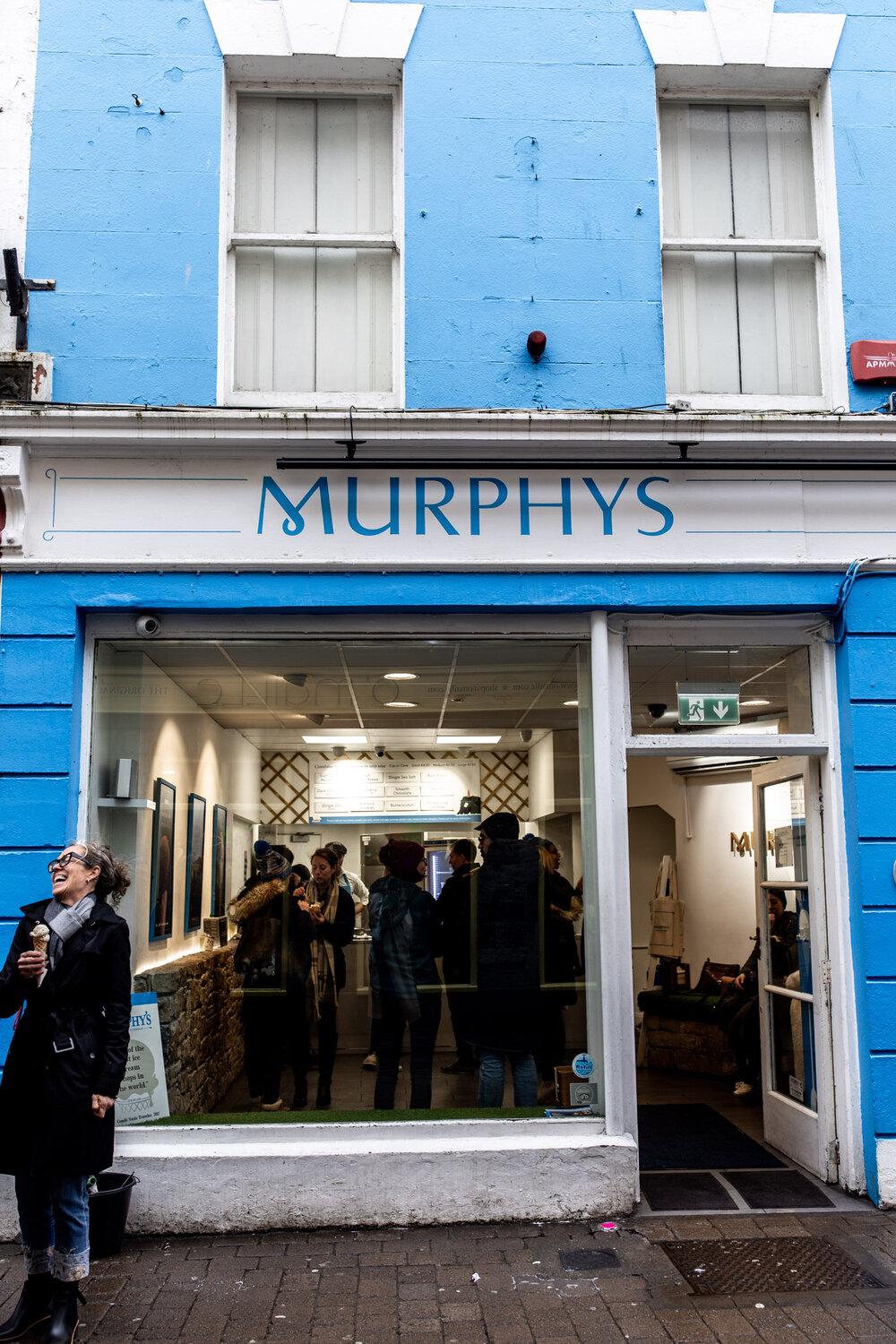 To Drink
This whiskey and gin distillery aims to bring their product directly from "grass to glass" growing their own barley for the whiskeys and using byproduct from dairy to create the whey alcohol used in gin. Clonakilty uses both malted barley and unmalted barley for a creamier taste with a bit of spice.
Clonakilty Distillery also offers a gin mixing class. Our tour guide taught us that "flavoring gin is all about balance, it's like making a curry" meaning you don't want to over-power the mixture with too much of one herb with the overall goal of creating crisp and dry gin.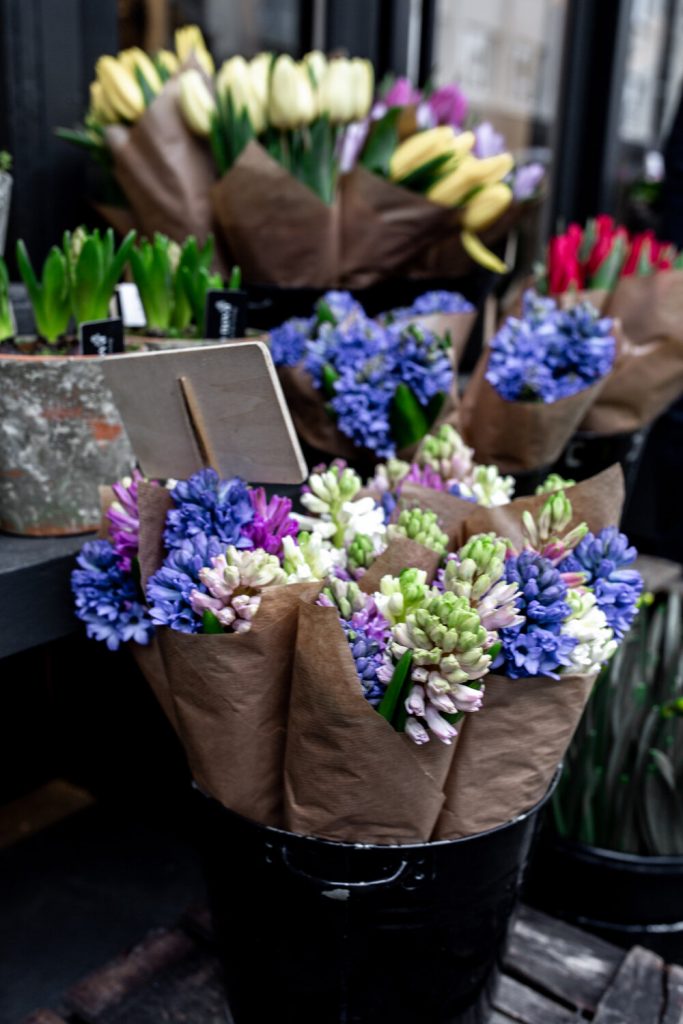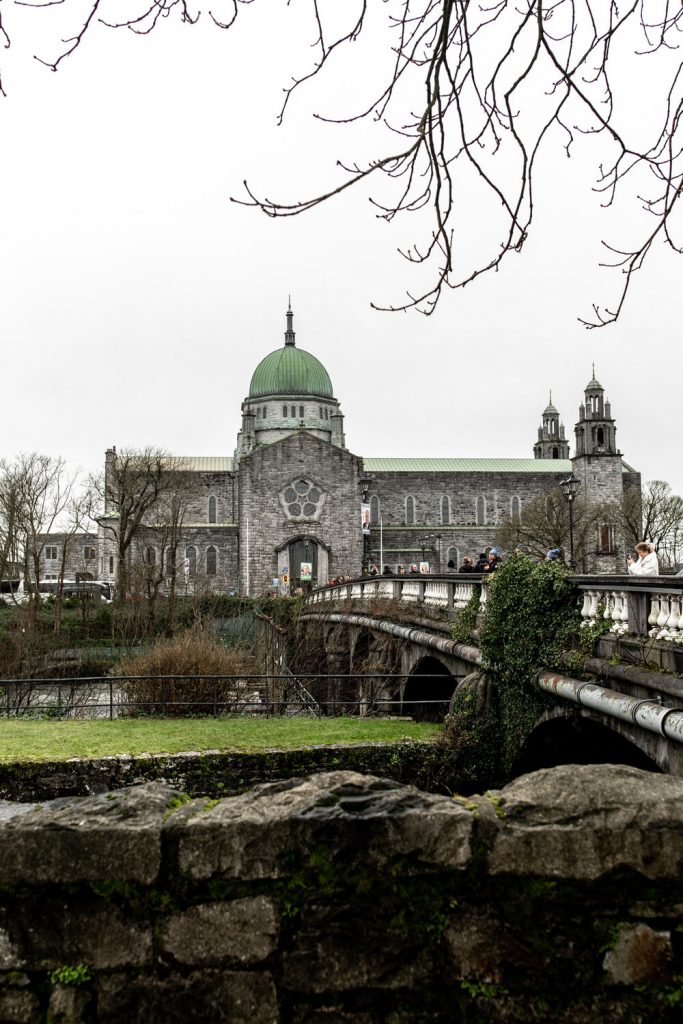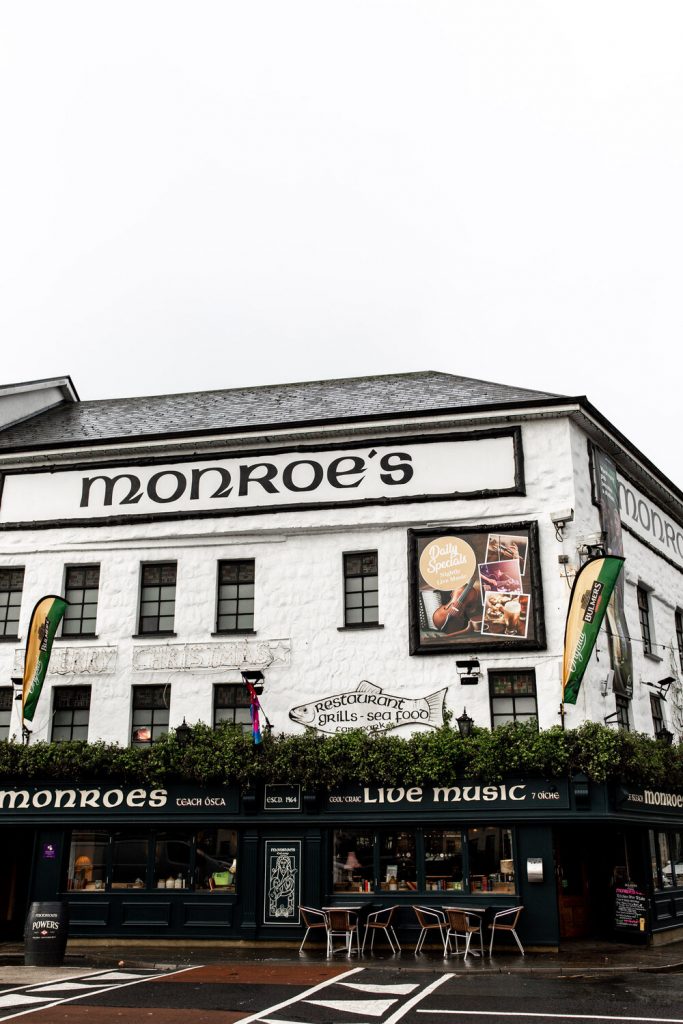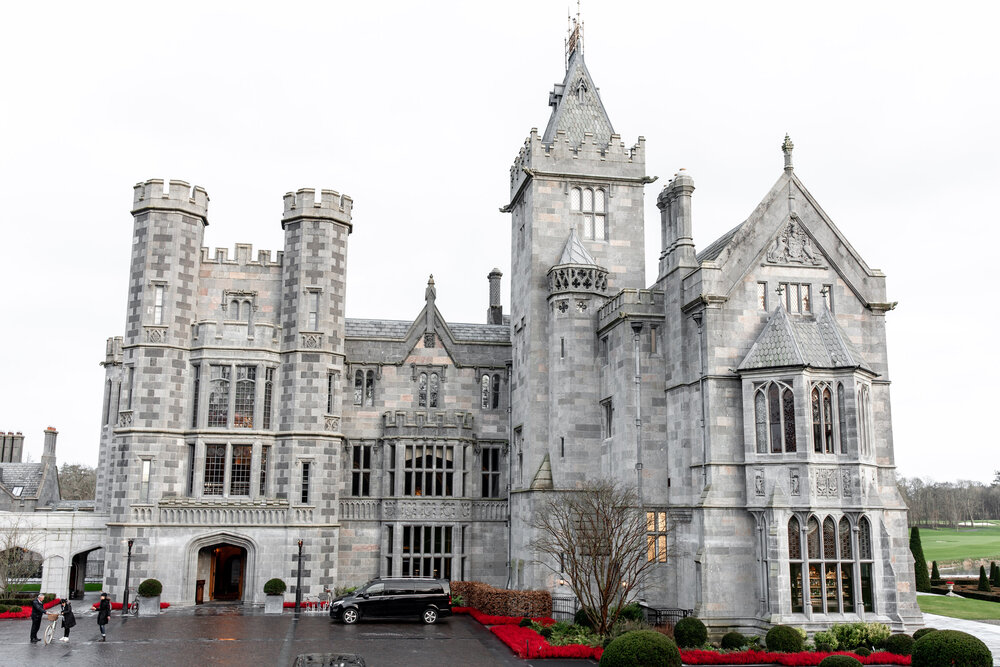 To Stay
Did you know the difference between a manor and castle is that a castle is a fortified large building often inhabited by nobleman and kings while manors are landed estates. It really has nothing to do with the size. Adare Manor in Limerick, a Victorian manor turned hotel, is decorated with ornate vintage touches but offers many modern amenities – from equestrian activities to golf to falconry and includes a luxury spa, the grand property made me feel like an adult version of "Eloise at the Plaza", bounding around from afternoon tea in a high-ceilinged room with stained glass windows to the Tack room, an elegant basement bar with a skilled mixologist.
While I would have been perfectly happy holing up in my luxurious room which was essentially the size of my whole California apartment and contained a marble bathtub and rainfall shower head, I couldn't help myself from making the most of my stay and exploring the property. Drinks at the Tack room included cocktails made by world-famous mixologist, Ariel Sanecki, who has won a long list of prestigious awards including a gold medal at the International Bartenders Associations World Cocktail Champion competition in 2016 and silver in 2018. As he made drinks for us, he was gearing up for this year's competition, and his cocktails were anything but ordinary, served in hand-made glasses from a designer in Prague.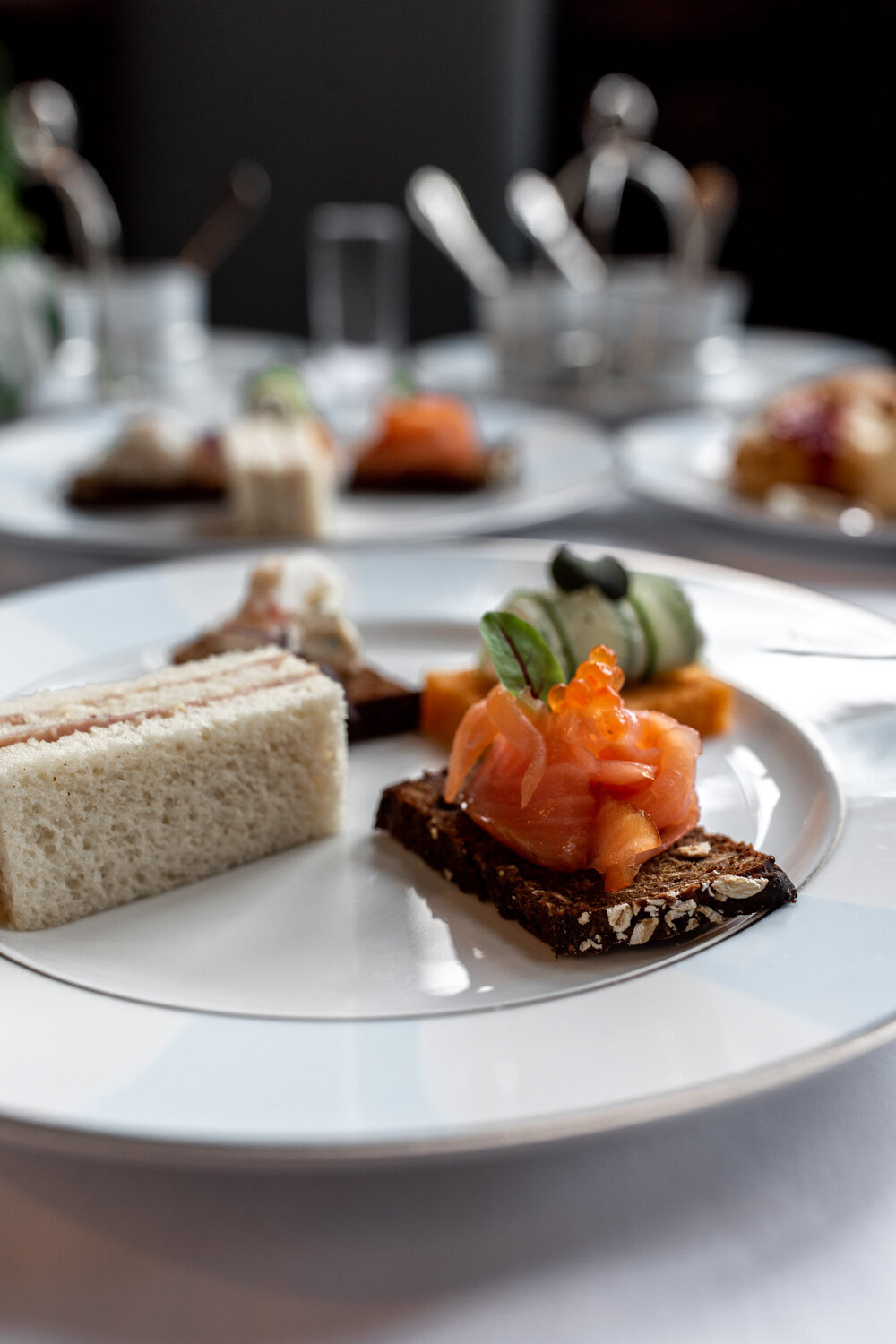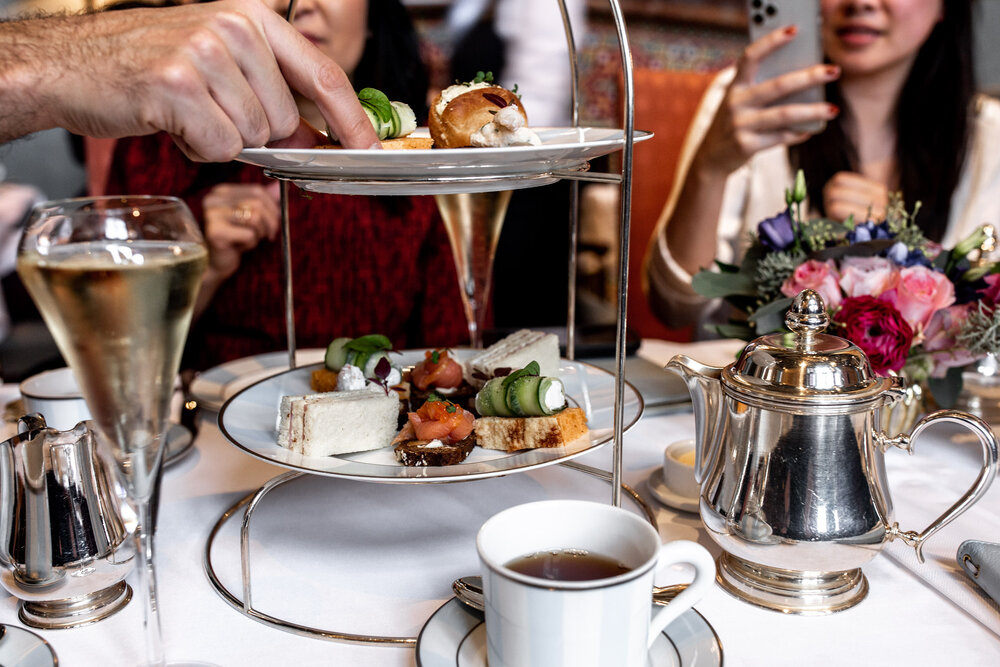 This Medieval and Victorian castle originally built in 1228 was turned into a five-star hotel in Mayo and was voted the world's number one hotel in 2015. With its old-world charm it truly is a once in a lifetime stay. The rooms of the hotel on the 350-acre estate are each decorated entirely differently. Mine happened to be John Wayne's room that he stayed in while filming the 1951 movie "A Quiet Man" with Katherine O'Hara and was located in one of the turrets of the castle.
The staff seemingly anticipates your next move and knows what you need before you've had time to actually verbalize it. I guess that's what happens when a large percentage of the staff has been in the service industry for at least 20 years.
At turndown service, along with chocolates on the pillow made by pastry chef Paula Stakelum, was a card with a poem. The intricate embroidered vintage sham was replaced by one of the fluffiest comforters I have ever slept under.
The hotel also has two Irish wolfhounds that guests can walk around the property with or visit in the lobby in the mornings.
Dinner on the Saturday night of our stay was hosted in the George V dining room, built to accommodate the Prince of Wales (later King George V of England). I started with the wild mallard with a red onion and fig tarte followed by a yogurt and lime sorbet palate cleanser. For the main course I went with the aged Parmesan gnocchi with spinach, red chard, tarragon oil, wild mushrooms and Perigord truffle. Dinner was made even more special because we had previously spent time foraging the grounds with Executive Pastry Chef Paula and Executive Chef Philippe Farineau.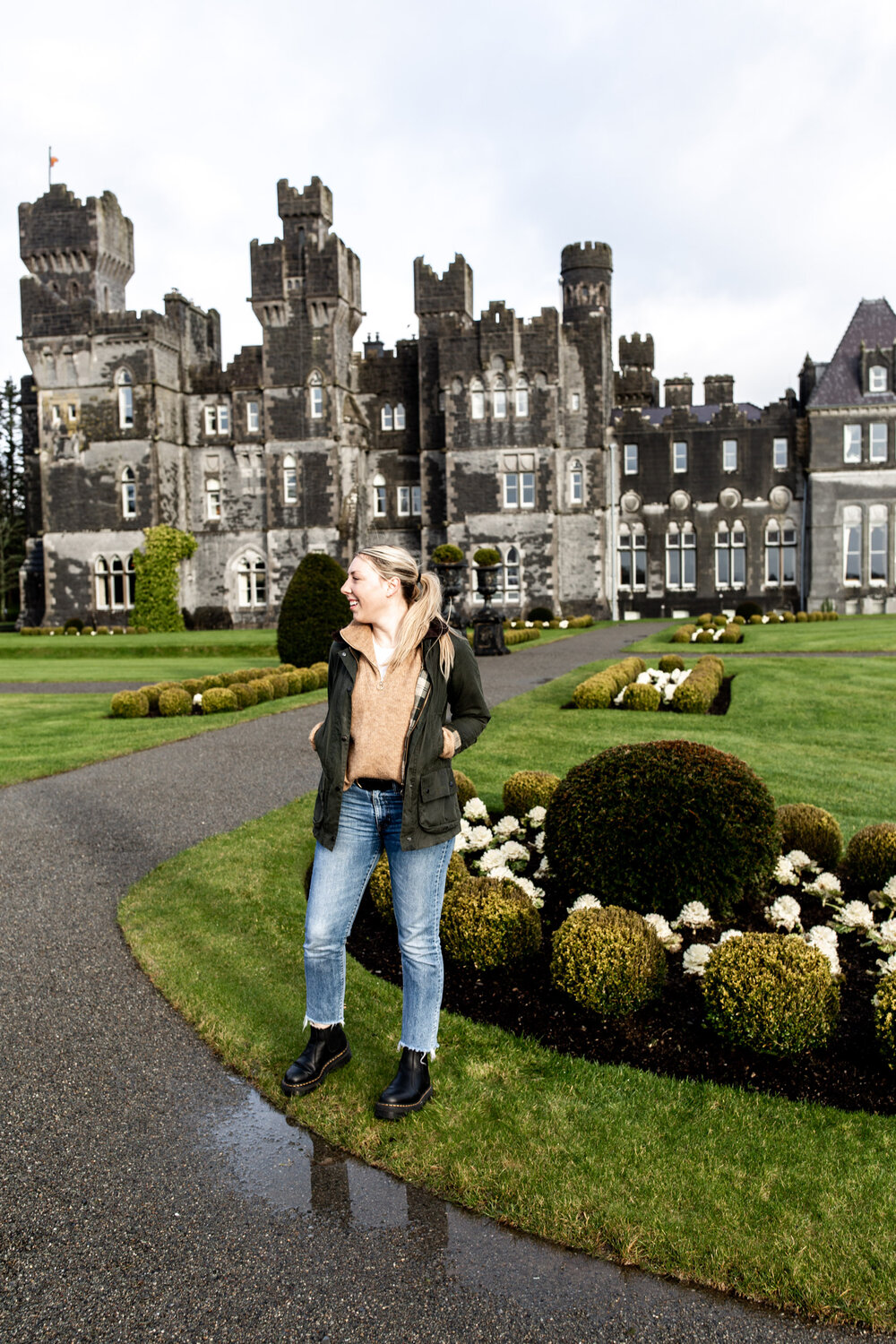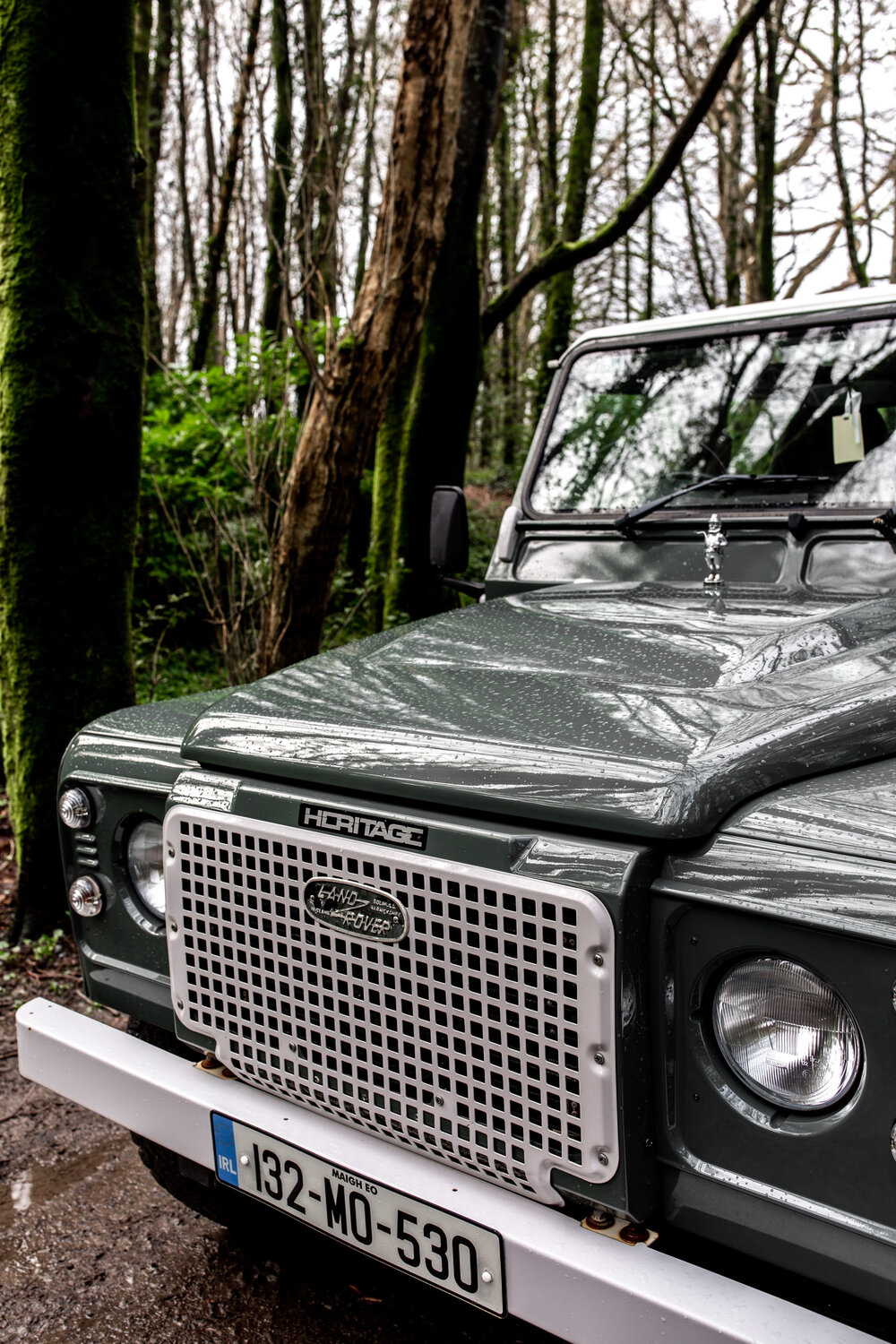 To Do
Have you ever eaten chocolates made by a nun? Not only does Sister Genevieve of Kylemore Abbey make chocolates, but she also makes soaps and sells them to help keep the Abbey running. Kylemore Abbey and Victorian gardens located in Connemara is Ireland's second largest tourist attraction outside of Dublin, welcoming about 600,000 visitors a year. The estate itself was built by Mitchell Henry for his family in 1868. The Abbey is celebrating 100 years since the Benedictine nuns arrived as refugees from World War I and ran an all-girls boarding school on the grounds until 2010.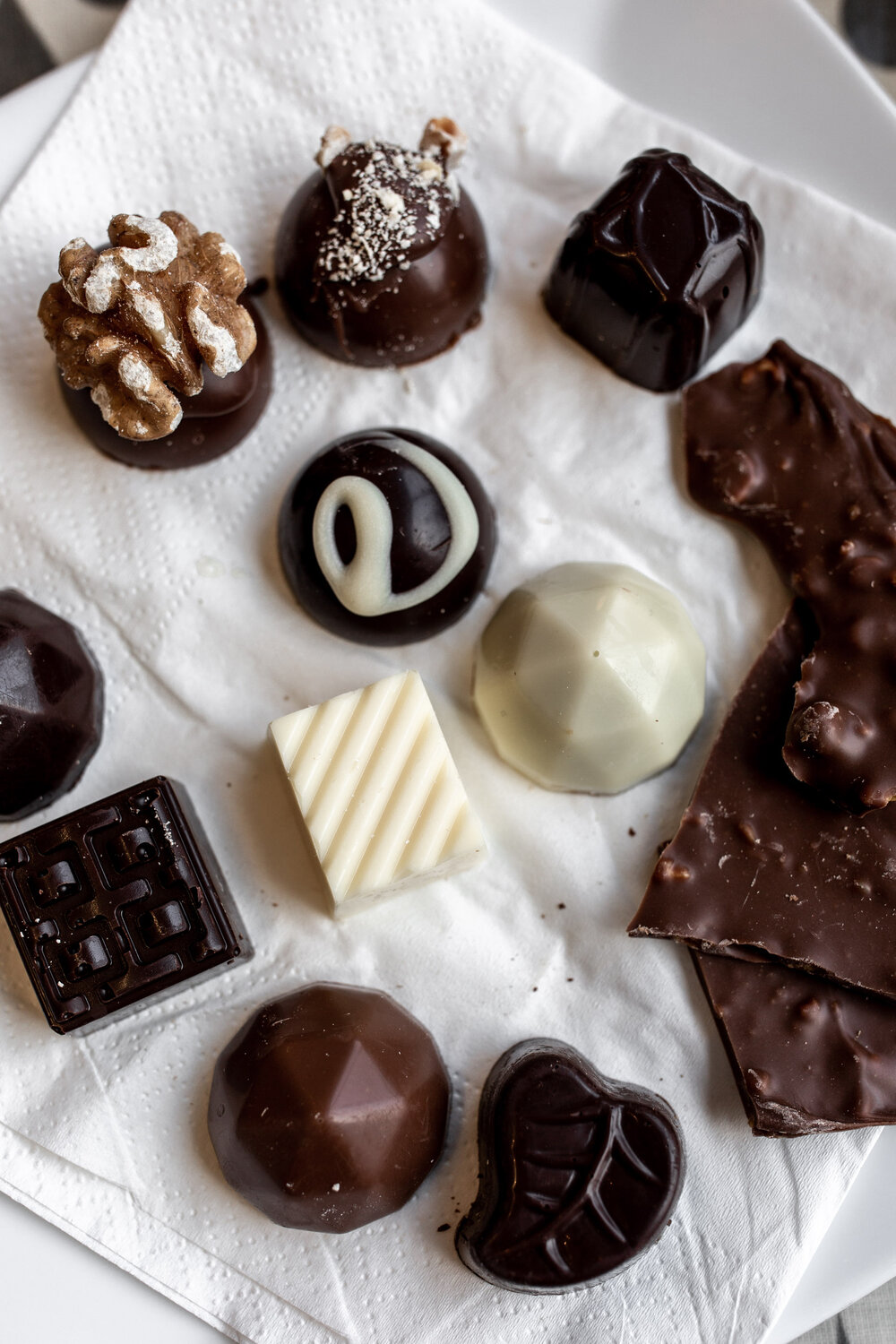 Eight days of delicious food, stunning scenery and luxurious accommodations accompanied by learning about Irish food from accomplished chefs. And thank you Ireland – your people were helpful, gracious and friendly. Eight days was not enough, and I will be back.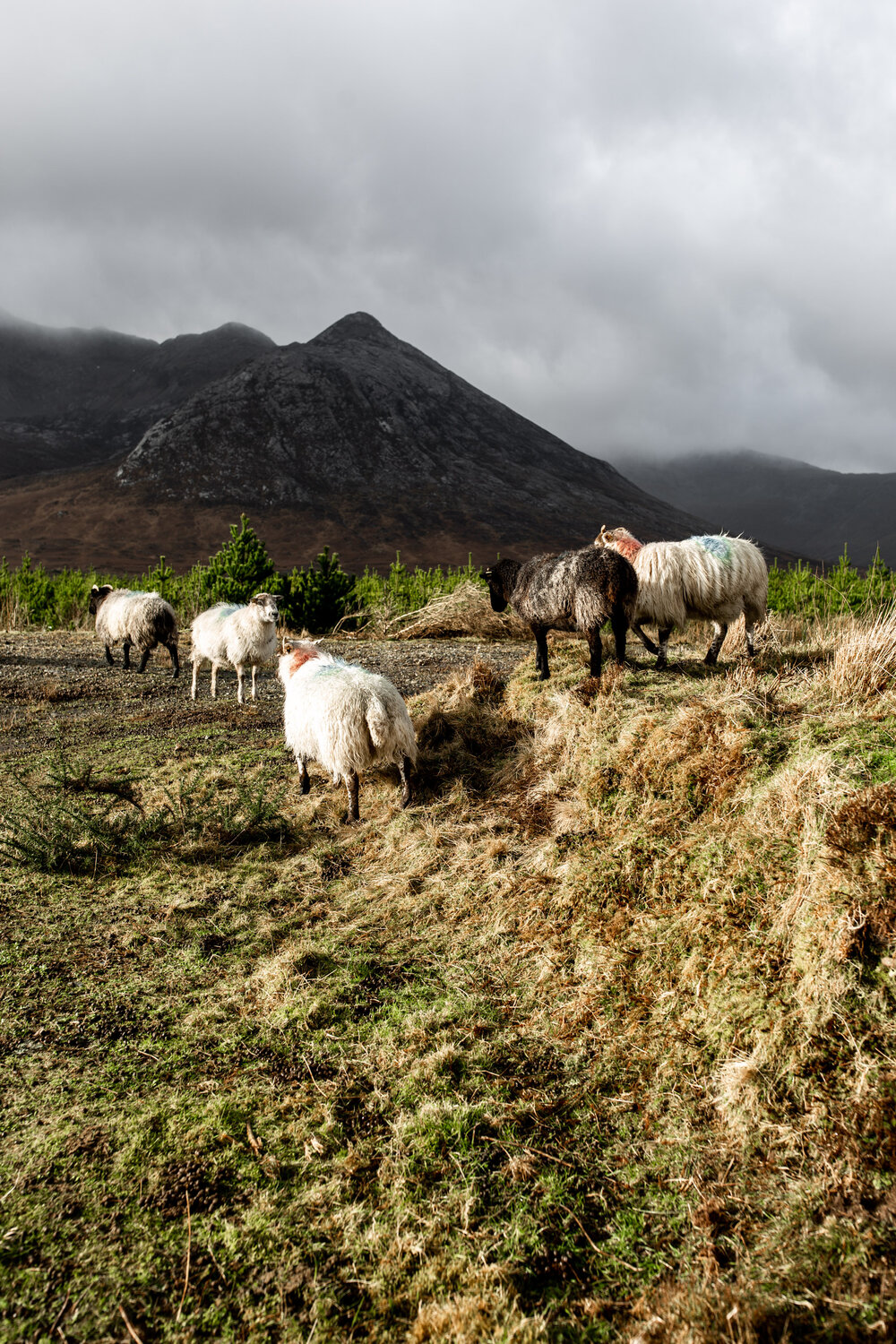 You can enter to win a customized trip to Ireland of your own, next year just click here to enter!