Egg, Cheese & Crispy Prosciutto Breakfast Sandwich on a Pretzel Bun
This dish came together one Saturday morning as I stood staring into the fridge as in one of those "I need to make something to eat – what's in the fridge at this very moment?" kind of breakfasts. It's honestly how some of my favorite dishes are developed. It's amazing what you can come up with when you only have a few random ingredients in the house. I feel like I'm in my own personal version of Chopped. At any moment I'm sure to have some eggs and at least three different types of cheese in my fridge.
My husband, Aaron, calls this the "ugly Betty sandwich" – it's not the prettiest but it tastes absolutely delicious. I used Old Amsterdam aged Gouda cheese – a rich, nutty aged cheese from Holland that I am recently obsessed with after doing some work for them. I melted the cheese onto split pretzel buns and topped them with slow-scrambled eggs and a spicy mayonnaise mixture.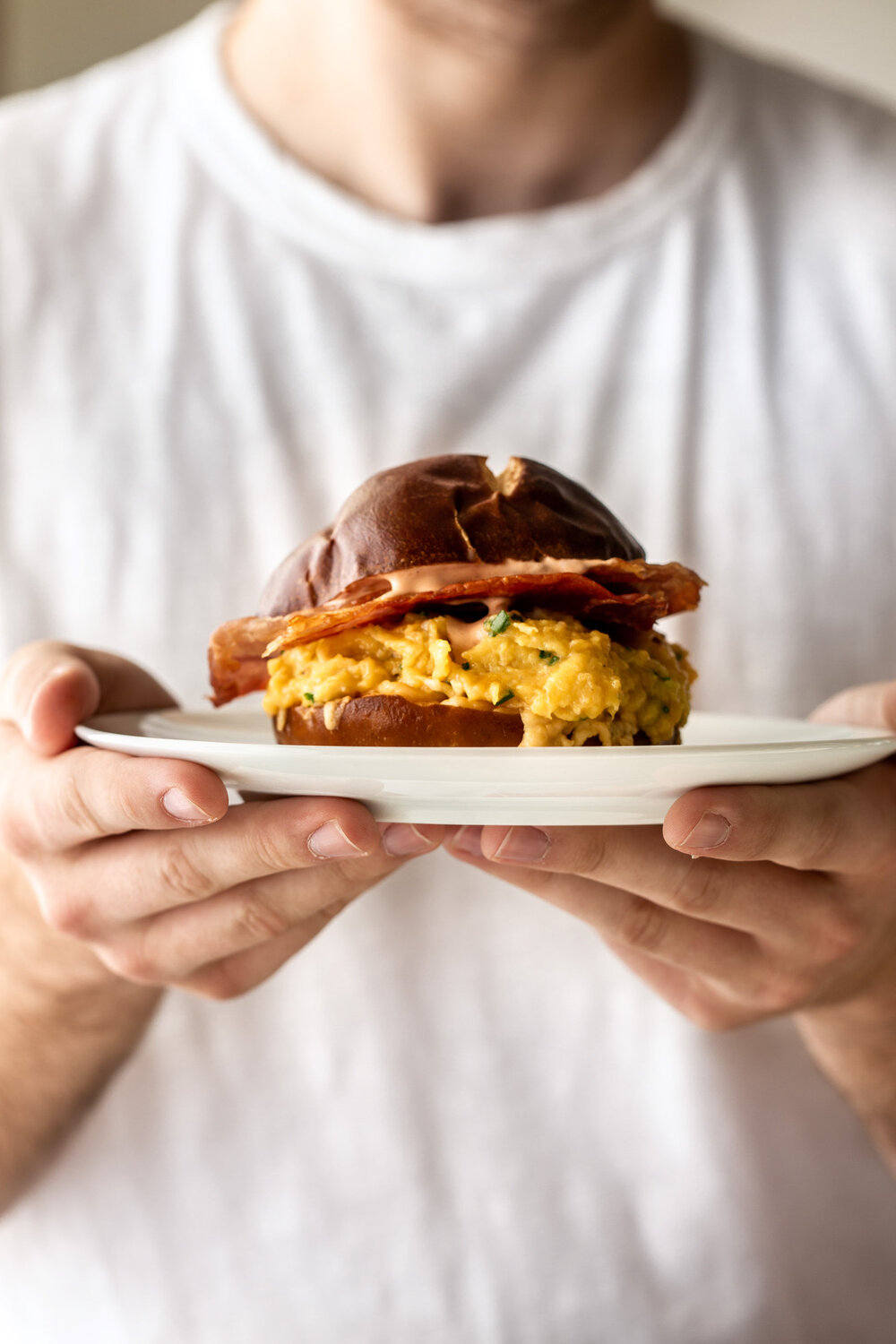 Cooking eggs slowly over low heat takes a little more time and patience than the typical fluffy pale-yellow eggs, but the reward is worth it. This cooking method (also known as soft scrambled) breaks up curds as they form and keeps them creamy without adding cream. I love the texture that these eggs add to the sandwich.
The sandwich is topped off with a slice of crispy prosciutto and spicy mayonnaise. While the sambal oelek in the sauce can be replaced by sriracha, I like the slight vinegar tang and chunkiness the sambal adds. This breakfast sandwich comes together in under 30 minutes and is sure to become a weekly tradition when paired with piping hot coffee and PJ's.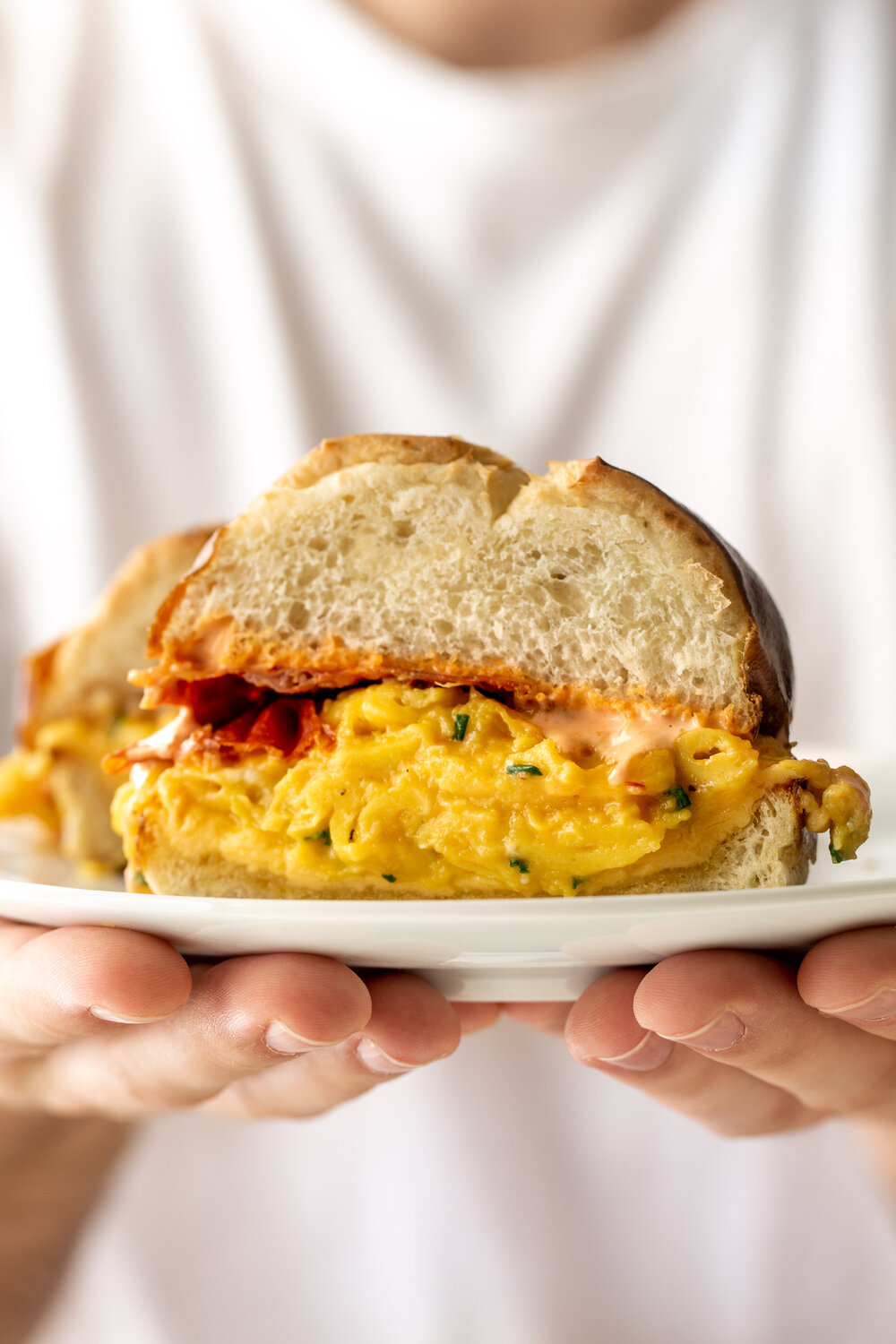 Egg, Cheese and Crispy Prosciutto Breakfast Sandwich on a Pretzel Bun
¼

cup

mayonnaise

2

tablespoons

sambal oelek

5

large eggs

Kosher salt,

as needed

Freshly ground black pepper,

as needed

2

teaspoons

chopped chives

2

tablespoons

butter

½

cup

shredded aged gouda cheese

2

ounces

sliced prosciutto

2

pretzel buns,

halved lengthwise
In a small bowl stir together the mayonnaise and sambal oelek until combined. Cover and set aside until ready to use.

In a medium mixing bowl whisk the eggs until they fall off the whisk in ribbons. Season the eggs with salt and pepper and stir in the chives. Heat a medium non-stick skillet over medium-low heat. Add the butter and allow to melt. Turn down the heat to low, add the eggs and use a rubber spatula to move the eggs from side to side and scraping the sides constantly.

Continue to cook, stirring constantly, until the eggs become creamy and starts to form curds, about 15 minutes. Be patient, while it will seem like nothing is happening after about 10 minutes curds will begin to form. Remove from heat and set aside.

Heat the oven to broil. Line a baking sheet with aluminum foil and add the pretzel buns, cut side up. Top the bottom half of the buns with cheese and broil until the cheese is melted and the top buns are toasted, about 2 minutes. Remove and top the cheese half with eggs.

Spread the prosciutto in an even single layer on top of the cheese, then broil until crispy, about 3 minutes and place the strips on top of the eggs. Spread about 2 tablespoons of the spicy mayonnaise on the cut side of the top half then close the sandwich and serve immediately.
DID YOU MAKE THIS?
TAG ME ON INSTAGRAM TO BE FEATURED ON MY STORIES! @cookingwithcocktailrings