Table-side Caesar Salad with Chili Oil Croutons
This variation of Caesar salad comes together right in the bowl. Rather than dumping a creamy and heavy (albeit delicious) dressing on the romaine, in this recipe the garlic is mashed together with the anchovies and olive oil, then tossed with the romaine, lemon juice, egg yolk and Parmesan cheese.
The salad becomes much lighter and is so flavorful and fresh. I prefer this style to any dressing out of a bottle. Topped with chicken or shrimp it makes the perfect entrée or a great side salad served in a seasoned large wooden salad bowl. I like to take my Caesar salad a step further and top it with homemade croutons that have been tossed in chili oil to give it a little more of a kick.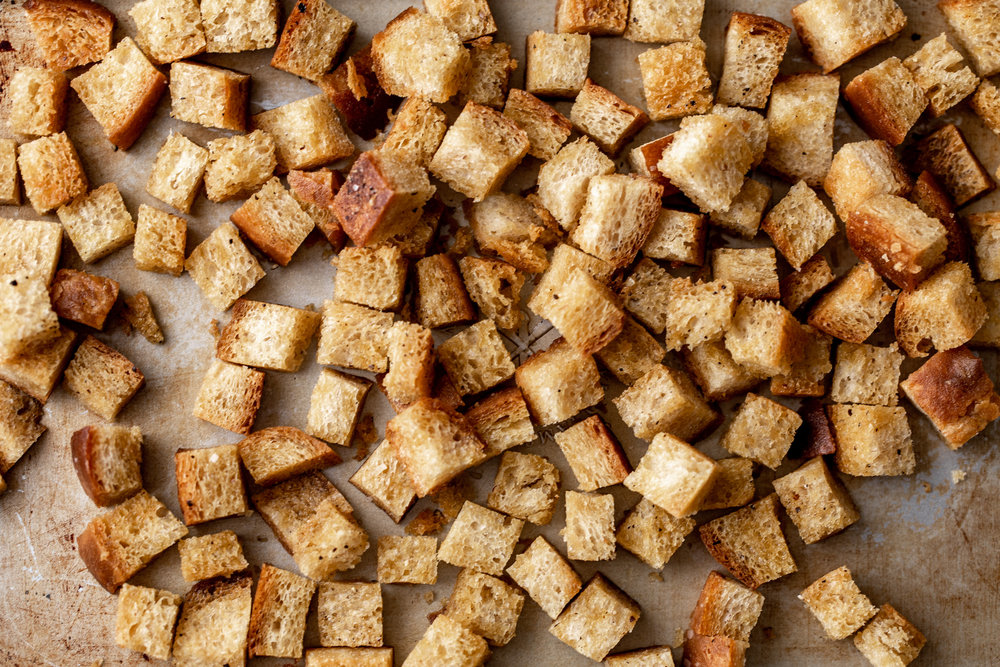 This is a recipe that one of my mentors, Riki Senn, taught me based on her experience at the famed Greenbriar in West Virginia. Traditionally this salad is assembled on a cart at the table, at classic "white tablecloth" type institutions (hence the name "tableside").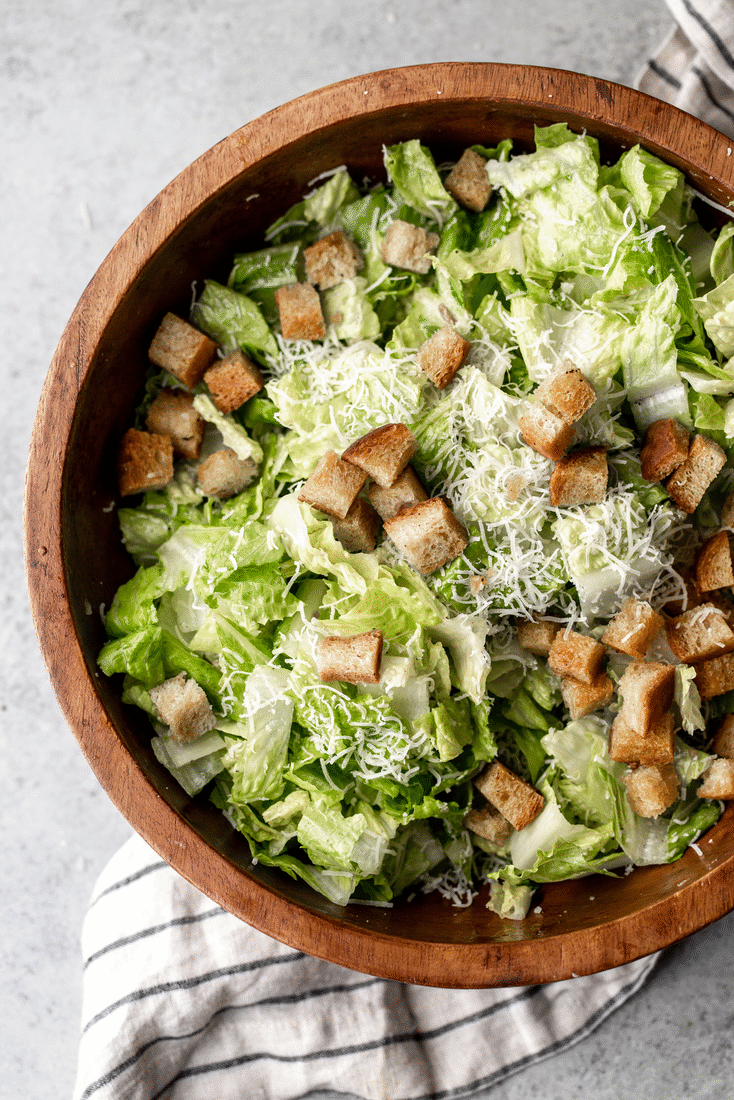 I've experienced this technique at the Italian restaurant Carbone on a trip to Las Vegas, and it was entertaining to watch as it comes together before your eyes. It's like getting to sit at a table in a restaurant with an open kitchen concept. I love getting to see what goes on behind the scenes.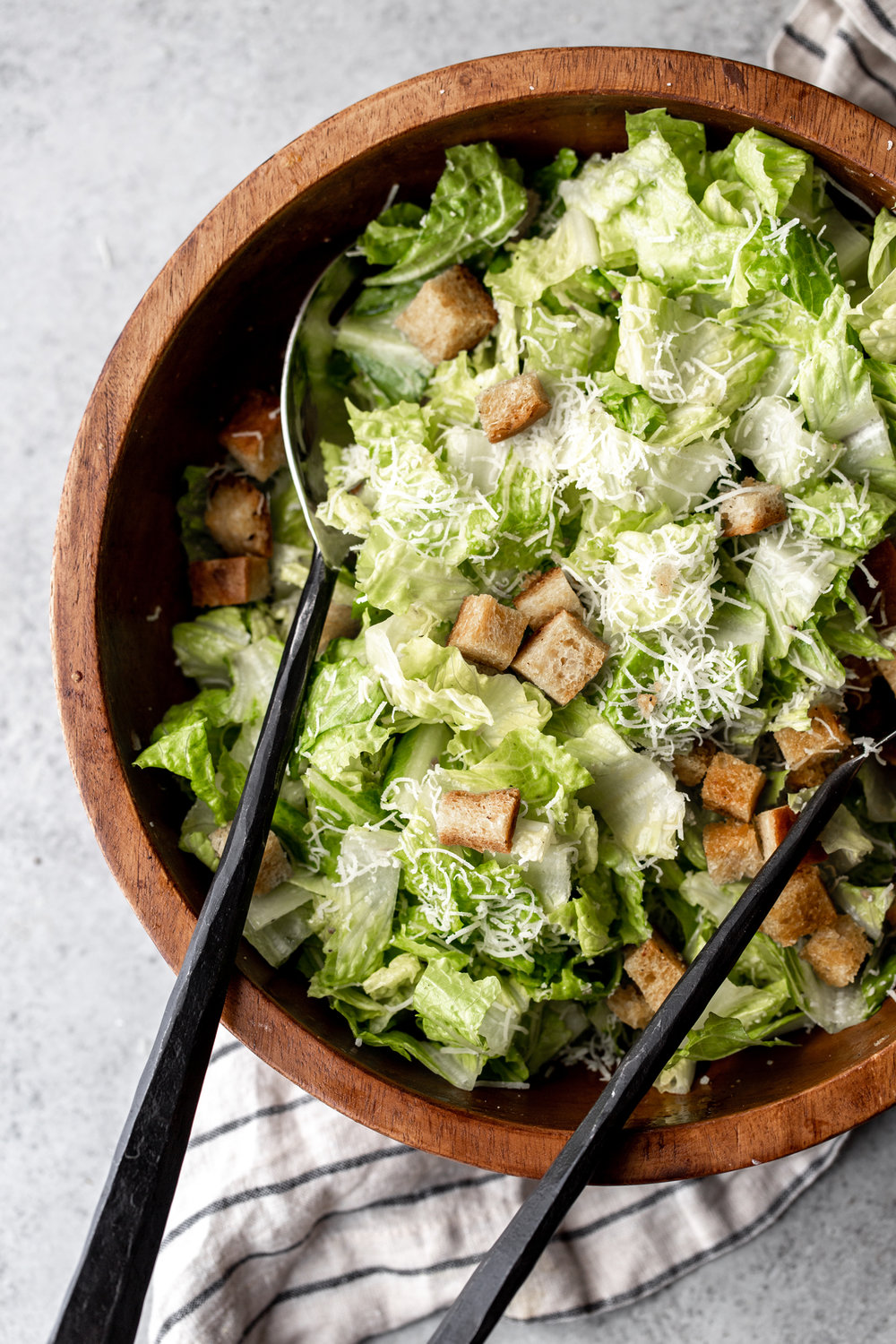 This recipe does call for a raw egg yolk, but if you are uncomfortable with that because of health concerns (the whole salmonella scare that was ingrained in our brains in the 90's is over the top in my opinion) then feel free to omit it in favor of additional Parmesan cheese. However, the egg yolk helps to create that creamy element that is characteristic of Caesar salad.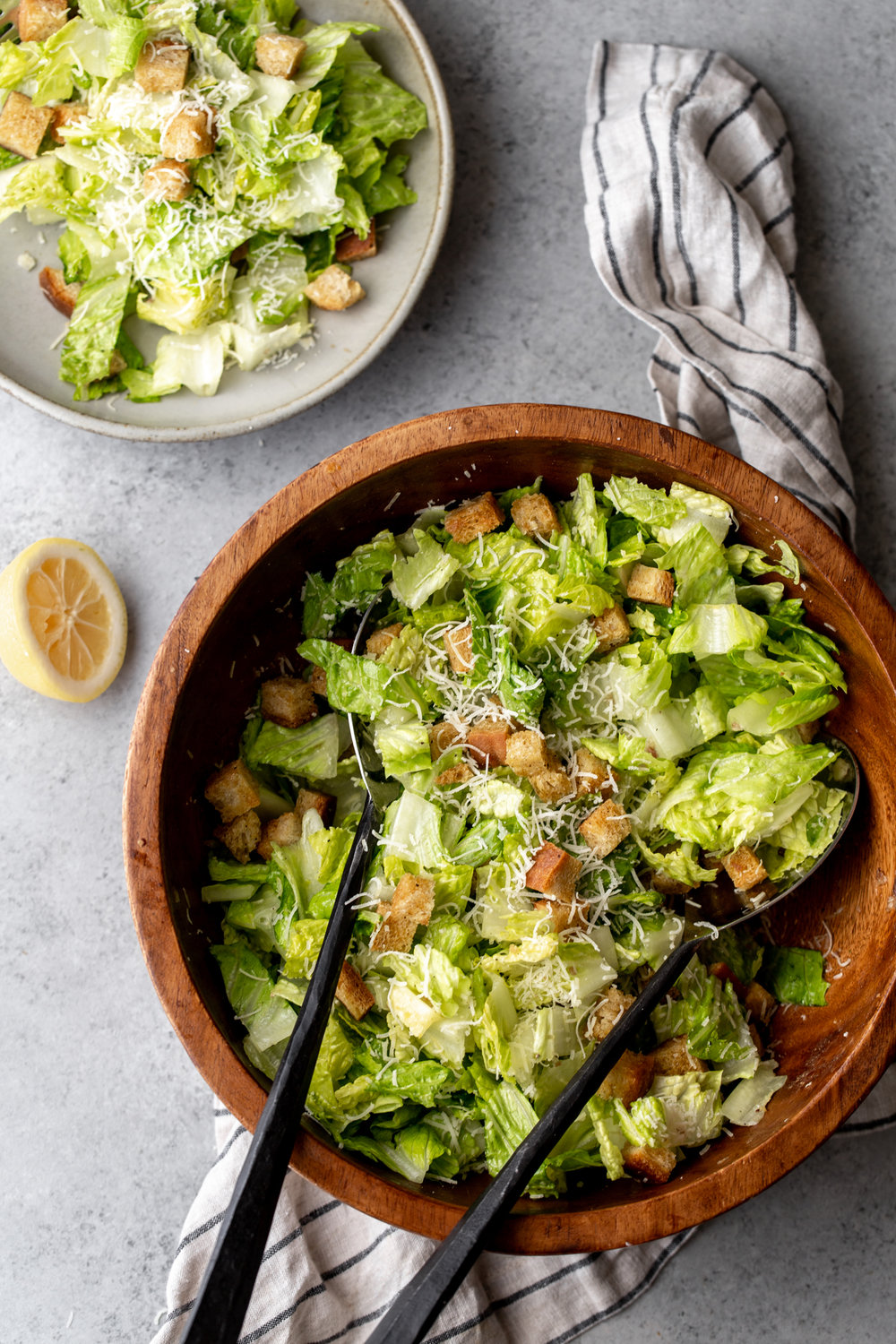 Also – don't count out anchovies, even if you aren't a fan; give them a try in this recipe anyway. You can't necessarily taste the anchovy flavor but they provide a briny, umami flavor that rounds out the dressing. While oil-packed anchovies are traditionally used, I also like using the anchovy paste that comes in a tube – it lasts longer and can be kept in the fridge for easy use.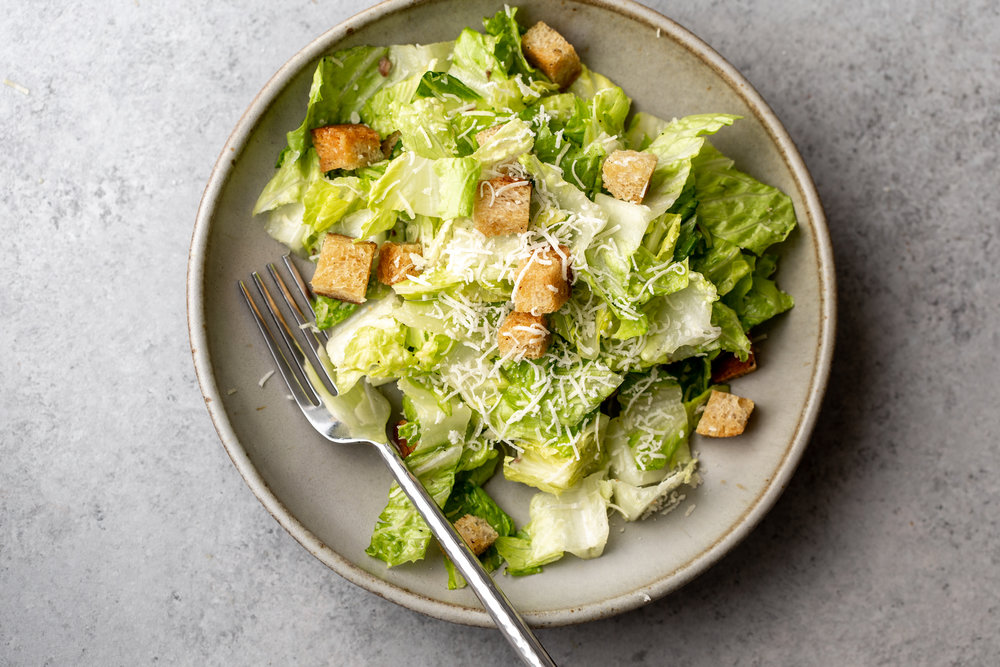 Table-side Caesar Salad with Chili Oil Croutons
For the chili oil croutons:
½

cup

extra-virgin olive oil

1

tablespoon

crushed red pepper flakes

4

cups

½" cubed day old French bread

Kosher salt

as needed

Freshly ground black pepper

as needed
For the tableside Caesar salad:
1

clove

garlic

smashed

4

oil-packed anchovies

or 1 tablespoon anchovy paste

2

tablespoons

extra-virgin olive oil

3

romaine hearts

leaves torn or roughly chopped

½

lemon

Kosher salt

Freshly ground black pepper

1

large egg yolk

at room temperature (optional)

1/3

cup

freshly grated Parmesan cheese
For the chili oil croutons:
Add the olive oil and crushed red pepper flakes to a small saucepan over medium-low heat, and simmer, stirring frequently, until the oil becomes fragrant, about 6 minutes. Remove from heat and let cool completely. Strain the oil into a small bowl, discarding the red pepper flakes.

Heat oven to 350ºF. Toss the cubed bread with the oil and season with salt and pepper. Spread in an even single layer on an aluminum foil-lined baking sheet. Bake until the croutons are crispy and golden brown, about 15 minutes. Set aside and let cool. Croutons can be kept in an airtight container for up to two weeks.
For the tableside Caesar salad:
In a large wooden salad bowl use the prongs of a fork of the back of a spoon to mash together the garlic clove with the anchovies and 1 tablespoon of the olive oil until it comes together and is almost completely combined. Add the remaining olive oil and continue to mash together.

Add the romaine and toss to coat in the dressing. Squeeze the lemon over the top (be sure no seeds get in) and season to taste with salt and pepper, tossing to combine. If adding, add the egg yolk over the top and toss the romaine to coat and emulsify the dressing. Toss with half of the Parmesan and top with the remaining cheese and croutons.

Serve in salad bowls immediately.
DID YOU MAKE THIS?
TAG ME ON INSTAGRAM TO BE FEATURED ON MY STORIES! @cookingwithcocktailrings