Olive Oil Slow-Poached Salmon with Fennel and Lemon Arugula Herb Salad
This recipe is sponsored by Pompeian®.
Using this method of poaching salmon in olive oil at a low temperature in the oven will result in extremely tender and succulent fish. While poaching is a classic technique, it is typically done with a light broth rather than olive oil. Just wait until you see how the olive oil poached salmon flakes off with a fork and stays incredibly juicy. You won't want to cook salmon any other way.
The salmon is paired with a light lemon and arugula herb salad with pickled onions to contrast the smooth texture of the salmon and rich flavor.
This is a great recipe choice for summer because it's inspired by farm to table ingredients that are light, refreshing and bursting with flavor. The dish can be re-imagined for a brunch twist by serving the poached salmon over Greek yogurt-slathered bread and topped with the pickled onion and fennel fronds.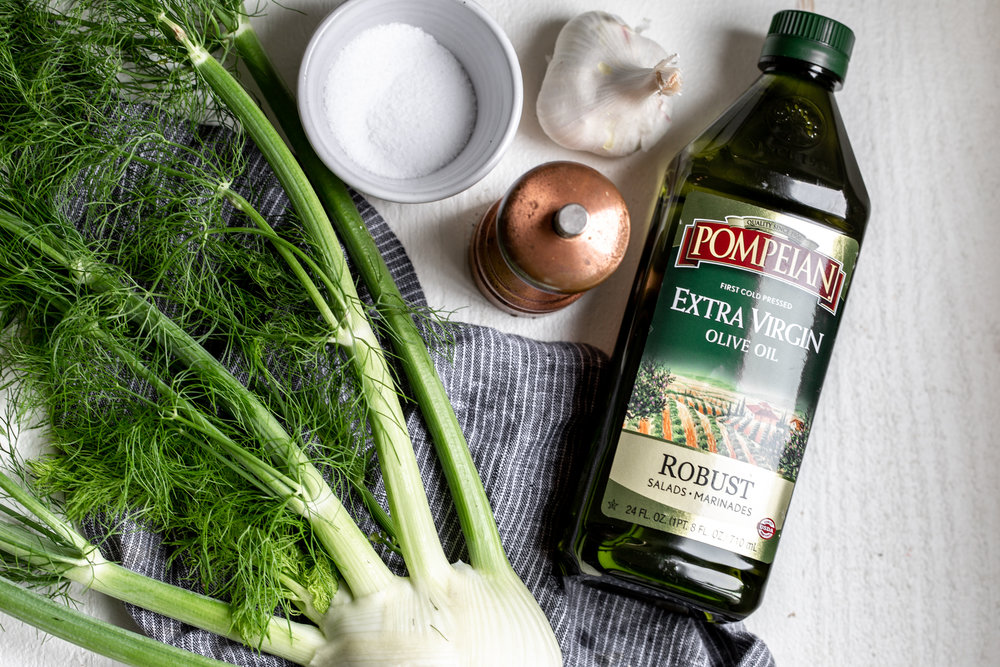 Because the fish will take on some of the flavor from the olive oil it is important to use a high-quality olive oil in this recipe. I like to use Pompeian Robust Extra Virgin olive oil for its rich, full-bodied flavor and the company's dedication to authenticity.
Pompeian olive oil is "cold pressed", which involves Pompeian farmers taking their freshly picked olives to a mill, where they grind the olives into a smooth paste at a low temperature to preserve the quality of the olive oil, thus releasing a mixture of oil and water when pressed. The water is removed, yielding a fresh, authentic EVOO.
Because the oil is of the highest quality and a natural "juice of olives," you can taste the difference. Plus, the olive oil people at Pompeian have been perfecting their craft since 1906.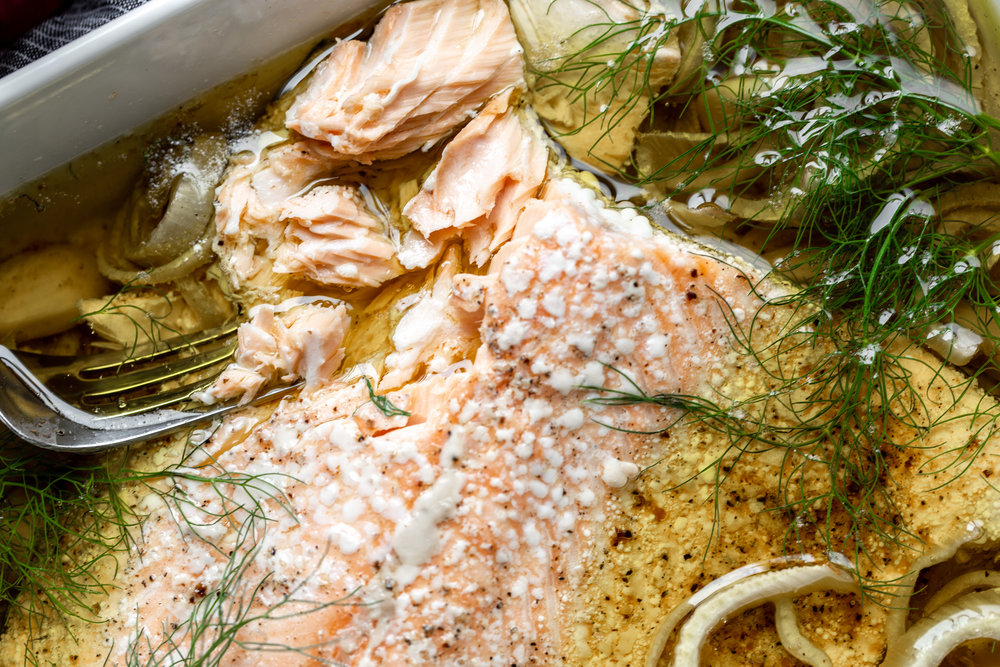 The Pompeian Robust Extra Virgin olive oil is low in acidity and robust in flavor, making it perfect for infusing the salmon with rich flavor. It can also be used for marinades, salad dressings and pastas, a true kitchen workhorse!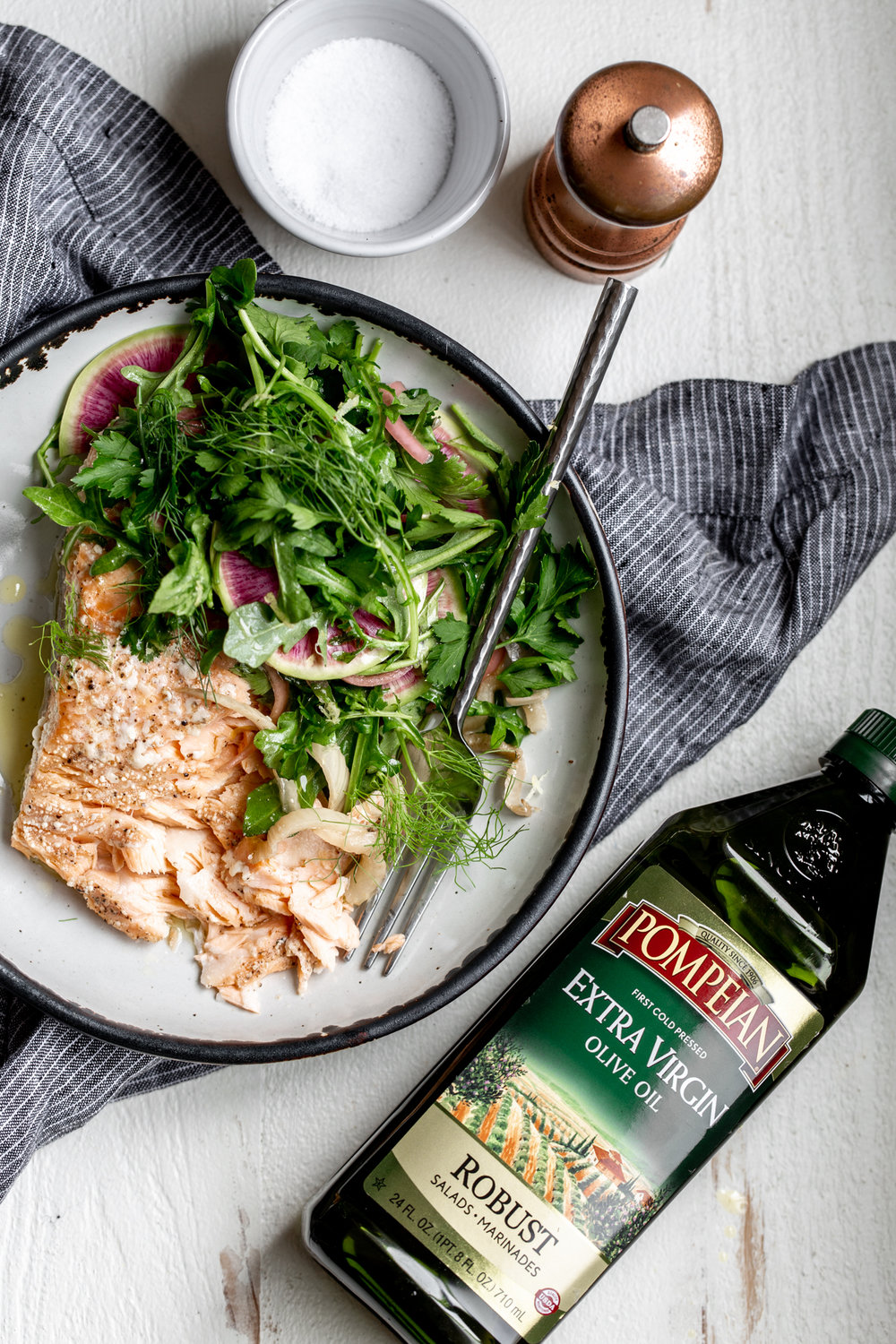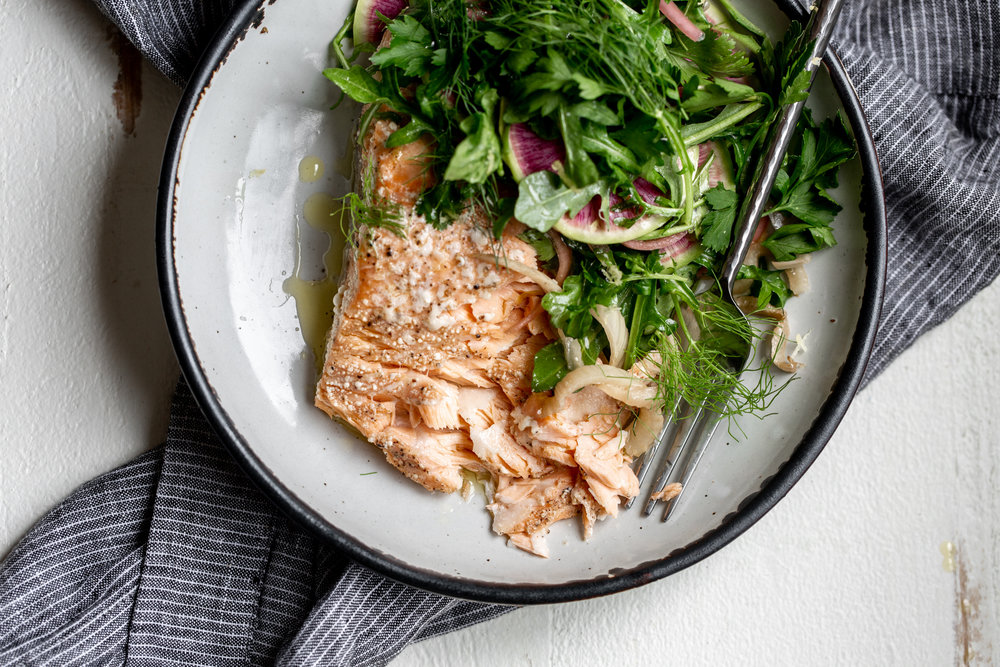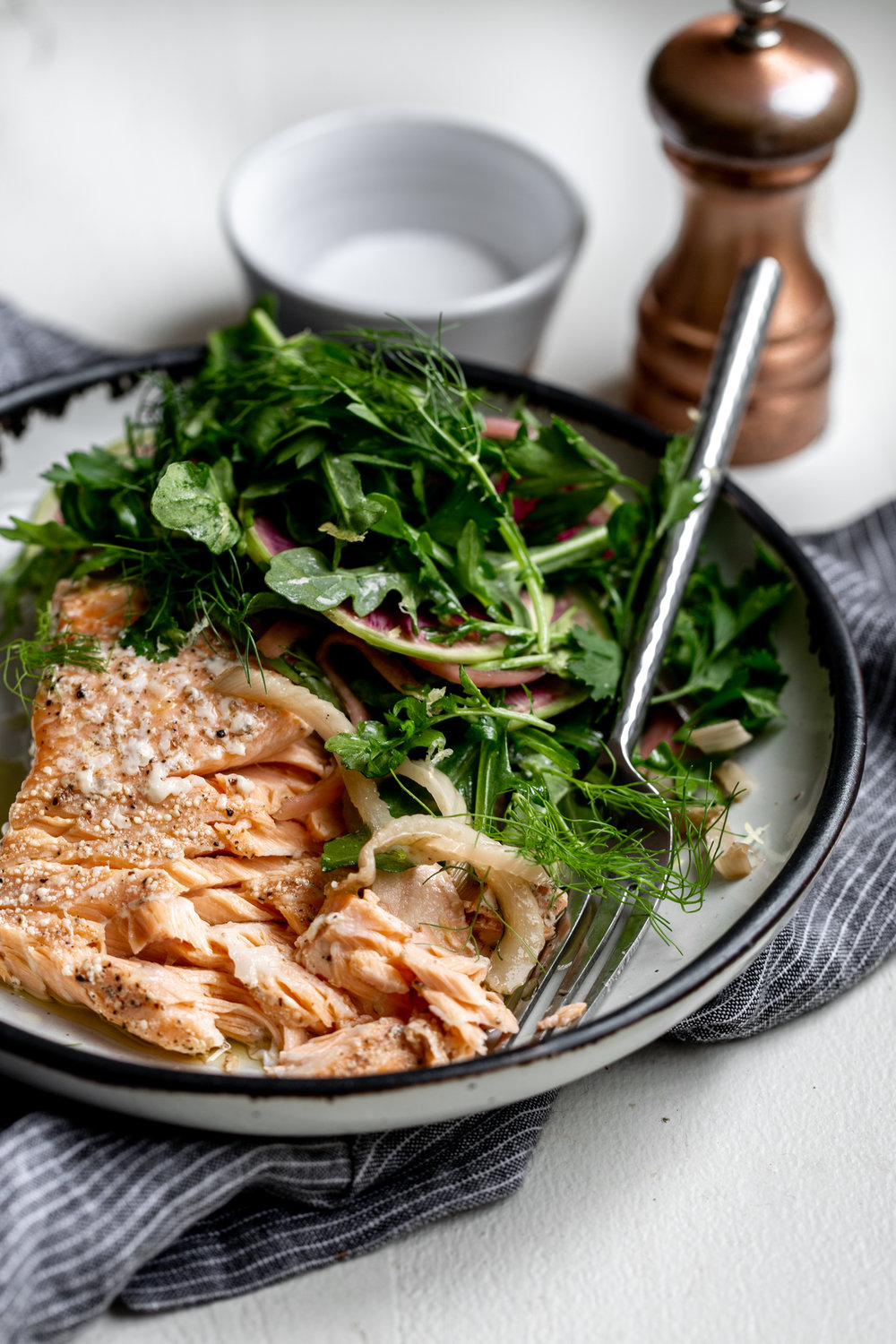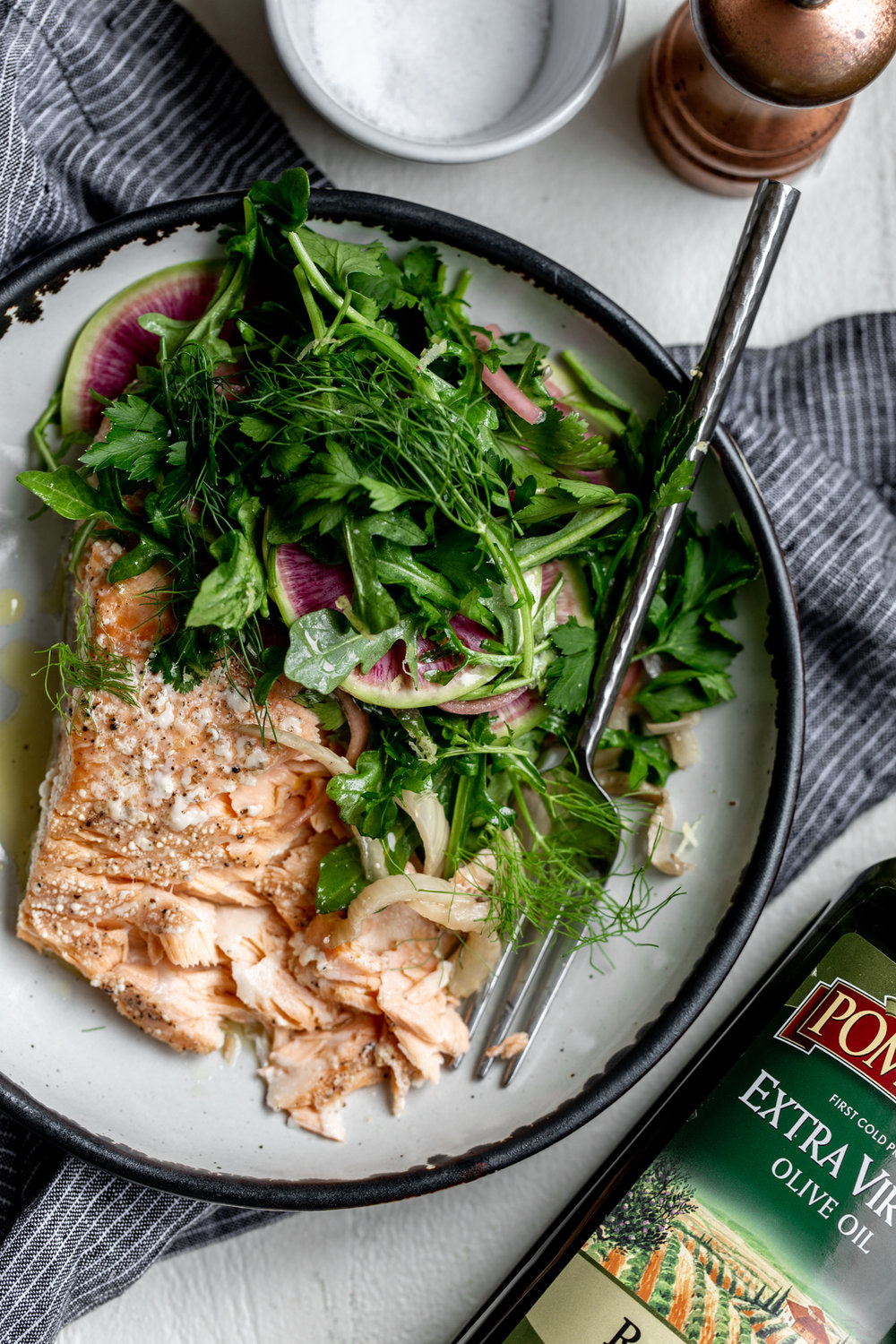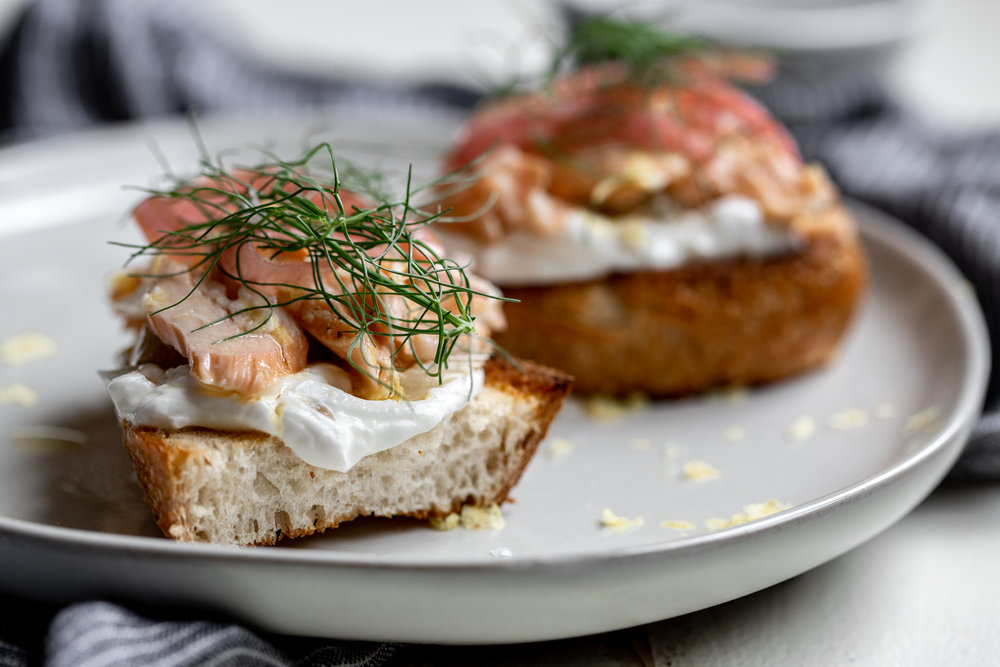 Olive Oil Slow-Poached Salmon with Fennel and Lemon Arugula Herb Salad
For the salmon:
1

1½ pound center-cut filet salmon

Kosher salt,

as needed

Freshly ground black pepper,

as needed

1

medium bulb fennel,

thinly sliced

10

cloves

garlic,

smashed

3

cups

Pompeian Robust Extra Virgin olive oil,

additional to cover if needed
For the lemon arugula herb salad:
2

packed cups wild arugula

½

packed cup flat-leaf parsley leaves

1

teaspoon

lemon zest

¼

cup

pickled onions

¼

cup

shaved watermelon radish,

cut into half moons

¼

cup

fennel fronds,

for garnish
For the salmon:
Heat oven to 275ºF. Season salmon with salt and pepper then add to a 3-quart, 13-inch x 9-inch baking dish. Arrange fennel and garlic around the filet and add enough extra virgin olive oil to cover.

Cover the pan dish with aluminum foil and bake until the salmon is completely cooked through, about 1 hour.
For the lemon herb salad:
In a medium mixing bowl toss together the arugula, parsley, lemon zest, pickled onions and watermelon radish with 1 tablespoon of the poaching oil and top with the fennel fronds.
DID YOU MAKE THIS?
TAG ME ON INSTAGRAM TO BE FEATURED ON MY STORIES! @cookingwithcocktailrings