This recipe uses wild Alaskan sockeye salmon from the Copper River, an extremely lean fish with a bright red color, firm texture and rich salmon flavor. When cooked it retains its bright color (due to the fish's diet of plankton and krill) making it a favorite among chefs.
I also love that it's "wild caught" rather than farmed. Because it's such a lean fish, and typically the filets are fairly thin, it can be easily over-cooked and become dry. At around 6 minutes of cooking use a sharp knife to check the thickest part to check for doneness.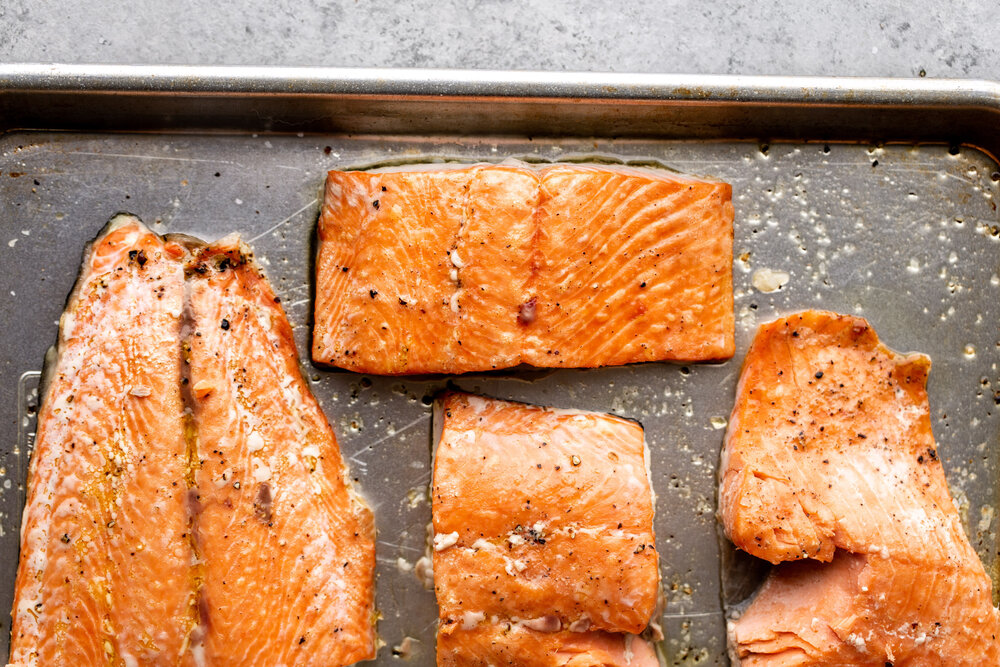 To offset the lean fish I serve it with a bright citrus salad and a drizzle of nutty brown butter over pan-fried crispy rice.
This easy recipe is perfect for weeknight dinners since it's made with day-old rice (you can use frozen rice as well) and the fish cooks very quickly.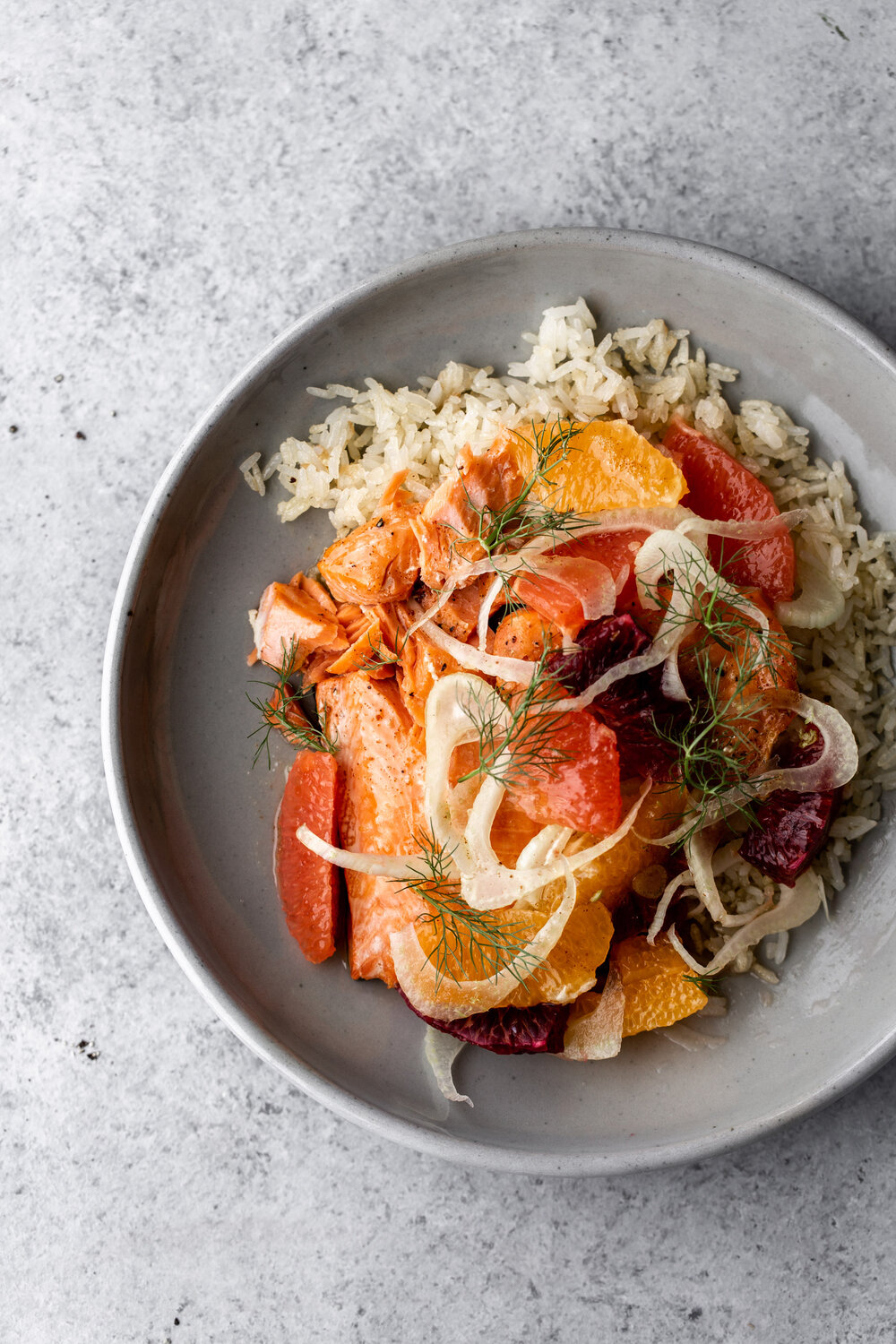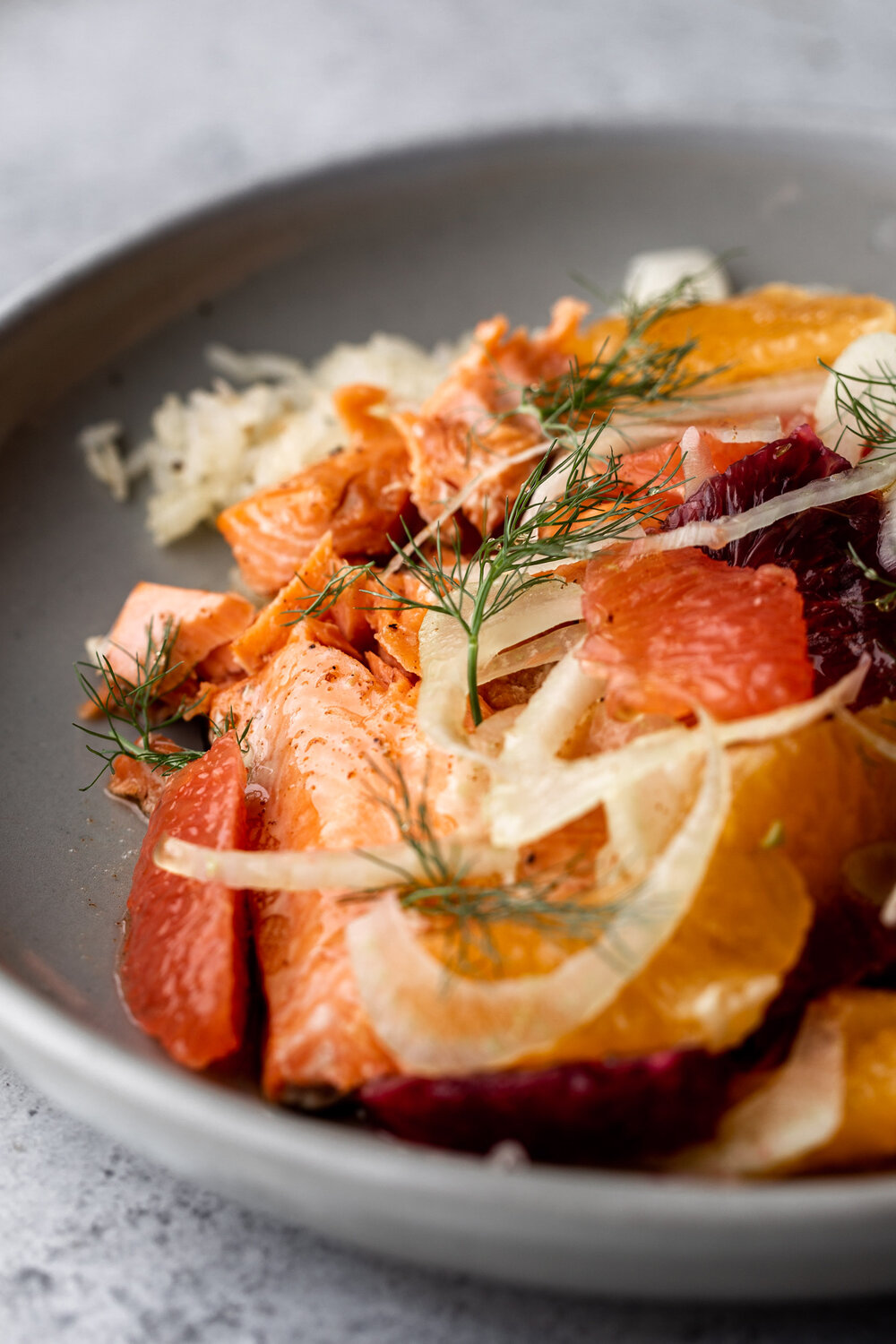 Roasted Salmon with WInter Citrus Salad and Brown Butter over Crispy Rice
1

pound

wild Alaskan salmon,

cut into 4 fillets

2

tablespoons

extra-virgin olive oil

Kosher salt,

as needed

Freshly ground black pepper,

as needed

8

tablespoons

unsalted butter

2

cups

day old cooked white rice

1

medium blood orange,

segmented

1

medium orange,

segmented

1

medium grapefruit,

segmented

1

medium fennel bulb,

thinly sliced
Heat oven to 400ºF. Arrange salmon fillets on a baking sheet, drizzle with the olive oil and season with salt and pepper. Roast until the salmon is tender and flakey, about 10 minutes.

Heat a medium sauté pan over medium heat, add the butter and allow to melt. Cook the butter, swirling it around the pan occasionally, until the butter is toasty-brown color and has a nutty aroma, about 5 minutes. Once this happens immediately remove the brown butter to a small bowl.

Wipe out the sauté pan and return it to medium heat. Add 2 tablespoons of the brown butter to the pan and heat through. Add the rice into the pan in an even layer and cook, untouched, until the bottom is crispy and golden brown, about 3 minutes. Stir and cook for an additional 3 minutes. Divide the crispy rice among serving bowls.

In another medium mixing bowl toss the blood orange, orange and grapefruit segments with the fennel and divide among the serving bowls and top each with a piece of the cooked salmon.

Drizzle each bowl with the remaining brown butter and serve immediately.
DID YOU MAKE THIS?
TAG ME ON INSTAGRAM TO BE FEATURED ON MY STORIES! @cookingwithcocktailrings