Anchovy-Garlic Butter Rubbed Whole Roasted Lamb Leg with Potatoes
This post was created in partnership with American Lamb Board.
This whole leg of lamb is roasted in a pan filled with potatoes at the bottom to catch the fat drippings as the lamb cooks. The result is not only an impressive entrée but a flavorful side dish as well.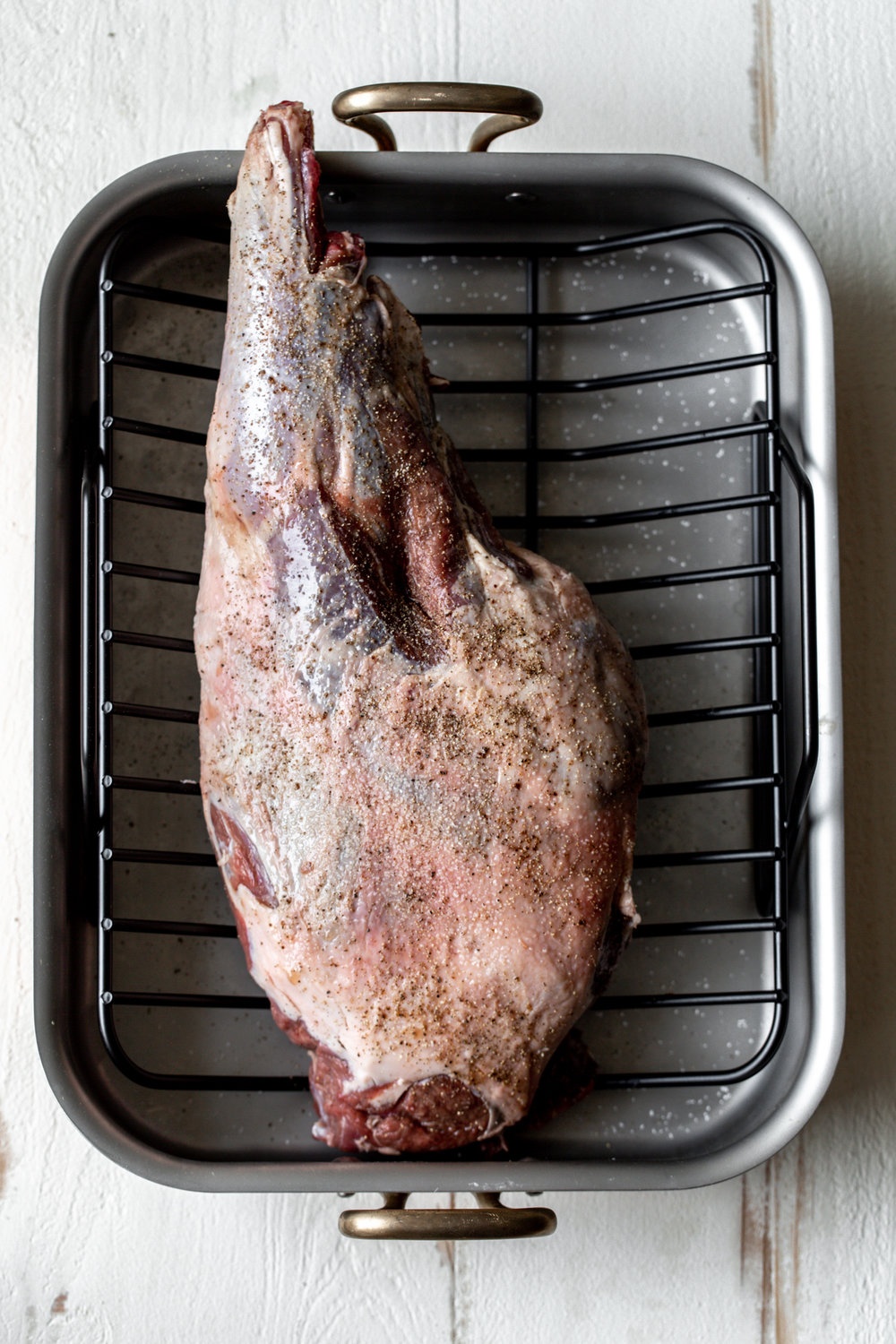 This whole roasted lamb leg is perfect to feed a crowd at spring and summer parties. The leg of lamb is rubbed with an anchovy and garlic butter paste to keep the meat moist will adding savory flavor.
I like to serve this recipe alongside a simple butter lettuce salad, refried lentils and some roasted vegetables like spiced carrots.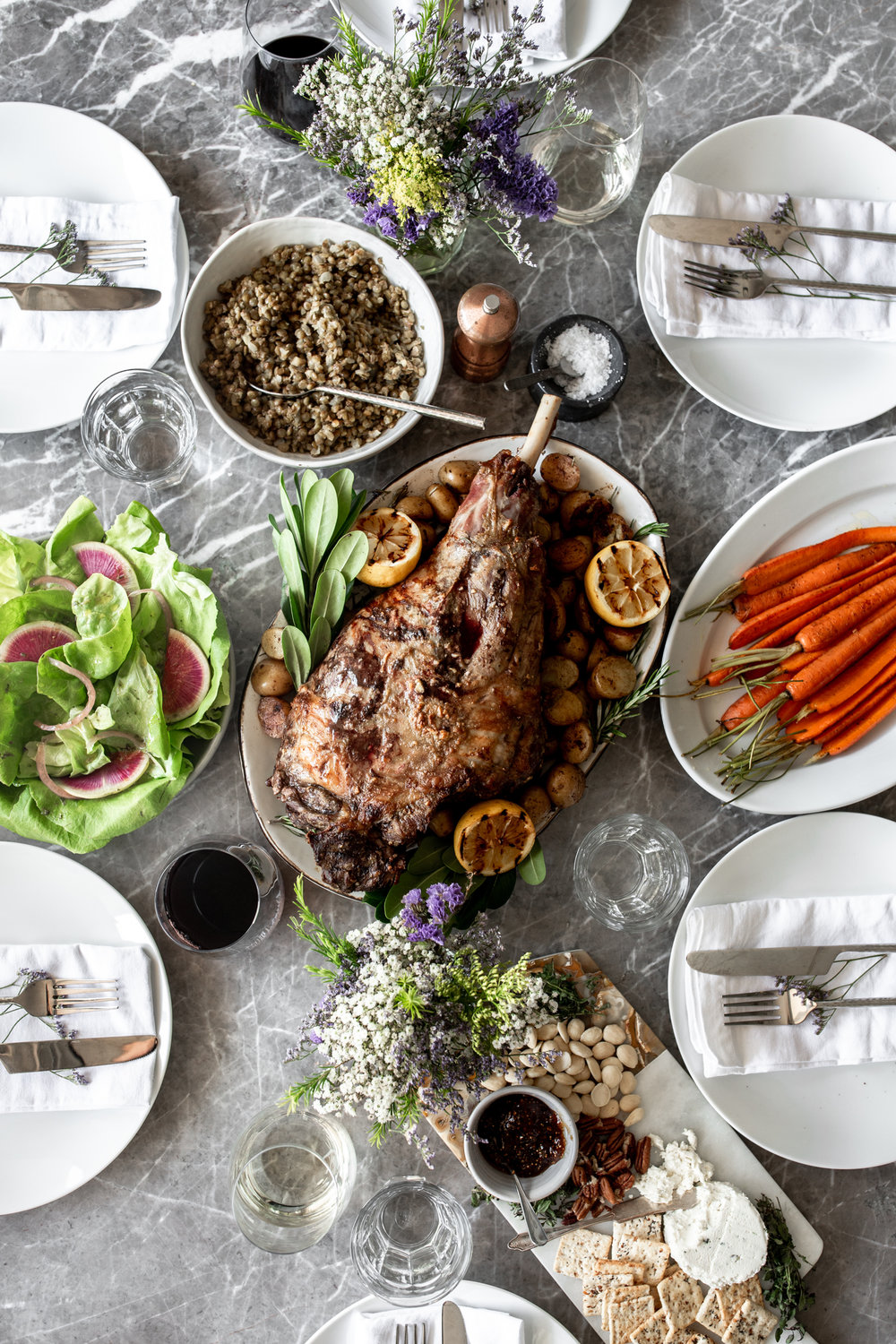 All About Whole Legs of Lamb
When ordering a leg of lamb from your local butcher, be sure to know what to ask for. I prefer American lamb because domestic lamb is less gamey than that imported from New Zealand or Australia. I find that the domestic lamb is slightly sweeter, with a milder and more delicate flavor than it's counterpart.
A whole leg of lamb refers to the tender upper portion of the back leg of the lamb, with the narrow shank and the fat sirloin. While boneless lamb legs are easier to slice, I prefer to use a bone-in American lamb leg because the bone adds flavor but it also makes for an impressive presentation. Because lamb is so tender, a marinade can be skipped and it can be roasted immediately. I like to make sure my meat is at room temperature prior to cooking so that it cooks evenly.
Tips and Tricks for This Recipe
Leftovers can be served cold on their own or made into sandwiches or thinly sliced in pita.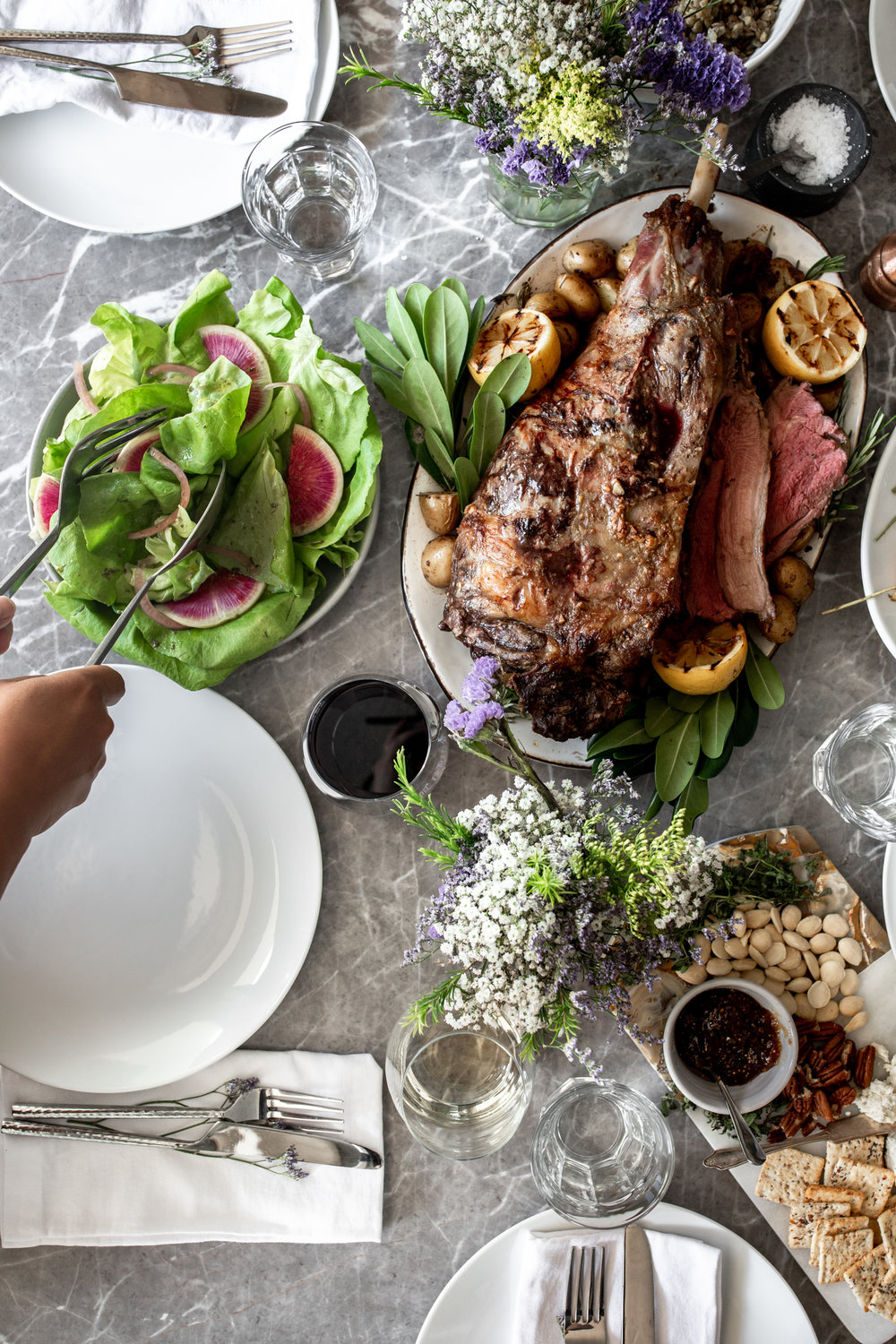 Ideas to serve with the whole roasted lamb leg:
Anchovy-Garlic Butter Rubbed Whole Lamb Leg with Potatoes
1

5-7 pound bone-in whole American leg of lamb, aitchbone removed by butcher

4

cloves

garlic,

minced

2

tablespoons

anchovy paste

1

teaspoon

Dijon mustard

½

cup

unsalted butter,

at room temperature

Freshly ground black pepper,

as needed

Kosher salt,

as needed

2

pounds

small Yukon gold potatoes,

halved

2

tablespoons

extra-virgin olive oil

2

springs fresh rosemary

3

lemons,

halved
To prepare the leg of lamb start by removing the fell (a tough layer of fat) if necessary, with a sharp knife. Next trim the fat cap so that it is about ¼" thick. Make ½" deep incisions with a sharp knife all over the meat so the rub can penetrate.

In a small mixing bowl stir together the garlic, anchovy paste, Dijon mustard and butter. Season the lamb all over with salt and pepper and rub the paste all over the lamb.

Heat oven to 450ºF. Position lamb on a rack set in a roasting pan so that the fat-cap side is down. Roast until the lamb is browned, about 15 minutes. Rotate the lamb so it's fat-side up and lower oven heat to 350ºF.

Roast lamb for 45 minutes. In a medium mixing bowl toss together the potatoes with the olive oil and rosemary and arrange under the rack holding the lamb. Continue roasting until the internal temperature of the lamb reaches 130ºF, about an additional 45 minutes to hour.

Remove the lamb from the pan to a large cutting board and let rest, tented with aluminum foil for 15 minutes.

Heat a grill pan over medium-high heat, add lemons cut side down and cook until grill marks appear, about 3 minutes. Remove and set aside.

Carve lamb against the grain into ½-inch slices and serve on a platter with potatoes and lemons arranged around the board.
DID YOU MAKE THIS?
TAG ME ON INSTAGRAM TO BE FEATURED ON MY STORIES! @cookingwithcocktailrings
Don't forget to enter the Summer Lambventures Giveaway for the chance to win a $500 gift card!!
This post was created in partnership with American Lamb Board – all opinions expressed are my own.