This post was created in partnership with American Lamb Board.
As the weather warms up or with the holiday weekend coming, I am missing entertaining friends and family due to our current global circumstances, so why not take my lead and do the next best thing? Share a fun and flavorful taco party kit with friends/neighbors/family! I love making a taco bar where everyone can assemble and customize their own tacos and I love using lamb as an adventurous twist on the traditional flavors. These shawarma-spiced lamb tacos are a cross between gyros and tacos for a flavorful feast!
Shawarma-Spiced Roast Pulled Lamb Leg Tacos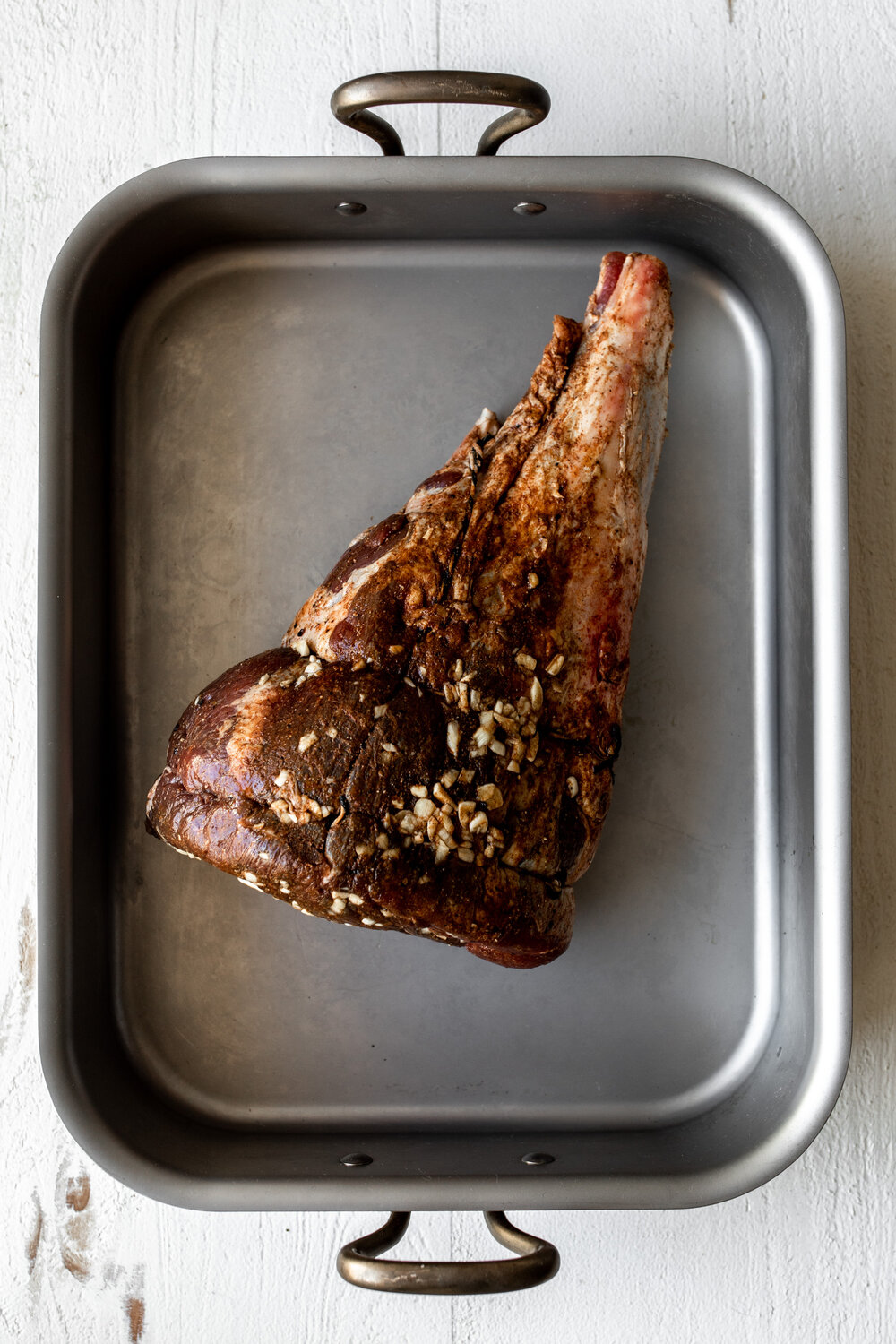 Key Ingredients in This Recipe
Greek pico – Mexican tacos are usually served with pico de gallo, made from diced Roma tomatoes, onion, jalapeño and cilantro. I created my Greek pico from halved cherry tomatoes, red onion, cucumber and lemon, and I like to top the tacos with tangy crumbled feta cheese and arugula.
Lamb – For this recipe I chose a whole bone-in leg of lamb which includes the shank and the sirloin. While boneless lamb legs are easier to slice, I prefer to use a bone-in leg of American lamb because the bone adds flavor, and it also makes for a remarkable presentation. You may need to ask your butcher to order you a bone in roast.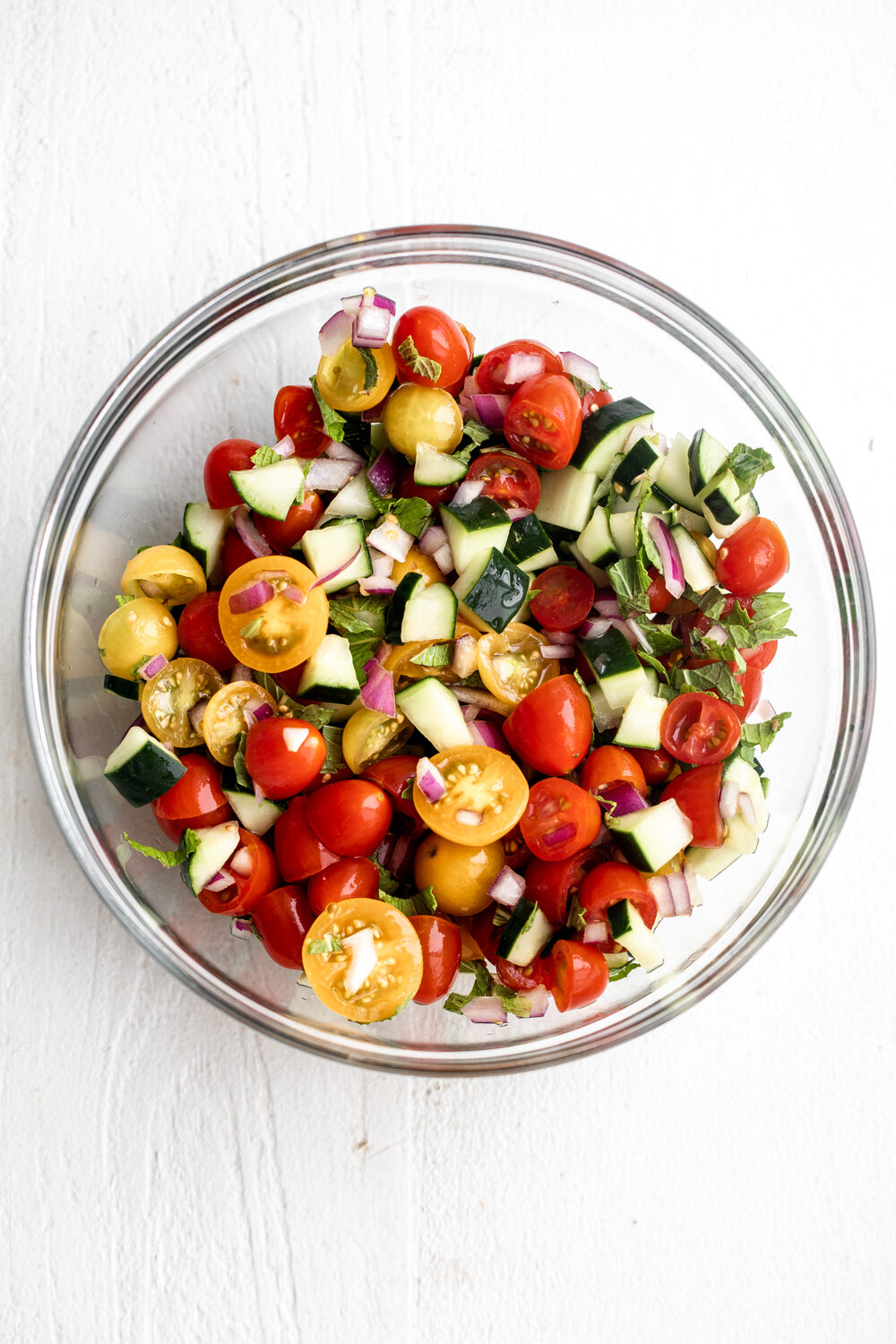 Tips and Tricks for This Recipe
This recipe is easily packable and portable to share with another family as part of the #LambChallenge. Store the shredded meat in a container with some of the leftover broth (to keep it moist when reheating), refrigerating until ready to use.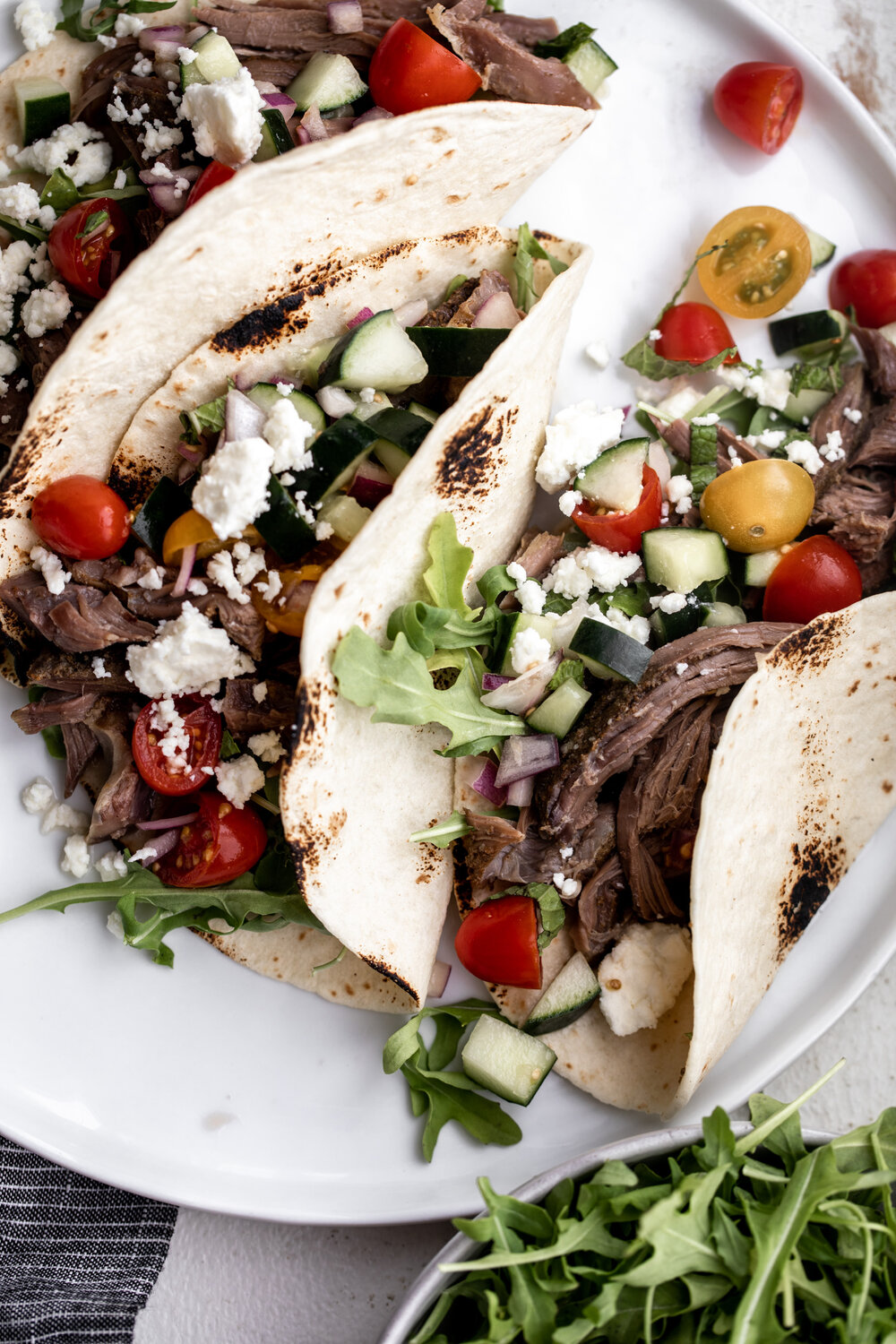 What is the Lamb Challenge?
When you purchase American Lamb, you'll be directly helping families and farms in your community while feeding your family delicious and nutritious meat. That's why this May through June the lamb community is encouraging people to get cooking with American Lamb. The Lamb Challenge has consumers preparing 2 different lamb recipes as they explore the adventurous appeal of American Lamb while supporting America's farms and flocks and helping raise funds for Feeding America. Make two recipes, each using a different cut of American lamb. One of your lamb meals should be shared with another family (like this taco party). Share your two lamb meal recipes on Instagram using the #TheLambChallenge and tag @FanofLamb by June 30. Ten lucky winners who complete the challenge will receive a $200 gift certificate to their favorite restaurant or butcher shop. For every person that completes the challenge, The American Lamb Board will donate to Feeding America – help us raise $10,000.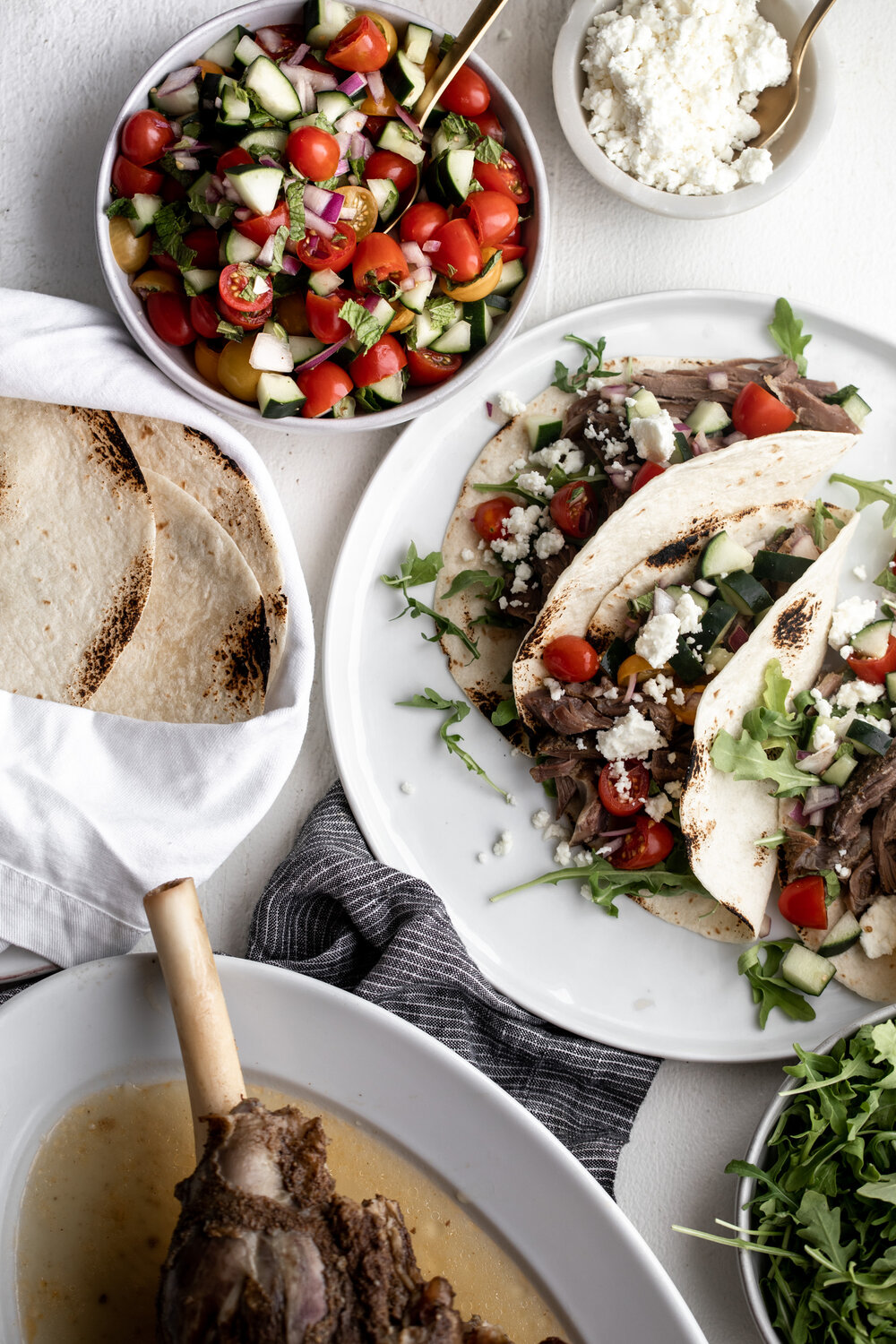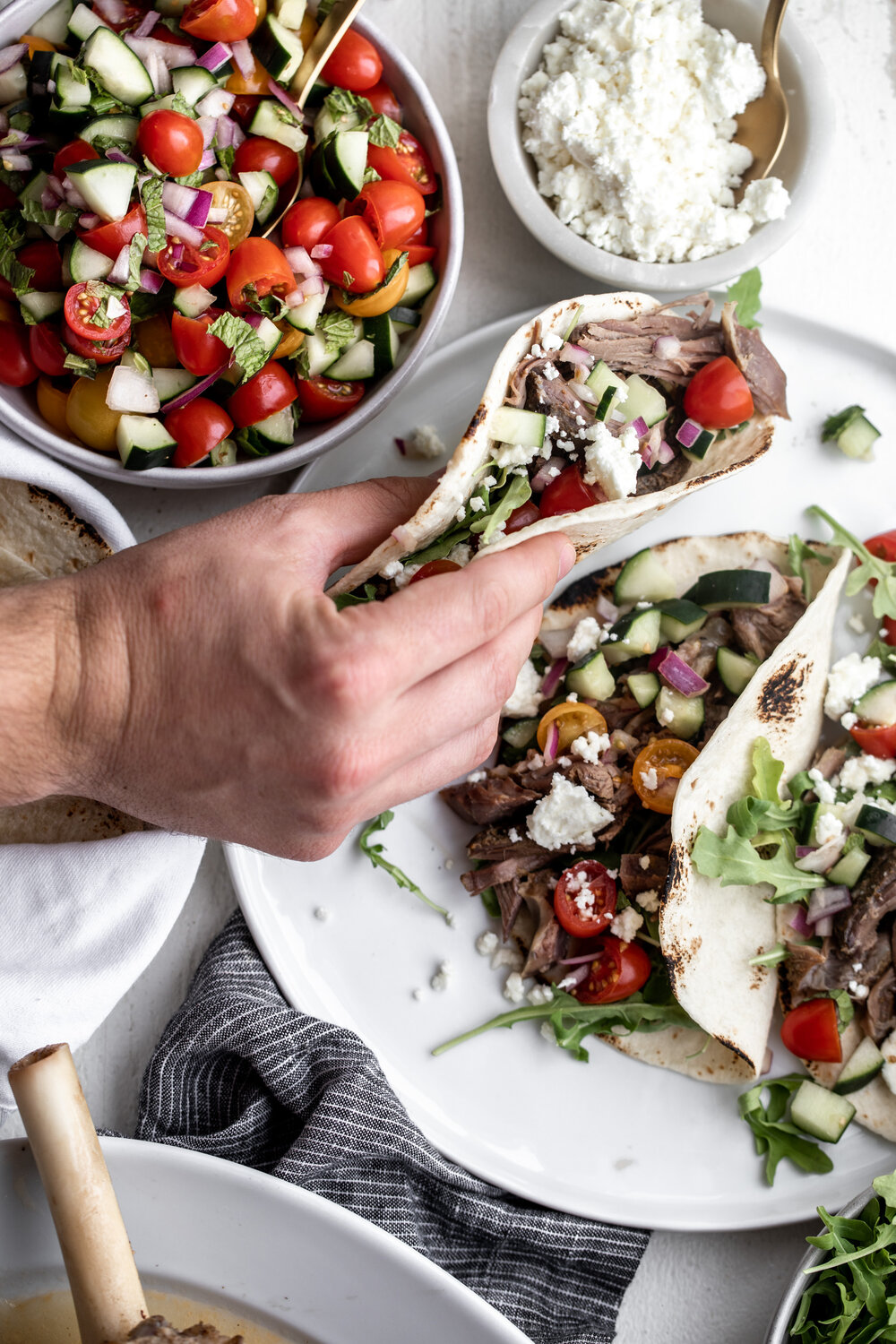 Shawarma-Spiced Roast Pulled Lamb Leg Tacos
For the pulled lamb:
1

tablespoon

kosher salt

1

tablespoon

paprika

2

teaspoons

ground cumin

2

teaspoons

ground coriander

2

teaspoons

freshly ground black pepper

1

teaspoon

ground cinnamon

1

bone-in American lamb leg,

about 6 pounds

3

tablespoon

extra-virgin olive oil,

divided

4

garlic cloves,

minced
For the Greek pico de gallo:
2

cups

cherry tomatoes,

halved

¼

cup

diced red onion

½

small cucumber,

seeds removed and diced

Juice from 1 medium lemon

¼

cup

chopped fresh mint leaves

Kosher salt,

to taste
For serving:
Small flour tortillas,

warmed

2

cups

Greek yogurt,

separated equally in containers

4

cups

wild arugula,

separated equally in two resealable bags

1

cup

crumbled feta cheese,

separated equally in two bags or containers
For the pulled lamb:
In a small bowl stir together the salt, paprika, cumin, coriander, pepper and cinnamon until combined. Set aside.

Rub the lamb leg with 1 tablespoon of the olive oil and garlic then rub all over with the spice mixture. Cover and refrigerate to let marinate for at least 1 hour and up to overnight.

Preheat oven to 450°F (230ºC). Add the lamb to a large roasting pan. Roast lamb until well browned all over, 20–25 minutes. Remove from oven and reduce the oven temperature to 300°F. Add enough water so the liquid comes about 1 inch up the side of the roasting pan, cover with aluminum foil, and roast until meat is tender and easily pulls apart, about 5 hours, turning once halfway through cooking.

Transfer the lamb to a platter and tent with foil to keep warm. Add the braising liquid to a medium saucepan and boil over medium heat until it reduces by half. Shred the lamb and pour the reduced juices over the top.
For the Greek pico de gallo:
In a medium mixing bowl stir together the tomatoes, onion, cucumber, lemon juice and mint. Season with salt, split into two containers (one for your family and one to share) cover and refrigerate until ready to use. Can be made up to two days in advance.
For serving:
To assemble the tacos, top with Greek yogurt, a small handful of arugula, topped with lamb, a scoop of the Greek pico de gallo and crumbled feta cheese.
For Packing:
Grab a basket, reusable grocery bag, or box. Pack half the pulled lamb, pico de gallo, tortillas, Greek yogurt, arugula and feta (be sure to share reheating and assembly instructions!)

Get creative send along a bottle of wine, your favorite party playlist, dessert, homemade hand sanitizer or masks!
DID YOU MAKE THIS?
TAG ME ON INSTAGRAM TO BE FEATURED ON MY STORIES! @cookingwithcocktailrings
This post was created in partnership with American Lamb Board – all opinions expressed are my own.