February 11, 2018 – February 14, 2018
My mom and I flew to Phoenix for a few days to visit Devin, one of my oldest friends, more like a sister, who relocated to Arizona from New Jersey to work as a wedding planner. The Phoenix metropolitan area covers other smaller cities as well, like Scottsdale, Chandler, Gilbert and Tempe. The area is similar to Los Angeles where each area and smaller city are vastly different. I packed expecting warmer temperatures than in Los Angeles but the high was like 70º – practically the tundra for Arizona. It was much cooler weather than the last time I visited.
As with any trip, most of my time was spent eating. And like the true friend she is, Devin planned an itinerary for us including some of her favorite restaurants, bakeries and bars. We also stopped by her alma mater, ASU, and took a tour of the wedding venue where she works, Villa Sienna, a picturesque villa style building modeled after a town square in Italy.
But, as I said, most of my time was spent eating and of course, when I eat I need to write about my experience. So here are some my Arizona food adventures and the best restaurants we ate at in the phoenix area.
Weekend in Phoenix, AZ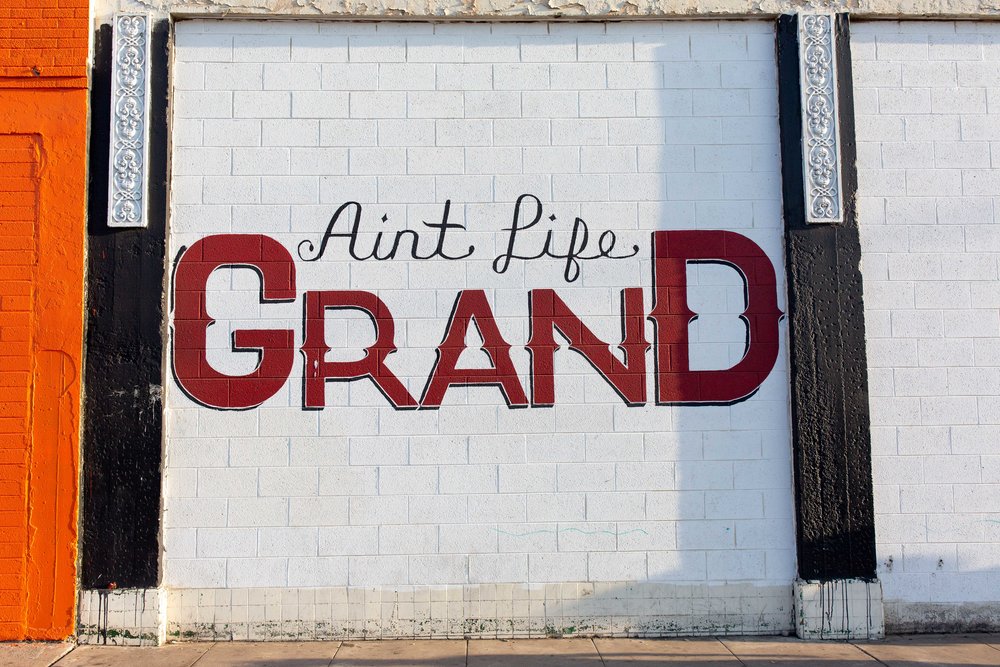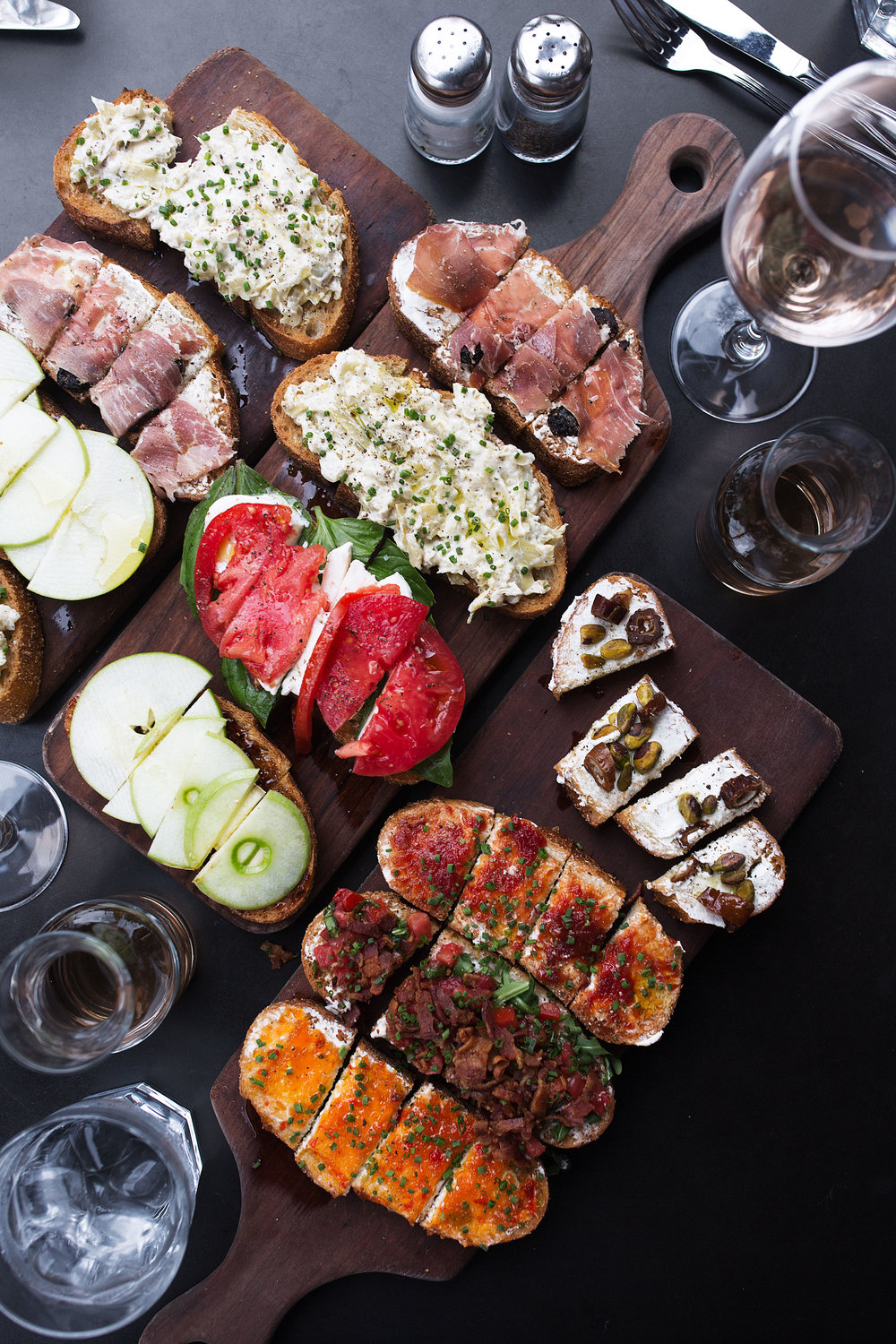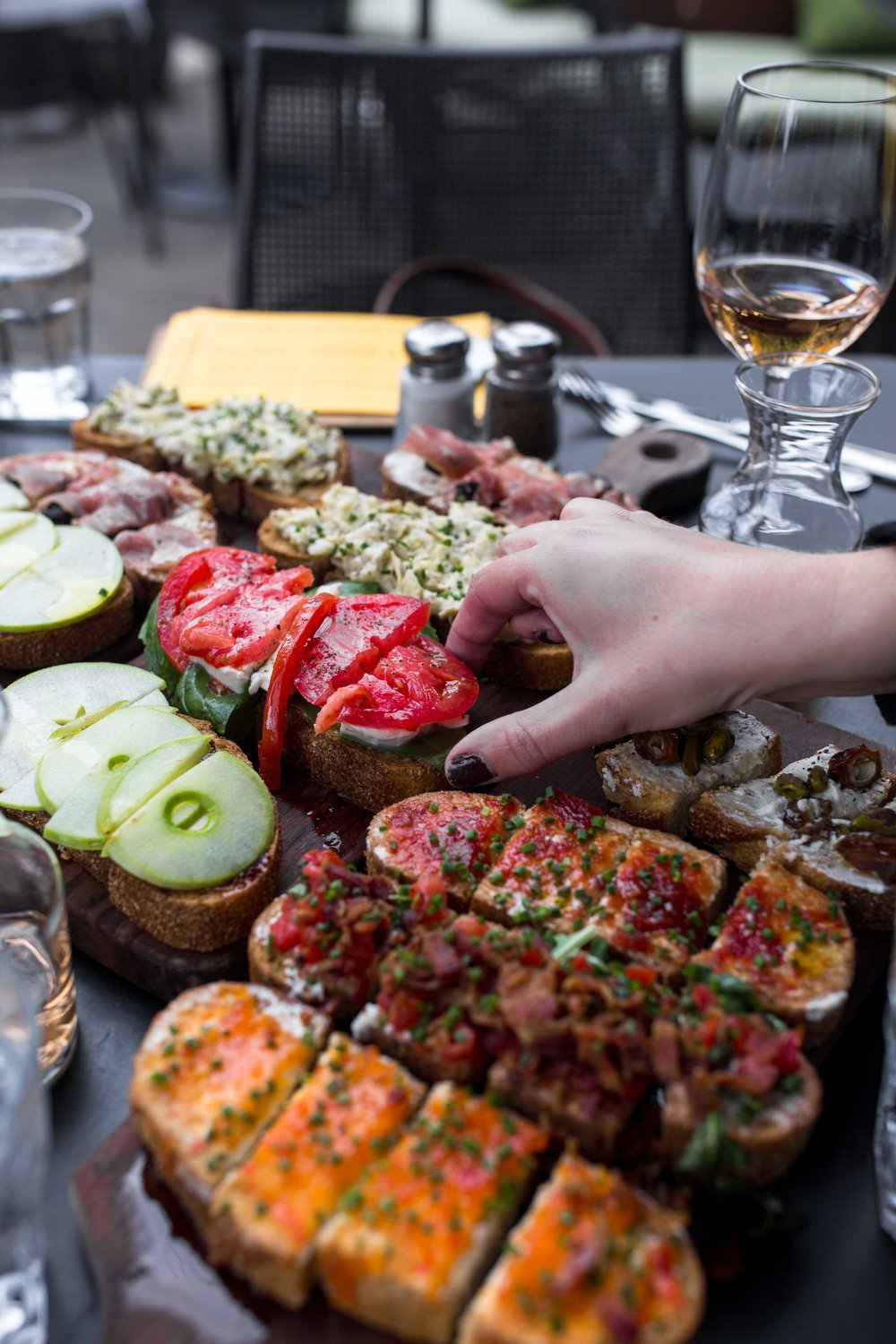 Are you a fan of carbs? So am I. While other things on the menu looked great, the bruchetta board is the way to go. They have a whole list of options where you can mix and match four different types of bruchetta toppings. Pair that with their $5 wine deal before 5pm every day and you're good to go.
A fan of lighter toppings? Go with the Brie and apples with fig spread or the prosciutto with figs and mascarpone. A classicist when it comes to your bruschetta topping? Go with the fresh mozzarella with tomato and basil or the burrata, bacon, arugula and tomato. Need something more interesting? Order the sweet and spicy pepper jam with goat cheese or the warm artichoke spread, which tastes like spinach artichoke dip loaded on to griddled bread. No matter what you order you can't go wrong and they cut the bread into four pieces for easier eating. We decided to go with three bruchetta boards, and yes, you did that math right – that meant twelve pieces of bread total. And we ate it all. I've been to two different locations of Postinos before, the one located on the ASU campus in Tempe and the one in Gilbert.
Must-order: bruchetta board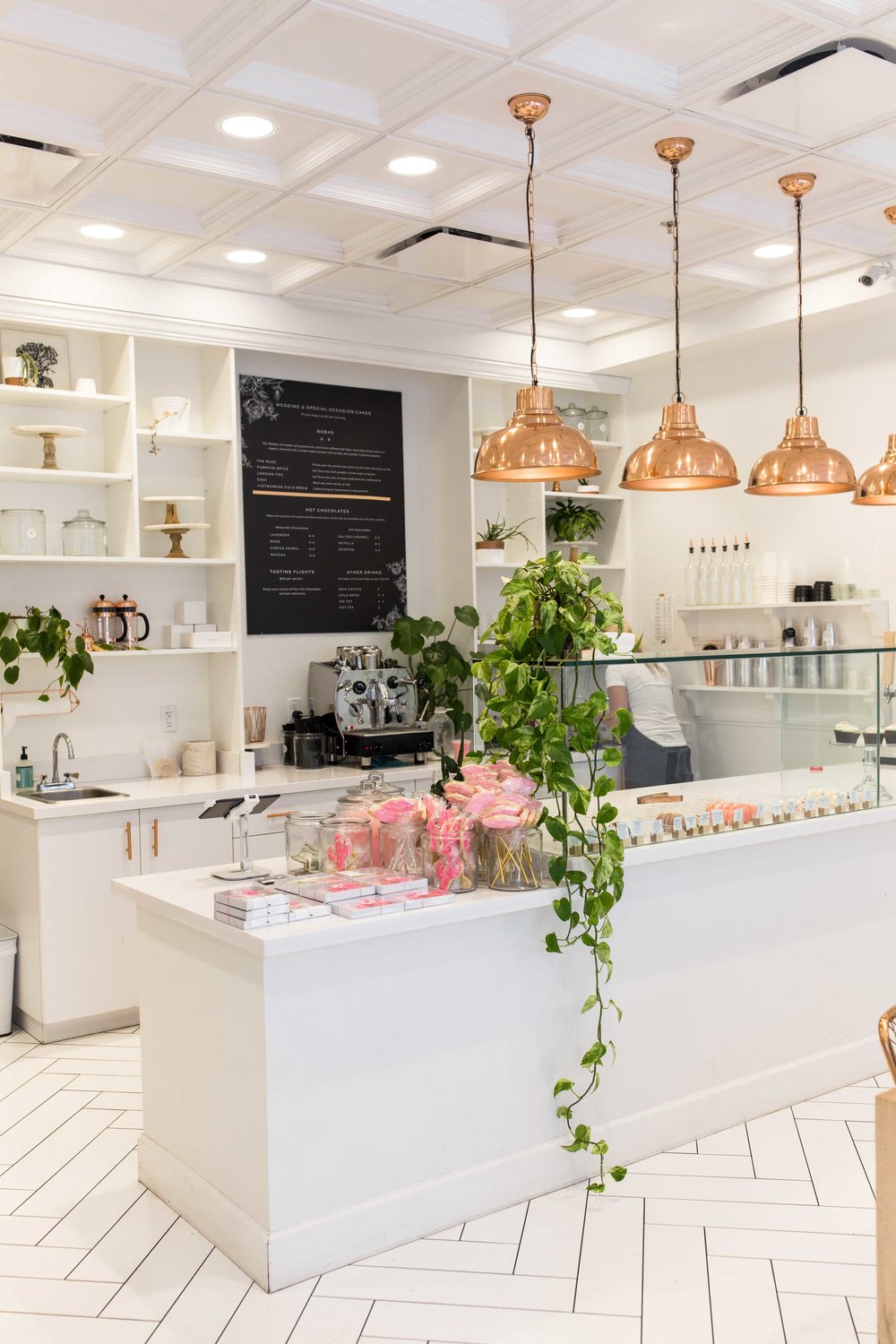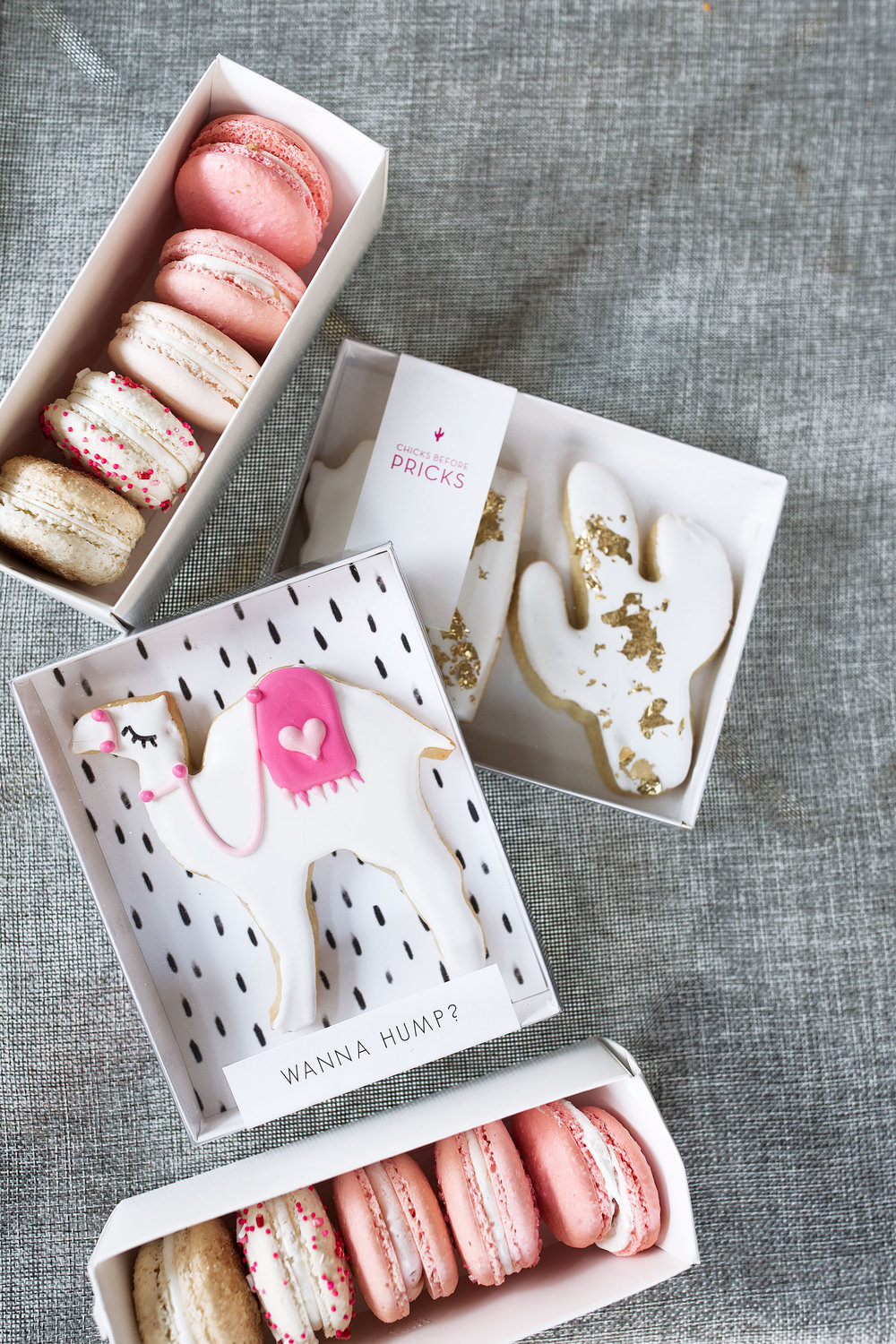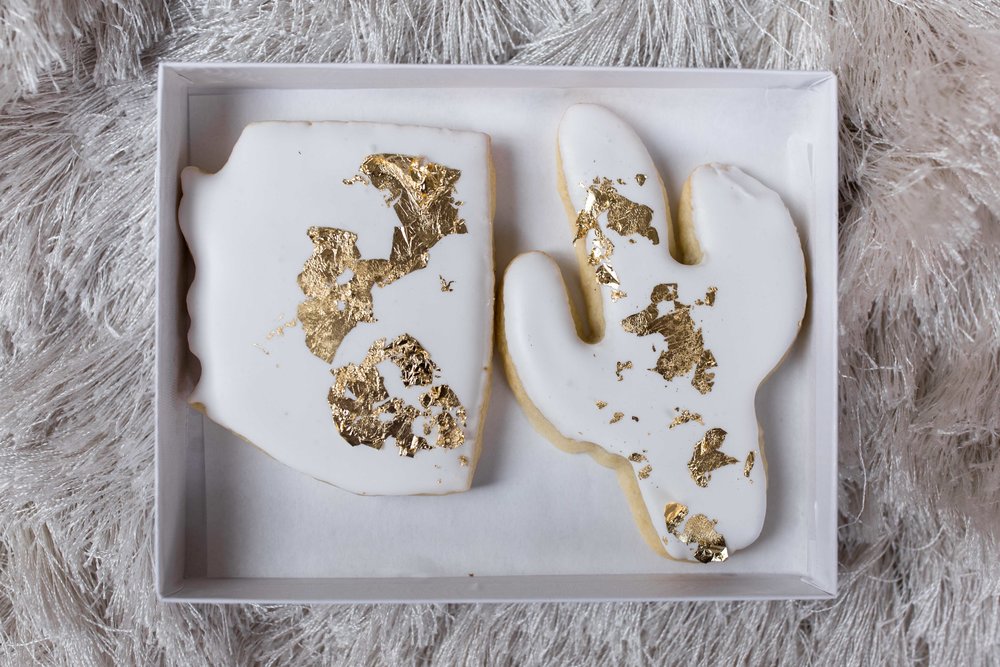 First of all, this bakery in Old Town Scottsdale has gorgeous social media. Its bright tones reflect the white and copper accents of the shop and with a neon sign it's great for taking photos, if you're into that sort of thing. You know they 'get it' when the woman working even asked if I was taking photos, and if I would like the macarons in an ombré pattern (I did). They had quite the range of macaron flavors, as they have some classics but they also do various theme weeks like ice cream flavors and cocktails.
Some of my favorites were drumstick, which tasted just like the frozen dessert, milkshake and fries, cookies and cream, raspberry lemonade, cookie butter and lavender white chocolate (I'm very into floral flavors right now). We were there just days before Valentine's Day and their themed desserts were so cute and included a camel with the phrase "let's hump" and a cactus that read "you make me thorny". I'm a fan of cheeky treats.
Must-order: any of their macarons
As the name implies, the restaurant located in downtown Chandler is covered in red brick and has some great small plates meant for sharing and also has an extensive cocktail menu. I personally loved the cocktails since they were all named with movie references and divided into genres, like the "how to lose a guy in 10 ingredients" or the "inconceivable" both from the romance/ drama category. While we basically sampled one of everything on the menu some of my favorites were calamari tossed in a sweet Thai sauce and served with grilled lime, the crispy potatoes tossed in a creamy truffle aioli and both the shrimp tacos and pork belly tacos. I also enjoyed the tempura shrimp, which were served over coconut tapioca – a different twist on coconut shrimp, but I can't say that I'm a tapioca fan, as the texture is just off to me.
Must-order: calamari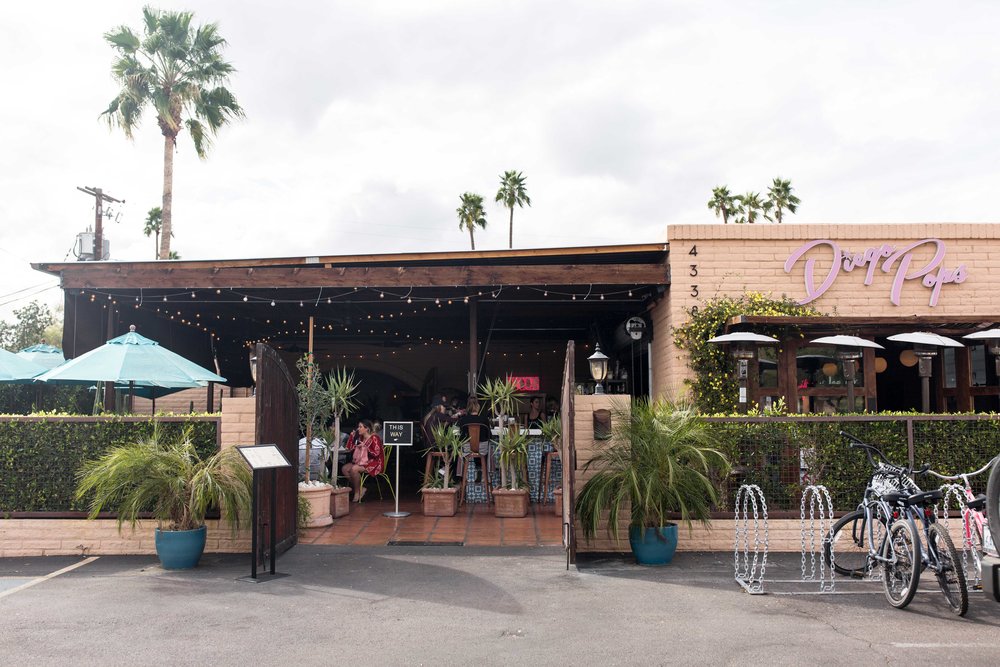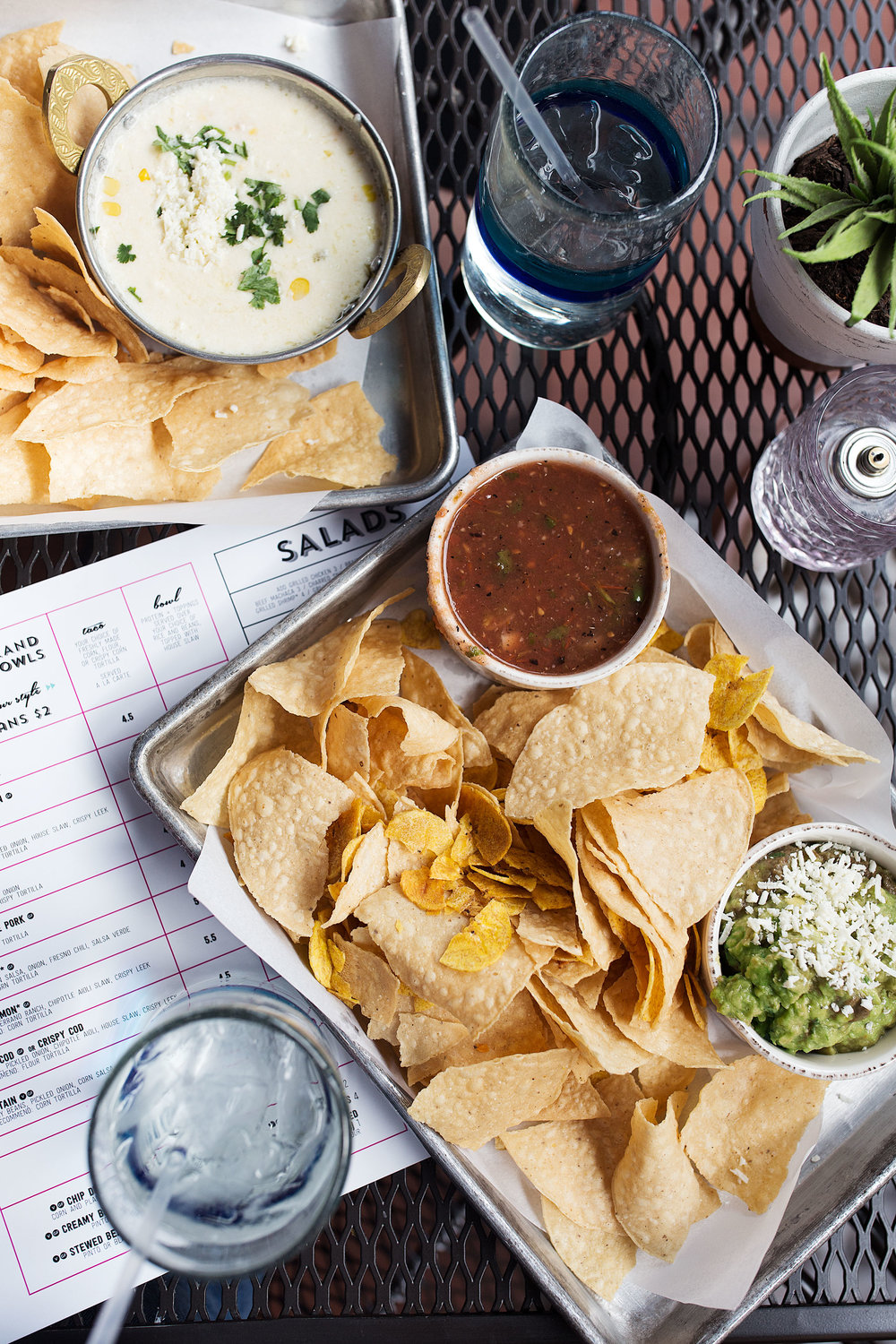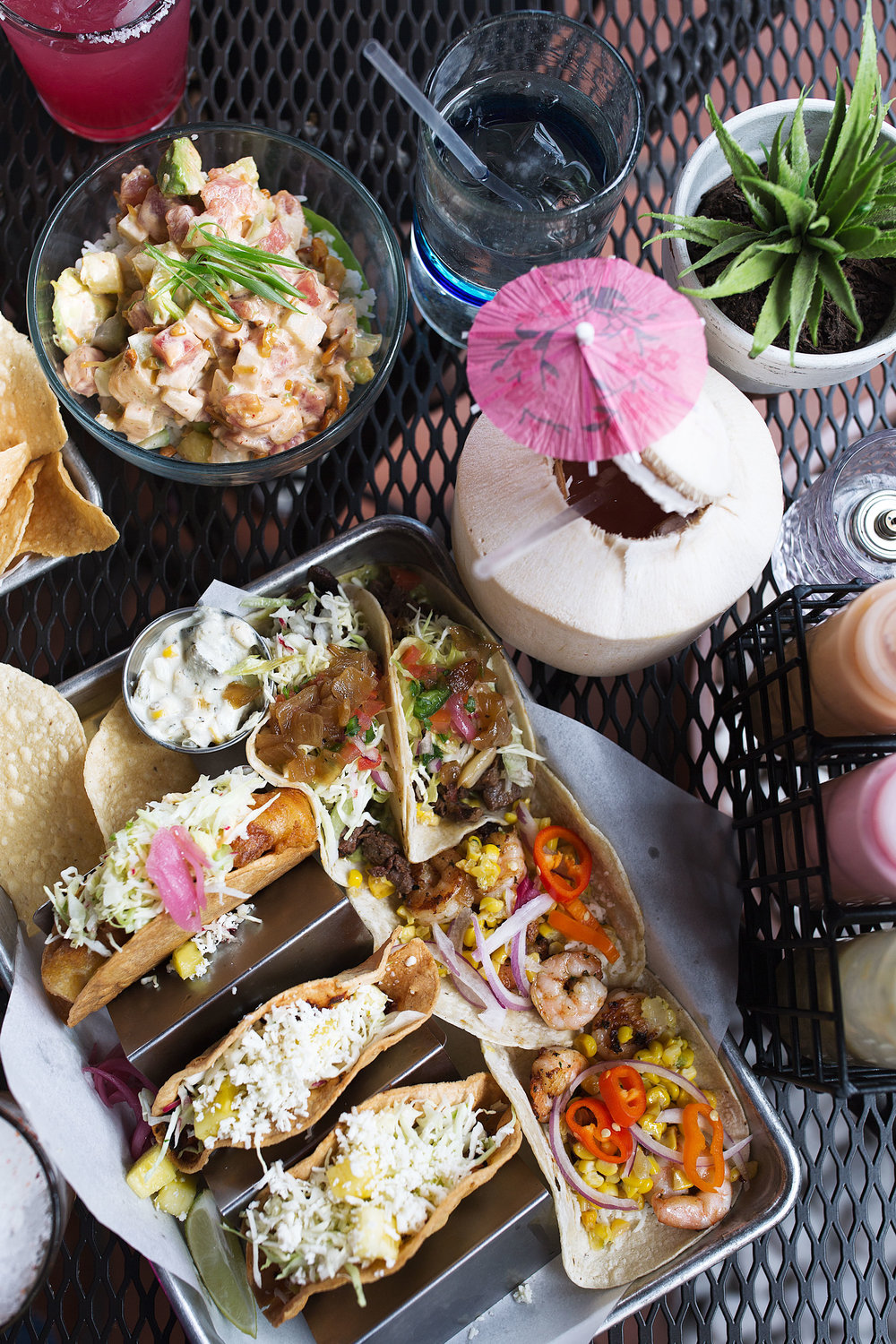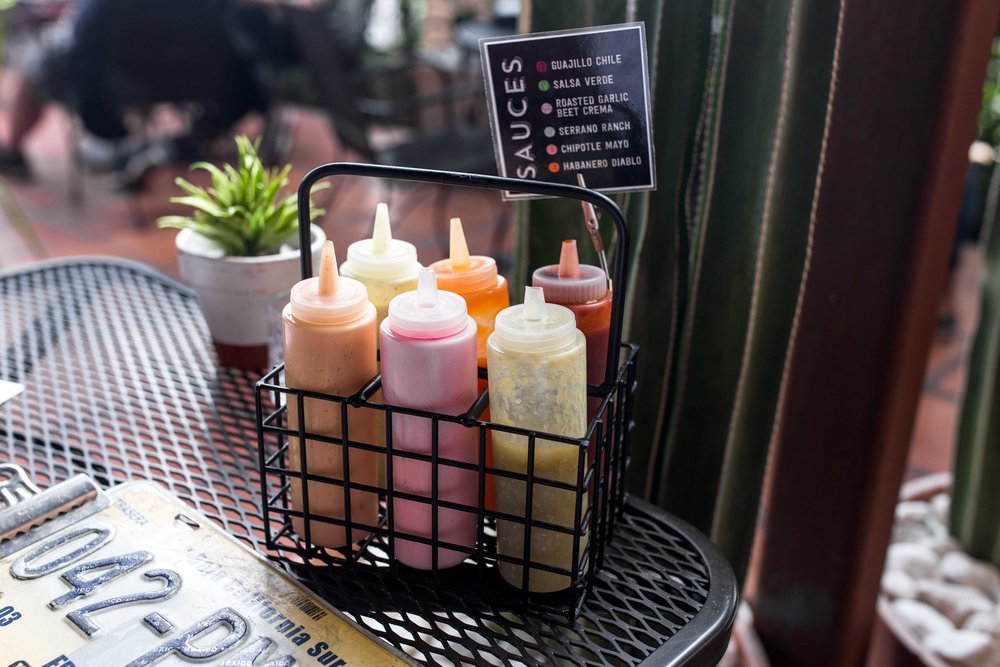 If you're looking for a good spot to go with a group for a fun night out, this is the place. Located in Old Town Scottsdale, the casual taco spot is decorated with a mix of neon lights, retro pale blue Smeg refrigerators and hot pink lounge chairs, and is finished off with my personal favorite – a recreation of the last supper with tacos and margaritas.
We started with the street corn queso, basically a combination of my favorite things, cheese and corn scooped up with fresh tortilla chips. The tacos are ordered a la carte so it's easy to try multiple combinations. One of my favorites was the braised pineapple pork with pineapple slaw and cotija on crispy corn tortillas. My runners up were the crispy cod fish tacos served with guacamole, pickled onion, slaw and chipotle aioli on flour tortillas and the charred skirt steak served with pineapple slaw and cotija cheese on a corn tortilla.
Everyone knows that I'm a fan of sauces, and Diego Pops puts a choice of six different sauces and salsas on each table. It gave me the ability to individually sauce each bite of my tacos. My standout sauce was the roasted garlic beet crema; I'm not the biggest fan of beets and I would never have thought to add beet to crema but it was delicious! Props for originality. My other favorite was the Serrano ranch — ranch is definitely in my top five condiments (not so highbrow) and this one was a well-seasoned, spicy variation. My honorable mention would be the chipotle aioli, a standard sauce but still a good choice.
Must-order: street corn queso & braised pineapple pork taco
While I actually didn't make it to Snooze this trip, I had eaten breakfast there the last time I visited Arizona. This small chain started out of Denver and expanded along the West coast. If you're going savory then you have to order the "Sandwich I am", scrambled eggs, cheddar cheese and sausage on a soft pretzel roll topped with smoked cheddar hollandaise. If you are in the mood for something sweeter, go with the "pancake flight" as you get to choose three different types of pancakes, my favorites being, blueberry Danish, peanut butter cup and donuts & coffee.
Must-order: "Sandwich I am" breakfast sandwich
You could probably stay at this gastro-pub in Tempe all day. It has great food, a full bar and games like cornhole. Their known for their Moscow mules topped with candied ginger and fresh mint but also have a great cocktail list to choose from. I was put in charge of ordering, or I took charge – depends on who you ask – and I basically choose one of just about everything on the menu.
We started with a crispy shrimp Caesar salad (to get our greens). The combination of romaine and kale was topped with battered and fried shrimp to mix things up a bit. Next came the pork belly nachos. I could have just ordered a plate of these for dinner. The cheesy nachos were layered with cheese sauce, black beans, sour cream, guacamole, pico de gallo and topped with bits of BBQ pork belly.
Next in our dairy heavy meal came mini pretzel bites with cheese sauce, this is one of their most popular dishes. My favorite of the entrees was the 36-hour ribs, slow cooked until tender and lathered in a sweet and spicy BBQ sauce. After dessert of monkey bread and s'mores we did what any sane person does, unbuttons the top button on their pants and goes immediately home to bed.
Must-order: crispy shrimp caesar & cheesy nachos topped with pork belly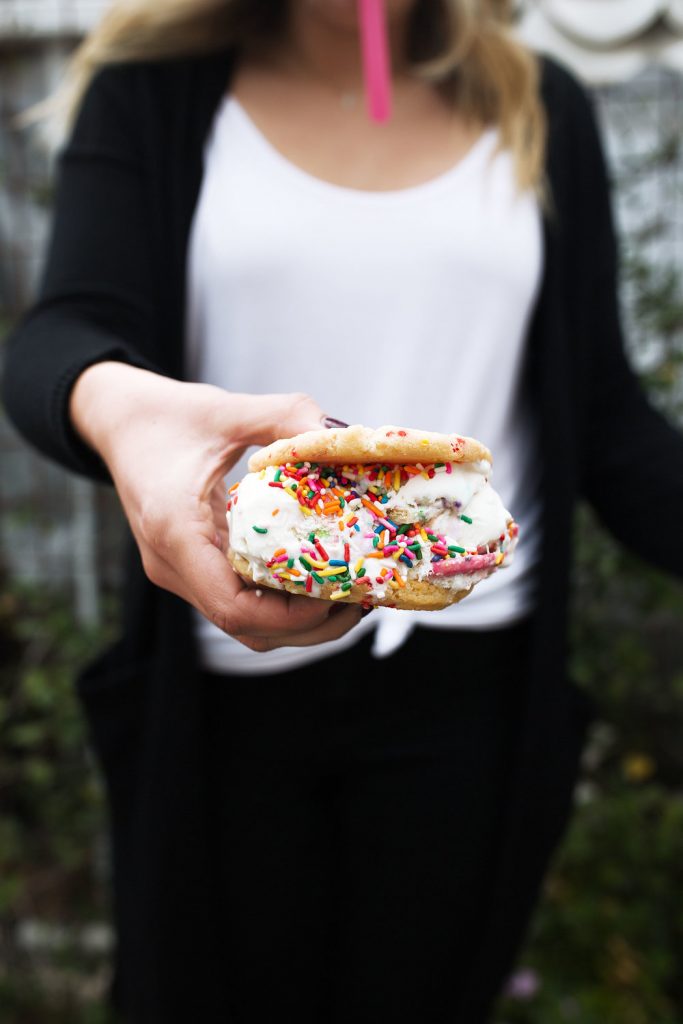 The name really says it all – it's a "build your own" ice cream sandwich shop in downtown Chandler with a great outdoor patio and fun games to play. First you pick your cookie, I went with a confetti sugar cookie; then you pick your ice cream, strawberry shortcake for me; followed by what you want it topped with, and I chose colorful fruity pebbles. All their ice creams and cookies are made fresh in-house daily, my cookies were even still warm.
This farm-fresh fast-casual option is located on Agrotopia Farms in Gilbert and is known for their smoked meats and locally sourced ingredients. The night we went for dinner it was chilly for Arizona so we opted to sit inside instead rather than on the outdoor back patio. We had enjoyed a late afternoon snack of macarons, which had spoiled our appetites a bit, so we decided to get a few different things to try and share them. My eyes were immediately drawn to the BBQ chicken pizza, their house specialty with a thin crust base topped with grilled chicken, bacon, blue cheese, tomato and BBQ sauce. We also had the buffalo chicken sandwich; a grilled chicken breast coated in buffalo sauce served with thinly sliced celery with a side of garlic parmesan fries, which I naturally dunked in sides of ranch.
Must-order: BBQ chicken pizza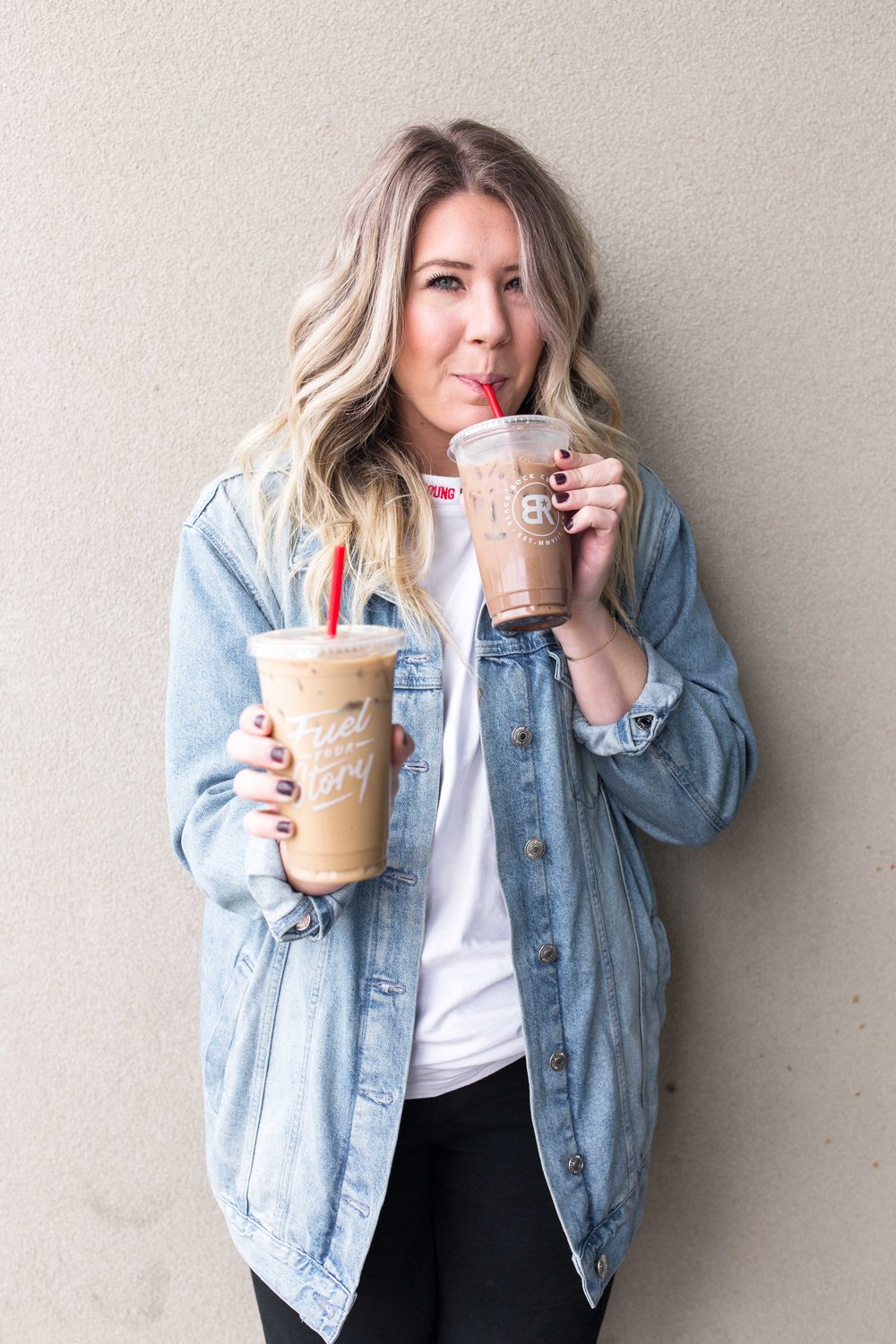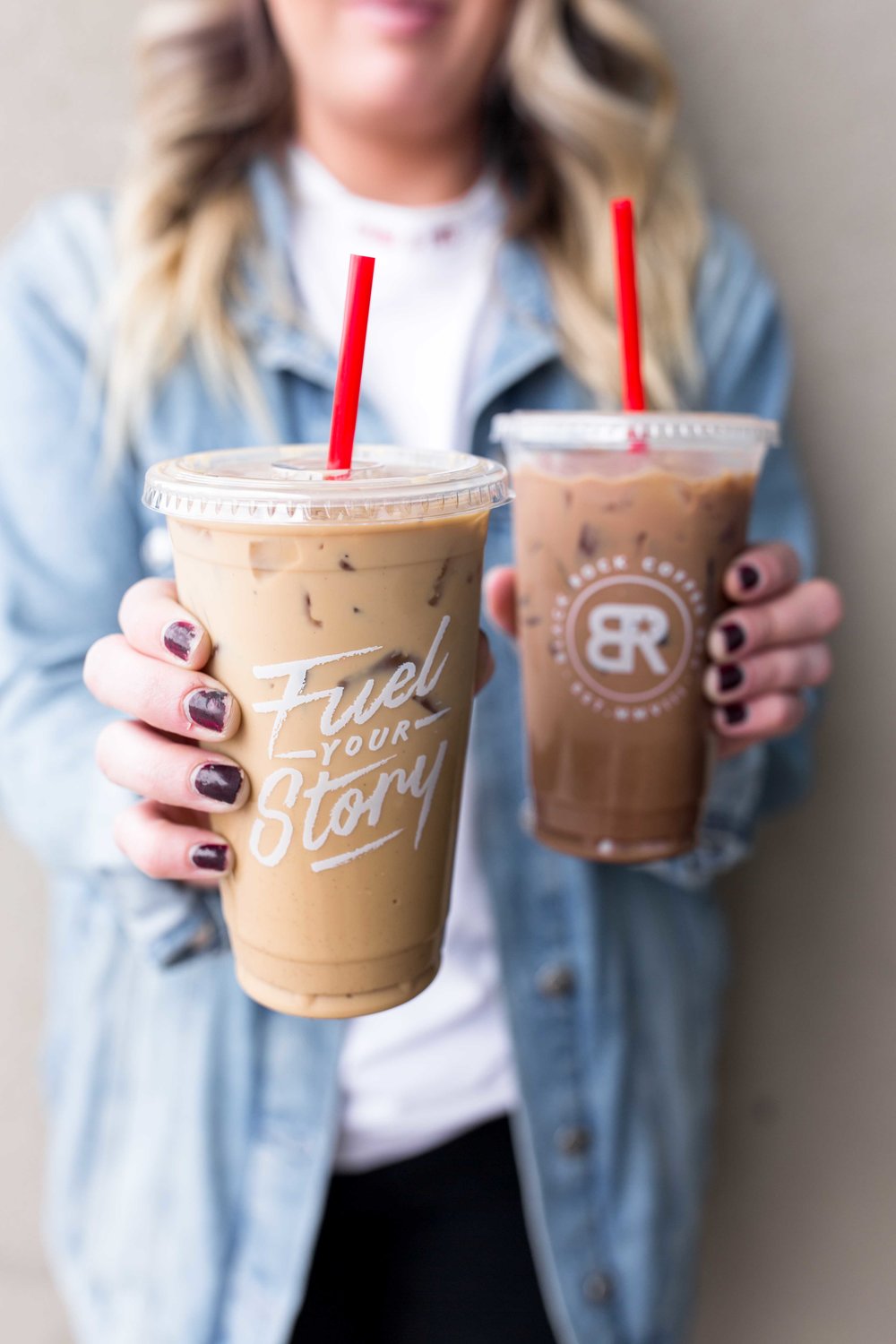 This coffee shop in Chandler originated in Oregon but I still had to include it on my list. Their slogan is "fuel your story" encouraging a place for connection, a place for people to sit around and drink good coffee or to use as a workspace. As someone who thoroughly enjoys my morning coffee, I love trendy, industrial craft coffee shops like this. The iced caramel blondie was similar to their version of an iced caramel macchiato while the iced Mexican mocha was an iced latte with chocolate and the slight spice of chili powder and a touch of cayenne. I liked the uniqueness of the Mexican mocha but I know that if I were a regular my daily order would be the caramel blondie.
Must order: iced caramel blondie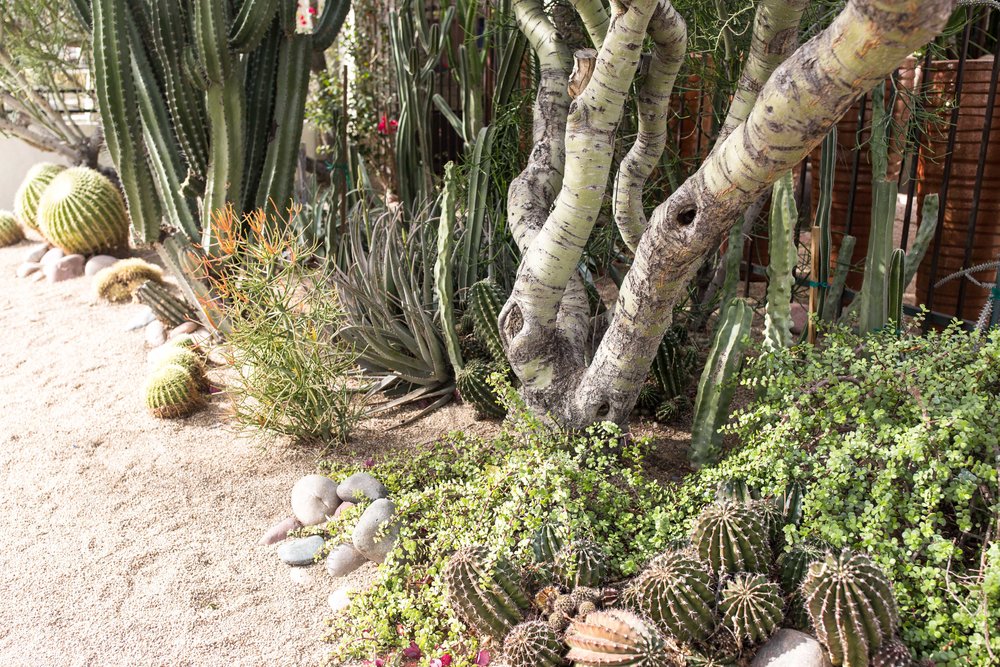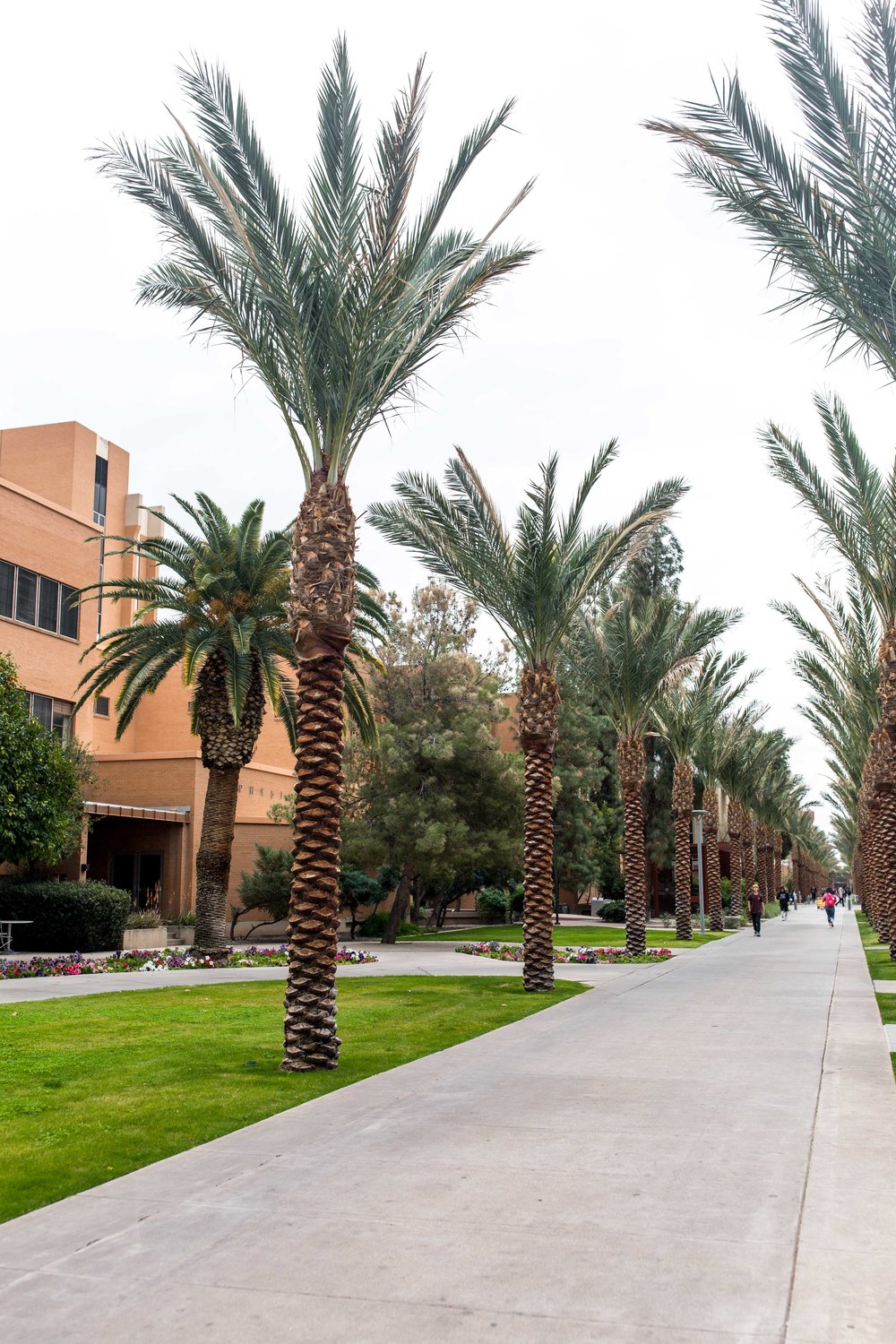 It was great to have some "mother/daughter" time with my mom, and to reconnect with a close friend during my stay in Arizona. I even got some wedding planning done over the trip. Even though I hadn't seen Devin for a while, it was as though we had never been apart. We reminisced, caught up on what was going on in our lives, and had an overall perfect weekend of eating and drinking together.