Fried Cauliflower and Avocado Tacos
This post is sponsored by the California Avocado Commission.
Nothing says summer gatherings like meals that can be easily made in large quantities and set out on a big table for a laid back dinner party. I love eating out on the back patio for dinner, lounging around, drinks in hand as the conversation continues far into the night. And my roasted cauliflower and avocado tacos provide the perfect food for just such a night.
But it can be hard to cook for a crowd and so here are a few tips for when you are making tacos that will make it easier. First of all, I try to prep as much as I can ahead of time so when it comes to the actual cooking process, it is much more streamlined.
Once I have everything prepped ahead of time the serving process for big groups can be handled two ways – either by setting all the fillings out on the table in bowls and having everyone make their own tacos or by assembling the tacos yourself and placing them on a large platter so that everyone can serve themselves.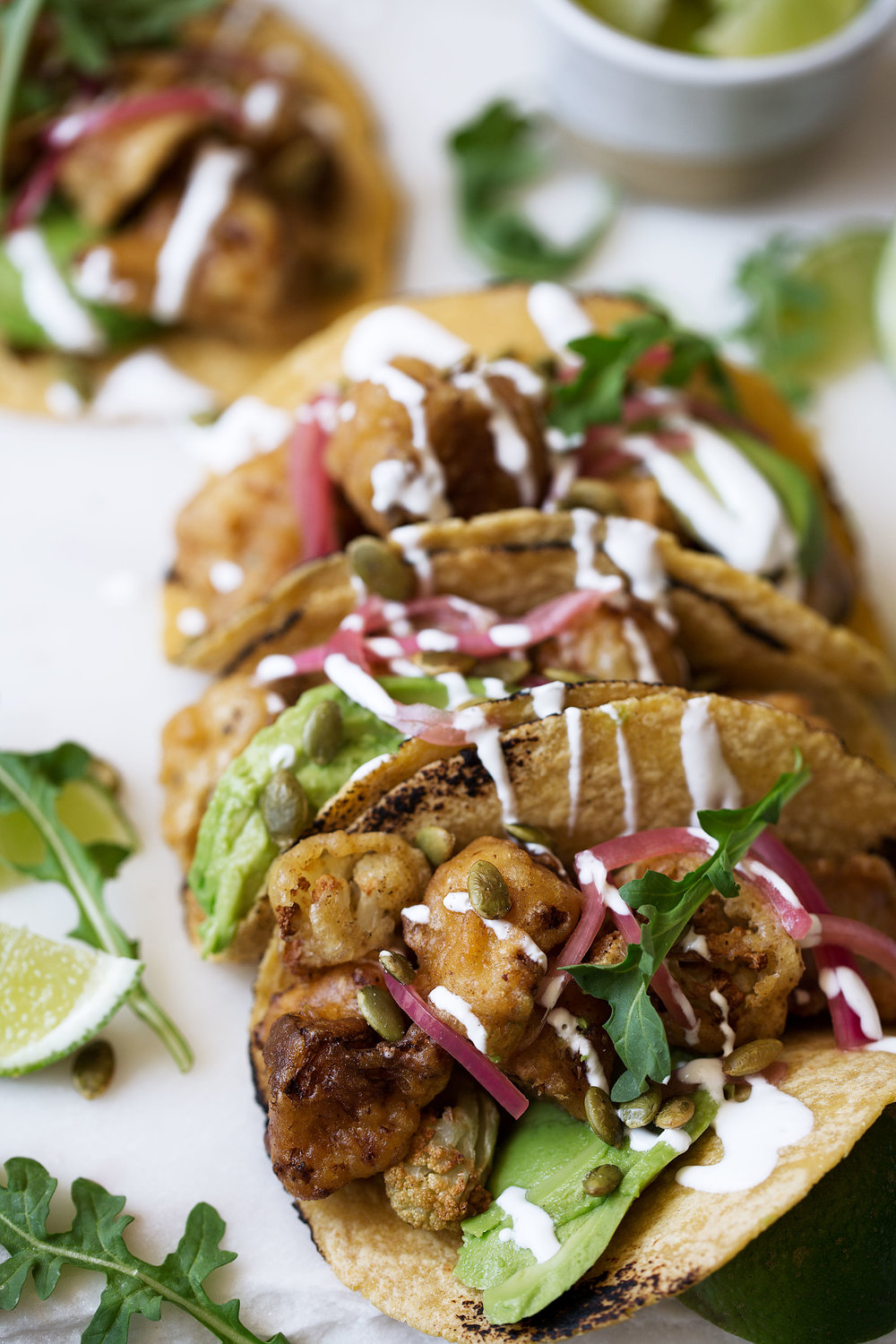 Tacos are one of my favorite foods, as there are just so many filling options! Fresh, creamy avocados are the perfect compliment to crispy, fried cauliflower. The vegetarian fillings are topped with pickled onions in corn tortillas topped with sour cream and pepitas for a perfect summer meal. Avocados grown in California are in season right now so opt for the domestically grown avocado for your tacos.
The avocado-cauliflower tacos are "win-win-win" – healthy ingredients, delicious taste and ease of serving, all of which combine for gracious outdoor dining for your favorite group of friends.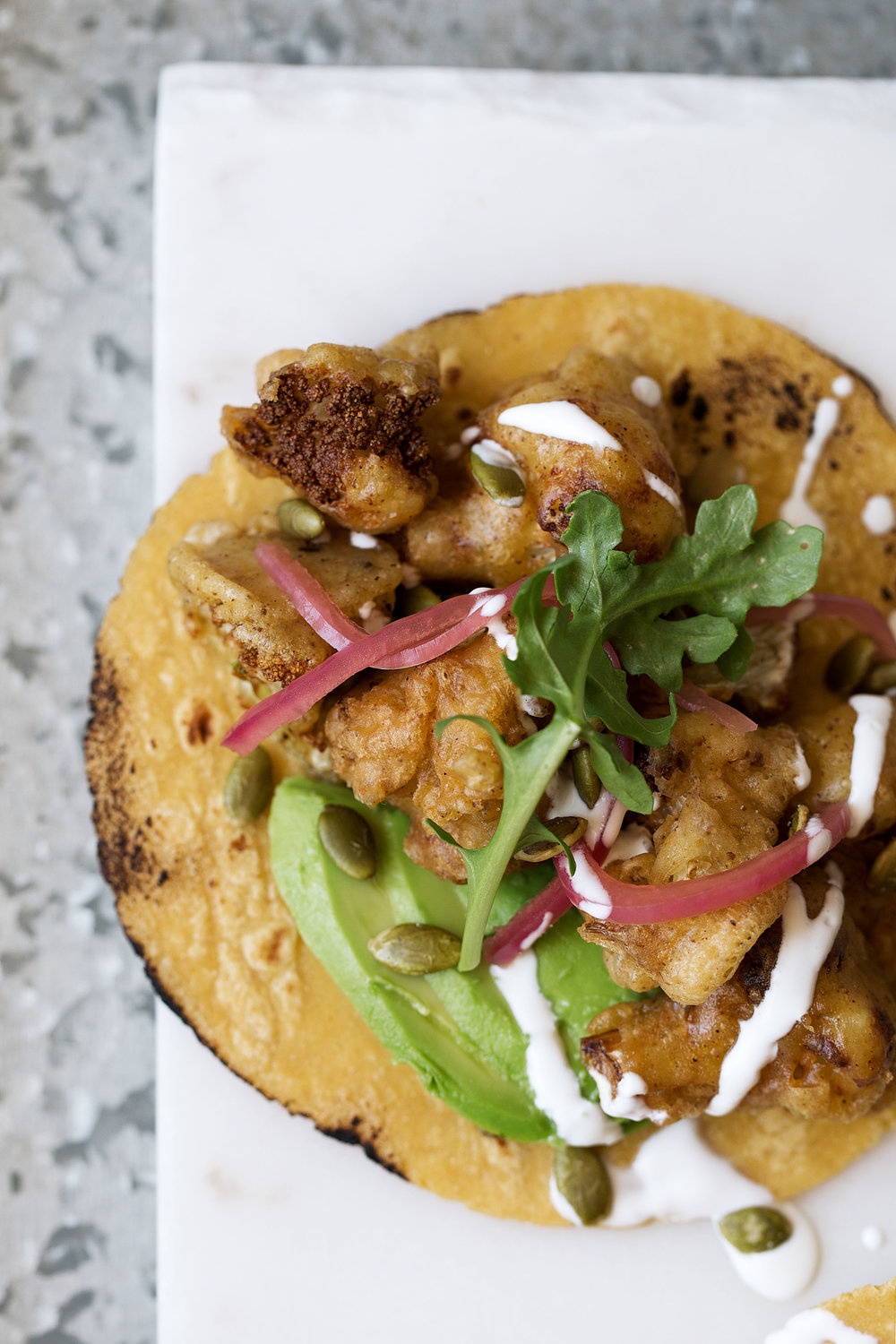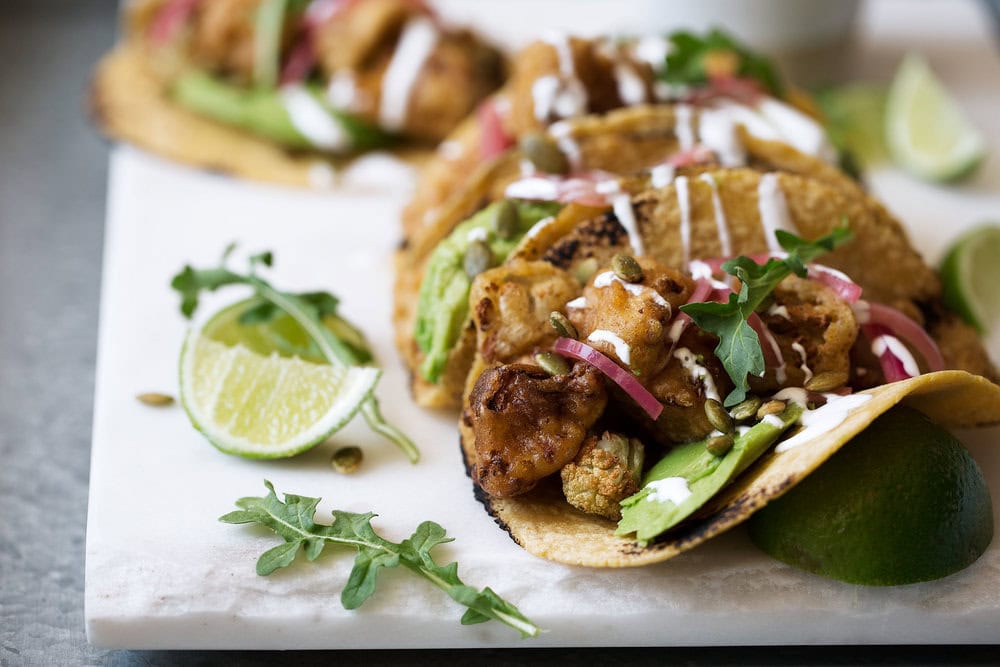 Fried Cauliflower and Avocado Tacos
For the cauliflower:
Vegetable oil

as needed, for frying

½

cup

cornstarch

½

cup

all-purpose flour

1

tablespoon

baking powder

1

teaspoon

cumin

1

teaspoon

ancho chili powder

½

teaspoon

kosher salt

1

egg

1

large head cauliflower

cut into florets
For the pickled onions:
8

6-inch corn tortillas

½

cup

apple cider vinegar

1

tablespoon

granulated sugar

1

teaspoon

kosher salt

1

medium red onion

thinly sliced
For serving:
2

large Haas Avocados

pitted, peeled and sliced

¼

cup

sour cream

¼

packed cup cilantro leaves

1/3

cup

pepitas

2

limes

cut into wedges
For the cauliflower:
Fill a large pot with enough oil to reach 2-inches up the side of the pan. Heat oil to 350°.

In a large bowl whisk together the cornstarch, flour, baking powder, cumin, chili powder and salt. Slowly add ¾ cup cold water, whisking until a thin batter forms (about the consistency of pancake batter). Whisk the egg in to the batter until combined.

Dip the cauliflower florets into the batter and add to the hot oil, frying until the outside is golden brown and the inside is tender, about 3 minutes. Remove with tongs to a paper towel-lined plate to drain. Repeat the process with the remaining cauliflower.
For the pickled onion:
Bring the apple cider vinegar,  sugar and salt with 1 cup of water in a small saucepan over medium heat. Add the onions to a small mixing bowl and pour the vinegar mixture over the top and let sit for at least 15 minutes. Store in airtight container in the refrigerator for up to a week.
For serving:
Fill warmed tortillas with a few pieces of the crispy cauliflower, slices of avocado and pickled onion. Top with sour cream, cilantro leaves and pepitas. Serve the tacos with lime wedges on the side.
DID YOU MAKE THIS?
TAG ME ON INSTAGRAM TO BE FEATURED ON MY STORIES! @cookingwithcocktailrings