Spiced Cauliflower "Steaks" with Avocado-Tomatillo Salsa
This post is sponsored by the California Avocado Commission.
Cauliflower is a versatile vegetable – it can be used as a vegetarian fill-in for steak, finely diced and used as rice, or roasted as florets In this recipe a full head of cauliflower is cut into 1½-inch thick "steaks" rather than being cut into florets, it keeps as much of the cauliflower head intact to pan sear it in a skillet.
Chili powder, coriander and cayenne compliment the avocado-tomatillo salsa served with the side and the slight smoky flavor from the slightly charred edges of the cauliflower.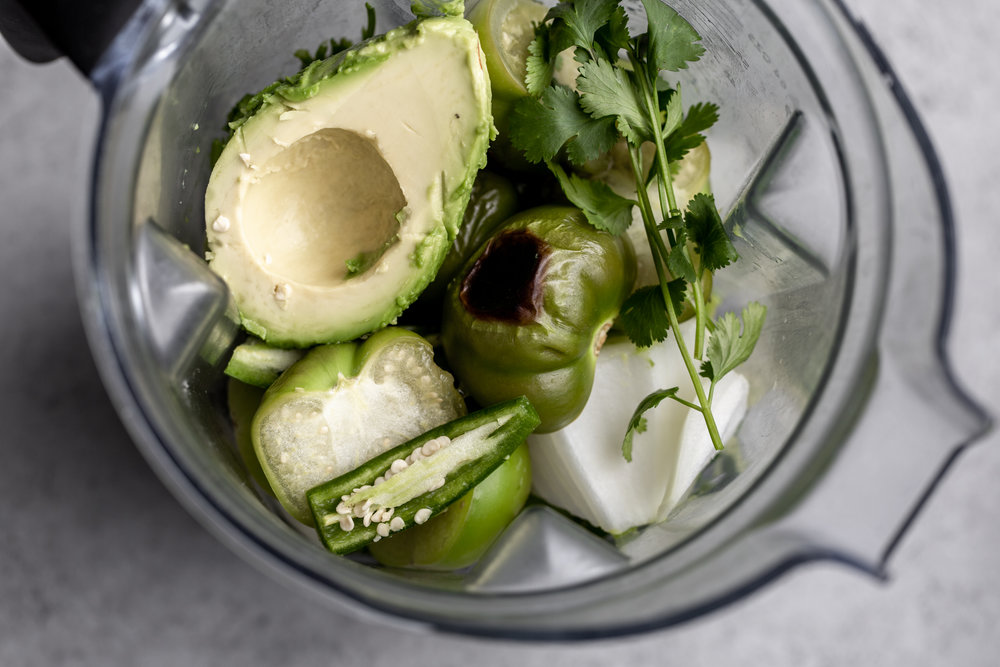 Los Angeles is known for both the incredible things with vegetarian alternatives or meatless meals as well as their ability to add avocado to just about everything! This recipe not only happens to be a good option for a vegetarian entrée (or a side) it is also vegan. The sauce becomes thick and creamy from the addition of avocado rather than the addition of any dairy.
California avocados are a great way to thicken sauces and add a creamy element to any dish. While it is a vegan/ dairy-free alternative to creams and other thickening agents it also adds delicious flavor! To get the most out of your California avocado, slice it lengthwise with a sharp knife and remove the pit. Use a spoon to easily scoop out the creamy center. The tangy blended salsa can also be eaten with chips or vegetables as a dip on its own.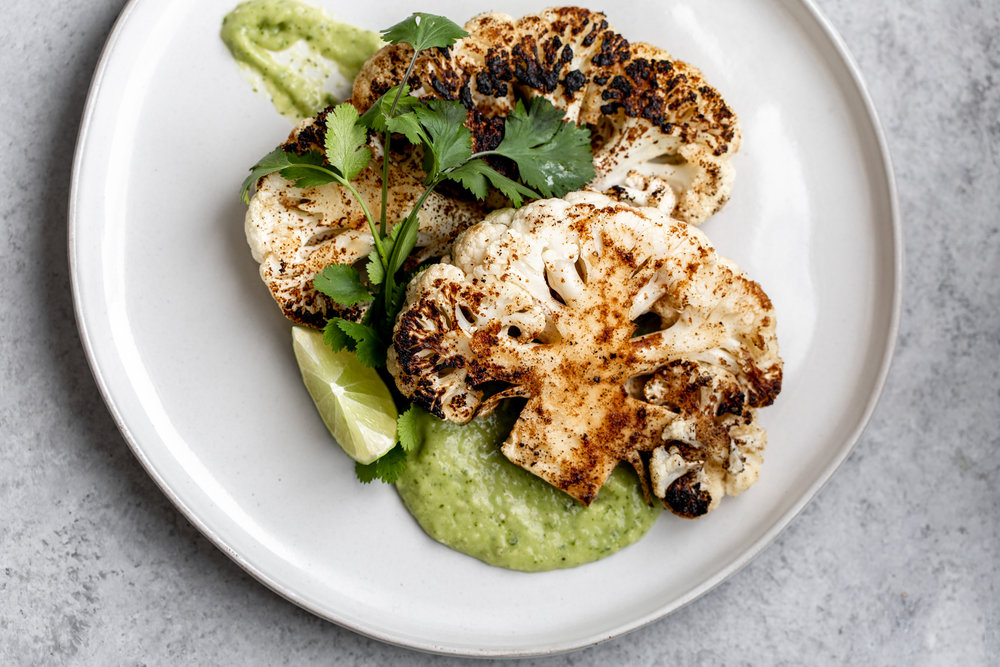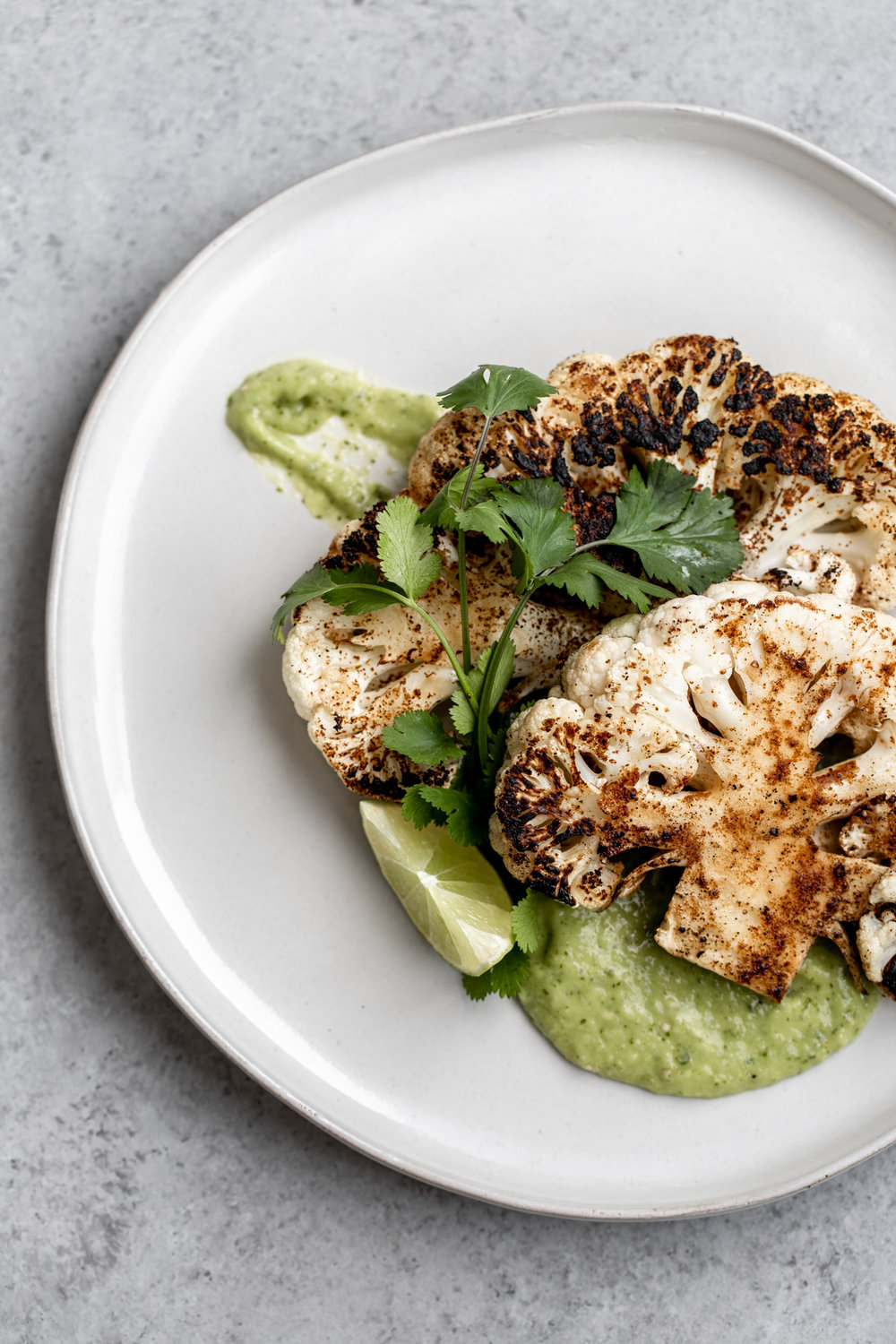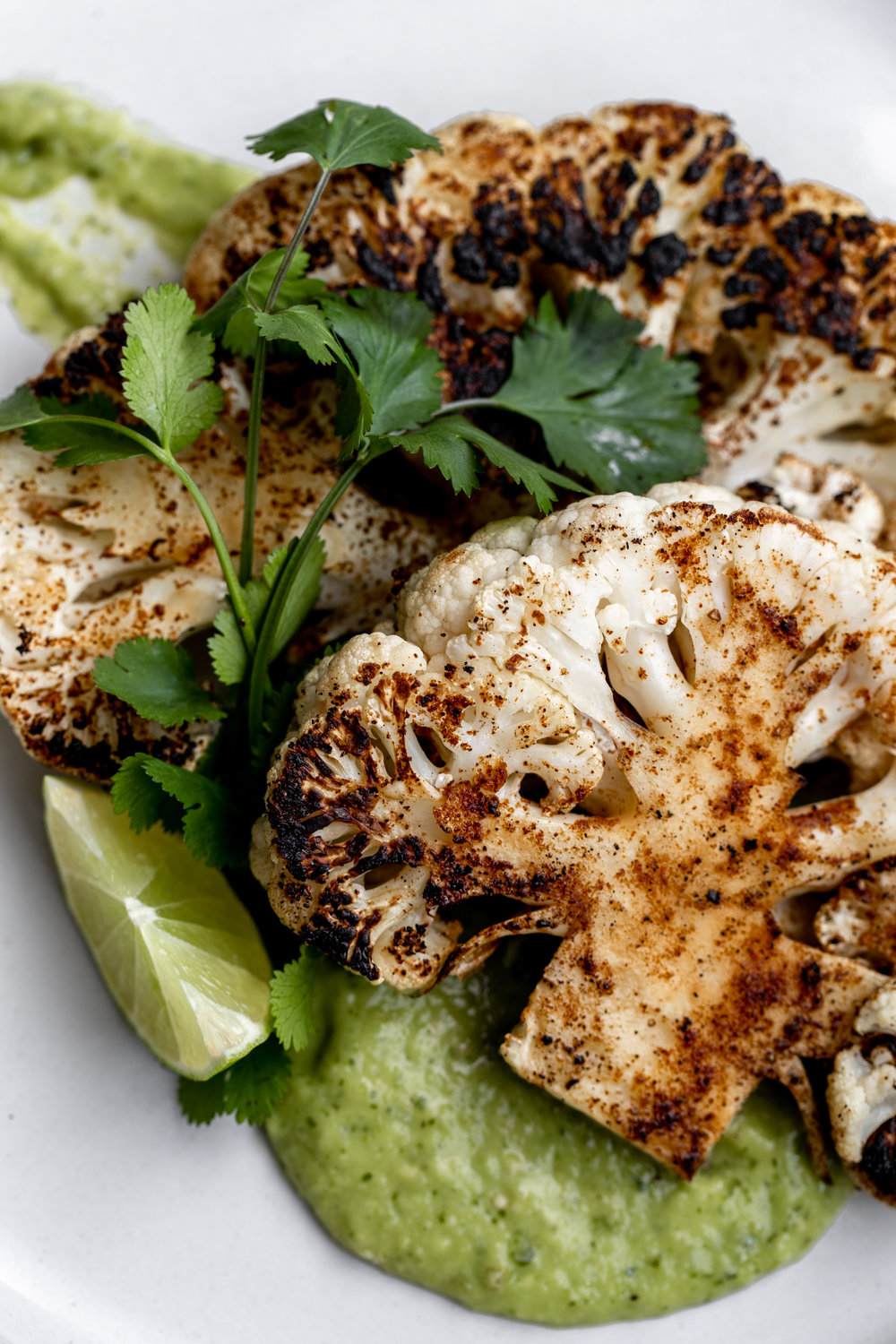 Spiced Cauliflower "Steaks" with Avocado-Tomatillo Salsa
Avocado-Tomatillo Salsa:
5

medium tomatillos

husked, rinsed and halved

1

medium California Avocado,

Haas variety, pitted, peeled and sliced

1

medium jalapeño,

roughly chopped

½

medium yellow onion

2

garlic cloves,

chopped

½

packed cup cilantro leaves

1

teaspoon

kosher salt
For the Spiced Cauliflower "steaks":
Avocado-Tomatillo Salsa:
Heat oven to broil on high. Add tomatillos to a baking sheet cut side down and broil (keeping an eye on them) until slightly charred, about 6 minutes. Add the roasted tomatillos to a blender with the avocado, jalapeño, onion, garlic and cilantro. Pulse until smooth and season to taste with salt. Store refrigerated in an airtight container for up to a week.
For the Spiced Cauliflower "steaks":
Heat oven to 400ºF.

Remove the tough outer leaves from the heads of cauliflower and trim the stems. Rest each of the heads of cauliflower on the stem and cut in half. Cut off the outer rounded edge from each half so that you are left with 4 total 1½-inch thick "steaks". Reserve the remaining cauliflower florets for another use.

Stir together the chili powder, coriander, salt, pepper and cayenne. Rub the cauliflower with 2 tablespoons of the olive oil then season the cauliflower steaks on both sides. Heat a large cast-iron skillet over medium-high heat, add the remaining tablespoon of the olive oil and heat through.

Working in batches (depending on the size of the pan), cook the cauliflower until golden-brown, about 5 minutes. Add the remaining olive oil then flip the steaks and continue to cook until the second side is golden-brown, about 3 minutes. Repeat with remaining cauliflower and olive oil.

Add to an aluminum foil-lined baking sheet and roast until completely tender, about 10 minutes.
DID YOU MAKE THIS?
TAG ME ON INSTAGRAM TO BE FEATURED ON MY STORIES! @cookingwithcocktailrings