Irish Tacos with Corned Beef and Guinness Caramelized Onions
While some people only think of corned beef around St. Patrick's day, I love making it at any time of year often using it in these Irish inspired tacos or Reuben sandwiches.
For the tacos, the tender, slow-cooked meat is piled onto flour tortillas and topped with Guinness caramelized onions, shredded Swiss cheese and shredded cabbage. It is essentially a Reuben sandwich turned into taco form, because, who doesn't enjoy a taco??
While the brined brisket takes up a fair amount of fridge space and a few days time, it's worth it as the extra time helps produce tender, flavorful corned beef. Plus since you really just have to rotate it once a day, it's not a labor-intensive process.
The end product is way better than any version you would pick up at the grocery store. Be sure not to skimp on the curing salt, as the sodium nitrate is what gives the corned beef it's signature reddish hue. And don't fret in the recommended levels of salt, as the addition is perfectly safe. (There are plenty of nitrates that occur naturally in vegetables).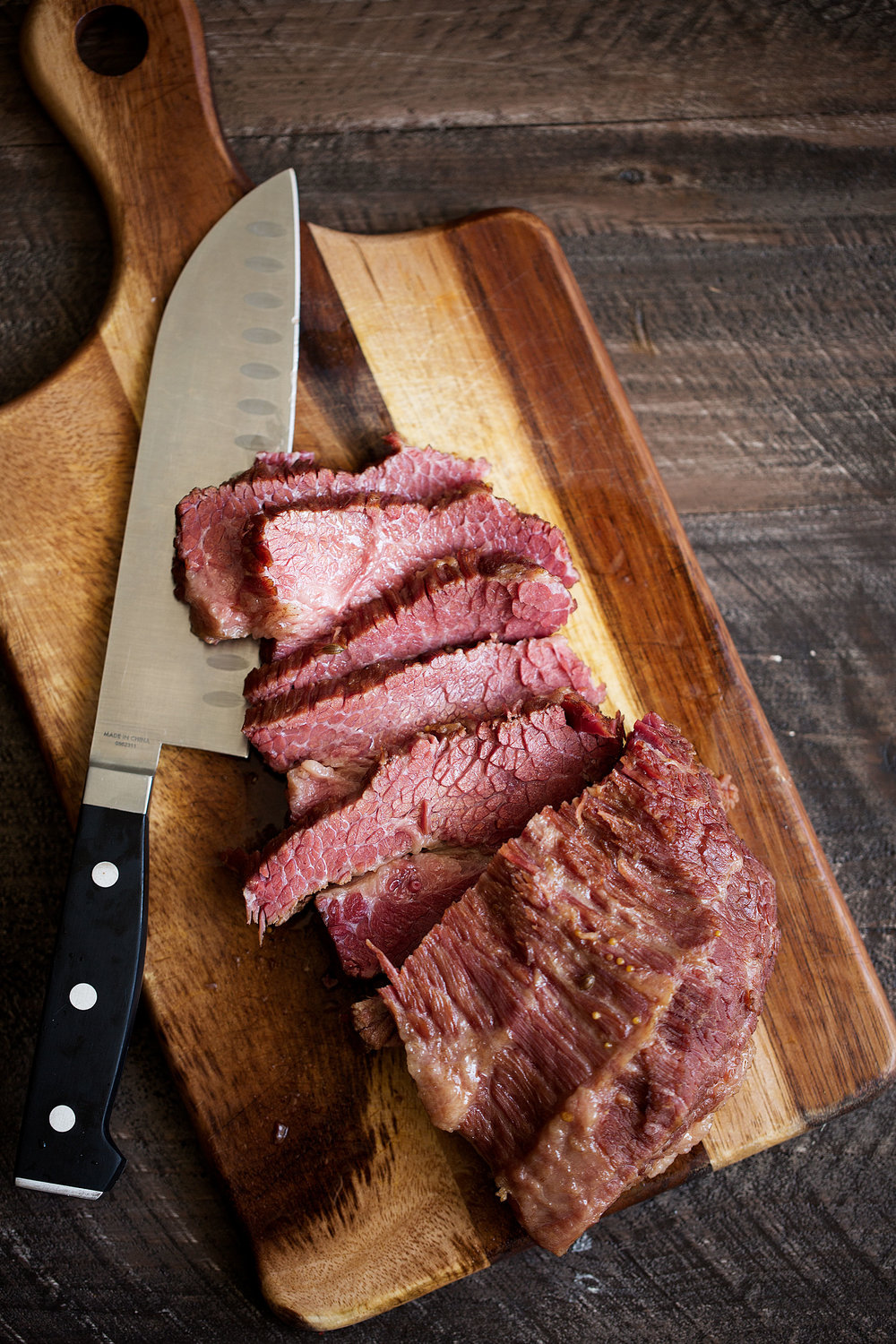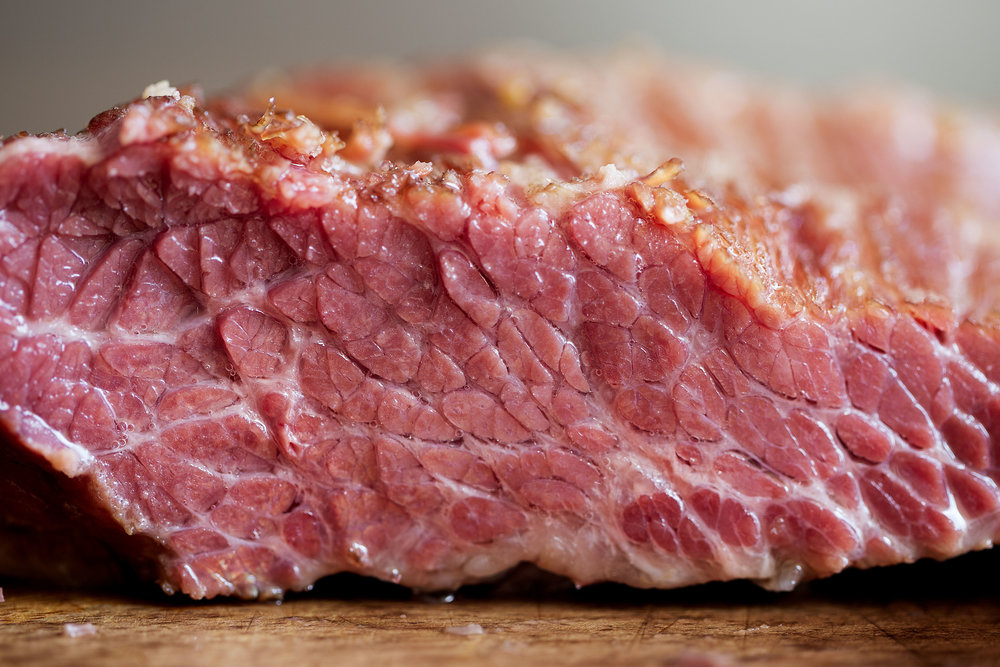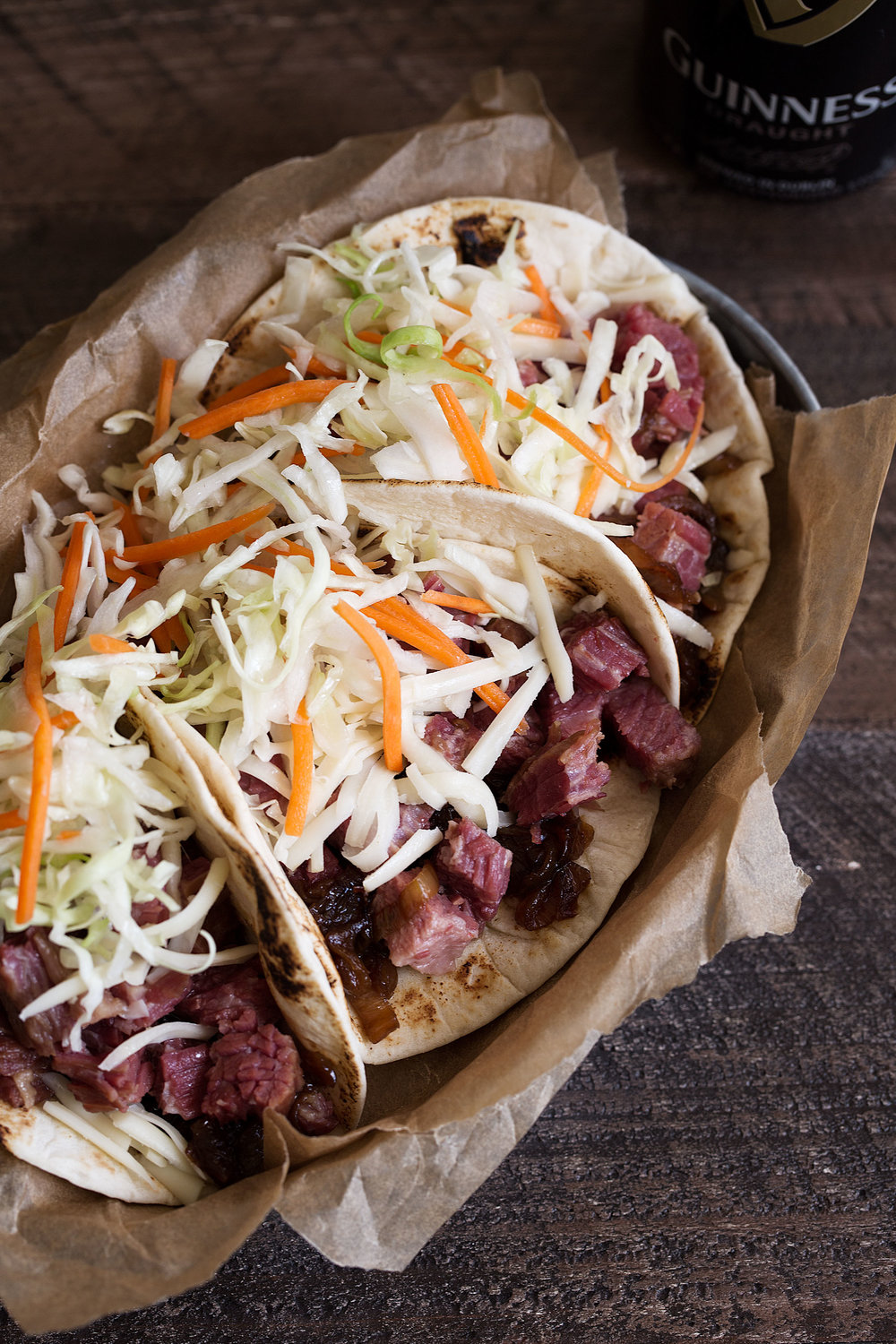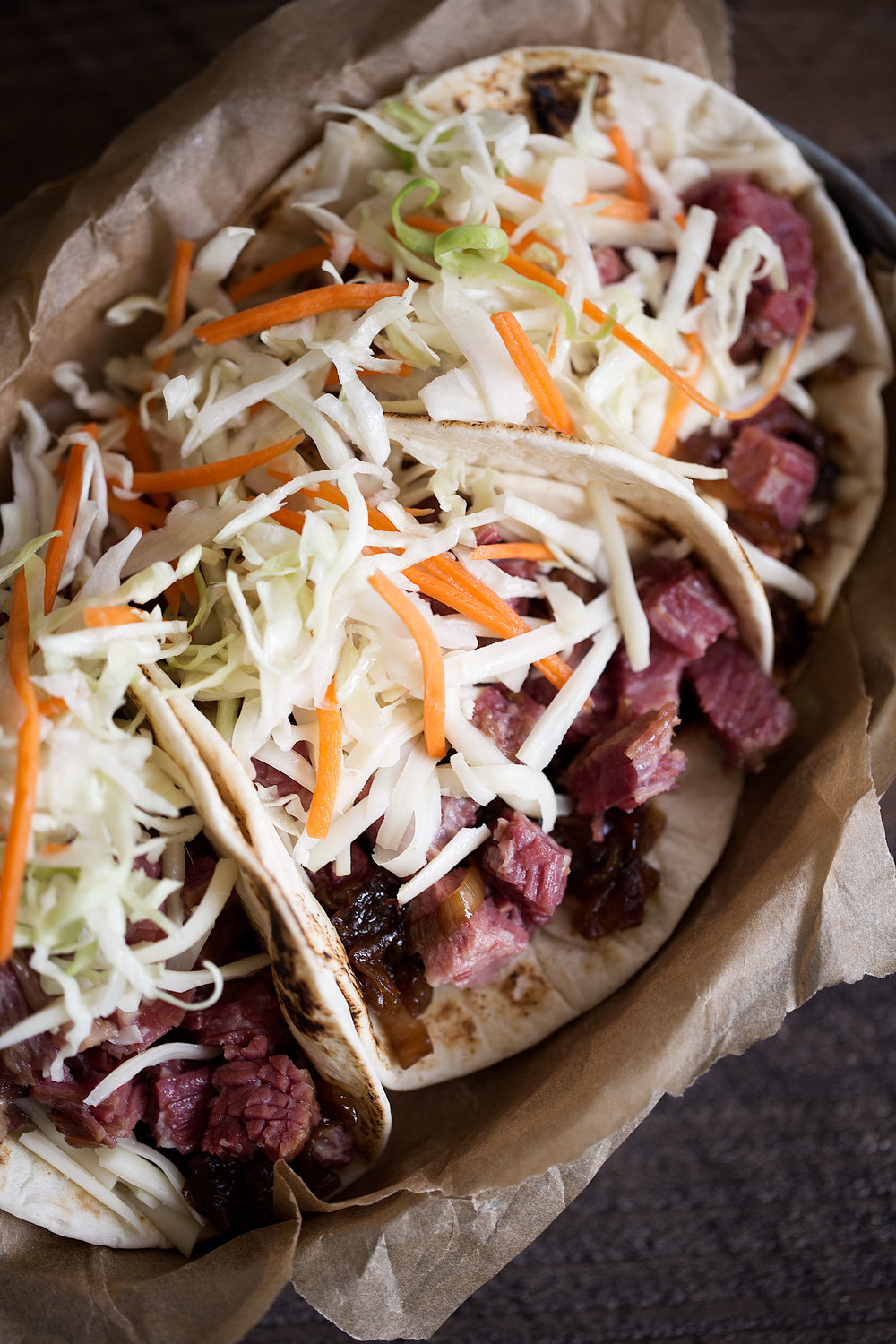 Irish Tacos with Corned Beef and Guinness Caramelized Onions
Guinness caramelized onions:
For assembling the tacos:
2

cups

shredded green cabbage

¼

cup

shredded carrots

1

teaspoon

apple cider vinegar

16

small flour tortillas

warmed

1

cup

shredded Swiss cheese
For the corned beef:
Heat a medium pot over high heat and combine 10 cups of water, salt, brown sugar, garlic, curing salt, coriander, peppercorns, mustard seeds, red pepper, allspice, mace and cinnamon sticks. Stir the mixture as it heats, until the sugar and salt are completely dissolved, about 1 to 2 minutes.

Transfer liquid to a container large enough to hold the brine and the brisket; then refrigerate until liquid is cooled. Add the brisket to the cooled liquid and place a plate on top of the brisket so it is completely submerged.

Cover and refrigerate for about 5 days and up to 7, turning the brisket every day.

When ready to cook, remove the brisket from the brine and rinse thoroughly under cool water. Let stand at room temperature for 30 minutes then place in a heavy bottomed pot or Dutch oven with a lid just large enough to fit the brisket.

Cover with the beer and 4 cups of water. Bring the mixture to a boil over medium-high heat, then lower heat to medium-low so the mixture is at a bare simmer. Cover and continue to simmer until the meat is fork-tender about 3 hours.

Remove the brisket and let cool then thinly slice and chop into ½" cubes.
Guinness caramelized onions:
Heat a medium sauté pan over medium heat, add the oil and heat through. Add the butter and allow to melt then add the onions to the pan and stir to coat. Sauté the onions until they are soft and tender, about 10 minutes, then sprinkle with the sugar, stirring to combine.

Cover and continue to cook the onions, checking about every 5 to 10 minutes, stirring occasionally, until the onions are dark in color and caramelized, about 30 minutes. The exact time may vary depending on the onions. Add the Guinness to deglaze the pan and simmer until all the liquid has been absorbed, about an additional 5 minutes. Remove from heat and set aside.
For the tacos:
In a medium mixing bowl toss the cabbage, carrots and apple cider vinegar until combined.

Arrange the tacos on a platter or plates and top with caramelized onions, a scoop of the corned beef, cheese and slaw mixture. Serve immediately.
DID YOU MAKE THIS?
TAG ME ON INSTAGRAM TO BE FEATURED ON MY STORIES! @cookingwithcocktailrings