Nine Days in China: Shanghai and Hong Kong
December 26, 2016 – January 3, 2017
I was very fortunate to be invited to travel with my boyfriend Aaron's family on their annual Christmas break trip. This year we picked China as the destination as Aaron's youngest sister had been studying abroad in Shanghai through Pepperdine University for the previous four months. (A word to the wise – if you are traveling to China, give yourself plenty of time to secure your Chinese visa.)
Passports and visas in hand we left for China the day after Christmas. Luckily Aaron's dad had some work travel miles available and had used them to get business class upgrades for all of us for the trip from LA to Shanghai. It was like Christmas morning all over again! No longer were we relegated to the back of the metaphorical bus – we had cubicles that turned into beds and plenty of movie and food options to get us through the 15 hour flight. The weirdest part was losing a day due to the 16-hour time difference. We left LAX at 9am on the 26th and arrived at about 2pm on the 27th.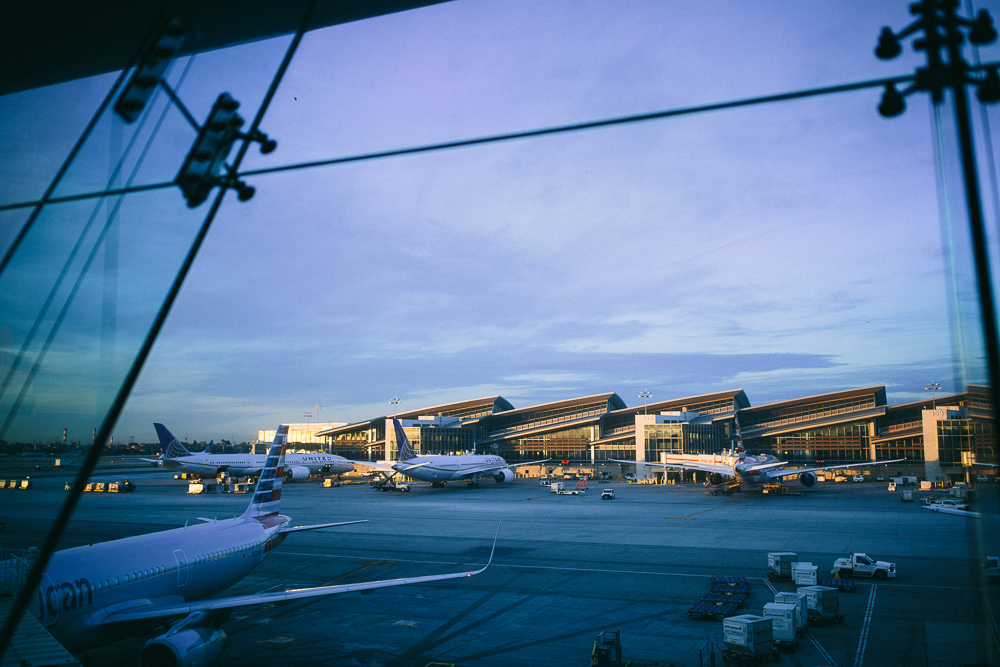 I wish I were better at learning and speaking languages but I still always try to look up a few key phrases on the plane and download some translation apps (ok really Aaron does this and writes them out for me in a note on my phone). I try my hardest to use them in conversation no matter how much I butcher them. For the most part people are usually willing to teach me the proper way to say them and are appreciative of not expecting everyone in the world to speak English. The primary language in Shanghai is Mandarin but the majority of younger people learn English in school from a young age. If you are going to Shanghai anytime soon the website Smart Shanghai is very helpful for getting around the city.
The city of Shanghai is divided into two parts, the old section of the city and the new, which is the section that was built after 1990. Our hotel, the Four Seasons, was in the new part of the city called Pudong. We ended up going to the older section of the city, Puxi, quite frequently since it was where much of the historical and tourist areas were.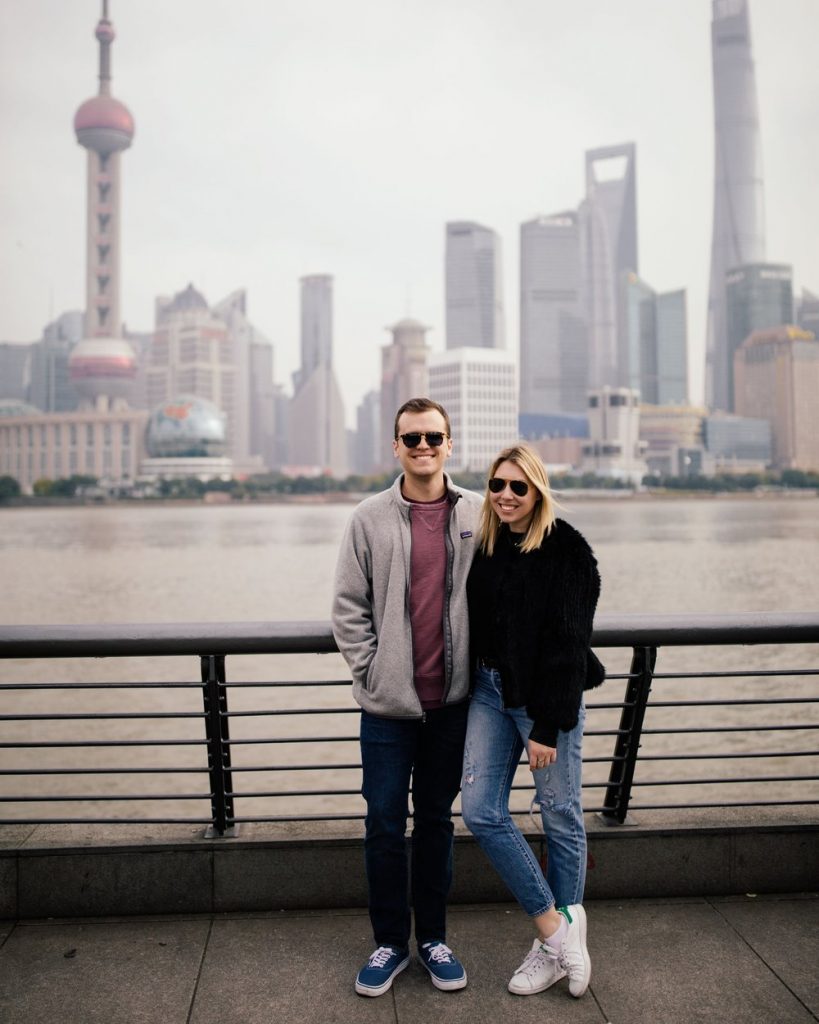 When we arrived in Shanghai, we were all tired from the traveling and time changes even though we had flown business class. Still we wanted to try to get onto the local time so we decided to get dinner. Since we were all too exhausted to explore a new city we ate at the restaurant at the hotel, which turned out to be a great traditional Chinese restaurant. Everyone got to enjoy the first of many dumplings as well as honey roast pork, and pieces of roasted pork belly coated in a sweet honey soy glaze, definitely a standout dish.
Trips to new places are always a balance of having enough things planned out so that you see a lot of the city and keeping it spontaneous so you leave yourself enough room to get immersed in local culture and explore and have your own experiences. As usual I got food recommendations from everyone I knew. I tried to pick a few that would fit into our other travel plans and not be too far out of the way. I like to have some places picked out because not all shitty hole in the walls are created equal. Some are great and some well, aren't. You don't want to spend your whole trip searching for that one amazing meal and being disappointed.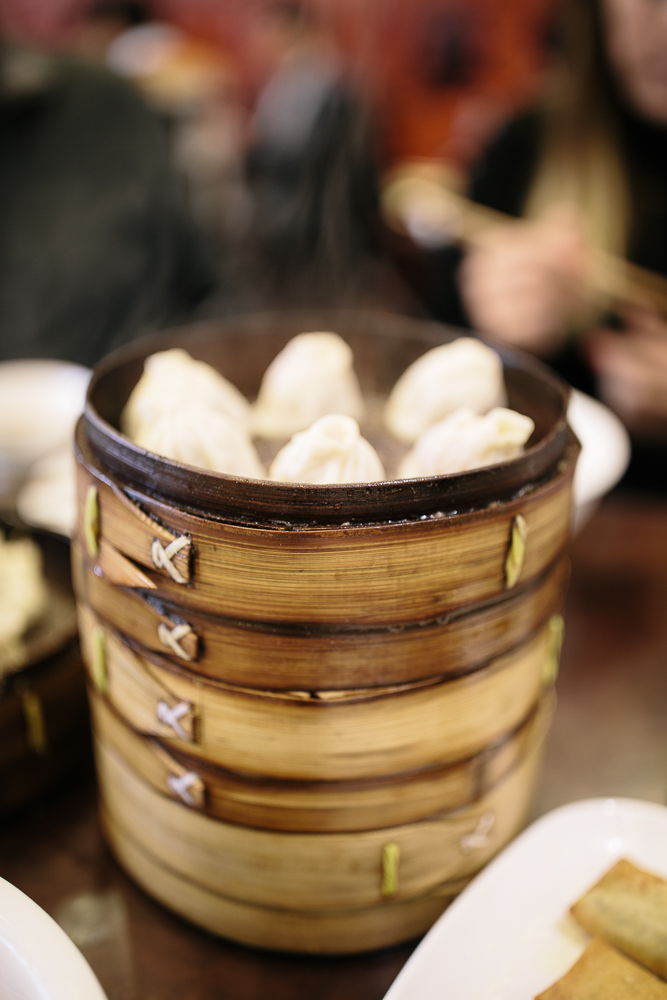 We woke up refreshed and ready to explore the city. We took cabs to the other side of the city to walk around People's Square and along the bund, the waterfront area in central Shanghai. My first researched food stop of the trip was De Xin Guan for lunch. While it took us awhile to find, we were all the more excited when we finally did. The restaurant is split into two floors and serves traditional Shanghainese food. Aaron's family is always a good sport and they let Aaron and I take control of the ordering. One of our favorite types of dumplings was xaio long bao, soup dumplings.
While De Xin Guan is primarily known for their big bowls of noodle soup, they are also known for their outstanding soup dumplings. Solidified broth and meat, usually pork, is wrapped in thin flour dough and steamed until the broth becomes scalding hot soup. Since the soup inside is hot you don't want to pop it into your mouth all at once and end up scalding the roof of your mouth with soup spilling everywhere. The proper way to eat it is to pick the dumpling up with chopsticks and hold it on your soup spoon. Then you take a small bit out of the side and suck the broth out before enjoying the rest of the dumpling. These dumplings were slightly sweeter than I was used to but delicious nonetheless. After sucking the soup out I like to dip mine in Chinkiang, a black vinegar commonly served as a condiment alongside soy sauce in China.
In addition to the xaio long bao we also ordered lifelong noodle soup or yi mein. They are a wheat-based noodle characterized by their yellow color and chewy texture due to the addition of soda water to the dough. The long noodles signify a long life to whomever is eating them. As we ate, we became embarrassing tourists who got tangled in the long noodles when trying to take them to our smaller bowls from the large serving bowl. Since there were six of us we asked for two bowls of the noodle soup in addition to our soup dumplings and a few vegetable dishes. The server told us told us we wouldn't need that much but we were sure we would eat it all thinking it would be small, personal size servings of soup we would all share. The soup came and the bowls were huge. They were large serving bowls filled with probably a pound of noodles each and delicious flavorful pork broth and scallions.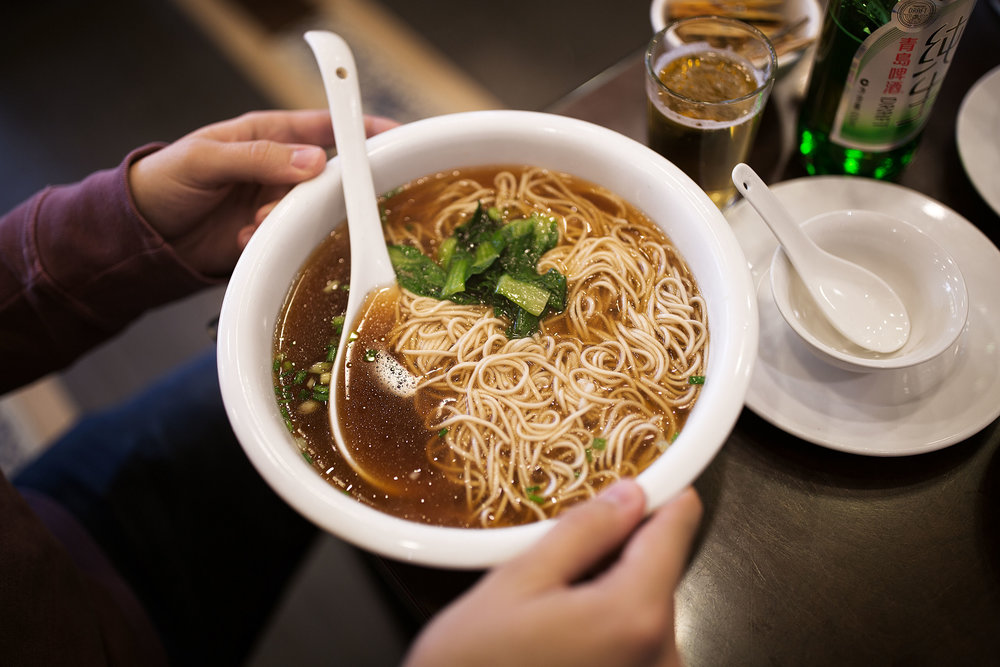 After lunch we headed to the fake market at AP plaza near the Shanghai Science and Technology museum. The market is down in the subway station below, a series of stalls where you can easily get lost in if you don't pay attention to where you are going. Aaron's sister Annie had become an expert at bartering while she had been studying in Shanghai and knew all the price points and even some of the sellers. At one point we came upon a closed toy store with the lights off with a man standing outside. Annie talked to him and after a minute he ushered us inside and pushed aside a bookcase and we were led through a closet door to a room filled with fake designer bags. I learned there are varying levels of quality when it comes to fake items. There are the bad fakes and the good fakes that are practically identical to the real items. While I didn't pick up any bags I did end up with some sunglasses and silk scarves.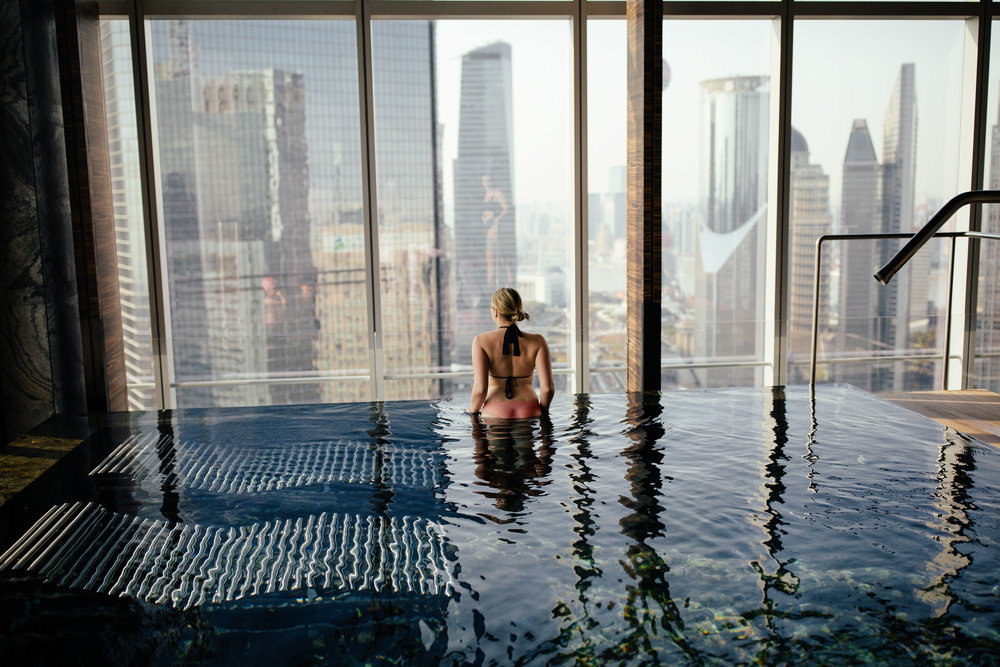 We booked a night river tour that took us along the Huangpu river, the longest river that runs through Shanghai. Before heading to the boat, the tour company took us to a halal restaurant for dinner. Our tour guide Vicky ordered us an assortment dishes to try such as seasoned lamb kebobs, but unfortunately after our big lunch we weren't as hungry as she was expecting. Still, it was great to try different dishes. While pork is a staple in Shanghai food, I had no idea that there was such a market for halal food in the city. After dinner the tour company took us to the boat. The views of the buildings along the bund at night were beautiful. Shanghai definitely has a love affair with brightly lit buildings.
Shanghai is one of the most densely populated cities in the world with around 24 million people. Because of the number of people it also happens have some of the worst traffic in the world (I didn't think anything could be worse than sitting in Los Angeles traffic.) Our tour guide informed us that because of this, the cost of getting a license plate for a car costs about $15,000 dollars, that's US dollars not Chinese yuan. Basically it costs as much as a car does just to get a license plate for your car.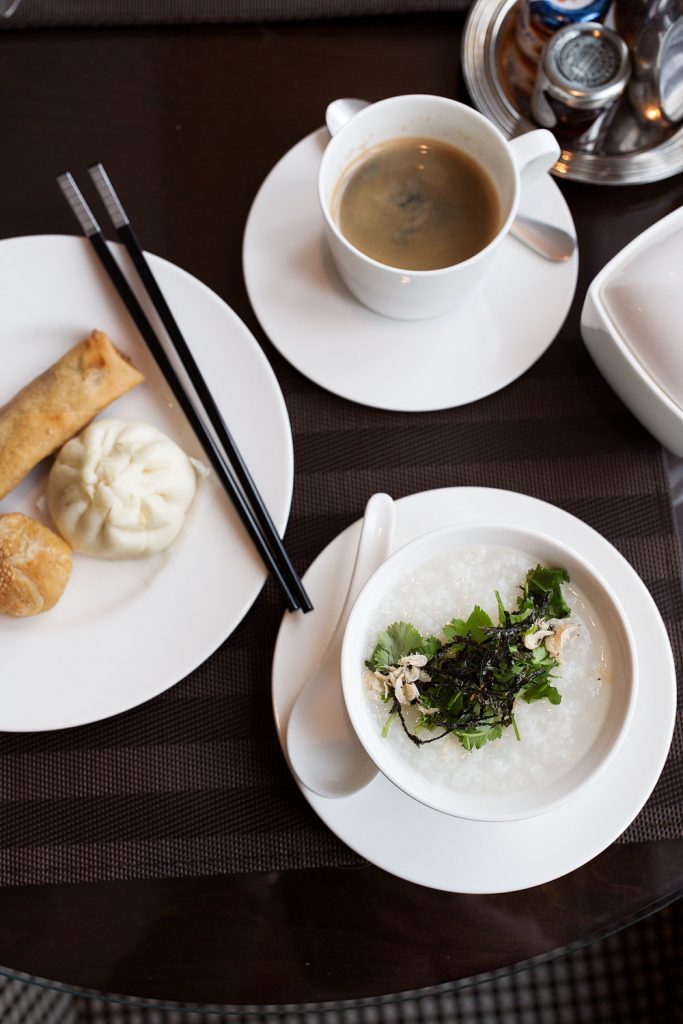 The next morning we ate breakfast at the hotel where I tried an assortment of traditional Chinese dim sum including a bowl of congee — rice porridge topped with cilantro, nori and dried shrimp, fluffy steamed BBQ pork buns and crisp black pepper beef spring rolls. I think the congee is an acquired taste but I could definitely get used to eating steamed buns for breakfast.
After breakfast we took cabs to the Yuyuan bazaar, a series of street markets filled with food vendors and merchandise next to the Yu Garden in Shanghai's old city. I was standing in line for a giant xaio long bao when a nice woman tapped me on my shoulder and informed me I was standing in the wrong place and would never get my food that way. She spoke great English and after she helped me order my food from the proper place we got to talking about how she was at the end of a cruise and was about to head back to her hometown of Hong Kong. It turns out the stand that I ordered from was famous and she had been told it was a "must-try". The giant soup dumpling seems a lot cooler than it was – it was delicious but also so hard to eat. You stick a straw in the side and suck the soup out then I clumsily tried to eat the skin and the pork center.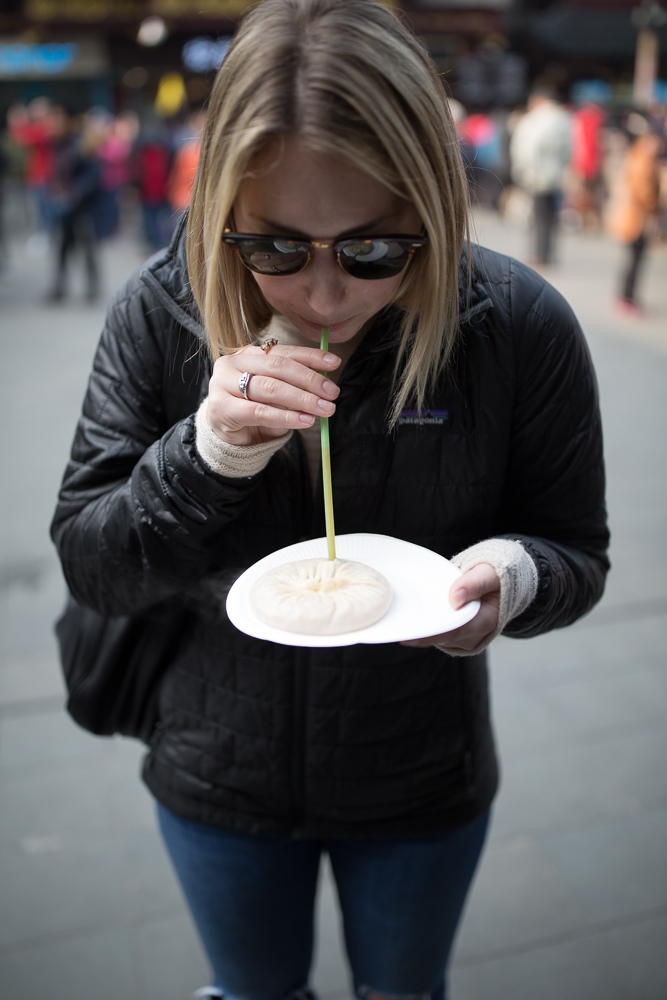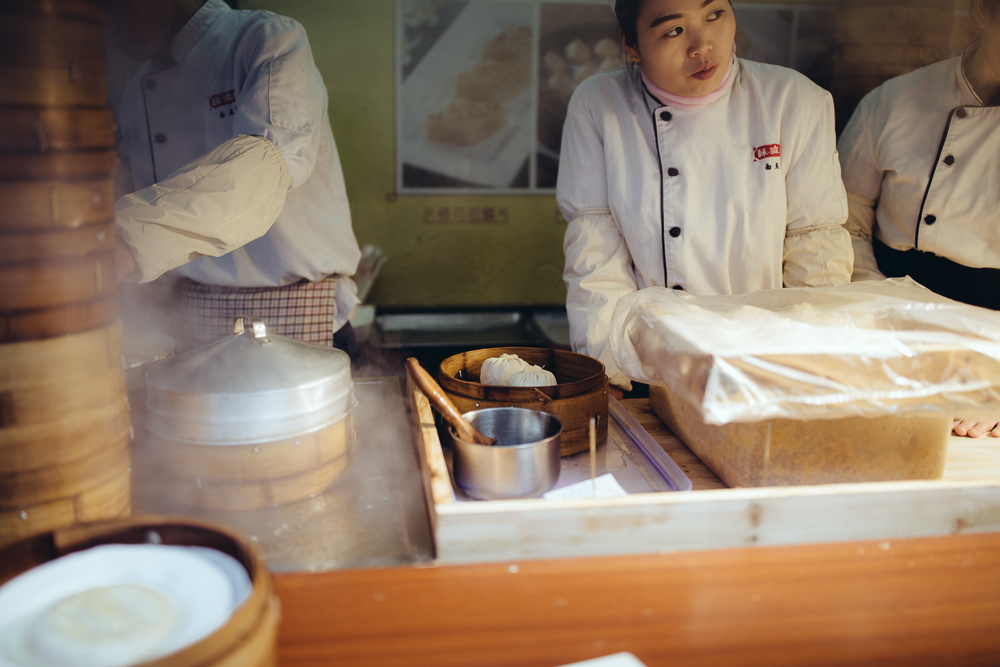 On to more dumplings. Din Tai Fung, a Taiwanese chain, has lost some of their credibility in more recent years due to it's global expansion, however, it is still highly regarded for the quality of its dumplings. I still haven't been to any of the locations in the US so I was eager to try the location in Shanghai. I loved the open-kitchen so I could watch the dumplings being made.
Along with multiple orders of their famed xaio long bao we also ordered marinated green beans with beef, spicy Sichuan wontons in chili oil, steamed pork buns and fried rice – light and garlicky fried rice served with eggs and scallions. It is not as heavy as American fried rice, which is often greasy and loaded with soy sauce. Finding ourselves in quite the food coma we stopped at a bar called Laundry for a few cocktails then went back to the hotel for a nap. I usually hate napping during a vacation, as I feel like I'm wasting precious time exploring but after the combination of day drinking and food, this time it was necessary.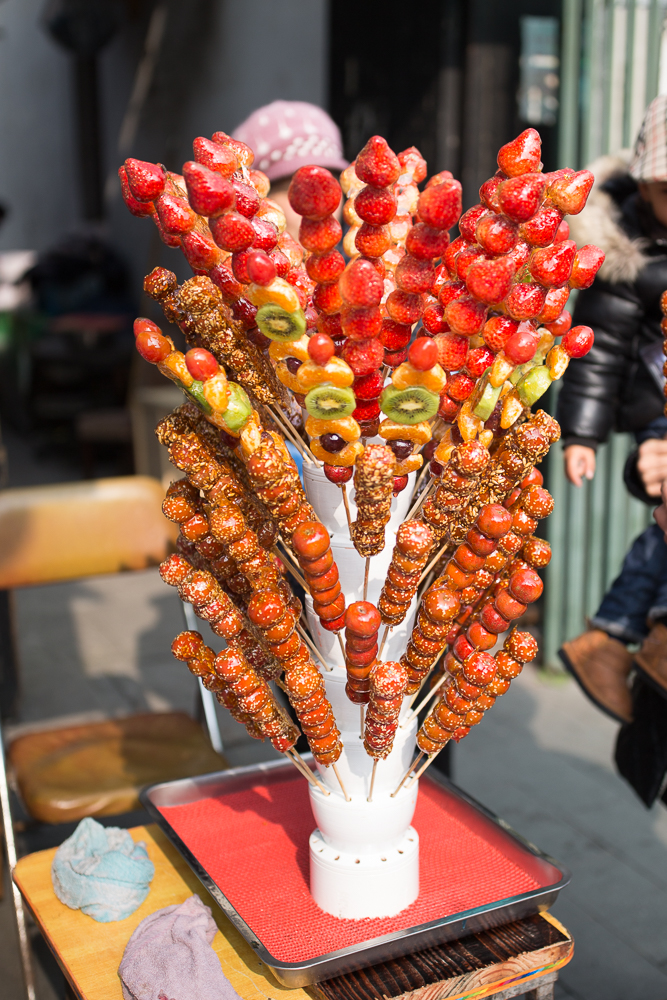 After dinner and drinks at Shanghai Brewery, hailing a cab proved to be much more difficult than expected. The struggle to get back to the hotel was exacerbated by the time of night in which we were attempting to hail a cab – the subway closes at 11pm. The majority of transactions in China have moved to being done on cell phones, which includes paying on WeChat and using apps like Uber for hailing cabs. Because of that there are now significantly less cabs on the road. It didn't work out well for tourists like us who didn't have a Chinese phone. After about an hour of failing to get a cab in the cold weather we were lucky to encounter a kind valet who ordered a car for us using his phone.
Following a day of more walking and lounging poolside we went to Tianzifang, an area in the French Concession comprised of little alleyways with preserved shikumen (stone door) architecture filled with shops, art, bars, food stands and expats. The majority of art galleries were converted from old factories. Since we knew we would be doing a food tour and would be trying some unique foods we decided to grab a few beers from a bar that consisted of several stools outside facing a window where the bartender took your drink. I wish they had more bars like that in the US.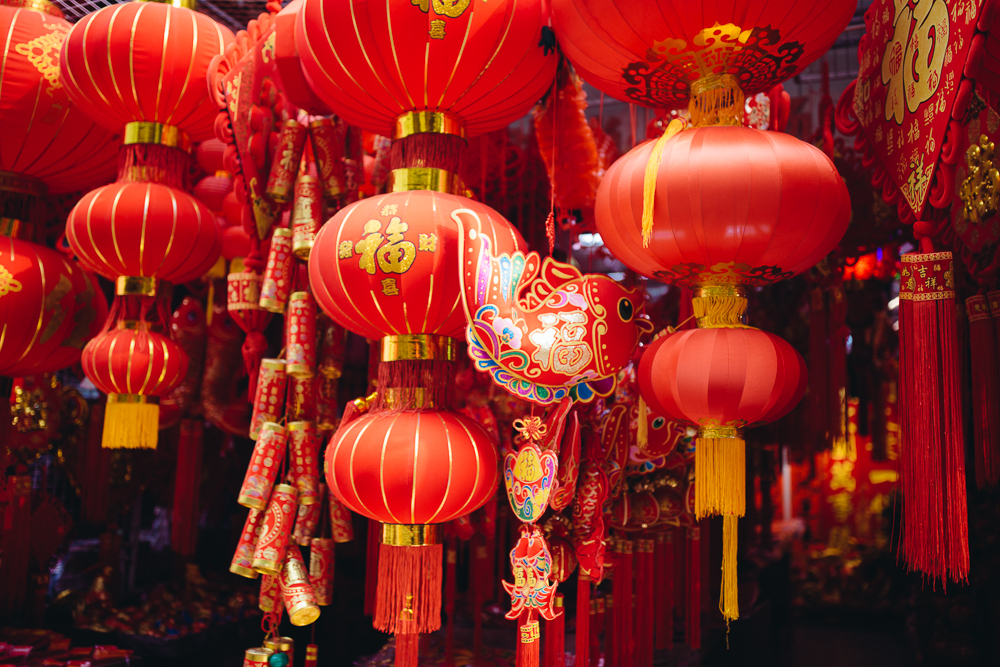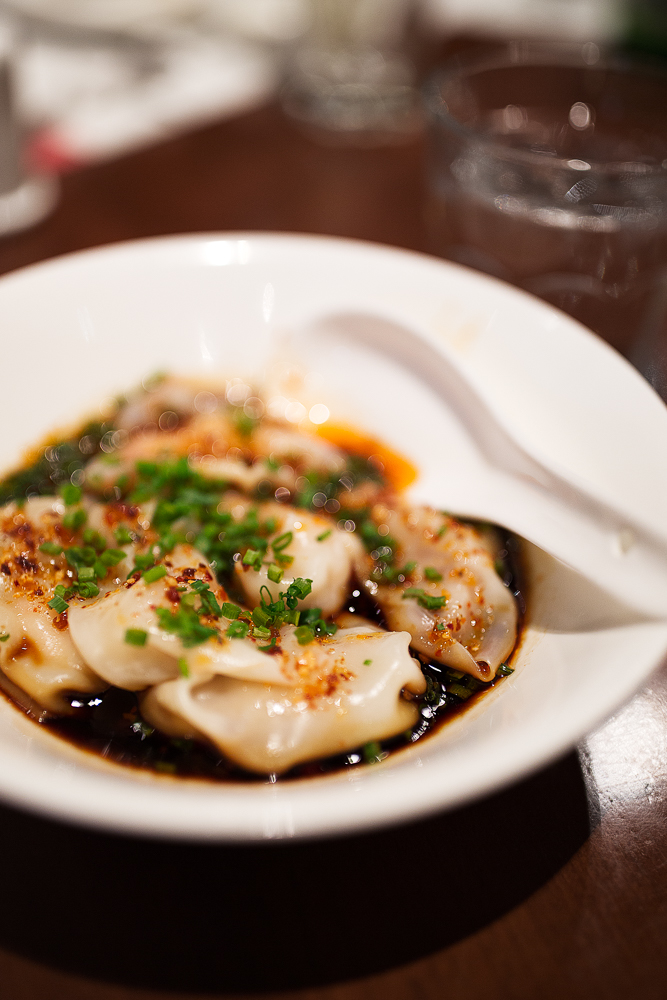 We booked a food tour through Untour Food Tours, which had been recommended to me by my Aunt and Uncle after they had travelled to Shanghai. My uncle is a chef and as you might expect he knows his stuff when it comes to food. When we showed up to the meeting place for the tour we found that one of the other families on the tour was from California as well – small world. Our polylingual tour guide was originally from Mexico but moved to Shanghai for his masters degree. He started giving food tours at night to pay for his wedding.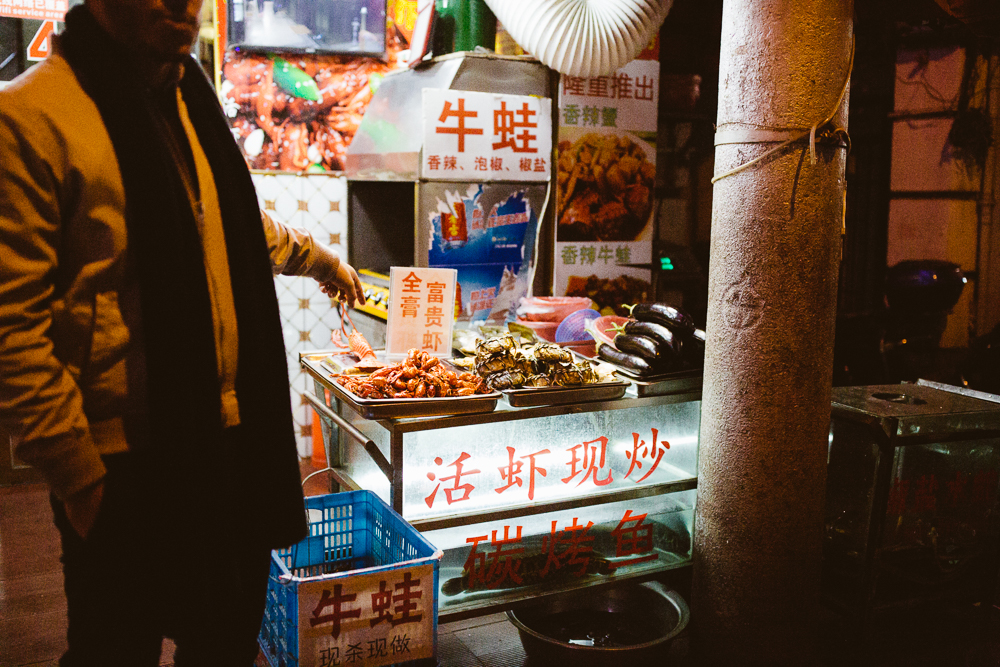 When we all gathered for the tour he informed us that we were going to be starting off a little crazy. We all looked around unsure of what he meant and then our eyes fell on the two tanks at this one stall on the street. One was filled with bullfrogs and the other water snakes. It turns out we would be eating snake (at least it was the better of the two options) and while that thought was sinking in one of the guys picked out one of the snakes from the tank and snipped its head off right there with a pair of scissors.
I am not that squeamish when it comes to these types of things but one of Aaron's sisters is a vegetarian, his other is a picky eater and his Mom would prefer her chicken not come with the bones intact (read: also a picky eater). I thought that the three of them were going to hail a cab right there, jump in and head straight back to the hotel. Luckily the moment passed quickly and the snakes were taken to be fried and then refried in a wok with scallions and pepper. When they came back out you couldn't even tell that it had been a snake, which made trying it way easier. It sounds cliché to say it but it honestly tasted like seasoned fried chicken. You just had to be careful to eat it off the tiny bones.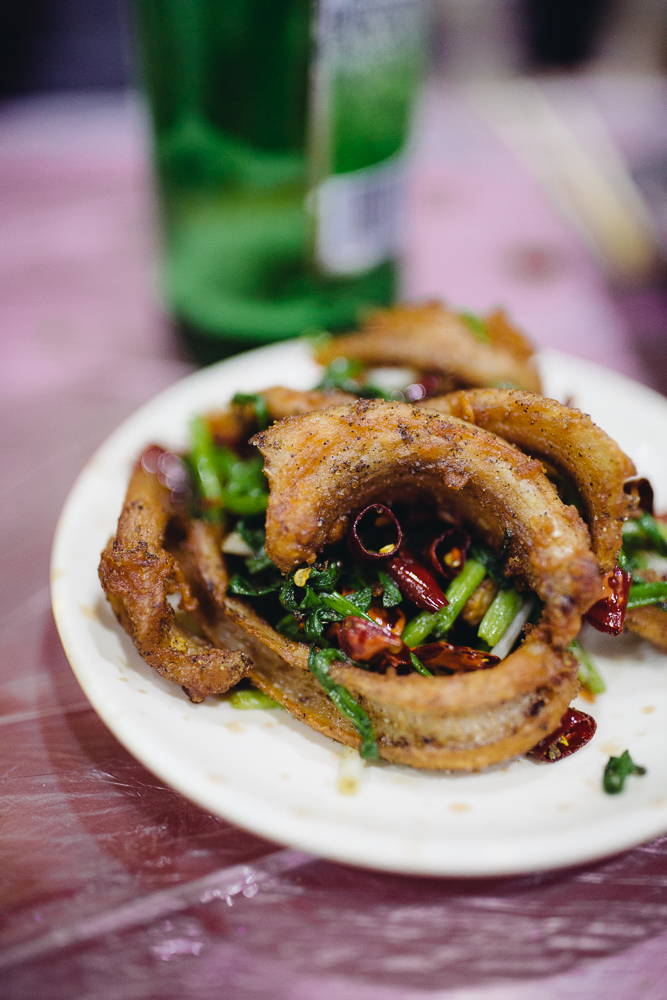 After the snake experience we were served crawfish cooked with Chinese five-spice blend: star anise, cloves, cinnamon Sichuan pepper and fennel seeds. Next on the food tour came sheng jian bao, pan-fried soup dumplings from a place called Bald Man's Dumplings. These soup dumplings were taken to the next level with slightly thicker and breadier dough to keep them from breaking when pan-fried in large cast-iron skillets. After came garlic scallops served still in the shell and roasted garlic eggplant, soft enough to scrape and serve on toasted bread (not traditional Chinese but still delicious).
Even if you weren't a fan of the food there was plenty of beer to go around. In China you aren't supposed to pour your own beer, one of the people next to you is supposed to do it and it is their duty to make sure your glass is always full. We took this to heart and ended up drinking quite a bit of beer as well as baijiu, Chinese grain alcohol with an alcohol volume of 40 – 60%. Production of the beverage goes back over a thousand years. You toast and say "ganbei" which translates to "drain the glass".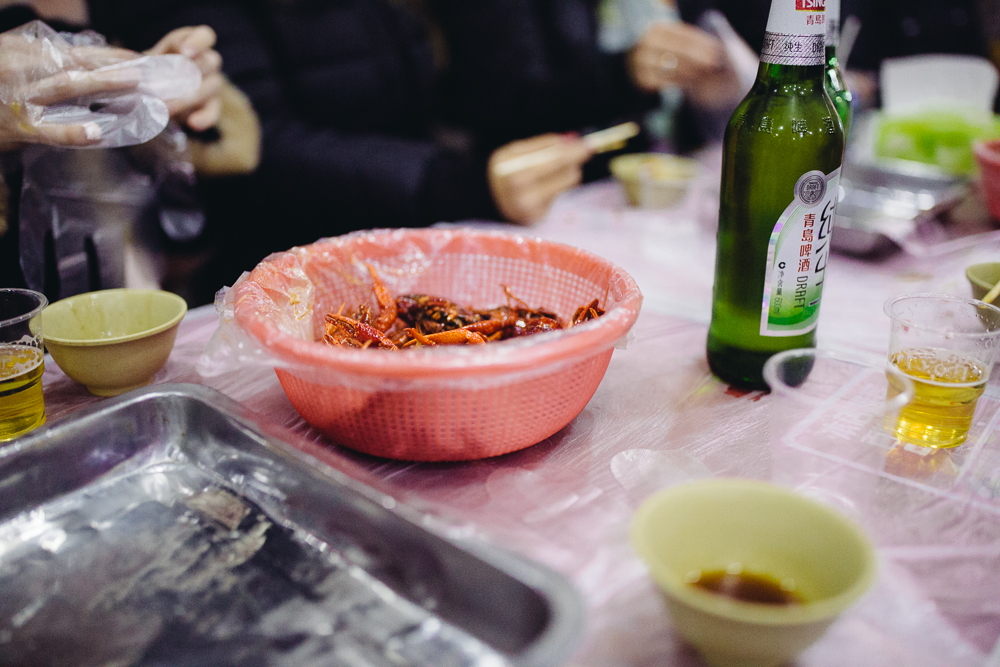 One of my other favorite dishes on the tour was a Sichuan dish, twice-cooked pork. In this entrée, pork belly is boiled to render some of the fat, then thinly sliced and wok-fried with mouth-numbing Sichuan peppercorns, the holy trinity of Chinese pastes: fermented black soy bean, sweet bean, and chili bean, along with scallions, garlic and ginger. Pork is so important to the Chinese diet that the mandarin character for home depicts a pig underneath a roof. The government even keeps storages of pork in order to keep the price of it down at all times.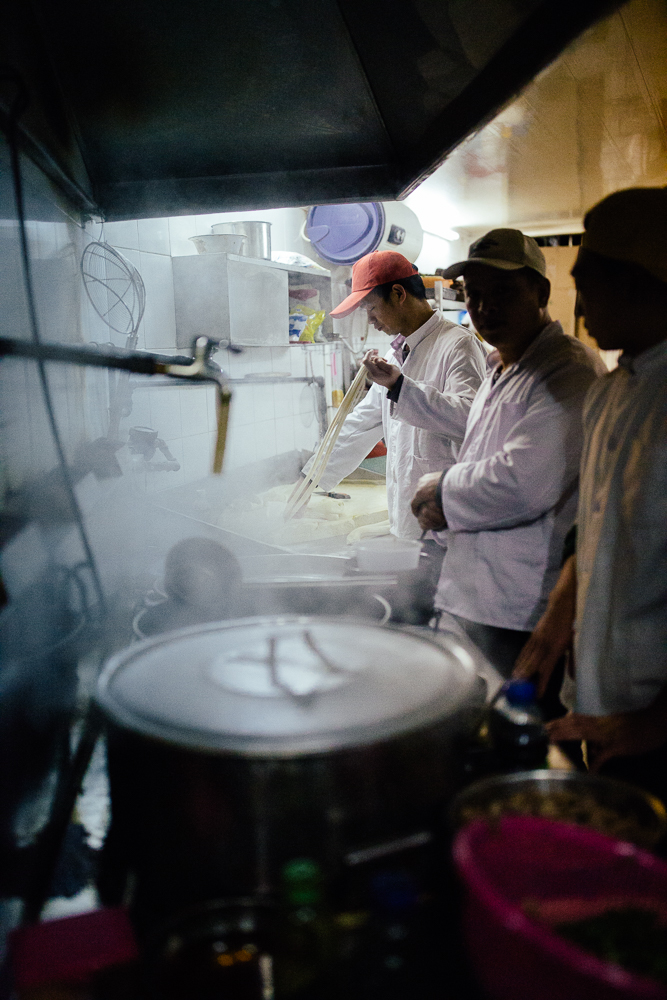 The next morning, New Year's Eve day, still full from all the food the night before, we woke up early for our flight to Hong Kong. I was reminded on the way that the official language is Cantonese, much different from Mandarin. Once we got to the hotel I wasn't feeling so great. A wave of sickness hit me like a bus and I laid down for a nap only to be woken up by the fireworks lighting up the city at midnight.
Feeling better the next morning we went out to explore the city. It can be difficult to figure out what areas to see and what to do when you don't have a local giving you the inside scoop and you don't speak the language. Our hotel was on Hong Kong Island and we took the subway to Kowloon, the northern part of Hong Kong, which was once a separate city and is known as the "grittier" side of Hong Kong. We set out in search of the "ladies market" a bazaar type area. After navigating the subway we first followed signs for food and ended up in a three-story market where you could purchase everything from chickens to candy.
Feeling a bit overwhelmed by our experience earlier in the day we decided to get a recommendation for dinner from the hotel concierge. She made us a reservation at a trendy spot called Sohofama, which boasted urban farming and "modern Chinese comfort" in central Hong Kong. We took the subway to the restaurant, one of the most efficient and clean subway systems I've travelled – there was even air conditioning. My favorite dish of the night was the black truffle xaio long bao, give me anything with truffle and I'm a happy girl but combine it with soup dumplings and I'm in heaven. They were so good I ended up adding another order. Along with the XLB (as the cool kids call it) we ordered pan fried pork buns, smoked tea duck, tiger prawns, Sichuan pork tam tam noodles with a peanut sauce and ended with a folded chocolate crêpe.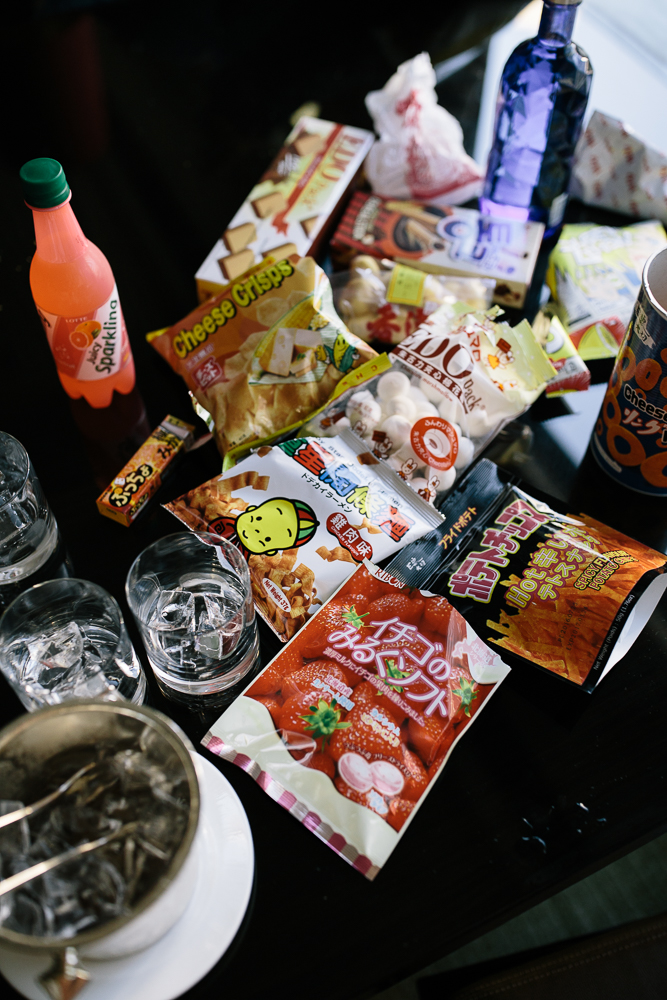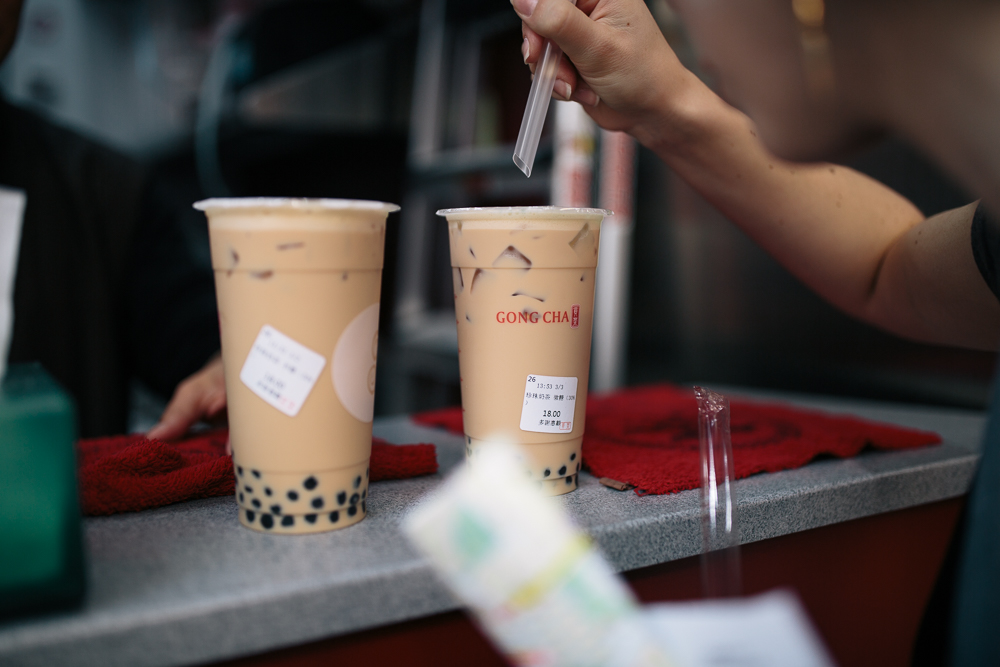 After dinner we were full but not ready to end the night so we set off in search of Lan Kwai Fong an area of central Hong Kong that is famous for its night scene. This area of Hong Kong reminded me of a cross between San Francisco and a European city with its small hilly winding roads. While walking around we stopped for a drink at an open-air bar. While we intended to only stay for one, it turned into several and then we were ready for bed.
I had seen photos of kitschy dessert dumplings on Instagram so I booked a reservation at Yum Cha, where you can get green dumplings that look like they are puking when they are poked. It may sound like a disgusting concept but they're matcha flavored and cute – see the photos below for reference. Since we ate our dessert before lunch we set out to find Lin Heung Kui, a traditional dim sum restaurant recommended to me by a friend. When you walk inside you take the elevator upstairs for seating. When we stepped out of the elevator it was completely overwhelming. You are greeted by a noisy buyant room packed with families at cafeteria tables of people under fluorescent lights. It looked like a long wait, and we didn't know enough Cantonese to figure it out amongst the rush so we opted to find another place for lunch. I did however buy some cookies from the bakery downstairs to try.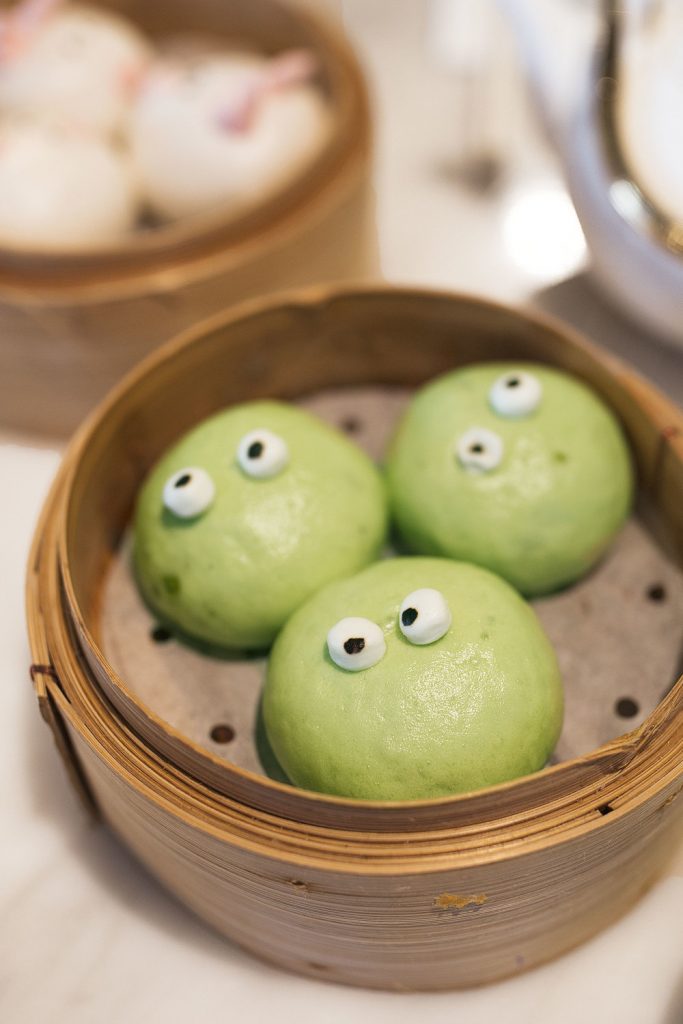 Our final night in Hong Kong was spent at Ozone, one of the tallest bars in the world, located on the 118th floor of the Ritz Carlton hotel. It doesn't just overlook the city, it towers over it, but there really wasn't a view of the skyline because we were so high above it.
Aaron and I already weren't looking forward to our flight home (no business class on the way home!) but it ended up being much more hectic and crazed than we expected. It was just the two of us on the flight back to LA and we showed up to the airport with plenty of time to spare but when we went to check in we found that because we hadn't checked in two days ahead of time and the flight was overbooked we were bumped from the flight. We spent the next few hours stalking the airline attendant at the desk hoping she would tell us we made it back on the flight. They wouldn't give us standby boarding passes that would allow us to clear security then wait at the gate so by the time they told us we made the flight we still had to clear security and customs. We ran all the way to the gate and luckily we made the flight, however sweaty we were. Just call it another story for the books.
There is something about being in a completely different culture that heightens the senses, makes one more aware of different tastes, of unusual sights and of strange sounds. And the experiences – snake for dinner, the language barrier, all the soup dumplings, the hidden toy store, the night market, the tall buildings lit up like Christmas trees among many others. Before leaving for China, my goal had been to learn about both Chinese culture and cuisine. By the end of our trip, I felt I had done both, however, I do need to take a brief hiatus from dumplings for a bit!