Brown Butter Scallops with Watermelon, Heirloom Tomato, Pickled Shallots & Serrano
These scallops are seared so that they are golden-brown and are served with a nutty brown butter sauce that contrasts with the fresh, sweet taste of watermelon and the spicy notes of the Serrano pepper. This bright dish requires minimal cooking – perfect for hot summer days when it is too hot to turn on the stove.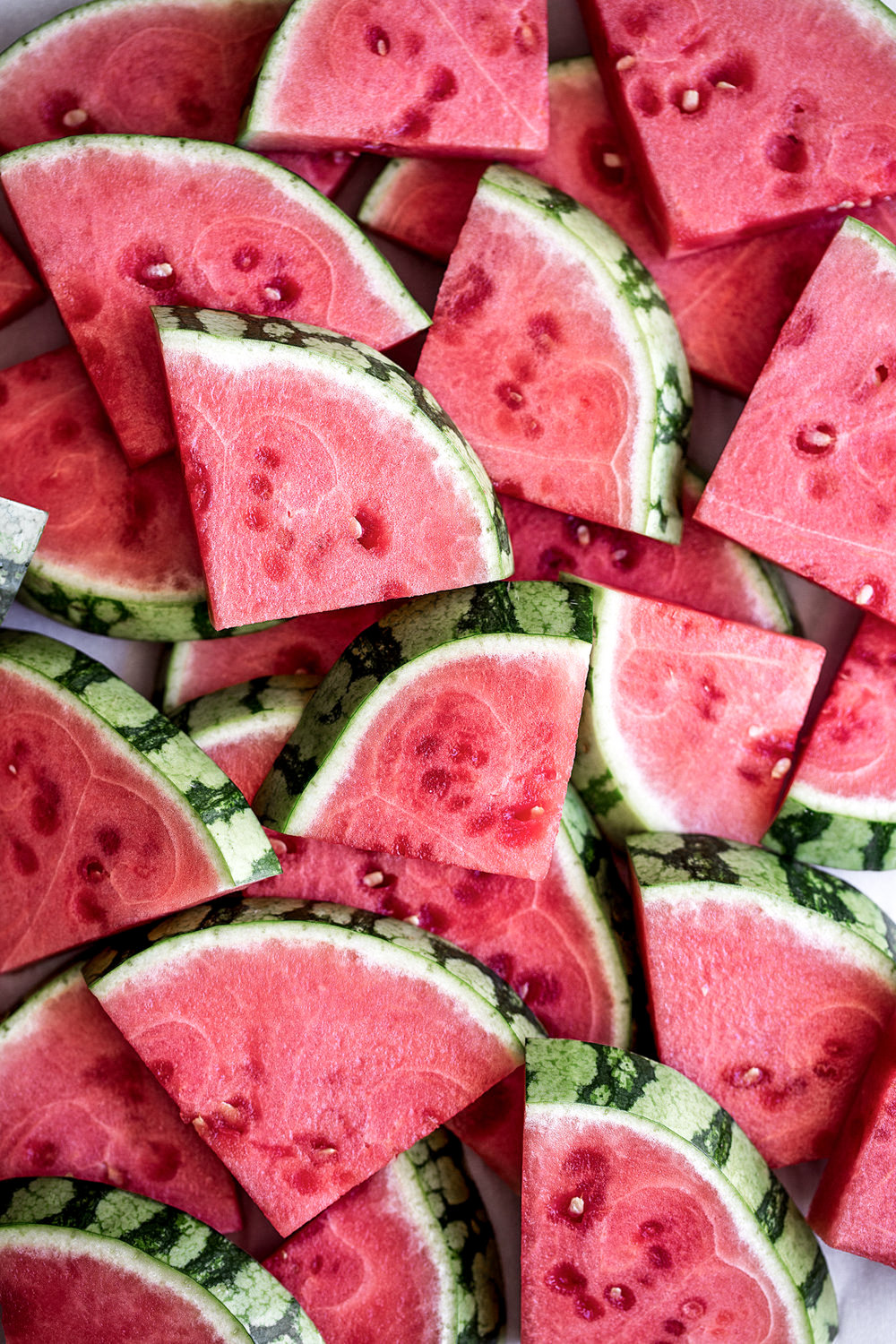 Ask for dry scallops at the seafood counter. "Dry-packed" means that they are without added preservatives. "Wet" scallops are those that have been soaked in a bath of phosphates to add water weight as well as to keep the scallops fresh longer.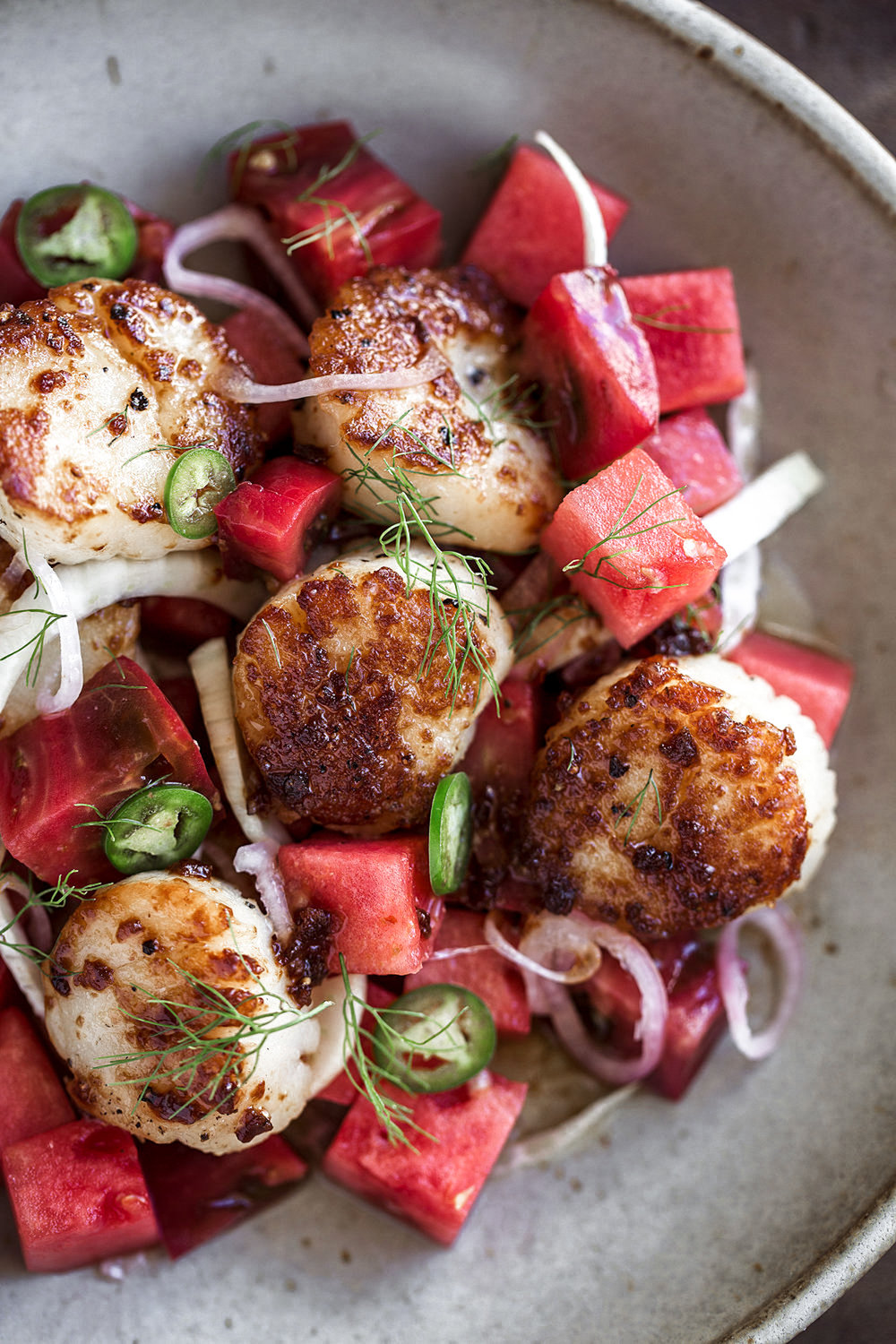 When they cook, the scallops absorb water leaving the wet scallops smaller and tougher. Unfortunately I seem to be allergic to the phosphates that are added to wet scallops, so I am always sure to avoid them. Since "dry-packed" scallops have less liquid to release during the cooking process, they end up with a beautiful caramelized sear.
If you've ever seen "diver scallops" advertised, they are scallops that are more labor intensive to retrieve. Rather than being harvested through dredging – which can be harmful to the environment – diver scallops are gathered by actual divers. Because they require more work they are more expensive.
Another reason scallops are great – they require little cleaning before cooking. Just rinse and be sure to remove the side muscle, the rectangular tag of muscle on the side of the scallop that easily peels off. The muscle can technically be eaten but it is a lot tougher than the rest of the meat.
Brown Butter Scallops with Watermelon, Heirloom Tomato, Pickled Shallots & Serrano
For the pickled shallots:
¼

cup

apple cider vinegar

1

tablespoon

granulated sugar

1

tablespoon

kosher salt

1

medium shallot,

thinly sliced
For the scallops:
¾

pound

"dry packed" sea scallops,

side muscle removed

Kosher salt,

as needed

Freshly ground black pepper,

as needed

1

tablespoon

extra-virgin olive oil

3

tablespoons

unsalted butter

2

teaspoons

freshly squeezed lemon juice
For the pickled shallots:
In a small saucepan bring the vinegar, sugar, salt and ¼ cup water to a boil. Add the sliced shallots to a small bowl and pour the vinegar mixture over the top. Let sit for at least 15 minutes. Refrigerate in a sealed container for up to two weeks.
For the scallops:
Pat the scallops dry with a paper towel then season on both sides with salt and pepper. Heat a large sauté pan over medium heat, add the oil and heat through. Cook until the scallops are deep golden brown on the bottom, about 3 minutes.

Turn the scallops then add the butter to the pan and continue cooking, spooning the butter over the top of the scallops until they are cooked through and the butter begins to brown and smells nutty, about an additional 3 minutes. Add lemon juice.
For serving:
Plate watermelon, heirloom tomatoes, 2 tablespoons of the pickled shallots, serrano, and fennel on a small platter. Arrange scallops on top and pour remaining brown butter over the top. Garnish with fennel fronds and serve immediately.
DID YOU MAKE THIS?
TAG ME ON INSTAGRAM TO BE FEATURED ON MY STORIES! @cookingwithcocktailrings