This post is sponsored by Bake from Scratch magazine, Williams Sonoma & Tourism Ireland.
This recipe is inspired by my recent trip to Ireland, and I'm so excited to share it. As I sat down to dinner in the baby blue dining room of Castlemartyr in Cork, I immediately spotted slices of an interesting-looking tomato bread and snatched them before anyone else could. Extreme? Maybe. Worth it? Absolutely. And since I felt that way, it occurred to me that if these rolls came in a pre-dinner assorted bread basket, everyone one would be fighting over them. Which is exactly why this recipe came about. These zesty dinner rolls topped with Irish Cheddar and slathered with plenty of shallot butter pair well with an Irish whiskey cocktail or draft Guinness stout before settling into a hearty meal. Just remember to save room for the meal!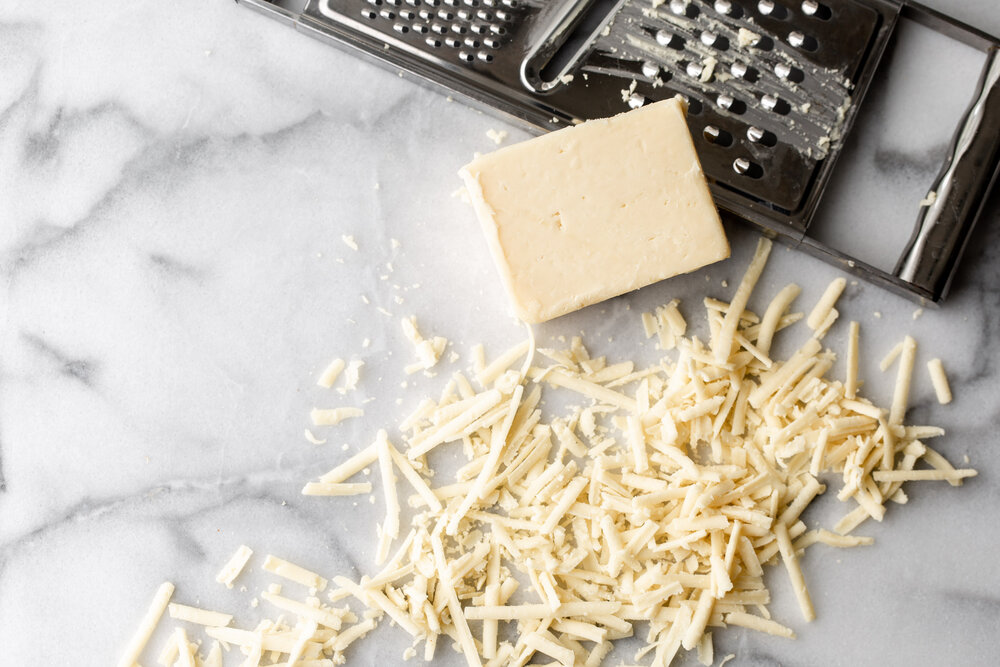 There is something special about Irish butter. I couldn't get enough of it. This butter takes almost any dish to the next level as it is whipped with crispy, flavorful fried shallots. Since I got back from Ireland, I've been spreading it on just about everything! When frying shallots, I like to reserve the flavored oil for another use.
At Ballymaloe Cookery School in Ireland, we learned the proper form for making Irish soda bread, forming your hand into a claw to slowly bring the flour into the mixture, much like you would with a pasta dough, enabling a light and airy dough. In this recipe, I used this form to create Irish soda bread dinner rolls studded with chopped sun-dried tomato pieces and just enough ground red pepper for a bit of a kick and, finally, topped with Cheddar cheese. Enter to win your own customized Irish experience here!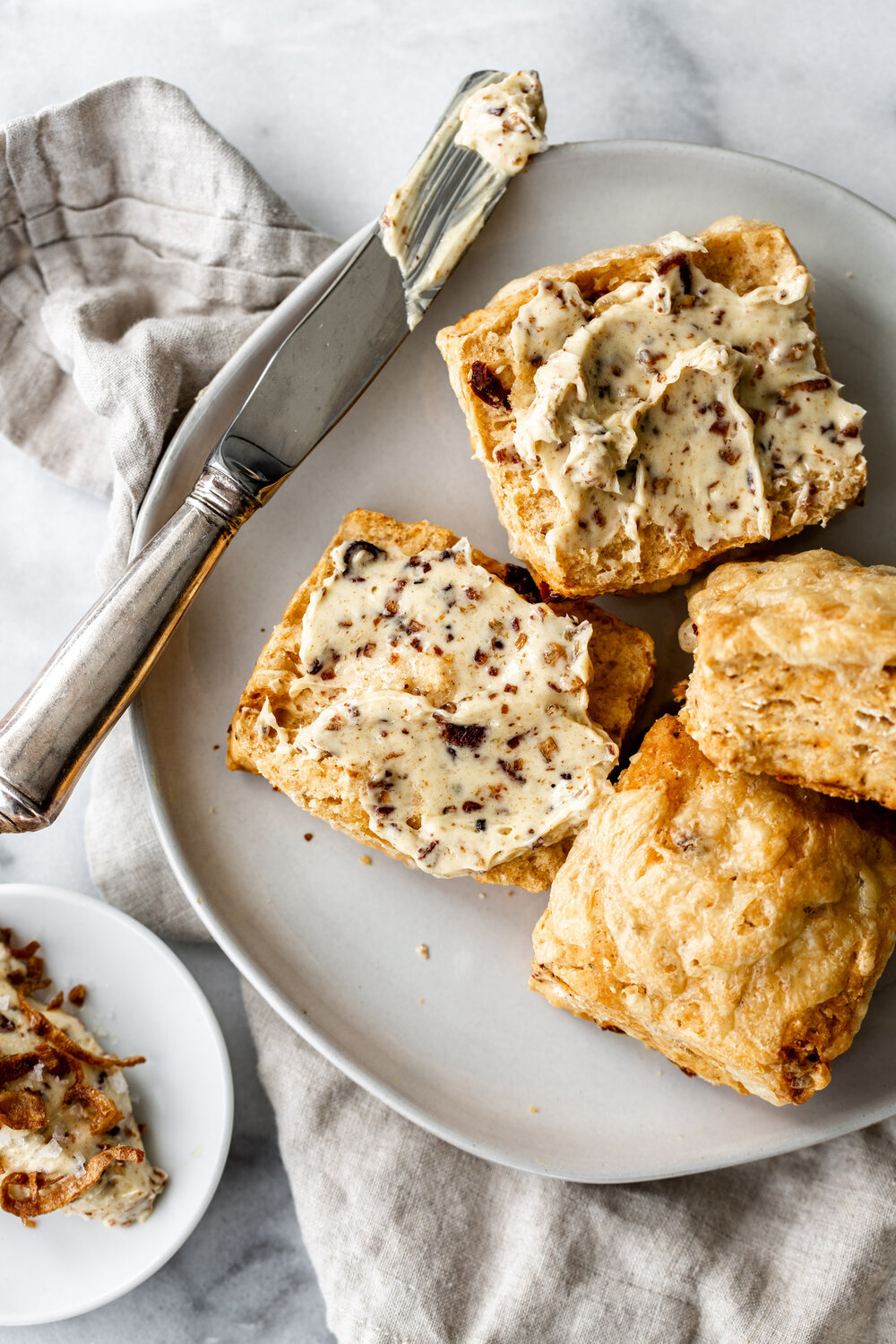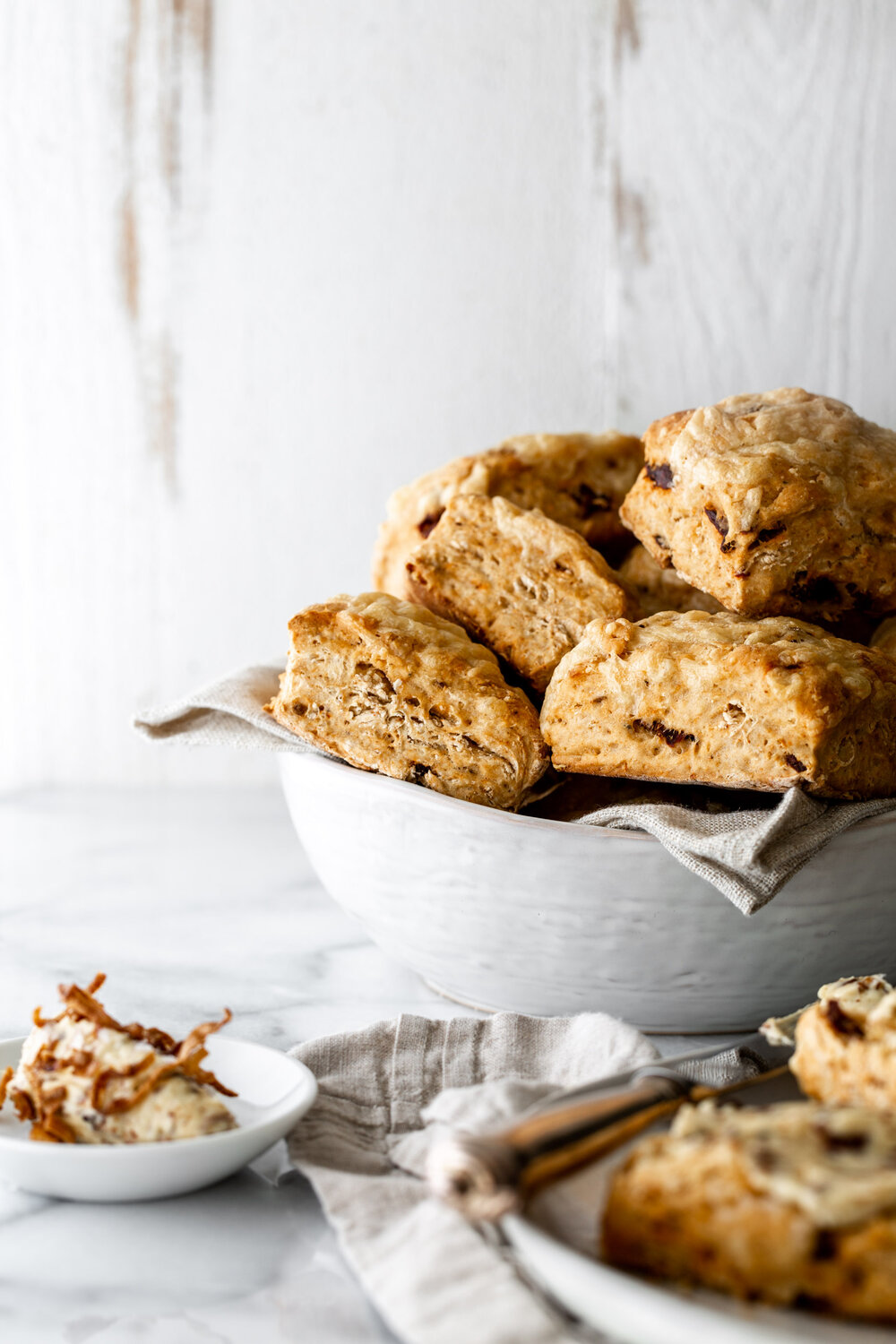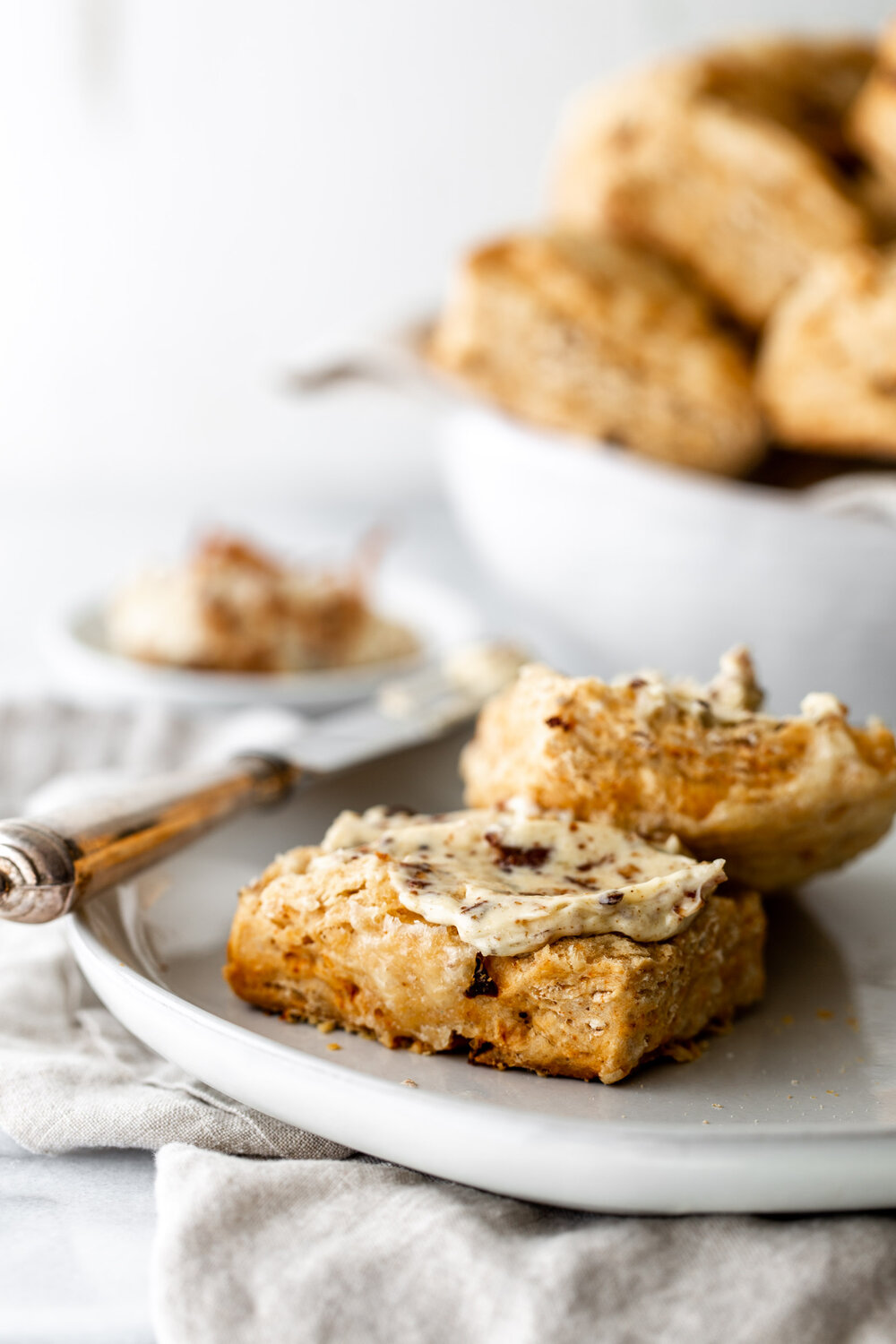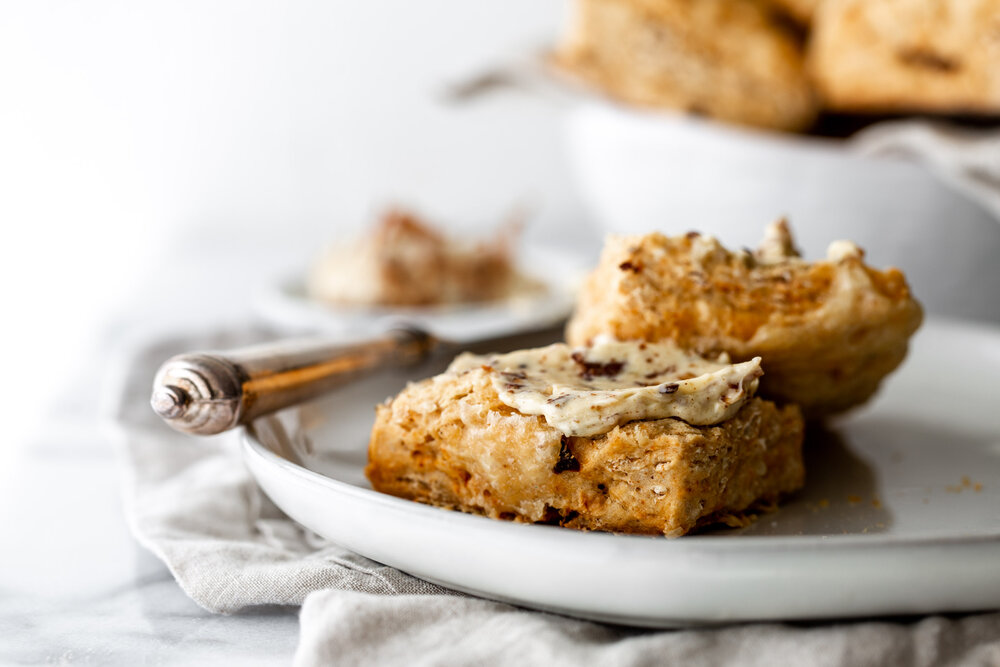 TOMATO IRISH SODA BREAD DINNER ROLLS WITH FRIED SHALLOT BUTTER
3½

cups

(438 grams) all-purpose flour

1

teaspoon

(5 grams) baking soda

1

teaspoon

(3 grams) kosher salt

1

teaspoon

(2 grams) paprika

½

teaspoon

ground red pepper

¼

cup

(40 grams) diced oil-packed sun-dried tomatoes

1½

cups

(360 grams) buttermilk

½

cup

(52 grams) shredded sharp Irish Cheddar cheese

Vegetable oil,

for frying

2

medium shallots

75 grams, thinly sliced

10

tablespoons

(140 grams) unsalted butter, softened

1

teaspoon

(3 grams) flaked sea salt
Preheat oven to 400°F (200°C).

In a large bowl, whisk together flour, baking soda, kosher salt, paprika, and red pepper until combined.

In a medium bowl, stir together buttermilk and tomatoes. Make a well in center of mixture.

Add buttermilk mixture to dry ingredients. With one hand holding bowl, use other hand to slowly fold flour mixture from sides of bowl into buttermilk mixture until dough is soft but not too wet.

Turn out dough onto a lightly floured surface. Using your hands, shape into an 8-inch square (1-inch thickness). Sprinkle with cheese. Using a sharp knife, cut into 9 squares, and place 1 inch apart on a baking sheet.

Bake until golden brown, about 18 minutes. Remove from pan, and let cool on a wire rack.

In a 10-inch cast-iron skillet, pour oil to a depth of ½ inch, and heat over medium heat until an instant-read thermometer registers 350°F (180°C). Add shallots, and fry in batches, if necessary, stirring frequently, until deep golden brown and crispy, 8 to 10 minutes, reducing heat if they brown too quickly. Remove shallots using tongs, and let drain on a paper towel-lined plate for 5 minutes.

In the work bowl of a food processor, place shallots, butter, and sea salt; pulse just until combined, and transfer to a small bowl. Serve at room temperature with warm rolls.
DID YOU MAKE THIS?
TAG ME ON INSTAGRAM TO BE FEATURED ON MY STORIES! @cookingwithcocktailrings