The pairing of tomatoes with mozzarella is a classic one, the base of delicious caprese salads and toasts. Add prosciutto, and you've hit the Italian trifecta! Crisping up the prosciutto is what takes the salad to the next level. I love the pairing of peaches and tomatoes in this twist on a peach caprese salad, the sweet juices of both pair together nicely, especially when they mix with the herby basil vinaigrette.
This mix of fresh summer seasonal ingredients is great for outdoor entertaining. With warm temperatures I find myself making quick salads with limited oven usage to keep cool. I like to lay out all of the ingredients over the arugula in a serving bowl or platter with the dressing drizzled over the top. I find this a more aesthetically pleasing way of serving the salad, putting the orange and pink colors of the peaches and deep red colors of the tomatoes on full display. If plating dishes ahead of serving, toss the salad with the dressing beforehand so the ingredients are evenly coated and distributed.
Peach and Tomato Mozzarella Salad with Basil Vinaigrette and Crispy Prosciutto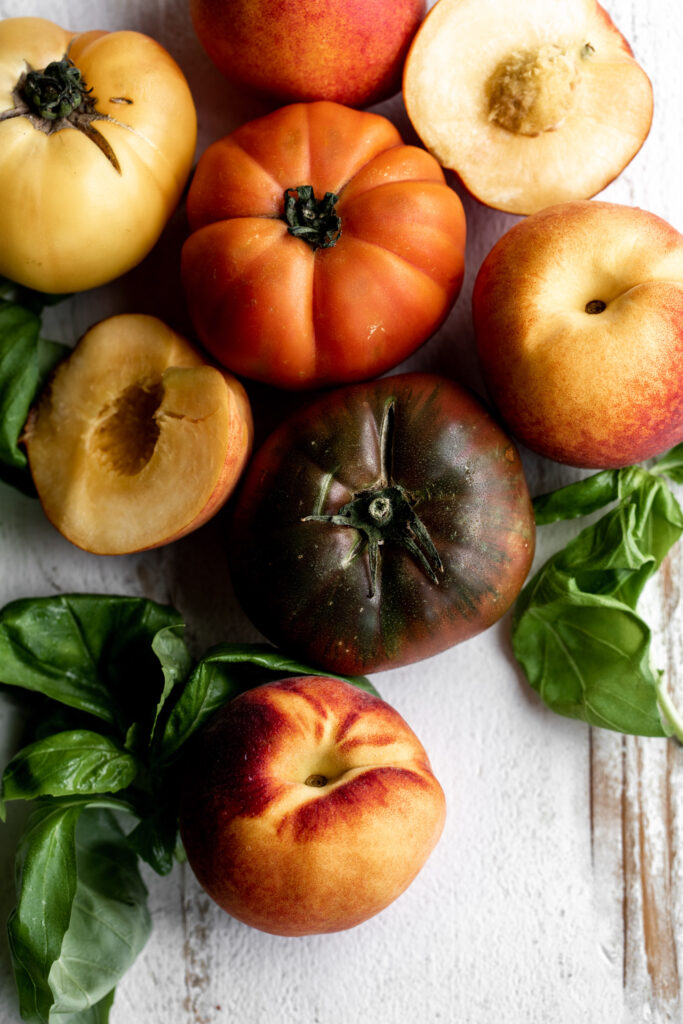 Ingredients
Prosciutto
Strips of thinly sliced prosciutto broiled until crispy on both side adds a salty and crunchy element to this salad. What is prosciutto exactly? It's made by curing the whole hind leg of a pig.
Arugula
This green has a distinct, peppery flavor that pairs well with the creamy mozzarella. Substitute with butter lettuce or romaine in this recipe if desired.
Peaches
Look for peaches that are both vibrant in color and firm to the touch but still "give" just a bit. Peaches ripen and sweeten over time after being picked so opt to pick firmer peaches if shopping a few days in advance. They are in season from June to late August so stock up while they're at their peak.
Tomatoes
I like to go for a combination of heirloom tomatoes and cherry tomatoes for a visually appealing contrast though you can use just one or the other. With their superior flavor, heirloom tomatoes come from seeds passed down and are typically at least 50 years old. Look for a variety of colors. If you like heirloom tomatoes check out these other recipes here.
Mozzarella
Tear fresh mozzarella into pieces for a rustic look on this salad or chop into pieces or slices if desired. For a creamier twist, swap burrata for the mozzarella.
Basil
Basil is used both in the vinaigrette and to garnish the summery salad. The herb classically pairs well with both tomatoes and peaches.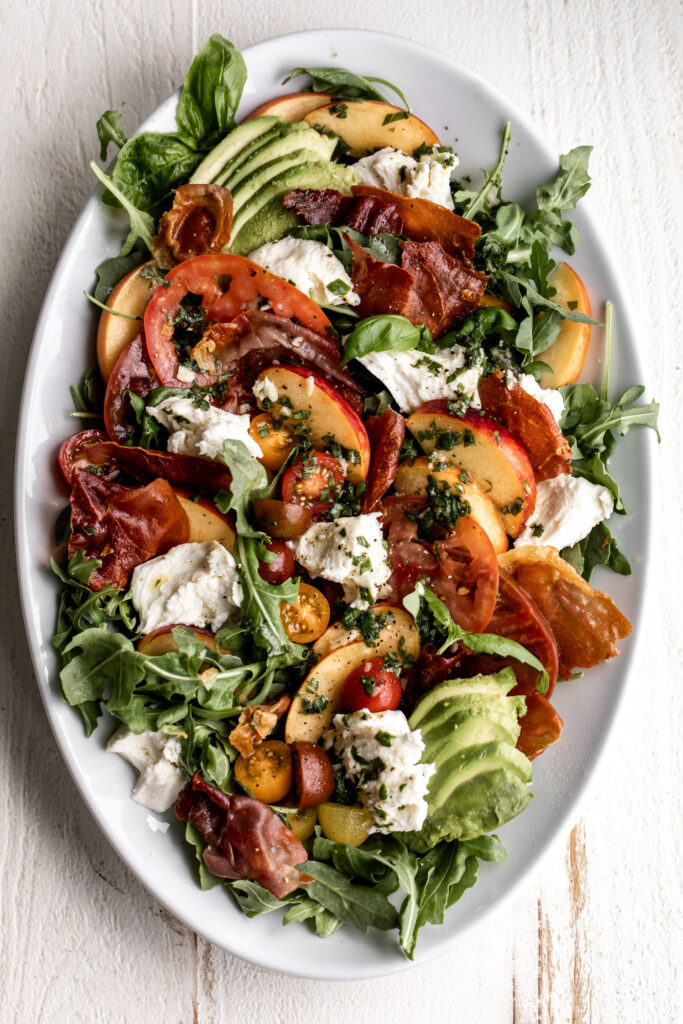 How to Make Peach and Tomato Salad
Step 1
Add the vinaigrette ingredients together and whisk to combine.
Step 2
Next, broil the prosciutto until crispy.
Step 3
Add the arugula to a bowl or platter and top with the peaches, tomatoes, avocado and mozzarella.
Step 4
Drizzle the salad with the basil vinaigrette then top with crispy prosciutto and basil and serve.
Tips for this Salad
Omit the arugula for a simple peach caprese salad.
Peach salad recipes are perfect for summer – serve with a simple seared or grilled steak entrée or roasted salmon.
To prep the salad ahead of time – slice the peaches and marinate it in the dressing until ready to plate.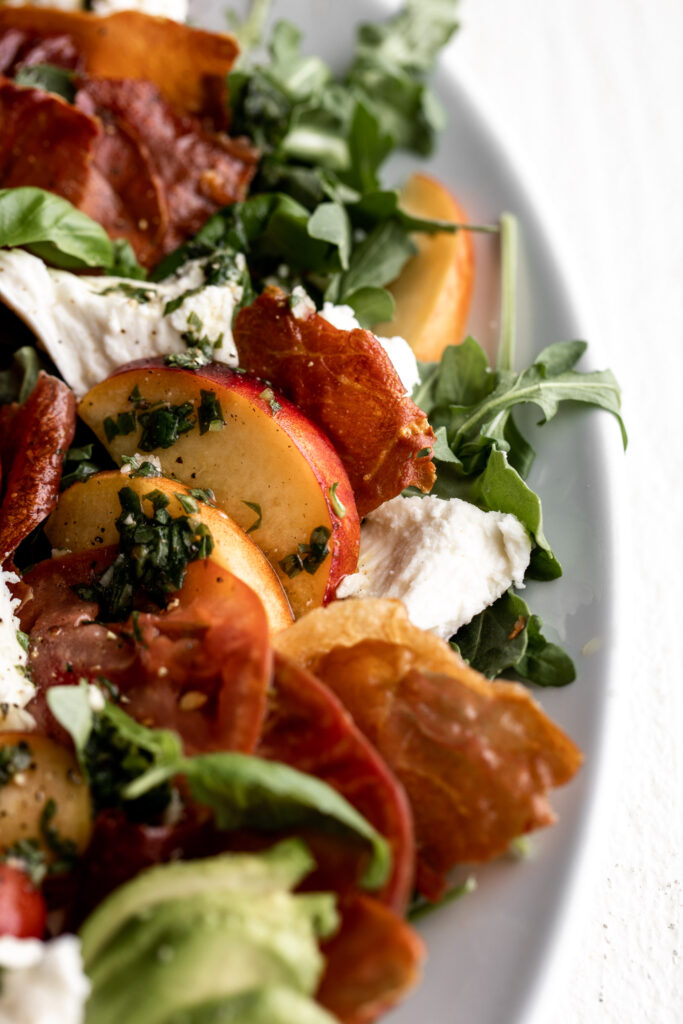 Peach and Tomato Mozzarella Salad with Crispy Prosciutto
For the basil vinaigrette:
For the basil vinaigrette:
In a small bowl whisk together the olive oil, chopped basil, lemon juice, and garlic. Season to taste with salt and pepper and set aside until ready to use.

The dressing can be made up to 2 days in advance and stored refrigerated in an airtight container until ready to use.
For assembly:
Heat oven to broil on high. Lay the slices of prosciutto out on a baking sheet in a single layer. Broil until the prosciutto is golden, about 1 to 2 minutes.

Flip the prosciutto with tongs and continue to broil until crispy, about an additional minute. Be sure to check on the prosciutto frequently so it does not burn.

Add the arugula to a large salad bowl or platter. Top with the slices of peaches, tomatoes, avocado and mozzarella.

Drizzle with the dressing and top with crispy prosciutto. Garnish with basil and serve.
DID YOU MAKE THIS?
TAG ME ON INSTAGRAM TO BE FEATURED ON MY STORIES! @cookingwithcocktailrings