Lobster & Truffle Mac & Cheese
This creamy mac and cheese studded with tender pieces of cooked lobster meat, chives and topped with a garnish of shaved truffle makes for an extravagant and luxurious meal fit for a special occasion. Paired with a chocolate souffle or crème brûlée this is my ideal Valentine's Day meal. The best pasta types for mac and cheese are those that can hold the creamy sauce well. In this recipe I use garganelli (square noodles rolled into a cylindrical shape), but shells, gemelli (spiral tubes), fusilli (spirals), penne (ribbed tubes) and farfalle (bowties) are also good options.
From the lobster mac and cheese served at the Capital Grille in DC to the Blue Plate Oysterette in Santa Monica, I've had a lot of good variations on lobster mac and cheese. This version takes elements of my favorites with my own twist – a rich and creamy base mixed with some chives, plenty of lobster meat (no skimping) a touch of truffle oil and the unique flavor of shaved truffles. Many people question why truffles are so expensive. Their extravagant cost comes from the price of sourcing them.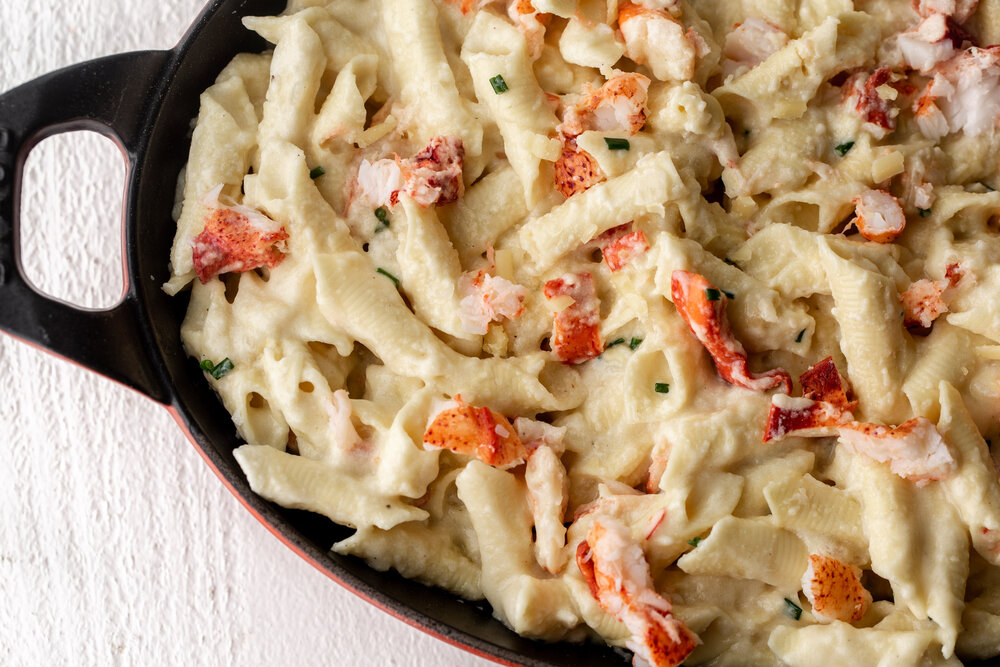 Truffles cannot be grown; they must be foraged (like ramps or fiddleheads) and pigs are typically used to find them. The truffle oil added to the recipe is meant to enhance the truffle in the recipe. The oil delivers the taste and smell of real truffles derived from truffle "essence".
To skip the extra effort of cooking lobster tails, I opt to pick up pre-cooked lobster meat from my local seafood market. I like to include both tail and claw meat for the presentation, but if needed you can pick up four Maine lobster tails (should be enough to equate to about one pound of meat) and either steam or boil them to cook the meat.
To cook lobster tails you simply bring a large pot of water to a boil and add the raw tails and cook for about until the meat is no longer opaque, about 8 to 12 minutes then remove from the pot and let cool then cut the underside of the shell to remove the meat.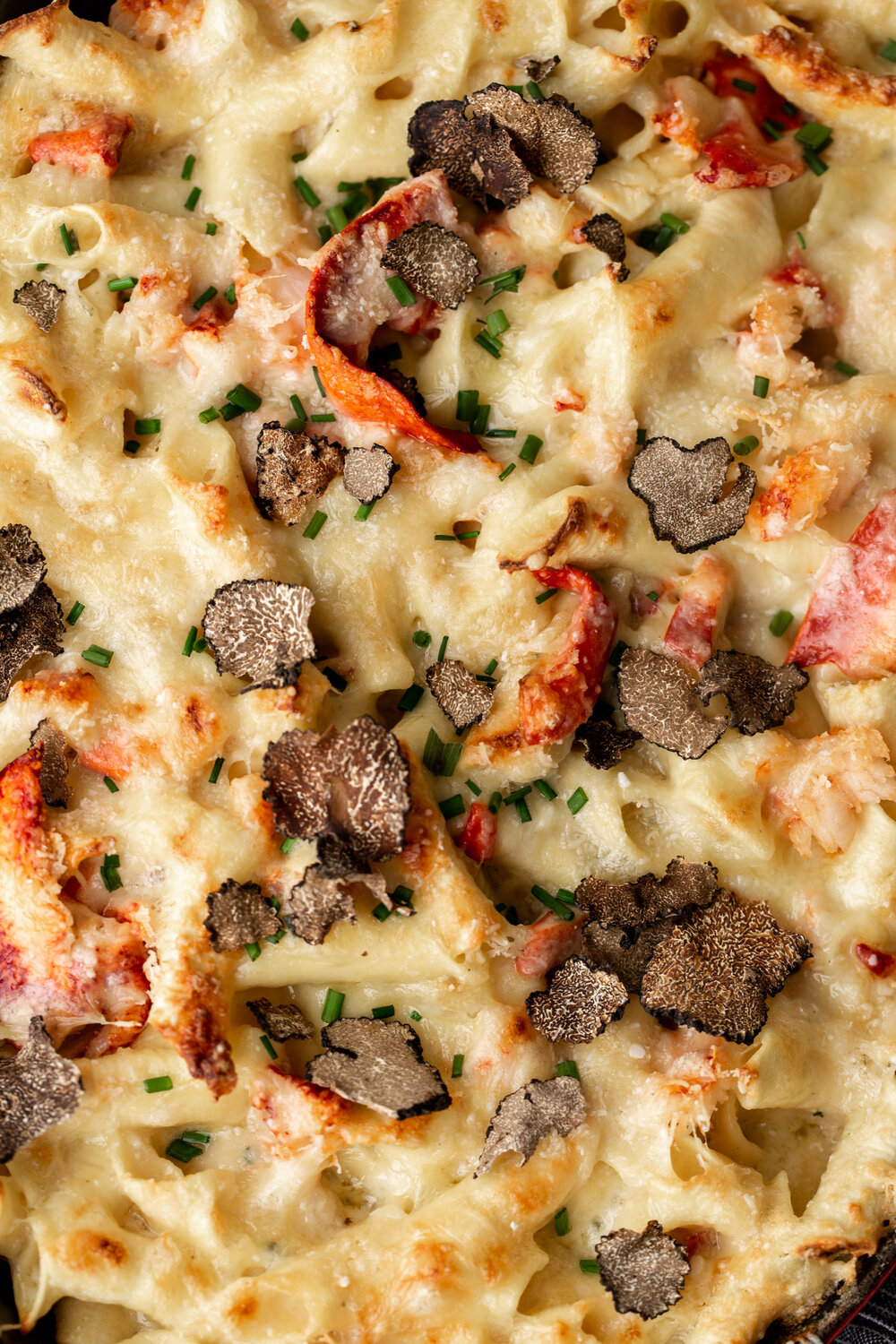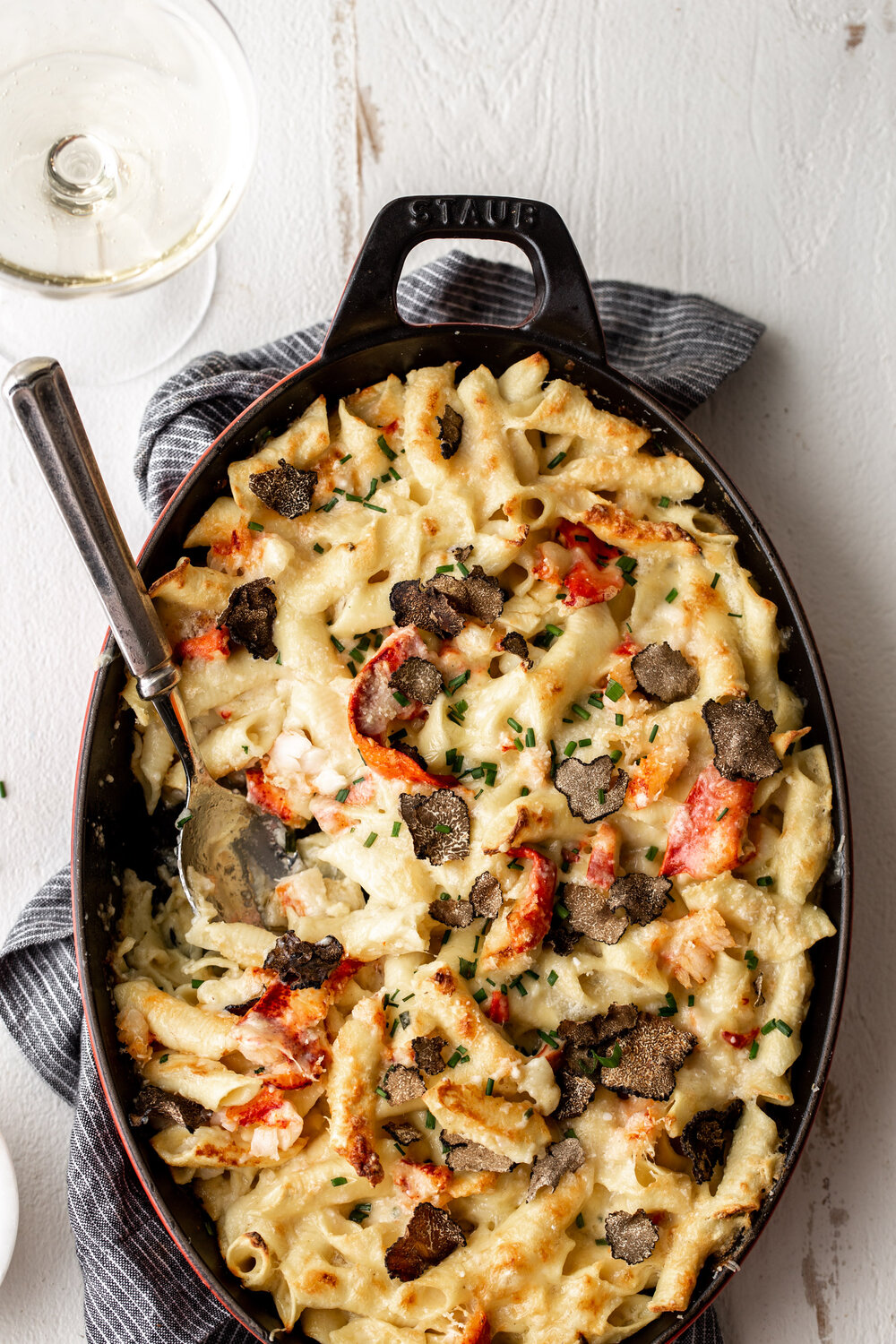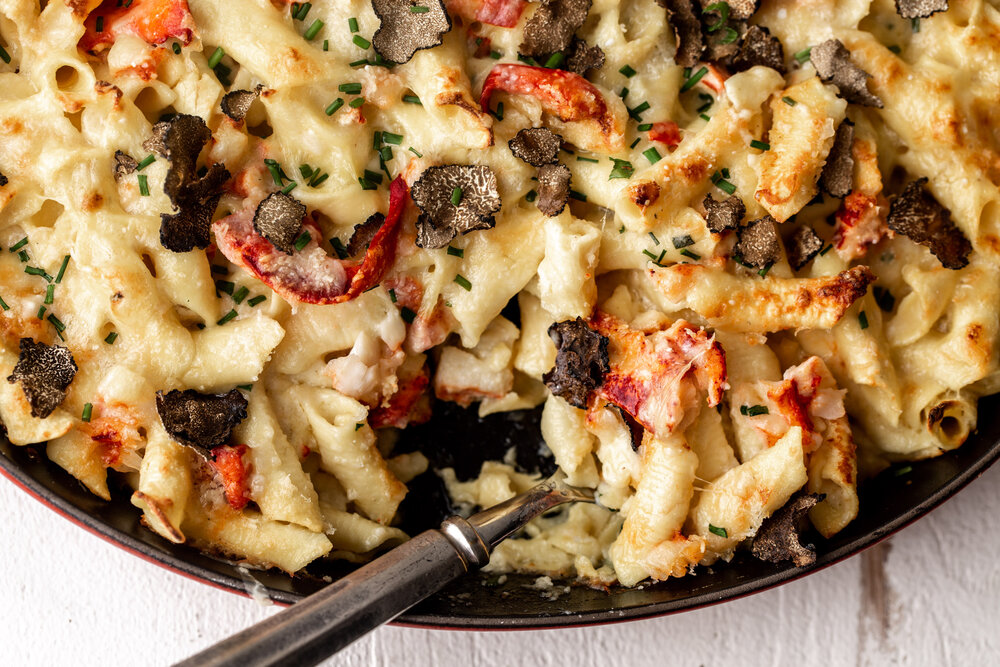 Lobster & Truffle Mac & Cheese
1

pound

garganelli pasta

Kosher salt,

as needed

4

tablespoons

unsalted butter

1

medium shallot,

chopped

1

tablespoon

white truffle oil

2

tablespoons

all-purpose flour

1½

cups

whole milk

2

cups

shredded sharp white Cheddar cheese

1

pound

cooked Maine lobster meat,

roughly chopped

1½

tablespoons

diced chives,

divided

1

cup

grated Parmesan

Black or white truffle,

shaved (optional)
Bring a large pot of salted water to a boil over medium-high heat. Cook the pasta until just al dente, about 6 to 8 minutes, then drain and set aside.

Heat oven to 400ºF.

Heat a medium saucepan over medium heat, add the butter and allow it to melt. Add the shallot and sauté, stirring occasionally, until soft and translucent, about 6 minutes. Add the truffle oil and heat through. Whisk in the flour and let cook, continuing to whisk frequently until the mixture is golden brown, about a minute.

Add the milk, whisking to combine. Cook, stirring occasionally until the mixture has thickened, about 5 minutes. Slowly whisk in 1½ cups of the cheddar cheese until completely combined. Add the lobster meat, 1 tablespoon of the chives and the pasta, stirring to combine.

Spread the mac and cheese mixture in a baking dish and top with the remaining cheddar and Parmesan cheese. Bake until the top is golden brown and bubbling, about 20 minutes.

Top with the shaved truffles and remaining chives then divide among warmed pasta bowls and serve immediately.
DID YOU MAKE THIS?
TAG ME ON INSTAGRAM TO BE FEATURED ON MY STORIES! @cookingwithcocktailrings