The first time I had cheese foam was at a small tea store in Flushing, Queens. Since then it's become one of my favorite pick-me-up drinks. A similar shop, Moge Tee, opened down the street from me in Williamsburg and I quickly got into the habit of spending too much money grabbing a tea in the afternoon. I realized I could easily make batches of the tea at home, adding as much of the cheese foam topping as I want.
This cheese foam tea can be prepared hot or cold though it is most often served cold, sometimes with the addition of tapioca balls for bubble tea. I prefer to lightly sweeten the black tea as I brew it though it can be adjusted according to preference.
Iced Milk Tea Latte with Cheese Foam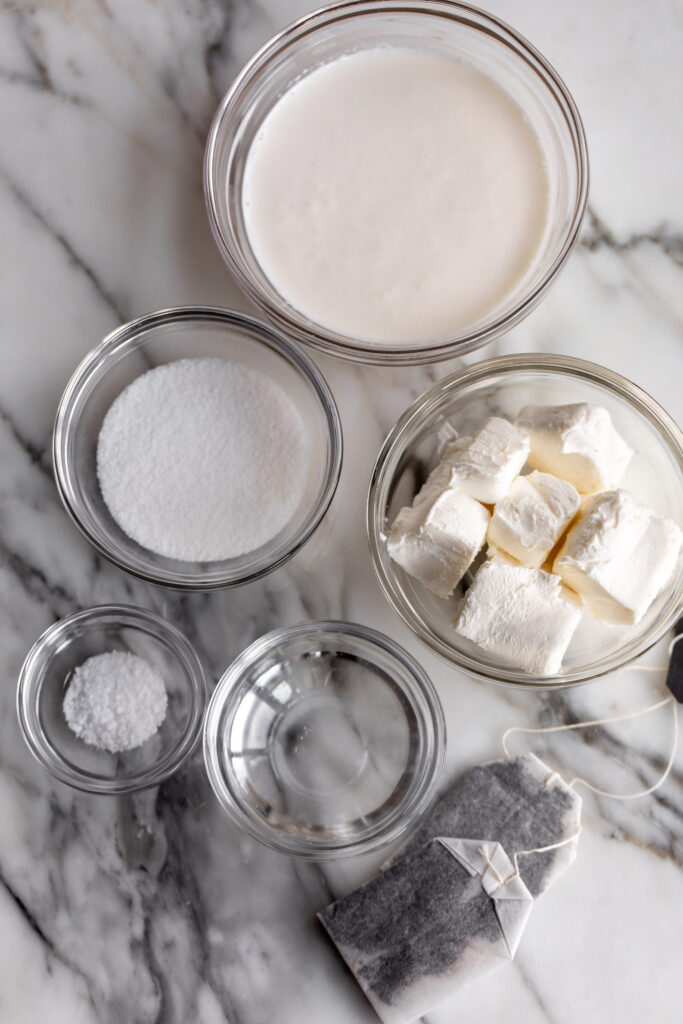 What is cheese foam?
This rich drink topper is a sweet and tangy combination of cream cheese and whipped cream with a bit of salt to enhance the slightly savory flavor. The term sounds odd and may conjure images of cheddar cheese but it's a perfect pairing with an iced tea latte. Add to your matcha or other teas as well.
What is milk tea?
Milk tea refers to any brewed tea with milk added to it. The addition of milk (I use whole milk) rounds out the flavors of the tea (I use black tea), balancing the more bitter elements. There are plenty of variations of milk tea beyond simply combining two ingredients – Masala Chai is an example, and Indian spiced brewed tea, bubble tea, made with the addition of tapioca balls or Hong Kong milk tea made with the addition of evaporated or sweetened condensed milk.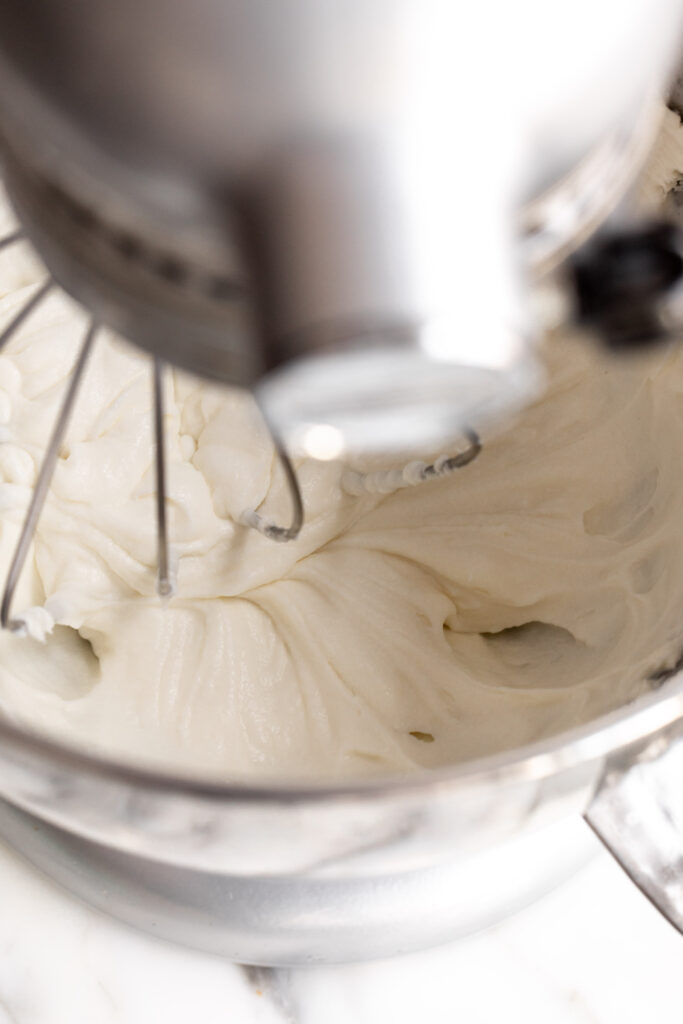 Key Ingredients in This Recipe
Cream cheese – Softened cream cheese mixes better when used straight from the refrigerator providing a better texture. I recommend using full fat cream cheese rather than reduced fat cream cheese for the best flavor.
Heavy cream – Rich heavy whipping cream is blended with cream cheese to create the base of the cheese foam in this recipe.
Black tea – Black tea is a caffeinated tea, stronger in flavor than other blends of tea made with leaves from the camellia sinensis bush. The term "black tea" is an umbrella term encapsulating many varieties. In this recipe I use a combination of Assam tea from India which has bold flavors and Ceylon tea from Sri Lanka, with spicier notes. Both combine well with milk. Substitute with other black tea varieties based on preference.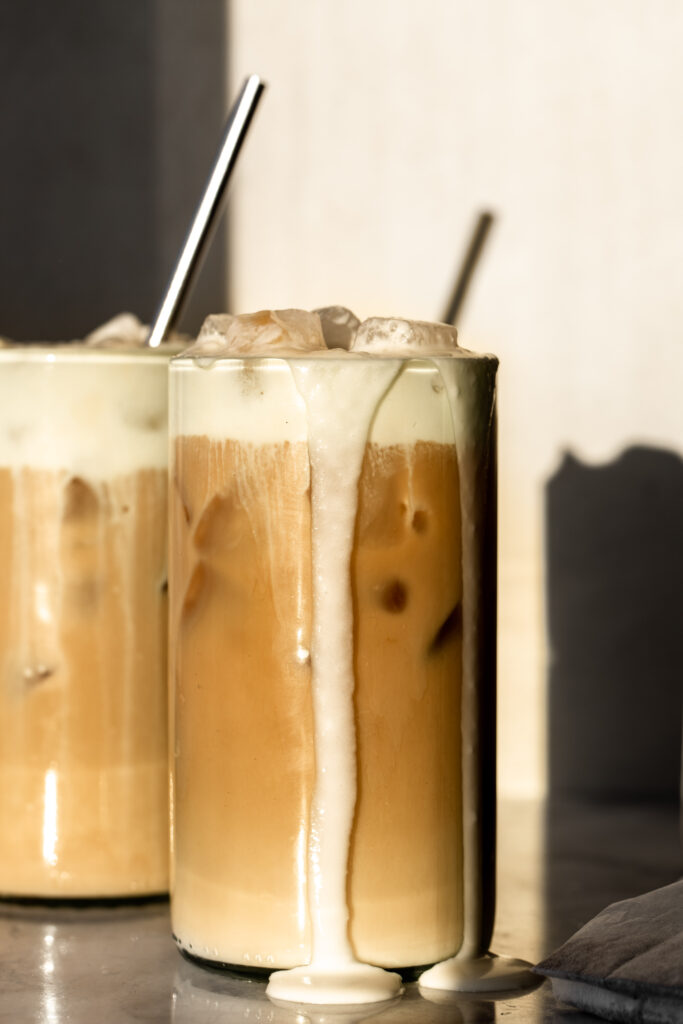 Tips and Tricks for This Recipe
To Make Bubble Tea
Make this into bubble tea (also called boba tea) by adding chewy tapioca balls. This gives the tea a unique texture. This adds a contrast to the milk tea and its creamy, tangy cheese foam. All you need to do is buy a bag of tapioca balls and prepare according to the package. Next, add them to the iced tea and enjoy.
Variations on this recipe
While I brew black tea for this recipe, I recommend trying other types of tea as well. Try using the different teas below with or without the addition of milk topped with the cheese foam.
Green tea
Oolong tea
Earl Gray tea
Jasmine tea
Thai tea
Other Recipes to Try
If you enjoy this recipe, I recommend checking out these:
Iced Milk Tea Latte with Cheese Foam
For the cheese foam:
4

ounces

cream cheese,

at room temperature

2

tablespoons

granulated sugar

¼

teaspoon

kosher salt

½

cup

heavy cream

2

tablespoons

water
For the iced black tea latte:
6

bags black tea,

I use Assam and Ceylon

2

tablespoons

granulated sugar

1

cup

whole milk
For the cheese foam:
In a medium mixing bowl or the bowl of a stand mixer whisk the cream cheese, sugar and salt until the cream cheese is smooth, about 1 minute.

Add the cream and beat until thick, about an additional 2 minutes. Stir in 2 tablespoons of water to thin the cheese foam.

Transfer to a bowl or resealable container until ready to use.
For the iced black tea latte:
Bring 6 cups of water to a simmer in a medium saucepan. Add the tea bags and sugar and let steep for 5 minutes or until it's the strength of preference. Squeeze as much water from the tea bags as possible and then discard the tea bags.

Transfer the tea to a pitcher, cover and refrigerate until chilled and ready to use, at least 2 hours.
For serving the cheese foam milk tea:
DID YOU MAKE THIS?
TAG ME ON INSTAGRAM TO BE FEATURED ON MY STORIES! @cookingwithcocktailrings