This post is sponsored by Calphalon.
This easy smoky soup is filled with ham hocks, tender white beans, tender collard greens, onion, celery and carrots. It's a comforting stew to get you through chilly winter days. While I use dried cannellini beans in this recipe, 2 cans of beans that have been rinsed and drained can be substituted. Dried beans that are simmered in the soup are more tender but in a pinch the cans will do. I use the Calphalon's® Precision SharpIN™ Nonstick 13-Piece Cutlery Set to cut the vegetables because the knives feature an easy to clean, nonstick coating that allows vegetables to slide right off.
Ham Hock & White Bean Stew with Collard Greens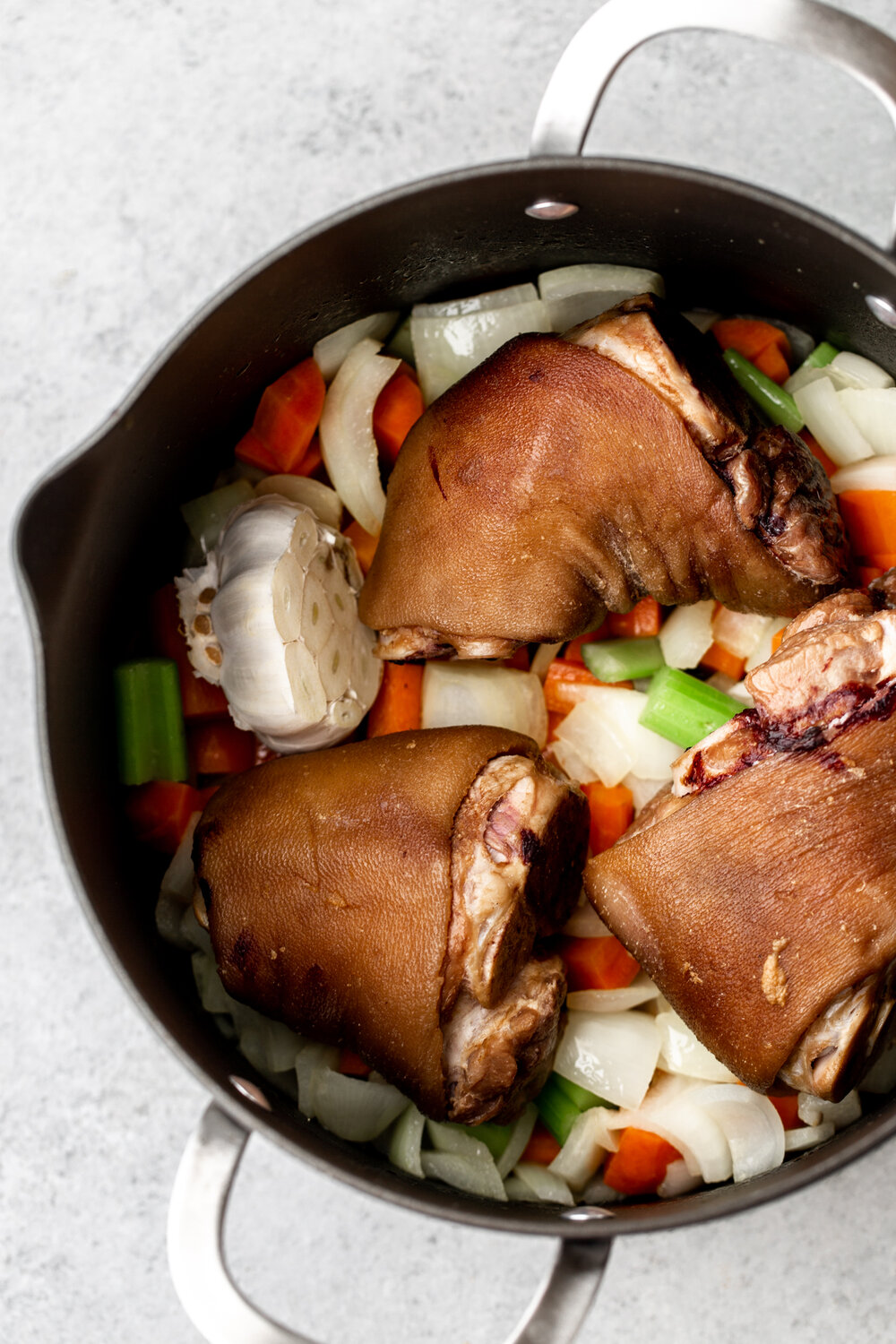 I also like that the Calphalon® Precision SharpIN™ Nonstick 13-Piece Cutlery Set features knives with an innovative design. They are fully forged and made from high-carbon, German no-stain steel. And the set has another great feature – built-in ceramic sharpeners that automatically sharpen knives with every use. If you are like me, then you have probably put off getting your knives sharpened for quite some time. Cooking with dull knives is no easy feat. Having the built-in sharpeners has taken one more thing off my mind!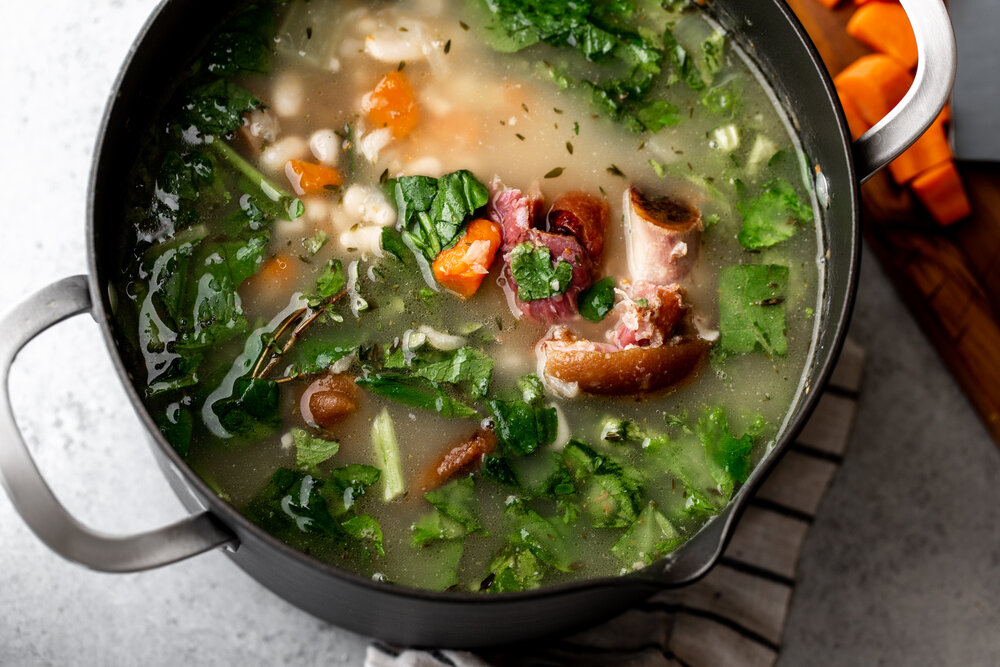 If the saying goes "a watched pot never boils" then it must be that "an unwatched pot has a tendency to boil over". Since this soup is simmered over a long period time it has the potential to boil over staining stove grates and creating a general mess. I solve this problem by using the BPA-free silicone inserts of the Calphalon Classic™ Nonstick 14-Pc. Cookware Set which recirculates boiling water back into the pot to keep soups from creating a mess on the stove top.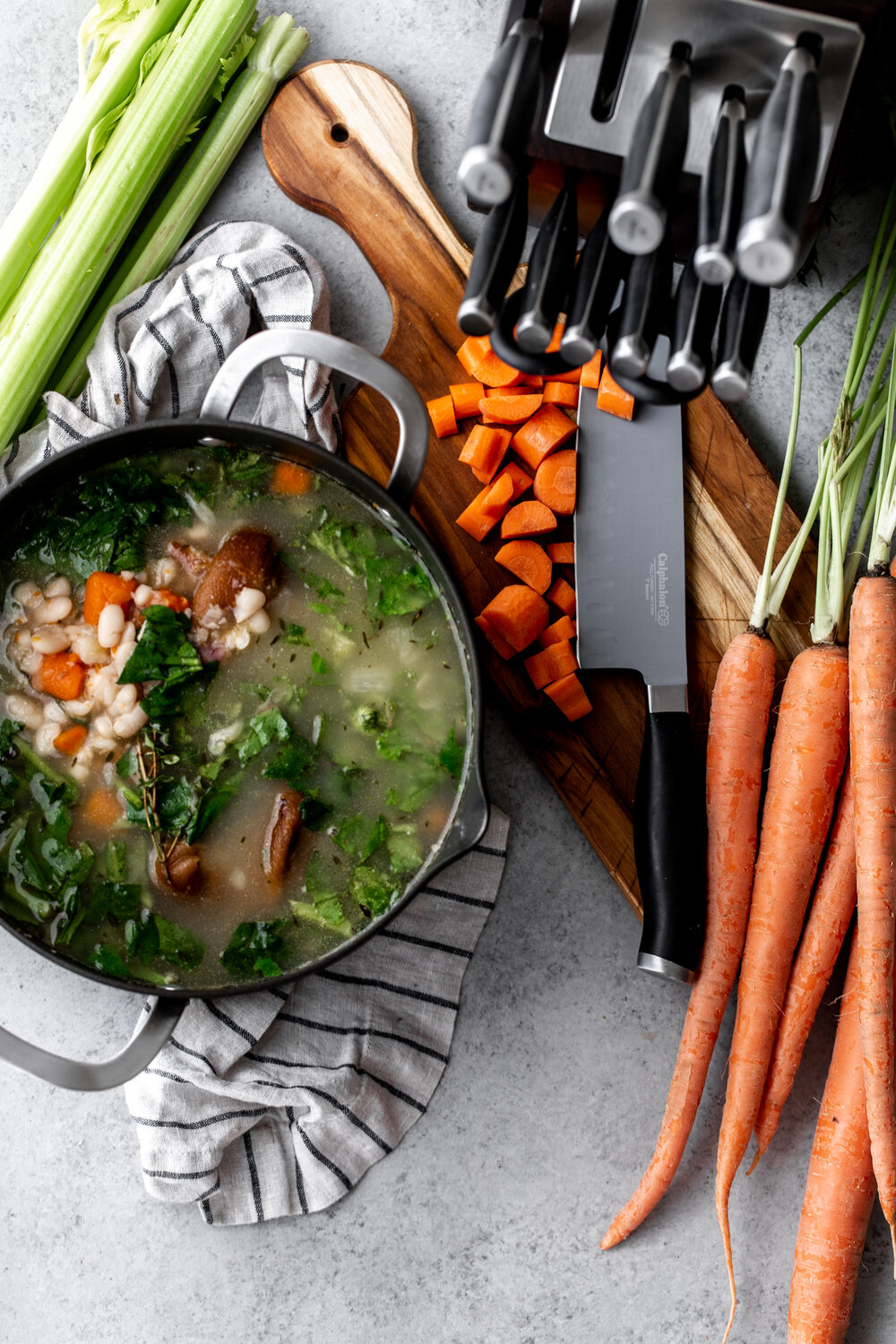 About Ham Hocks
Ham hocks (also known as pork knuckles) come from the bottom portion of the pig's leg and are the joint that attaches the hog's foot to it's leg. The inexpensive 4-inch pieces are typically sold cured and smoked. They infuse a rich, salty, smoky flavor to anything from soups and to beans. While ham hocks don't have much meat on the bones, they have fat and skin and plenty of collagen. This makes them the perfect addition to anything cooked over a longer period of time. Adding a few ham hocks goes a long way in this recipe.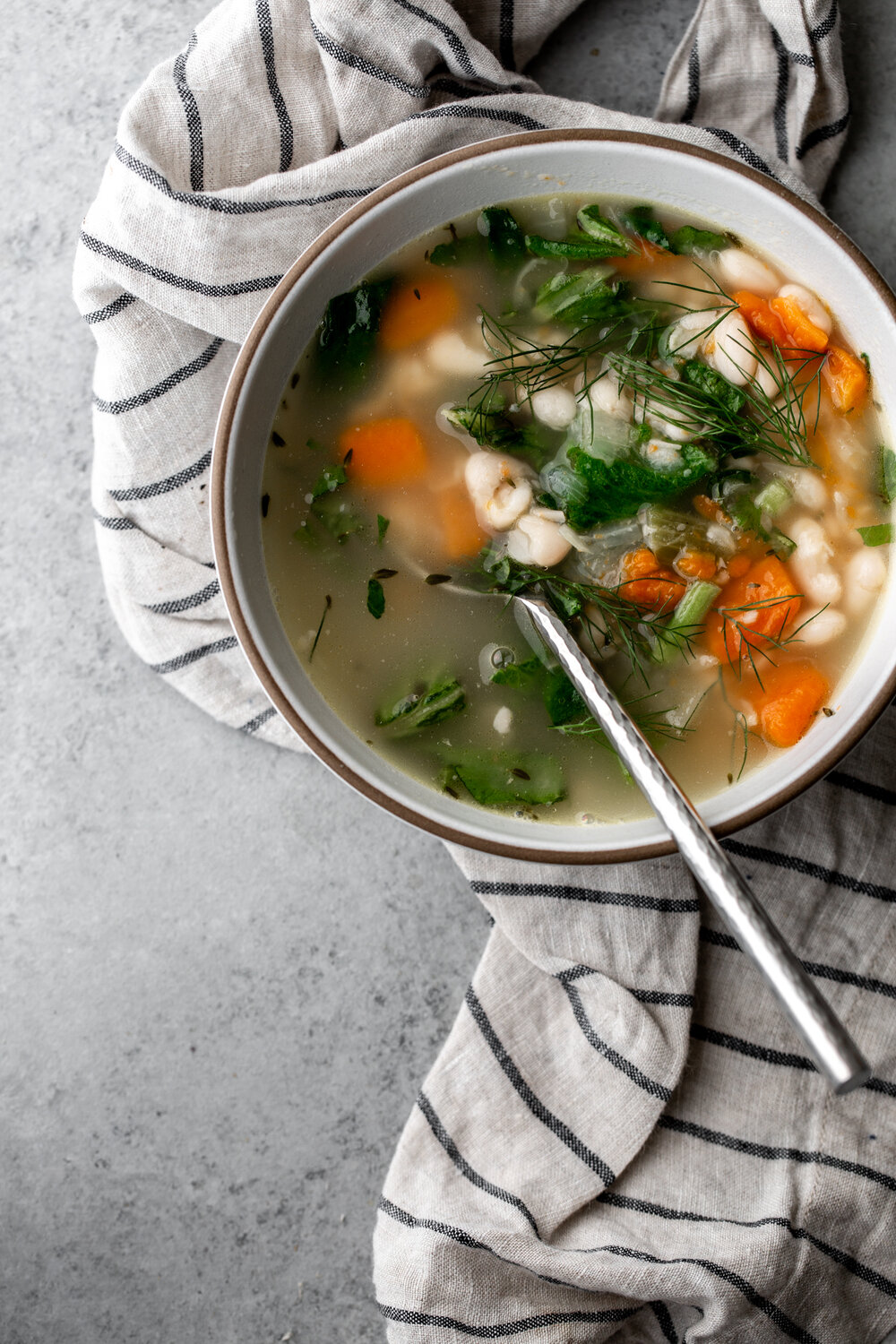 Other Recipes to Try
If you enjoy this recipe, I recommend checking out some of these:
Ham Hock & White Bean Stew with Collard Greens
2

tablespoons

extra-virgin olive oil

2

medium yellow onions,

chopped

2

medium carrots,

peeled and chopped

2

medium celery stalks,

chopped

1

small head of garlic,

top ¼-inch cut off the top

2

sprigs thyme

4

smoked ham hocks,

about 2 pounds

1

cup

cannellini beans,

soaked overnight and drained

2

cups (packed) roughly chopped collard greens

Fennel fronds,

for garnish
Heat a large pot over medium heat, add the oil and heat through. Add the onions, carrots and celery, sautéing until tender, about 5 minutes.

Add the garlic, thyme and ham hocks then add 8 cups of water and simmer until the ham hocks are tender and begin to fall apart, about 2 hours. Skim any scum off the surface as the soup simmers and discard. Add the beans and cook until tender, about an additional 30 minutes.

Add the collard greens, continuing to cook until tender but not mushy, about an additional 10 minutes. Ladle soup into bowls and garnish with fennel fronds. Serve immediately.
DID YOU MAKE THIS?
TAG ME ON INSTAGRAM TO BE FEATURED ON MY STORIES! @cookingwithcocktailrings