This summer side created by sautéing kernels of corn with shallots and serrano pepper and simmered in coconut milk and a Jamaican-inspired spice blend. The corn is topped with homemade pickled shallots, sliced green onions and toasted coconut. Most creamed corn recipes are made using heavy cream – instead I use coconut milk to add a unique flavor to a naturally dairy-free recipe. Pair this recipe with jerk chicken and plantains for a summer dinner party.
Coconut Creamed Corn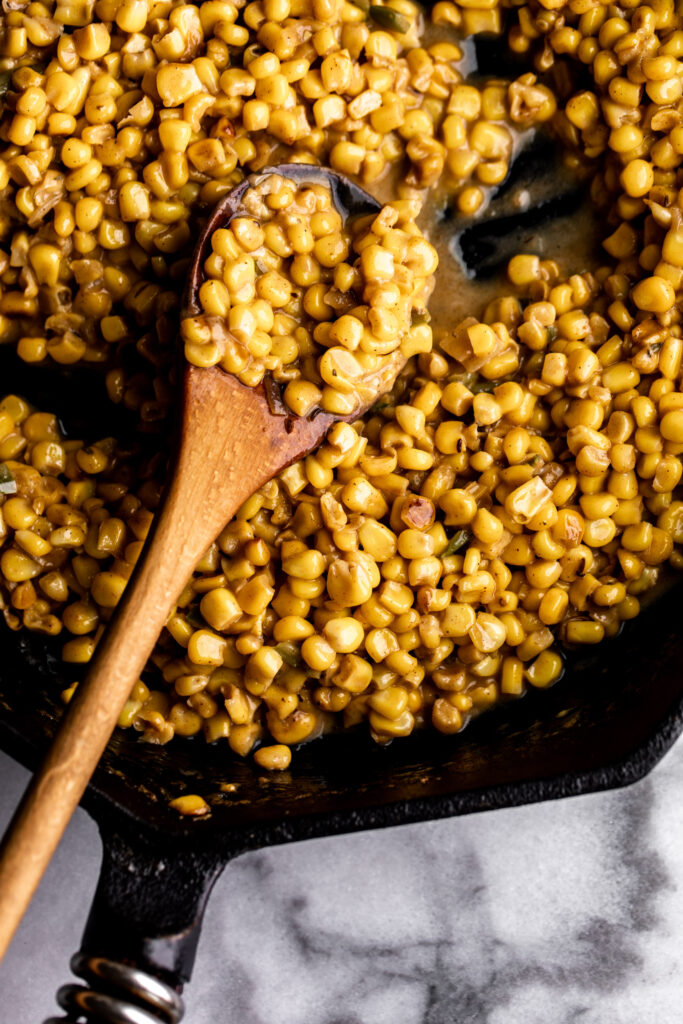 Ingredients:
Shallots:
Pickling the shallots adds an acidic contrast to the sweet corn and spices in this recipe. Pickled onions can be used in place of shallots as well. They have a similar flavor though shallots are slightly more mild. I sauté shallots with the corn to add additional flavor to the corn.
Serrano Pepper:
I love the heat and flavor of serrano peppers though jalapeño peppers can be used instead based on availability. While most Jamaican recipes use ghost peppers they are hard to find in stores and insanely hot. So for a toned-down heat, I opt for serranos.
Corn:
While I use frozen corn for the ease (no need to shuck it), fresh corn can easily be swapped in.
Spices:
I use a combination of paprika, thyme, cumin, all-spice and cinnamon for a Jamaican-inspired twist.
Shredded coconut:
Unsweetened, toasted coconut added to the top of the corn adds texture to this recipe.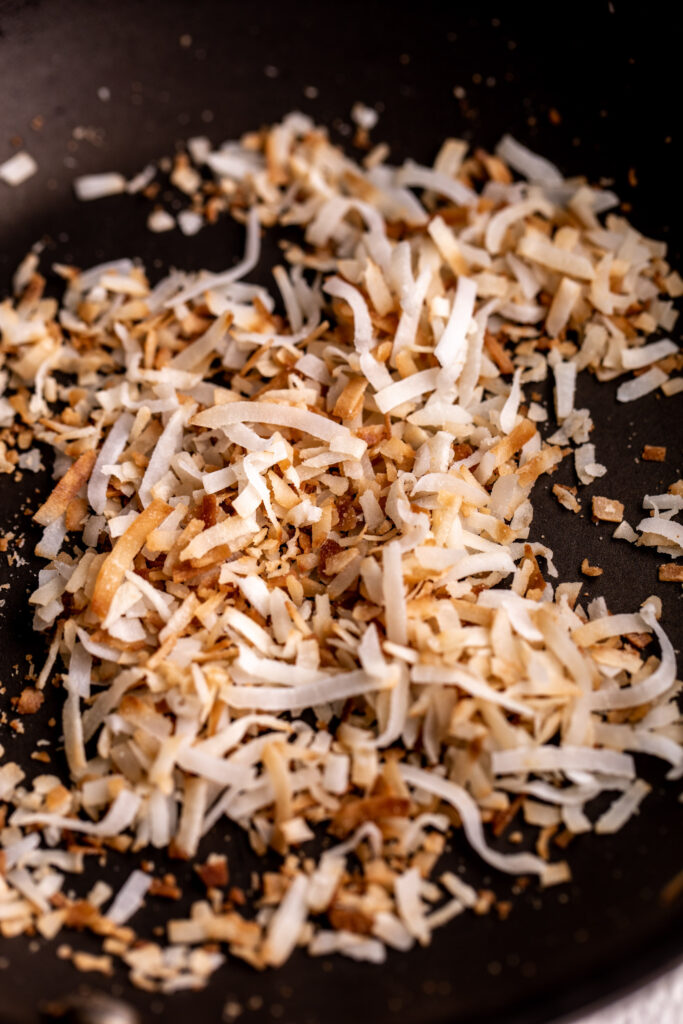 How to make creamed corn
Step 1:
Pickle the shallots.
Step 2:
Sauté the onion and serrano peppers then add the corn and sauté.
Step 3:
Stir together the spice mixture.
Step 4:
Add the spices and coconut milk and simmer, stirring occasionally, until the mixture has reduced.
Step 5:
Stir in the pickled shallots then add the corn to a serving bowl and top with toasted coconut and green onions.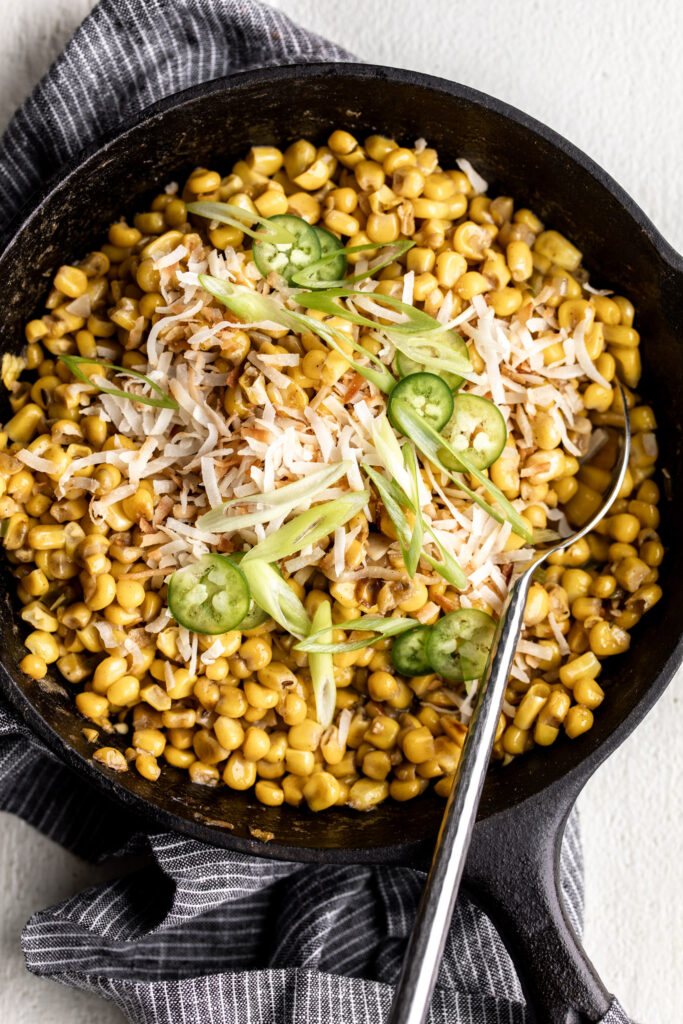 How to make with fresh corn
Shuck the corn and thoroughly remove any corn kernels cut off the cob. One cob of corn will yield about ½ cup kernels. This recipe will require about two to three ears of corn to yield one pound of corn kernels.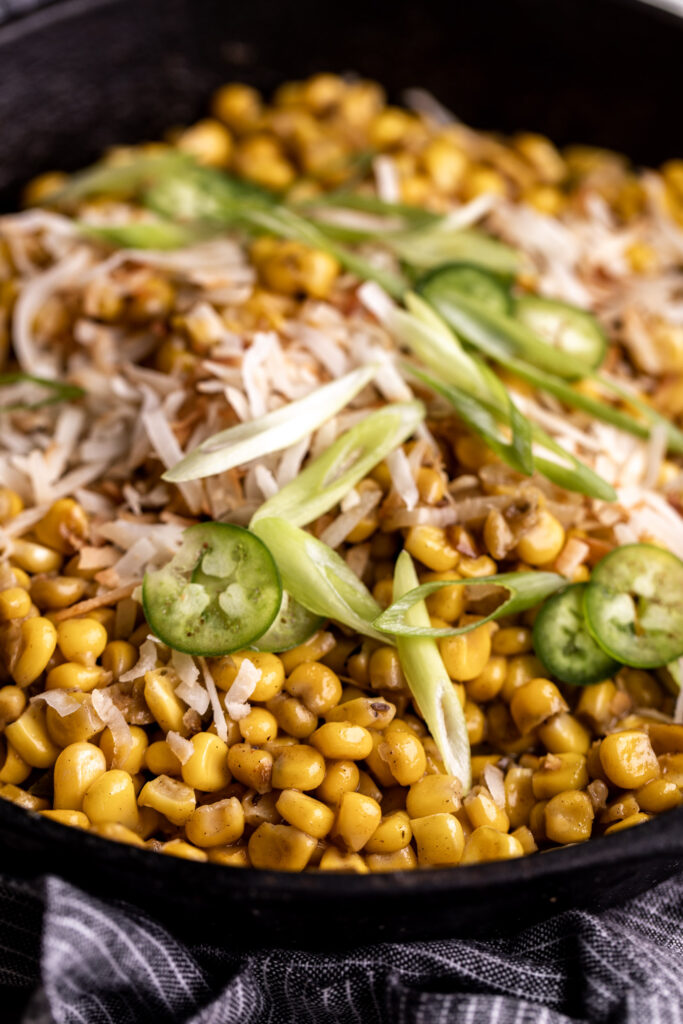 How to make toasted coconut
If you can't find toasted, shredded coconut then toast the coconut yourself. Add shredded unsweetened coconut to a small nonstick skillet and then heat over medium-low heat. Cook, shaking the pan constantly until the coconut has toasted and turns golden brown, about 5 minutes. Then remove from the pan and let cool.
Coconut Creamed Corn
For the quick pickled shallots:
½

cup

white vinegar

1

teaspoon

granulated sugar

1

teaspoon

kosher salt

1

teaspoon

black peppercorns

4

medium shallots,

thinly sliced
For the quick pickled shallots:
In a small saucepan, bring the vinegar, 1 cup of water, sugar, salt and peppercorns to a boil over medium heat, stirring until the sugar and salt dissolve.

Remove from heat, separate the shallots and add to a large mason jar then pour the vinegar mixture over the top.

Close the jar and let sit for at least 1 hour before using. Refrigerate for up to 2 weeks and drain before using.
For the corn:
Heat a large cast iron pan over medium heat, add the oil and heat through. Add the shallot and serrano pepper and sauté until the shallots are soft, about 4 minutes. Add the corn and cook, stirring occasionally, until the corn is tender, about an additional 6 minutes.

In a small bowl stir together the paprika, thyme, cumin, all-spice and cinnamon. Add the spice mixture to the coconut milk, stirring to combine. Continue to cook over medium-low heat, stirring occasionally, until the coconut milk has reduced, about an additional 10 minutes.

Stir in a generous forkful of the pickled shallots. Add to a serving bowl and top with the toasted coconut and green onion.
DID YOU MAKE THIS?
TAG ME ON INSTAGRAM TO BE FEATURED ON MY STORIES! @cookingwithcocktailrings