A Week in Paris, France
September 1, 2022 to September 7, 2022
I never feel I have enough time to explore Paris. While a good problem to have, it's so hard to go to a city known for its food for only a week. Add in that it's been almost a decade since my last trip and it makes for an overwhelming need to eat. Everything. Squeezing in so many meals into such a short span of time, especially for a person who's world revolves around food, is actually quite difficult. How do I choose one flakey, buttery croissant from a little boulangerie over another, or one classically French tasting dinner menu over the next?
My sister-in-law got married in the Jardin de Tuileries. It was followed by a boat tour down the Seine and dinner at a local restaurant. The trip was a perfect blend of spending time with friends and family, eating, and wandering the streets with my husband, Aaron. We celebrated a mini bachelorette party for the bride at Moulin Rouge, another to welcome guests at the bar, Andy Wahloo, and almost a whole day and night under the glittering lights of the Eiffel tower. We chose to stay at Hôtel Pulitzer Paris, a boutique hotel in a great location close to a metro station.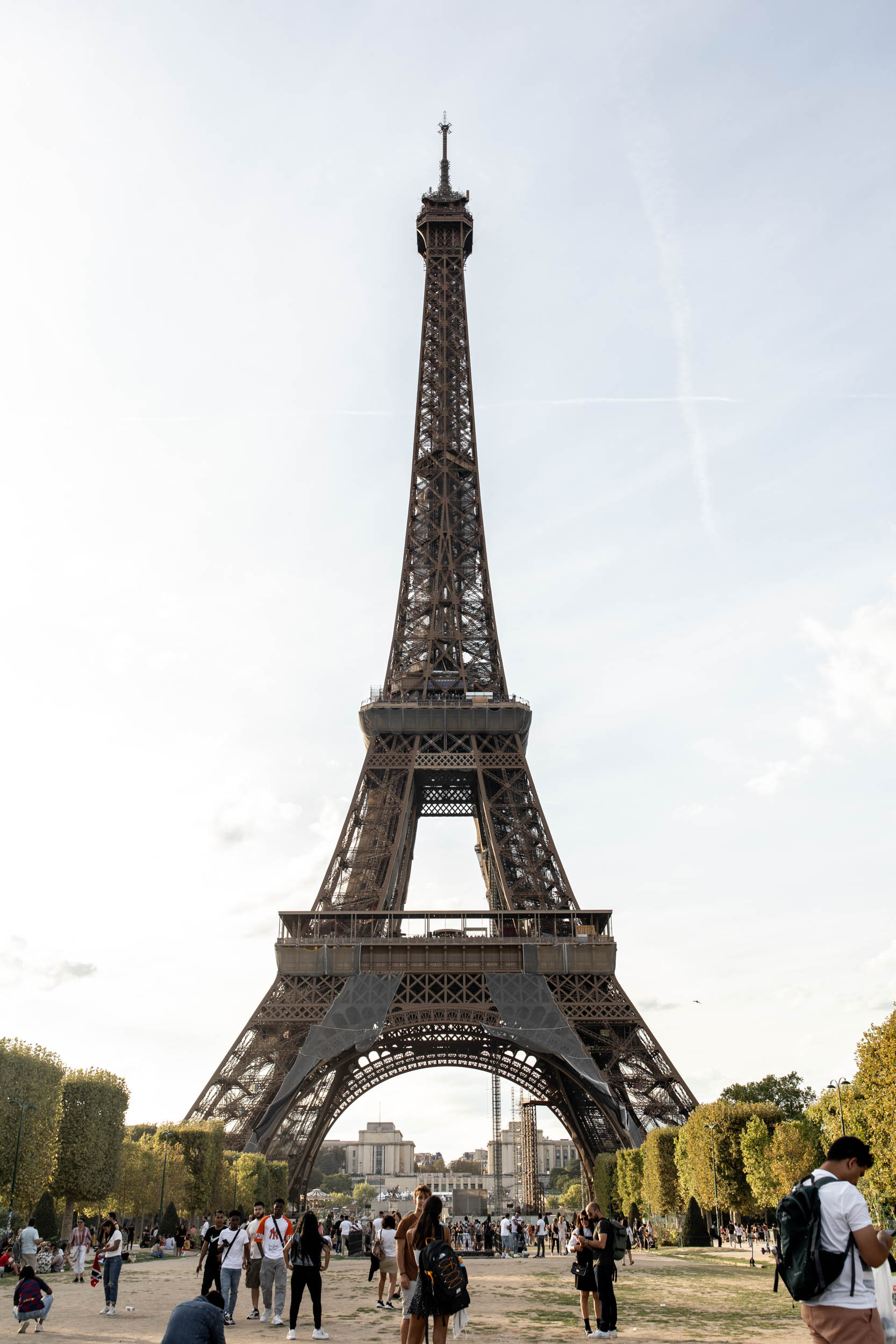 While hard to narrow down, I've included some favorites from my trip below. I have aimed to make my way to a variety of restaurants reflective of the intertwined cuisines of France and numerous other countries.
Table of contents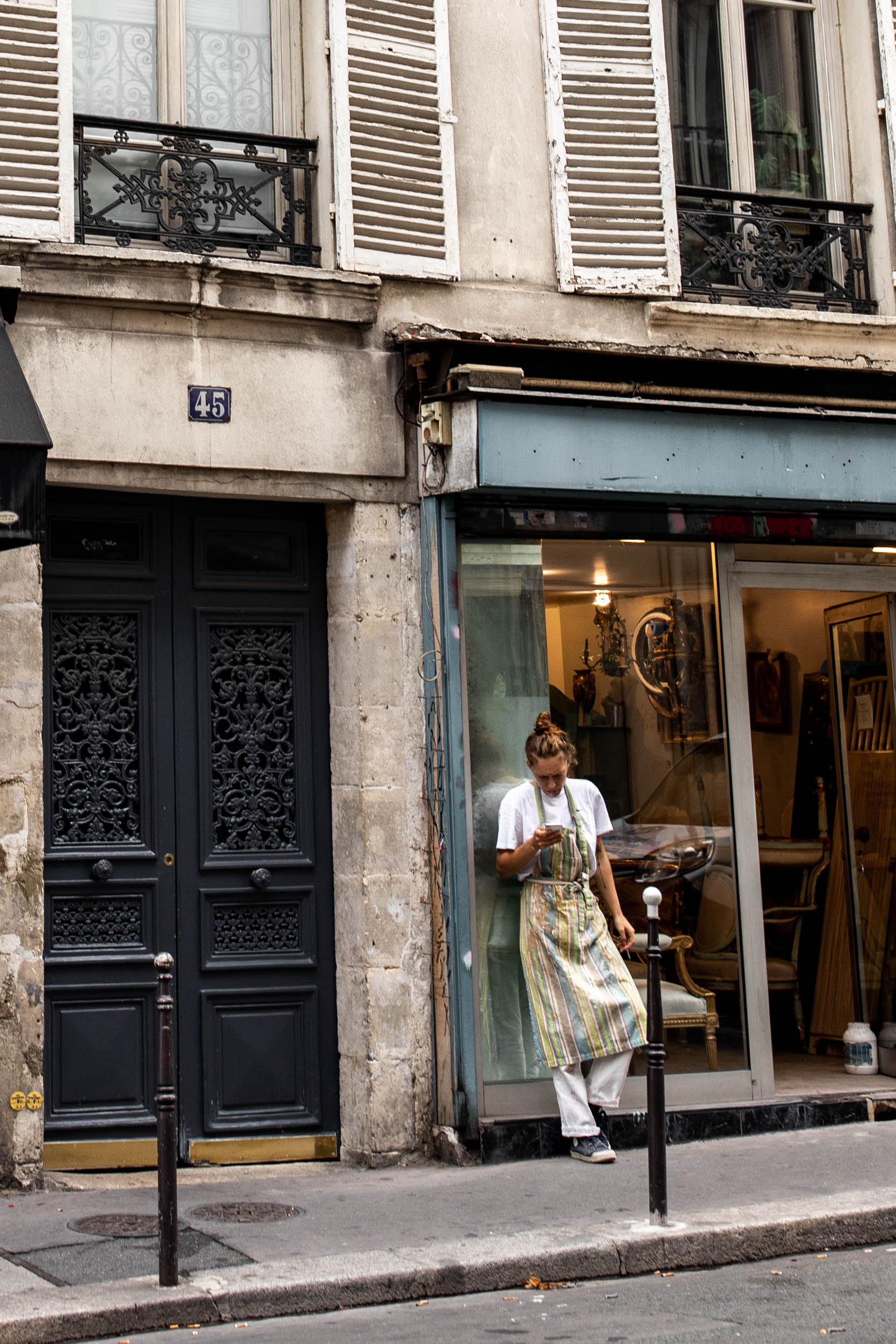 Boulangeries
La Maison D'Isabelle
47ter Bd Saint-Germain, 75005 Paris, France | @maison_isabelle
Stop someone on the street and ask where to find the best croissant and you are bound to get an endless list of favorites (and probably even more that are kept secret from tourists). While on a hunt to seek out the best croissants in Paris, I found La Maison D'Isabelle, crowned the "best croissant au beurre" in 2018. I am excited to say this was my favorite croissant ever. It was still warm, fresh out of the oven, with a crisp exterior breaking off in shards as I handled it. It had an intricately layered, soft and buttery interior and was so good that I immediately went back and ordered another one along with a pain au chocolat (chocolate croissant).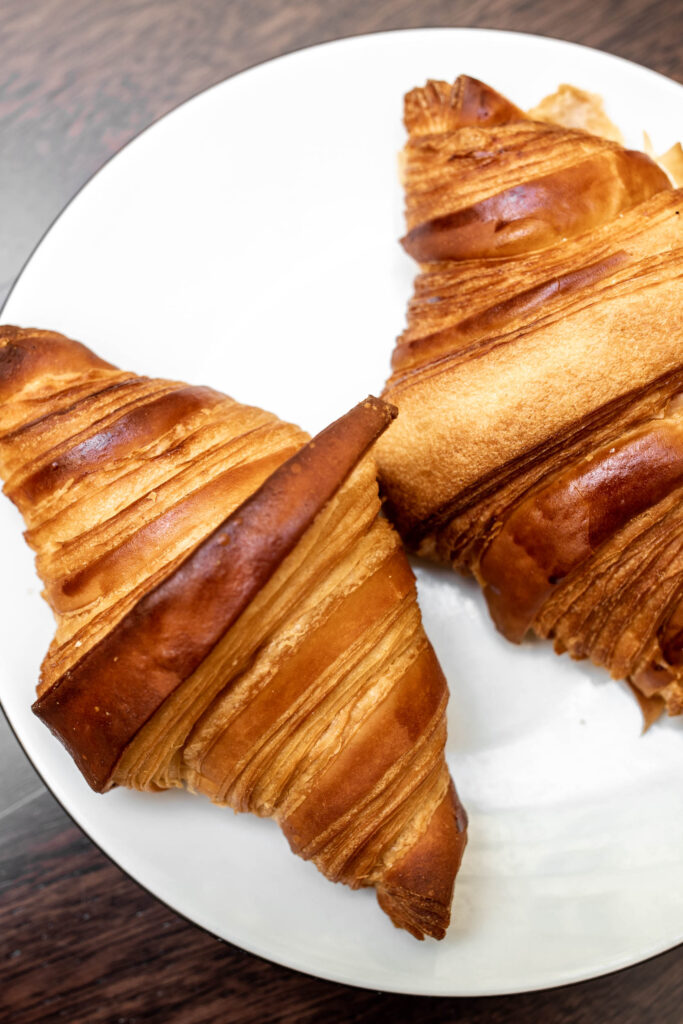 Mamiche
Multiple locations | 45 Rue Condorcet, 75009 Paris, France | www.mamiche.fr/
Mamiche has two locations, in the 9th and a newer location in the 10th arrondissement. The trendy yet classic bakery uses old-school methods, is housed in a white storefront with bright colored block lettering on the windows. It's owned by two women and boasts artisanal products made in house with natural yeasts and came highly recommended by a Parisian friend. With an assortment of breads, viennoiseries, pastries and sandwiches made with high-quality ingredients, the options are overwhelming. I picked up a croissant, my first of the trip, as well as brioche fleur d'oranger, a fragrant and tender bread made with orange blossom water.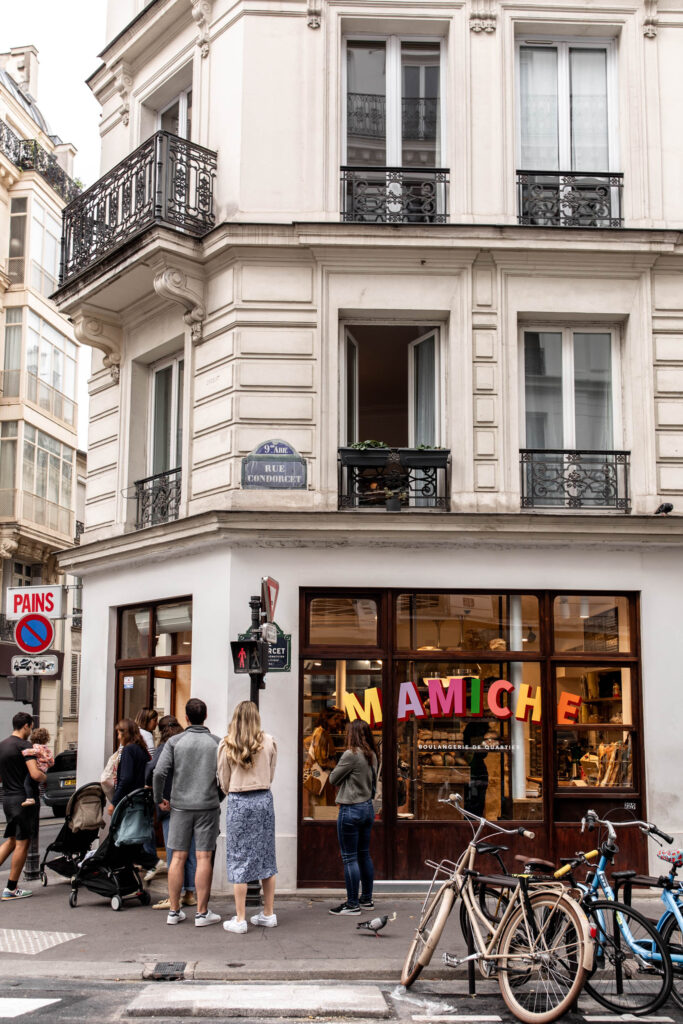 Le Pain Retrouvé
18 R. des Martyrs, 75009 Paris, France | le-pain-retrouve.business.site/
This nondescript bakery with small lettering in the 9th arrondissement is filled with brioche, breads, focaccia pizzas and more. The twirled and twisted babka is made with brioche dough layered with beurre noisette (brown butter) for a flakey and sweet treat. Kougin-amann is a Breton pastry made from laminated dough similar to a croissant baked in muffin tins to give them the signature shape with a layer of caramelized sugar on the bottom. These labor intensive pastries, like croissants, are ones that I prefer to pick up from a boulangerie rather than make them myself.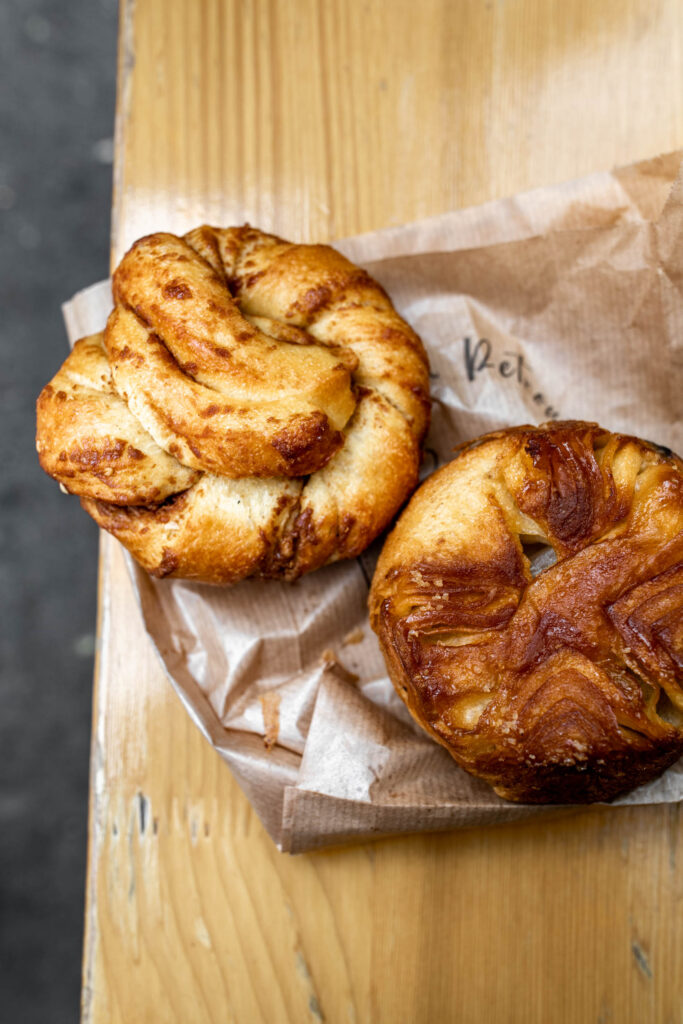 Farine&O
Multiple locations | 153 Rue du Faubourg Saint-Antoine, 75011 Paris, France | @farineo
The name of this bakery in the 11th arrondissement refers to flour and water, two crucial ingredients in making bread. My favorite purchase was the orange and chocolate croissant, with flakey layers of pastry folded around an orange flavored chocolate. The flavor combination was subtle but impressive, and the orange added so much to take a simple pain au chocolat to the next level. Of course you can't go wrong with a classic croissant au beurre either.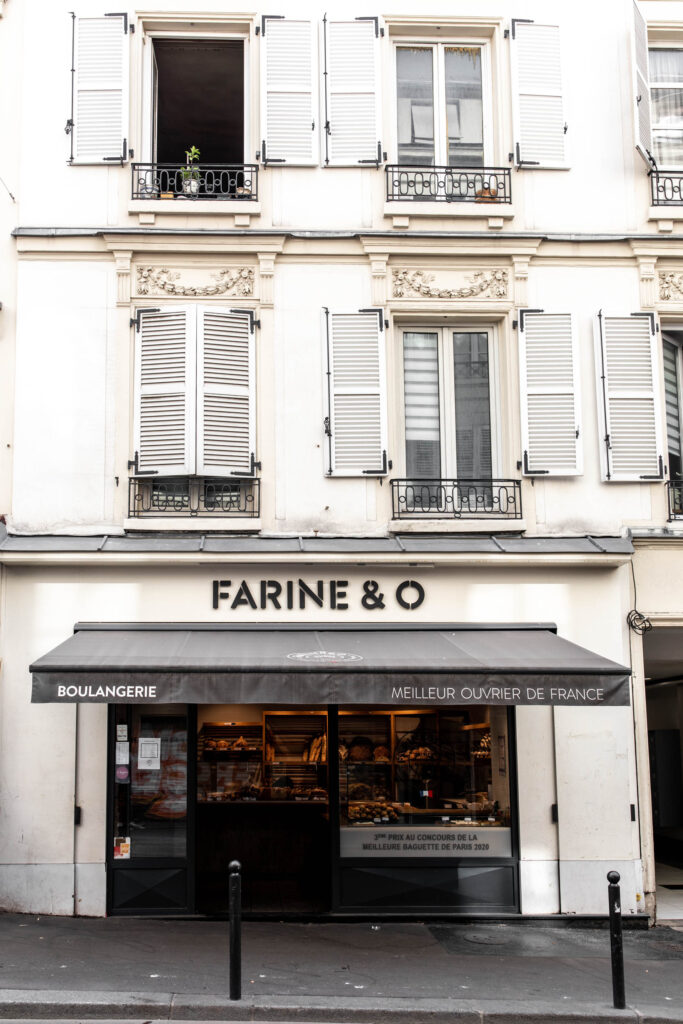 Patisseries
Au Petit Versailles du Marais
27 rue François Miron, Paris, France | @aupetitversaillesdesmarais
Au Petit Versailles du Marais falls under the category of both boulangerie and patisserie. With stacks of bread and display cases of pastries under a ceiling of intricate crown moldings and glass chandeliers it resembles, as the name implies, a small version of Versailles. I picked out a mille-feuille, which translates to a thousand layers. A reference to the thin layers of puff pastry that sandwich pastry cream and in this iteration, fresh strawberries. This is one of my favorite classic French pastries – intricate yet unrefined with flaky pastry and a creamy filling that turns into a mess as the decadent dessert is eaten.
What I presumed to be a cliche that struck me as true while wandering the streets of Paris was how Parisians buy baguettes and carry them around. I witnessed countless people tear off pieces of the bread as a little snack so I had to do the same. The baguette made a perfect snack for our group, eaten with a pairing of wine under a bridge along the Seine as we found refuge from an unexpected rainstorm.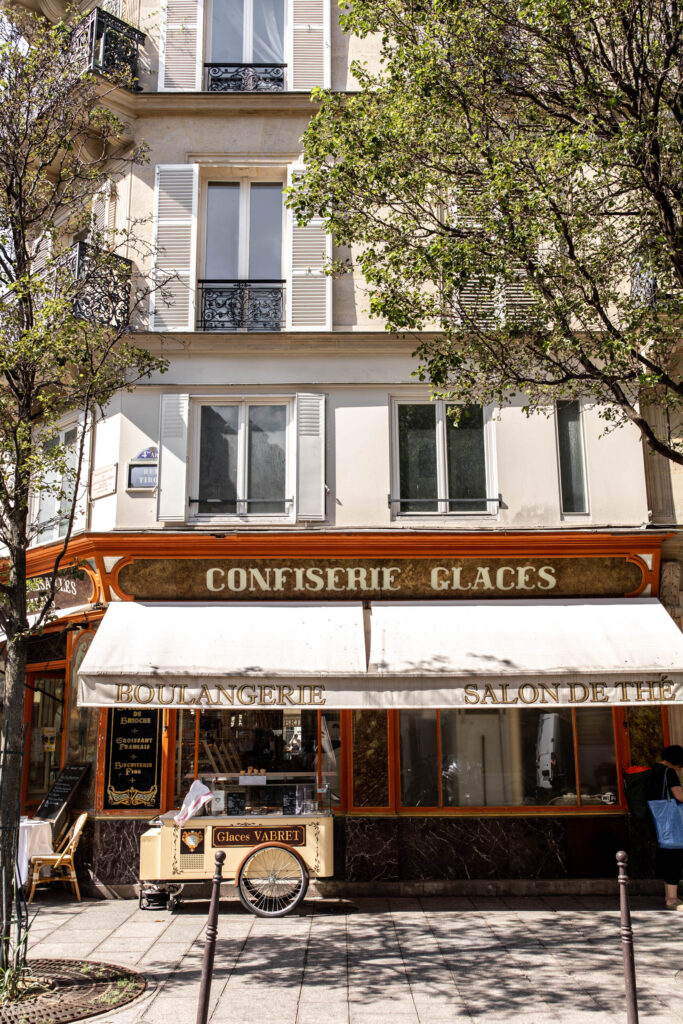 Odette
77 Rue Galande, 75005 Paris, France | odette-paris.com
Odette is a small pastry shop located close to Notre Dame just off the tourist lined streets of the Seine specializing in filled choux pastry. When a shop chooses a single item to specialize in you know it will be good. The delicate cream puffs are filled with a light pastry cream or custard with flavors ranging from classic vanilla and chocolate to pistachio, hazelnut and a tart lemon.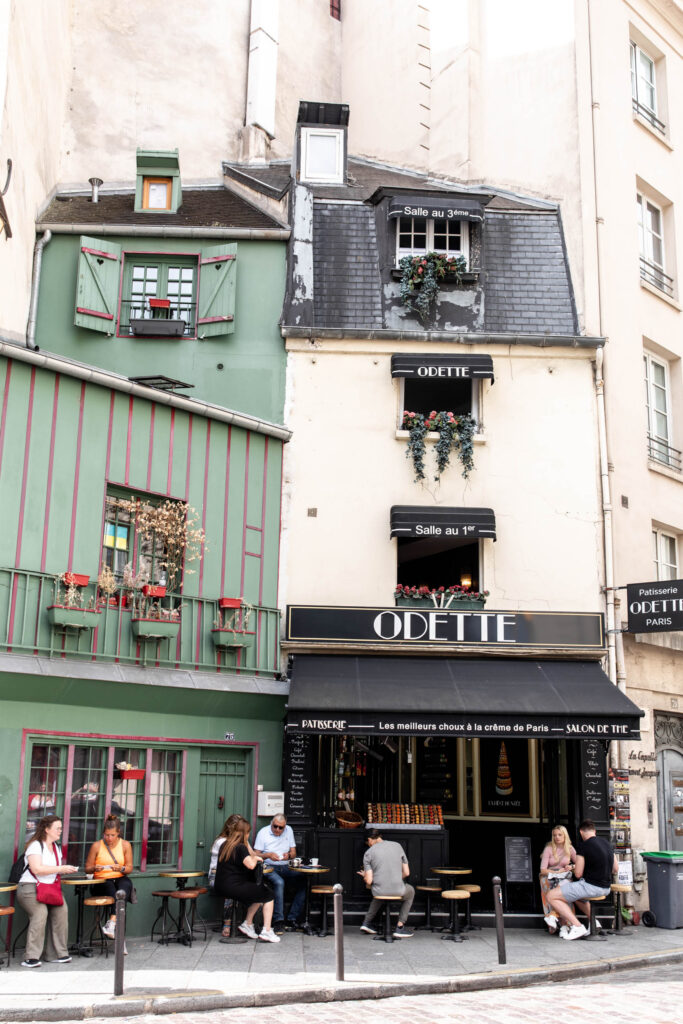 Pierre Hermé
Multiple locations | 39 Av. de l'Opéra, 75002 Paris, France | pierreherme.com
Pierre Hermé, the "Picasso of pastry" as throned by Vogue, was named the best pastry chef in the World by the Academy of the World's 50 Best Restaurants in 2016. His pastry empire includes 45 stores in 11 countries each with rows of perfectly crafted macarons and dainty pastries. I was most focused on the macarons on my visit. While Laudrée may be just as famous, it is more widely available in the US, especially NY, so I set my sights on Pierre Hermé.
The macarons are made from delicate sifted almond flour with shiny tops and lifted "feet" hiding tender insides that melt in every bite, and each is given a unique flavor. My favorites include the tarte citron, with a lemon and shortbread flavor; the ispahan is made with rose, litchi and raspberry and the praline noisette is studded with slivers of roasted hazelnuts.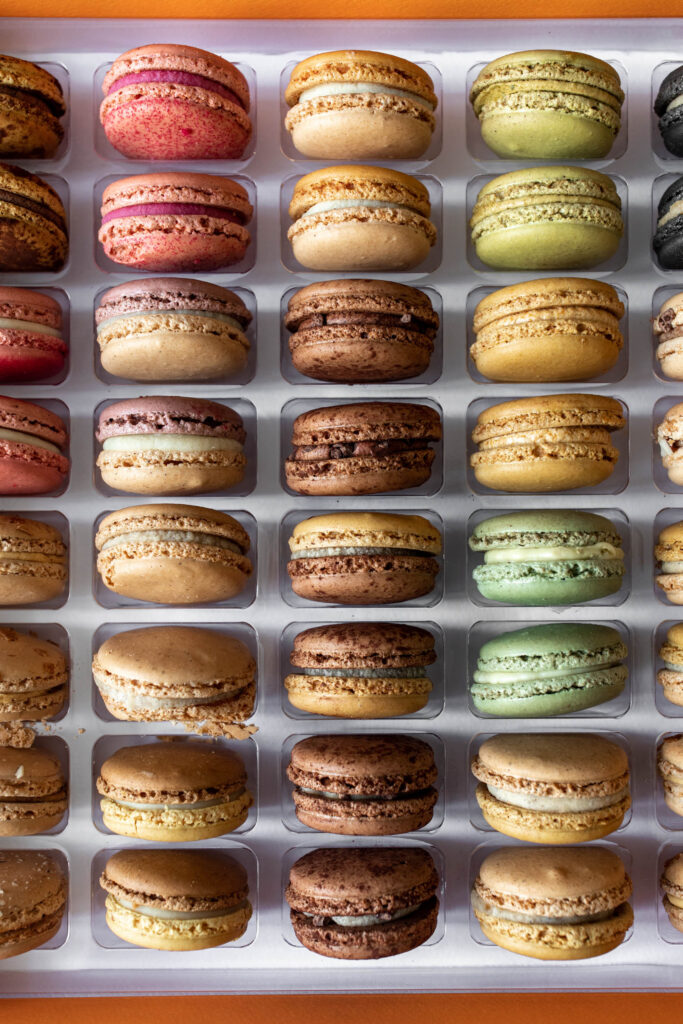 Lunch
Bernadette
2 bis Rue Neuve Popincourt, 75011 Paris, France | bernadettegalette.fr
This restaurant was recommended by a follower who submitted her credentials as a chef to encourage me to visit. I listened and I am so glad I did. Bernadette specialized in galettes, savory crêpes from Brittany made using buckwheat flour. Order the compl'ette, made with slices of jambon Prince de Paris, salty comté cheese and an over easy egg with a perfectly runny yolk. The lacy buckwheat crepe is flawlessly folded up to frame the egg like a work of art. The waiter recommended the sweet crêpes with salted caramel (caramel au beurre salé) for dessert. A more recent specialty of Brittany, this salted caramel is made in house and drizzled over a perfect folded crêpe.
Caractère de Cochon
42 Rue Charlot, 75003 Paris, France | @characteredecochon
This was one of the top 5 sandwiches I have eaten in my entire life. Quality ingredients shine in this simple Parisian sandwich. This small charcuterie shop in the Marais with a little counter is dedicated entirely to ham, both roasted and cured with varieties from numerous regions (namely around France and Spain) lining the wall. As we blankly stared at the menu listing the types of ham outside, unsure of what to order, the owner invited us in and talked us through our selection.
We picked up two sandwiches, one made with shaved truffle ham and the other with an aged and cured French ham. Both were paired with salty, hard manchego as recommended by the owner with cornichons and a thick lather of French butter piled inside a crusty baguette. The issue with so many sandwiches served on baguettes outside of France is that they are served on bread made days prior that could break your teeth. Baguettes in Paris are something else entirely.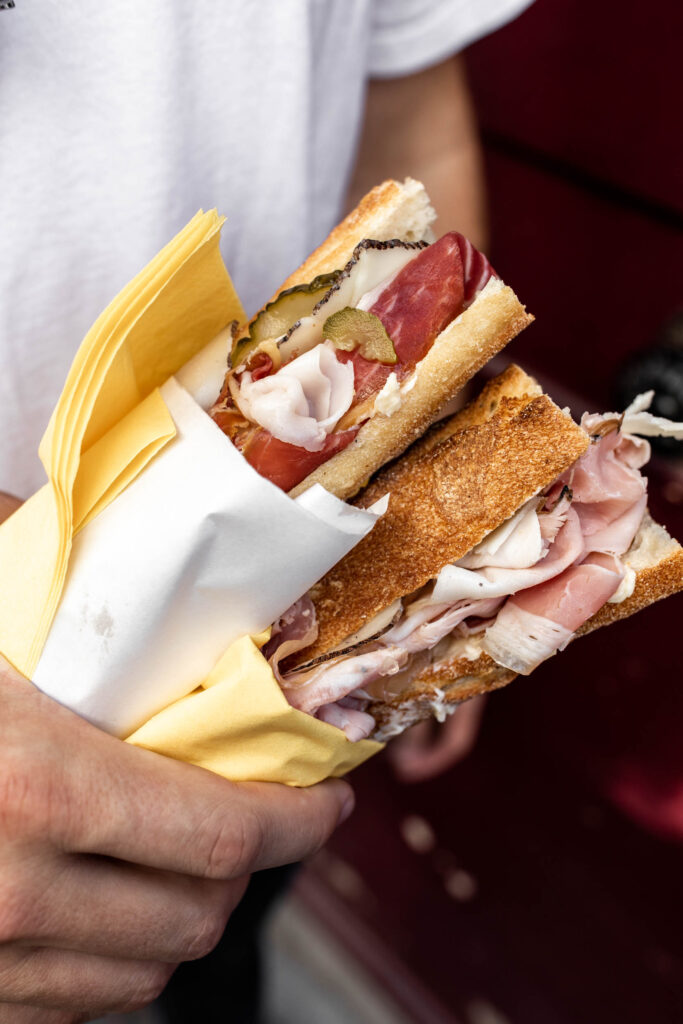 L'As du Falafel
34 Rue des Rosiers, 75004 Paris, France | @lasdufalafel
As we walked up the long and winding line stretching down the Rue des Rosiers in the Jewish quarter of the Marais, my husband Aaron tried to talk me out of my desire to try the falafel pita at L'As du Falafel. While you can choose to wait to sit down and eat at tables or take your order to go, opting to eat standing in the alleyways, everything is highly organized (they've been doing this since 1979!). Orders are taken and paid for while waiting so as you approach the window your pita is simply assembled fresh and handed down to be photographed (I wasn't the only one) and subsequently inhaled.
I ordered the falafel pita, filled with perfect crispy balls of fried mashed chickpeas and herbs, tender roasted eggplant, hummus, pickled red cabbage, cucumber and harissa. While meat usually shines in my book, the shawarma made with shaved lamb and turkey didn't hold a candle to the falafel.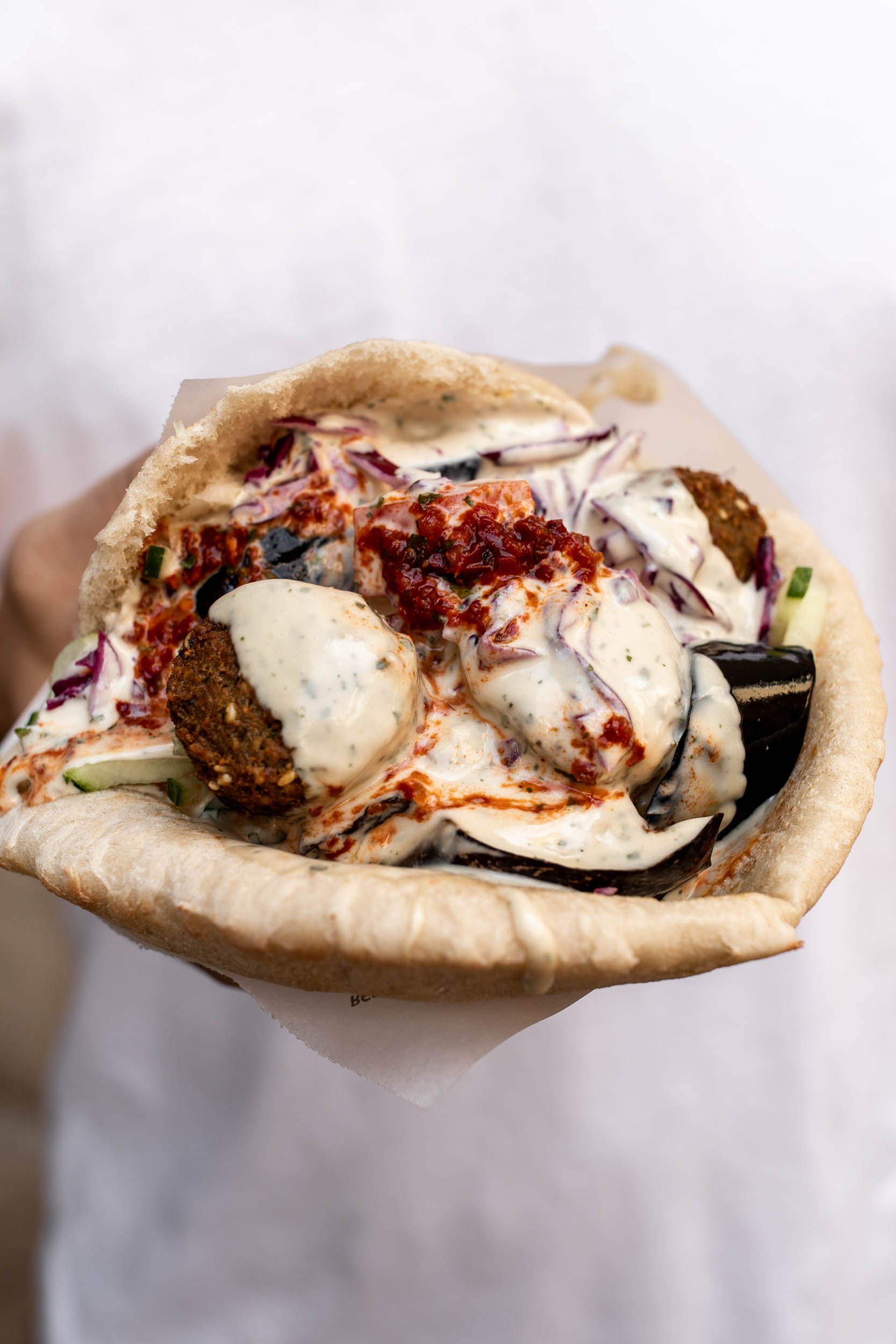 Bo bun Vietnamese
7 Gal des Variétés, 75002 Paris, France | tripadvisor.com
Bo bun has become extremely popular in Paris in the last decade. The noodle bowl from Southern Vietnam is served with vermicelli rice noodles, stir fried lemongrass beef, lettuce, cucumber, mint, cilantro, crushed peanuts, bean sprouts, and sometimes shrimp or chopped, crispy spring rolls in sweet, tangy and spicy nước chấm sauce. Mix it all up for a light but satisfying meal. The beef version is more popular in Paris, while a version using grilled pork is more popular in Vietnam. Bo bun Vietnamese is located in one of the charming covered walkways cutting between buildings flooded with natural light through the stained glass ceilings.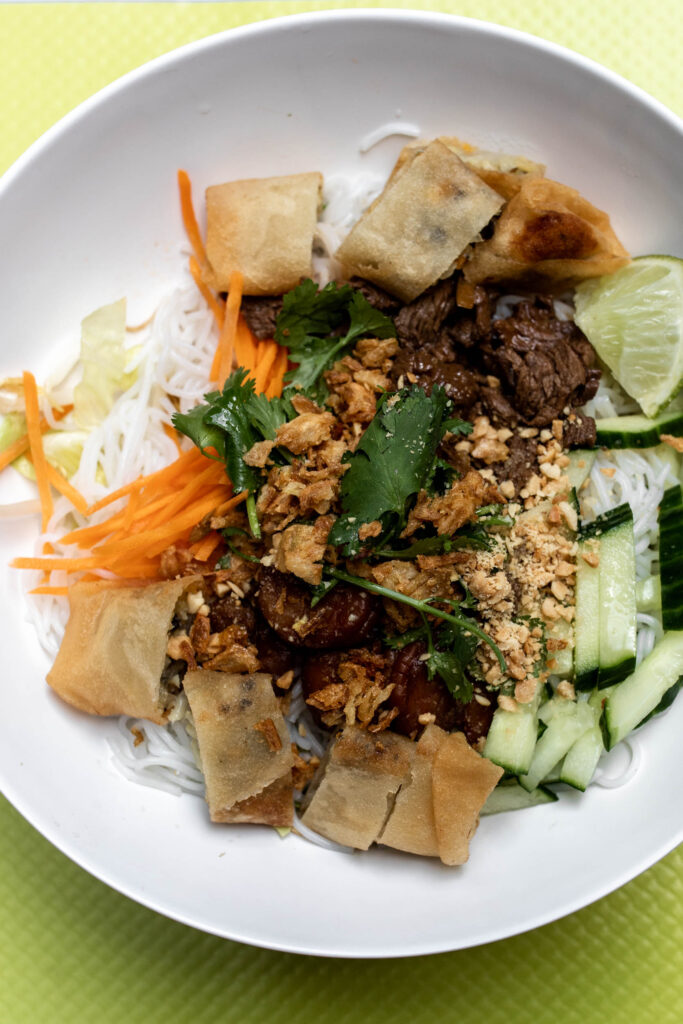 Dinner
Allard
41 Rue Saint-André des Arts, 75006 Paris, France | restaurant-allard.fr
Allard, a classic bistro offering rich French cuisine in the Saint Germain quarter owned by famed Chef Alan Ducasse, has been open since 1932. We stopped in for a late lunch, however, I recommend picking this restaurant for dinner. First confusing, the dining room is accessed through the kitchen offering sneak peeks of the meal to come. One of my favorite anecdotes from our meal came from watching a rich Parisian couple feed their teacup chihuahua the $20 appetizer of foie gras as it sat in its own seat at the table, perched waiting for more bites of duck liver.
We began with escargot, a French delicacy made with snails in a blend of parsley, garlic and butter that melt into the chewy yet tender texture of the cooked snails. The seeded loaf of house bread is the perfect pairing for scraping every last bit of the sauce from the plate. The whole duck may have been an ambitious order even when it is listed as an "entree for two" but it was not a decision I regret making. The duck came split into 8 sections paired with an abundance of pitted green olives and a rich red wine and stock-based sauce. What at first glance seemed like too many olives turned out to be the perfect pairing of duck, briny olive and perfectly seasoned rich sauce in each bite.
Le Chateaubriand
129 Ave Parmentier, 75011 Paris, France | lechateaubriand.net
Le Chateaubriand offers a reasonably priced tasting menu for €85 filled with beautifully presented dishes with a long list of wine pairings. Basque chef Inaki Aizpitarte's menu changes daily with no written list of dishes.
The meal began with several courses of appetizers beginning with gougères, savory choux shells made with cheese stuffed with poppyseeds. The second was one of the most interesting of the night, leche de tigre, a tangy ceviche broth meant to be taken as a shot. Another favorite was a ravioli filled with delicate crabmeat in a flavorful molecular gastronomy foam and celery. The menu shifted towards heavier main dishes like raw tuna in tomatoes and onion, John Dory with white beans and a white bean purée that vaguely reminded me of my rosemary dip, ending with seared steak paired with eggplant and shiitakes. The dessert courses rounded out the meal perfectly, my favorite being a unique coffee ice cream and biscuit dessert.
As someone who fixates on menus, I enjoyed the surprise of what would be served next. The servers are very understanding and accommodating with dietary restrictions. Don't expect to find a restaurant full of locals, as many of the surrounding tables were filled with fellow Americans. Book online in advance for one of the two seatings beginning at 7pm.
New Jawad
12 Av. Rapp, 75007 Paris, France | newjawad.fr
New Jawad serves Indian-Pakistani dishes in an upscale, white tablecloth setting. After spending the day at the park next to the Eiffel tower we wandered off to find food. I recalled a nearby restaurant that had been recommended to me. I suggest starting with the cheesy garlic naan, perfect for dipping in the trio of dips they bring to the table.
The palak paneer was made with a cheese more closely resembling cream cheese rather than the more traditional squeaky paneer. It was rich and delicious, always a favorite vegetarian dish of mine. We rounded the meal out with a butter chicken (basic but delicious) and a lamb korma in a creamy and nutty curry sauce made from a combination of pistachios, almonds and cashews.
Le 404
69 Rue des Gravilliers, 75003 Paris, France | 404-resto.com
The wedding welcome party was hosted at Andy Wahloo, right next door to Le 404 with the same owners (restaurateur Mourad Mazouz also owns Sketch, a popular Instagram-famous bar in London). Rather than wandering around the 3rd arrondissement to find food afterwards, we were steered towards the patio of 404 for Moroccan cuisine. 404 was opened by owner Mazouz as an ode to his North African roots. We began with the bourek kefta, a crisp phyllo pastry stuffed with spiced ground beef, followed by a mezze of salads including a lentil salad; Méchouia, a grilled vegetable salad; and zaalook a blended eggplant and tomato dip paired with fresh bread. The star of the meal was a tagine made with duck, apples and cinnamon.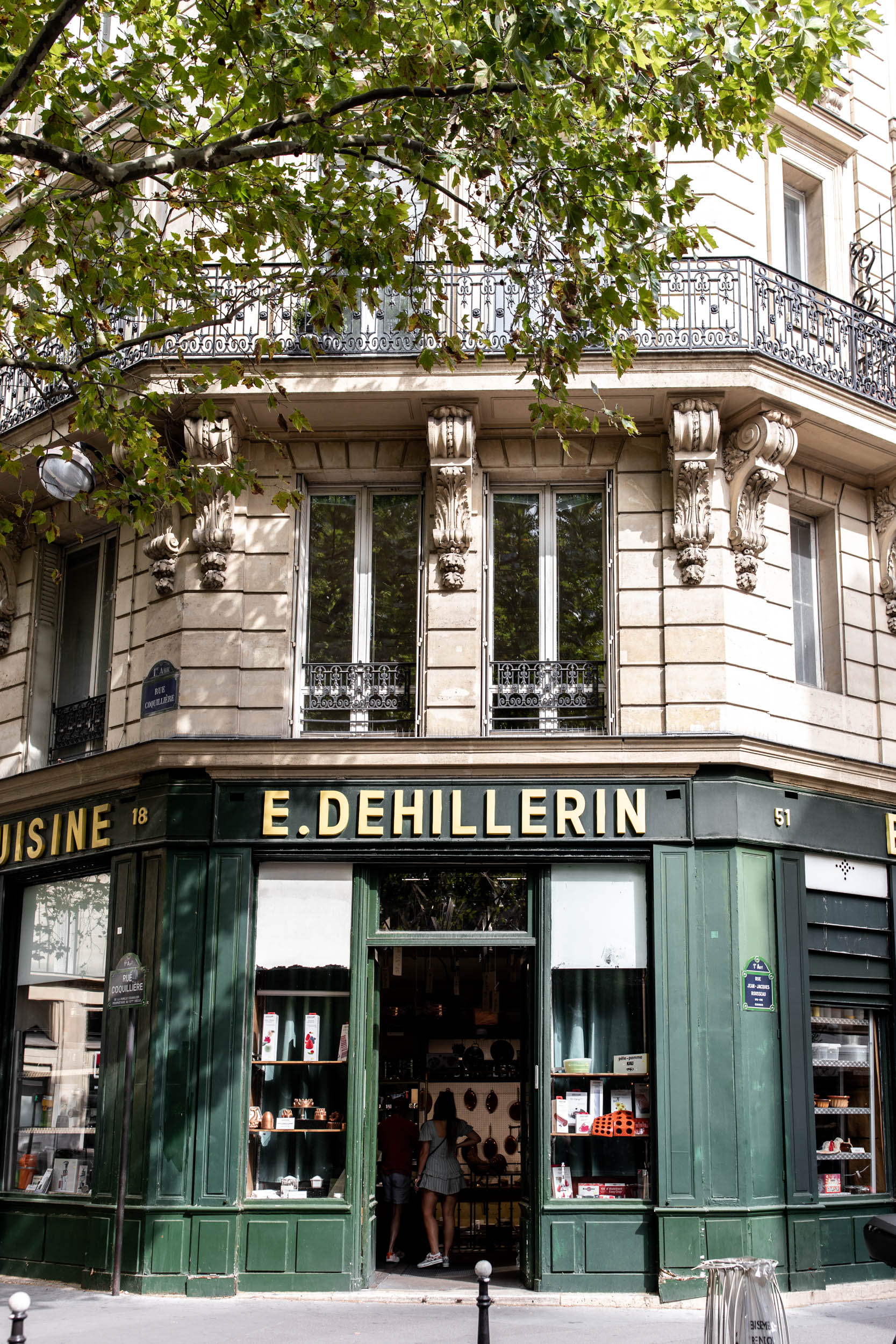 To Do
Aside from eating these are some of my favorite things to do in Paris:
Boat ride down the Seine – Rather than a cocktail hour after the wedding ceremony, guests gathered on a boat down the Seine from Pont Neuf. While it is a bit touristy, it is also a beautiful way to see the city, especially around sunset.
Musée de Louvre – Of course the Louvre is on the top of many lists, namely for the "Mona Lisa" and "Venus de Milo". Even if you don't have time to walk through the museum (seeing every piece of art would take around 200 days) at least see the glass pyramids designed by I.M. Pei outside. If visiting the Louvre I recommend booking tickets in advance online, the area and museum can get hectic and crowded.
Musée de l'Orangerie – Much smaller and more manageable to navigate than the Louvre or the Musée D'Orsay, the Musée de l'Orangerie houses Monet's water lilies and other impressionist paintings.
Picnic by the Eiffel Tower – Bring blankets and set up in the park. Bring a picnic of cheese, charcuterie and baguettes and either bring your own wine or buy a bottle (or multiple) from the vendors walking around the park. I prefer to go at night to sit under the tower as it twinkles every hour on the hour.
Shopping – Of course I love to shop. Rather than Parisian high-fashion designers I opted to stop by E. Dehillerin, the famed cookware store. The rows are lined with vintage copper pots and pans, cake pans, molds, whisks, enamel cookware and more. Just leave enough room in your luggage!
Sacré-Coeur – Tip: take a cab or the funicular to the top of the steps and walk down from Sacré-Coeur through the neighborhood of Montmartre. I love checking out the work of local artists and stopping off in cafés and bars along the way.
Palais-Royale Garden – Walk through the Palais-Royale Gardens and stop at Café Kitsune for a cappuccino. Sit around the water fountain or in the rose gardens with a good book.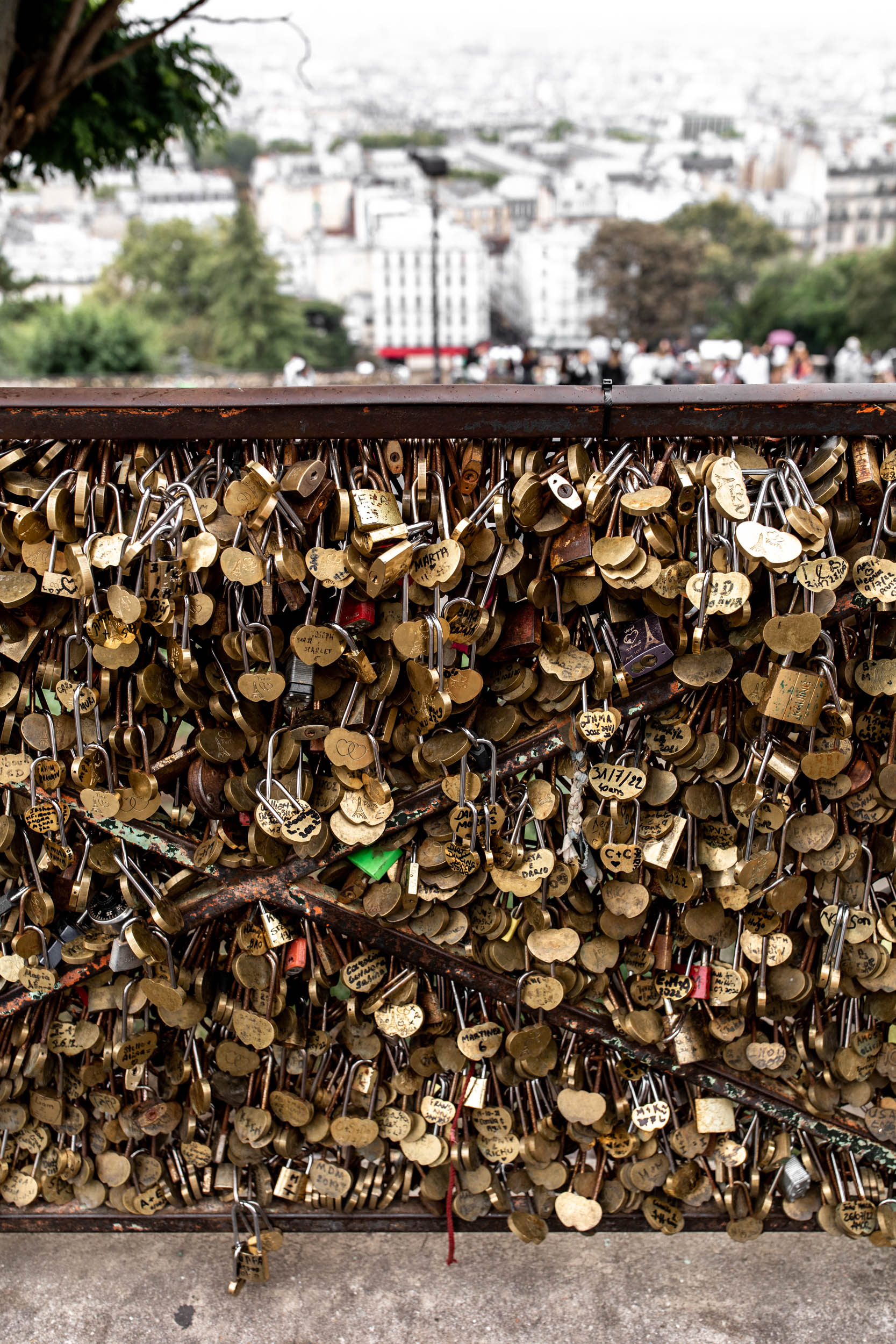 After our trip I have continued to dream of returning to Europe. There are plenty more places to visit in France alone, and I'm hoping not as much time will pass before my next visit. In the meantime Aaron and I have vowed to work on our French thanks to Duolingo!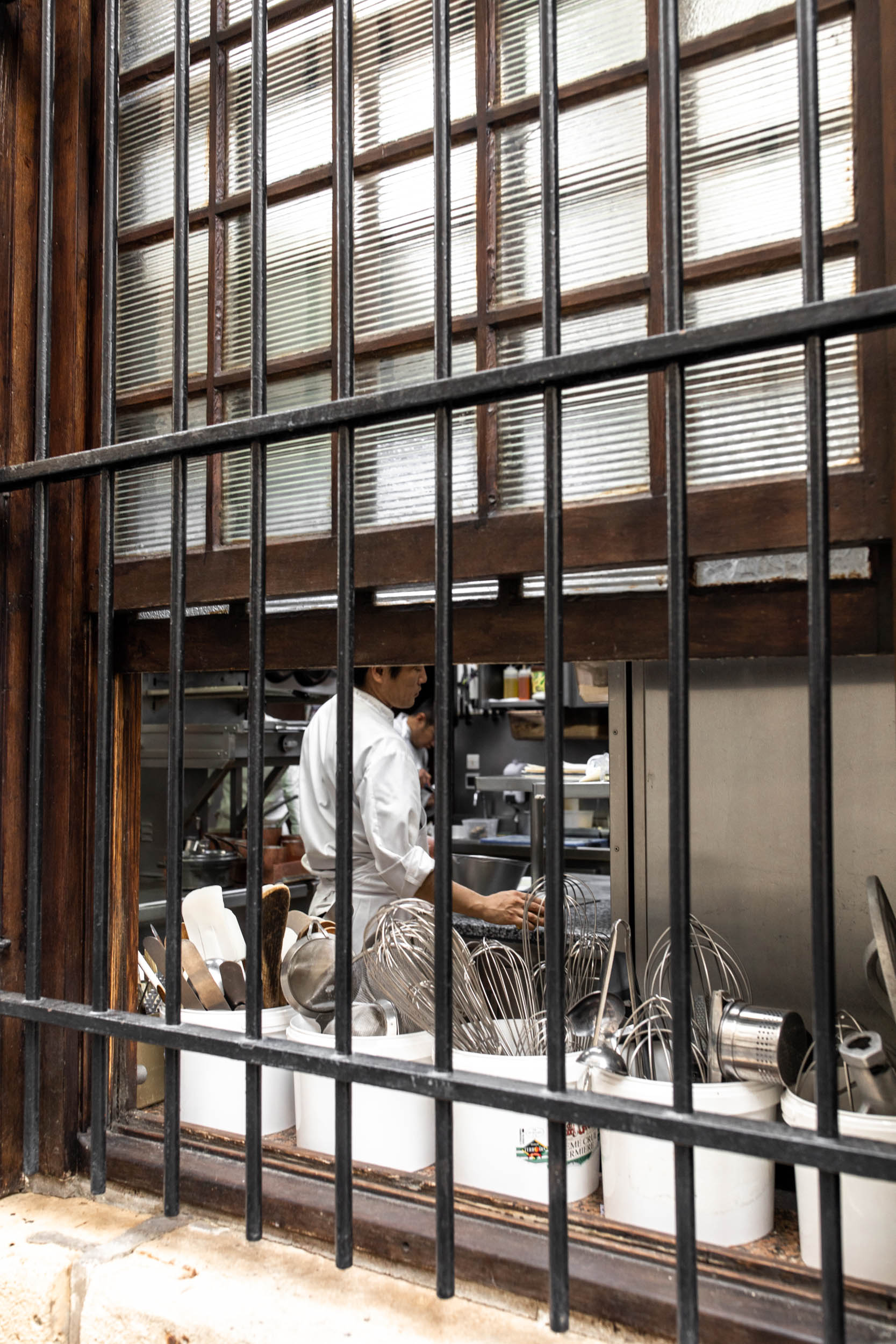 Feel free to share any favorites I need to include on my next trip!