Before you come for me for my faux pas, it was purely because we ran out of time. My husband Aaron and I were in the Texas state capitol and "live music capital of the world" for a wedding and due to unforeseen flight delays, we didn't end up with as much time in Austin as we had planned. Prior to our trip I asked for recommendations from my Instagram followers. I compiled a thorough and long list of restaurants. I look forward to another trip to Austin to explore more neighborhoods outside of the downtown area. With a dwindling 36 hours in Austin, we surely made the most of it.
We stayed at the LINE hotel downtown, with a view overlooking the Colorado River and the Congress Avenue bridge filled with boats and kayakers making their way down the river. In between wedding festivities, we were able to squeeze in dinner at the sushi-focused Uchiko, multiple breakfast taco stops, lunch at the Asian-inspired barbecue, Loro, as well as live music, cocktails and beers at bars downtown. The venue for the wedding was the Barr Mansion, a beautiful and historic property built in 1898.  
36 Hours in Austin, Texas
Table of contents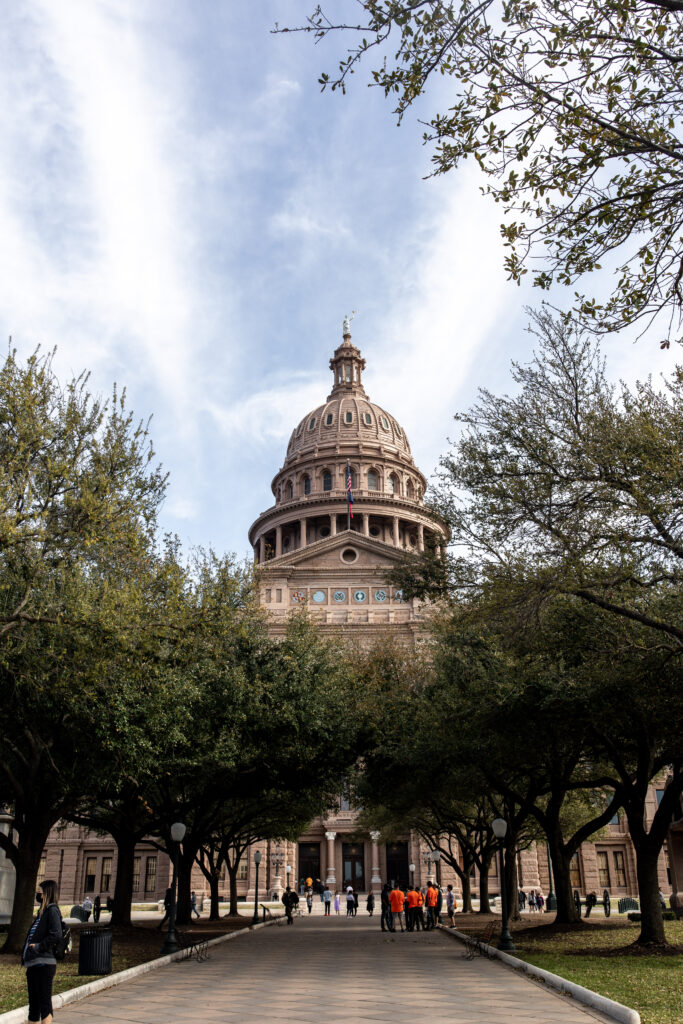 Uchiko
4200 N Lamar Blvd, Austin, TX 78756 | https://uchikoaustin.com/
I've been hearing about Uchiko for years. It's the "go to restaurant" for my friend and her family's special celebrations. For years I heard how much I would love it. Uchiko is the larger sister restaurant to Uchi, a smaller sushi restaurant in a converted farmhouse, founded by Chef Tyson Cole. Both serve innovative, high-quality Japanese food in differing settings. It seems preference varies based on the person.
I made reservations weeks in advance, leaving plenty of time between our flight and dinner. Unfortunately, a seven-hour flight delay out of New York caused us to land at the time of our reservation. After a frantic call from the tarmac, Uchiko was luckily able to accommodate us for later in the evening.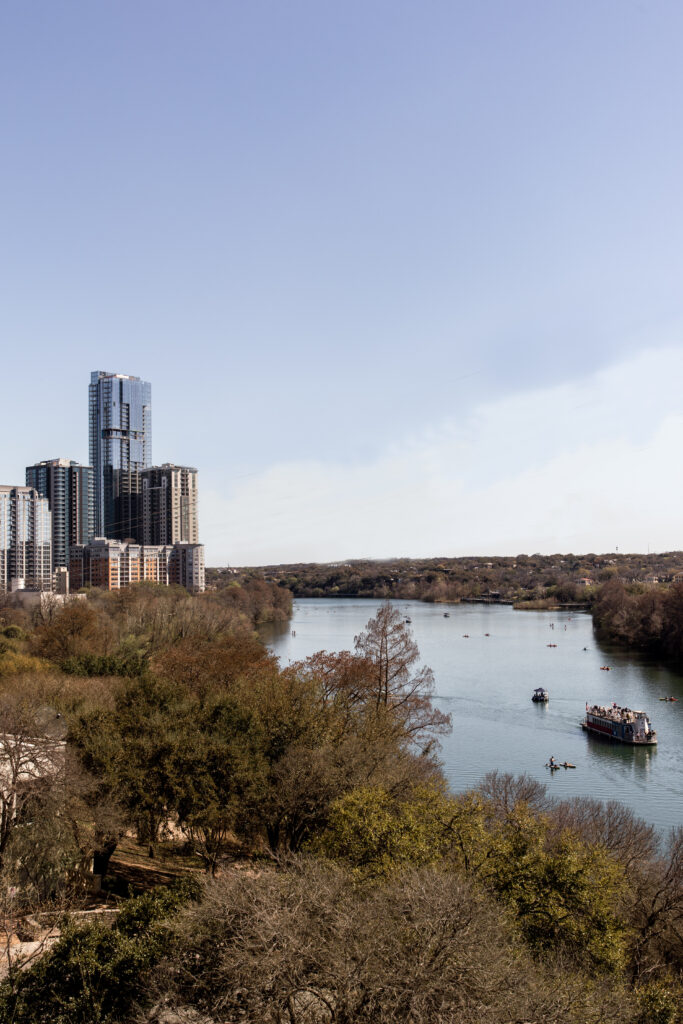 We lucked out with seating at the sushi bar.
While you can choose an Omakase we ordered a la carte, though it felt much more like a "choose your own adventure". The sushi chef guided us through the menu, offering suggestions for brighter or more savory servings of fish. 
It may be easier to list the dishes we didn't eat from the extensive menu. Standouts included the "hama chili crudo" with yellowtail, ponzu, Birdseye chilies and slices of orange supreme. We ordered a few items from the happy hour menu, including the foie gras gunkan (meaning little boats) served with fish sauce caramel and candied quinoa. We also ordered the boquerones, white Spanish anchovy served with a gremolata. Lemon miso caramelizes on the slices of Japanese eggplant in the nasu dengaku sushi, giving it a great eel-like texture. After a round of oysters, bluefin and albacore tuna, salmon, and a roll we finished with pieces of otoro (fatty tuna belly) and a qyutoro sushi, a 72-hour wagyu short-rib. The perfect end cap to the meal.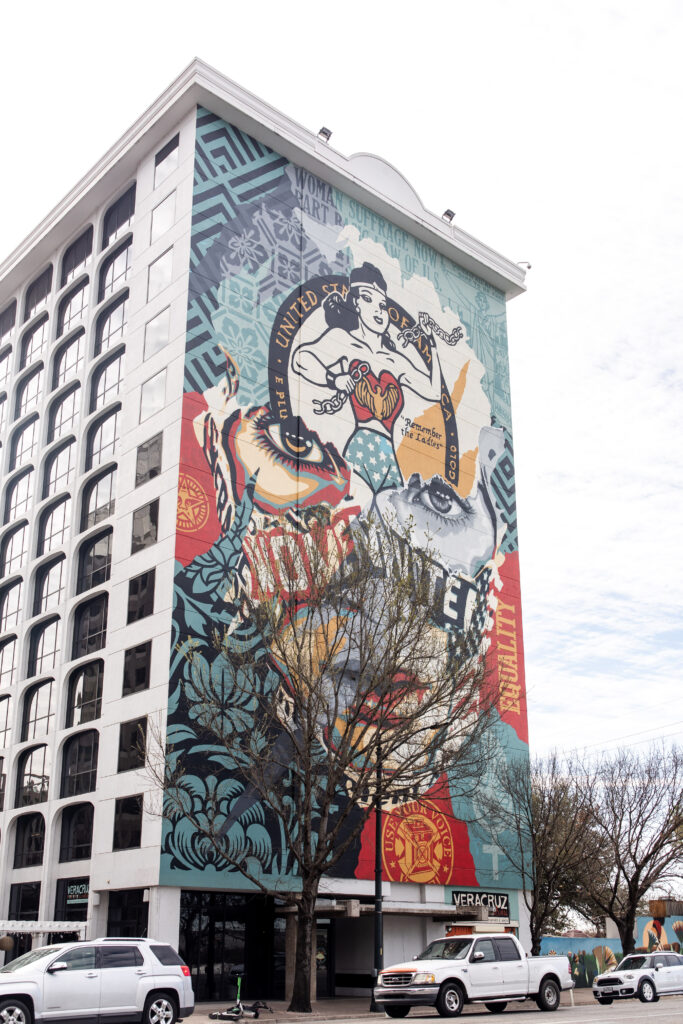 Veracruz All-Natural
Multiple locations; 111 E Cesar Chavez St, Austin, TX 78701 | https://veracruzallnatural.com/
Vera Cruz tacos happened to be attached to the hotel where we were staying, making it an easy morning stop. The business was started by two sisters, who immigrated to Austin from Veracruz, Mexico back in 2008. Originally, they centered around selling snow cones and smoothies, growing the business to a full-fledged food truck in 2010. They have since expanded to five brick and mortar locations where they are now famous for their breakfast tacos.
The Migas tacos are a beautiful mess. The vegetarian breakfast taco is the size of a small burrito. The flour tortilla comes filled with eggs, tortilla chips, tomato, onion, cilantro, finely shredded Monterey Jack cheese and avocado. You only need one taco. I went back the next morning before heading to the airport to give another menu item a try. The "el tradicional" breakfast taco is filled with scrambled eggs, crispy bacon, potatoes, refried beans (made vegetarian with canola oil rather than lard) and Monterey Jack.
Torchy's
Multiple locations; 110 San Antonio St #120, Austin, TX 78701 | https://torchystacos.com/
Torchy's was started from a trailer in 2006 by Mike Rypka and has since expanded to over 90 locations in multiple states becoming a Tex-Mex classic. In the debate between the better breakfast tacos – Torchy's lost out to Vera Cruz. 
While they have a full menu of other tacos, I was there for the breakfast tacos. Torchy's were closer to what you think of when you hear the term "breakfast taco" – a classic combination of bacon, scrambled eggs, and cheese on either flour or corn tortillas. The "wrangler" comes with eggs, potatoes, pieces of smoked beef brisket, cheese, and tomatillo salsa. While I preferred other tacos, their queso was incredible. Their creamy roasted green chili queso comes topped with a scoop of guacamole, cotija cheese, cilantro, and diablo hot sauce served with salty tortilla chips. You can make it "hillbilly" with the addition of chorizo.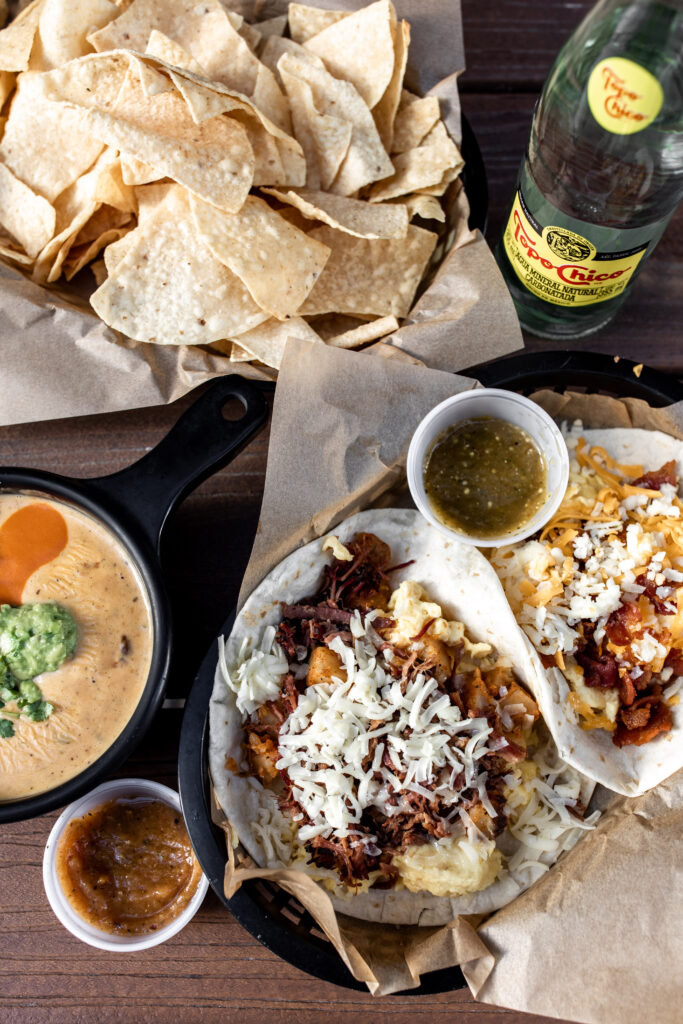 Loro
2115 S Lamar Blvd, Austin, TX 78704 | https://www.loroeats.com/
Loro is the casual Asian-inspired smokehouse on South Lamar blending Japanese and Southeast Asian flavors and sauces with Texas smoked and grilled meats. It was founded in 2018 by two famous parent chefs and Austin favorites – Tyson Cole of Uchi and Uchiko and Aaron Franklin from Franklin's Barbecue.
No matter what else you are ordering, start with the candied kettle corn. It comes out right as you order, served in a brown paper bag with smokey brisket burnt ends and togarashi seasoning for a unique sweet and savory snack.
My personal favorite was the chicken karaage. It was tossed in a sweet and savory dredge, fried until crisp and paired with chili aioli, Szechuan salt and Thai herbs. The brisket isn't served until 4PM; before that it's served on a sandwich with papaya salad and peanuts. The char siew pork belly (a version of char siu) comes slathered in a house hoisin sauce with diced celery and cilantro on top. It's the perfect pairing with the fragrant coconut short grain rice.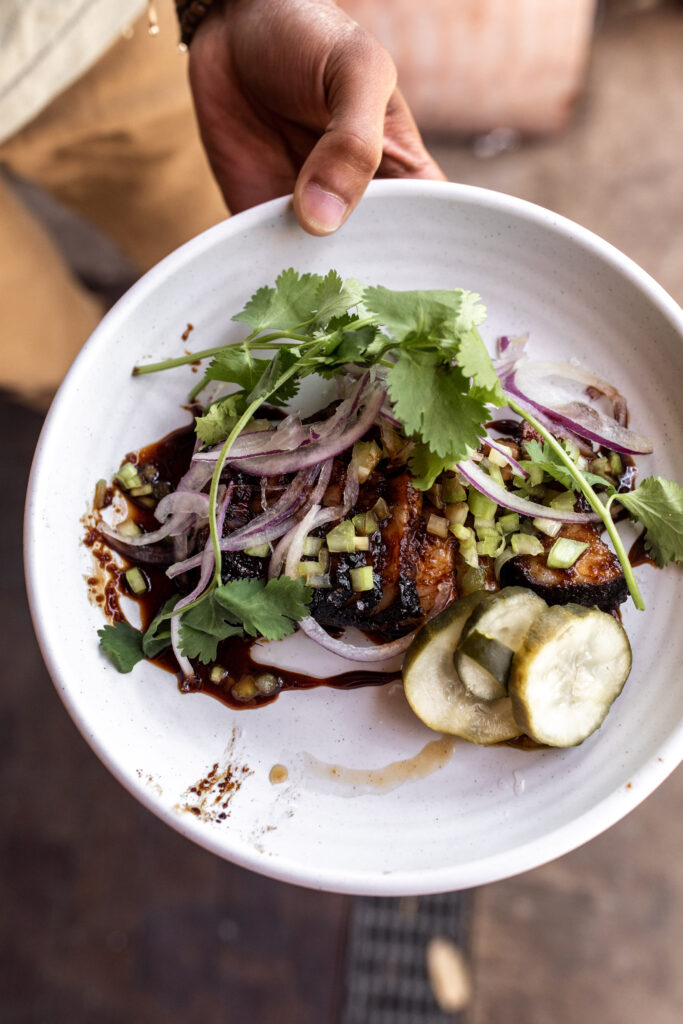 Sadly, with only 36 hours in Austin we didn't have time to wait in line for brisket at the famed Franklin Barbecue or La Barbecue (made longer by the timing of the festival, South by Southwest, colloquially known as SXSW).
Next time my trip to the capital of Texas will certainly be BBQ-focused! In the meantime share any other recommendations below!