Friday September 6, 2019 – Sunday September 8, 2019
San Francisco is only an hour flight from Los Angeles (or a seven hour drive so a flight is definitely a better option). My friend from college, Ryan (also the best man at our wedding), recently moved back to San Francisco so my husband Aaron and I and a couple of friends decided to fly up for a long weekend. The only times I had previously been to San Francisco had been in college when I did a road trip up but really only did the touristy things on a college-student budget; the other time was to attend Outsidelands, the music festival hosted in Golden Gate Park with a group of 15 to 20 friends. It was nice to have a trip planned for five people so that we could try out some of the restaurants on my list. We stayed in the Mission District of the city, a diverse area filled with bright murals, restaurants and bars named for Mission Dolores founded in 1776, basing many of our activities around that area.
After taking the night flight up on Thursday night we were ready to hit the ground running on Friday morning. As usual I did my research ahead of time and mapped out some of my must-hit spots. Luckily my friends humor me and trust me to plan out the food.
FOOD
Breakfast & Brunch
Their spacious covered patio-area would be a good spot to bring a laptop and set up a workspace if you need to work on the go. We stopped by for a light breakfast and coffee on Friday morning prior to an early lunch reservation at Chez Panisse. While Aaron went healthier with the avocado toast I couldn't help but order a cappuccino paired with the "luna" – an everything bagel with cream cheese, sunny side up eggs, ham and grilled mozzarella cheese (the standout part).
Must-order: the luna sandwich
This Mission Districtrooftop restaurant is perfect for Saturday brunch. And if you're curious as to what "el techo" translates to,it literally means "the roof". While we got a bit of a late start Saturday morning the odds were in our favor and we were able to get a last minute reservation for seven. Opting for the "hair of the dog" method we ordered pitchers of margaritas and palomas for all; their margaritas are made with half tequila and half mezcal for a smoky add (and my personal favorite for margaritas). Someone told me they would "fly to San Francisco just for their carnitas" so I followed suit. First a platter came piled with a generous amount of the tender on the inside, crisp on the outside pork, escabeche (pickled vegetables), black beans, corn tortillas and a large piece of crispy chicharrones. The pieces of carnitas were tossed in a bit of granulated sugar giving them a sweet and savory combination perfect for brunch.
Must-order: the carnitas
This coffee shop and contemporary patisserie on Valencia Street in the Mission District offers a wide range of pastries and sweets displayed in almost futuristic cases. They are known best for "the rebel within" – a special similar to a scotch egg in muffin form. A sausage, cheese and onion muffin is cut open to reveal a soft-boiled egg that has been cooked inside the muffin and is still somehow gooey. It's definitely and Instagram-worthy creation. I've heard great things about their Thai green curry scone but they sadly didn't have any when I stopped by.
Must-order: the "rebel within"
Lunch & Dinner
This is one of those restaurants where you need to secure a reservation in advance. We had a lunch reservation for 3pm on Friday at the Café, the floor above Chez Panisse, which offers an a la carte menu rather than a fixed price menu. The restaurant is located in Berkeley, and I have been corrected on noting that this isn't technically in the city but it is within San Francisco County. Founded in 1971, it's not only a part of the city's history but also of the founding of so-called "farm-to-table cuisine". I recently read a book called Chefs, Drugs and Rock & Roll, which focused on the creation of new American cuisine in major cities during the 70's, 80's and 90's and was largely centralized around both Chef Alice Waters and Chez Panisse. She brought focus to sourcing fresh, local and seasonal ingredients from surrounding farms, which may not seem as revolutionary today but the restaurant has had a continued passion for quality throughout the years, which is no small feat.
I was grateful that there were three of us so that we could try several dishes on the menu rather than settling on just one and the waitress graciously coursed the items accordingly. We started with the baked Adante Dairy goat cheese, a dish which was light and almost-whipped texture on a garden lettuce base. Next was a thin-crust wood-fired pizza with a unique combination of sweet gypsy peppers, rosemary and ricotta salata.
While everything was incredible, the two lunch entrees we ordered were absolute standouts. The grilled pork loin sandwich came with marinated red peppers, capers with a side of fried potato chips. The best part about this sandwich was how the juices from the pork soaked into the crusty bread flavoring it. This only works if the bread is crisp on the outside yet tender on the inside – the bread has to be able to hold the drippings without becoming soggy but not too hard that it's difficult to eat. The duck confit was unbelievably tender with crisp "melt in your mouth" skin and some of the best preparation I've had. It was served with romano beans, frisée and roasted fig vinaigrette. At restaurants like this you don't pass on dessert so we chose a ginger cake for the table for just a bite of something sweet.
Must-order: Grilled pork loin sandwich and duck confit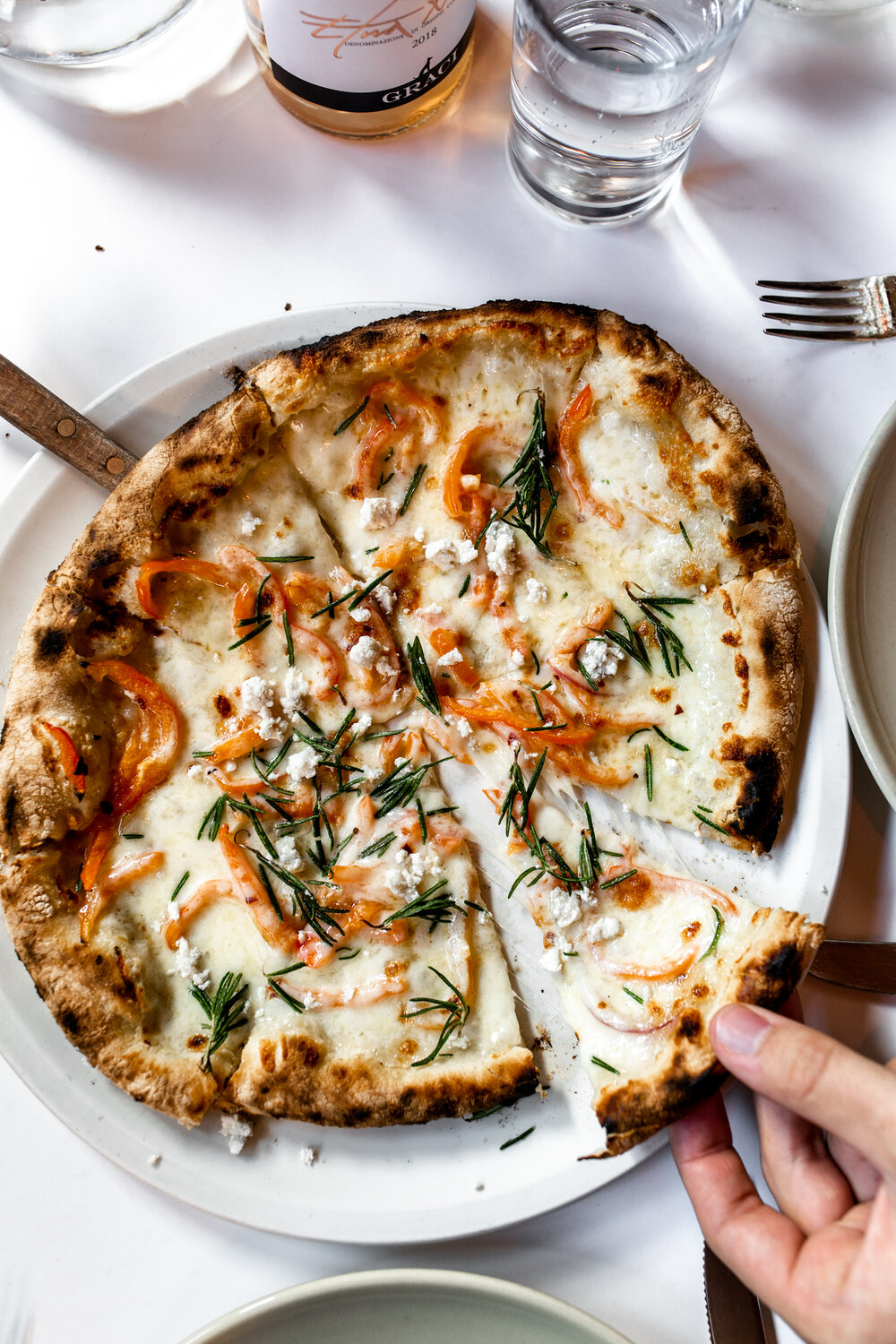 I was thrilled when a reservation for Mister Jiu's opened up for Saturday night for our group of five. I had been dying to try it ever since Bon Appétit named it their #3 restaurant in the country back in 2017. I was traveling with a friend with celiac disease and prior to making the reservation I hadnoticed that Mister Jiu's was on the list for best Chinese restaurants in the city for gluten allergies. The restaurant was extremely accommodating – presenting my friend with a menu highlighted to feature the dishes that were safe for her to eat. That sort of "above and beyond"attentive service makes meals that much more enjoyable. The large tables came with a lazy-susan in the center so that dishes could easily be passed around the table making it great for large groups.
While I would have been happy with any cocktail on the list, I ordered the "happiness" made with gin, sour apple, hibiscus, jasmine tea and honey. After we each had a cocktail in hand we could move on to ordering. First up was a pile of crispy salt and vinegar shrimp chips, a good light snack to start out with. Next came the crispy scarlet turnip cakes, which were the biggest surprise for me. Our server had recommended that we add them to our order. They were made from fried turnips, olives and mushrooms with texture similar to a meat dish, crispy on the outside and tender inside.
The sea urchin cheong fun was probably the most unique thing we ordered from the menu, with slippery rice noodles made from rice flour and tapioca, rolled and topped with briny uni for a unique take on the classic Chinese dish. The Dutch crunch BBQ pork buns were a standout – the classic char siu BBQ pork buns topped with a crunchy topping, their ode to San Francisco's cult-favorite bread. The shiu jiao came filled with with scallops, shrimp, cod and dill while the deep-purple colored potstickers were filled with pork and rainbow chard and served with black vinegar for dipping (a personal favorite of mine – I get it on Amazon here). Sourdough scallion pancakes that more closely resembled a fry-bread came with crème fraîche, crispy onions and green onions on the side and meant to be mixed together for dipping.
While the steak fried rice and Taiwanese style eggplant with basil fish sauce and chili were great, the salt-baked McFarland springs trout overshadowed them both. The trout is served as a whole fish which is wrapped in a lotus leaf, covered in salt and baked until the fish is extremely tender, the salt keeps the fish moist and is flaked away before serving. The fish is presented to the table then topped with a charred scallion relish and trout roe. The whipped honey for dessert was a great way to cap off an excellent meal.
Must-order: sea urchin cheong fun, Dutch Crunch pork buns & the whole trout
This "hole in the wall" shop with an Asian inspired menu resembles a convenience store from the outside and while the line may be out the door, the place only holds a few people. After attempting to call in our order multiple times we finally drove to the shop and placed our wing order. Each order comes with five wings, and while on the pricier side per order it's a good opportunity to try a variety of flavors. We got there later in the afternoon on the first NFL Sunday of the season so they were sadly out of their wings with bacon but had plenty of other options.
Of all the wings we ordered my favorites included the Korean wings tossed in a gochujang sauce, the Thai wings in a sweet chili sauce, panko parmesan which were mildly flavored but battered and fried in a golden brown crunchy crust. I also loved the "green" wings for something a little different. They came fried and topped with spoonfuls of chopped cilantro jalapeno and ginger mixed with sesame oil. The Goliath waffle sandwich is a "can't miss" item. It comes with fried chicken karage in-between crispy waffles piled with cabbage slaw, sriracha-caramel and a spicy mayo described as "sushi sauce". It's huge so plan on splitting it with someone but the flavors all work together so well.
Must-order: Goliath waffle sandwich
This is a casual Greek spot with several locations around the city. While they are known to have great gyros filled with lamb, chicken or pork shoulder, I stopped by at an off time specifically for their famed frozen Greek yogurt topped with baklava crumbles. I wished it had more baklava crumbles, and it needed just a bit more of the sweet pastry to balance out the tart flavors of the yogurt, however, that probably comes down to the generosity of the server.
Must-order: frozen Greek Yogurt
The Mission District is known for their Mexican food and more specifically the mission-style burritos that were popularized in the 1960s and are even more prevalent today. These large, stuffed burritos were the source of inspiration behind the fast-casual chain Chipotle's burritos.
La Taqueria consistently has a line wrapped around the restaurant and is cash only (as are many of these similar small spots in the Mission) but they have been open since 1990 and since by now they know what they're doing, the line moved fairly quickly.After La Taqueria was named the winner of FiveThirtyEight's best burrito in the country in their competitive bracket challenge (back in 2014) it rarely has a short line.I came here for their Mission-style burrito served super-style. That means the burrito is filled with a choice of meat, rice, beans, onions, cilantro, sour cream, cheese and avocado. When it's ordered to be eaten at the restaurant it comes pressed, so that the tortilla is perfectly crisp and golden, but when ordered to-go it doesn't come pressed.
The carne asada and carnitas are equally popular, but I chose the carnitas, I just can't get enough of that tender pork. La Taqueria makes their carnitas by first simmering chunks of pork butt in water and then once the water is almost gone lard is added. The meat is cooked first over a low flame that is gradually increased over time so the pork is tender on the inside and doesn't dry out but still has its characteristically crispy exterior. When they're done cooking the meat, it is shredded in the pot and seasoned simply with orange, garlic and salt. Their pinto beans are simmered for three hours and fried for one, making each component a labor of love. I made this stop just prior to heading to the airport. You better believe that I tore into this bad boy on the plane – and this doesn't even register among the strangest things I've brought on flights.
Must-order: Carnitas mission-style burrito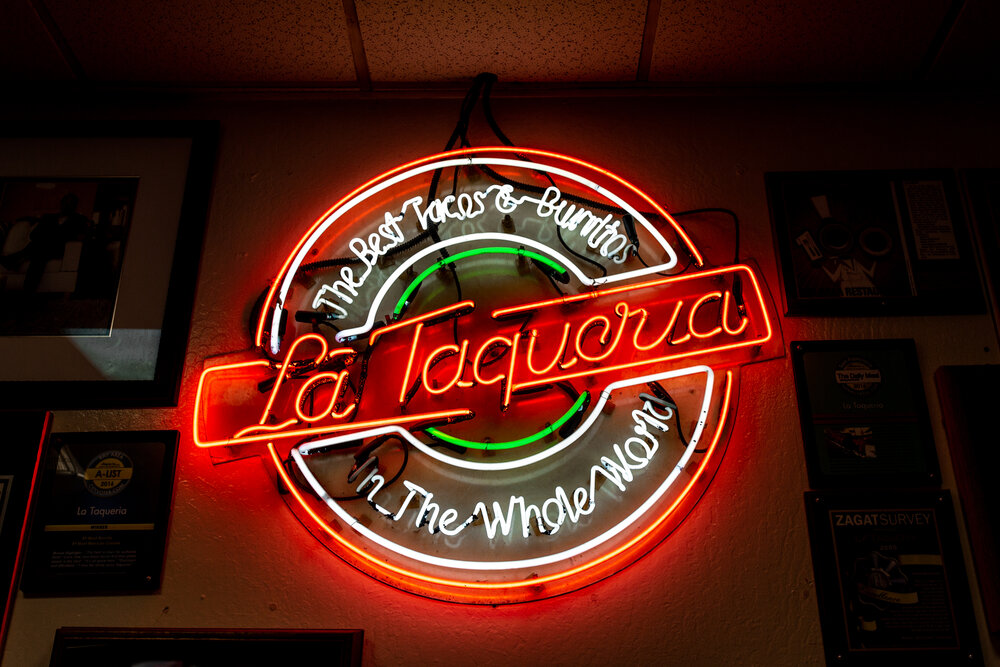 DRINK
Comal is located in Berkley's Art's district and while more widely known for the food, with a large back patio filled with picnic tables it's a good hangout for groups looking to grab a few drinks. They even had dim-sum style carts toting around bar bites like chips & salsa, wings and pre-made margaritas – a good way to bypass a crowded bar line. The mezcal flight comes with tiny slices of mango and sangrita verde to accompany the tasting options.
Located on the roof of the San Francisco Proper hotel, this bar has both indoor and outdoor seating, and with illustrious views of the city, it's perfect for a sunset drink. The cocktails are well made but on the pricier side so plan on making it your first drink of the night.
We stopped by this Lower Pac-Heights sports bar for the USC vs. Stanford game (a inter-California rivalry that also happens to be a rivalry between my husband, Aaron who is currently getting his MBA at USC and our friend Ryan, a life-long Stanford fan). There are plenty of TVs around and it's an inexpensive and fun bar. After paying only $28 for a round of drinks for 5 people we didn't question it, we just kept drinking.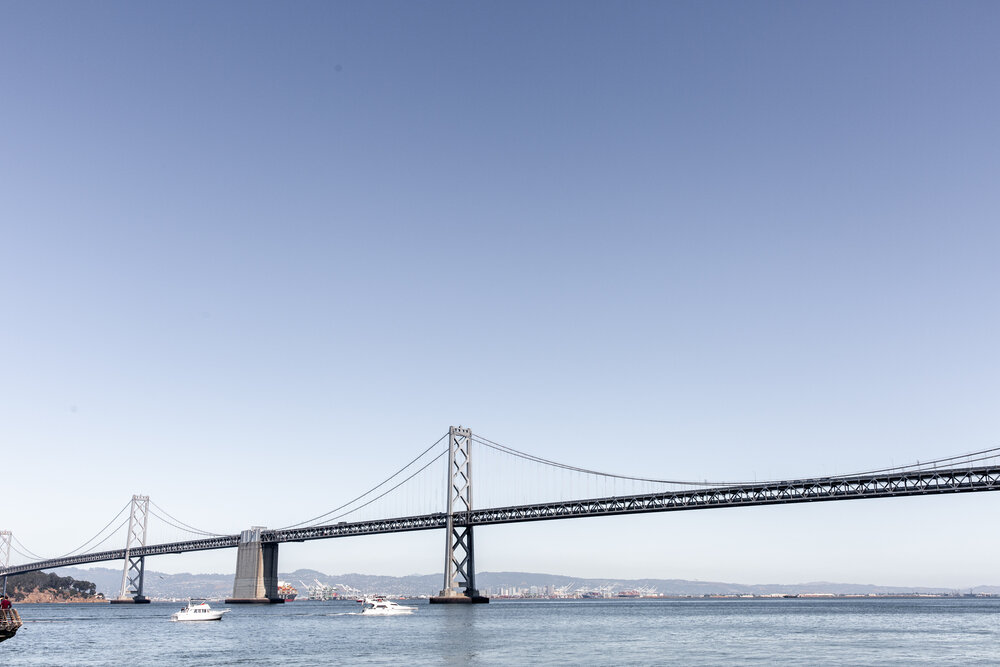 TO DO
Located in the Mission, this popular park is a summer favorite for locals and tourists alike. Akin to a smaller central park it's no stranger to events and picnics.
Close to my friends apartment in the Mission district, we spent Saturday afternoon walking around the shops lining Valencia street.
While the Ferry Building, located on the Embarcadero is actually a functioning terminal for ferries crossing the bay, I was more interested in the food hall aspect of it. Renovated in 2003 it is filled with stalls selling San Francisco favorites from cheese to wine and ceramics. It reminds me of a smaller version of Chelsea Market in New York City. They even have a farmers market that pops up on Tuesdays, Thursdays and Saturdays.
After a bit of wine tasting I was more than willing to go shopping for props at Heath Ceramics. Famous for their handcrafted upscale pottery and sourced by many restaurants around the country, I couldn't help myself and purchased a few plates and bowls to use for food styling. I also picked up individual packets of truffle salt at Far West Funghi. And while I've heard the Vietnamese shop, Slanted Door, is great we had just come from lunch at Chez Panisse. Of course I wasn't too full to stock up on cheeses from Cowgirl Creamery. Two of my favorites are the Mt. Tam and the Red Hawk, both soft ripened cheeses.