This recipe is for a traditional Southern crawfish boil. Rather than dividing the portions up onto plates before serving the table is spread with newspapers as a makeshift tablecloth and the contents from the crawfish boil is dumped on top for a communal feast. We have done this several times for fun and unique family gatherings. Even if crawfish aren't native to your area they are easy to find online.
My brother graduated from the University of Alabama and frequented crawfish boils hosted by fraternities on their expansive lawns so he served as my authenticity guide.
Traditional Southern Crawfish Boil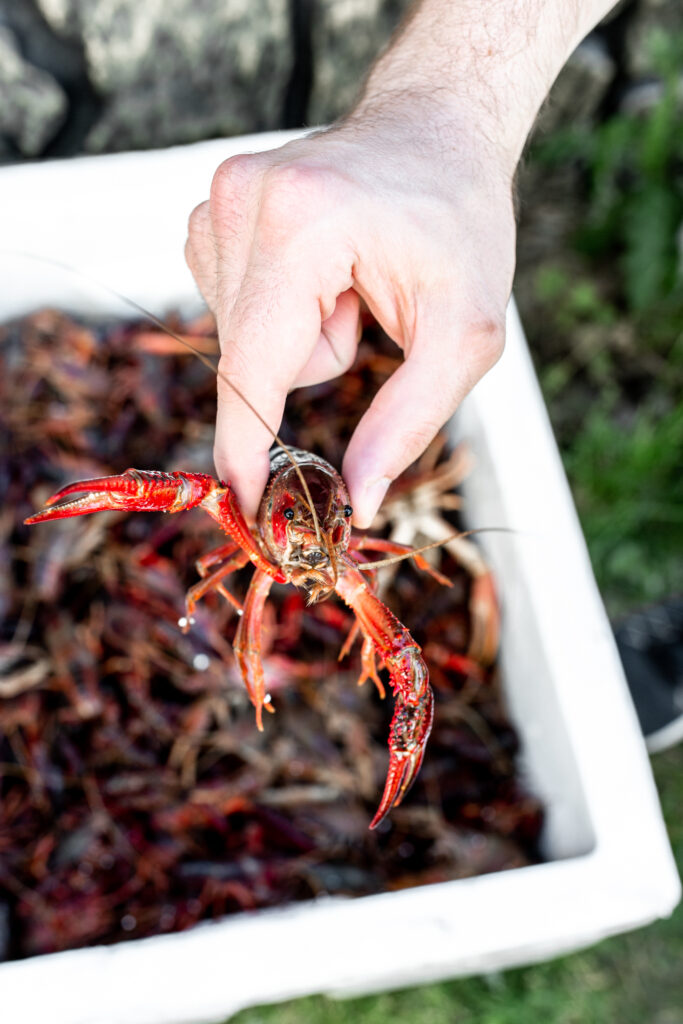 How to Source Crawfish
Crawfish are in season during spring; specifically in Louisiana the season for wild caught crawfish runs from mid-January through early-July. I was having a difficult time tracking down whole live crawfish on the West Coast so I did what any normal person does these days, I turned to the internet. I was able to overnight live crawfish from Louisiana to my parents' house in New Jersey where I would be staying for the week. Check out the website cajuncrawfish.com, although there are several other similar sites as well.
Key Ingredients in This Recipe
Grapefruit – Grapefruit is added to the boil because the citrus helps to break down the shells of the crawfish and keep the meat tender.
Corn – I love making the most of sweet summer corn picked up from local farm stands. When buying ears corn, look for a bright green husk that is tight around the corn. Feel the kernels through the husk, they should be plump. (I like to peel back a section of the husk to double check the kernels.) Look at the tassel (the strings at the top), it should be yellow or light brown – it should have a sweet smell.
Yellow onion – I use yellow onion in this recipe for its mellow flavor when cooked. These onions with a brownish yellow papery skin are a great all-purpose cooking onion.
Potatoes – I use a mix of both yellow and red new potatoes in this recipe. They are small with a thin skin so they don't require peeling. While I boil them whole they can also be cut in half to cut down on cooking time.
Seasoning – Rather than making my own seasoning for this recipe I opt to buy a pre-mixed Cajun spice pack. My favorite is from Zatarain's and can be found at most grocery stores or seafood markets. It's made with a mix of mustard seed, coriander seed, cayenne pepper, bay leaves, dill seed and allspice.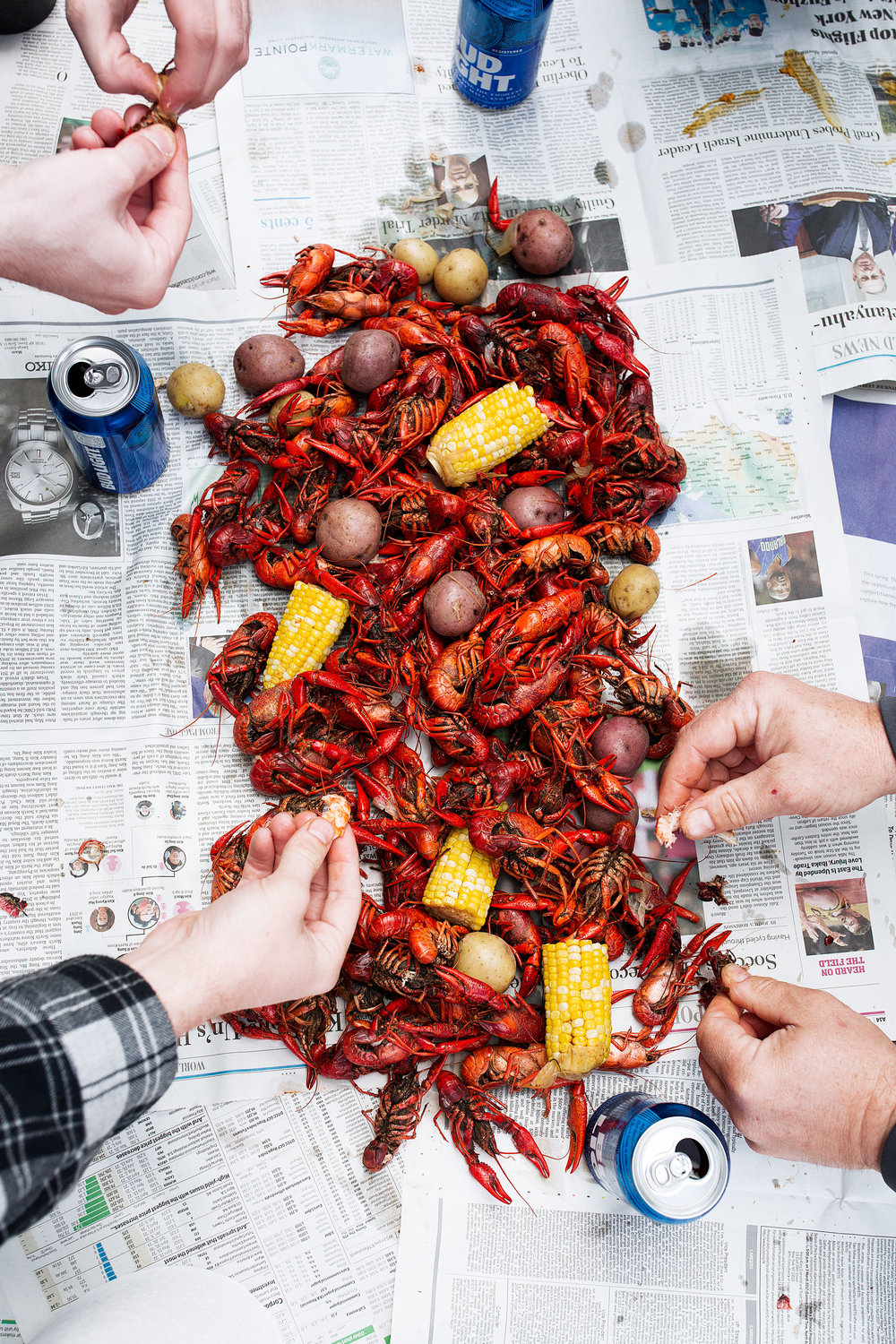 How to Boil Crawfish
Prepare the pot and add seasoning. Bring an extra-large pot fitted with a basket strainer and filled about halfway with water to a rolling boil. Add the seasoning mix and stir to combine, return to a rolling boil.
Add the grapefruit and vegetables. Squeeze the grapefruit halves into the water then add them to the pot along with the potatoes, onion, and corn. Cook for 5 minutes.
Add the crawfish. Next, gently add the crawfish and cover the pot. Depending on the size of the pot, this may have to be done in batches.
Cook then remove from heat. Cook for 5 minutes then remove the pot from the heat and let sit for 15 minutes so the crawfish absorb the flavor of the spices.
Strain and serve. Lift the strainer and pour the cooked crawfish out on a newspaper-lined table outside.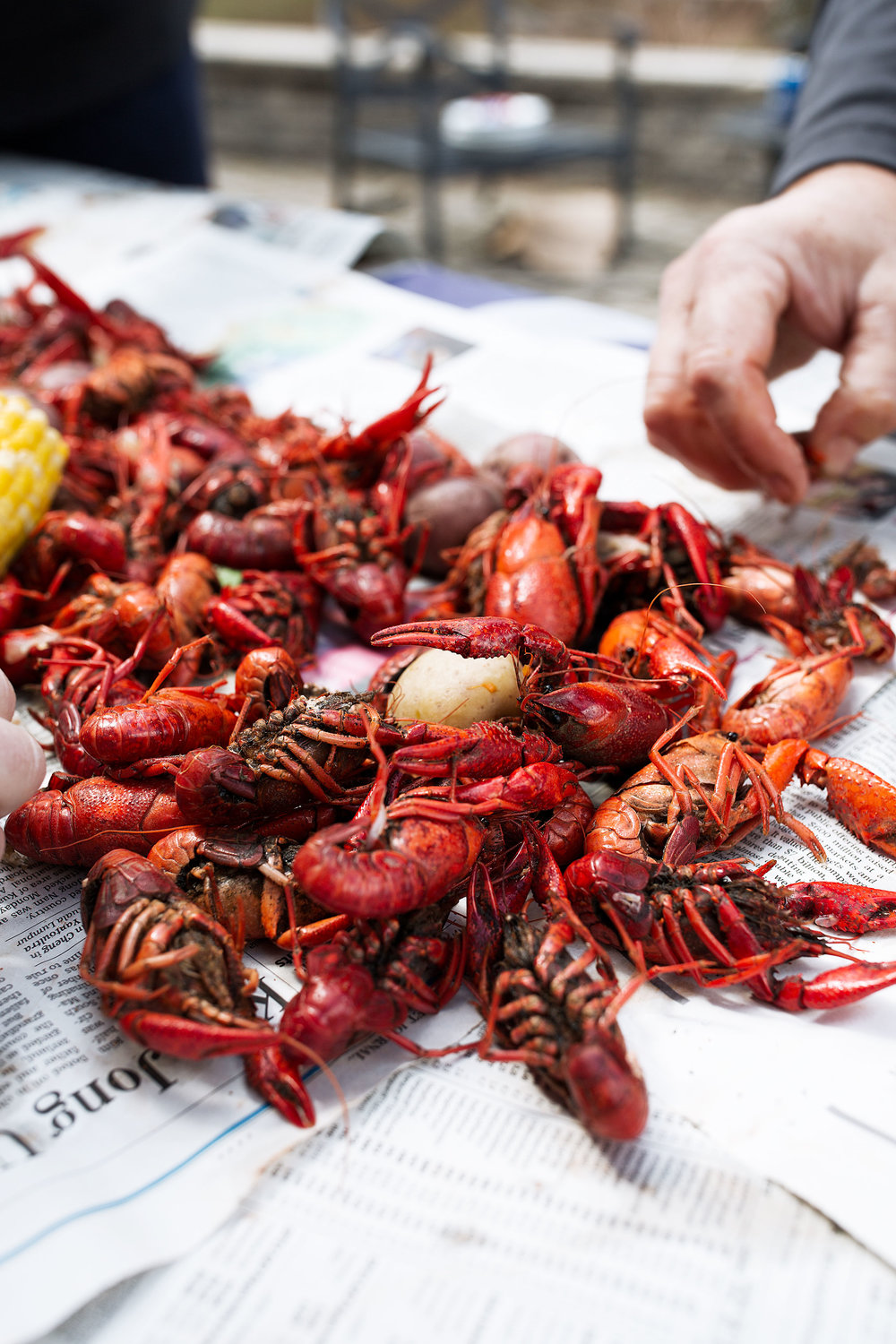 How to Eat Crawfish
To eat the cooked crawfish, twist and pull the tail from the head.
Suck the juices from the head (optional) and discard.
Next, pinch the tail and bite or pull the meat from the shell.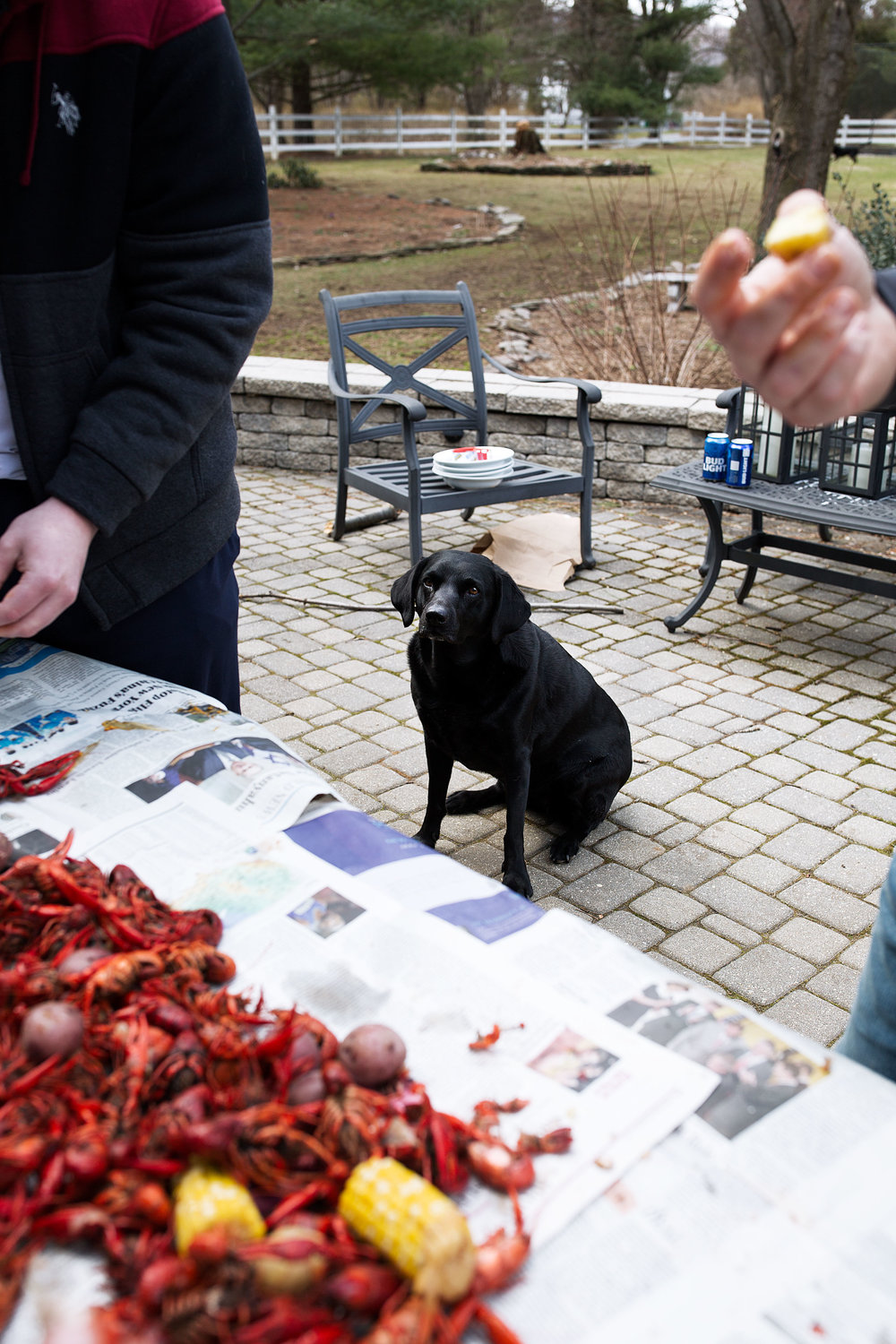 Tips and Tricks for This Recipe
Once cooked the crawfish sit for 15 minutes so they absorb the flavor of the spices.
When deciding how much crawfish to buy, you should plan for about 3 pounds per person for an entrée and 5 pounds if your guests are really hungry.
If you have leftover crawfish once everyone has finished eating I recommend peeling the remaining crawfish and setting the bodies aside. Add to a large resealable plastic bag and vacuum seal and freeze for later eating.
The crawfish can also be used in other recipes like this crawfish étouffée or crawfish mac and cheese recipe.
I like to rinse and set aside some of the crawfish shells to make homemade seafood stock.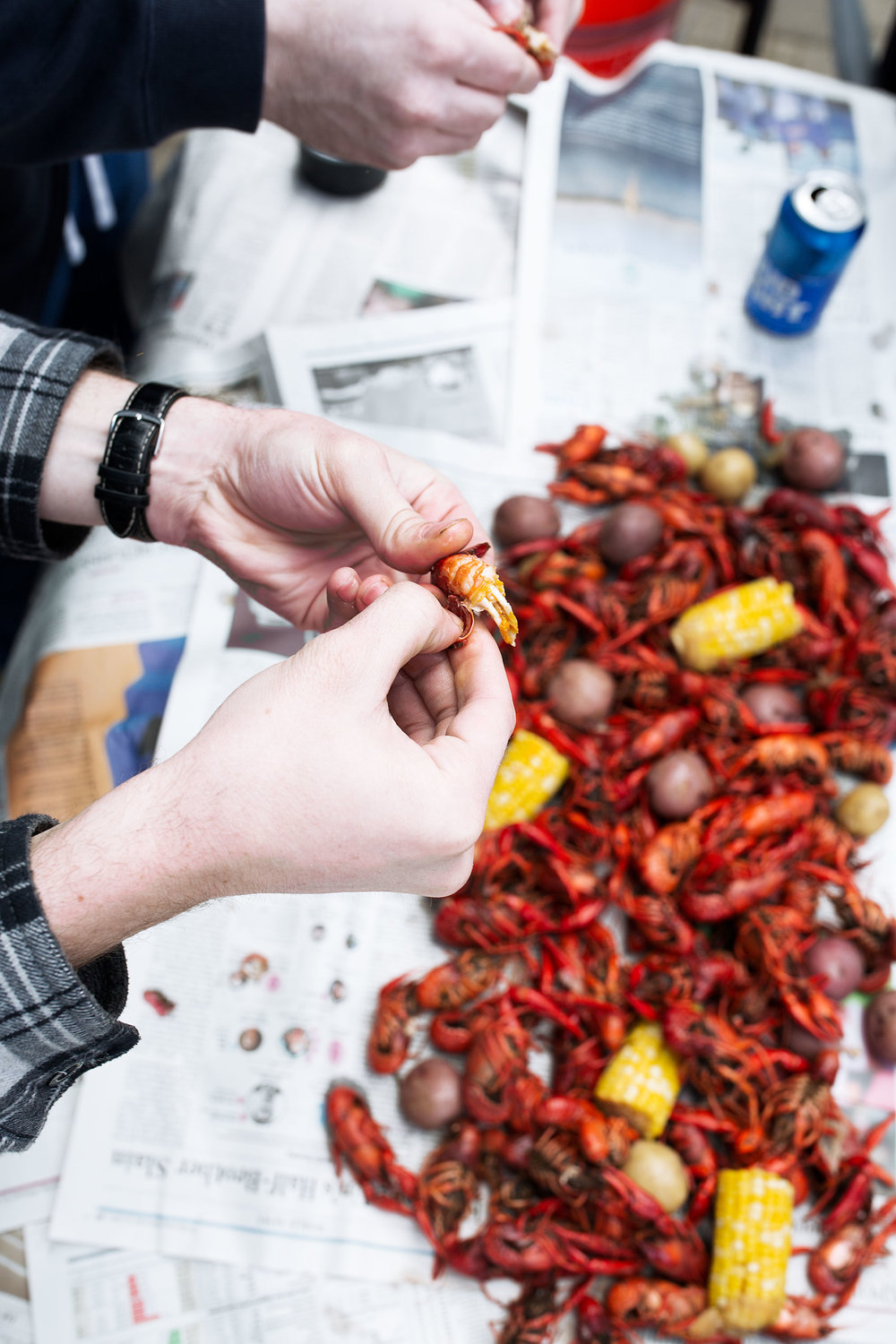 FAQ – Frequently Asked Questions
How much crawfish should I buy?
I recommend planning on about 3 pounds per person (5 if they can eat a lot and are hungry!) for this crawfish boil recipe. It may seem like a lot but each crawfish only yields a small amount of meat.
How long do you boil crawfish?
The crawfish cook in the pot for 5 minutes then sit for an additional 15 minutes to absorb the flavor. The vegetables are put in first because they take a bit longer to cook.
How do I eat crawfish?
Simply twist and pull the tail from the head! Suck the juices out from the head then pinch or bite the meat from the tail.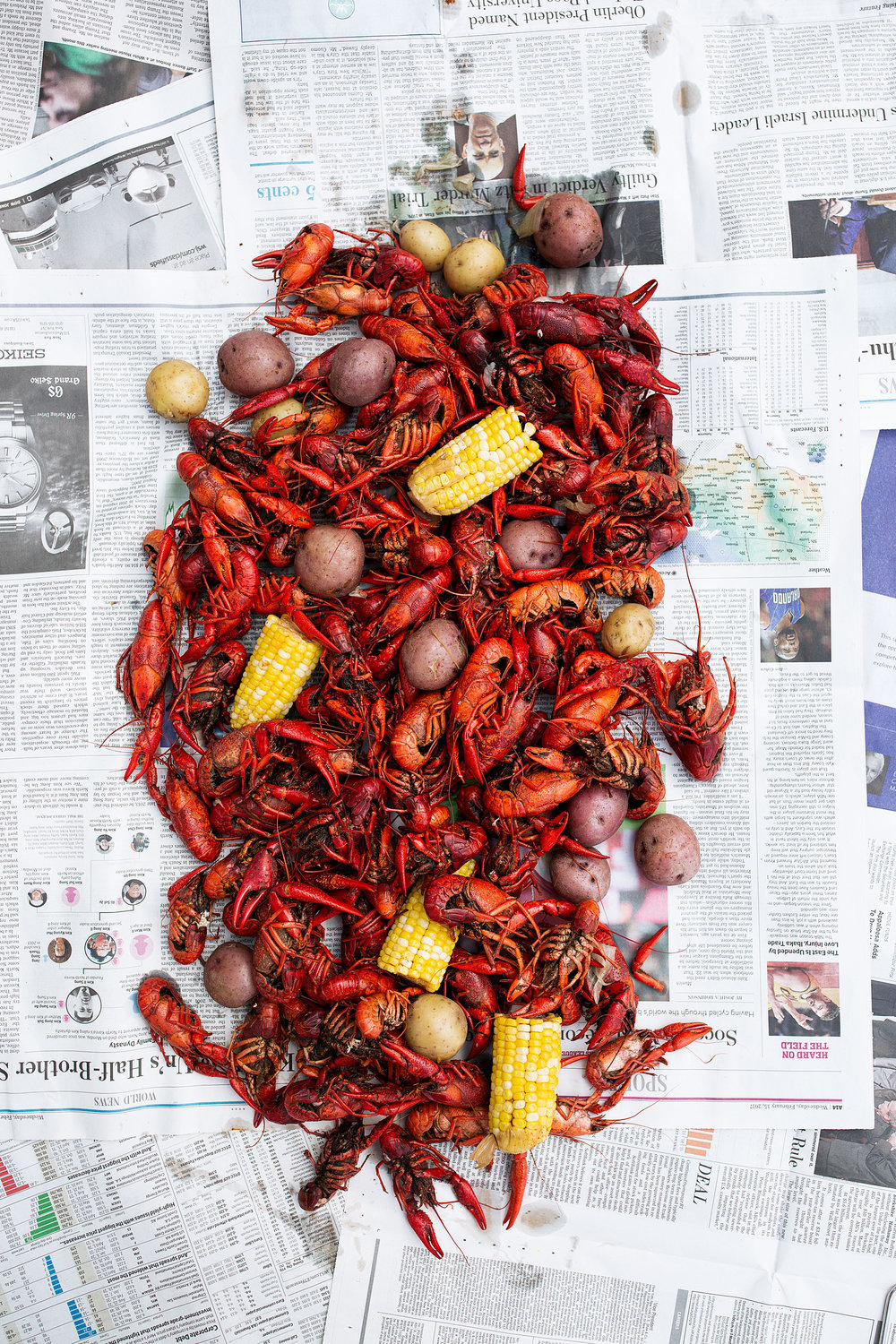 Other Recipes to Try
If you enjoy this recipe, I recommend checking out some of these:
Traditional Southern Crawfish Boil
2

(2-ounce) packages crawfish boil seasoning mix (I use Zatarain's)

1

medium grapefruit,

halved

2

pounds

small yellow and purple new potatoes

1

medium yellow onion,

quartered

6

ears of corn,

husks removed and halved

15

pounds

live Louisiana crawfish,

cleaned
DID YOU MAKE THIS?
TAG ME ON INSTAGRAM TO BE FEATURED ON MY STORIES! @cookingwithcocktailrings