Po' boys are the ubiquitous sandwich of New Orleans, and when I took a weekend trip there, I had more than my fair share! I fry my shrimp in a mixture of cornmeal and flour for a light, crispy crust piled into fluffy French rolls with lettuce, tomato, remoulade and pickles. I recommend taking some of the filling out of the bread so that the fried shrimp nestle inside without falling out.
What is a po' boy?
Similar to a sub or hoagie sandwich, the po' boy is filled with anything from fried catfish, oysters or shrimp to roast beef. They're served on French rolls with shredded lettuce, tomatoes, pickles, remoulade or mayo and the Louisiana favorite, Crystal Hot Sauce.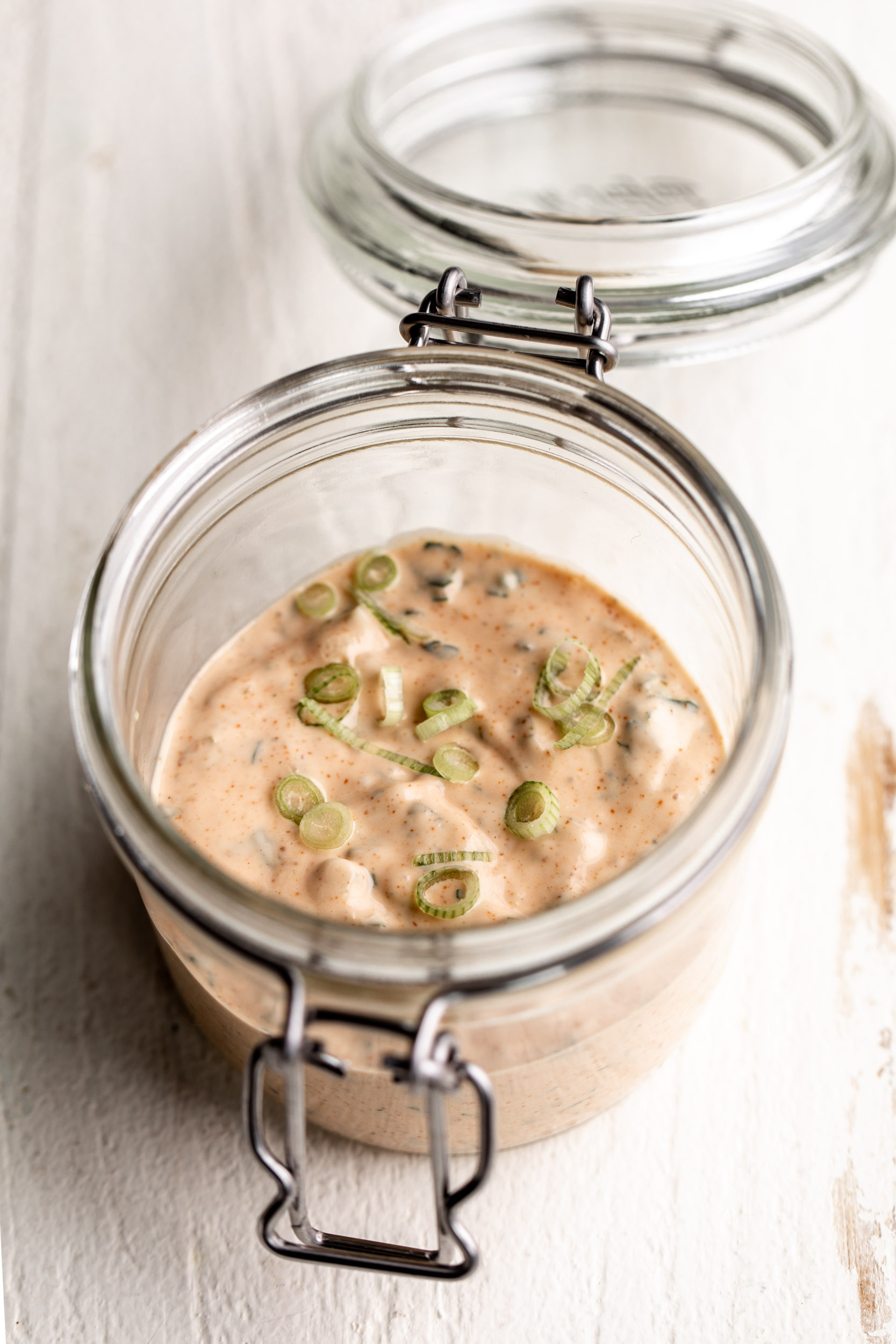 Why is it called a "po' boy"?
The term "po' boy" is short for "poor boy" and the generally accepted history of the sandwich traces back to New Orleans in 1929 during the Great Depression. The streetcar conductors went on strike and the owners of a grocery stand, former conductors themselves, said they would feed any of the poor boys that came by. The term then ended up getting shortened to po' boy.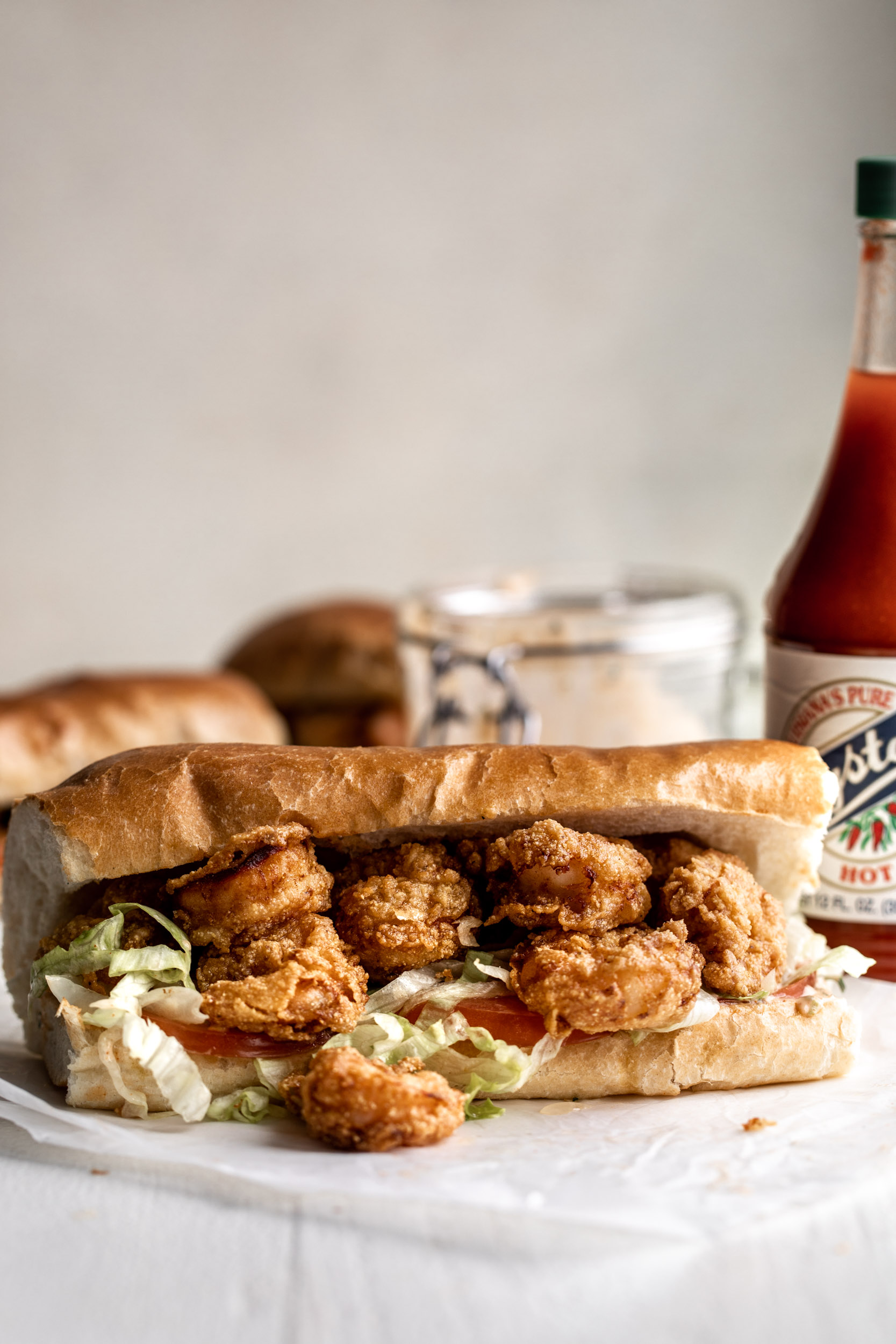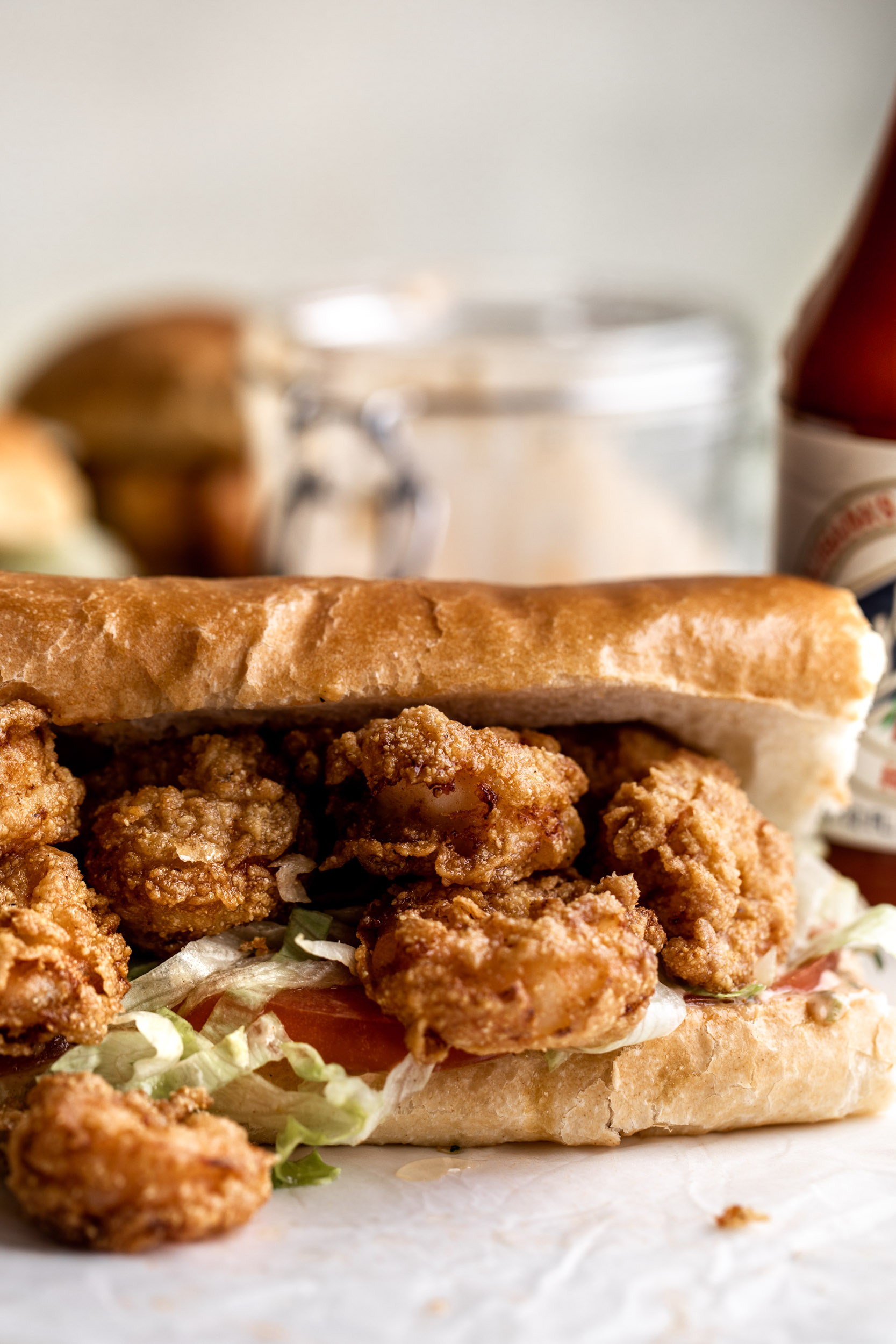 Fried Shrimp Po' Boy with Cajun Remoulade 
For the spicy cajun remoulade:
For the shrimp:
1

cup

buttermilk

1

pound

21/25 count shrimp, peeled & deveined, tails removed

1

cup

cornmeal

1

cup

all-purpose flour

1

teaspoon

paprika

½

teaspoon

cayenne pepper

½

teaspoon

garlic powder

½

teaspoon

freshly ground black pepper

Vegetable oil,

as needed, for frying
For serving:
2

French rolls,

split lengthwise

Shredded iceberg lettuce

Tomatoes,

sliced

Sliced dill pickles

Crystal hot sauce,

as needed
For the spicy cajun remoulade:
In a small bowl, whisk together the mayonnaise, ketchup, parsley, scallion, cornichons, capers, paprika, Dijon mustard and cayenne until thoroughly combined.

Taste the sauce and season to taste with salt and pepper, as needed. Cover and refrigerate until ready to use. Can be made up to a week in advance.
For the shrimp:
Add the buttermilk to one medium mixing bowl and add the shrimp. In another medium mixing bowl whisk together the cornmeal, flour, paprika, cayenne, garlic powder and pepper.

Fill a large cast iron pan or dutch oven with enough vegetable oil to reach 1" up the side.  Heat the oil to 350ºF.

Working a few shrimp at a time, toss the shrimp in the cornstarch mixture and toss to coat then add to the oil and fry until golden brown on both sides, about 3 minutes total. Remove to a paper towel-lined plate to drain. Continue with the remaining shrimp.
For serving:
Use your fingers to scoop out some of the inside of the bottom half of the rolls and discard or save for breadcrumbs.

Fill each roll with the fried shrimp then top with shredded iceberg lettuce, tomato, pickles and remoulade. Close the sandwich and cut in half. Serve with hot sauce on the side.
DID YOU MAKE THIS?
TAG ME ON INSTAGRAM TO BE FEATURED ON MY STORIES! @cookingwithcocktailrings