Weekend in Napa Valley, CA
Napa Valley is a stretch of Northern, CA that is about 30 miles long by 5 miles wide but "Napa" is often used to refer to the overall mountainous wine country that encompasses Napa Valley and Sonoma Valley.
It is no understatement to say that I ate and drank my way down that particular stretch. This was my first trip to Napa – I went to college in Southern California and did some trips up to San Francisco but it was always too hard to drive all the way up to Napa from there, and until last year I was too young to fly up and then rent a car.
I immediately fell in love with the grapevine-covered vineyards, the rolling green hills and fields full of bright yellow mustard greens. I stared out the window the whole way from the airport to the hotel. Driving down the main freeway we passed tons of different wineries all nestled up right next to each other, some I recognized, others I didn't. It was great getting to see where some of my favorite wine labels were made. Napa encompasses all of my favorite things in one place, beautiful scenery, great restaurants, little markets and shops, all surrounded by wine.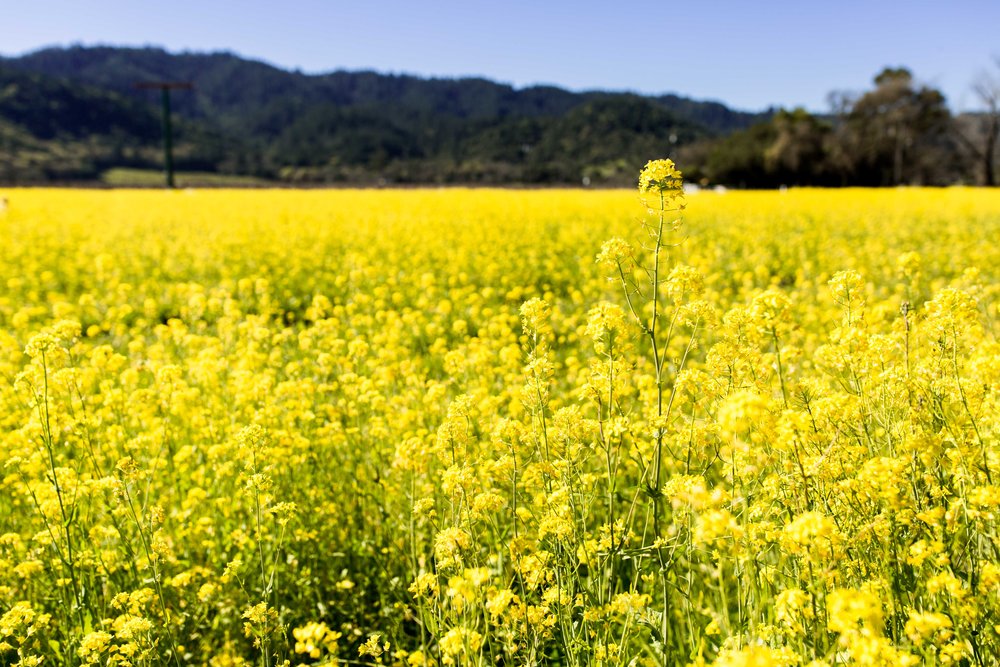 The Wine
While this trip was focused more on food (thanks Mom and Dad!) than wine, we attended events at two different wineries. The first at Raymond Winery, a uniquely decorated space run by a slightly eccentric Frenchman who goes by JCB and the other at Charles Krugg Winery. The latter was a gorgeous estate where we were hosted by Charles Mondavi and his wife. My mom and I also stopped off at the Stewart tasting room in Yountville, a beautiful stone building with a patio filled with lemon trees. I tried the tasting flight which included a sauvignon blanc, chardonnay, merlot and cabernet sauvignon. And finally, on Saturday we visited my dad's favorite label, Cake Bread, for a tasting of their reserve wines including their notable 2013 Dancing Bear Cab from Howell Mountain.
Yes, we did some wine tasting, but as I said at the top of this blog, this visit to Napa was more based on food than on wine. And we had some wonderful food at the following restaurants.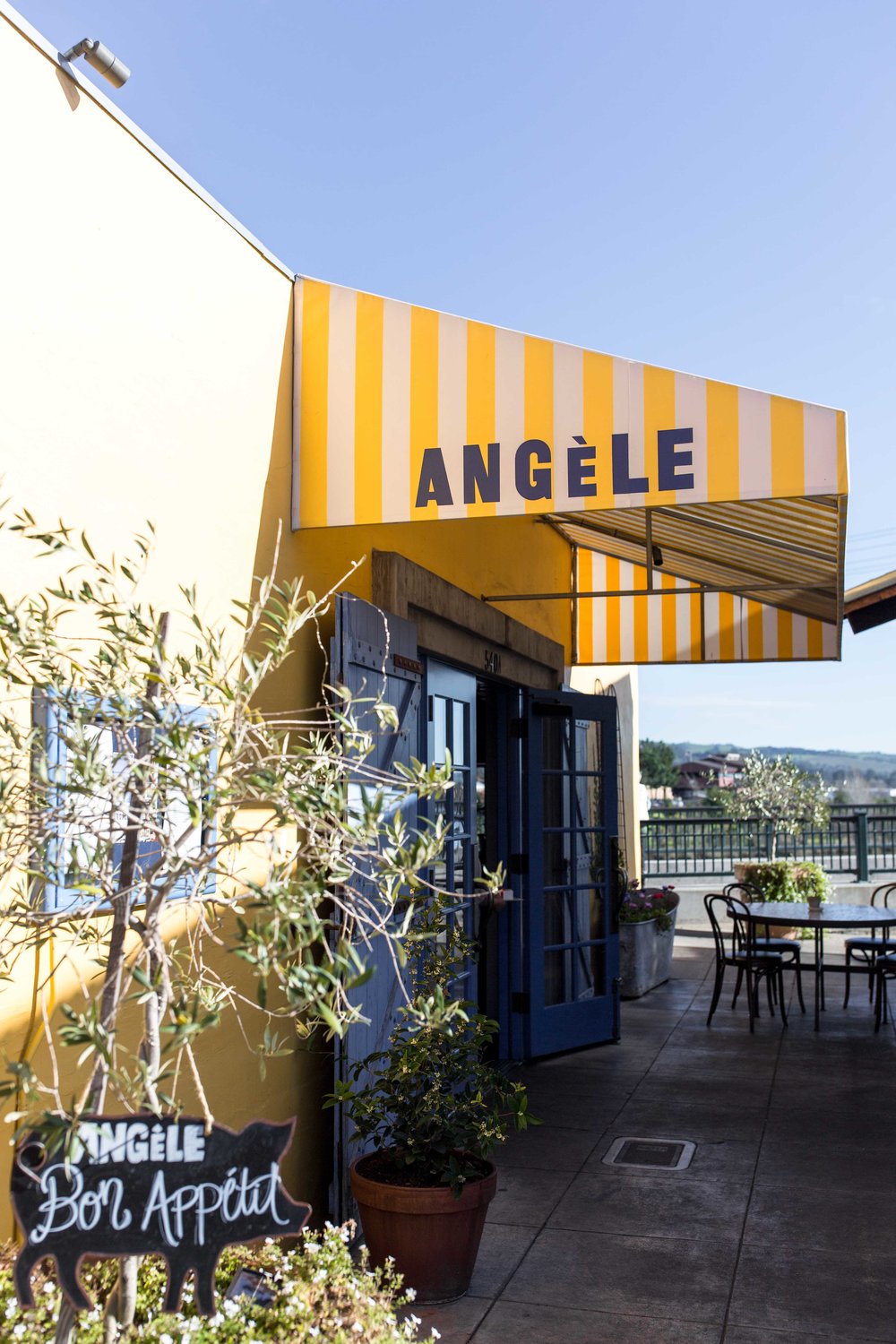 ANGÈLE
This little French bistro on the river was my first restaurant stop in Napa after driving over from the airport in Sacramento. While the cocktail menu looked great, I felt obliged to order a glass of wine to start the trip. My mom and I each started with a French onion soup, a personal favorite of mine. The steaming hot soup came with perfectly caramelized onions, thick slices of bread and hoards of gruyère cheese, melted and stringy.
We followed the soup up with a salad Lyonnaise, a warm salad with dressing made from bacon fat and red wine vinegar, which is tossed with frisée and topped with bacon and a poached egg. A few years ago, chef Anne Willan taught me how to make the classic French salad; this one also included lentils making the salad heartier.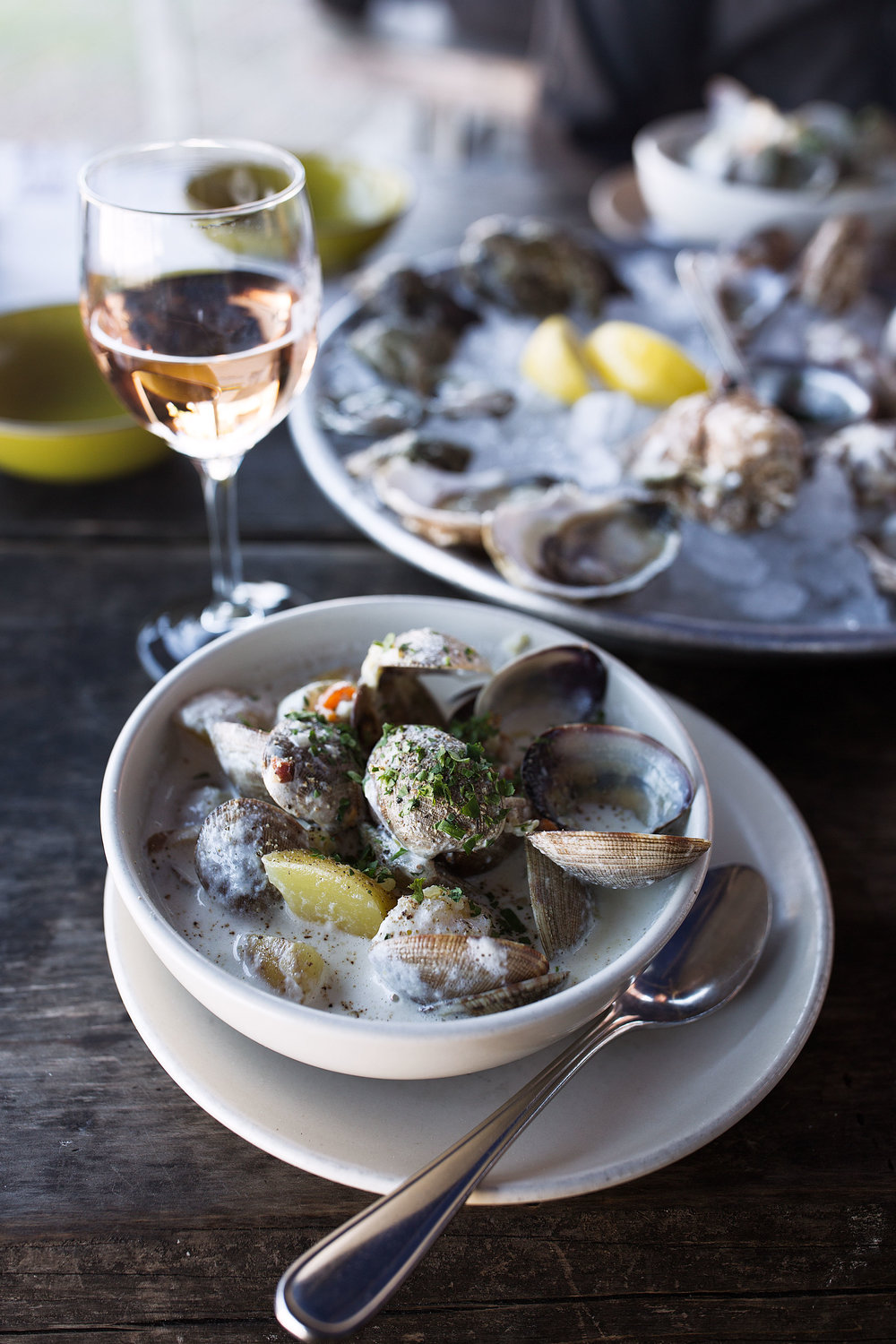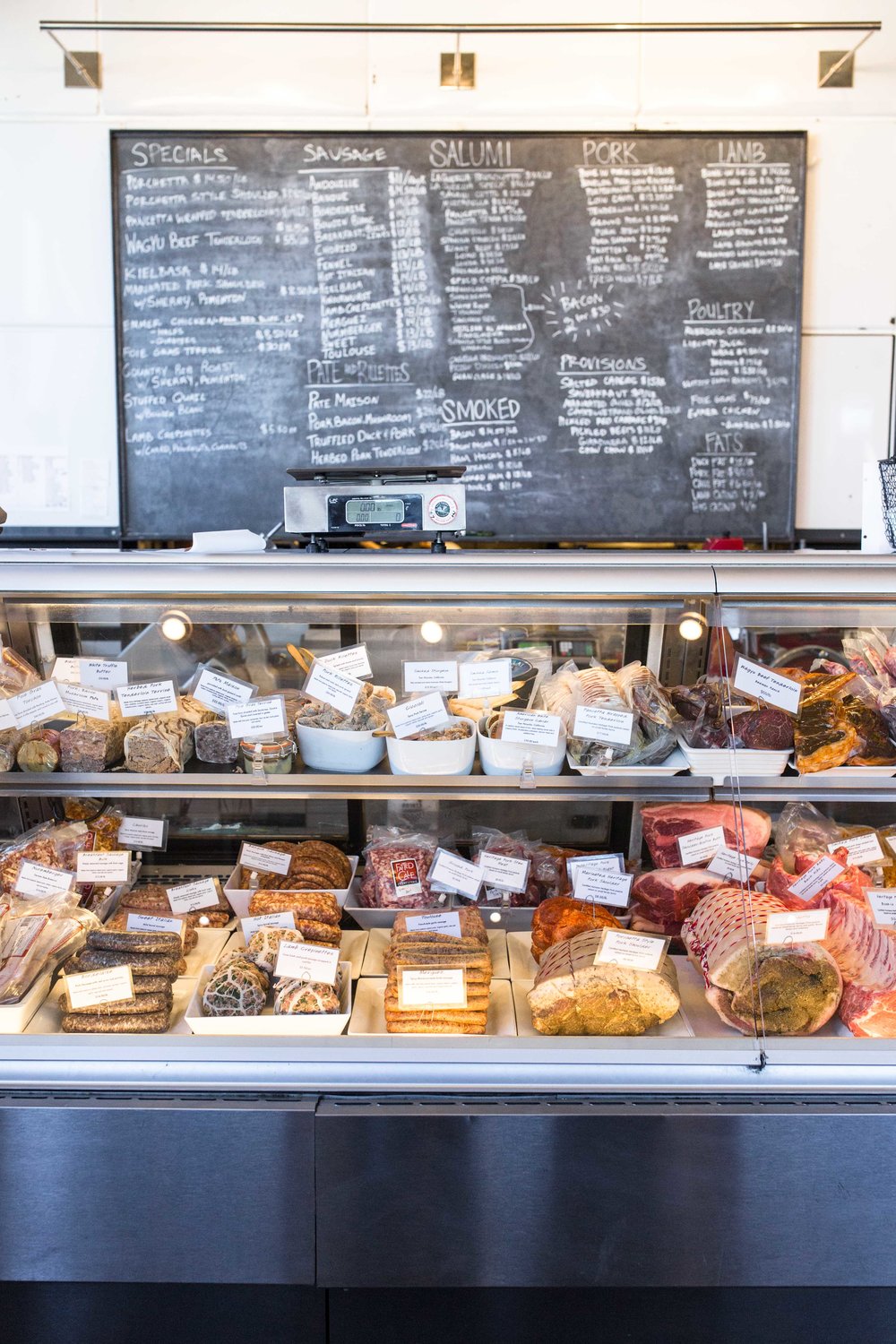 OXBOW PUBLIC MARKET
This food hall houses a variety of local vendors from around Napa with stalls selling everything from cheese and wine and oysters to high-end olive oil and aromatic bitters for cocktails. I went back multiple days to work my way through all the stalls. As usual my first stop was for coffee. Ritual Coffee made a great cappuccino that I sipped on as I wandered through the market. I picked up some cocktail bitters for both my fiancé, Aaron and my brother, specialty flavors like "bacon and tobacco" and "Thai basil" bitters.
Model Bakery
Model Bakery, on the backside of the market is known for their English muffins – these little rounds of joy are a mix of classic English muffin and a light, airy doughnut. If you don't believe me then trust Oprah – they ended up on Oprah's list of favorite things in 2017 (she even travels with them).
I was introduced to these last year when my neighbor brought me back a bag from a trip. When she brought them to me, I rationed them as long as I could, I made sure to only serve them toasted to a golden brown crisp and slathered with only the highest end jams. I couldn't wait to get my hands on more and ended up returning the favor and bringing back a few bags for my neighbors in my carry-on.
The service was great, they let me call in one morning to set aside bags to pick up later – they sell out quickly on weekends! If you're eating at Model Bakery be sure to get a breakfast sandwich on one of their English muffins, a sandwich made with eggs, cheddar cheese and bacon. A tip for you from my grandmother about English muffins: cut them with a fork rather than with a knife, poking the prongs in all the way around the side – it leaves you with optimal nooks and crannies.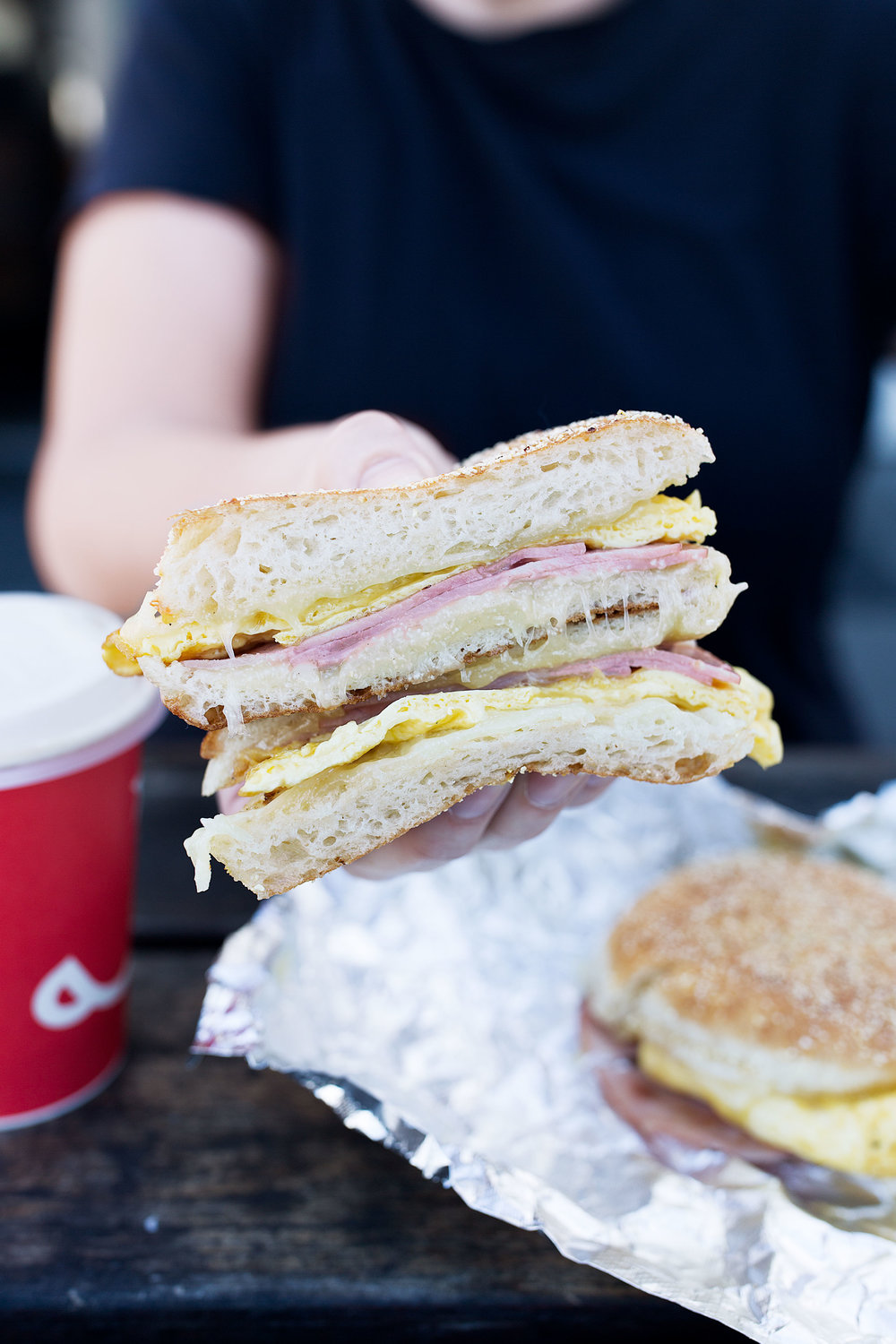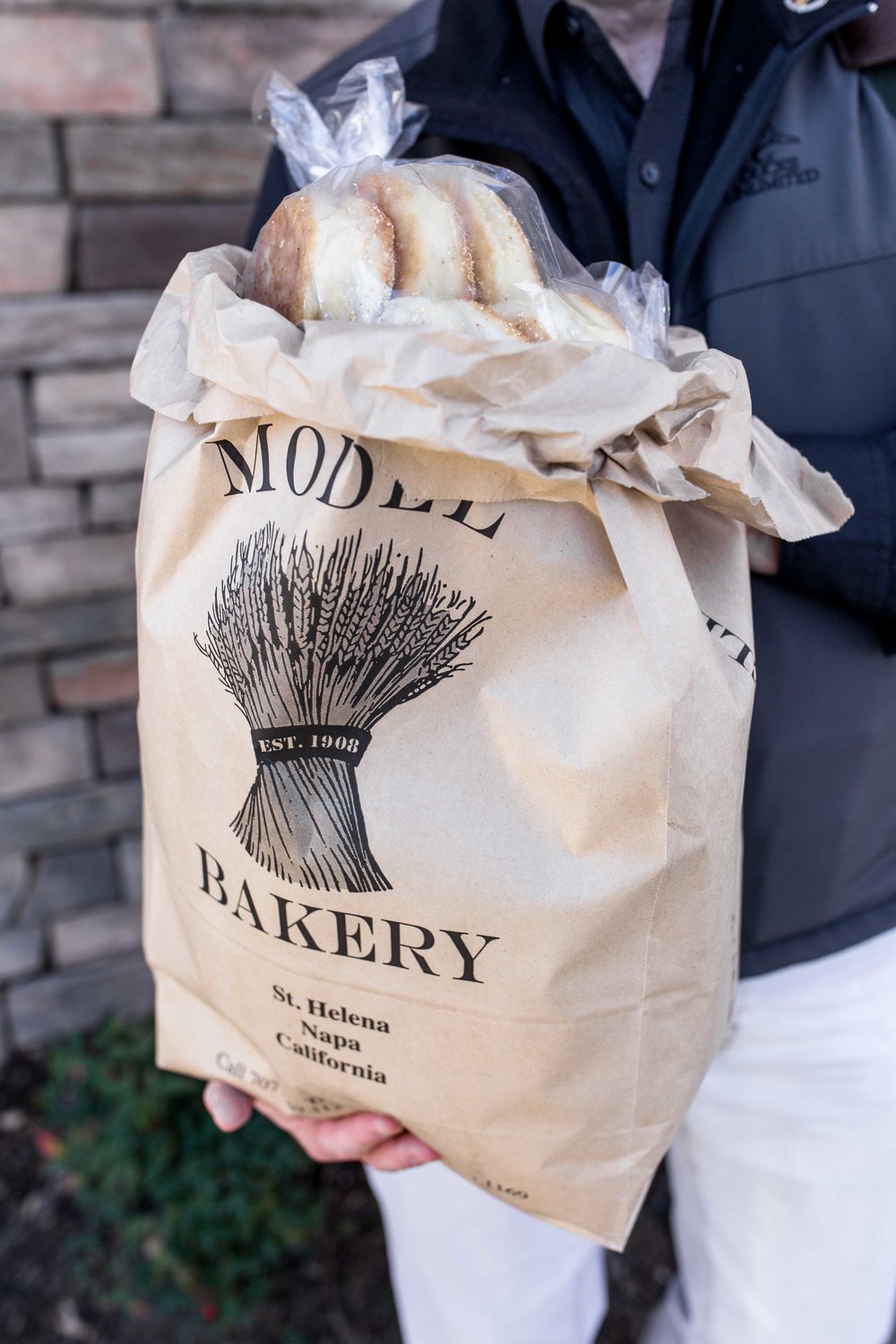 Hog Island Oyster Co.
We stopped by Hog Island Oyster Co., inside the market for lunch one day and started with two dozen oysters. My dad and I always get oysters when we can (we were together the first time I tried, and enjoyed, oysters in Portland). While I know I like smaller, creamier oysters I love ordering a sampling at restaurants just to try all the different kinds, especially the more obscure ones.
We ended up with an assortment of Hog Island Sweetwater (Pacific), Amethyst (Pacific), Disco Hama (Pacific), Chelsea Gem (Pacific), Oysterponds (Atlantic) and Chelsea Olympia (Olympia), all served with their special "hogwash" a version of mignonette made with rice vinegar, shallot, cilantro, jalapeno and black pepper and then finished with lime juice before serving. It added great flavor to the oysters without overpowering the delicate flavor. Their clam chowder came with lardons of bacon and clams still in the shell. While opening clams adds to the work before you can eat your lunch, I prefer this serving style because it means the clams are fresh and added to the chowder just before being brought to the table.
The Fatted Calf
I picked up some "room snacks" for the hotel, just in case we got hungry before our numerous other meals. We had a mix of duck rillettes and Berkshire salami from Fatted Calf, along with salted watermelon jam (a big hit), Cowgirl Creamery Red Hawk cheese, Point Reyes Toma and Boont Corners Vintage Tomme from Pennroyal Farm, CA, a raw goat and sheep milk cheese all from Oxbow cheese and wine.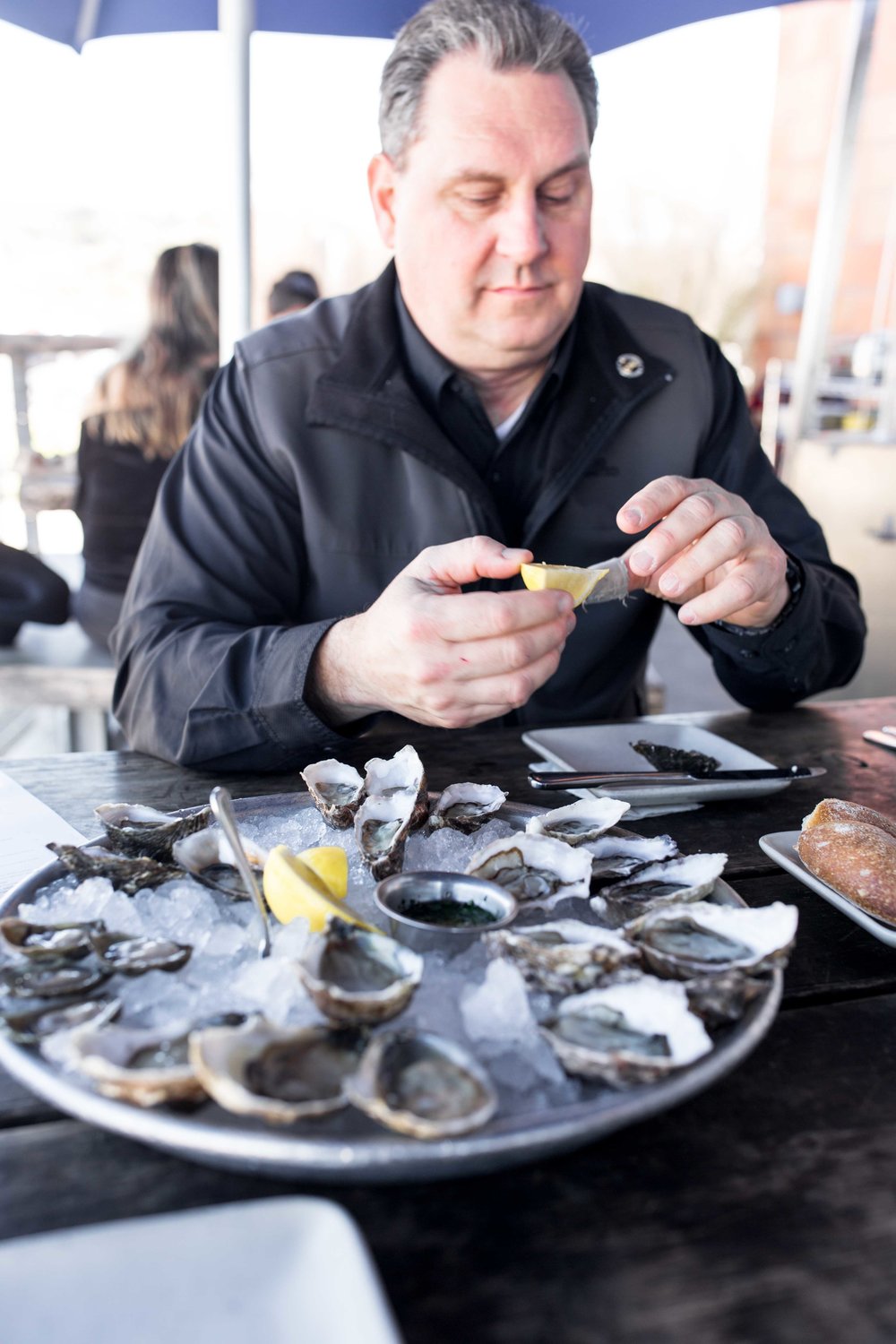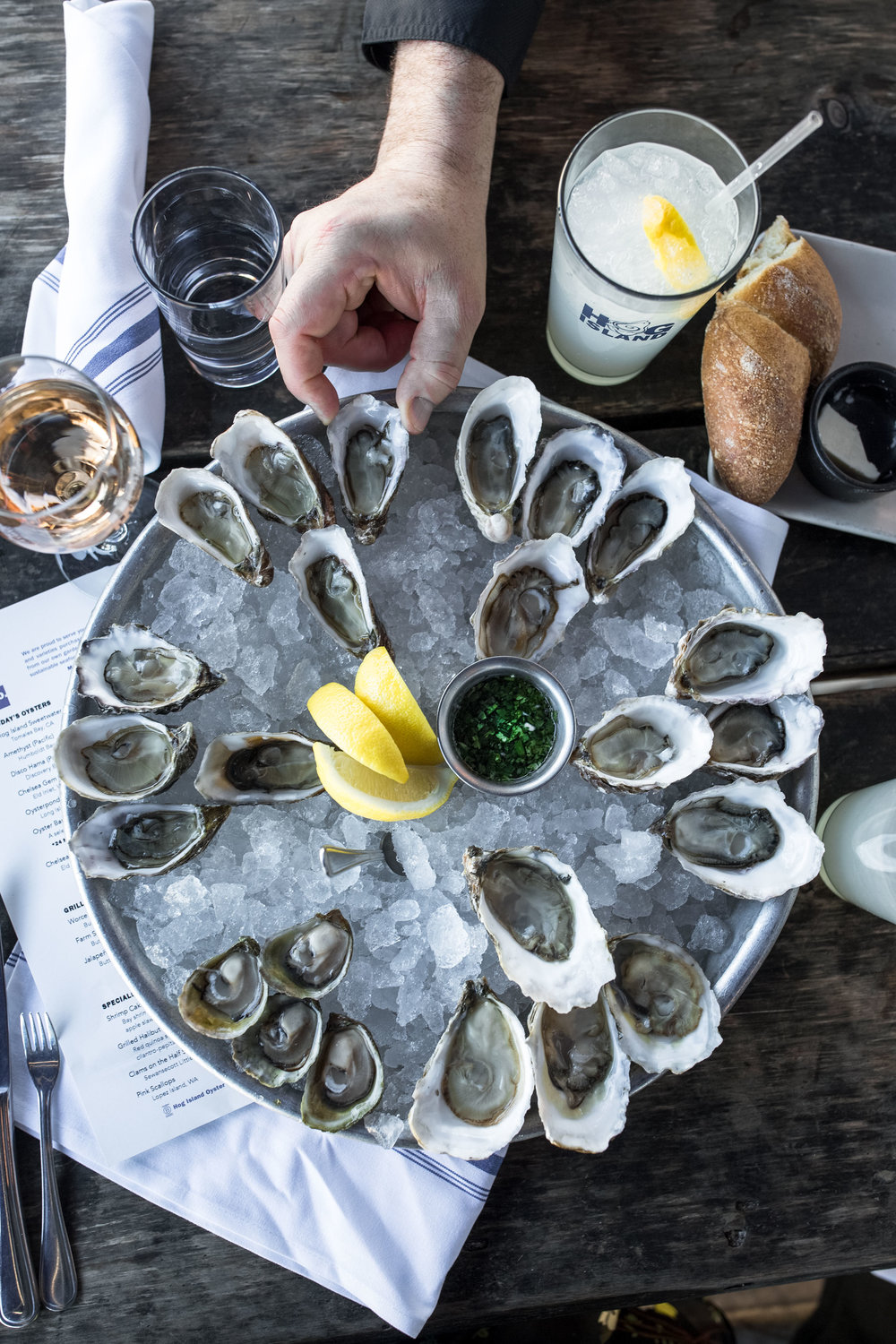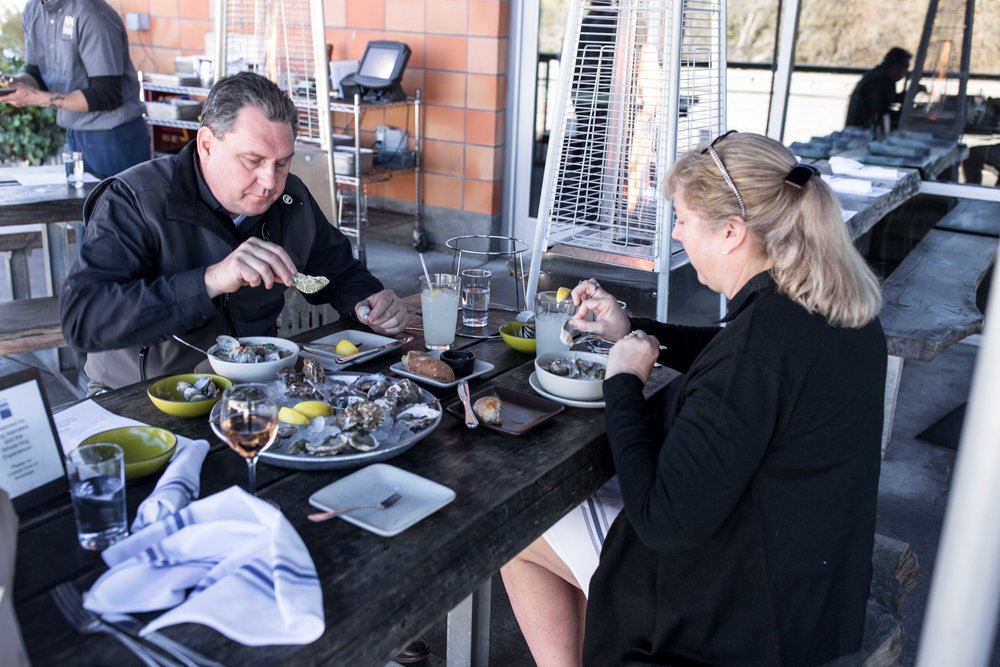 HEALDSBURG SHED
This one is actually in Sonoma County but I had to include it. A friend of mine has a house up in Healdsburg and had given me a jar of their Healdsburg SHED "green salt", a blend of parsley, bay leaves, thyme and Jacobson salt, for my birthday last year and had also recommended the SHED to me.
The restaurant is housed in a large glass-front building with a market on the inside for home goods, cookbooks, specialty pantry items and fresh produce. It happened to be Valentine's Day so they had a special set menu option but we chose to order our meals off the regular evening menu.
I started with a glass of Banshee pinot noir, one of my favorites; sadly I didn't make it to their tasting room up the road from the restaurant but hopefully I will next visit. The first course to come out was oysters on the half shell served with preserved lemon mignonette and olive oil.
Next up were two different toasts. Thick slices of griddled bread, one topped with Spanish white anchovies with Meyer lemon aioli, radish, pickled onion and celery and the other topped with chicken liver pâté, wild mushrooms, roasted onions, mustard seed and herbs. Both were outstanding and I easily could have ordered additional helpings of each.
The other standout was the Liberty Farms confit duck leg with carrot purée, ras al hanout, cara cara oranges and toasted oats. The tender duck fell off of the bone and each bite was filled with bright citrus flavors, which mixed well with the warm nutty purée. Dessert was a deconstructed cheesecake in a pot as well as affogato, a scoop of ice cream with a shot of espresso over the top, to keep us awake for the drive home.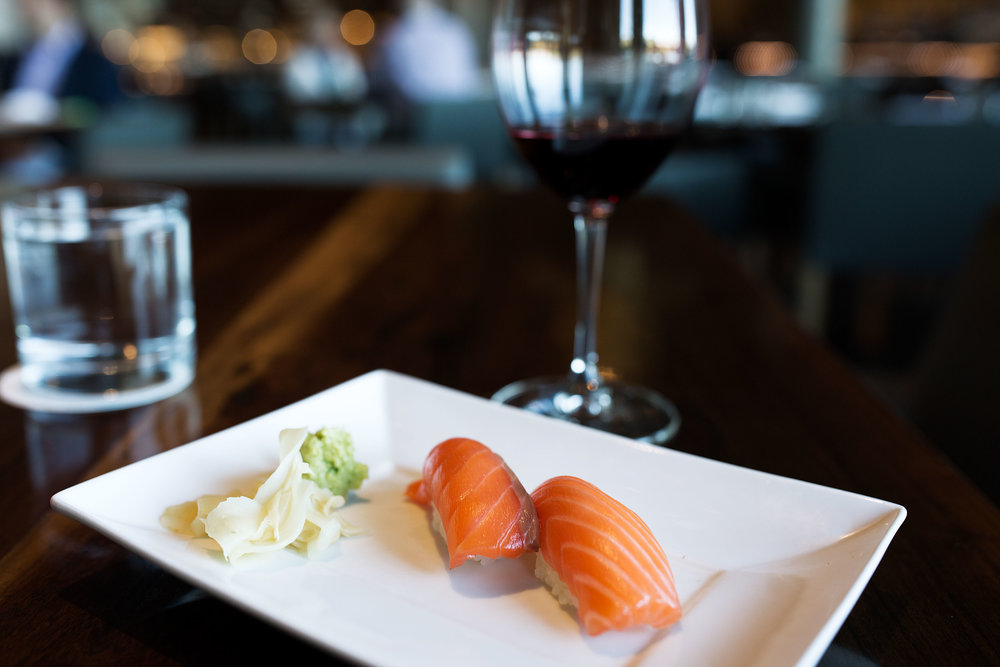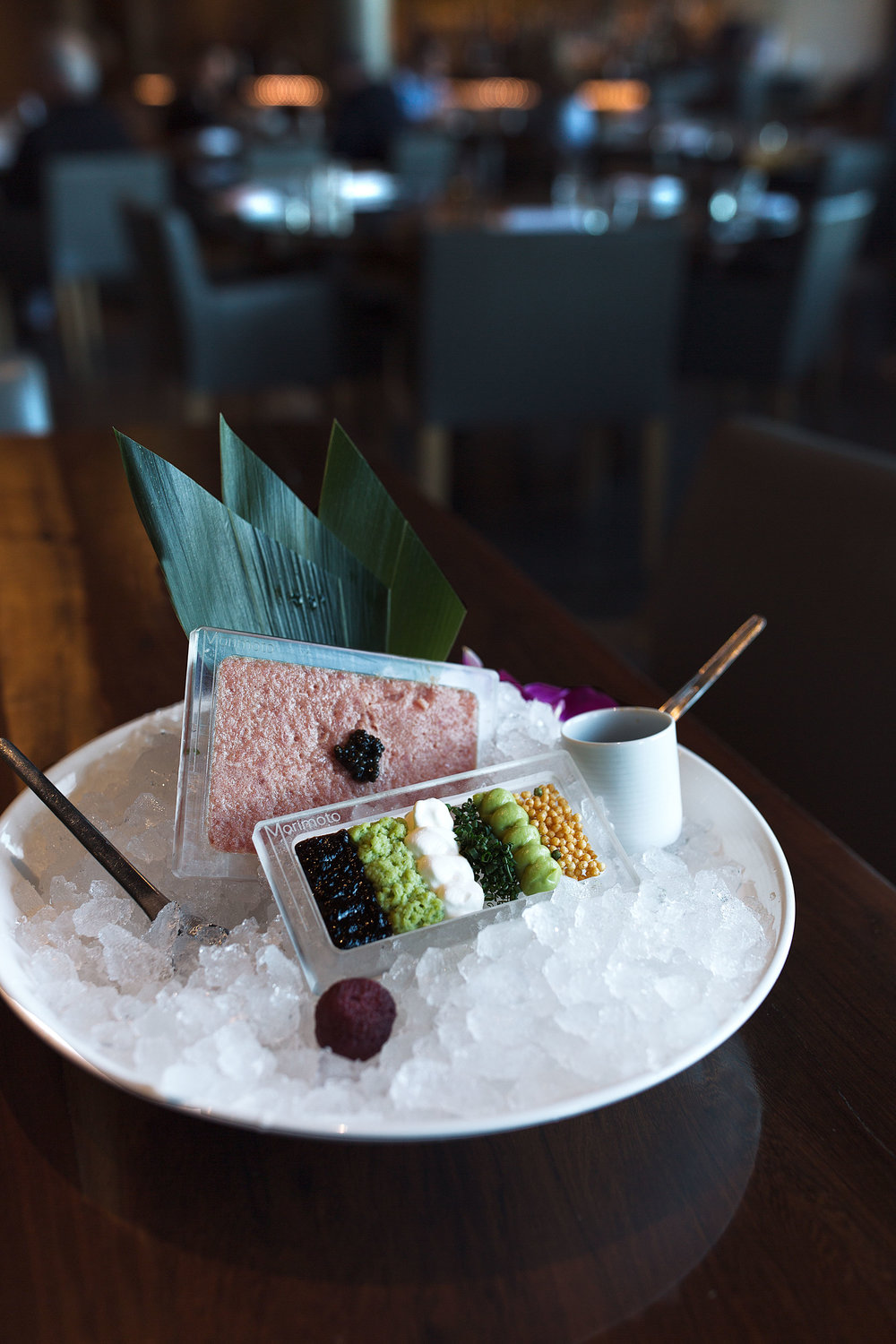 MORIMOTO
My mom and I were walking along the river in Napa Valley when we decided to pop into Morimoto for an early lunch. We had great service at all of the restaurants and wineries we went to in Napa but the service here was particularly outstanding.
The award winning presentation of the toro tartare comes in a small tray on ice, served garnished with wasabi, crème fraîche, avocado cream, chives, and a dashi-soy sauce with two little spatulas for serving. It was followed up with pork gyoza in bacon foam. The creamy rock shrimp tempura came with two different sauces, one a spicy Korean gochujang sauce and the other a mild wasabi aioli.
We finished with two pieces of salmon sushi each, and though we were full we had to sample the soufflé cheesecake that the waiter had brought out for us to try before we left. It was one of the best desserts I've ever had. The light and impossibly fluffy cheesecake was beautifully garnished with fresh ergonomically grown fruit as well as fruit puree. When researching after we left I was surprised to learn that it was made with tofu! It's been added to my list of recipes to recreate in the future.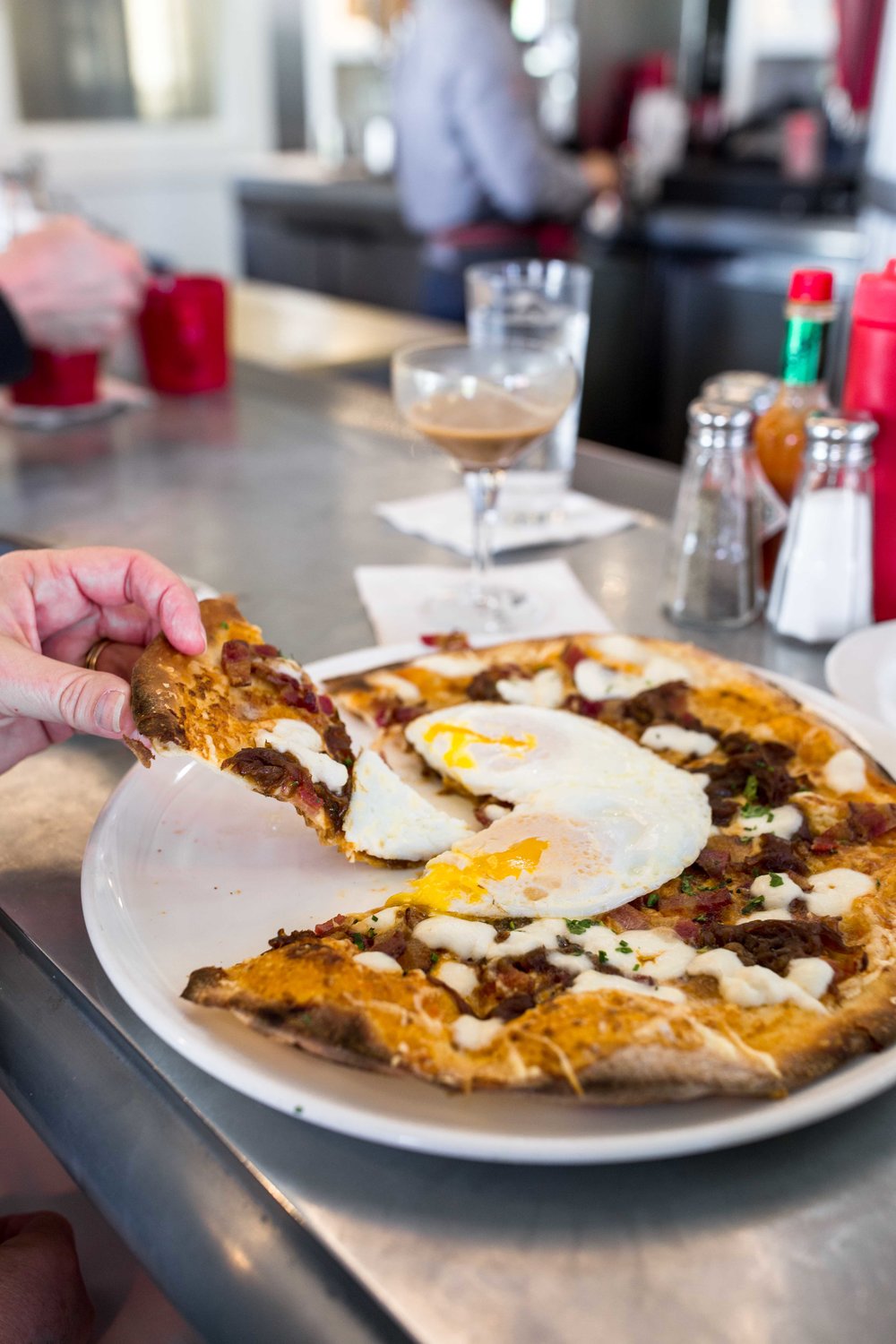 BOON FLY CAFÉ
This farmhouse style café is on the property of the Carneros Resort serving elevated diner food and drinks. I started with a 'beauty in a glass' cocktail made with vodka, rose water, St. Germain, rose cordial and lime juice. Did I need a cocktail at 10am? No. But it looked too good to pass up! Boon Fly Cafe is known for their cinnamon sugar donuts, mini donuts served warm in a little bucket and I finished them off in just a few bites.
My mom and I split two entrées, again she let me order for her so that I could pick what I think looked the most interesting. Breakfast pizza was topped with Applewood smoked bacon, caramelized onions, chipotle salsa, mozzarella and two over-easy eggs. And the "green eggs and ham" came with poached eggs wrapped in honey-cured ham topped with lemon leek cream over crispy hash browns.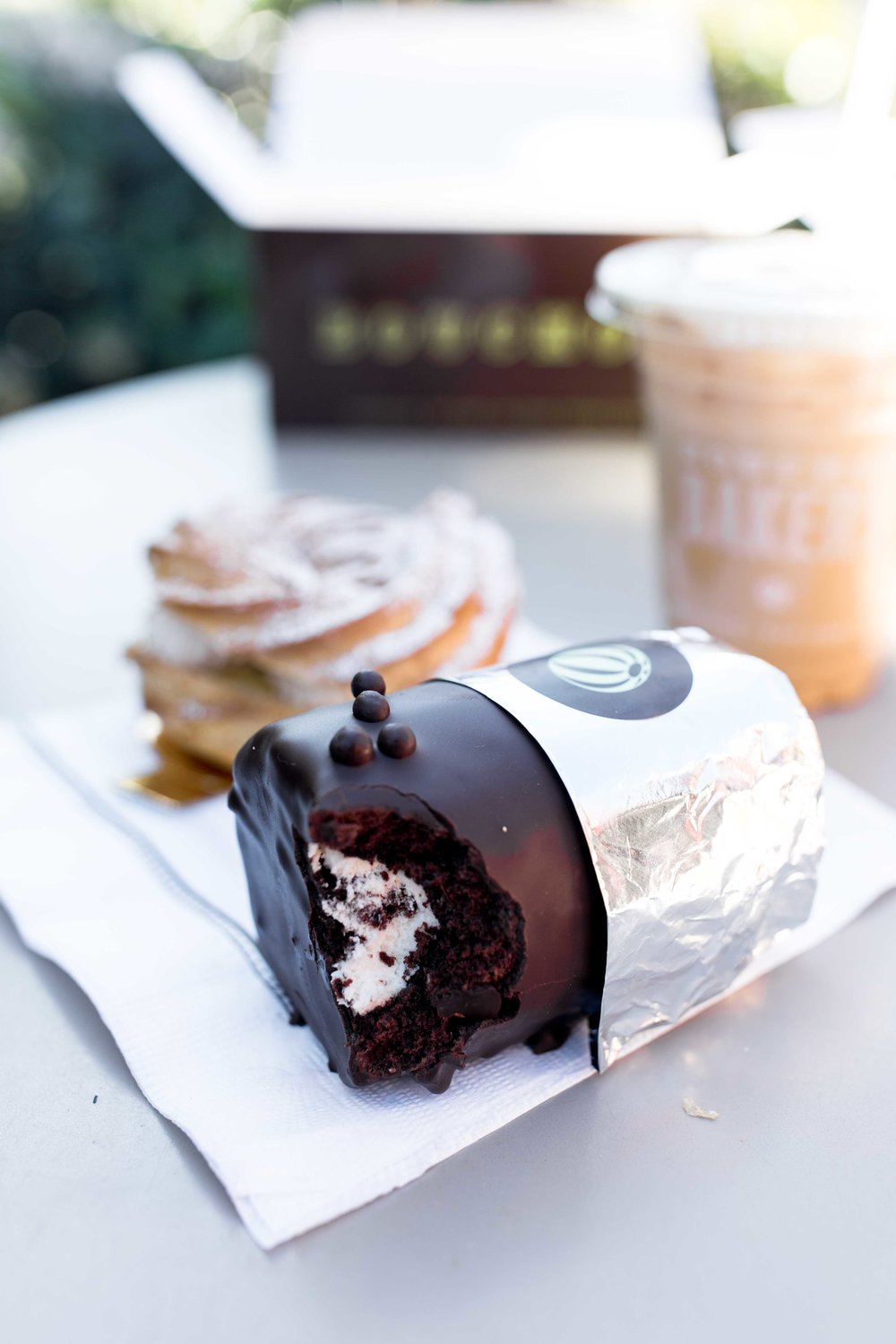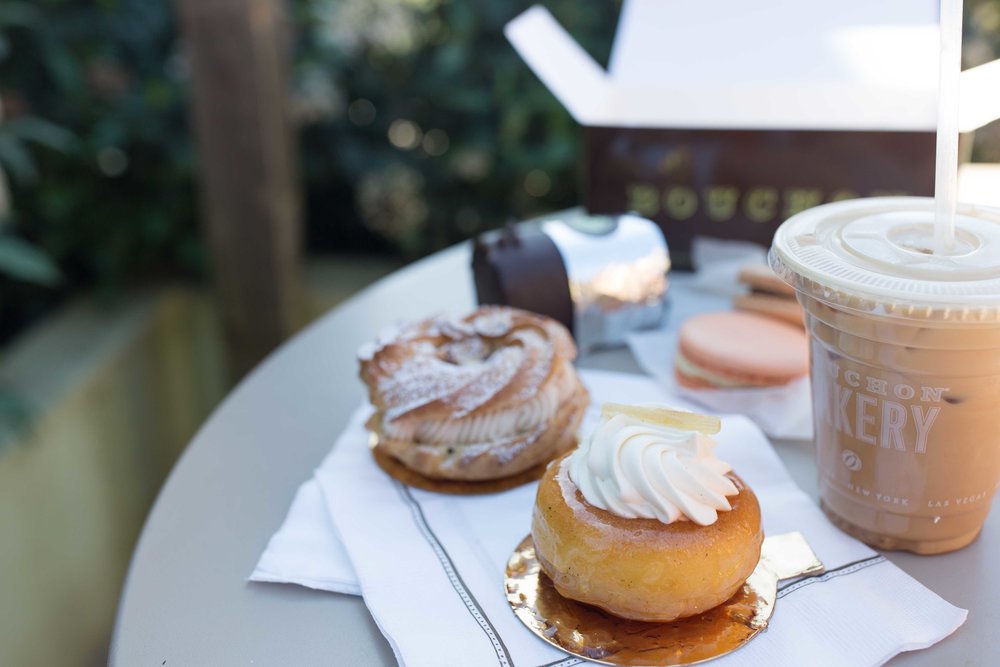 BOUCHON BAKERY
Thomas Keller's small bakery in the middle of Yountville stands next to Bouchon and has a consistent line out the door. You can smell the sweet smell of caramelized sugar in the air even before you walk inside. My mom and I just happened to show up at an off time and we were ushered right in the door and we quickly ordered a midday pick me up, a salted caramel latte. I was overwhelmed by all the sweets lined up in the glass cases so I just kept pointing to the different ones I wanted and ended up ordering six different pastries. Are you sensing a theme here?
My favorite was a chef's special, a light almond cake drenched in sugary syrup. The giant macarons were the perfect mix of a crisp outside and crumbly interior with jam filling. The 'Bouchon oh oh', a high end reimagining of a Hostess HoHo, was a spongy chocolate cake rolled with cream filling and dipped in chocolate. Even if you show up and you see a long line, know that it moves quickly, and the luxurious pastries are worth every minute of the wait.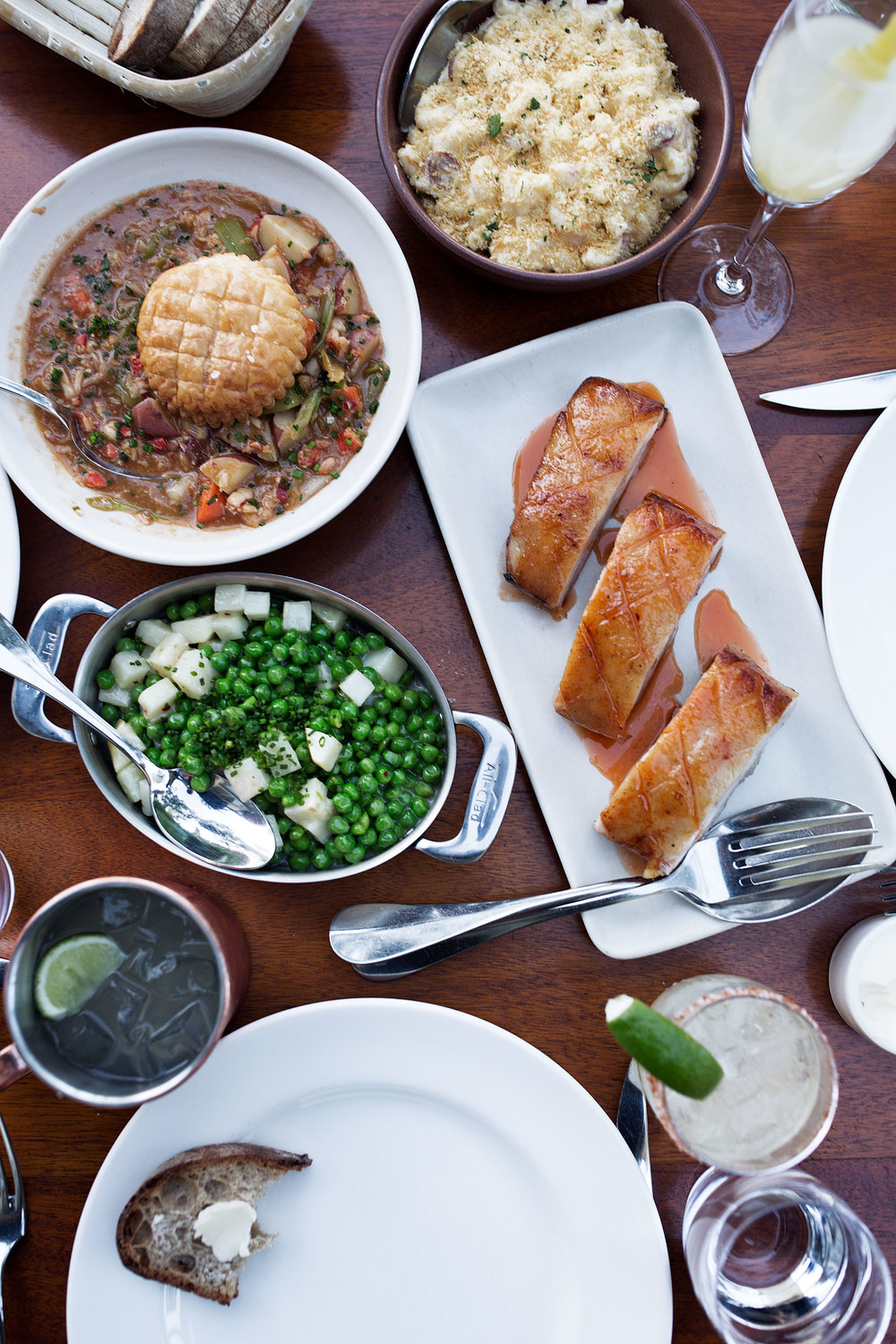 AD HOC
Ad Hoc is Thomas Keller's more casual (and less expensive) restaurant in Yountville, the restaurant hotspot of Napa Valley. Thomas Keller's three-star Michelin restaurant is just up the road, but reservations there were non-existent. For some reason I didn't think to make a reservation at Ad Hoc ahead of time either, and even during the tourist off-season it is fully packed every night. Luckily I had a plan. Again my parents humored me and we got there when the restaurant opened at 5pm. As luck would have it, we were were able to dine on the patio. I was so incredibly happy, since as a long time fan of Thomas Keller, I had eaten at his restaurant Bouchon in Beverly Hills before it closed at the end of the year.
Ad Hoc has a seasonal set menu, which is largely dictated by the French Laundry garden that I had taken a stroll through right up the road. Our first course was a Tuscan kale salad with sesame vinaigrette. I think this is the first kale salad that my dad has ever liked. He usually just tells me the meal would be better without the "green shit". Next came several dishes at once; the entrée – smoked pork belly with sides of mac 'n' cheese and kobe beef hot dogs (not your kids dinner) as well as celery root and English peas.
We had the opportunity to supplement the set menu with lobster pot pie, which we couldn't pass up. The lobster stew was topped with a round of golden brown, flakey puff pastry and was so good I could have licked the plate. The entrée course was followed by a cheese course featuring Cowgirl Creamery Devil's Gulch cheese, a semi-soft cheese coated in ground heirloom pepper. The slightly spicy cheese was paired with griddled bread and local honey.
By this point I was full because I couldn't bear to leave a crumb of each dish behind. But there was still dessert to go and the meal was topped off with a chocolate tart with a white chocolate mousse. I'll never pass up dessert and since it was a set menu it was coming anyway. Next time I would love to check out their Monday night menu – a fried chicken night that they are famous for. But for this trip, Ad Hoc provided the optimal last meal to cap off the trip to Napa.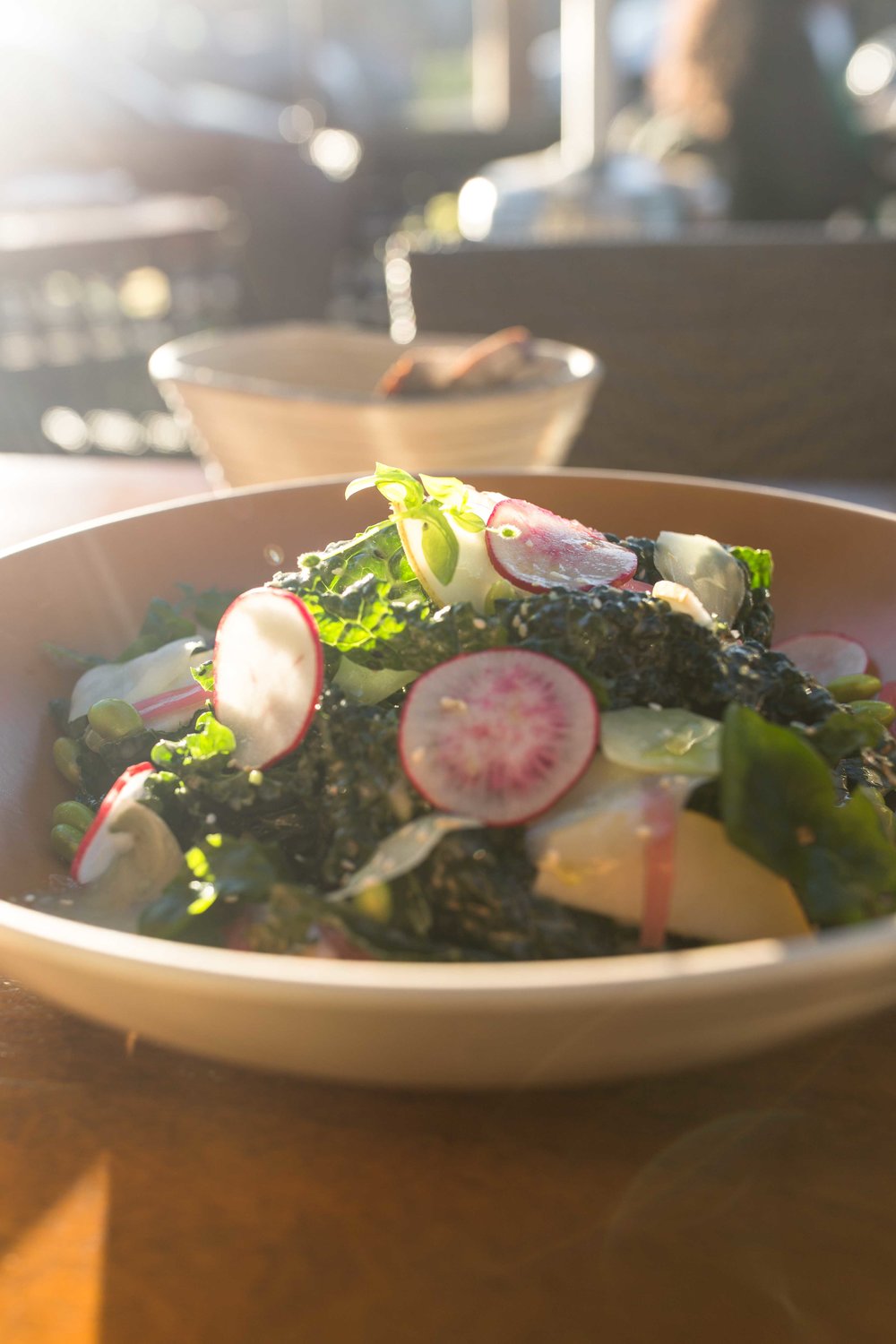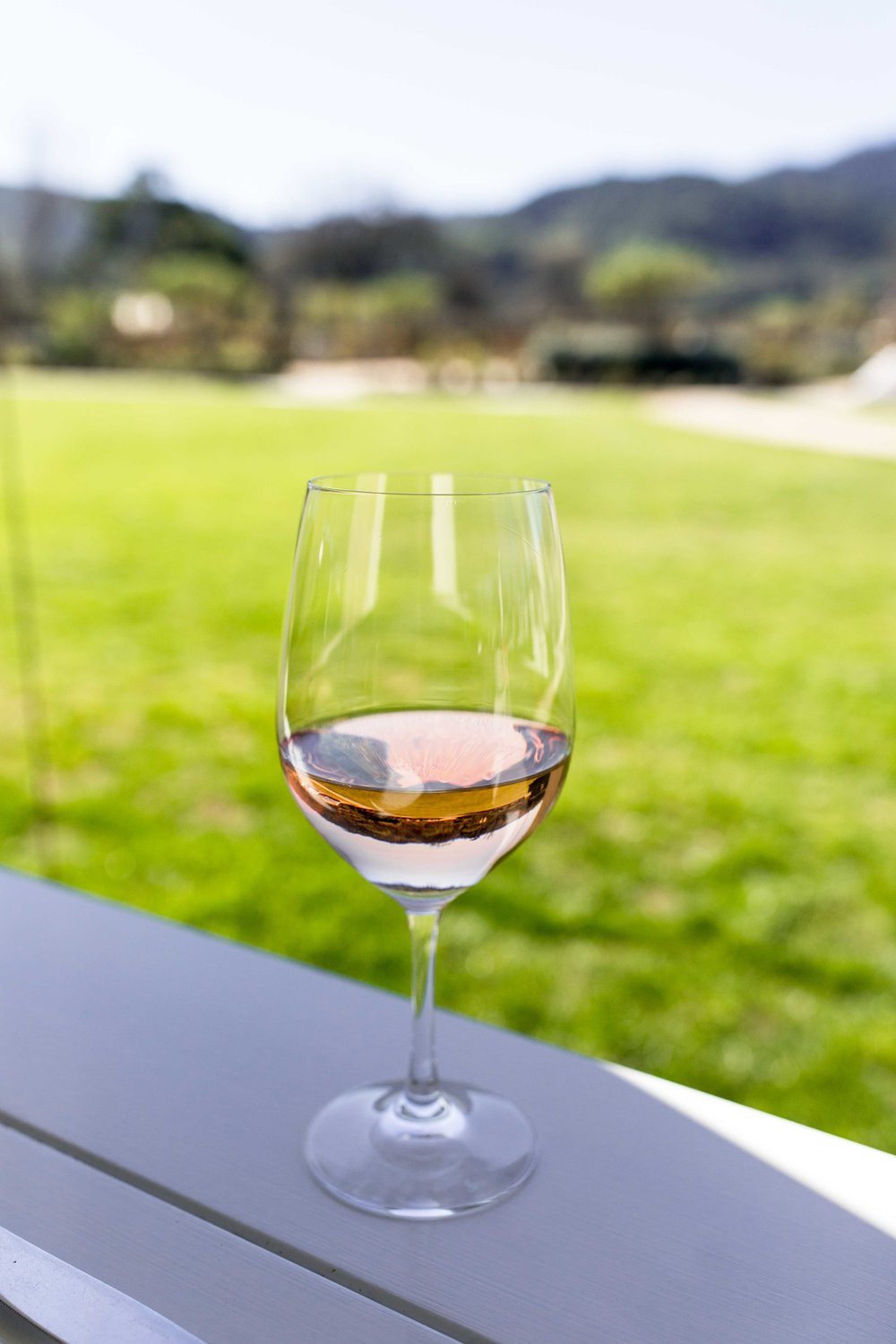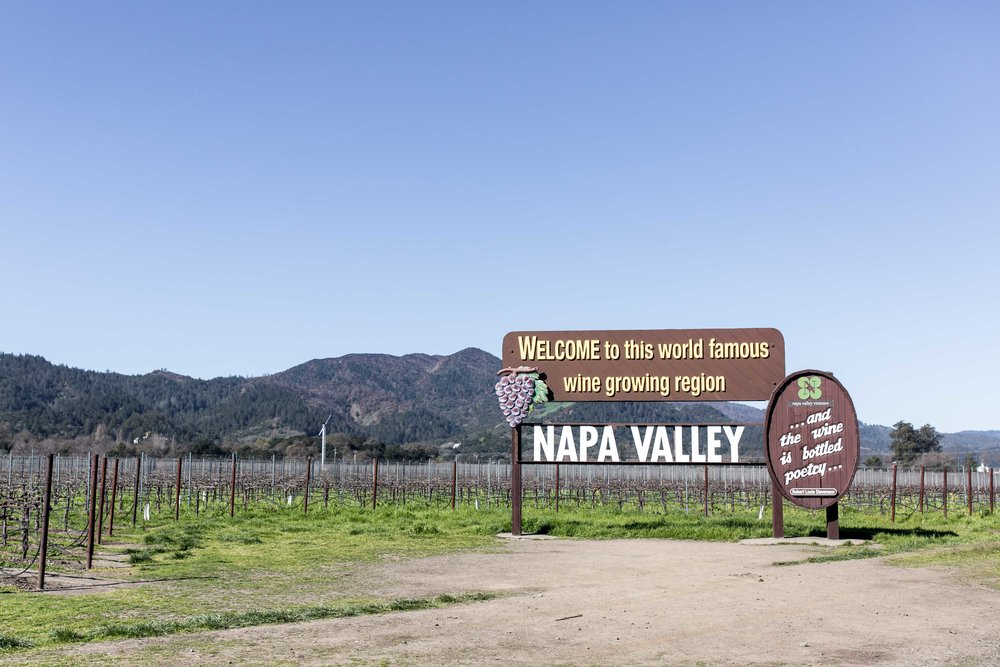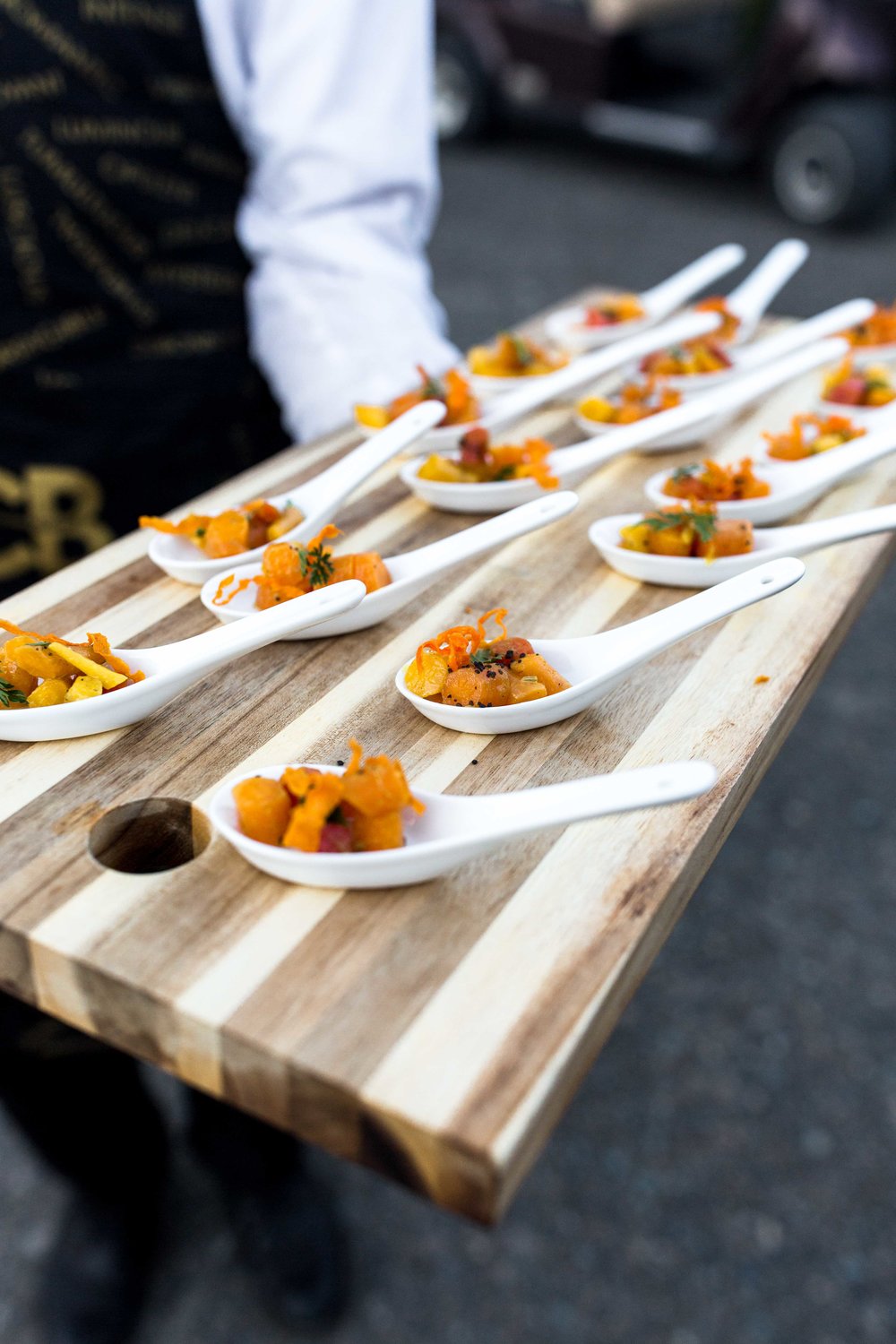 Napa lived up to all my expectations. Luckily I will be heading back soon – Aaron and I are having a joint bachelor and bachelorette party with a total of twenty-three of our close friends up in Sonoma County. While I thoroughly explored Napa County I'm excited to get to see more of Sonoma next visit. We will be staying at a house in Sebastapol if anyone has any other recommendations!