Kitchen Sink Veggie Salad
This post is sponsored by Diamond of California Nuts.
As the name implies, this salad is loaded with a mix of fresh and roasted vegetables for a hearty end-of-summer salad. The green beans, potatoes, onion and tomatoes make this very similar to a Niçoise salad, but the addition of roasted beets, arugula, zucchini, squash and fennel make it more vegetarian in nature.
I top the salad with Diamond Nuts sliced almonds for an added crunch and nutty flavor. Simmering the garlic in the olive oil before making the dressing infuses the oil and mellows the flavor of the garlic.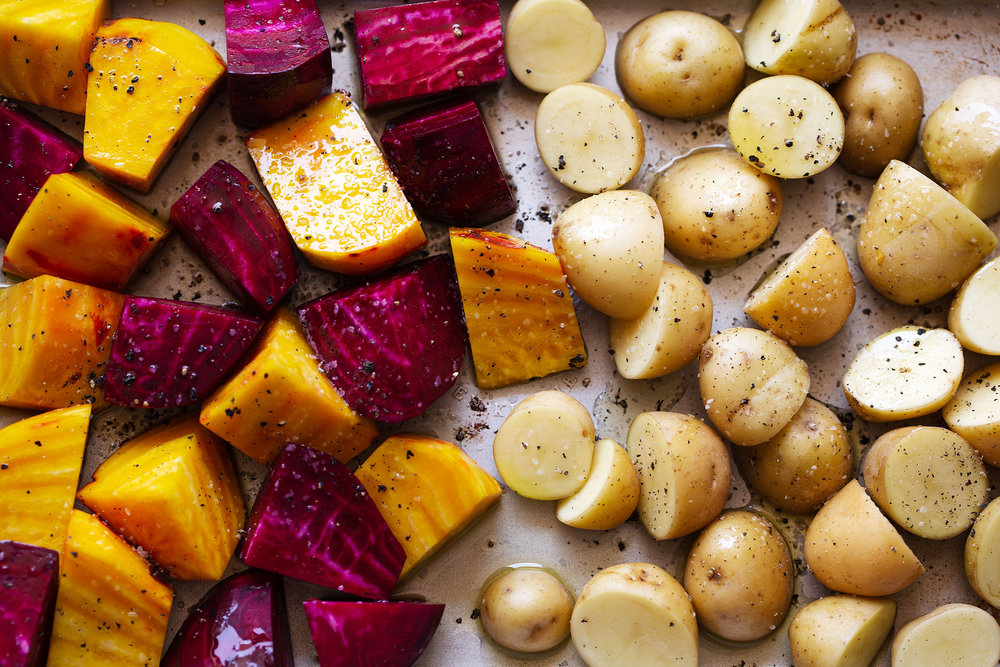 During summer I practically live on salads. When I'm running around testing recipes I like to have a salad in the fridge that I can quickly grab and eat when I have time.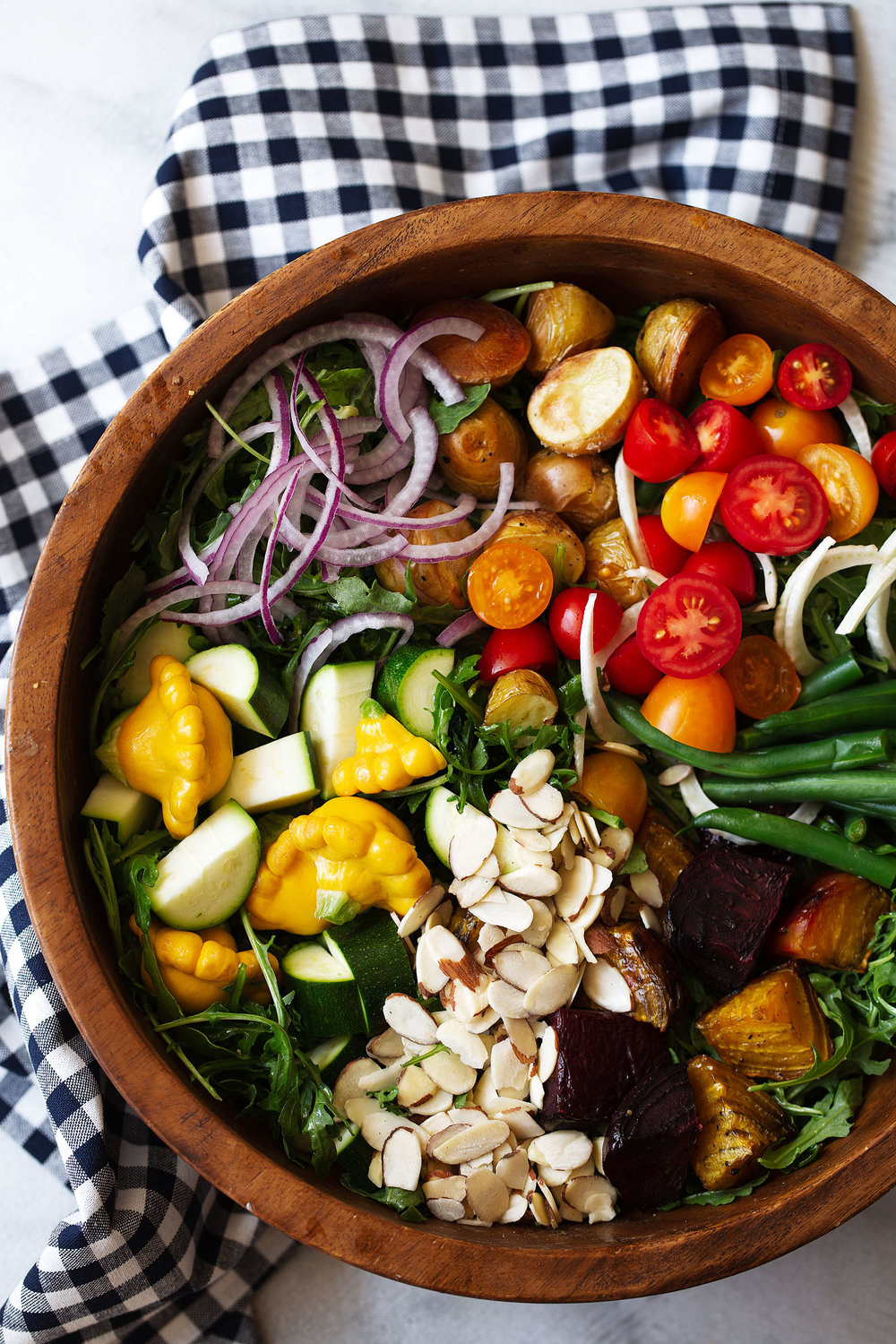 While it requires a few extra prep steps, this salad is great to take to work for lunch. I like to separate the arugula from the rest of the salad and assemble just before serving so that it doesn't wilt.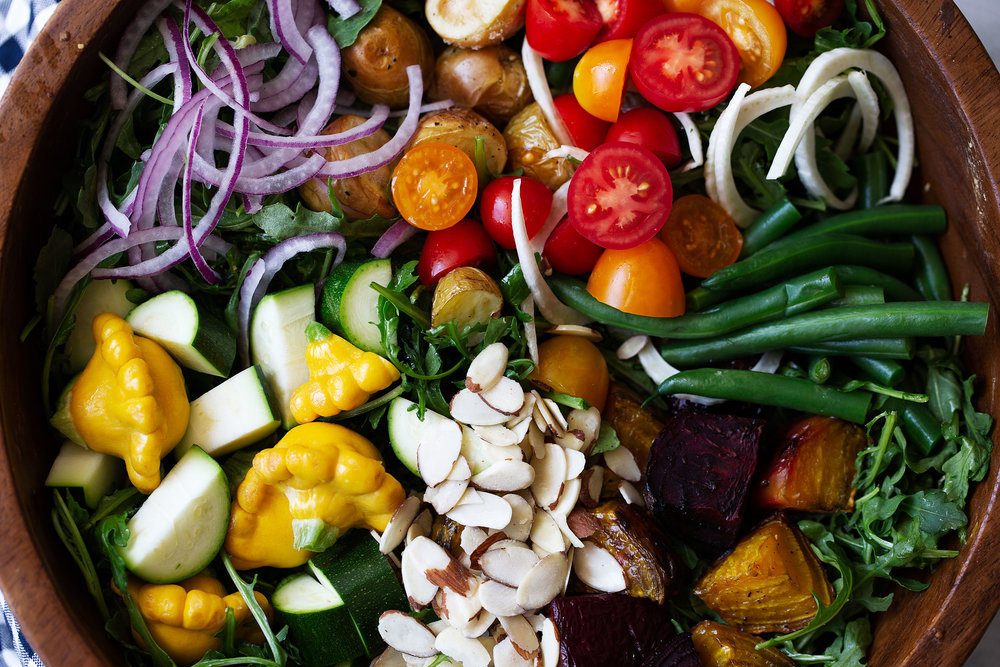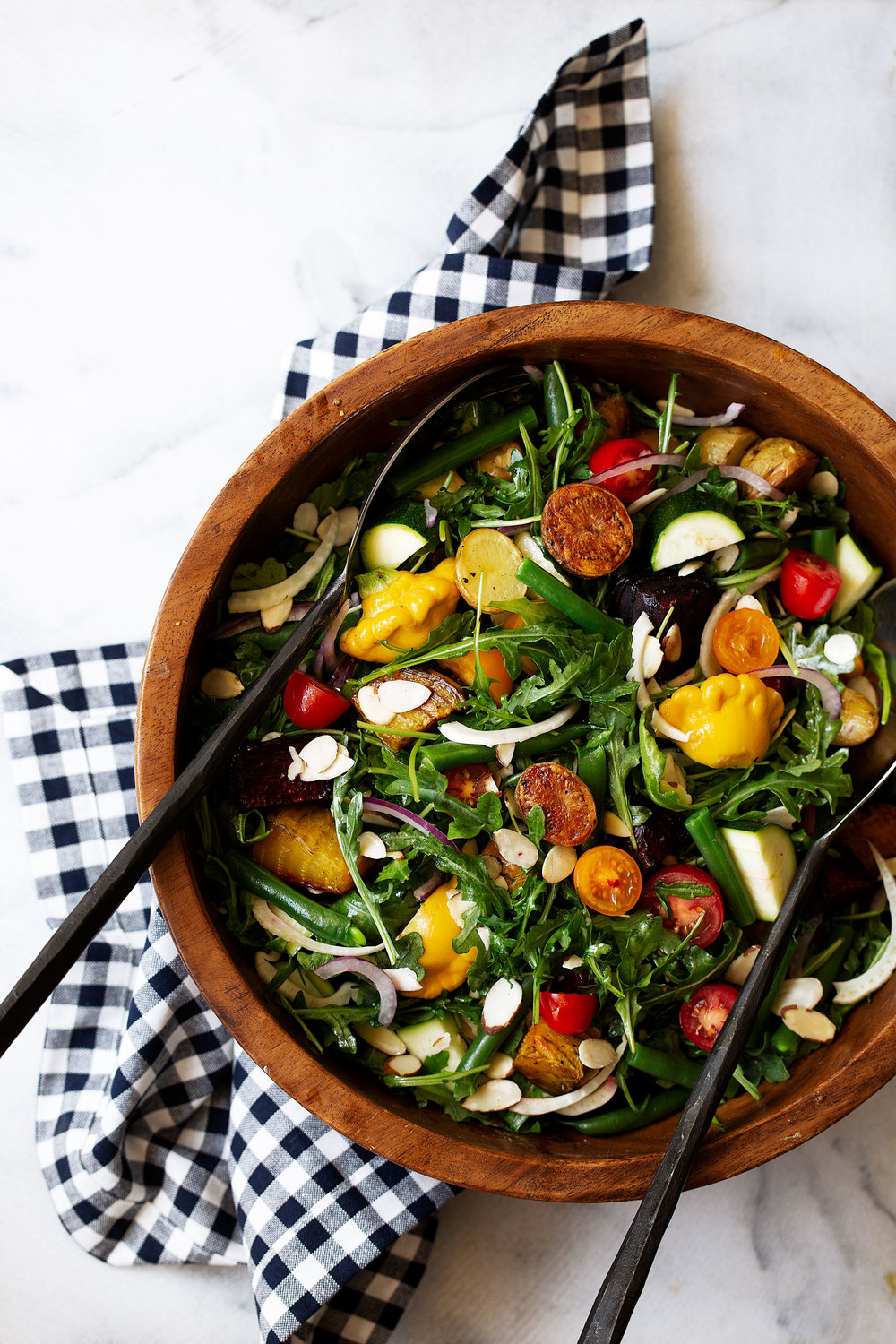 Kitchen Sink Veggie Salad
For the salad:
3

medium red or golden beets,

peeled and quartered

3

tablespoons

extra virgin olive oil,

divided

9

ounces

golden baby potatoes,

halved

Kosher salt,

as needed

¼

teaspoon

freshly ground black pepper

6

ounces

green beans,

trimmed

4

packed cups wild arugula

4

ounces

cherry tomatoes,

halved

¼

cup

thinly sliced red onion

1

medium zucchini,

chopped

4

ounces

baby sunburst summer squash,

halved (or 1 medium summer squash, chopper)

½

cup

thinly sliced fennel

¼

cup

sliced almonds
For the vinaigrette:
Add the olive oil and garlic to a saucepan over medium heat and simmer until the garlic is fragrant. Remove from heat and let cool completely. Whisk in the lemon zest, lemon juice and pepper until emulsifies.
For the salad:
Heat oven to 400ºF. Toss the beets in 1 tablespoon of the olive oil and spread in an even single layer on half of an aluminum foil lined baking sheet. Toss the potatoes in a mixing bowl in the remaining olive oil and spread on the other half of the baking sheet. Season the beets and potatoes with salt and pepper and roast until both are tender, about 1 hour. Let cool and set aside.

Bring a medium pot filled halfway with water to a rolling boil over high heat. Heavily salt the water and stir until all the salt is dissolved. Add the green beans to the water and cook until tender, about 3 minutes.

Drain the green beans and add to a large bowl filled with cold water and ice cubes to stop the cooking process. When the green beans are cool remove the green beans from the ice and drain again. Chop and set aside.

In a large mixing bowl combine the arugula, tomatoes, onion, zucchini, summer squash, fennel, beets and potatoes. Toss with 2 tablespoons of the dressing, adding more as needed. Top with almonds.
DID YOU MAKE THIS?
TAG ME ON INSTAGRAM TO BE FEATURED ON MY STORIES! @cookingwithcocktailrings