Pastrami Spiced Roasted Whole Ham
This post is sponsored by Farmer John. 
I'm a sucker for any meat coated in spices, particularly the pastrami spice combination that includes a base of black pepper and coriander. While pastrami spices can vary greatly, I love enhancing mine with mustard powder, brown sugar, paprika, salt, garlic and onion powder. The delicious heavily seasoned crust that develops on the outside of the spiced meat gave me an idea: "why not add those spices to a full spiral ham?"  I tried it out using a whole ham (a cured leg of pork with a bone in it) from Farmer John and the result was delicious.
Pastrami comes in many different iterations. I have enjoyed the classic pastrami (made with brisket) and pastrami smoked salmon, and now I would like to add pastrami spiced spiral ham to the mix as another way to enjoy the pastrami spices.
FARMER JOHN® Whole Ham comes already cooked so that you easily add your own twist and then simply heat for serving.  It makes for a flavorful; entree that makes entertaining a big crowd easy.
A tip for easier cleanup: line your roasting pan with aluminum foil so you don't have to scrape any sugar and spice mixture off the bottom of your pan.
The meat can be sliced and eaten on it's own, and it makes a particularly delicious sandwich hot or cold the next day. While slicing all the ham may seem like a good idea, only slice as much as you need, as the leftovers will stay moister if left on the bone for reheating the next day. After the ham has been baked it can be kept refrigerated for up to a week (aka plenty of leftovers).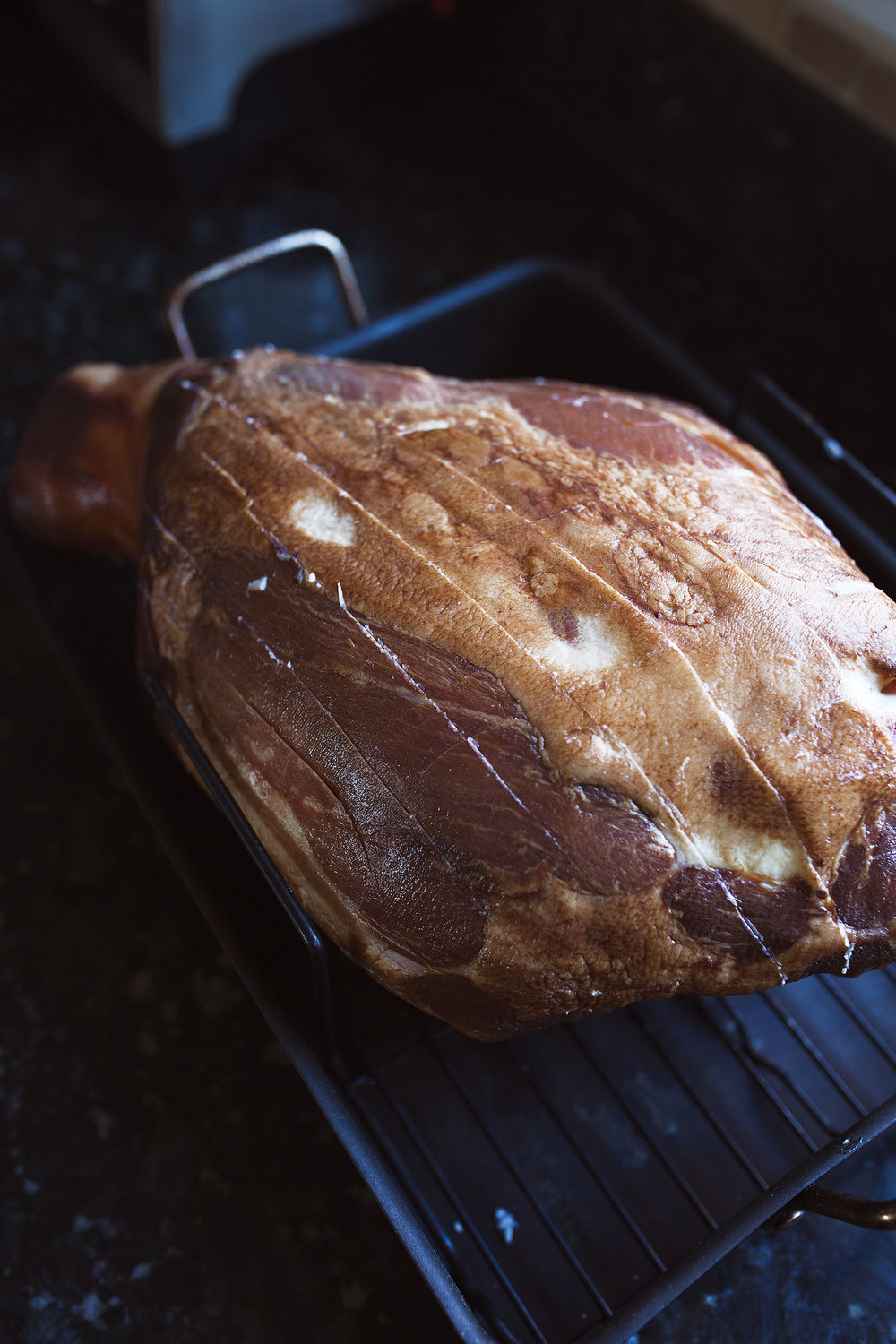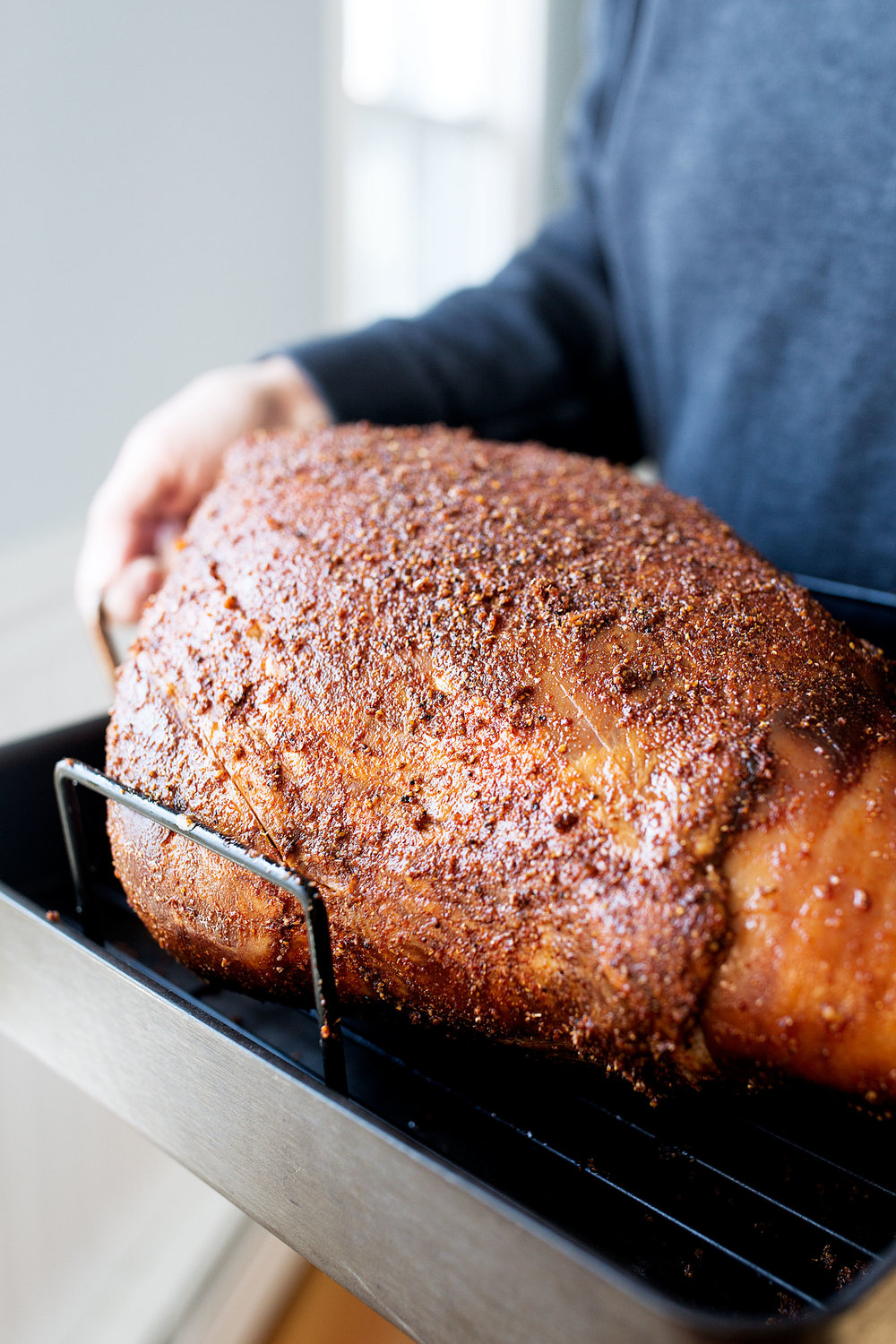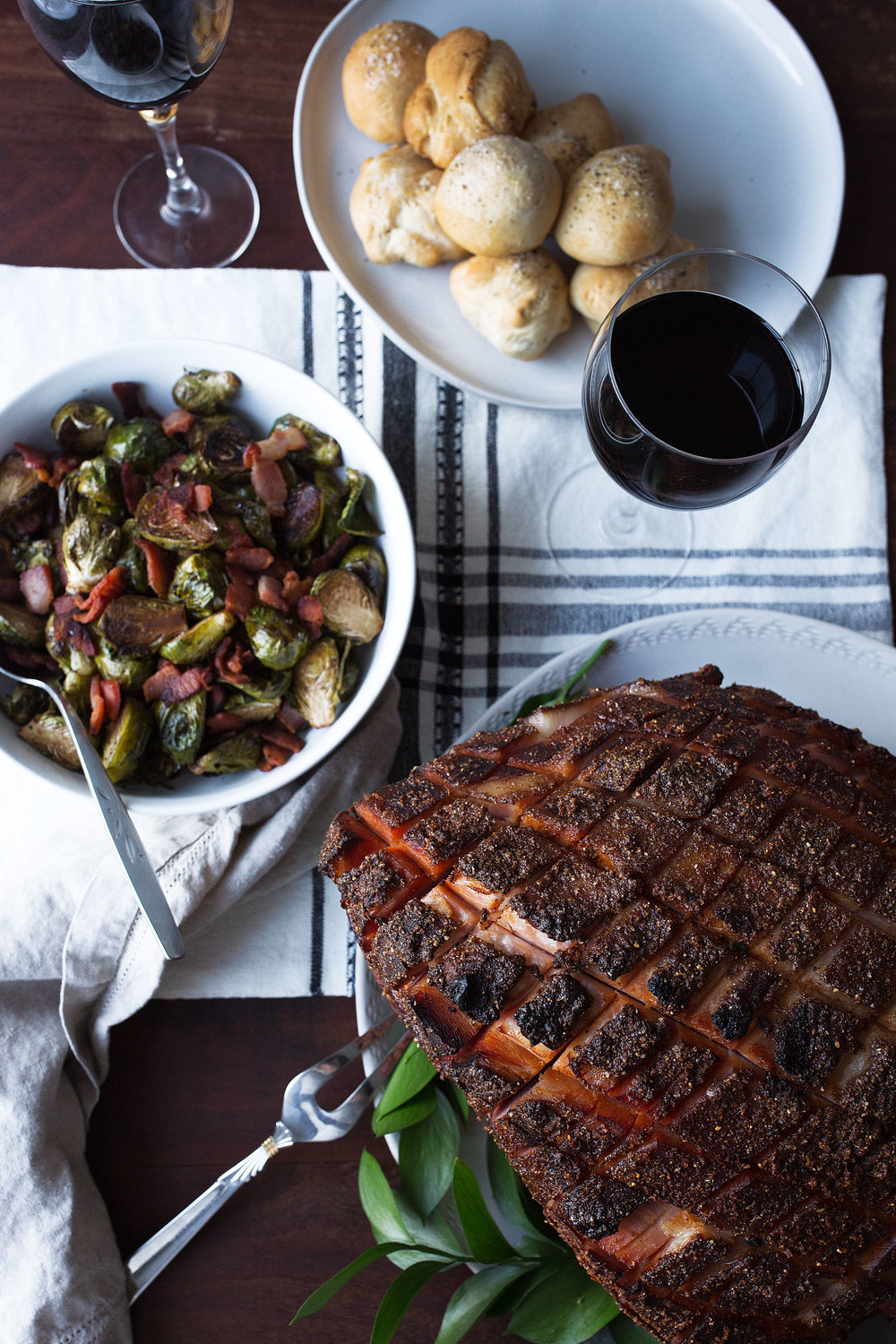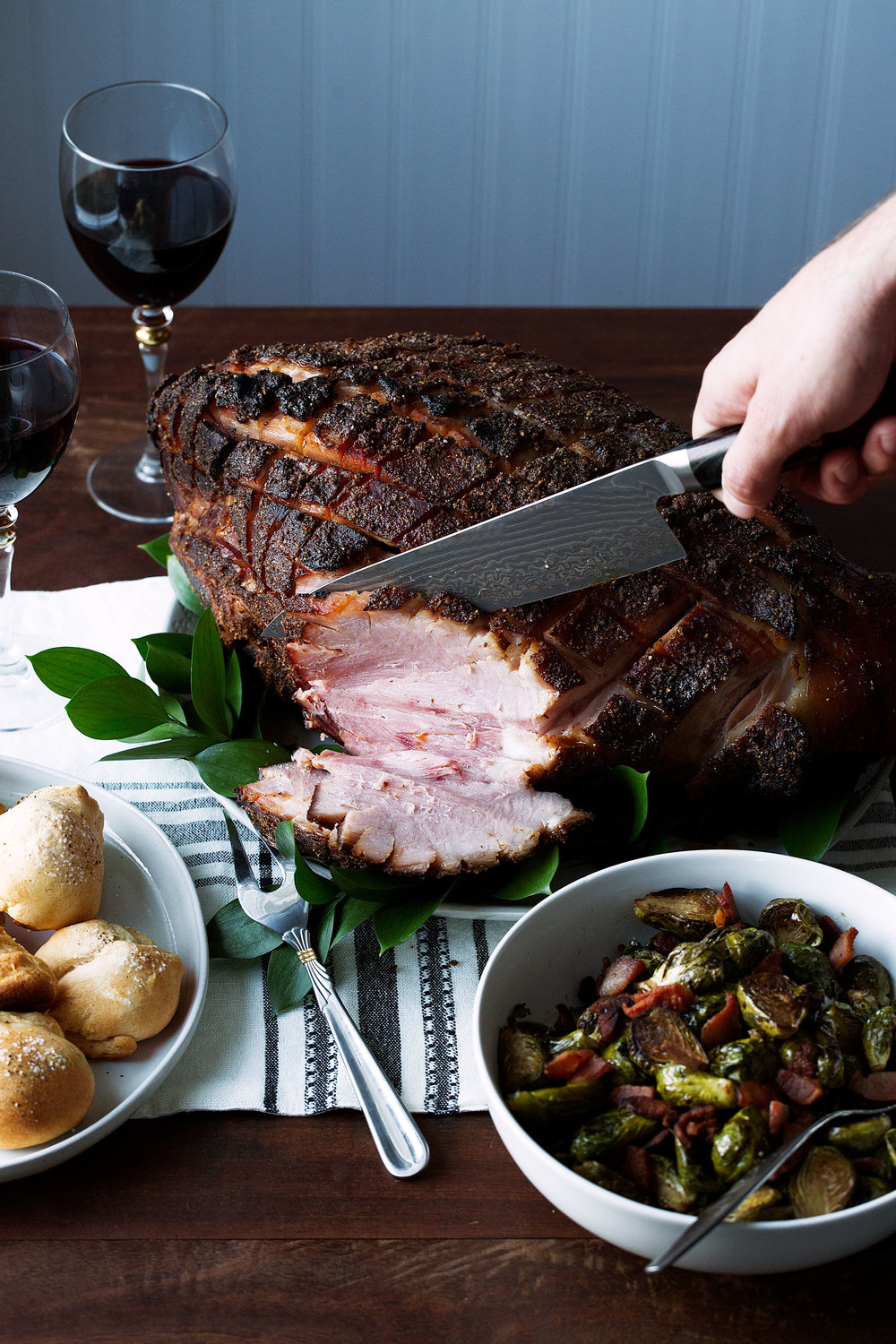 Pastrami Spiced Roasted Whole Ham
2

tablespoons

ground coriander

2

tablespoons

coarsely ground black pepper

2

packed tablespoons dark brown sugar

2

tablespoons

paprika

1

tablespoon

mustard powder

1½

teaspoons

kosher salt

1

teaspoon

garlic powder

1

teaspoon

onion powder

3

tablespoons

extra-virgin olive oil

1

17-pound bone-in, whole ham, fully cooked, I use Farmer John
Preheat oven to 325ºF.

In a small bowl stir together the spices until combined. Stir in the olive oil to wet the spice mixture and make it into a paste.

Pat the ham dry with paper towels. Score the fat on the ham in a pattern of 1-inch diamonds, cutting ¼-inch deep.

Add the ham to a large roasting pan then apply the rub all over the ham so the ham is evenly coated. Cook until thoroughly heated, about 2 to 2 ½ hours, or 10 minutes per pound. The internal temperature of the ham should read 120ºF.

Remove the ham from the oven and let rest for 15 minutes. Cut a few slices off the bottom to create a flat base and transfer to a serving platter and slice. To slice the ham, make vertical cuts perpendicular to the bone with a sharp knife
DID YOU MAKE THIS?
TAG ME ON INSTAGRAM TO BE FEATURED ON MY STORIES! @cookingwithcocktailrings