This cheesy spinach dip filled with tomatoes, green chilies and tomatoes combines Mexican flavors for a crowd-pleasing appetizer. My mom first started making this dip when my brother and I were younger. Everyone used to complain because, as the pickiest eater ever, I would make her take out the olives to suit my needs. Now that I'm older and wiser I make it with the olives, as it really does complete the dip while adding a little Mediterranean twist.
Hot and Spicy Creamy Spinach Dip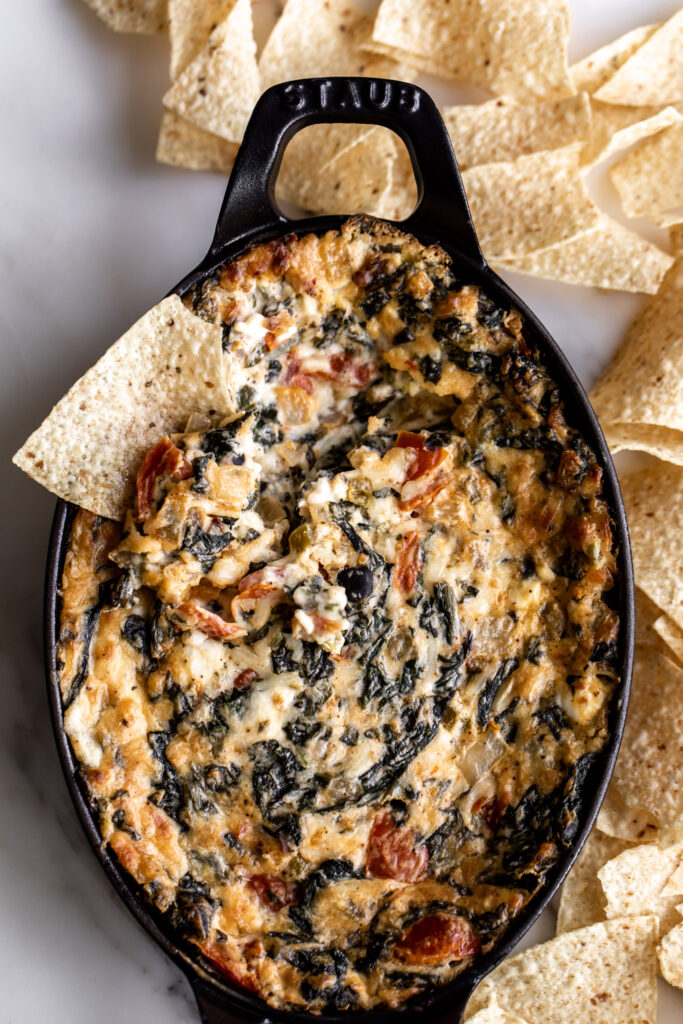 Key Ingredients in This Recipe
Spinach – When making the dip, be sure to drain the spinach thoroughly so that the dip doesn't become watery. This dip can be made ahead of time and refrigerated until ready to bake and serve. To cook fresh baby spinach, bring a pot of water to a boil. Add the fresh spinach and cook until wilted then remove to a colander and drain.
Tomatoes – Roma tomatoes have a thicker skin and lower water content than many other tomato varieties, making it perfect for this recipe since, as they cook, they won't release as much water and make the dip soggy. Roma tomatoes are available year-round though tomatoes are at their peak in the summer months.
Yellow Onion – I use yellow onion in this recipe for its mellow flavor when cooked. These onions with a brownish yellow papery skin are a great all-purpose cooking onion.
Green chilies – Canned diced green chilies are typically made from mild chilies like Anaheim (New Mexico chili), Poblano or Pasilla varieties. They add a great flavor to any recipe without adding much heat.
Cream cheese – The base of this creamy dip is cream cheese, be sure to use the regular kind rather than low-fat. It's blended with red wine vinegar and half and half before the cheese and vegetables are added.
Monterey Jack – Monterey Jack is a semi-hard, white cow's milk cheese. It has a mild flavor and melts well.
How to Make Hot Spinach Dip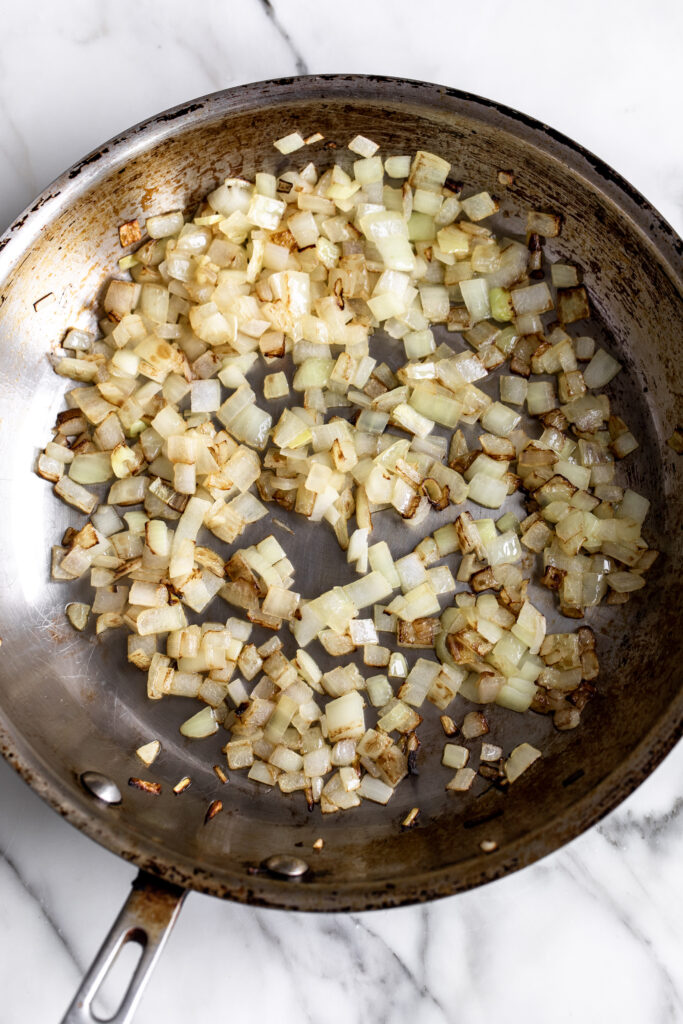 Step 1: Sauté onion.
Preheat the oven to 400°F (200ºC). Place a large sauté pan over medium heat, add olive oil and heat through. Add the onions and sauté, stirring occasionally, until they are soft and translucent, about 4 minutes.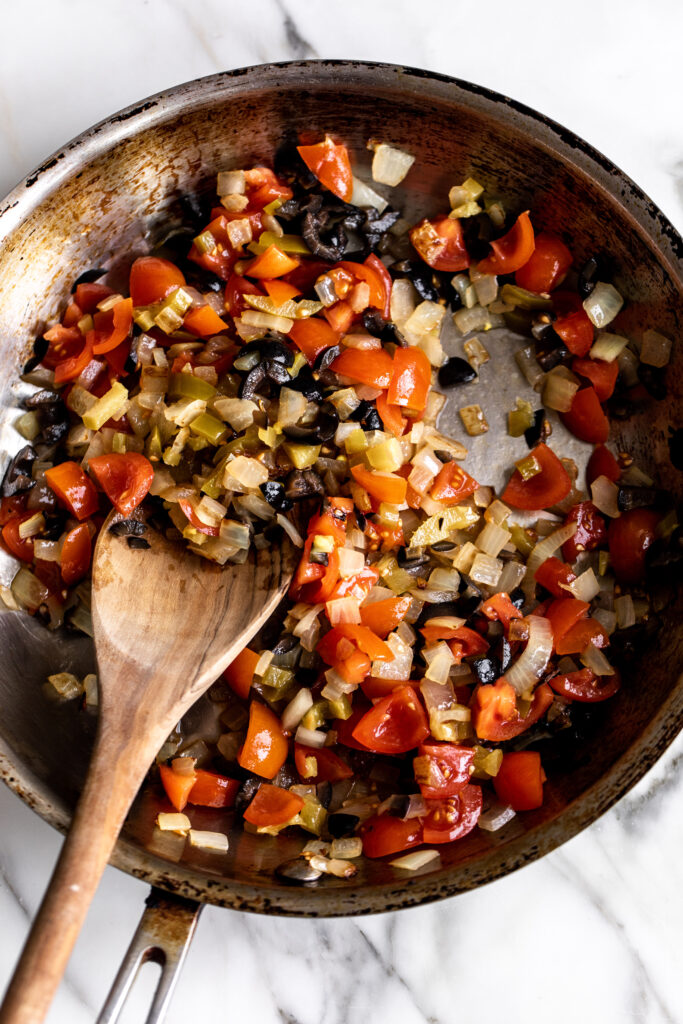 Step 2: Add tomatoes, chilies and olives.
Remove the skillet from heat and add the tomatoes, chilies, and olives to the pan. Let the vegetables cool for about 5 minutes.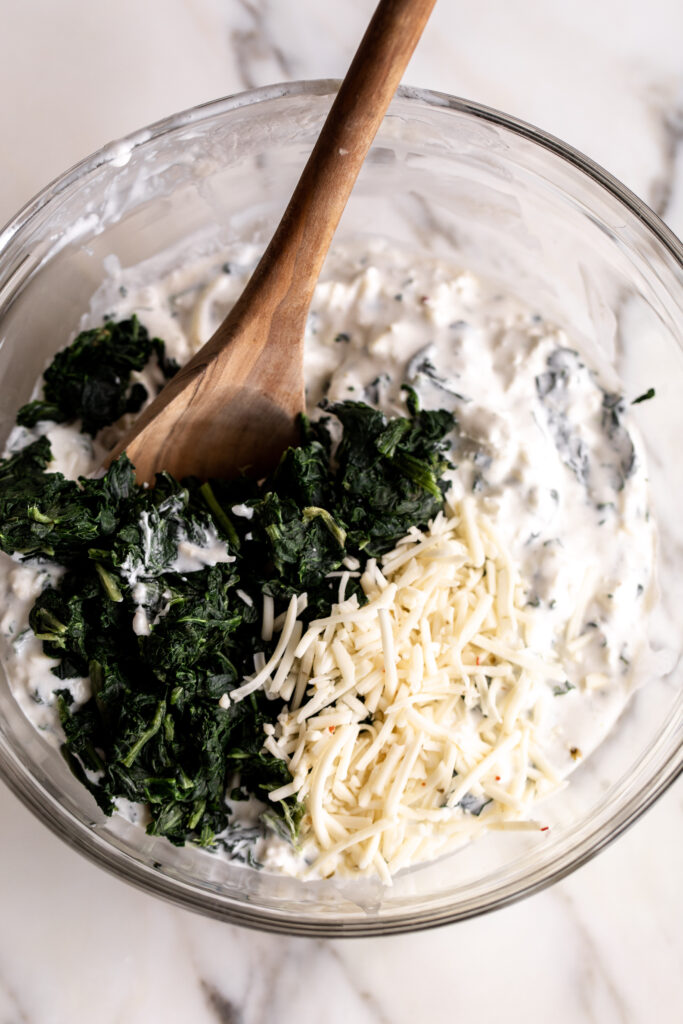 Step 3: Mix the cream cheese.
In a large mixing bowl stir together the cream cheese, half and half and red wine vinegar until combined. Stir in the spinach and cheese until combined.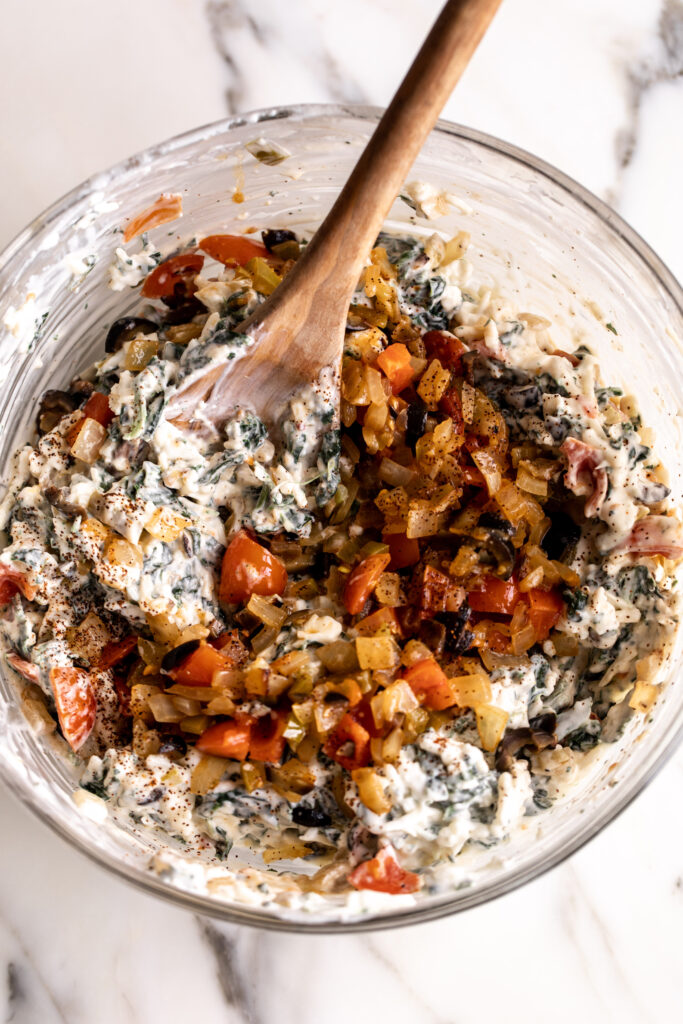 Step 4: Add the vegetables.
Add the vegetables and season with chili powder, salt and pepper.
Step 5: Bake the hot spinach dip.
Spoon the mixture into a 2-quart baking dish and bake until the top is golden brown and bubbling, about 25 minutes.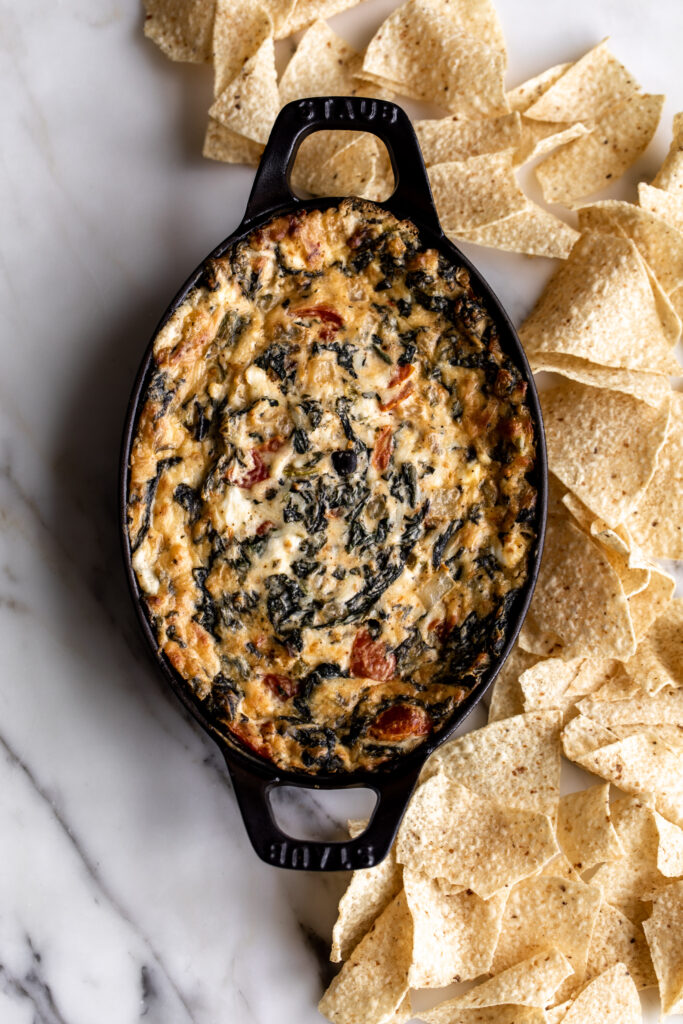 Step 6: Serve
Let cool and serve with tortilla chips.
Other Recipes to Try
If you enjoy this recipe, I recommend checking out some of these:
Hot and Spicy Creamy Spinach Dip
2

tablespoons

extra-virgin olive oil

1

cup

diced yellow onion

2

medium Roma tomatoes,

cored and diced

¼

cup

chopped canned green chilies

3

tablespoons

chopped pitted black olives

1

(8-ounce) package cream cheese,

at room temperature

1

cup

half & half

1

tablespoon

red wine vinegar

1

(10-ounce) package frozen spinach,

thawed and thoroughly drained

2 ½

cups

shredded Monterey Jack cheese

½

teaspoon

chili powder

½

teaspoon

kosher salt

½

teaspoon

freshly ground black pepper

Tortilla chips,

for serving
DID YOU MAKE THIS?
TAG ME ON INSTAGRAM TO BE FEATURED ON MY STORIES! @cookingwithcocktailrings