American Taco Pizza
This pizza mash-up creation is topped with seasoned ground beef, grilled avocado, cherry, onion, sour cream, tortilla chips and lettuce for a meal reminiscent of Americanized ground beef tacos. It reminds me of "make your own taco nights" when I was growing up where we would make a big batch of seasoned ground beef, and put out bowls of tomatoes, salsa, sour cream and lettuce among other toppings.
After I moved to California I realized that this is not how all tacos are served – this is an Americanized "boxed" version of tacos but the food remains comforting and delicious nonetheless.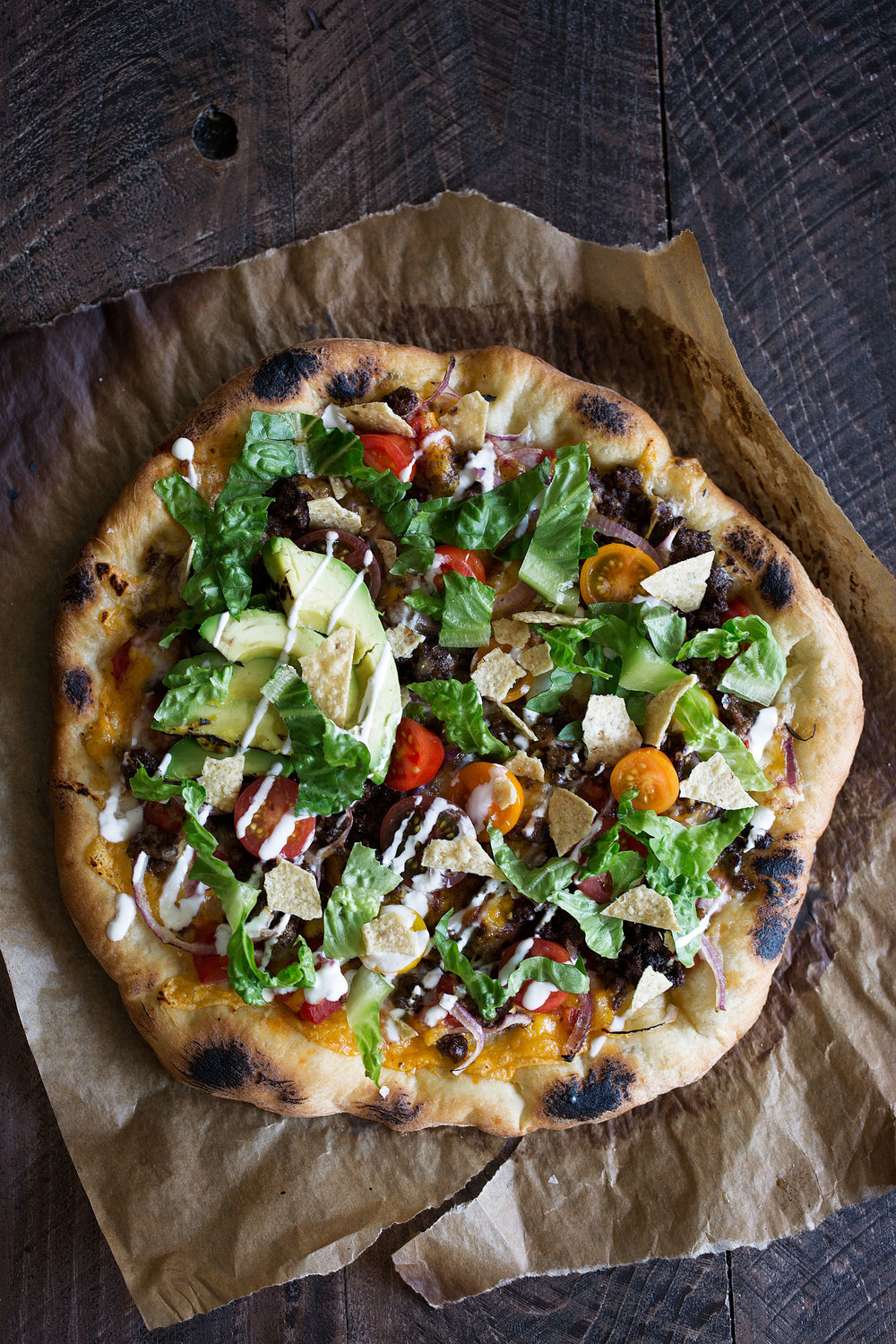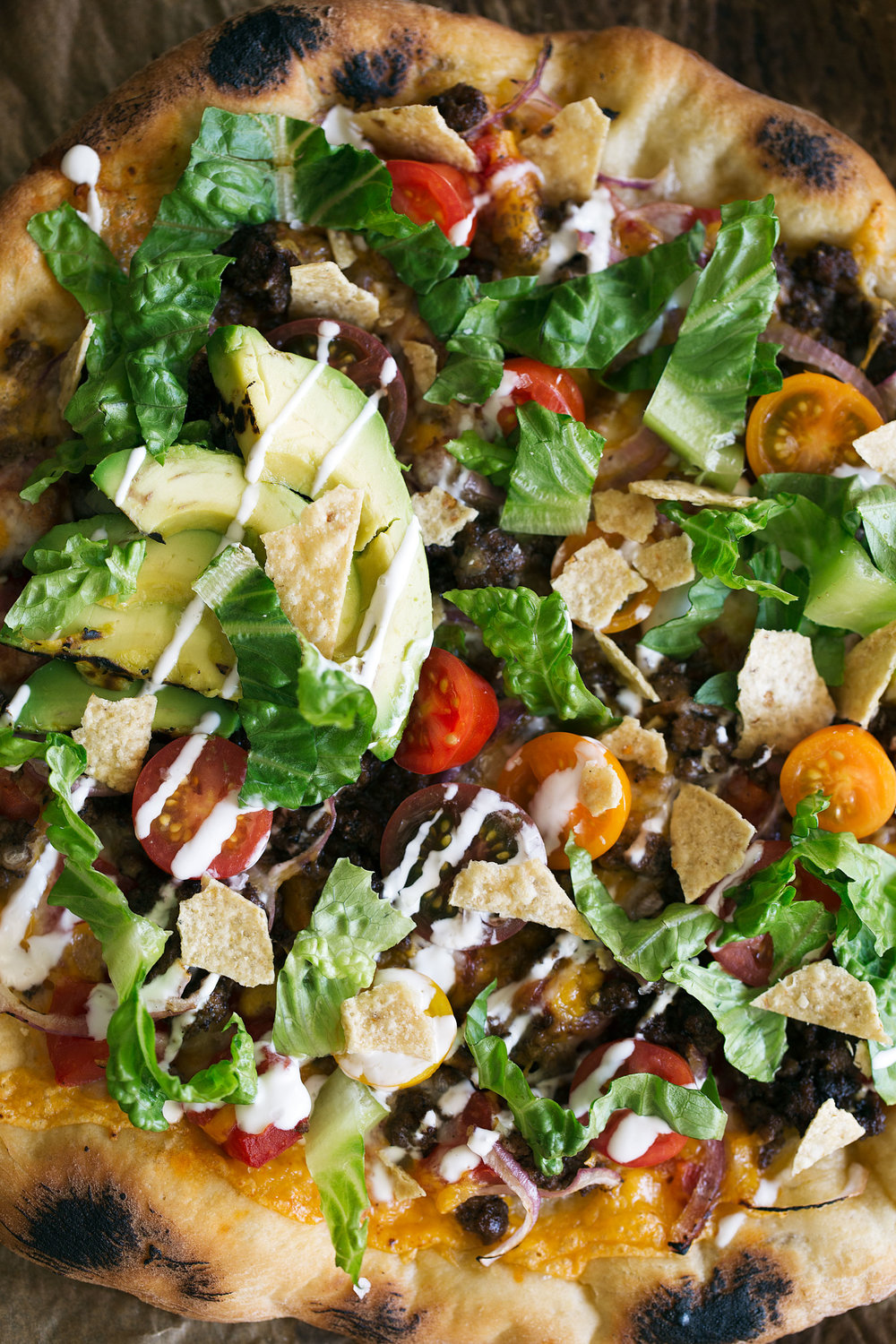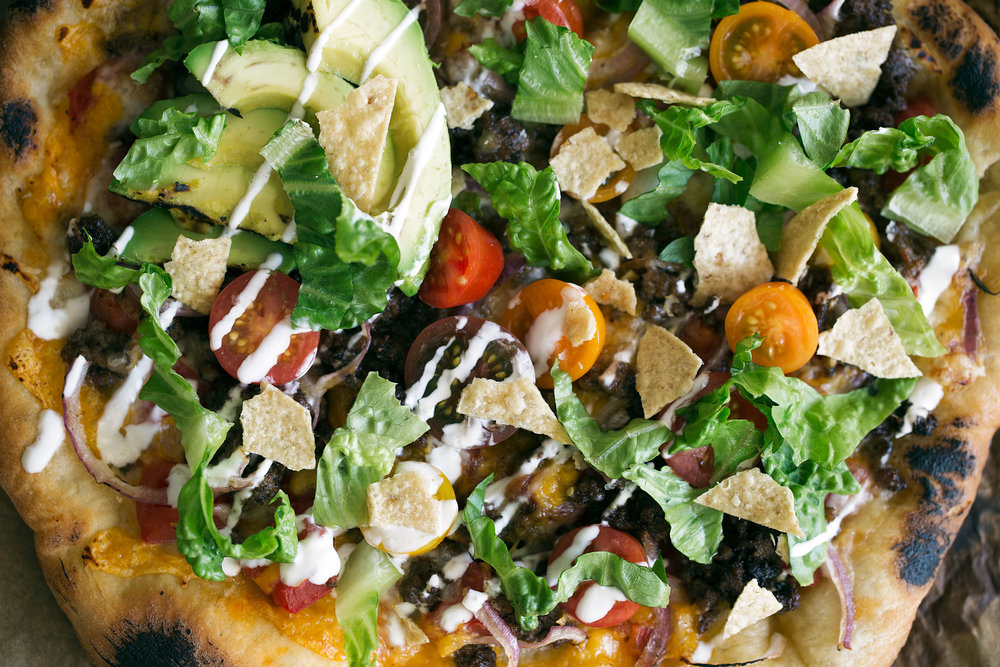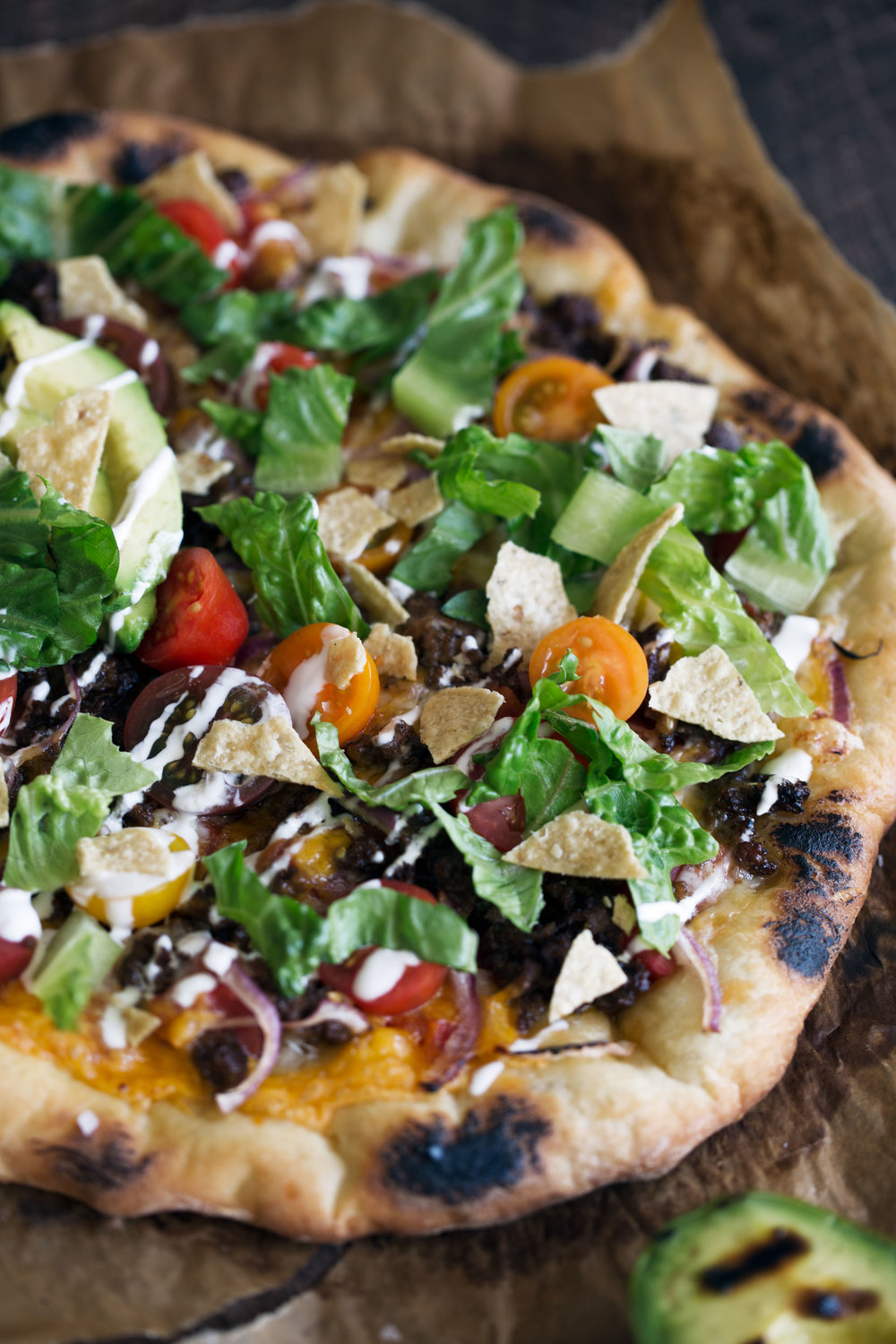 American Taco Pizza
3

tablespoons

extra-virgin olive oil,

divided

½

pound

ground beef

85/15

Kosher salt,

to taste

Freshly ground black pepper,

to taste

1

teaspoon

chili powder

¼

teaspoon

cayenne powder

1

medium Haas avocado,

halved and pitted

½

pound

pizza dough

½

cup

canned diced tomatoes

¼

cup

shredded sharp cheddar cheese

¼

cup

shredded Monterey jack cheese

¼

cup

thinly sliced red onion

½

cup

halved cherry tomatoes

2

tablespoon

sour cream

1

cup

shredded romaine lettuce

1/3

cup

crushed tortilla chips
Preheat oven to 500ºF. If you have a pizza stone then put it on the middle shelf and let it heat up with the oven.

Heat a medium sauté pan over medium heat, add 1 tablespoon of the olive oil and heat through. Add the ground beef and season with salt and pepper. Sauté the beef, stirring occasionally, until browned, about 3 minutes. Drain the fat from the pan and discard. Stir in the chili powder and cayenne until combined. Set aside.

Heat a grill or grill pan to high heat. Brush the halves of the avocado with olive oil and place cut-side down on the grill. Grill until char marks appear, about 2 minutes. Remove and scoop the avocado from the peel and dice then set aside.

On a lightly floured surface roll out one the dough into about a 10-inch circle. The dough should be fairly thin. Place the dough on piece of parchment paper on top of the pizza peel. If you do not have a pizza stone/peel then prepare the dough on a lightly greased baking sheet.

Rub the remaining olive oil over the pizza dough including the edges. Bake for 6 minutes so the crust is partly baked, then remove from the oven. Top the pizza with the canned diced tomatoes, followed by the cheeses and onion, leaving about 1" around the edge of the pizza for the crust. Bake until the crust is golden brown and the cheese is melted, for an additional 6 to 8 minutes.

Top the pizza with the cherry tomatoes, charred avocado, sour cream, romaine and tortilla chips. Cut into equal pieces and serve immediately.
DID YOU MAKE THIS?
TAG ME ON INSTAGRAM TO BE FEATURED ON MY STORIES! @cookingwithcocktailrings