They are then glazed with a sticky honey harissa sauce and cut into individual portions of ribs. These ribs make a great appetizer or can be paired with cornbread and roasted vegetables for a more complete meal.
Harissa is a North African spice paste, specifically from Tunisia, made from red chilies, garlic, oil, vinegar or lemon and aromatic spices like cumin, coriander and caraway. This spicy and smokey condiment adds a great depth to a dish and can be found in tubes or jars at the grocery store or can be made at home. In this recipe the spicy harissa paste becomes the glaze on the marinated pork ribs balanced by the addition of a bit of honey and orange zest.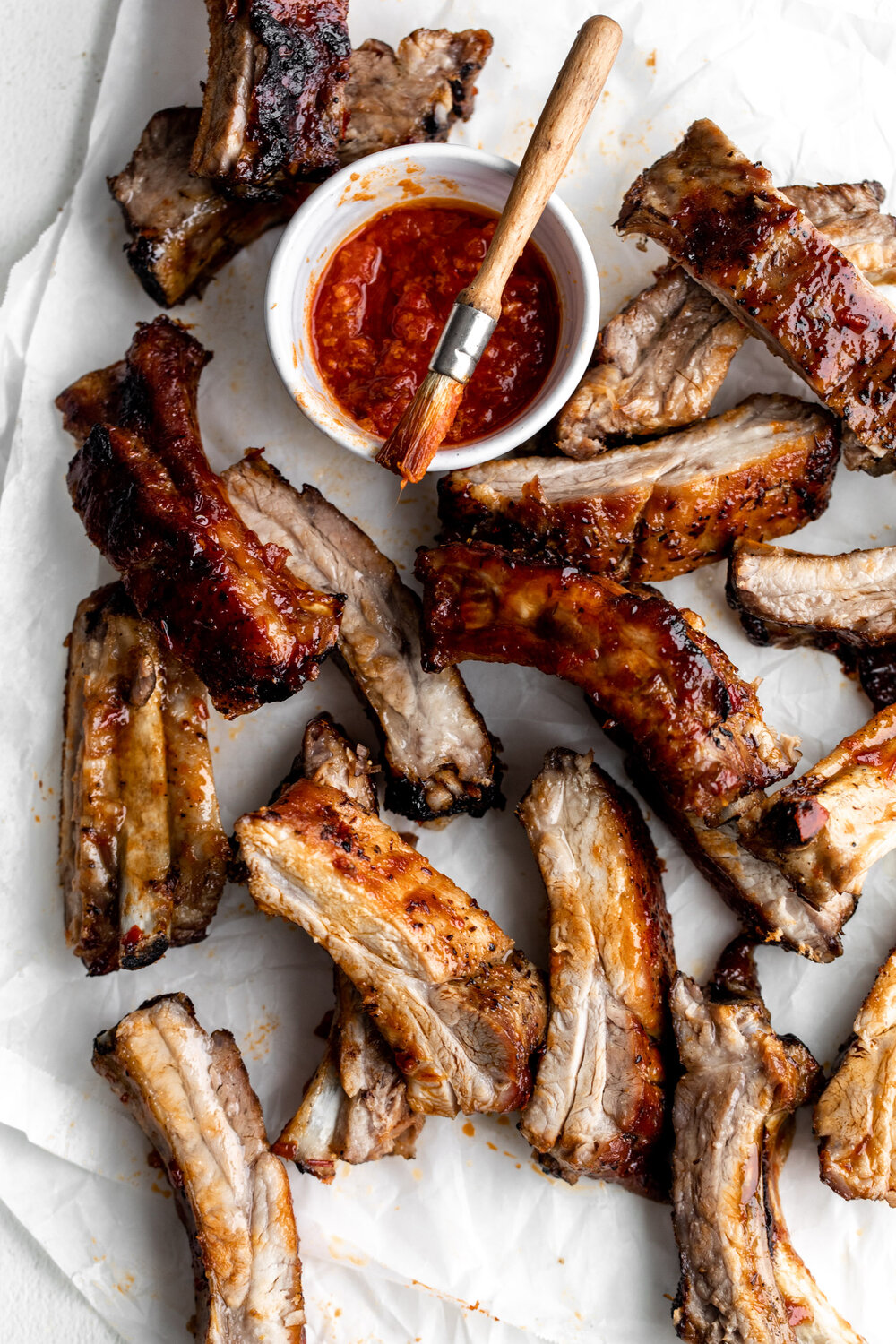 While I love grilled ribs sometimes it's: 1. Too cold to go outside to heat up the grill just for some ribs and 2. In my Brooklyn, New York apartment I don't have space for a grill. Baking your ribs is a great alternative for mouthwateringly tender, fall off the bone ribs. I stack a cooling rack on top of a baking sheet to cook my ribs so that the heat can reach all sides of the meat.
BAKED STICKY HONEY HARISSA PORK RIBS
For the sticky honey harissa sauce:
For the ribs:
1 teaspoon kosher salt

1 teaspoon ground cumin

1 teaspoon freshly ground black pepper

4 pounds pork baby back ribs (about 2 racks)
For the sticky honey harissa sauce:
Add the harissa pasta, honey, orange zest and orange juice to a small saucepan. Heat over medium heat whisking to combine until sauce is heated and thickens slightly, about 6 minutes. Set aside until ready to use or refrigerate in an airtight container until ready to use. The sauce will thicken as it sits. The sauce can be made up to a week in advance.
For the ribs:
In a small bowl stir together the salt, cumin and pepper. Season the ribs all over and refrigerate for at least 1 hour and up to overnight. Bring the ribs to room temperature for 30 minutes before cooking.

Heat the oven to broil on high. Line a baking sheet with aluminum foil and set a wire cooling rack on top. Arrange the racks of ribs on the rack and broil until the ribs are browned, about 5 minutes. Flip the ribs and repeat until the other side is browned, about an additional 5 minutes.

Lower the oven to 300ºF. Place the ribs so the side with the most meat is facing up. Cover the ribs with aluminum foil and bake for 1½ hours. Uncover the ribs and brush the ribs all over with the sticky honey harissa sauce and continue baking until a knife can easily be inserted into the thickest part of the meat, about an additional 30 minutes.

Broil with the thickest meat side up until the sauce caramelizes on the outside slightly, about an additional 3 minutes.

Brush with additional harissa sauce if desired then cut into individual ribs and serve immediately.
DID YOU MAKE THIS?
TAG ME ON INSTAGRAM TO BE FEATURED ON MY STORIES! @cookingwithcocktailrings