This 5-ingredient pasta dough can be made by hand in a mixing bowl, in a stand mixer or in a food processor. While you can buy many other pasta shapes rather than making them, to make homemade ravioli stuffed with your favorite fillings, you will need to start with pasta dough. I'm sharing my favorite straight-forward recipe that I have used for years to make stuffed pastas. Pliable egg pasta dough like this is great for stuffed pastas like ravioli or tortellini.
To get the most accurate results I recommend using the metric measurements listed below and to weigh your ingredients using a kitchen scale for this recipe.
Ravioli Pasta Dough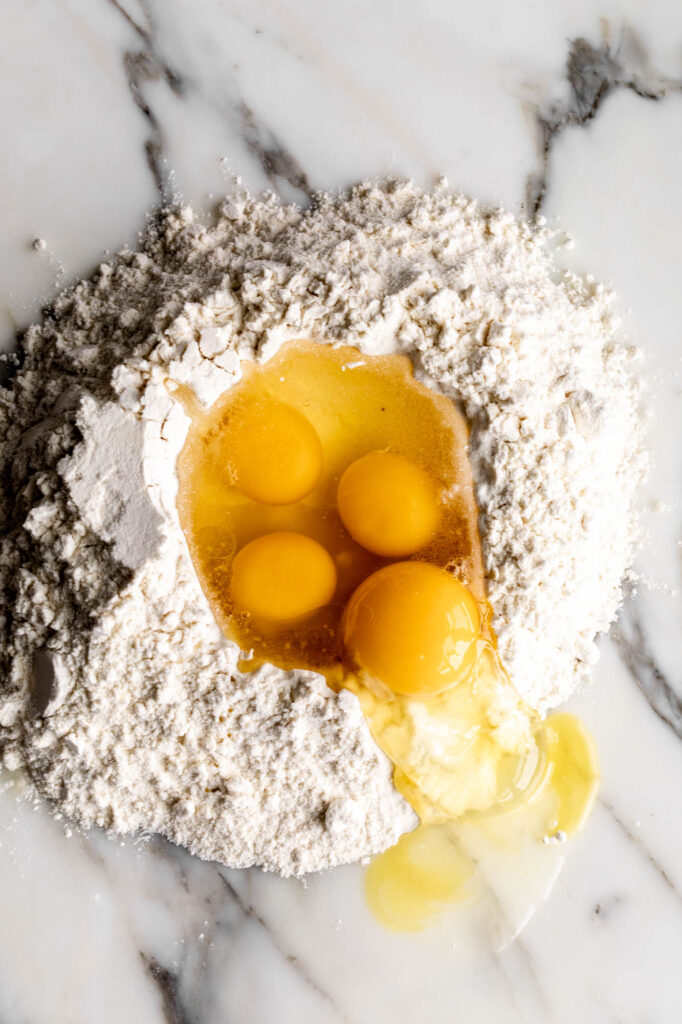 More About the Pasta Dough
I use a basic pasta dough recipe made with a combination of 00 and semolina flours, egg, olive oil and salt to make the ravioli. It can easily stretch without breaking and hold up to cooking without falling apart and spilling the fillings in the boiling water. Resting the dough before rolling it out is important as it allows the gluten to relax.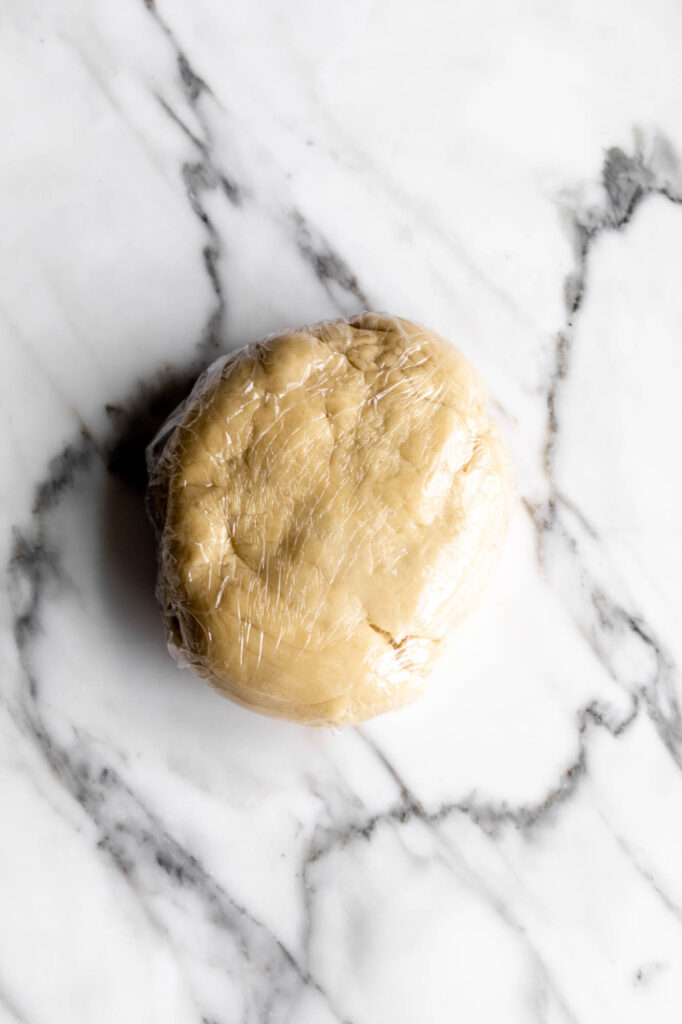 3 Methods to Make Pasta Dough
By hand. Follow the instructions listed below to mix the fresh pasta dough by hand. 
In a stand mixer. Add the flours and salt to the bowl of a stand mixer fitted with a dough hook attachment. Mix to combine the flours, then use your hand to make a well in the middle. Add the oil and eggs and mix on low speed until the flour has been incorporated, scraping down the sides as needed. Continue to mix on low speed until the dough is smooth.The stand mixer will help knead the dough but I recommend still doing it partially by hand for best results.
In a food processor. Add the flours and salt to the base of a food processor fitted with the blade attachment. Mix to combine the flours then add the oil and eggs. Pulse until the dough comes together. Turn out the dough and knead as directed.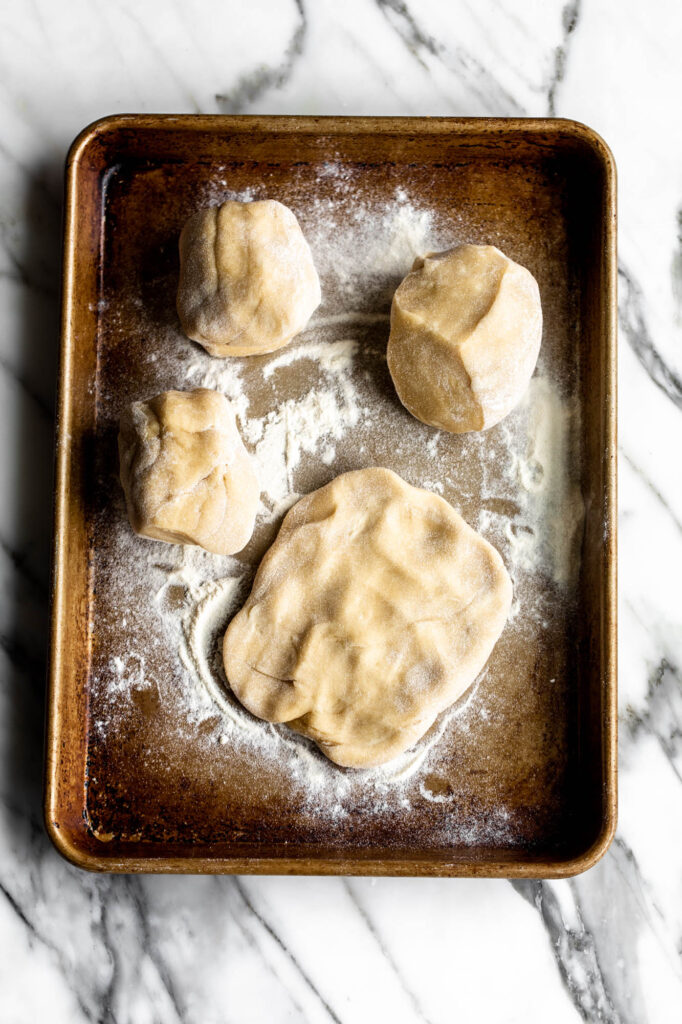 How to Roll Out Pasta Dough
Pasta attachment. I use the KitchenAid pasta roller attachment to create a thin dough. I find this is the easiest, though you will need a KitchenAid stand mixer to use this attachment.
Hand roller. A hand cranked pasta roller attached to a kitchen countertop works well.
By hand. You can also roll the pasta with a rolling pin by hand if needed. This is much harder to get even, and as thin as desired, but will work.
Key Ingredients in This Recipe
00 flour – This finely milled Italian flour resembling the texture of baby powder sometimes called doppio zero makes for extra soft pasta dough. You can buy it online here but if you can't find 00 or semolina flour, all-purpose will work fine.
Semolina flour – Using a combination of fine 00 flour and semolina flour helps to make the dough sturdier and heartier – exactly what is needed for ravioli. Semolina is a coarse flour from the middle of durum wheat with a pale yellow color. I also sprinkle semolina on the baking sheet when assembling the ravioli to keep them from sticking.
Salt – A little salt goes a long way to bring out the flavors of the pasta dough. Some people opt to skip the salt in favor of simply salting the pasta cooking water, but I like to add a little to the dough as well.
Eggs – I use whole eggs in this pasta dough to provide both moisture and fat to enrich the dough. I have found that for stuffed pastas, a balance of egg whites and egg yolks make for the best texture in the dough to roll it thin.
Olive oil – It makes the dough easier to roll while also providing fat (and therefore flavor).
Tips and Tricks for This Recipe
Swaps and Substitutions
While I love using a combination of 00 flour and semolina, all-purpose can be substituted since that is what most people have in their pantry already.
Ravioli Filling Recipes
While you can fill ravioli with a simple ricotta cheese filling I like some more unique fillings. Use this dough and make these delicious homemade ravioli recipes with instructions for filling the dough and boiling the pasta: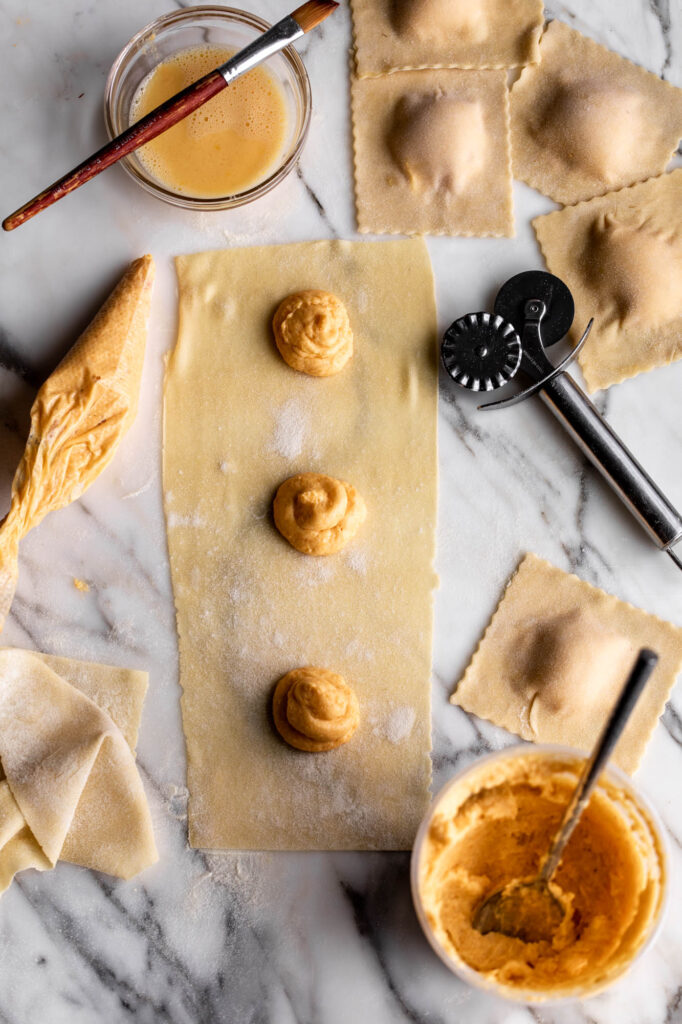 Ravioli Pasta Dough
1½

cups

00 flour

1

cup

semolina flour

1

teaspoon

kosher salt

1

tablespoon

extra-virgin olive oil

4

whole large eggs
Whisk the 00 flour, semolina flour and salt together in a medium mixing bowl.

Turn out the flour mixture onto a clean workspace and use your hand to form a well in the middle.

Add the oil and eggs to the center of the well. Use a fork to beat the eggs as if you were scrambling eggs, until the eggs and whites are blended. Continue to beat the eggs, pulling a little of the flour in at a time.

Once the mixture thickens to the point where a fork can no longer be used, use your hands or a bench scraper to slowly pull the flour into the mixture, to form a dough. I recommend using a bench scraper to pull any stray flour from the surface back into the dough.

Continue to knead until the dough feels thoroughly combined and smooth, about 5 to 6 minutes. If it sticks to your hands, add a bit more 00 flour and if it feels too dry add a little water, ½ teaspoon at a time. The dough should feel moist but not sticky (like play dough).

Wrap the dough tightly in plastic wrap and let it rest for at least 30 minutes or up to several hours at room temperature before rolling it out for ravioli. The dough can be made ahead of time and refrigerated overnight. If refrigerating the dough, let it sit at room temperature for 30 minutes before using.
DID YOU MAKE THIS?
TAG ME ON INSTAGRAM TO BE FEATURED ON MY STORIES! @cookingwithcocktailrings
This page may contain affiliate links. If you choose to purchase after clicking a link, I may receive a commission at no extra cost to you. Thank you for your support so I can continue to share recipes with you!