This post is sponsored by Bertolli® Pasta Sauce. 
Lobster Ravioli is one of my favorite recipes to make for a date night or Valentine's Day! Making the ravioli together is a fun two-person activity, while the succulent lobster-filled ravioli tossed in creamy Bertolli® Vodka Sauce makes for a luxurious and romantic dinner. While my husband, Aaron, and I have been spending a lot of time together this year, it's nice to be a little more intentional this Valentine's Day! Instead of dinner in front of the TV like most nights, we're pretending we're at our own little restaurant with a candlelit dinner at the table paired with wine and music.
Bertolli Vodka Sauce is so versatile, and can be added to any of your favorite pastas including classics like penne alla vodka, or paired with meats and other contemporary dishes. I love this flavorful sauce because it has that subtle hint of vodka combined with delicious vine-ripened tomatoes, rich cream and Parmesan cheese. Paired with lobster ravioli, it's the perfect indulgence for a Valentine's Day celebration!
I love making fresh pasta for ravioli, as there's really nothing like the texture and taste! However, if you don't have a pasta maker to roll out the dough, you can use a package of 40 square wonton wrappers.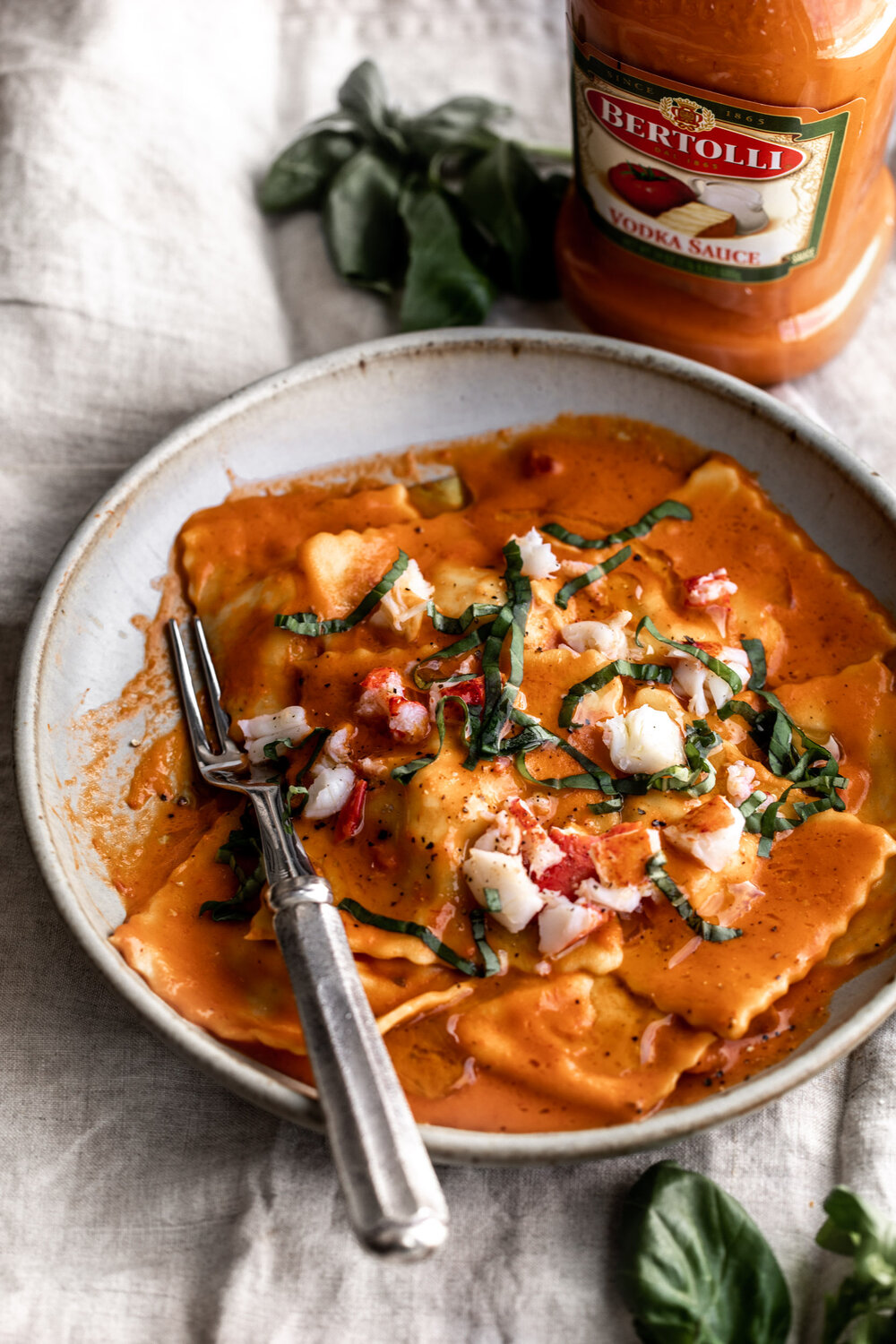 To freeze the ravioli:
once they are assembled, but prior to cooking, arrange them in a single layer on a parchment paper-lined baking sheet, cover and move to the freezer. Freeze until the ravioli are firm, about 1-2 hours, then transfer to a freezer bag and store for up to 3 months.
LOBSTER RAVIOLI IN VODKA SAUCE
1 cup cooked, finely chopped lobster meat (equal to the meat from a 1½ pound lobster), divided

2 teaspoon lemon zest

2 tablespoons freshly squeezed lemon juice

½ cup whole milk ricotta cheese

Kosher salt, as needed

Freshly ground black pepper, as needed

1 pound fresh pasta dough, homemade or store-bought

Semolina flour, as needed, for rolling the dough

1 large egg, beaten

1 (24-ounce) jar Bertolli Vodka Sauce, warmed

1 tablespoon chiffonade basil
In a large mixing bowl, stir together ¾ cup of the chopped lobster meat, lemon zest, lemon juice, and ricotta cheese. Season to taste with salt and pepper. Cover and refrigerate until ready to use.

Cut the pasta dough into 4 equal pieces and cover with plastic wrap. Dust a clean surface with semolina flour (or cornmeal) and work one piece at a time. Flatten the dough into a 5-inch by 4-inch oval. Roll the dough through a pasta machine at the widest setting. Fold the dough in thirds (like a letter) and run it through the machine again. Continue to roll the dough through the machine, reducing to thinner settings each time until it is 1/16-inch thick.

Cut the sheet in half crosswise so you have two pieces. This will become the top and bottom to your ravioli. Starting one inch from the short edge, spoon increments of 1 tablespoon of the lobster filling down the length of the dough, spacing each spoonful about 1" apart.

In a small bowl, whisk together the egg with 1 tablespoon of water. Brush the filling with the egg wash and cover with the second piece of the pasta dough, pressing around all the edges so no extra air remains around each of the mounds. Use a sharp knife or pasta/pastry wheel to cut each raviolo into 2" inch squares. Repeat with the remaining dough and filling.

Bring a large pot of water to a boil, add the ravioli and cook until the ravioli rise to the top and are al dente, about 3 minutes.

Gently toss the ravioli in the warmed Bertolli Vodka Sauce and divide among warmed pasta bowls. Top with the remaining lobster meat and basil to garnish. Serve immediately.
Note
: If using pre-made wonton wrappers: 
Spoon 1 tablespoon of the lobster filling into each wonton wrapper. Brush the egg wash mixture around the edges and seal shut. Continue with the remaining wonton wrappers and filling. Boil as noted above.
DID YOU MAKE THIS?
TAG ME ON INSTAGRAM TO BE FEATURED ON MY STORIES! @cookingwithcocktailrings