Ten Days in Japan
December 25, 2015 – January 3, 2016
This past week I had the amazing opportunity to go to Japan with my boyfriend and his family. We spent a total of 8 days in Tokyo, Osaka, and Kyoto, and I don't even know where to start when talking about it. I loved it all, the food the culture, even the subway system.
The flight from LAX to Tokyo was long but made easier with the help of some Nyquil. The whole "skipping" a day while in flight concept was very strange to me, and the first night in Tokyo I woke up at about 3:30 am. Once it was really morning I had my first Japanese breakfast at the hotel which consisted of rice with furiake flakes, miso soup, rice porridge (wasn't my favorite so I went with the rice bowl), some baked fish and some pickled vegetables. While I do love Japanese food, I had to throw in some hash browns from the buffet because, while they may be untraditional, they're still delicious.
Tokyo
The layout of Tokyo seems to be similar to the layout of LA; everything is pretty spread out and you have to take public transportation/taxis to other areas. The subway system was so easy to figure out, as all the stops were numbered and the lines color-coded. I was put in charge of getting us where we needed to go, a task I happily took on. After spending the afternoon in the Ginza area we stopped for some udon soup. Even in areas that are crowded everything is so quiet!! It's like everyone talks in whispers on the streets; it's relaxing but also very unlike anywhere in America.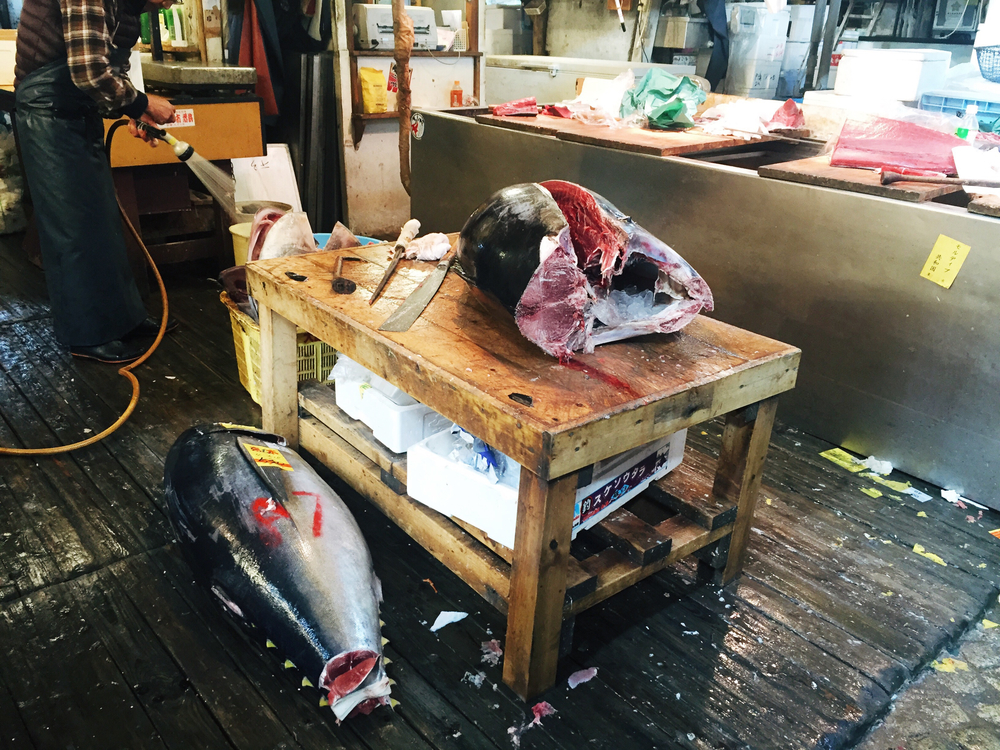 Tuna in various stages at the Tsukiji fish market in Tokyo
The next morning we took the metro to Shibuya, walked up from the subway and found ourselves in Shibuya Crossing, an area where all the people in the crosswalks go at one time. Hoards of people all get ready to walk at once from all directions, moving every which way. It is the epitome of organized chaos. It was much louder than the area that we were in the day before, Ginza. They had Japanese pop music playing into the streets and even the buses that advertised different bands or products played music as they passed by. After Shibuya we walked to Harajuku station, an area known for trendy fashion. It is hard to describe, but in the area there is a pedestrian street with shops similar to Venice beach or Chinatown but selling furry hair ties, kitschy t-shirts and other tourist items.
I waited in line to get a giant cotton candy that the girls around us were all talking about because I needed to see what the hype was. When we went to get in line they gave us a time card for when to come back! We had to put down a deposit for the cotton candy (everything in Japan is very strategic). I have been amazed by the level of kindness and respect that people have. Absolutely no one litters and I never felt that I should be nervous about my belongings for fear that someone might steal something. Everyone just goes about their own business. I also tried soft serve ice cream topped with potato chips. It sounds weird but it was so good! The ice cream just tasted like milk ice cream with no vanilla so it wasn't overly sweet. I loved it.
For dinner it was back to a small ramen spot we had found the night before. We know we probably should have tried a different place but it was just so good! I had charshu ramen (pork belly ramen) with a creamy broth. We were full but so happy and were still planning on going out and grabbing a drink, but we were exhausted after a long day of walking and all ended up falling asleep. Sometimes you just can't help it.