Simmered onions and thyme with a beef stock gravy and gruyere cheese topped with buttery garlic breadcrumbs and sautéed kale will surely become a staple pasta in your house.
Rather than using caramelized onions typical of a French onion soup in this recipe, I use an onion soubise – an easy, three-ingredient French sauce where the onions are cooked over a long period of time at a low heat until they are tender and flavorful. They become almost creamy and buttery. The goal isn't to put color on the onions but to coax out the flavor so don't try to rush it. The onion mixture can be made a few days ahead and reheated in order to minimize the cook time needed on the day of.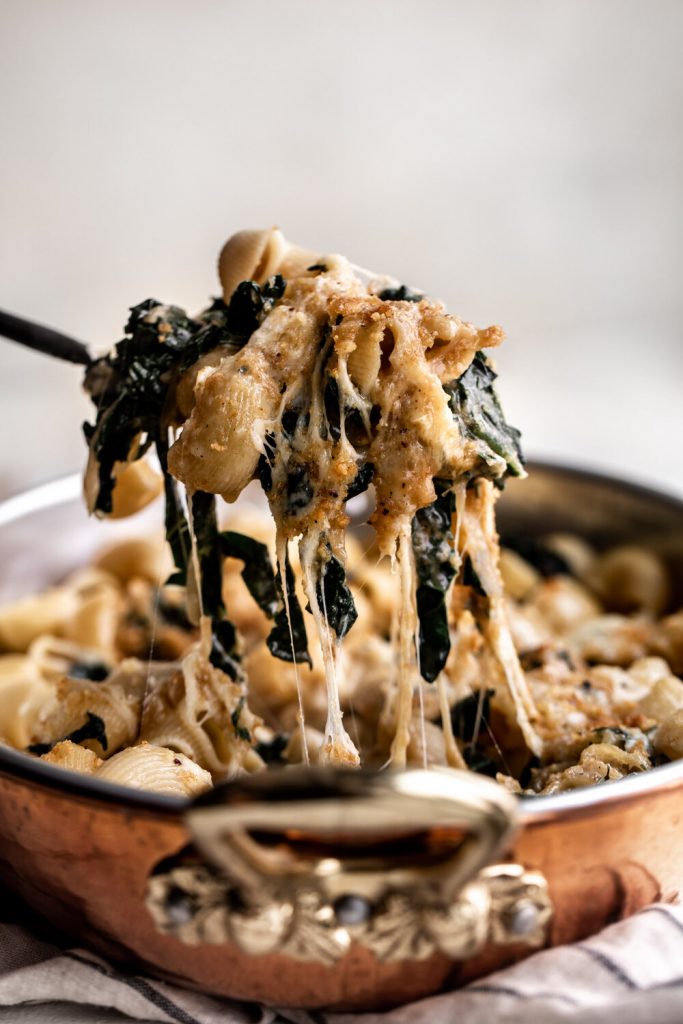 French Onion Soup Pasta
For the buttered garlic breadcrumbs:
2 tablespoons extra-virgin olive oil

4 tablespoons unsalted butter

1 cup plain breadcrumbs

½ teaspoon garlic powder
For the onion soubise:
6 tablespoons unsalted butter

2 medium yellow onions, thinly sliced

2 sprigs thyme
For the pasta:
2 tablespoons all-purpose flour

3 cups beef stock

1 small bunch tuscan kale, ribs removed and thinly sliced

½ pound lumache pasta (or rigatoni or other tube shape pasta)

1 cup shredded gruyere cheese

½ teaspoon fresh thyme
For the buttered garlic breadcrumbs:
Heat a large sauté pan over medium-low heat. Add the olive oil and heat through then add the butter and allow to melt. Add the breadcrumbs and garlic powder, shaking the pan or stirring constantly until the breadcrumbs are uniformly golden brown, about 4 minutes. Immediately remove from the pan to a bowl or container and store in an airtight container until ready to use.
For the onion soubise:
Heat a large sauté pan over low heat. Add the butter, ½ cup of water, the onions and thyme to the pan. Continue to simmer the onions over low heat, stirring occasionally, until they are tender, about 1½ hours. Season with salt.
For the pasta:
Over medium heat, stir the flour into the onions, cooking until it's pale brown, about 1 minute. Stir in the beef stock and bring to a simmer. Add the kale and cook until wilted, about 6 minutes.

Place a large pot with salted water over medium heat and bring to a boil. Add the pasta and cook until just al dente, about 8 minutes. Drain the pasta, reserving about 1 cup of the pasta cooking water and return to the pot. Add the onion and stock mixture over the top, stirring in ½ cup of the pasta cooking water.

Heat the oven to broil on high. Spread the pasta in baking dish and top with the gruyere cheese and thyme. Add to the oven and broil until the cheese is melted and bubbly, about 4 to 5 minutes. Remove and top with the buttered breadcrumbs then serve immediately.
DID YOU MAKE THIS?
TAG ME ON INSTAGRAM TO BE FEATURED ON MY STORIES! @cookingwithcocktailrings