Mussels in Tomato Broth with Bacon
Sponsored by Pomi Tomato. 
Right after the New Year is a great time to experiment with new recipes or new ingredients! This recipe is inspired by a dish I had at a restaurant in NYC last winter called Flex Mussels. The creative name also aptly represents the restaurant famous for their various mussel and seafood dishes. I went for dinner with my mom and friends one night and I think between four of us we ate like 10 pounds of mussels. We just kept shelling and eating (and dipping bread in sauce of course!) while we talked for hours.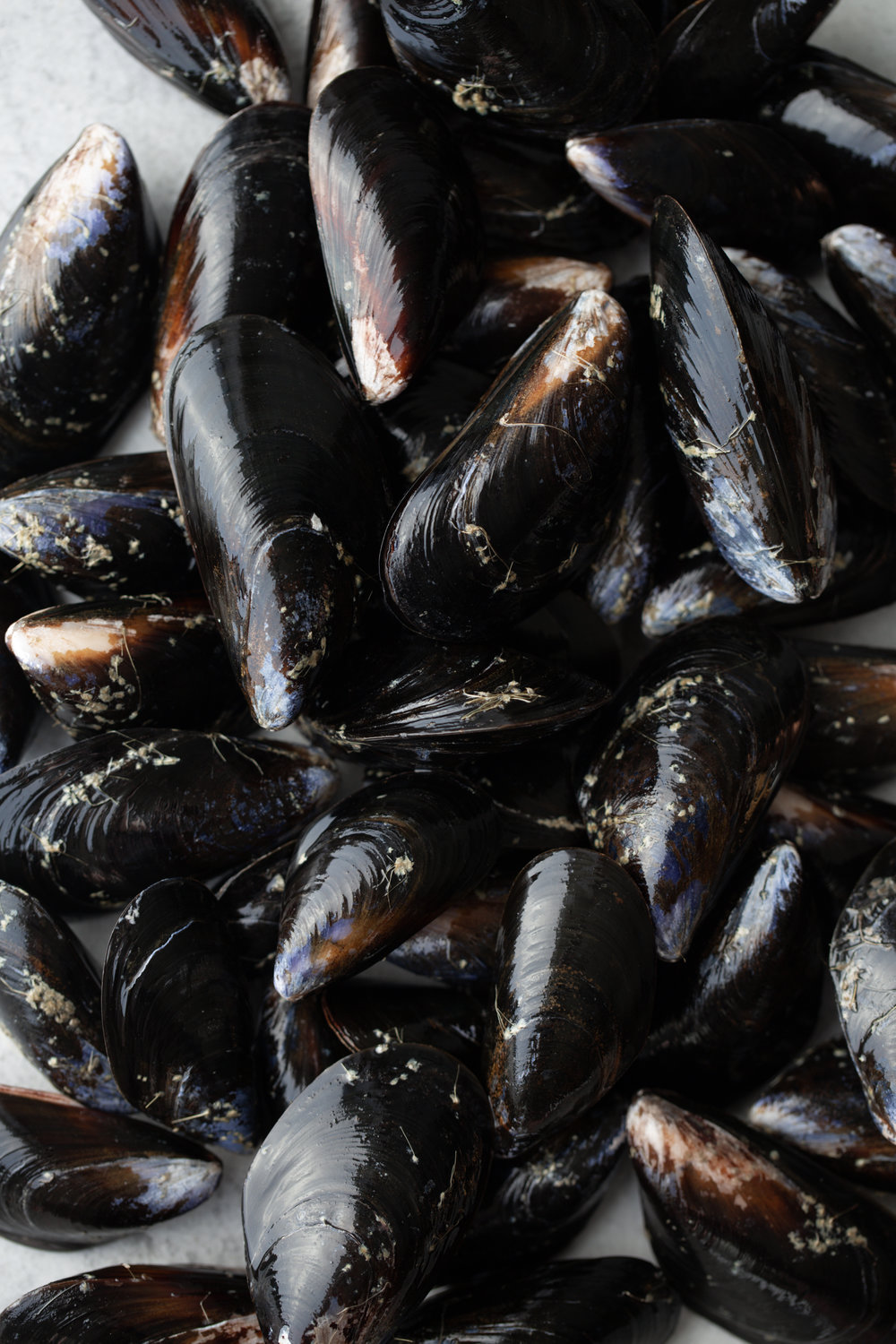 Mussels are steamed in a tomato and bacon based sauce until they open and are tender. I love this dish because it is so easy to make – it comes together in under 30 minutes. Be sure to serve this dish with plenty of grilled bread; one of my favorite parts about this dish is soaking up the sauce with bread once the mussels are all gone!
When tomatoes are out of season I opt to use canned or boxed tomatoes for cooking instead. Not only are canned tomatoes a huge time saver but are preserved at their peak freshness and because of this there is consistent tomato flavor.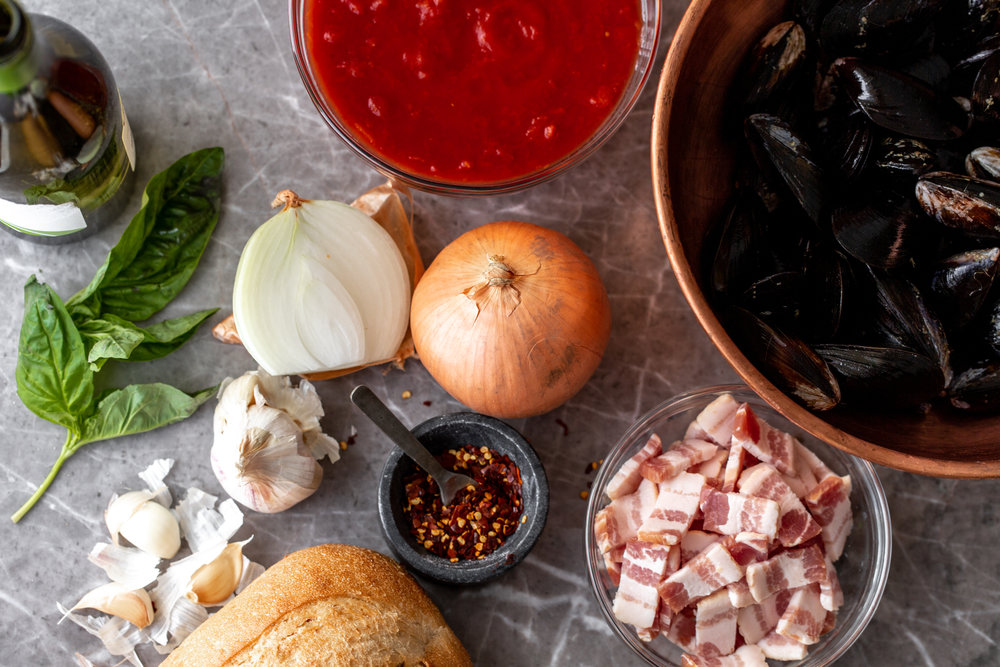 Pomi comes packaged in a box so you don't end up with a tinny flavor in your chopped tomatoes. I also like this brand because tomatoes are the only ingredient — as it should be. In my research I found that many canned diced tomatoes have calcium chloride added to keep the diced shape of the tomato (which also makes it harder for it to break down in sauces).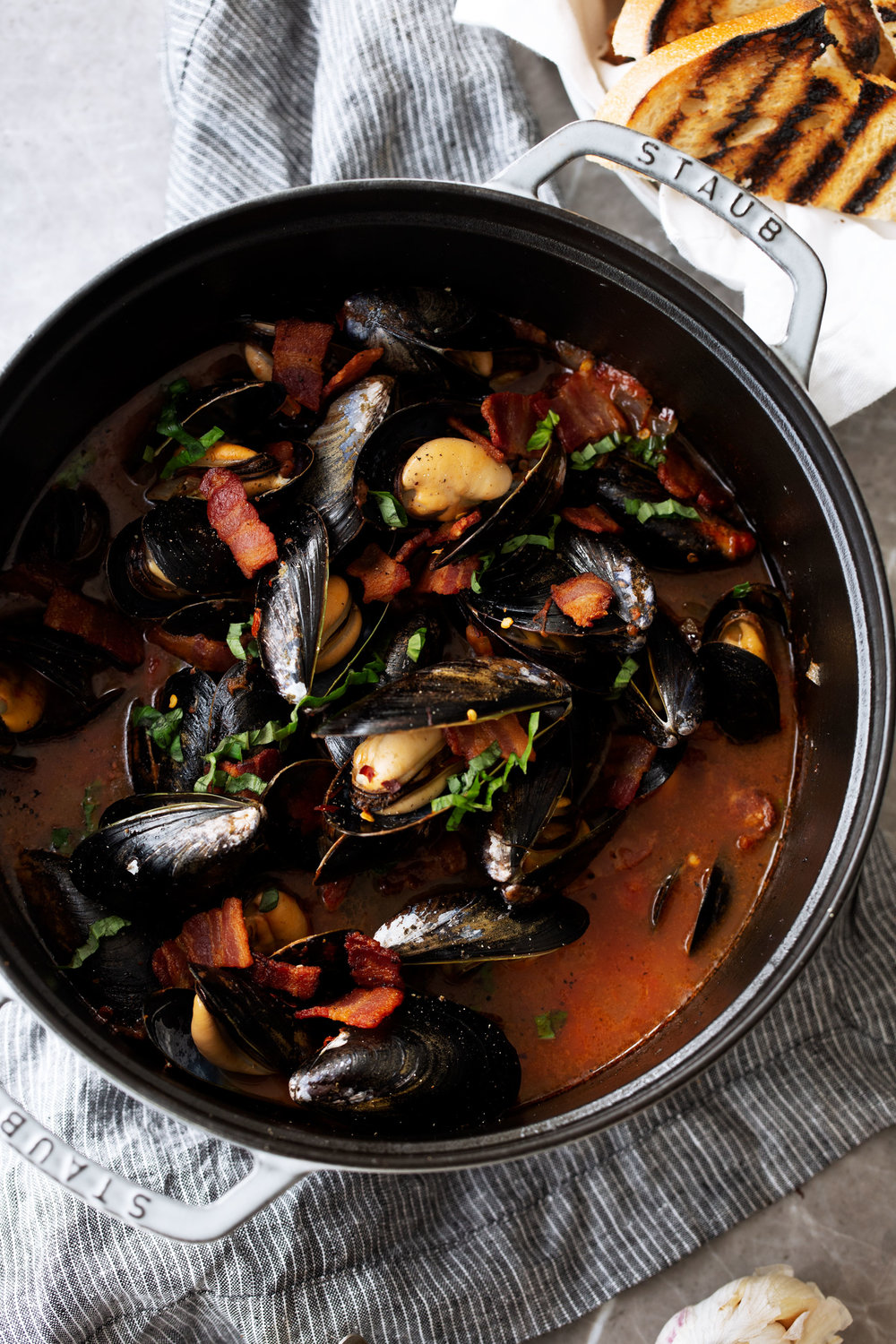 Adding the bacon to a cold pan rather than a pre-heated pan will help to render the fat slowly and evenly so you end up with crispy, golden brown pieces of bacon. Mussels are a sustainable dinner option since they reproduce and grow so quickly. Allowing mussels to soak in a bowl of water with flour before steaming them will help to remove any excess grit from inside the shell as well as plump up the meat a bit.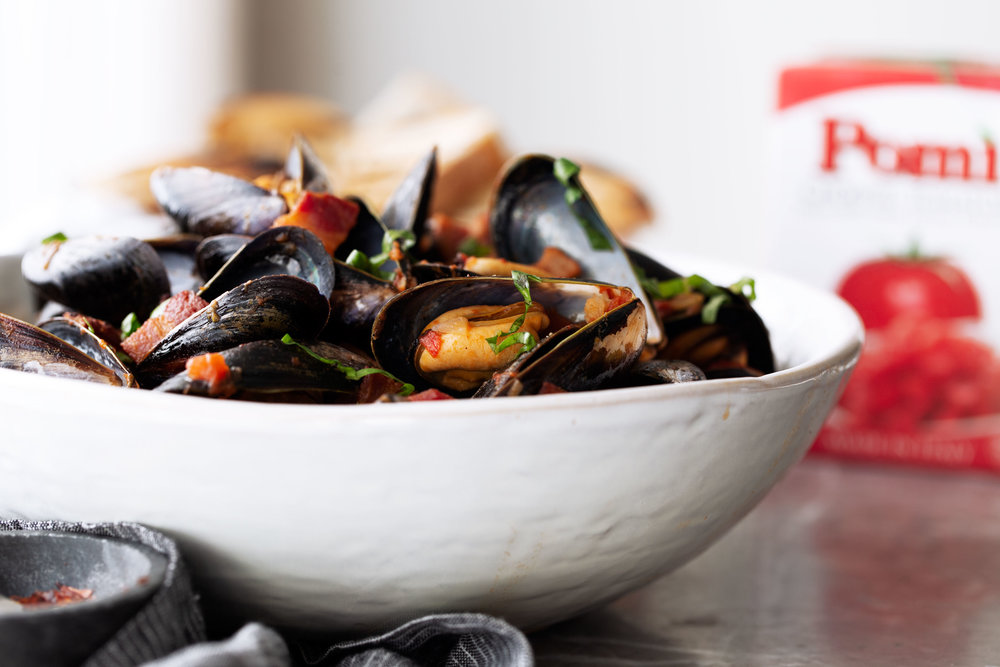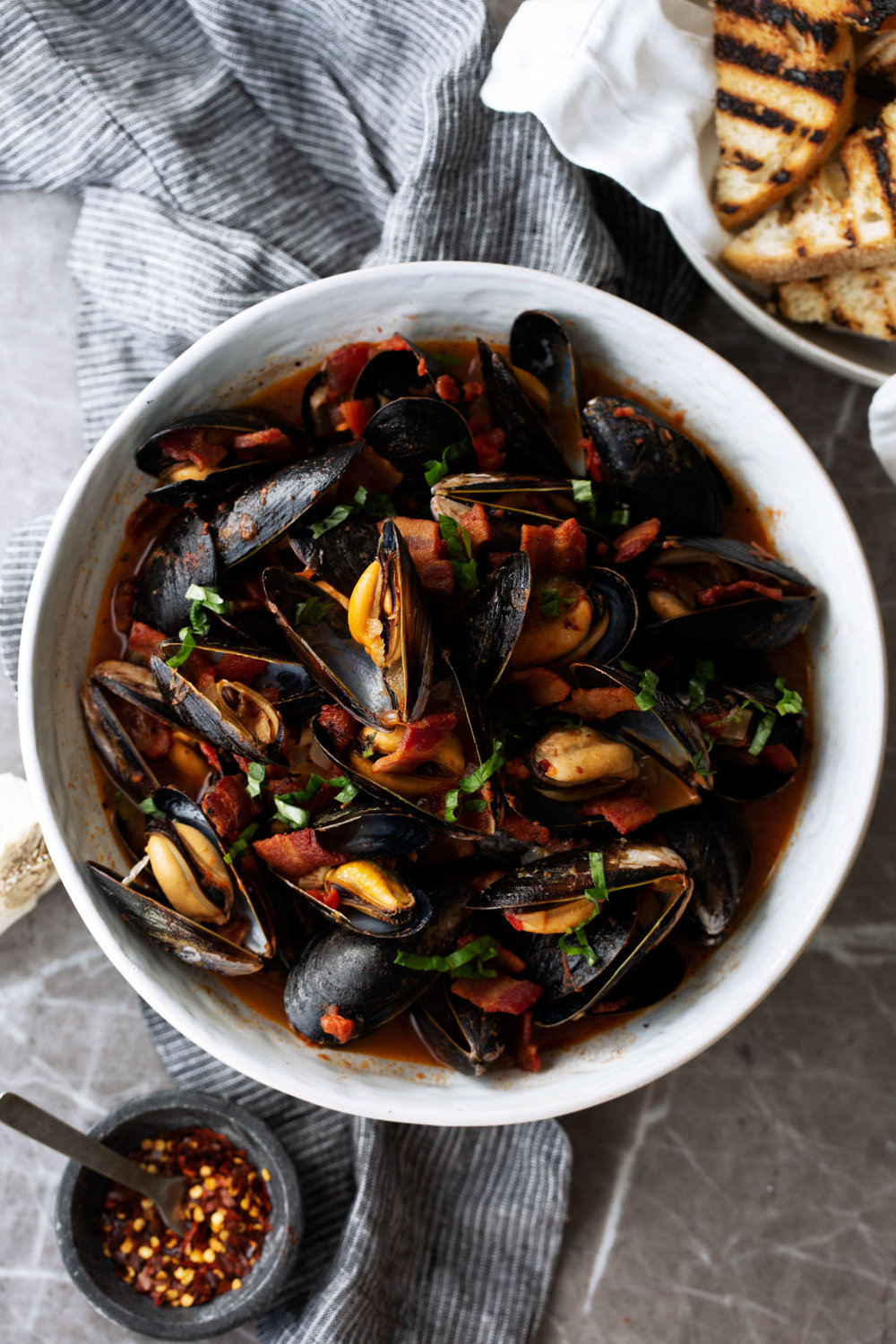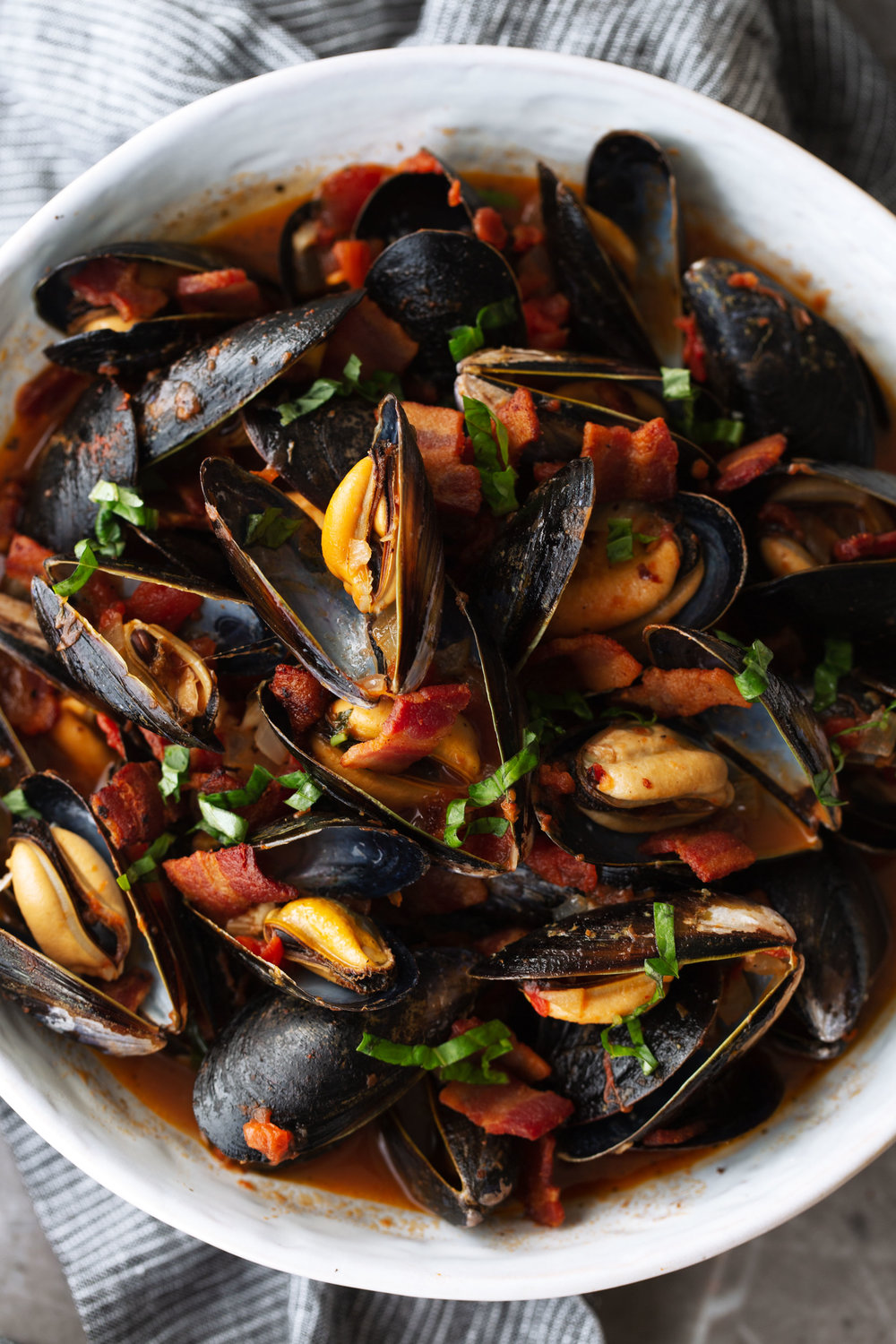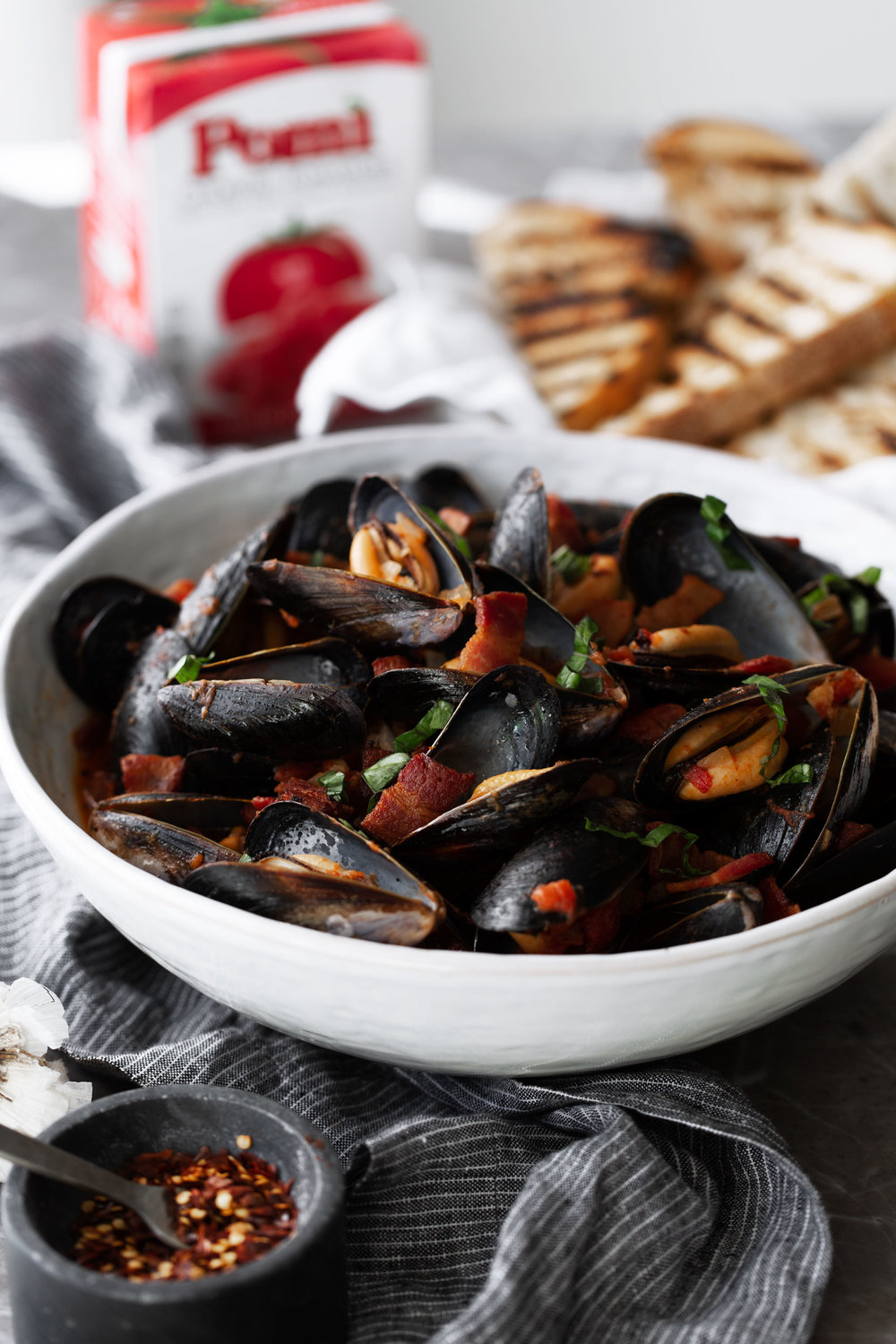 Mussels in Tomato Broth with Bacon
3

pounds

PEI mussels,

scrubbed and debearded

¼

cup

all-purpose flour

¾

pound

thick-cut bacon,

sliced

1

tablespoon

extra-virgin olive oil

1

cup

diced yellow onion

3

cloves

garlic,

minced

2

cups

dry white wine

1

26.46 ounce box Pomi chopped tomatoes with the juices

¼

teaspoon

red pepper flakes

¼

teaspoon

kosher salt

¼

cup

chopped basil

Sliced grilled sourdough bread,

for serving
Add the mussels to a large mixing bowl filled with cold water and flour and let sit for about 15 minutes.

In a large heavy-bottomed pot or large Dutch oven add the bacon to the pan and turn heat to medium. Cook the bacon, stirring occasionally, until crispy and the fat has rendered, about 6 to 8 minutes. Use a slotted spoon to remove the bacon to a paper towel-lined plate and set aside, reserving as much fat in the pot as possible.

Return the pot to heat, add the olive oil and heat through. Add the onion and sauté, stirring occasionally, until soft and opaque, about 5 minutes. Stir in the garlic and cook until fragrant, about an additional 30 seconds. Pour in the wine and bring to a simmer then add the tomatoes, red pepper flakes, salt and pepper.

Drain the mussels and rinse with cold water then add them to the pot. Cover and steam the mussels until they open, about 8 minutes.

Serve in large bowls topped with basil and bacon with grilled bread for dipping.
*Note: If any mussels have cracked shells or do not open after being steamed, discard them, it may mean they are dead prior to cooking and may be bad. 
DID YOU MAKE THIS?
TAG ME ON INSTAGRAM TO BE FEATURED ON MY STORIES! @cookingwithcocktailrings