Baklava
With it's buttery, crispy layers of phyllo dough, nutty filling, and sugary honey syrup, this sticky sweet Greek dessert is one of my favorites. One year my family traveled to a small Greek island, Aegina where we stayed in a small, family-run bed and breakfast on the side of a cliff. Every day after tanning in the warm sun and swimming in the Mediterranean Sea we would walk into town and buy a box of baklava from a local bakery.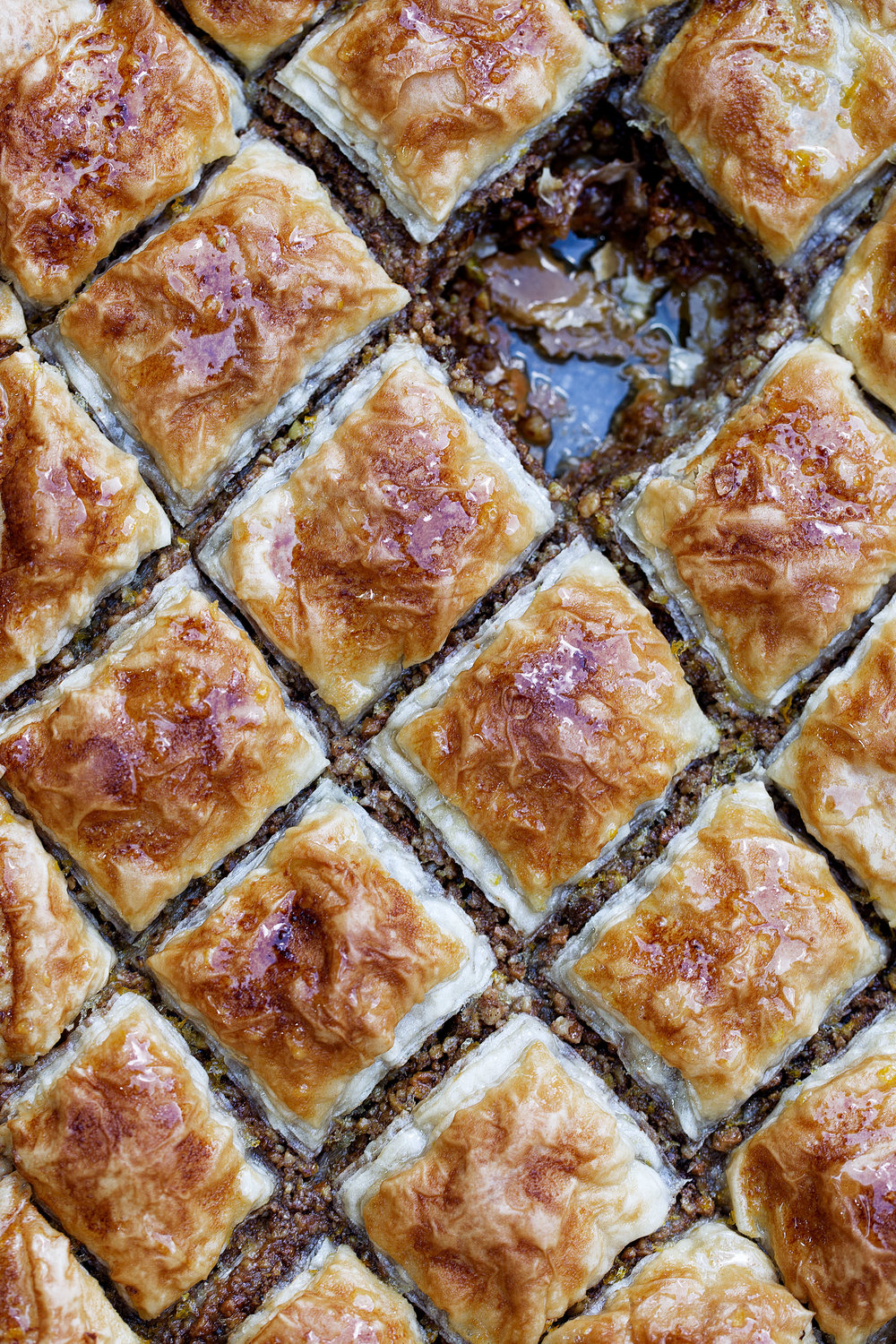 Phyllo dough is sold frozen so be sure to plan ahead for this recipe and defrost it in the refrigerator overnight so the dough can be handled easily.
While there are many different regional variations and a variety of different recipes that have been passed down through families, I like to use a combination of half walnuts and half pistachios in my baklava. Some other alternatives are made with almonds or macadamia nuts.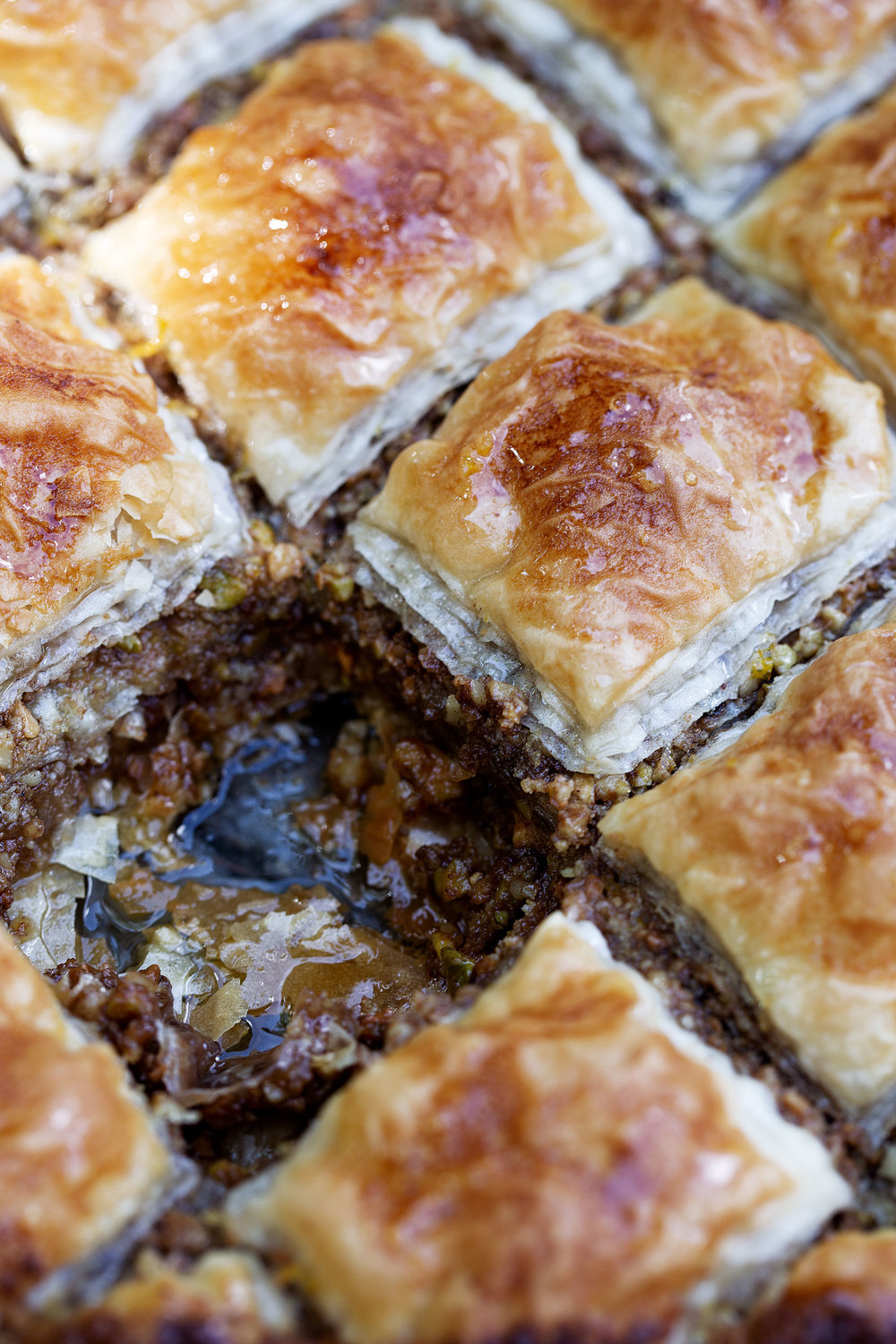 Baklava
For the nut mixture:
8

ounces

shelled pistachios,

shelled

8

ounces

halved walnuts

2

teaspoons

ground cinnamon

¼

cup

granulated sugar

¼

teaspoon

kosher salt
For Assembly:
2

cups

(4 sticks) unsalted butter,

melted, plus additional for the pan

1

pound

phyllo dough,

defrosted overnight in the refrigerator 
For the honey syrup:
Add the sugar, honey, lemon juice, cinnamon stick, orange zest and 1 cup of water to a small saucepan and bring to a boil over medium heat. Continue to boil until the mixture reaches a syrupy consistency, about 5 minutes. Remove from heat and let cool.
For the nut mixture:
Add the pistachios and walnuts, cinnamon, sugar and salt to the bowl of a food processor fitted with the blade attachment. Pulse until the nuts are coarsely ground the divide the mixture into thirds.
For assembly:
Heat oven to 375ºF. Butter a 9"x12" baking dish. Prepare the phyllo dough by trimming it with scissors to fit the bottom of the baking dish. Cover the phyllo dough with a lightly damp kitchen towel, and keep covered.

Place 1 piece of the phyllo on the bottom of the baking pan, then holding it down with one hand, brush the phyllo with butter. Layer 7 phyllo sheets on top, brushing each sheet with butter as you go.

Sprinkle one-third of the nut mixture over top. Repeat the process twice more, brushing butter between each layer of the phyllo sheets. Top with the remaining phyllo sheets, brushing butter between each layer.

Using a sharp knife with a thin blade, cut the baklava into squares, being sure to cut through all of the layers. Pour any of the remaining butter over the top.

Bake until the top is golden brown, about 35 to 40 minutes. Pour the syrup evenly over the top. Set aside and let cool completely.
DID YOU MAKE THIS?
TAG ME ON INSTAGRAM TO BE FEATURED ON MY STORIES! @cookingwithcocktailrings