This Moroccan-inspired vegetable stew is great for warding off the cold. It is packed with peppers, sweet potatoes, carrots, lentils and chickpeas making for a hearty and comforting meal – perfect for warming you up inside and out.
A combination of Moroccan spices is used to develop rich deep flavors in this vibrant vegetarian soup. While traditionally whole spices are used and then ground when ready to cook for the maximum flavor and freshness, I use already ground spices because it cuts down on prep time. The spices are then toasted in the pot to bring out the aromas.
Because the majority of the ingredients are added at one time it is helpful to have your mise en place ready to go before you start cooking (that is all your ingredients prepped ahead of time).
Moroccan Vegetable Stew
Table of contents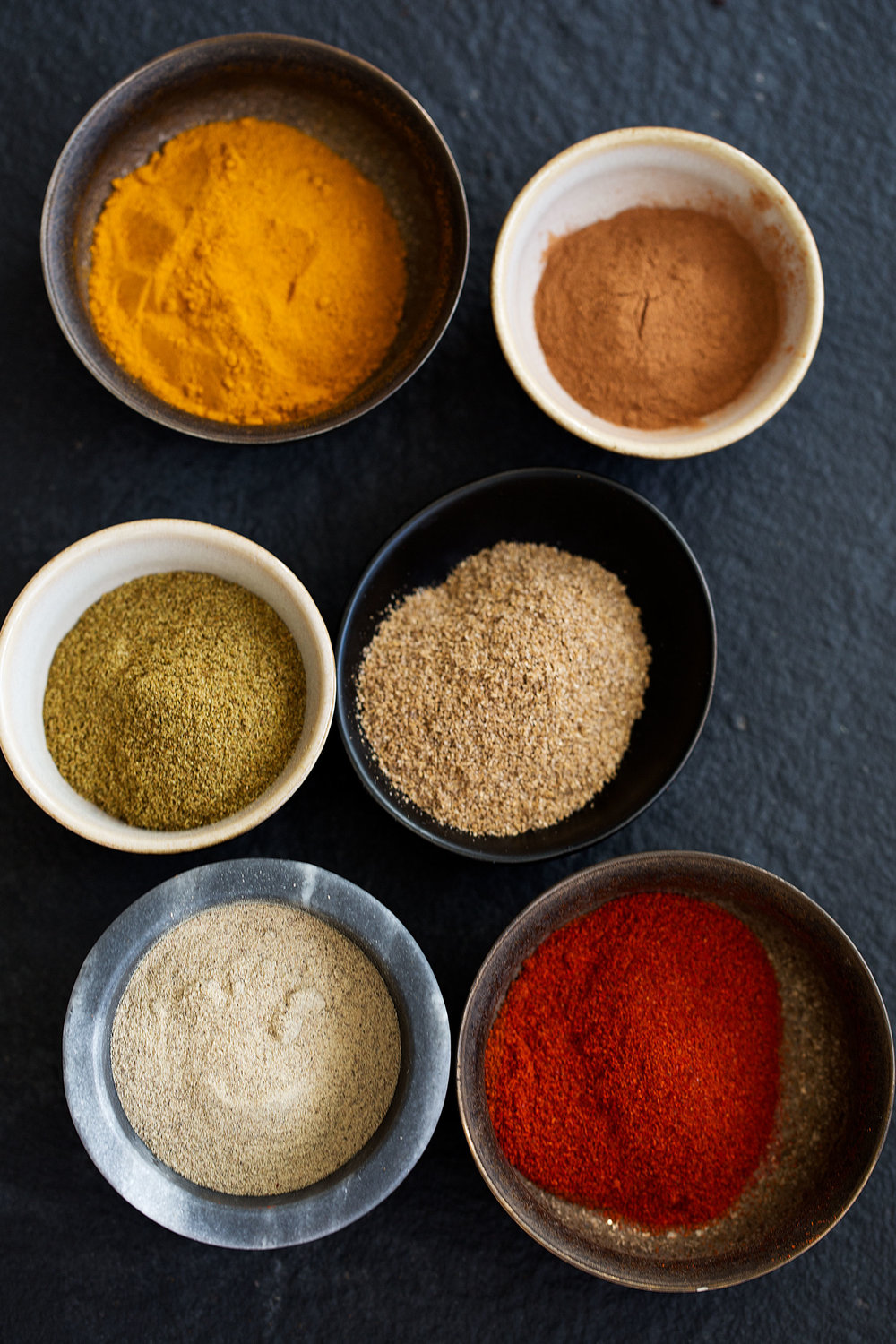 What Spices are Used?
Coriander
Cumin
Paprika
Turmeric
Cinnamon
White pepper
Key Ingredients in This Recipe
Chickpeas – Chickpeas, also called garbanzo beans add texture and protein to this recipe while keeping it vegetarian. Using canned chickpeas in this recipe cuts down on the prep time in this recipe. Swapping with dried chickpeas requires a bit more foresight since they need to be soaked for a long period of time then boiled.
Lentils – Red split lentils are traditionally used in this recipe. The small, orange legumes cook much faster than many other varieties of lentils since the seed coat is removed and the lentils in half. Because they soften and become creamy they are often used for soups and stews.
Yellow OnionI use yellow onion in this recipe for its mellow flavor when cooked. These onions with a brownish yellow papery skin are a great all-purpose cooking onion.  
Sweet potato – Sweet potatoes are a nutritious root vegetable with bright orangey flesh. Sweet potatoes have a naturally sweet flavor. Over half the US sweet potato crops are grown in North Carolina.
Tomato paste – Tomato paste is concentrated tomatoes that have been cooked down until it becomes a thick, dense paste. I try to buy tubes of tomato paste rather than small cans. The tubes allow you to reseal and keep the paste for later (they last a long time) resulting in less waste.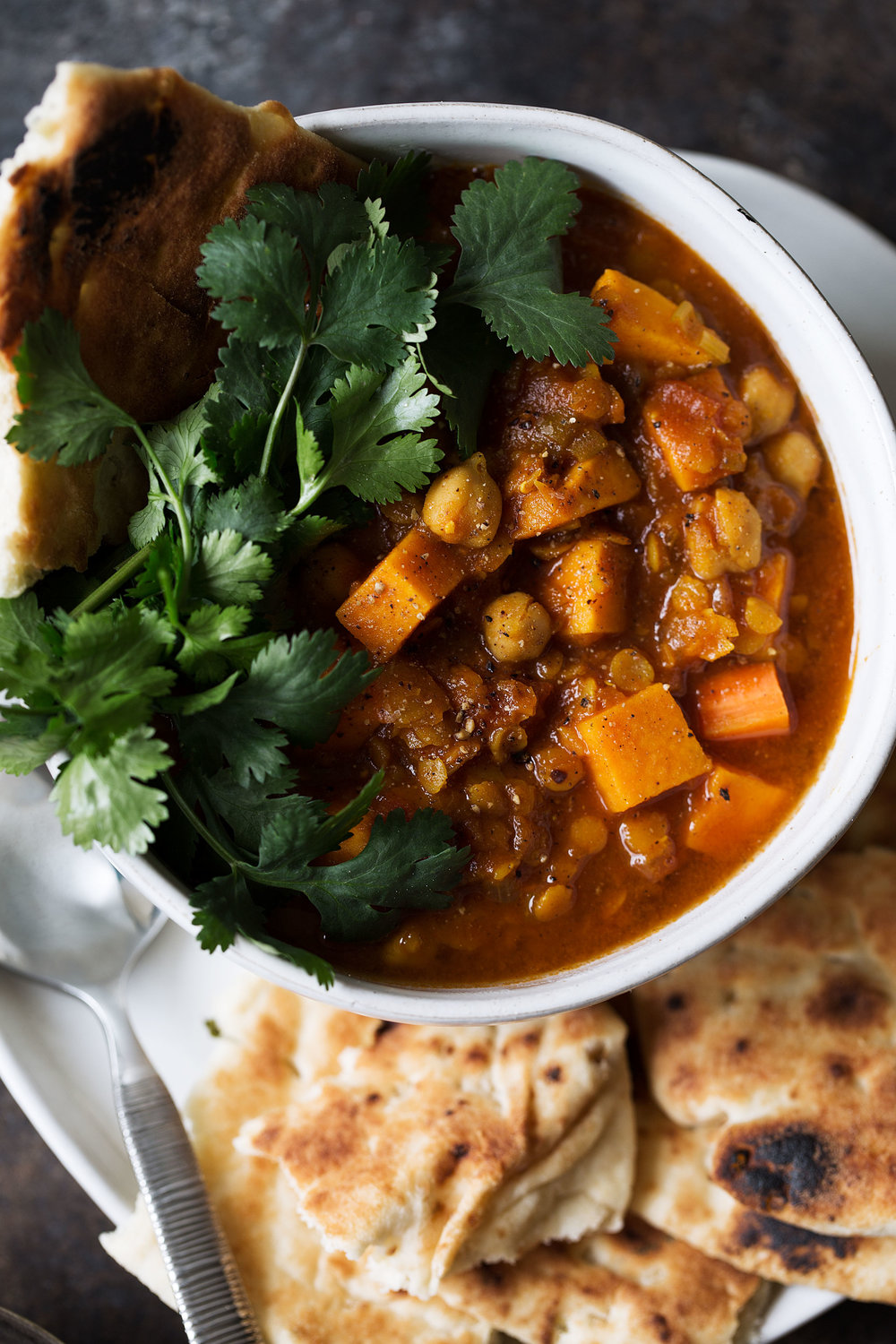 How to Make Moroccan-Inspired Vegetable Stew
Sauté aromatics. Heat a large heavy-bottomed pot over medium heat, add the olive oil and heat through. Next, add the onions, leeks and garlic and sauté until the onion is soft and translucent, about 6 minutes.
Add the spices. Add the coriander, cumin, paprika, turmeric, cinnamon, and white pepper, stirring to combine. Let cook, stirring frequently, until fragrant, about 2 minutes. Stir in the tomato paste.
Add the vegetables. Add the bell pepper, carrots, sweet potatoes, lentil and chickpeas, tomatoes, vegetable stock and 2 cups of water to the pot, stirring to combine.
Simmer the soup. Bring the mixture to a boil then reduce the heat to medium-low and let simmer about 1 hour and 30 minutes, until the lentils are cooked through and the sweet potatoes are tender. Add additional water ½ cup of water at a time if the soup becomes dry.
Serve. Remove the pot from heat and season with kosher salt. Stir in the orange zest and half the cilantro. Ladle the soup into warmed soup bowls. Top remaining cilantro and serve with warmed naan bread on the side.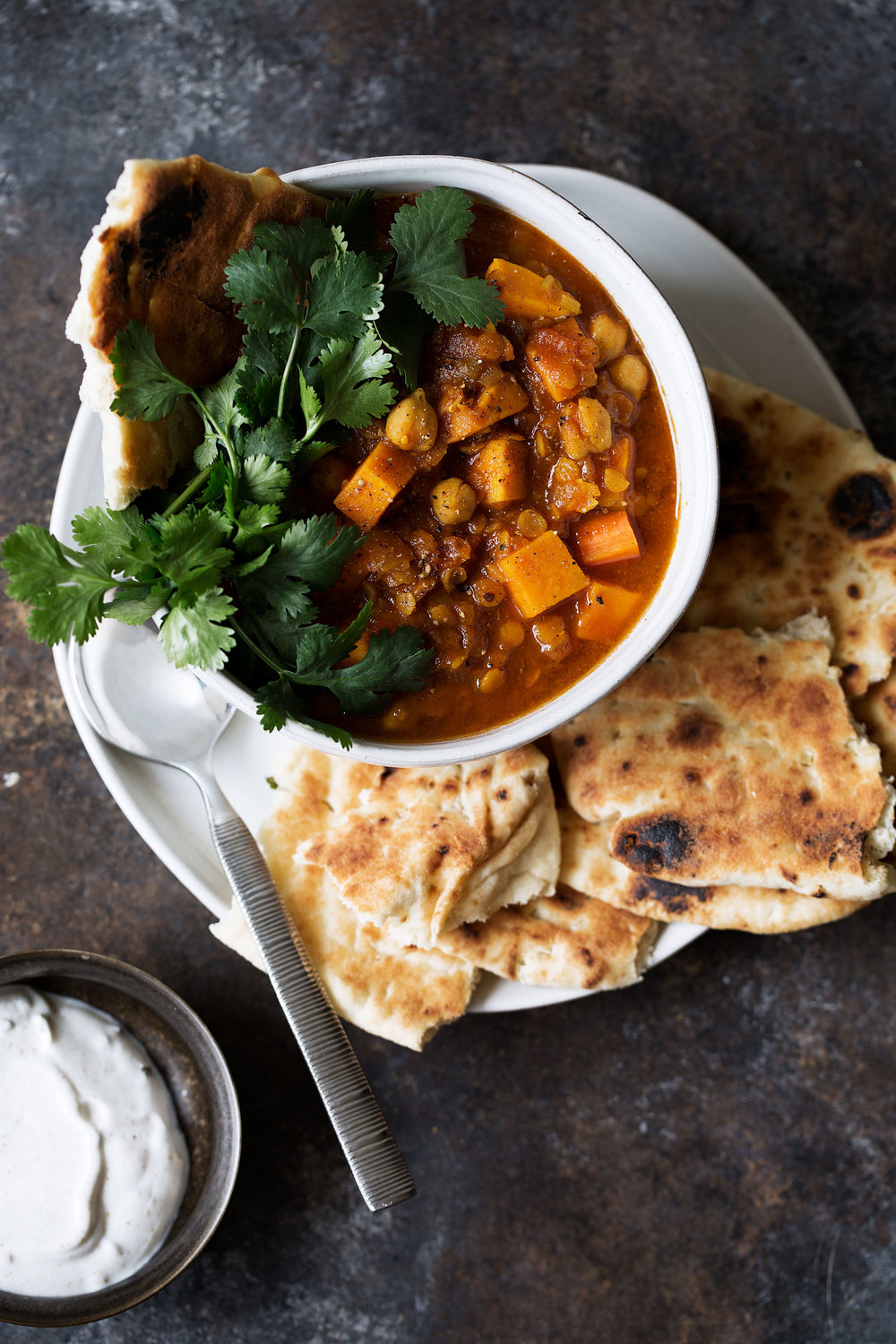 Other Recipes to Try
If you enjoy this Moroccan-inspired vegetable stew recipe, I recommend checking out some of these:
Moroccan Vegetable Stew
2

tablespoons

extra-virgin olive oil

1

medium yellow onion,

diced

1

medium leek,

trimmed and thinly sliced (whites and light green parts only)

2

garlic cloves,

chopped

2

teaspoons

ground coriander

2

teaspoons

ground cumin

2

teaspoons

paprika

1

teaspoon

turmeric

½

teaspoon

ground cinnamon

¼

teaspoon

ground white pepper

2

tablespoons

tomato paste

1

medium yellow bell pepper,

deseeded and chopped

2

medium carrots,

peeled and diced

2

cups

diced sweet potatoes

1

cup

split red lentils

1

(15-ounce) can chickpeas, rinsed and drained

1

(28-ounce) can diced tomatoes

4

cups

vegetable stock

½

teaspoon

kosher salt

1

teaspoon

orange zest

½

cup

chopped cilantro,

divided

Naan bread,

warmed, for serving (optional)
DID YOU MAKE THIS?
TAG ME ON INSTAGRAM TO BE FEATURED ON MY STORIES! @cookingwithcocktailrings